Date: October 27 - November 3, 2007
Destination: Bligh Water, Namena Marine Reserve, Gau, Wakaya, Makogai, Vatu-I-Ra, Fiji
Welcome back: Mary Carney, Debbie Smrekar and David Vik, and Helen Sykes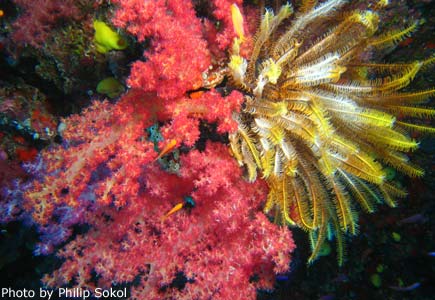 Soft corals and crinoid.
Mary Carney has done the short hop from New Zealand three times in the last year to dive with us on NAI'A, and has become a dear friend. A warm welcome back, Mary.

Cat's Meow spoilt us with its usual goodies of soft corals, red anemones, lionfish, sweetlips, clouds of small fish on the top, and nudibranchs, amongst others. This time, nevertheless, it had a special treat in store for us, a five inch long Phyllodesmium magnum nudibranch, really pretty and unusual, waving its long pink and purple gills along the reef. We also saw a couple of extremely friendly semicircle angelfish, as well as several whip coral commensal shrimps.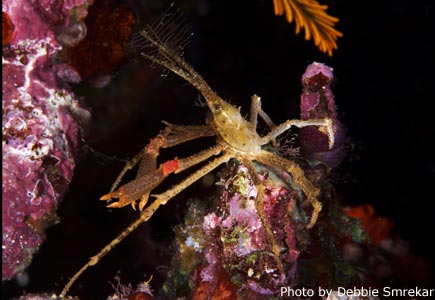 Arrowhead crab.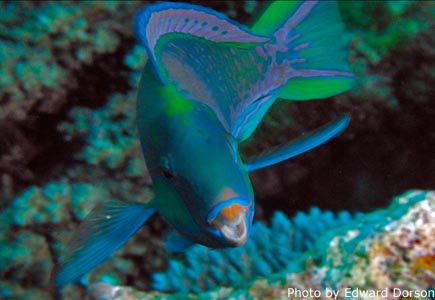 Bleeker's parrotfish.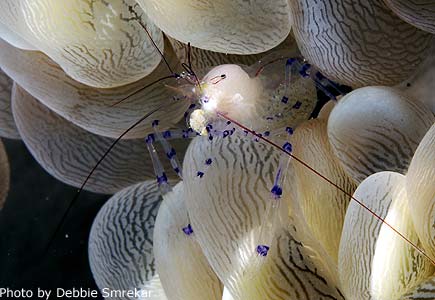 Bubblecoral shrimp.
Debbie Smrekar and David Vik, welcome back. We still have Debbie's Humpback whale photograph hanging in NAI'A's salon, vinaka! David looked ever so handsome in his blue ribbon eel wetsuit, which not only lured the blue ribbon eels right out of their holes, but also seemed to attract hammerheads, as he was the only one to see the hammerhead cruising along the rim of the drop off at Teton I in Namena. Debbie and David travelled to Fiji with their friends Cindy and Greg Redfern and had lots of fun together. What can be better than diving with friends. Thank you so much for sharing your awesome photos!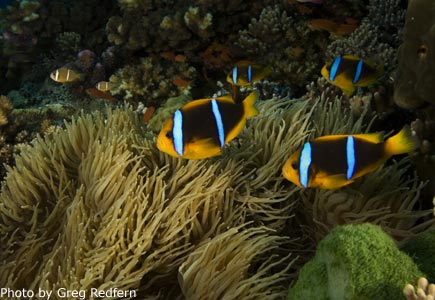 Clark's anemonefish in formation.
| | | |
| --- | --- | --- |
| | | |
| Fiji for you. | | Flabellina on hydroid. |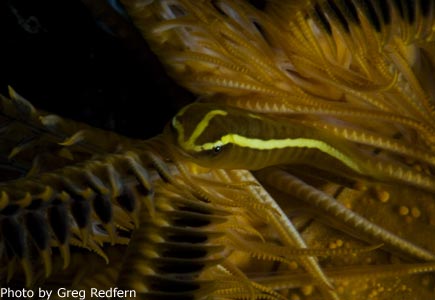 Crinoid clingfish.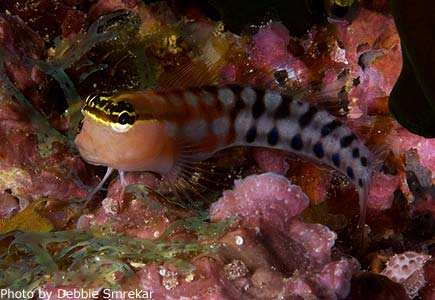 Fiji clown blenny.
School House in Namena Marine Park can be a bit of a struggle, but a bit of hard work is always rewarded by huge schools of surgeons, big-eye jacks, oceanic triggerfish, fusiliers, rainbow runners and pinjalo snappers cruising in and out over the rim of the drop off. Spanish mackerel and tuna pass by, too, and this time we observed a pack of four white-tips and one gray reef shark circling an area on the wall trying to feed on something, seemingly very tasty, judging from the effort invested in getting to it. Flame hawkfish and palette surgeonfish are abundant on the coral ridges on top of the platform.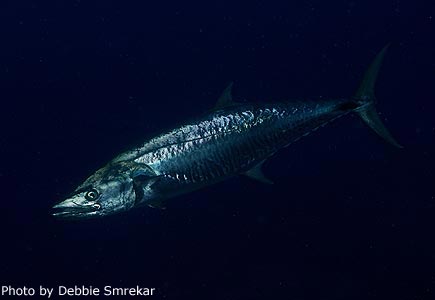 Spanish mackerel.
| | | |
| --- | --- | --- |
| | | |
| Light effects. | | Longfin spadefish. |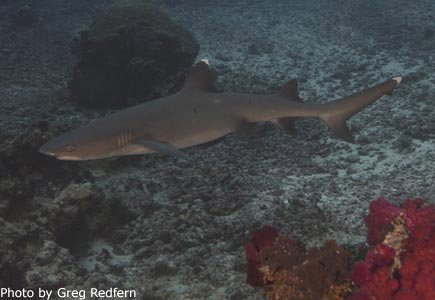 White-tip reef shark.
Welcome back, Helen Sykes. She lives in Fiji working for Marine Ecology Fiji, Global Coral Reef Monitoring Network and Reef Check, joining NAI'A once a year to check the condition of our reefs and to count the fish. We can happily say, that she was very pleased to see the reefs in excellent condition and the fish plentiful. Vinaka!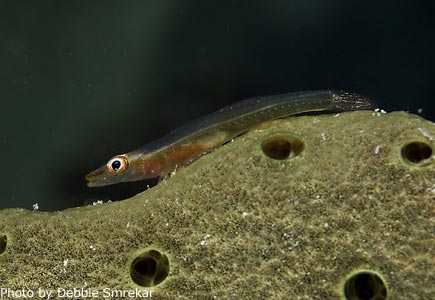 Wolfsnout goby on sponge.
| | | |
| --- | --- | --- |
| | | |
| Pennant bannerfish. | | Robust ghost pipefish. |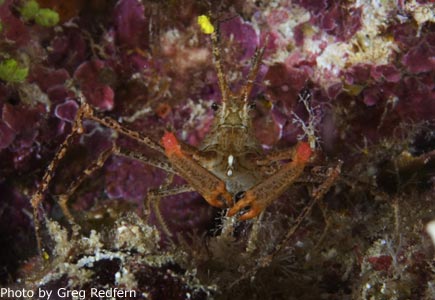 Cheeky spider crab.
On Grand Central Station in Namena, we had one of the best dives ever on this site. With almost no current and clear water, we kneeled on the sandy bottom by the shark cleaning station beyond the arch, with huge schools of Heller's barracuda and small mackerel circling us, and observed a gray reef shark cruising along the rim of the wall, very low, manuevering slowly over the cleaning station several times, very close to us and oblivious to our bubbles. After a while Roy Sykes looked down on the floor and pointed a huge Malabar grouper out to us, which had been sitting there on the floor amongst us who knows for how long, getting himself cleaned as well, not bothered in the slightest by our presence. As our computers started to protest we drifted back over the luxuriant pink whip corals, through the arch and back to the Sinularia soft coral fields of Kansas.
Awesome!
Laura Miller had her first liveaboard experience on NAI'A and hopefully it will not be her last one.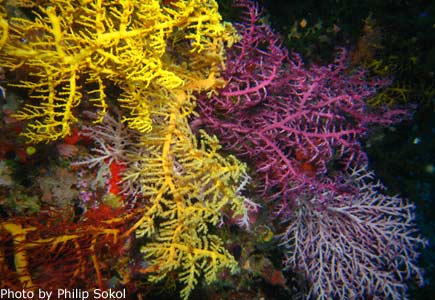 Chironephthya soft corals.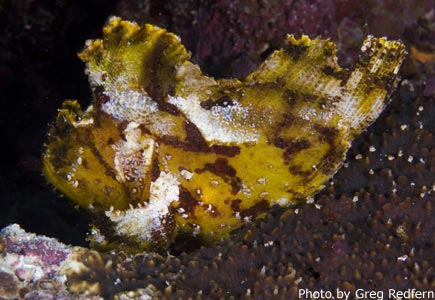 Leaf scorpionfish.
Our Chief 'Ratu' Philip Sokol, chosen by Chief Watson of Makogai village himself, smiled a lot (that is what being a Fijian Chief does to you), and not only knew how to take great photographs with a little point-and-shoot camera, but could also play various rythms by various clapping combinations involving his hands and legs…
We could not resist but go to Makogai again for our village visit, to enjoy our favorite meke and to visit our friends. Vinaka vaka levu!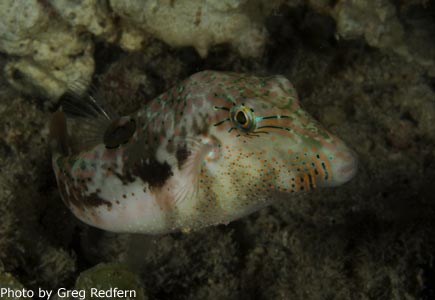 Toby at night.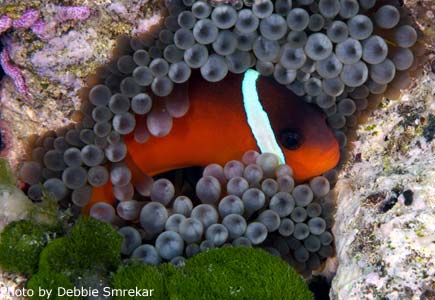 Tomato anemonefish.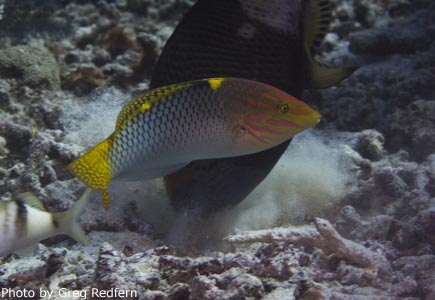 Triggerfish feeding with friends.
Kristen Frederick did not want to miss a single critter or fish, faithfully shadowing us on every dive, and so did Roy Sykes, and we were only too happy to spot all the reef goodies we possibly could.
Helen had advised us to look out for Coral sporning, as this event is expected to happen a few days after full moon in late October or early November, and so it did, full moon having been on the 26th October. We could observe a beautiful coral sporning event on the night dive at Mushroom I in Namena Marine Park. We also saw plenty flashlight fish, a stonefish, and three unusually big and very handsome Saron shrimps.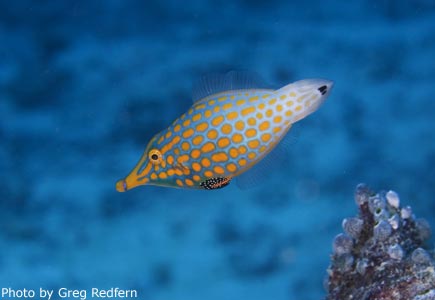 Longnose filefish.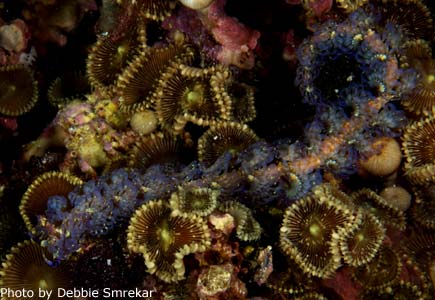 Chinese dragon nudibranch.
Edward Dorson gave us a glimpse of the underwater world as seen through the eye of an artist. Thank you for sharing your photos. Pamela Roach was never far, always ready to help.
Jim's Alley's soft corals were gorgeous again, especially around the twenty feet window by the mooring line, which is completely lined in soft corals of all colors, stunning. Our resident white leaf fish and golden mantis shrimp have gone on holiday, but a sea snake paid us a visit as did a beautiful Chromodoris kunei nudibranch.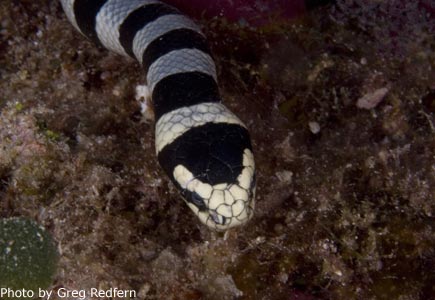 Banded sea snake.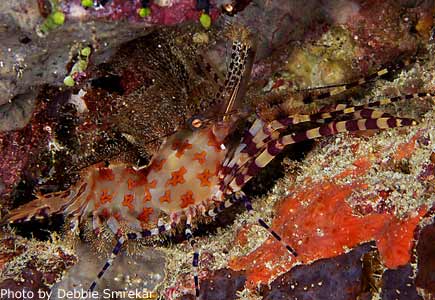 Saron shrimp.
| | | |
| --- | --- | --- |
| | | |
| Giant clam. | | Hinge-beak shrimps. |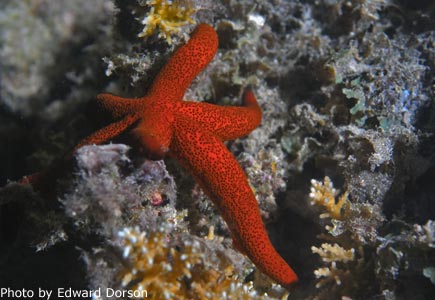 Starfish.
We had a very slow and relaxing drift at Nigali passage, but nevertheless, the visibility was good and gray reef sharks were plentiful. To our most pleasant surprise, we counted eighteen baby gray reef sharks cruising amongst the adults in tight formation. A truly beautiful and rewarding sight! Our resident monster white, slashing mantis shrimp has opened its huge hole again, but was not at home. We had plenty yellowtail and Heller's barracuda in the passage, and spotted two big moray eels on the lagoon side.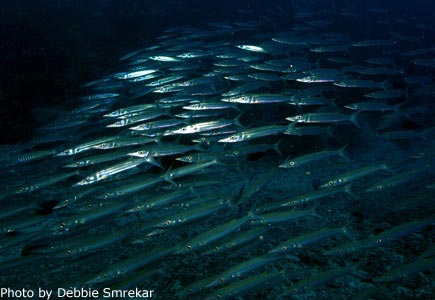 Heller's barracuda school.
Wakaya again rewarded our loyal visits with a huge school of chevron barracuda just as we jumped in and a big eagle ray cruising from the reef into the blue, very close up. Our usual Wakaya friends accompanied us along the wall and on Lion(fish)'s Den, and this time a huge Napoleon wrasse was among them.
| | | |
| --- | --- | --- |
| | | |
| Magic Fiji. | | Moray eel. |
We left Coral Corner in Vatu-I-Ra for last, always an all time favorite, a real cherry on the cake. Also this time it did not fail to overwhelm us with its thriving and most colorful soft coral growth and its very 'fishy' atmosphere. We especially find the deep pinnacles off the main reef astounding, as not only are they covered in fans and soft corals, but the density of schooling fish is remarkable, mainly fusiliers of different species and snappers, but also a huge school of resident chevron barracuda, many Spanish mackerel, and quite some gray and white-tip reef sharks. This time as well, a group of five big Napoleon wrasse joined in. Vinaka again, rairai vinaka Viti!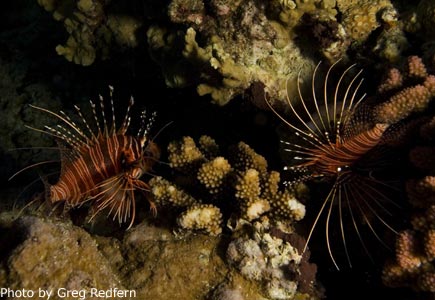 Spotfin lionfish.
| | | |
| --- | --- | --- |
| | | |
| Blue ribbon eel. | | Coral crab. |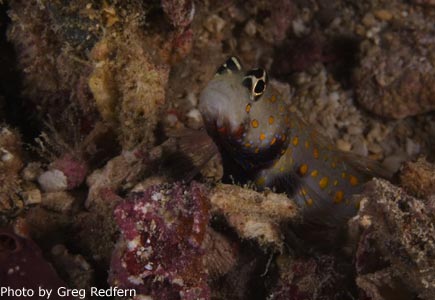 Spotted shrimpgoby.
Guest Comments
NAI'A & Crew:
The mark of a great experience is to return again and again. Excellent!
See you soon.
Pam Roach and Edward Dorson, New York and Long Island City, NY , USA
NAI'A, Sonia and Crew:
Thank you again. Another great trip in Fiji. Thanks to all the Crew.
Mary Carney, Whangarei, New Zealand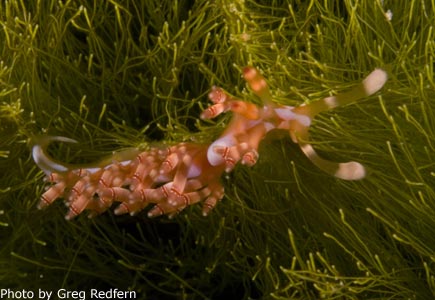 Flabellina nudibranch.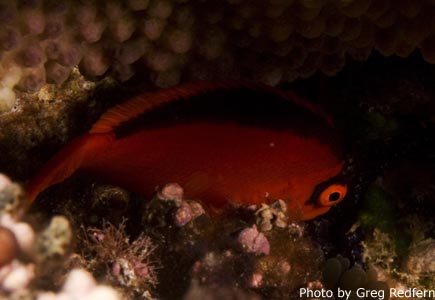 Flame hawkfish.
NAI'A,
Wonderful week!
Cannot wait to return,
Diving was fantastic, and Crew even better.
Debbie Smrekar and David Vik, Plainfield, IL, USA
The best live-aboard ever!
Great diving, great Crew,
Great food, great service.
Simply the best,
"Ratu" Philip Sokol, San Diego, CA, USA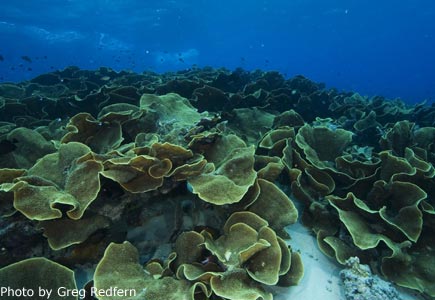 Nigali cabbage patch.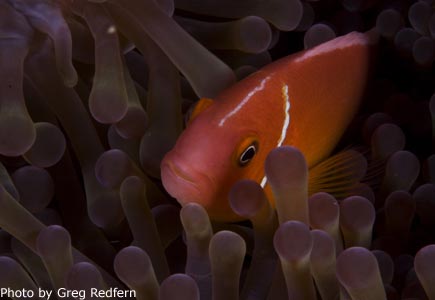 Pink anemonefish.
To everyone at NAI'A:
You made our trip easy and spectacular!
Thank you very much, and plan on seeing us again…
Cindy and Greg Redfern, Rogue River, OR , USA
NAI'A, Sonia and Crew:
God bless you for doing all you do to keep us like happy campers in your charge. You never ran out of ways to amuse us … move the ship a bit, then hop in again and the world changes.
Auf Wiederseh'n,
Kristen Frederick, Albany, NY, USA
NAI'A, Sonia and Crew:
What a fantastic experience for my first liveaboard. The diving was incredible and Crew was fabulous!
Laura Miller, San Diego, CA, USA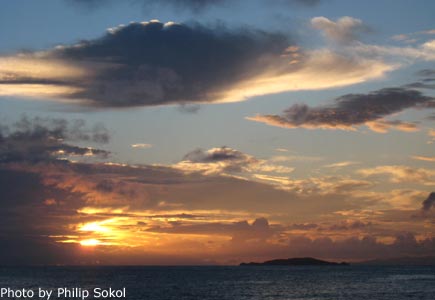 Fijian sunset.
Links
Helen Sykes
Marine Ecology Fiji
www.marineecologyfiji.com
Global Coral Reef Monitoring Network
www.gcrmn.org
Reef Check
www.reefcheck.org
| | | |
| --- | --- | --- |
| | | |
| Scenic Fiji. | | . |