Date: November 3 - 13, 2007
Destination: Vatu-I-Ra, Gau, Wakaya, Makogai, Namena Marine Reserve, Bligh Waters, Fiji
Congratulations: Maria McPartland on finishing her Openwater course dives with Arnie Wharshawsky.
Carol Herrlie of Pathways to Adventure Tours and Arnie Warshawsky of Tutu Divers, Hawaii, filled NAI'A with an enthusiastic, easy going and very entertaining group of divers, always joyful, above and underwater. Most of them did not miss a dive unless their ears went on strike, and they were always ready to go fifteen minutes before the normal time. Dennis Hocker even did extra dives in between, skipping snacks…. How could he possibly miss our favorite meal… It was a pleasure meeting you all and diving with you, vinaka vaka levu!
Bekana reef in Lautoka is always a good place for a check dive, as we usually find many pajama cardinalfish in the shallows, as well as many colorful sponges, jaw fish, plenty unusual nudibranchs and juvenile wrasse.
Dennis was our 'tea bag' diver, being happiest when under water, his gills requiring to be kept constantly wet and his nitrogen levels up high. Patti Shannon, his better half, has less sensitive gills, and, unlike him, actually came to enjoy a 'holiday with diving' as opposed to a diving marathon.
As we usually dive the stunning hard coral garden on the East side of Whole Shebang in Vatu-I-Ra, we almost forgot how equally gorgeous the West wall is, with its soft coral growth, its clouds of fish, and its variety of colorful nudibranchs. Even a leaf fish lives on this side.
Carl Cornils definitely enjoyed his holiday fully, equally happy with a good dive, or with watching the lovo earth oven being covered and uncovered, visiting Somosomo village, having a few bowls of kava, accompanying the engineers doing maintenance works around the ship, and enjoying Fijian sunsets. Sparkly-eyed Carol, his better half, saw her first manta on this charter, as did Maureen Wendle, our manta girl.
Maureen and Wayne Wendle, celebrated our every find with big underwater smiles and shining eyes
Some critters abandon us and some new ones arrive. This time we found a new peacock mantis shrimp on Maytag's western shelf, nicely positioned under a black coral bush, as well as a yellow leaf fish on Coral Corner, and two very shy comet fish in a cut at Howard's Diner, all of them in Vatu-I-Ra area. At Namena Marine Park's Mushroom, we found one of our lost black juvenile blue ribbon eels again.
Paul Vitkus was definitely our 'kava king', stomaching rivers of kava with a huge smile, amounts, which not even Mo and Joe could master without a 'kava face'. And all this without missing a dive, good on you!
Ken Takata's charming and jovial self conquered us all. Vinaka Ken!
The E6 sea mount not only had the robust ghost pipefish in store for us, but also a couple of dragonets at dusk time, doing their full mating dance, around each other on the bottom first, and then floating up cheek to cheek, sporning and separating again, going down to the bottom and starting all over again, very special. As there was some current running, all the huge soft corals everywhere were at their best puffed up state, really gorgeous, and many schooling surgeonfish, black snappers, and fusiliers lined up on the wall.
Pam Wade was a close second to Dennis in her need to keep her gills wet. She was our 'fish geek' on this charter, no fish escaping from being marked down on her slate, and knowing her fish better almost then the books themselves.
Gail Rockwell was our ship's physical therapist, massaging our sore backs and keeping them stretched over the side of the skiff after the dives, excellent advice! Nice white underwater hat, too!
Dr. Barry Cole, kept everybody's ears and sinuses on track and, together with Carol, fixed up an ailing lady at Somosomo village as well, vinaka vaka levu!
Nigali Passage in Gau was as good as it gets, with excellent visibility, only mild current, and more sharks than we had ever seen, about thirty adult and eighteen baby juvenile gray reef sharks circling very close to the divers, at their usual spot, truly awesome! White tip reef sharks were also plentiful, lying around sleeping all along the passage in big groups. The two huge Malabar groupers were also still their very friendly selves, having tete-a-tetes with the divers. Drifting into the lagoon we had the ever so vicious titan triggerfish attack us, beware, beware, they are nesting again... We also had an eagle ray flying by, and manta sightings on both dives, which compensated us largely for the triggerfish stress.
Maria McPartland spread some Italian atmosphere around the NAI'A, and her husband John lovingly helped her overcome the hurdles of her first dives as a certified diver.
Not only was Jim's Alley its usual beautiful soft corally self, but we also spotted a turtle and big cowries amongst other critters, and had yet another manta circling us during the safety stop.

Arnie Warshawsky did not waste much air, especially during his dives with Dennis. He still works as a dive guide in Hawaii, an example to live up to.
This time we not only dived the ever gorgeous Wakaya wall, but we also tried our luck with the mantas at Vatu Vai, where not only did a beautiful manta make a fleeting appearance during our safety stop, but we also saw a yellow leaf fish and quite some lionfish.
Mike Brotsis, a happy Californian Greek and true bachelor, did not want to leave NAI'A, but keep diving with us ad infinitum, extending his business trip.
The second dive we did at Grand Central Station, Namena Marine Park, was almost at dusk time, and the best we have ever had at this site. There was almost no current and we dropped on a huge school of big-eye jacks to start of. They would not run away as they usually do, but stayed with us, circling us for quite a while. Then we moved for a bit, parallel to the wall in the blue, and saw a school of about thirty scalloped hammerhead sharks passing by, quite close and level with us, at about eighty feet, and almost everybody saw them, simply AWESOME! As if that was not enough, we sat on the sandy bottom between the arch and the bedrock shark cleaning station by the drop off, and enjoyed the sight of the huge school of Heller's barracuda with a gray reef shark right inside of it. Then a huge tuna cruised out from the lagoon direction drop off, and judging from the sound coming from the blue, chased a school of fish, which triggered about five gray reef sharks to appear out of nowhere and shoot into the blue, right into the big-eye jack school that appeared on the edge of the drop off, very densely packed, probably having been chased before by the monster tuna. The sharks and tuna kept darting in and out of the big school of jacks, providing us with the most rare sight of a natural feeding frenzy, and they also kept moving in and out over our heads, and the barracuda kept circling as well for quite a while, and we stared in awe until our computers started to protest. Time to drift back to Kansas with a small stop to visit the splendid garden eels and to admire the huge school of long-faced emperors that lately has been staying in the arch area. On the next day we went back and did not see the hammerheads again, but were very lucky to see a huge Malabar grouper eating a long-faced emperor fish almost entirely with one single bite.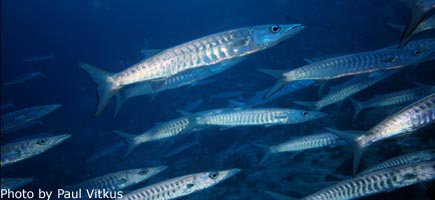 Greg Gleeson, a very merry man, was very happy to see that his point and shoot camera with a lovely strobe and macro plus wide angle lenses did such a good job.

School House was its usual fishy self with many schooling fish of different species, and this time we had the bonus of a very big school of yello and chevron barracuda mixed up together circling us closely for about ten minutes before they went off into the deep, a very special sight.
Gentle and cheerful Leilani le Blanc enjoyed diving slowly, and relished at the sight of every critter and fish.
We finished our charter on Golden Sunset, where we had a great dive amongst the swim thrus and luxuriant yellow soft corals, all out feeding in the current, and the resident schools of snapper and emperor, which were being chased around by four seemingly hungry gray reef sharks, along the outer pinnacles, quite a sight! We also saw lionfish, scorpionfish, two big octopi, and plenty sargeant major protecting their eggs in the shallows.
Guest Comments
The NAI'A Family – What a treat to spend these 10 days with you – the reputation of the NAI'A is not understated – 5 stars around! Crew, food, accommodations, Crew (did I say that already? You're great!!!) … and of course, the endless colors and 'fishy' sites –
Hoping to a return trip soon.
PS: Sonia's breakfast seminars - excellent, excellent! Whoosh!
Carol Herrlie, Pathways to Adventure Tours, Placerville, CA, USA
We saw it all! From Schooling hammerheads to the red spotted blenny. Thanks for the morning critter talks, the scrumptious meals, the village visits, the music and singing, the kava party! Thanks for welcoming us into your family and sending us home loving Fiji, its waters, its fish, its people, its joy!
Pam Wade, Sacramento, CA, USA
NAI'A Crew,
You will be a hard act to follow!
Beyond the beauty of your country and reefs, the warmth and friendliness you extend to your guests is beyond compare.
Thank you all for an unforgettable adventure.
Maureen Wendle, Windsor, CA, USA
NAI'A Crew,
Thank you for the wonderful experience! It totally lived up to my expectations.
After meeting Alexx and her husband at Scuba Show '07 in Long Beach and getting a "promo" copy, I watched the DVD multiple times prior to the trip. The Crew felt like family when I finally arrived for the trip.
Wonderful Crew, which feels like a family –
Vinaka! Thanks for the memories!
Patti Shannon, Newark, CA, USA
To all of my new family –
Many thanks for making this trip so wonderful. From the very first moment to the last everything was to my liking. The dives were great, the briefings were expert, the meals were plentiful and delicious.
Thank you for making this vacation so good.
Barry Cole, Montclair, New Jersey, USA
NAI'A Highlights of the cruise,
Diving, Crew performance and friendliness were better than any 'liveaboard' I have experienced across the Pacific. That was the first day; then it got better each successive day!
Thank you,
Maria & John McPartland, Castro Valley, CA, USA
Bula, Aloha ka kou –
Great Crew, great location, great boat, great diving –
What more to say?
Mahalo nui loa, me a hui hou –
Arnie Warshawsky, Kailua, HI, USA
NAI'A Crew!
To each and everyone of you, thank you!
My pre-early breakfasts with Sereana as she awoke before sunrise with me each day were fabulous for her sunshiny attitude and conversation… special thanks.
Fiji was a dream come true for me, and everything was managed, presented, prepared for, and executed with style, beauty, enthusiasm, unending support and generosity of spirit and caring, no matter if it was cleaning up our messes both above and below sea level, serenading us morning, noon and night, tolerating our goofiness, serving meals the second we sat down, getting us to dive sites with the best of pre-dive descriptions (not to mention finding all of those fish and coral that I never even knew existed) or simply providing a supportive hug.
To all of you, so many thank yous,
Gail Rockwell, Roseville, CA, USA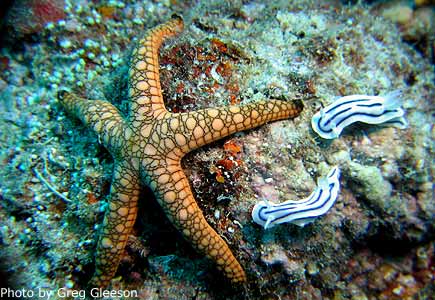 Bula, Bula Sonia and NAI'A Crew,
Thank you for a great diving experience.
Fijian waters are beautiful, warm and colorful.
I will recommend this trip to all my dive buddies.
Thanks again,
Greg Gleeson, Castro Valley, CA, USA
NAI'A Crew,
A BIG Thank You to each of you on the Crew. Your friendliness and hospitality made this a great trip!
Great diving, food and kava!
Adios Amigos,
Paul Vitkus, Reno, NV, USA
Sonia and NAI'A Crew,
I can't say enough kind words about your open, friendly attitude. Your welcoming manner reflects the spirit of who you are! Thank you for sharing! The diving has been spectacular. The reefs are healthy, the density of fish amazing. Thank you again for all them memories to cherish!
Wayne Wendle, Windsor, CA, USA
NAI'A Crew,
It was a great trip.
Boat, food and Crew were great, enjoyed diving and interacting with you all. I hope you all remember me for a long time. I am sure Sonia will.
Thanks for the three extra dives.
Dennis Hocker 'The Diver', Newark, CA, USA
Sonia and NAI'A Crew,
Thank you for a wonderful experience and the special moments.
Leilani le Blanc, Rancho Murieta, CA, USA
NAI'A – Fijian for perfect!
Carl Cornils, Pathways Travel, Caledonia, MI, USA
Links
Carol Herrlie
Pathways to Adventure Travel
www.pathwaystoadventure.com