Date: December 1 - 8, 2007
Destination: Bligh Waters, Namena Marine Reserve, Wakaya, Makogai, Fiji
Welcome back: Jerry Katler
Congratulations: Beth Kish, Nina Jantsch, Todd Katler and Kurt Roehm on completing a TDI nitrox course.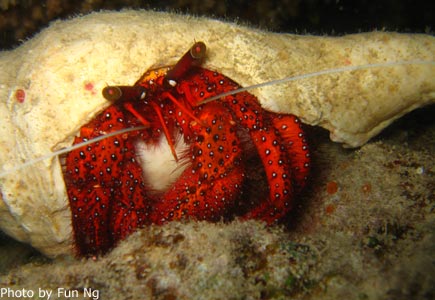 Jerry Katler joined NAI'A in April, and came back this time with his son Todd. So nice to see you again, Jerry, welcome back, and great to see you diving in such good company. Fancy sitting in the swimming pool on scuba again, reading a book in a plastic bag, Todd? I have to try that one, sounds very quiet and relaxing!
The deeper Teton's resident blue ribbon eel had a X-mas holiday friend visiting, so we had the two of them poking their blue and yellow heads out of their sandy hole, looking very romantic.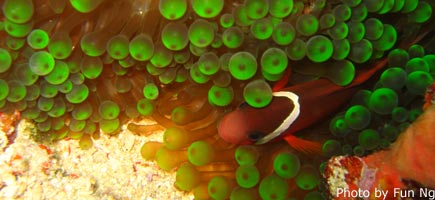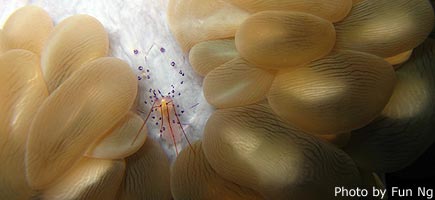 Kurt Roehm, Fun Ng, Beth Kish, Greg Kurze and Beth Broderick, are five friends who often travel together. Kurt earned the Kava King title, enjoying countless bowls of the delicious mix with a broad smile. Fun did all the dives, including night dives, and had tons of fun. Happy camper Beth Kish saw plenty underwater 'fur-balls'…. fish or critter? …only she knows... Greg relaxed a lot and Beth Broderick's underwater hen managed not to lay her egg, while Fun's hen unfortunately lay hers…. It is definitely tons more fun diving with friends…
Our usual North Save-A-Tack mates were all home, including two gray reef sharks circling over the rim of the wall, the two resident huge dogtooth tuna patrolling the arch, the big friendly Malabar grouper sitting by his usual rock getting cleaned, sleeping white tip reef sharks, and big schools of chevron, yellowtail and heller's barracuda, and big-eye jacks. We drifted back through the arch, passing the pink feeding whip corals, said hello to the two 'Doris', palette surgeonfish, on top of the arch and ended up in beautiful Kansas, where the sinularia soft corals welcomed us together with a quite rare Halgerda carlsoni nudibranch, and the solitary great barracuda, which usually hovers above the sinularia field, was getting cleaned by two cleaner wrasse, mouth and gills wide open.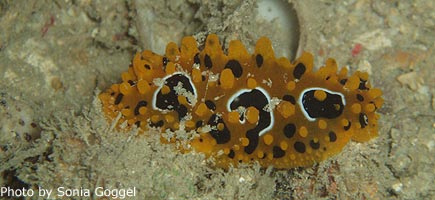 | | | |
| --- | --- | --- |
| | | |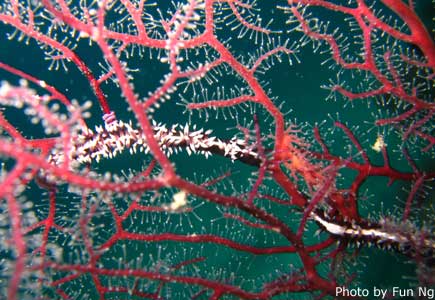 Congratulations, Judy and Mark Curto, on your 30th wedding anniversary. We wish you many more to come! Smiley Judy and Mark did not miss a dive. Mark was our speedy diver, as he enjoyed swimming full speed across the pinnacle tops against the current to the edge where all the fish hang out, sitting there for a while in the blue, fish amongst fish, and then drifting back with the current … a bit of exercise to work off the snacks is never a bad idea…
At Two Thumbs in Namena Marine Reserve, we enjoyed a rare sighting of four big eyed bumpnose trevally cruising between the deep ridges. We also observed many large groupers of different species getting cleaned around the main two pinnacles, and swam amongst the vast schools of blacktail and onespot snappers on the far ridge. A white tip reef shark was also not bothered at all by our presence and kept cruising around the ridges amongst us.
Nina Jantsch came to NAI'A from Switzerland and made it clear, that the Swiss can stomach almost as much kava as chocolates or cheese… She definitely earned her title of Kava Queen.
Night diving can be very exciting, and Fun did not miss a single one. Especially the ones we did at Namena and at Makodroga islands produced adrenaline rushes, as we spotted white tip reef sharks, sea snakes, a big hawksbill turtle, blue spotted stingrays, a huge moray, a large lobster, monster nudibranchs, juvenile angelfish, and a sea cucumber with an emperor shrimp crawling around on it.
Elaine Filus and Gail Connelly were our sparkly-eyed mermaids. They made many discoveries, the most notorious of which being a squirrel fish, which had a wide open camouflaged mouth with many sharp teeth painted on its spread out dorsal fin … too much kava?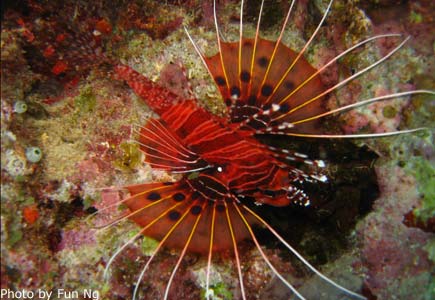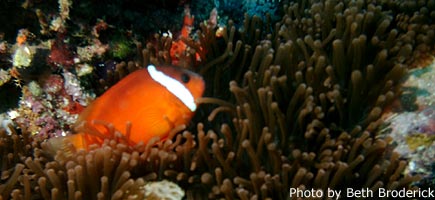 We visited Rick's Rocks in Makogai for a dusk dive this time, and were able to observe slender anthias shooting out into the blue in little packs, spawning and coming back to the reef, while jacks were coming in trying to catch the anthias while they were unaware of their safety. All its lush soft corals were also feeding, looking gorgeous, and rivers of fusiliers were streaming closely over them and around us, very busy and awesome!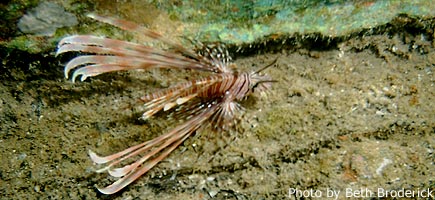 Neelie and Steve Nelson, a loving couple, were always easily recognized under water by their shark-fin and devil-horns hoods. Especially the latter proved very useful in attracting mantas at Wakaya and Vatu Vai, Ray Rock. The mantas cruised in over our heads to get cleaned and one of them brushed Fun's hair on the way… I have never seen a bigger smile…
The Wakaya wall and Lion's Den site is getting better with every charter… not only did we have mantas paying us several visits, but two gray reef sharks kept circling in and out over the edge of the wall, checking us out closely, joined by a white tip reef shark. Large schools of masked and unicorn surgeonfish, fusiliers and red snapper were guarding the entrance to the passage, and several spadefish were getting cleaned by the reef.
We ended our charter by visiting Makogai clam farm and village yet again. We were welcomed with their usual wide smiles and shining eyes for another beautifully performed meke, 'kava ceremony and custom dance'.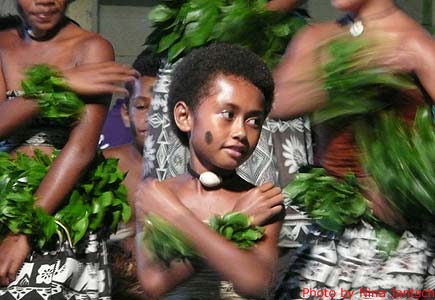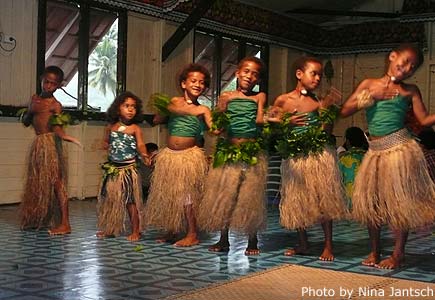 Vinaka vaka levu, Makogai, you rock!
Guest Comments
In one word – awesome! I've never seen so much beauty in one place.
Not only the diving, but the wonderful Crew. Sonia was right – we'd feel like family by the end of the trip. I wish it didn't have to end. I love you all. The best vacation ever.
Hugs and kisses,
Beth Kish, Livonia, MI, USA
Truly the most amazing trip, ship and Crew. The diving was awesome and only topped by the education by Sonia and staff. We are totally spoiled and feel part of the family of NAI'A. Best of luck and hope to see you in the future. God bless!
Beth Broderick, Indianapolis, IN, USA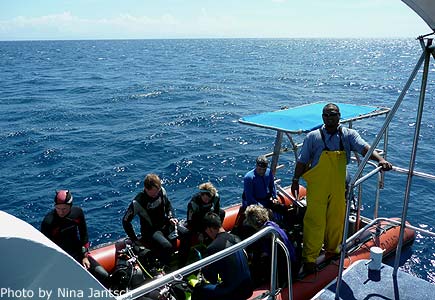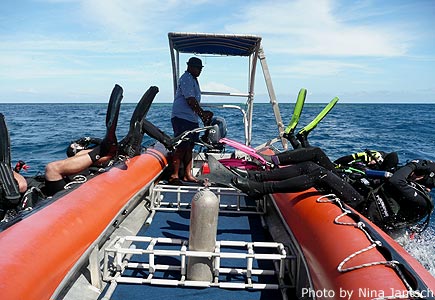 I can't believe that I was just on NAI'A last April. When my son Todd called me and wanted to go diving, he asked where we should go. I told him there is only one place and one boat – So here we are. The Crew as normal was great and Sonia never changes – she always has a smile and is NAI'A's greatest asset. Capt John and the rest of the Crew also make the trip a pleasure –
Thanks to all of you,
Jerry Katler, Palm Desert, CA, USA
Ship and Crew the best,
magical music on kava party night,
wonderful food.
Mantas, sharks and on down to baby nudis.
We'll be back.
Neelie and Steve Nelson, Bellingham, WA, USA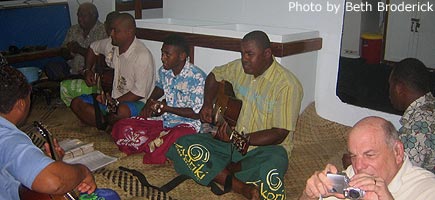 A totally awesome week. Thank you, thank you.
Vinaka! Yes, the diving was fabulous – but the boat, the Crew were wonderful. Sonia's morning presentations added so much to the day's diving… and the graciousness of the Crew really made me feel at home. Sad to leave, but will definitely plan to come back!!
Vinaka!
Elaine Filus, Chicago, IL, USA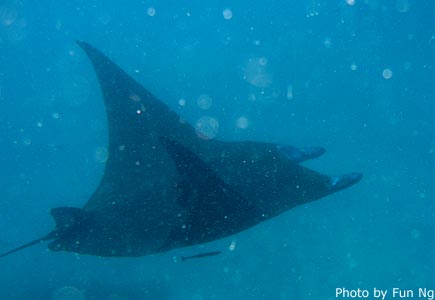 First and second, mantas are the best!
What an experience!
Loved the sea, love the people; especially the Crew. The best ever!
So sad to go. But I hope Bula and Aloha means the same.
Hope to see you all again… real soon.
Such an amazing joie de vivre.
Happy people makes for a happy cruise.
Vinaka!
Fun Ng, Huntington Woods, MI, USA
Thanks to a great Captain and Crew for a memorable trip!
Divemasters are excellent.
Thanks to the Crew for the kava and music.
Kurt Roehm, Northville, MI, USA
NAI'A is the epitome of Bula!
The friendliness, knowledge, and talent (especially musical) of the Crew combined with the breath-taking biodiversity of Fijian diving made for an exceptional week.
Hope to return to dive the passage.
Gail Connelly, Chicago, IL, USA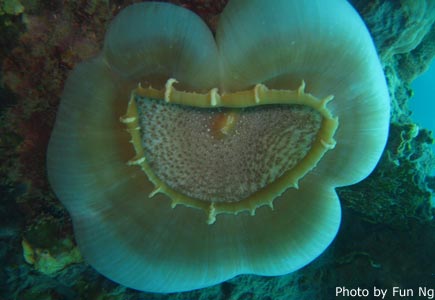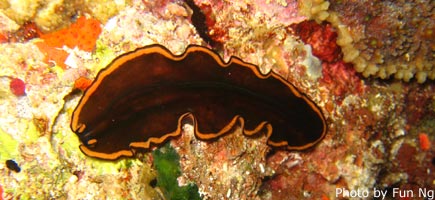 Wonderful Crew! From the moment of arrival, Sonia made us all feel welcome and special. Really enjoyed the diving and the curbside pick-us by Mo and Joe.
Would definitely come back.
Thank you and vinaka!
Judy Curto, Tampa, FL, USA
There is just no way one can even consider making only one trip with this wonderful Crew on this beautiful boat.
We'll be back!
Mark Curto, Tampa, FL, USA
Links
Neelie and Steve Nelson
www.coral.org