Date: December 8 - 18, 2007
Destination: Bligh Water, Namena Marine Reserve, Makogai, Gau
Welcome back: Rochelle Gibbons and Howard Pelovitz, Jackie Archer and Bob Green, Debbie Neergaard and Art Gowling, Sue and Ralph Youngs, and James Mathias
Congratulations: Tobin Cooley on completing the TDI nitrox and advanced nitrox courses.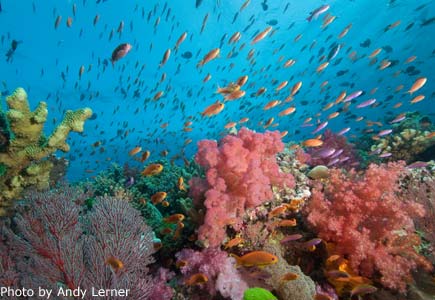 The weather Gods blessed us with sun and flat seas for most of the charter. We started out at Vatu-I-Ra where we caught Charlie's Garden on the most favorable current, which made it possible to do Rob Barrel's favorite tour around the unique hard coral garden over the top, floating above the blue and yellow staghorn coral fields covered in blue chromis and anthias, a real treat. As it was so nice, we went around twice.
Welcome back, Sue and Ralph Youngs. Ralph's great underwater video light lit up the sea for all of us, and Sue, unanimously declared Kava Queen of the charter, had the biggest under water smile ever, and cheered every one of our finds. It was a pleasure to meet you and to dive with you.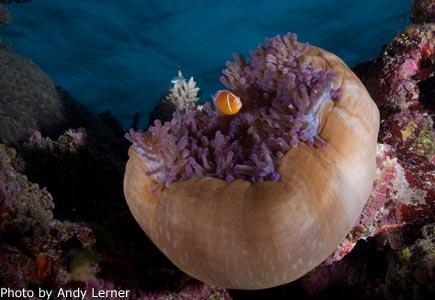 Still at Vatu-I-Ra, the dive at Coral Corner, without the usual currents that feed its soft corals, provided us with an unusual dive, a real fish soup, with rivers of densely packed blue and yellow fusiliers and gold-band fusiliers streaming closely over the staghorn coral garden and all around us, and with small groups of mackerel scads doing their mating dance, running after each other. There were also schools of yellow-spotted trevallies, many white tip reef sharks moving about the reef, and big schools of red and black snapper, surgeonfish and one very friendly gray reef shark on the deeper pinnacles. Another treat was to watch hundreds of batuna's damselfish hovering above the staghorn coral fields in great density, probably guarding their eggs.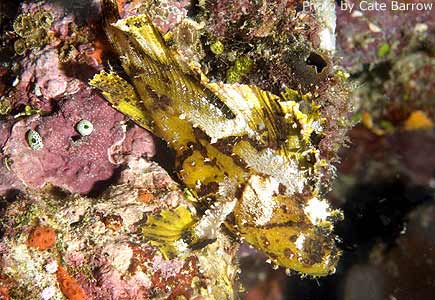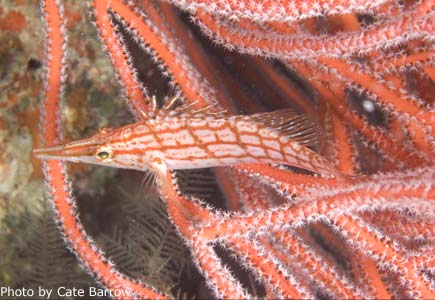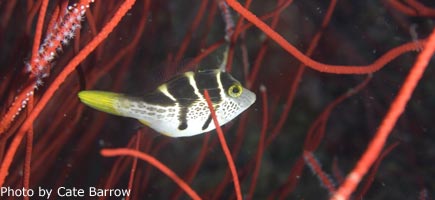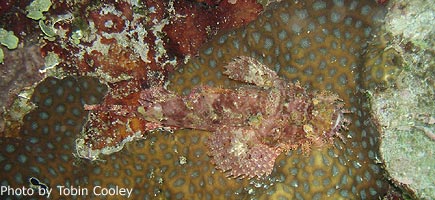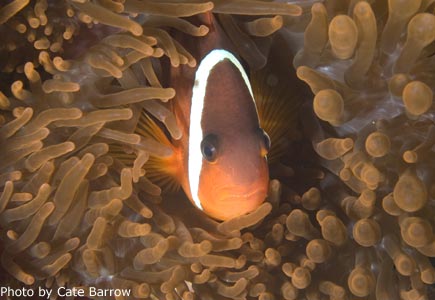 Welcome back, Rochelle Gibbons and Howard Pelovitz, Jackie Archer and Bob Green. Howard was very proud to know that he has his own dive site in Fiji, Howard's Diner ... never mind Howard Hall … He made his rounds on the dive sites visiting everyone, traveling even between dive sites, making sure everybody was happy and accounted for, a custom hard to break when you are a doctor. Rochelle kept us all in line, especially Howard, of course, with her excellent sense of humor. Jackie's every bit of attention was absorbed by Harry Potter for the first days, and then kept busy working hard, but never missed out on a dive. Bob was elected Chief by Chief Watson of Makogai, and assumed his chiefly role with great dignity and authority, and always with a broad smile. Special thanks to Howard and Bob, for taking care of quite some ailing ears…
Gomo was its usual awesome self with its luxuriant dendronephthya and chironephthya soft corals and with its schooling big-eye jacks, barracuda, masked surgeons, and black and red snappers. We even made a new discovery on its NW corner, one black and one yellow leaf scorpionfish, the black one proudly sitting on a red fan coral with white polyps, facing the cameras, ever so smug.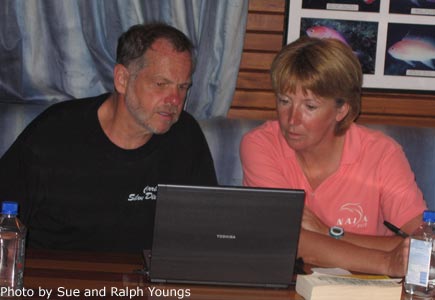 Debbie Neergaard and Art Gowling, welcome back. They were always gentle and ever smiley, even with bruised ribs and blocked up noses. It was great diving with you!
We caught the Tetons at Namena Marine Park with almost no current, which meant that schools of blue and yellow fusiliers, lunar fusiliers, and twinstripe fusilier kept cruising around and over the pinnacles in tight streams by the thousands, truly amazing to watch. The big resident school of masked surgeonfish on Teton II simply sat between the ridge and the pinnacle, densely packed, letting us swim right through them, so very nice. Most of us stayed on top of the pinnacle for ages, looking at the rivers of fusiliers streaming over the pinnacle, and at all the jacks getting cleaned by cleaner wrasse. Quite a show!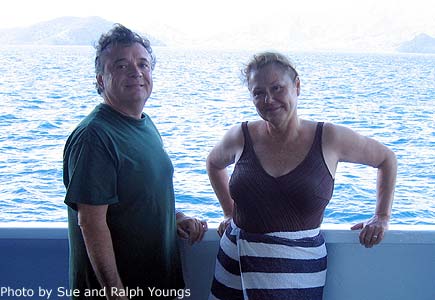 Leslie Lee and Jose Sanchez call Solmar V in Baja California their home. It has been a privilege to share our Fijian above and underwater wonders with you and to meet you. Vinaka!!
Only two very deep hammerheads visited us this time on North Save-A-Tack at Namena, but the dive was still spectacular as usual, with big schools of yellow and chevron barracuda in the blue, and then on the plateau two gray reef sharks circling back and forth, in and out of the big school of heller's barracuda. The monster dogtooth tuna was there, too, as well as the huge longnose emperorfish school, and the big-eye jack school coming in really closely. Never a dull moment!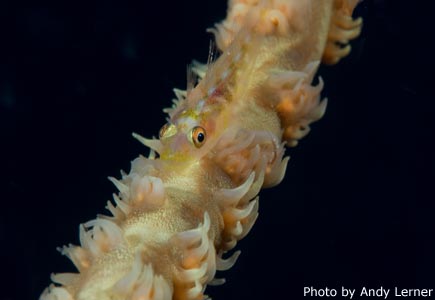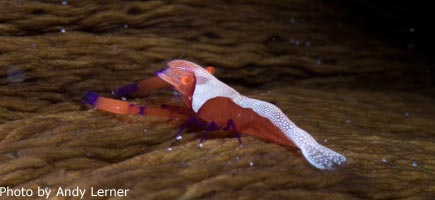 Everybody got their share of being teased by Andy Lerner, who had us laughing the whole charter. He even got friendly with an emperor shrimp, which left its safe sea cucumber home to jump onto Andy's camera lens, hopping about on it.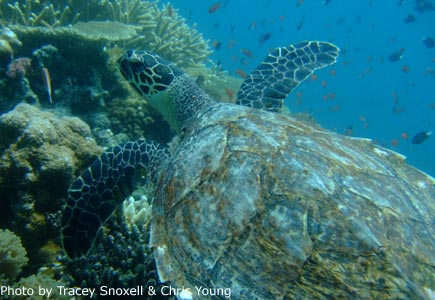 The night dive at Mushroom II, Namena, was a real success, with many colorful and big saron shrimps sitting on the ledges, a sleeping turtle, a stonefish resting under a table coral, and an octopus hiding in a hole, from which he kept throwing sand and rocks at the divers … and it wasn't even new or full moon time to account for its looniness.
Tobin Cooley is a man of many talents. Not only was he elected Kava King, he also kept up with the boys, playing the guitar and the drum as well as they do, and breathing nitrox as high up as it gets…. nothing beats a good oxygen therapy. Happy birthday again, Colin. Next time make sure you bring your closed rebreather along!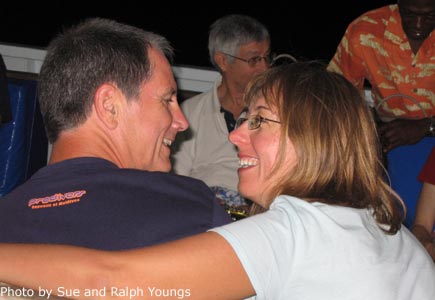 Chris (or Eric?) Long and Tracey Snoxell came all the way from England to enjoy diving amongst the wonders of Fiji. They dove as much as they could, always with big smiles. We all admired how they kept their good spirits even during their courageous battles against ears and sinuses on strike.
Cate Barrow came from Wales and organized her own team of boy-scout critter spotters, led by Tobin and with Chris or Eric, we still don't know, as a close second, but she also managed to find her own special and giant nudibranch, congratulations! Great to see you and dive with you again, Cate!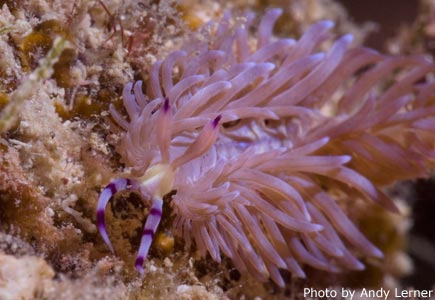 Nigali Passage welcomed us with our malabar grouper friend giving each diver a close tête-à-tête while we were drifting down the passage. At some point he swam straight at me, so I faced him slowly and made myself look big, with the result of him opening his mouth very wide a few times and flapping impressively with his gills … I had to gather all my courage to stand my ground and almost backed off …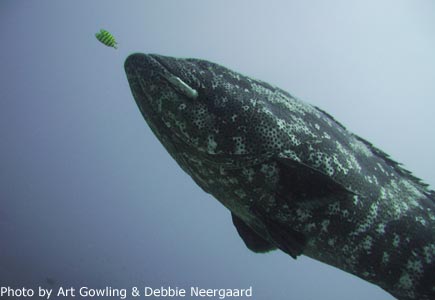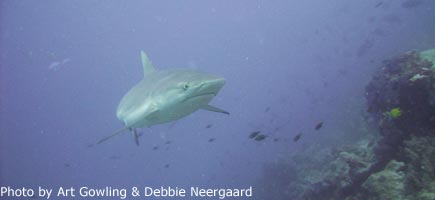 On our second dive at Nigali we did not have any current at all, and were impressed by the huge mixed school of red and black snappers, big-eye jacks and chevron barracuda, sitting densely packed at the edge of the reef inside the lagoon, waiting for the current to change. We could swim right through them, truly spectacular! We then leisurely moved on to the Big Bommie, were we saw a white tip reef shark, and went on to admire the larger than normal density of blue-lined snapper, yellow parrotfish and sergeant majors covering the broken up lettuce coral nearby.
The fish already know James Mathias by name, as he has been eleven times on NAI'A this year. Bula again, James.
Sea snakes were plentiful on this charter, having three of them visiting us on Rick's Rocks at Makogai, and another two at Jim's Alley in Gau, much to Cate's delight … the closer the better, isn't it, Cate?
Two Thumbs Up, at Namena, was one of our star dives this charter. With just enough current to have the anthias and coral polyps out feeding, we had an absolutely fishy, scenic and stunning dive. It was one of those dives, in which we are reminded why we actually love to be down there more than anywhere else in the Universe, and float about amongst the fish and corals. We stayed a long time around the deeper ridge floating about, surrounded by the big schools of humpback and black-spot snapper. Then we moved to the next two ridges and to the outer thumb, and enjoyed the view of the lush fans and soft corals all covered in anthias, damsels and fusiliers, with jacks coming in and chasing them around and the massive roving coral groupers getting cleaned, sitting on the ledges. We just sat there by the pinnacles, letting the atmosphere envelop us, it was like seeing a symphony of movement by Beethoven instead of listening to it. Some dives are meant for critter finding, but some others are meant for meditation, for enjoying the big picture and allowing it to sink in and touch our souls, until one can almost hear the sound of OM coming from it all, perfect harmony and beauty.
Vinaka yet again, beautiful and unique Fiji!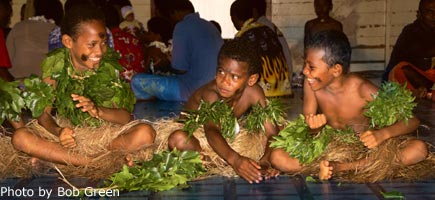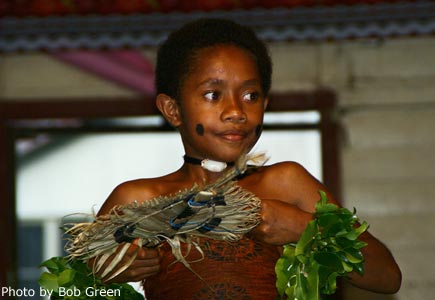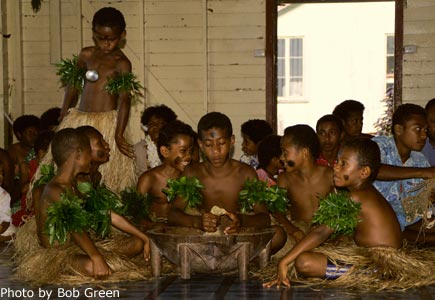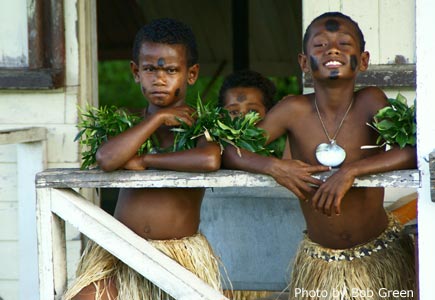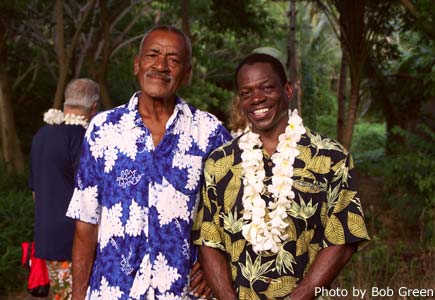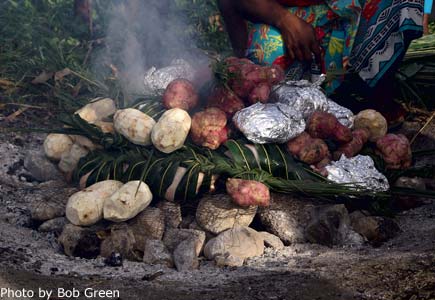 Guest Comments
Thank you for another super adventure aboard NAI'A. Each Crew member was fantastic!
Sue and Ralph Youngs, Annapolis, MD, USA
Wow – what a way to spend a birthday!
Thank you NAI'A Crew for an amazing experience. You went out of your way to create a fun experience.
Tobin Cooley, Lake Oswego, OR, USA
Thanks to Johnathan, Sonia and all the Crew for another wonderful NAI'A adventure!
Debbie and Art Gowling, Vancouver, BC, Canada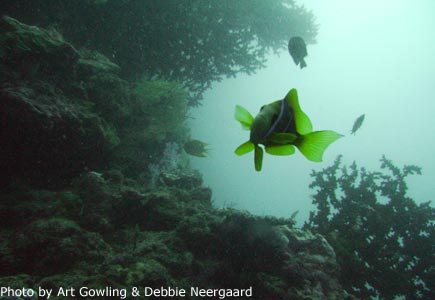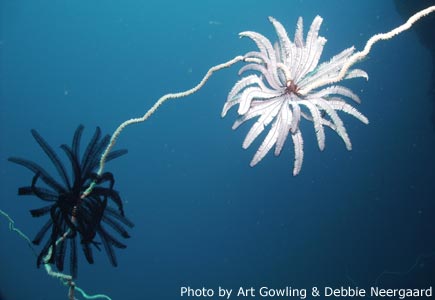 First time to Fiji and NAI'A was incredible.
Very spacious, good eats and of course, the Crew was outstanding!
Thanks for a memorable trip!
Jose Luis Sanchez and Leslie Lee, Solmar V, Topanga, CA, USA
Of all the liveaboards in all the Seas … you are simply the Best!
Thank you Sonia for your passion and enthusiasm.
Thank you John for taking us to a little piece of heaven!
Thank you Crew for making us all feel special!
Tracey Snoxell and Chris Long, Earthdive.com, Luton, Bedfordshire, England
What a wonderful trip. Great to dive with you again Sonia.
A lovely family atmosphere and great diving.
Many thanks and I will be back!
Cate Barrow, Treharris, Wales, UK
Trip #2 was as memorable as the first. Thanks to the Captain, Sonia and the entire staff for an excellent experience. See you again soon.
Bob Green and Jackie Archer, Chicago, IL, USA
Links
Jose Luis Sanchez and Leslie Lee
Solmar V liveaboard
www.solmarv.com

Chris Long and Tracey Snoxell
www.earthdive.com