Date:
February 2-9, 2008
Destination:
Bligh Water, Namena Marine Reserve, Makogai, Fiji
Welcome Back:
Janet and Bob Czapski, Tom L., Mike B.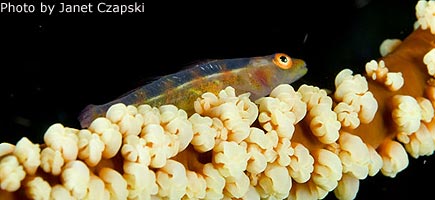 Fiji never fails to amaze with it's under water beauty and diversity, even at times when liquid sunshine is more abundant than the real thing.
Welcome back Janet and Bob Czapski. They travel and dive all over the world, and kept us entertained with their many stories. Mike E., traveled with them this time and took his holiday very seriously, never missing a dive, because, as he puts it, "diving is the most fun you can have with your clothes on" …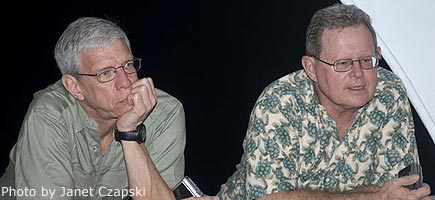 The Tetons at Namena Marine Park were on the list of favorites yet again, with their lush soft corals and fans all around, and their reef tops covered in anemones, hard coral and dense carpets of fish. Our old friend the blue ribbon eel welcomed us from a new home, a bit further up on the reef, on a handsome shelf, a room with a view. On the top, a big octopus was squeezed in a hole, with its tentacles wrapped around itself, displaying huge suckers. An enormous dogtooth tuna swam past slowly along the pinnacle, keeping a very close eye on us, a very impressive sight.
Tom L. and Chris B., welcome back. Our Kava King, Tom came accompanied by his wife Debbie and his daughter Heather, as well as by his friends Isabelle and Jason W., and Chris B. They brought mountains of chocolate and enthusiasm, and lots of laughs and DVDs. Thank you so much! Tom loves his kava, and never misses out on it, even at home in California, where he mixes it himself, celebrating Fijian style. Chris never missed a dive, and his after-dive smiles grew from day to day, and Debbie and Heather kept us entertained with their excellent sense of humor. Isabelle was our Kava Queen, clapping like a proper Fijian.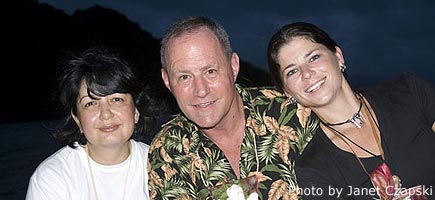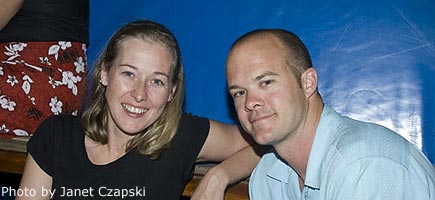 Captain John went exploring on Becky's at Makogai, and found two hairy ghost pipefish, one of them a pregnant female, as well as a sea snake and a blue ribbon eel. He was everybody's favorite man. On Rick's Rocks a tiny orangutan crab climbing around a bubble coral won the "Cutest Critter Of The Charter" Award.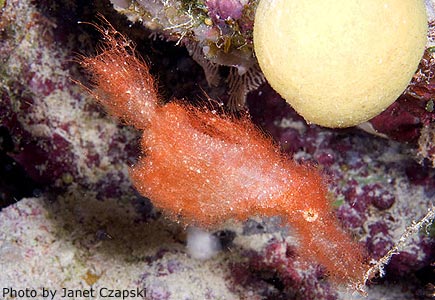 After a very rewarding village visit with traditional dance and rivers of kava at Makogai, we saw a moray eel eating a fish during the night dive, as well as fluorescent squids, stingrays and white tip reef sharks. What an ending to an awesome day!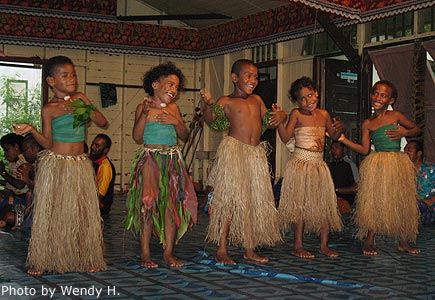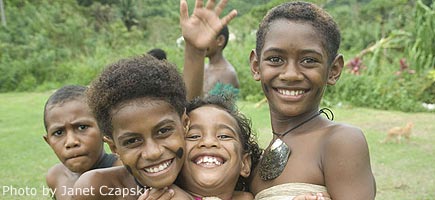 Mike B., welcome back and welcome aboard NAI'A as a videographer for the next few months. His red flat worm diving suit attracted many curious fish, and his effort at conquering the camera room was most successful.
A slow drift along the rainbow wall covered in the ever so colorful Chironephthya soft corals at Mount Mutiny was yet again a highlight. As we made our descent along the wall, an enormous school of pelagic triggerfish swam in circles by the wall very close by, a beautiful sight. Critters were also plentiful, as Chris spotted a lovely red scorpionfish, and we found two very colorful Bornella anguilla nudibranchs in a forest of hydroids.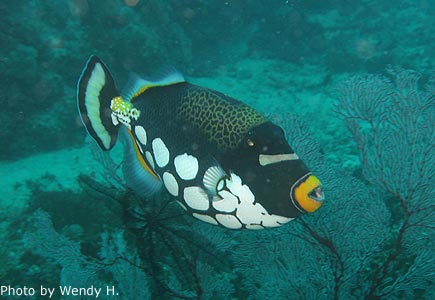 Harry Donenfeld and Wendy H. visited us on NAI'A to shoot a series of promotional videos. We enjoyed their company and their videos immensely, thank you!
Yuki S. joined us from Australia, and enjoyed the diving as well as a good rest. It is a holiday after all.
The two UndeNAI'Able pinnacles are always a nice dive. This time they were covered in dense rivers of thousands of fusiliers streaming very close to the reef over and over, a sight to behold!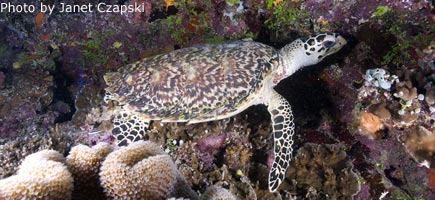 As Rob Barrel joined the charter, everybody was very much looking forward to diving Rob's Knobs, and we were not disappointed, as not only were the hard and soft corals really nice, but we also found carpets of red and orange zooanthids, many blue-spotted stingrays, turtles, several very friendly white tip reef sharks, golden mantis shrimps and a robust ghost pipefish. The narrow swim thrus were also very special, with their walls covered in very large fan corals and orange soft corals. Good on you, Rob!
No wonder that Cat's Meow is Rob's favorite, with its lush soft coral growth, its fishy top, its schooling many-spotted sweetlips and its big lionfish. This time an eight feet long and almost as wide Queensland grouper was parked in one of the many windows, and would not move, even with all those eyes behind masks staring at him.
Vinaka yet again, dear Viti!
Guest Comments
Six divers out …
Six divers in.
With tales to tell …
About their swim.
Bubbles & bullshit …
Were bantered & braved.
And the underwater antics …
Leaned towards the depraved.
Frantic poking and pointing …
And peering into the dark.
All in hopes of a peek …
At a white tip reef shark.
And rewarded they were …
For their dive guides knew best
Where the nudibranchs hang out …
And the triggerfish nest.
The lights went out …
It rained like heck.
Even the squid left the oceans …
And littered the deck.
But the girls kept us fed …
And Kava filled the boat.
We sang silly love songs …
And made sounds like a goat.
The Seas were not calm …
And the Sun did not shine
But the trip will be remembered …
As one in a lifetime.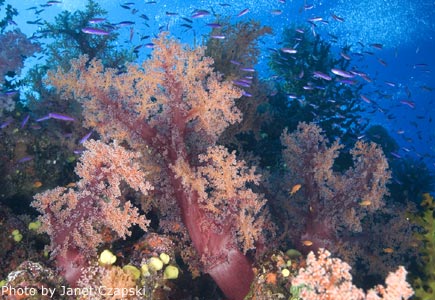 Wow! What a wonderful experience!
Although Tom has been aboard a number of times, it was a first for the other 5 of us. Tom raved about NAI'A, especially the Crew and he was right on the money. I would sail again in a heartbeat and I'd love for the rest of my family to enjoy a NAI'A adventure as well.
I've been pampered, spoiled and nudged into being a better diver.
Notes:
- Food was great!
- My bed was always magically made.
- Suli has a smile that keeps the cabin alite even when the generator doesn't
- The boys were fun … yet polite
- Rob aka "Martin Short" is happy and fun and real
- Sonia – what a jewel, knowledgeable, great sense of humor, patient, fun …
- Johnathan … a man to trust, and wow! What a beautiful voice.
Thank you,
Debbie L., Palm Desert, CA, USA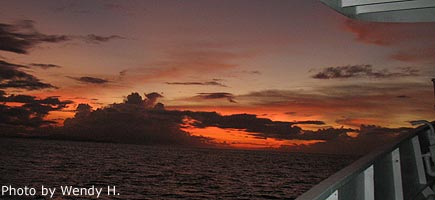 Here's the deal:
This is my second trip on NAI'A.
All my expectations were exceeded again.
Diving with Sonia, Rob, Richie, Eddie, and the Captain was amazing. Their knowledge of the various sites and environment enhanced each dive.
Peni's meals and the ladies' overall care were the best.
Great time!!
The skiffs are ready!
Chris B., San Diego, CA, USA
To our friends on NAI'A …
Again you include us in your family and make us feel so special!
All the BULA smiles and incredible friendliness warm our hearts!
The diving is awesome, the boat spectacular, but what makes this the most special place we visit is our NAI'A family.
Vinaka vaka levu for another spectacular week … in spite of the weather!
See you again soon … you remain in our hearts!
Fondly,
Janet and Bob Czapski, Northville, MI, USA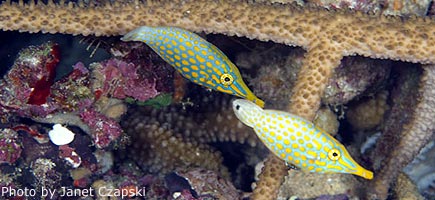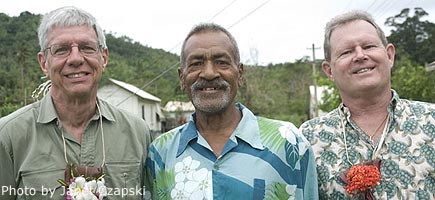 My first trip to Fiji and absolutely an experience to remember.
The Crew was perfect, Sonia was incredibly helpful, sweet and absolutely funny after she broke out of her shell, Rich was also kind and fun to be around. The service was not to be forgotten "in a good way". The diving was beautiful, the Kava strong, music was touching; the boat was clean; the Crew was incredible and the food was tasty.
Thanks for a great trip guys.
"High quality rubble, Baby" …
Kind regards,
Heather L., Palm Desert, CA, USA
What a wonderful time I have had.
The diving was great as expected.
But the most impressive thing was the amazing Crew, who seemed to be enjoying themselves as much as the passengers.
This made for a great experience on NAI'A.
I can see that their was great attention to detail in making every passenger feel at home and that all of their needs were met. The boat's layout and design was prefect for such expeditions. The knowledge of Sonia and of the Dive Masters seemed to put even the most apprehensive diver to rest.
It was a bonus to have met and be able to dive with Rob, the Mastermind behind this amazing time.
As the saying goes, it all starts at the top. You all care and it shows, from Suli's sinus clearing lemon leaf and Chinese medicine mix, to Joe's constant watch of bubbles for a speedy pickup. Thanks to all the Crew you were all amazing in creating a wonderful time.
Jason W., La Quinta, CA, USA
Thank you , thank you, thank you!
What a wonderful trip this has been! The dives were amazing of course and what I expected, but the Crew of NAI'A – WOW I think they make this trip amazing! From the Captain's ginger tea to Suli and Sereana's special mix for the sinus, Peni's wonderful food every day, the dive master's knowledge and spotting, and of course Sonia's briefings, caring and humor – what a wonderful person!
All of the crew that we rarely saw were also great! Thank you everyone! It was also special to have Rob – "The Man" aboard. I loved hearing all of his stories and the video of the NAI'A being rebuilt was great! Thank you Rob for making this possible for all of us divers!
We will be back soon!!
Thank you again to all of you!!
Isabelle W., La Quinta, CA, USA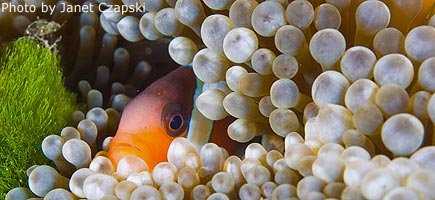 Aloha Rob and NAI'A Crew!
Thank you for sharing your home with us. The boat is amazing and the diving even better!
Vinaka, vinaka, vinaka! Not even Cyclone Gene could diminish your smiles and great diving!
Peace and Aloha (Bula)
Harry Donenfeld, Makawao, HI, USA
Mahalo for an incredible experience aboard an amazing boat!
Each dive site brought special surprises. The entire Crew is gracious and friendly, which only makes superb diving even better!
Warmest aloha,
Wendy H., Kihei, HI, USA
Thanks Rob, Sonia and all the Crew (but especially our intrepid dive guides Richie and Eddie) for a great time. Though the promised sun never made an appearance (cyclone? what cyclone!) the trip was great from start to finish. Thank you all for your wonderful hospitality
Yuki S., Brisbane, Queensland, Australia
Links
Janet & Bob Czapski
Dive Travel Services
www.divetravelservices.com
Harry Donenfeld
www.thankyou.tv
www.hawaiianharry.com