Date: March 29 – April 5, 2008
Destination: Bligh Water, Wakaya, Makogai, Namena Marine Reserve, Fiji
Congratulations: Jamelle L., Skye J. and Darren B. on completing the TDI nitrox course
| | | |
| --- | --- | --- |
| | | |
Wherever one submerges oneself in Fiji, soft corals are plentiful and gorgeous, densely covering the reefs in all colors of the rainbow, almost unmatched anywhere else in the world. Fijian reefs are also very fishy all around, with the food chain happening right in front of your very eyes, as the jacks and mackerels chase anthias, damsels and fusiliers to the reef, where ambush predators, such as groupers, await them with open mouths. But, no place is fishier than the superb Fijian reef tops, covered in anthias and damsels, with fusilers, surgeons and jacks streaming densely over the reef to get cleaned by eager cleaner wrasse. The Tetons at Namena Marine Park are one of those typical Fiji dives, with reef tops, where one could pitch a tent and live forever, happily watching soft corals and millions of fish. So many of our divers agree, that these are the nicest reef tops they have ever seen.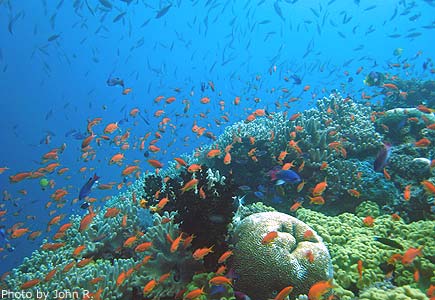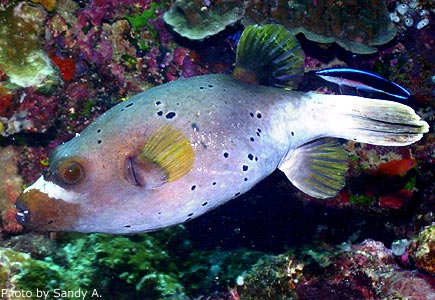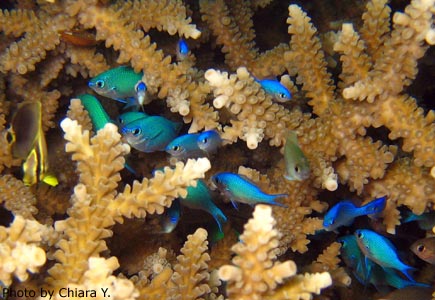 Nic M., Irish traveling lady, and her man, Rod B., visited us from Australia, on their way to settle down in California. Good luck to you both!
Even though Bekana reef does not get the visibility Fiji is famous for, we always find many species we very rarely, if at all, see in any other of our dive sites. We meandered between pristine cabbage coral patches and staghorn coral fields with finger sponges growing everywhere, and not only were able to spot the rare pajama cardinalfish, but as well a few of the equally rare threadfin cardinalfish, a juvenile regal emperor, sea urchin clingfish, as well as sailfin snappers and juvenile many spotted sweetlips. Chiara Y. and John R. also spotted a very friendly cuttlefish, which came right up to Chaira's hand and tickled her with one of its tentacles. Not bad for a check dive.
| | | |
| --- | --- | --- |
| | | |
Jim R., Tony M., Roger C., Chiara Y. and John R., are five friends who know each other from New Jersey, although Roger is from Washington DC, but they have adopted him, as he is such a happy and smiley mate, and such an enthusiastic diver. Chiara and John have been in Fiji before, for their honeymoon … no better place…
The Nasi Yalodina wreck welcomed us with very clear visibility and myriads of small fish hovering above the pristine hard coral garden. We also spotted a very frilly and leafy juvenile rockmover wrasse, and we enjoyed the very rare sight of a couple of Nembrotha lineolata nudibranchs mating.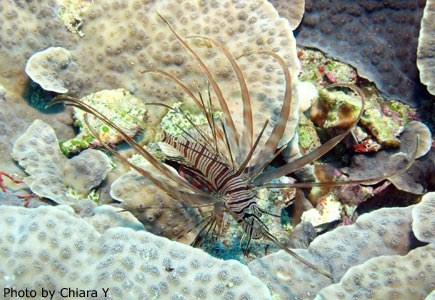 Even though the humongous Queensland grouper who calls Cat's Meow its home has been on holiday lately, the dive was superb, with hovering lionfish, wings all spread out, schooling many spotted sweetlips, and three very handsome Saron neglectus shrimps peeking out boldly from amongst the corals, in broad daylight. Gorgeous nudibranchs were plentiful, we saw two huge Phyllidia ocellata, as well as Roboastra gracilis, and plenty Chromorodis lochi, as well as Pseudoceros sp and Thysanozoon nigropapillosum flatworms, and even a tiny sea spider.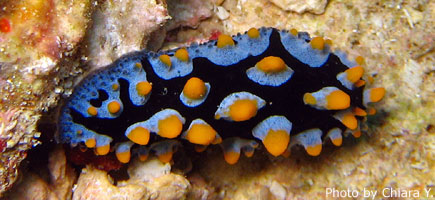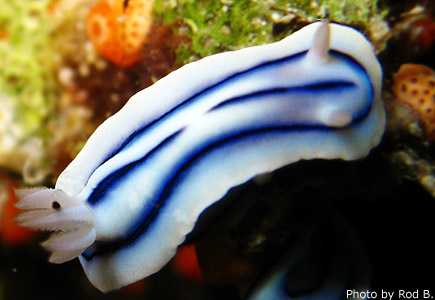 Sandy and Bill A. have dived in ever so many places, but felt most at home in Fiji with us on NAI'A, thank you for your kindness.
One of the highlights of the charter was a superb ornate ghost pipefish floating about amongst the branches of a black coral bush, visibly pregnant, in Charlie's Garden, Vatu-I-Ra.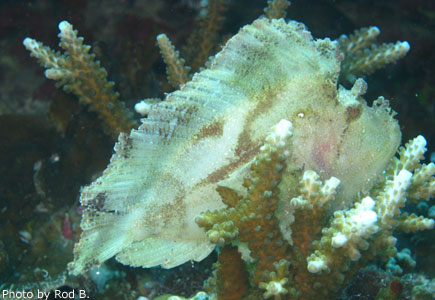 Wakaya never fails to impress, not only with its magnificent soft corals and fans, and the sightings of so many critters, including decorated dartfish, leaf fish, mantis shrimps, octopus, juvenile rockmover wrasse and juvenile many spotted sweetlips, as well as schooling fish of many species, including barracuda, longfin spadefish, pinjalo snapper and many species of fusiliers, but also with the possibility of visiting mantas, turtles, gray reef sharks, white tips and hammerheads, as was our luck this time, when a large black manta swam by majestically and very close up, repeating the act three times. Vinaka, Wakaya!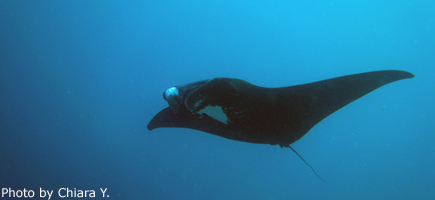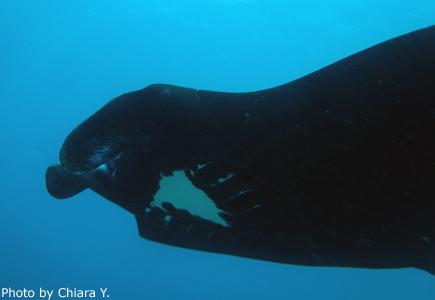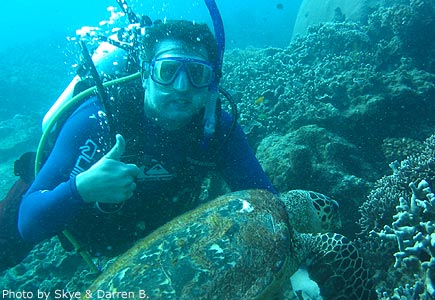 Skye and Darren B. came from Australia to spend their honeymoon in Fiji on NAI'A. Congratulations again and best wishes for many years of love and diving to come.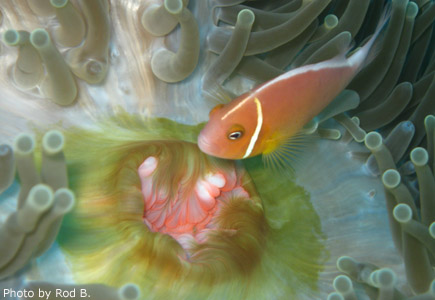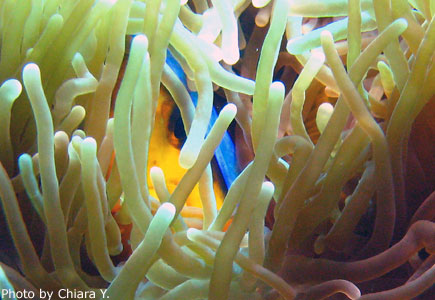 On Rick's Rocks at Makogai we were fortunate to observe a titan triggerfish eating a Choriaster granulatus sea star, taking big chunks out of it, while a small entourage of wrasse and goatfish took advantage of the feast, having a few bites themselves. After a while the triggerfish felt rather annoyed by us watching it munching, so it took the sea star away and finished its dinner behind another coral outcrop, evading all those watchful and hungry human eyes.
The night dive at Makogai Point had a close up eagle ray in store for us, as well as a white tip reef shark very close up, a giant hermit crab living in a trumpet shell, and a Synapta maculata sea cucumber feeding in the sand with its long tentacles.
When Jamelle L. is not diving, her knitting and crochet shop keeps her busy. She visited us on NAI'A with her husband Ernie L.
North Save-A-Tack at Namena is one of those unmissable dives, especially when the currents are mild enough for us to sit on the rim of the plateau, by the shark cleaning station, and watch several gray reef sharks coming in low over the platform to get cleaned, while the monster dogtooth tuna accompanied by three smaller mates keep patrolling the big schools of heller's barracuda, mackerels and big-eye jacks. We usually overlook and almost sit on the very friendly and huge Malabar grouper, which usually lies on the bottom, not at all bothered by our presence. Finishing our dive on the wheat-like field of sinularia soft corals swaying in the current on Kansas is always a juicy cherry on the cake, especially when the cherry is guarded by the giant 'humpback' great barracuda, hovering motionlessly over the top.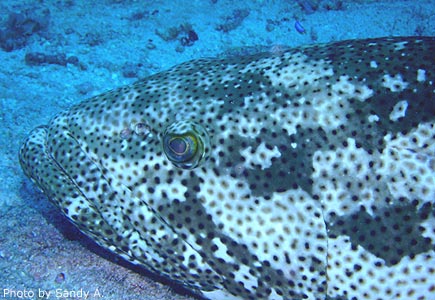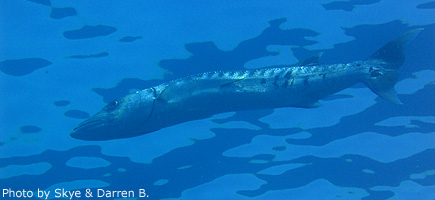 Namena's Two Thumbs Up lived up to its name, surprising us with a hammerhead shark cruising slowly in between the deep ridges right past us, while we were enjoying the view of the schooling humpback and black spotted snappers on the far ridge … we almost swallowed our regulators. At the end of the dive we were having our hands cleaned by dozens of hinge-beak shrimps, when a juvenile regal angelfish made a beautiful, yet fleeting appearance, not at all a frequent sighting.
Maytag at Vatu-I-Ra was at its best. As the current was mild, we ventured out on the ridge for quite a distance, with gray reef sharks cruising by and the huge school of big-eye jacks circling us several times, always a spectacular sight. Back on the main pinnacle we spotted a few shy NAI'A pipefish, and enjoyed the spectacular fishy reef top for quite some time, sitting in the current, admiring the resident school of masked surgeonfish, guarded by a couple of fierce looking resident giant trevally, and as if this had not been enough action and beauty for a dive, a school of chevron barracuda and one of double-spotted queenfish cruised by at the end.
Fiji never stops to amaze! Vinaka, Viti!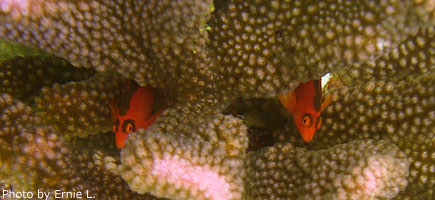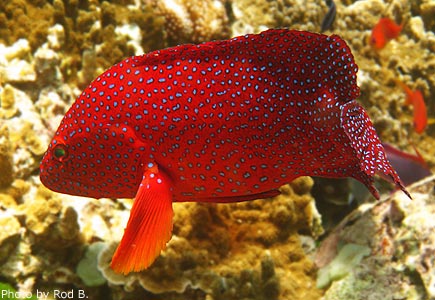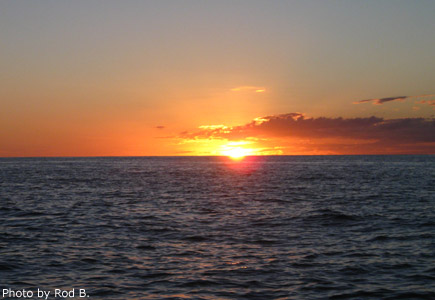 Guest Comments
Thank you for an incredible trip.
The Crew was superb!
Thanks for all the "high quality rubble"!
This has been a truly magical trip … even the tropical depression magically disappeared.
The food was great … especially enjoyed the "Crew food" with the extra shot of chilly.
Thanks for all the assistance Ben!
Favorite Memories …
Close encounters with the manta
Our first cuttlefish
John's 1000th dive
Dancing in the village
& singing around the Kava bowl and Mo's goat!!!
Thanks to the magnificent Crew that made us feel welcomed, and smiles that started in the soul.
I truly hope we meet up again on this road of Happy Destiny.
Warmest regards!
Chiara and John R., Mount Laurel, NJ, USA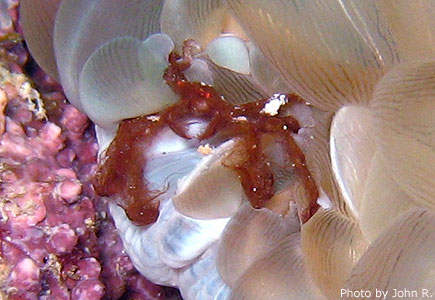 To NAI'A and all her friendly (& skilled) Crew –
Thank you for the trip of a lifetime –
Hammerhead, cuttlefish, lobsters and millions of fish great and small.
The weather and currents didn't always cooperate, but still one of our best trip ever!
A glimpse of Fijian village life and maybe a little too much Kava.
The children are most beautiful, as is Sonia's smile.
I'll definitely recommend to serious diving travelers.
Sandy and Bill A., Livonia, MI, USA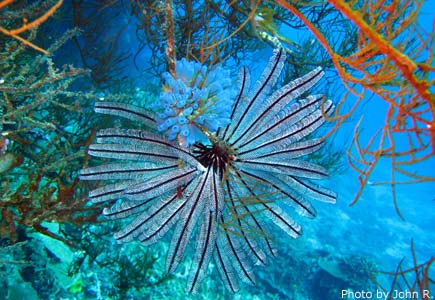 To the Crew,
Had a fantastic time on your boat.
The service was impeccable, the food excellent, the diving wonderful and the warmth of the people set the mood.
Thank you so much
Vinaka
Jim R., Surfcity, NJ, USA
To NAI'A Crew,
Thanks for a great week, great diving, fantastic food and friendliest Crew ever!
We'll be back!
Skye and Darren B., Runaway Bay, QLD, Australia
PS: Thanks for the Honeymoon gift!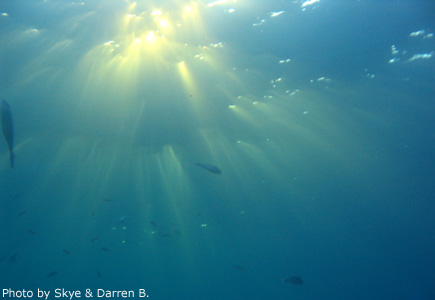 To the Crew,
Thank you for your wonderful service and support.
We enjoyed ourselves this week with the diving and the village visit.
Thanks for all of your service and help.
Jamelle and Ernie L., Danville, CA, USA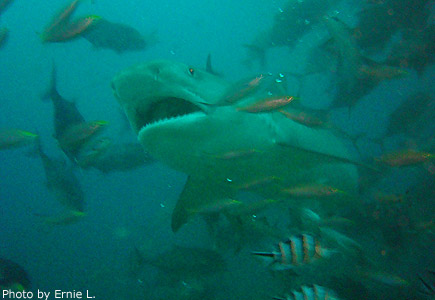 This trip rocks!
To the Crew, thank you!
This has truly been a wonderful experience.
Best liveaboard ever!
Nic M. and Rod B., Ireland and USA