Welcome back, Stan!
Date: 12 -19 April, 2008
Destination: Bligh Water, Wakaya, Makogai, Namena Marine Reserve, Fiji
Welcome back: Stan Waterman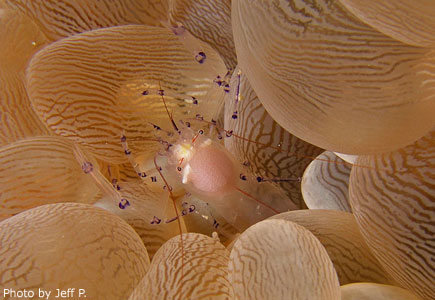 Stan Waterman's stamina and joy of life are astounding. Not only is this the second week in a row he does one to two dives a day, but on this charter he was also very busy writing articles and presenting his very unique and celebrated Bijou Entertainments after every breakfast and dinner, spiked with his usual humor and special stories. He even had time to sit in his favorite corner several times during the day, reading a good book and smoking his aromatic pipe, the smell of which allegedly makes the ladies' legs wobbly.
A very warm welcome back, Stan. It is always a great pleasure to dive with you in Fiji's "shark infested waters…."
Kevin B., gave himself a special birthday present: to celebrate his birthday in the company of his hero Stan Waterman diving on board NAI'A. We have to agree with him, it is priceless to share time and dives with Stan! Happy birthday, again!!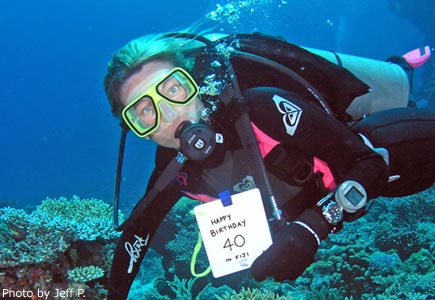 Happy 40th birthday, Yvonne B. Life keeps getting better, as one brief look at Stan Waterman himself will prove, so don't worry! Being a dental hygienist herself she was a big fan of shrimp and wrasse cleaning stations, and she also discovered that kava mixes very well with wine … ups …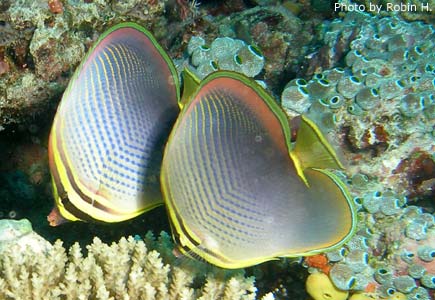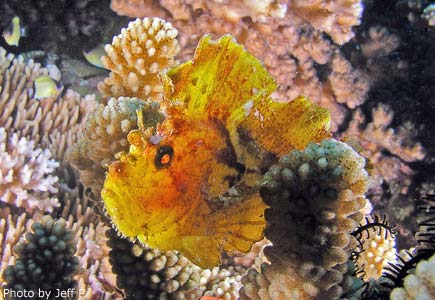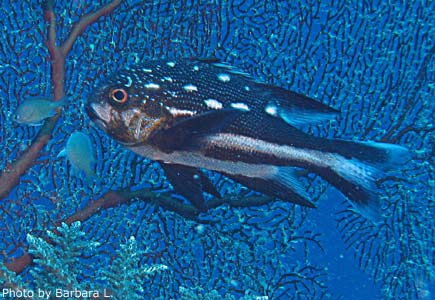 Golden Sunset was very busy with big schools of red and black snapper, big-eye jacks, double-lined mackerel, giant sweetlips and two gray reef sharks rushing along the reef, obviously hunting, followed by a trail of mackerel. We finished the dive directing our attention to the reef, where the yellow soft corals, after which the site is named, were all out feeding in their most beautiful outfit in the swim thrus, and Flabellina nudibranchs of different species were plentiful. Safety stops are always a joy when they can be spent amongst clouds of anthias and pacific sergeants, hovering over a cushion of dense purple soft corals.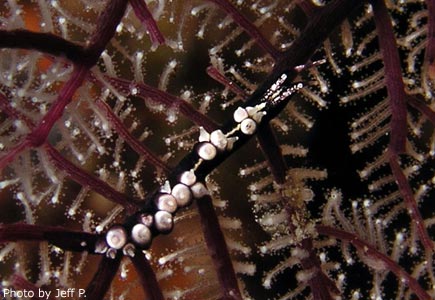 Alan R., our Chief, is the honorable Scottish creator and conductor of the NAI'A Hyperbaric Chamber Orchestra, holding its concerts every evening after dinner with special invitation of the equally famous flutist Jeff P, who is also a great photographer. Alan not only delighted us with Scottish folk tunes on his flute, during night long sessions of kava drinking and singing with the NAI'A boys, he also converted us to Scottish wreck diving.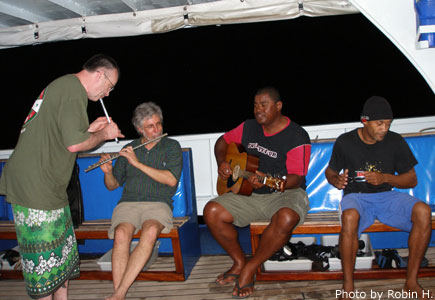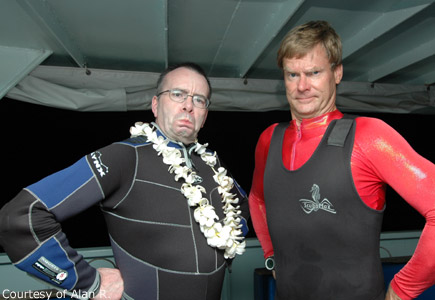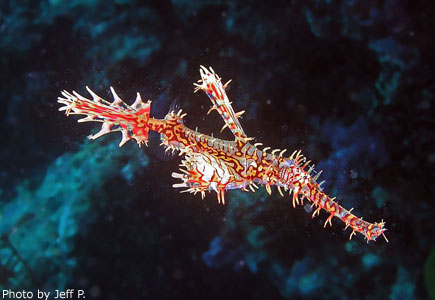 The yellow and red ornate ghost pipefish is still hovering in the black coral bush at Charlie's Garden, Vatu-I-Ra, and still heavily pregnant. The stunning Flabellina exoptata nudibranchs seemed to have all met on Charlie's Garden for a holiday, as we saw many individual ones spread all about, and five together on one spot, awesome.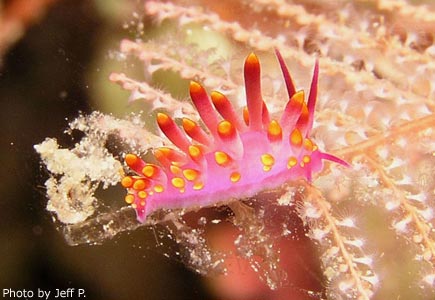 Chuck B., was very cheerful and always had a kind word for everyone. His wife Sharon B. followed the guides faithfully and nothing escaped her video. Thank you, Chuck, for your lovely fish portrait photographs.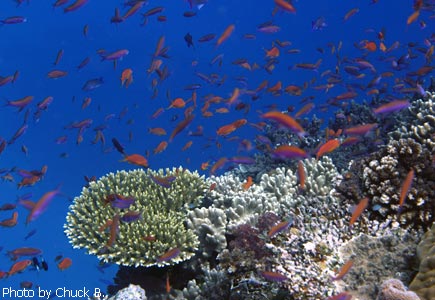 Diving with the right current conditions makes all the difference to the way we experience a dive site, as the dives on Coral Corner and Howard's Diner at Vatu-I-Ra revealed. A slight incoming current had us drift gently along Coral Corner's fantastic hard coral garden and luxuriant soft coral walls, with several gray reef and white tip sharks coming in, as well as a school of yellow tail barracuda paying us a visit. The visibility over the reef top was completely obscured by the density of anthias and damselfish hovering above the abundant purple soft corals, while the resident family of huge Napoleon wrasse were having a swim about in the garden. The same current also puffed up all the soft corals and fans in the cuts at Howard's Diner, making it almost impossible for us to leave them…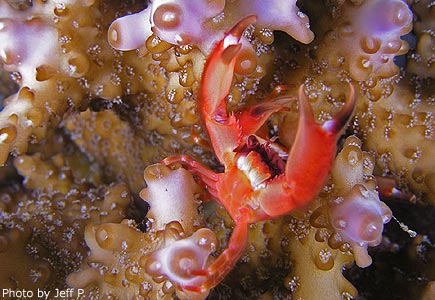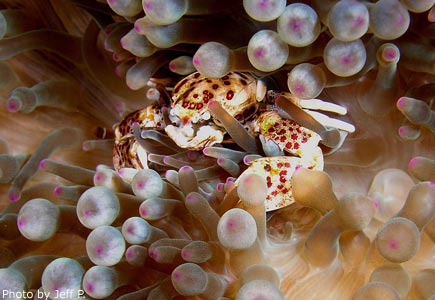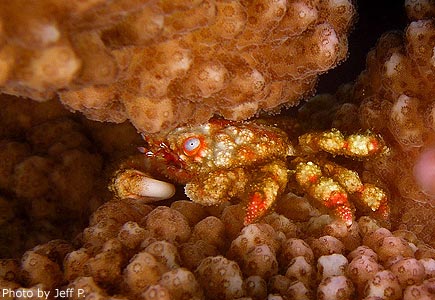 Robin and Ray H. were definitely on holiday, enjoying diving as well as napping, reading and taking beautiful photographs. They rivaled us in their critter spotting abilities and always had a smile on their faces.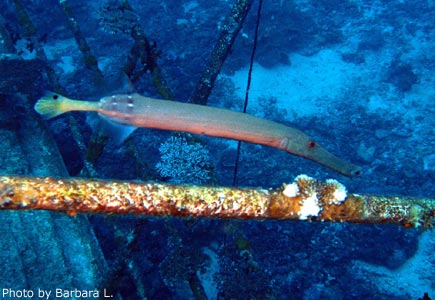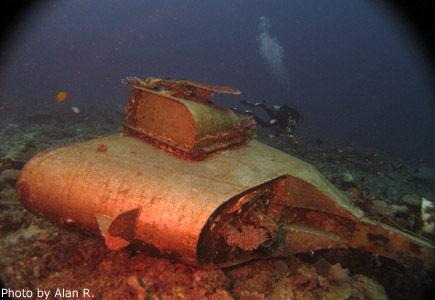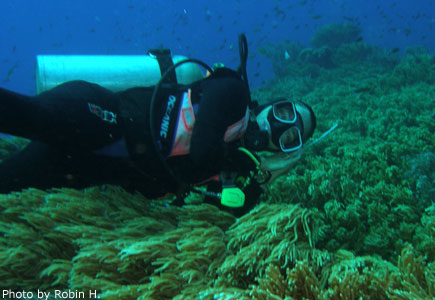 On Rick's Rocks, Makogai, we visited our usual resident critters and found a porite coral with a great number of a most unusual kind of coral hermit crabs with furry pincers … definitely a case to be presented to Paul Humann for identification.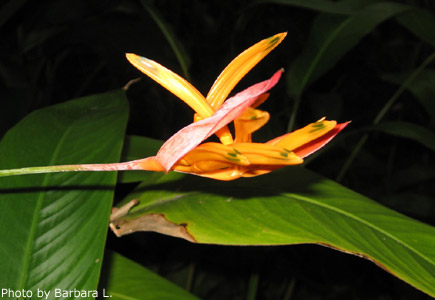 After years of diving in Bonaire, Barbara L. decided to visit Fiji on NAI'A. Now she has developed a taste for currents, soft corals, and fishy reef tops, and Bonaire will never be the same again…
If you are a fan of rubble and sandy bottoms, you definitely would want to establish permanent residence on Teton II at Namena Marine Park. Stan Waterman went exploring with Mike B., our on-board videographer, pottering around in the rubble amongst garden eels and colorful gobies living with their busy shrimps and had such a great time shooting macro, that they had to go right back there again on the next dive.
Rubble is definitely not just rubble…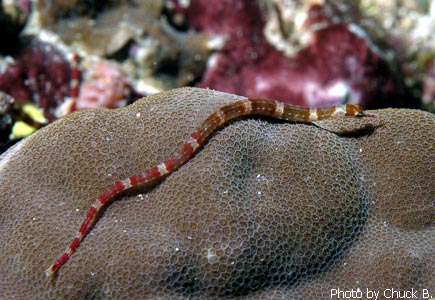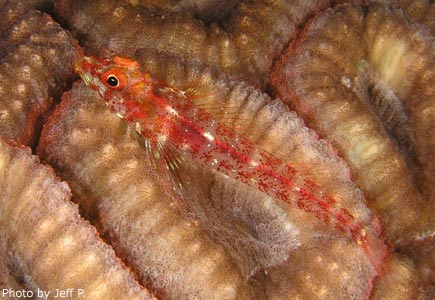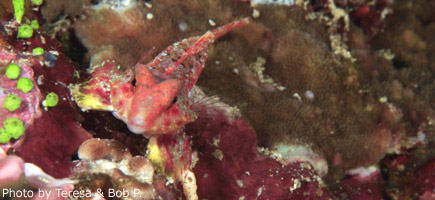 Bob P., devoted photographer, was grateful for every critter we could find, and Teresa P., his charming wife, matched our videographer Mike's fluorescent flatworm diving skin with her selection of colorful suits in blue and green. The fish know to appreciate a tastefully dressed diver…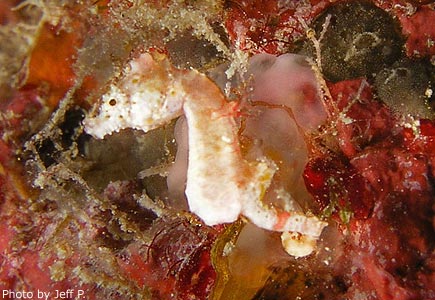 Richie, our master ghost pipefish finder, has decided the time has come to change over to pygmy seahorses, and has found another one this time, still on Mushrooms at Namena, barely the size of a rice corn, and never staying at the same spot for long.
Good on you, Richie!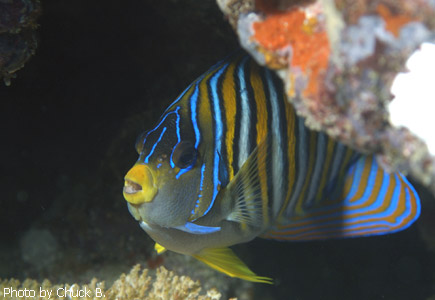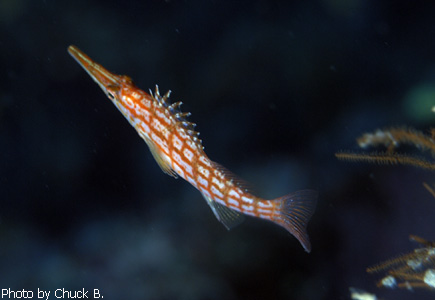 No current at North Save-A-Tack is always a treat, as we could sit along the rim of the platform, enjoying the sight of several gray reef sharks cruising above their cleaning station, while the group of monster dog tooth tuna surveyed the area, this time accompanied by two equally large Spanish mackerel. All this against a backdrop of schooling red tooth triggers in the blue and Heller's barracuda and big-eye jacks on the platform. We could not help ourselves but sit there until our computers advised us to leave. Back at Kansas the sinularia "wheat" soft corals were at their best, and we also spotted a quite rare winged pipefish.
Ken R. seemed to have the magic ability to be everywhere at the same time and saw everything there was to see, always with a smiley face.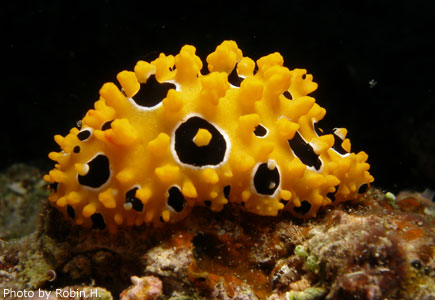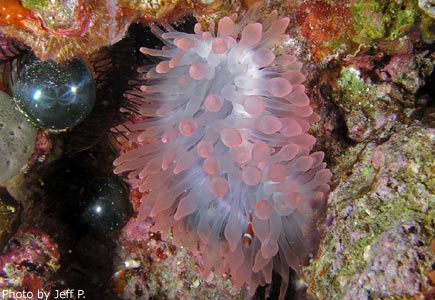 Sometimes nudibranchs exhibit a definite talent for photographic modeling, as did the enormous Phyllidia ocellata sitting on top of a porite coral on the bottom of Humann Nature, looking gorgeous.
On Cat's Meow an orangutan crab left its usual bubble coral home and went walk-about along the quality rubble on the bottom, while the huge resident lionfish hovered above amongst the school of many spotted sweetlips.
Diving in Fiji keeps getting better by the day. Vinaka, Viti!!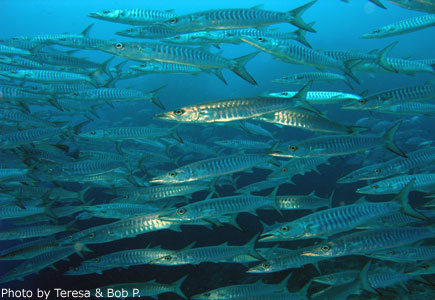 Guest Comments
Another wrap. Another great trip on the finest live-aboard afloat.
I love you NAI'A.
Stan Waterman, Lawrenceville, NJ, USA
Give us a tune, Crew!
Thanks!
Alan R., Ayr, Scotland, UK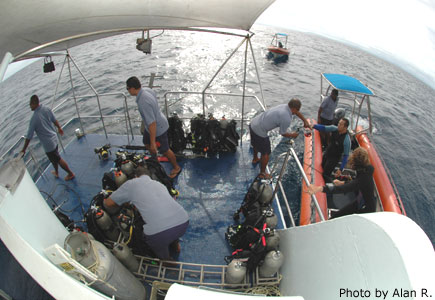 Thank you for a most delightful live-aboard experience!
I'm looking forward to a return trip.
Sharon B., Shingle Springs, CA, USA
To NAI'A Crew,
The very best, lovely, smiling faces and gracious hosts.
Delightful!
And – Stan the Man!!
Can't be beaten!!
Total Package!!
Thank you, thank you,
Teresa and Bob P., San Diego, CA, USA
A marvelous week of diving!
thank you for the wonderful hospitality!
Ken R, Santa Fe, NM, USA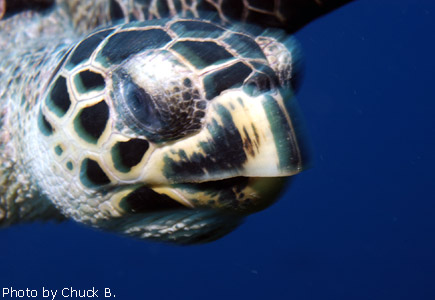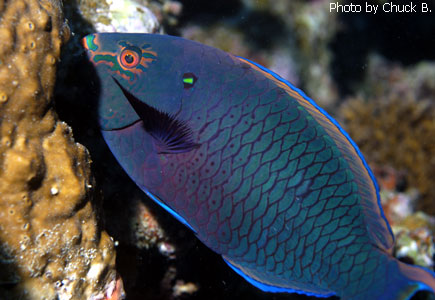 Many thanks to the entire Crew for making this a most memorable and fantastic experience!
And to Stan as well for his marvelous "bijou entertainment"
Barbara L., Folsom, CA, USA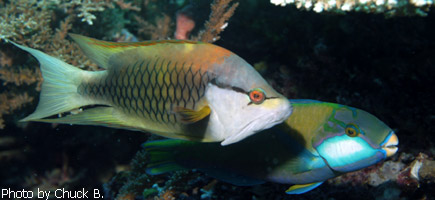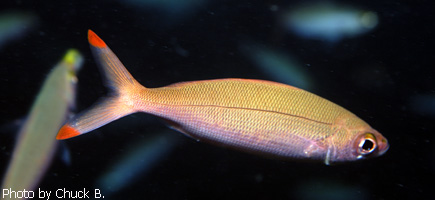 Thank you Stan and All for making my 40th birthday a memorable one.
Yvonne B., Bondi Beach, NSW, Australia
Thank you for the gracious hospitality, superb diving, and Bijou entertainment from Stanton Waterman!
A great week!
Kevin B. (The Stalker), Shakopee, MN, USA
Thank you All!
NAI'A is a first class operation for all from dining to diving to accommodations.
The icing on the cake … spending a week with Stan.
Thanks,
Ray and Robin H., Urbana, IA, USA
Links
Stan Waterman
www.stanwaterman.com