Date: May 17-24, 2008
Destination: Bligh Water, Makogai, Namena Marine Reserve, Fiji
Welcome back: Rob Myers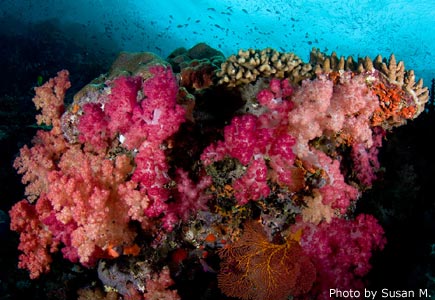 The South Florida Underwater Photography Society and the Under Sea Adventurers Dive Club lead by Nils J. filled the dive deck with cameras of all sizes and produced a high quality and very enjoyable slide-show at the end of the charter. Thanks very much to all of you for sharing!
Welcome back on NAI'A, Rob Myers. He has published many fish books, and there is no fish in the sea he does not know by name. Your knowledge was invaluable, thank you! Patrice M. is Rob's right and left hand, and a very accomplished photographer, too.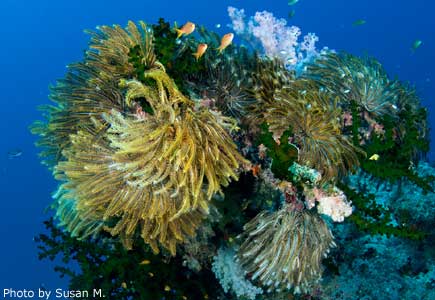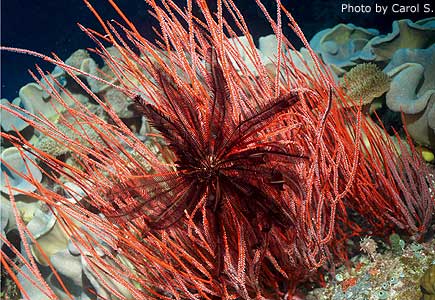 The rare threadfin and pajama cardinalfish are always a treat on our check-dive at Bekana reef, as are the pristine hard corals in the shallow water.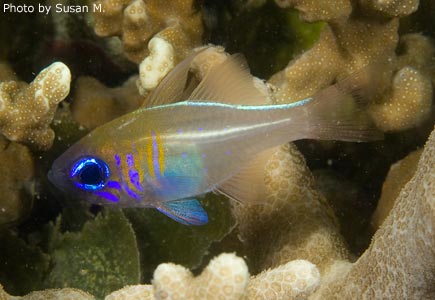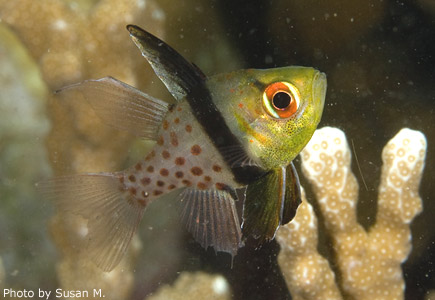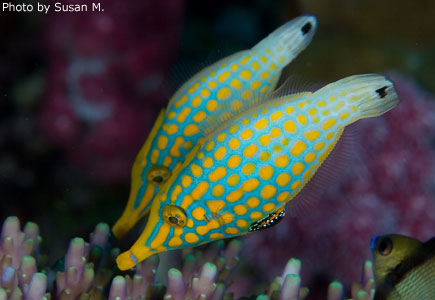 Happy birthday, Susan M. Awesome photographer, she always had a smile for everybody, and the most perfect buoyancy, hovering very still with fins always high up, whenever taking a shot. The reefs are always grateful for good divers. Jim M., Susan's caring husband, recorded all events on video.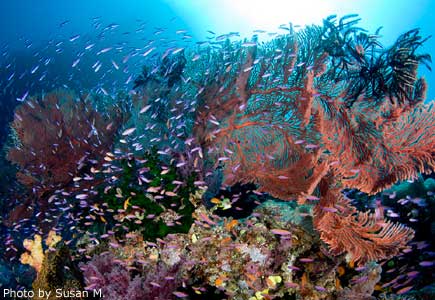 Pleurobranchs, a handsome Reticulidia halgerda nudibranch, many arrowhead crabs, soft coral shrimps, sea spiders, a scorpionfish and Saron shrimps rewarded the eager night divers for the effort of donning clammy wetsuits and stepping into the dark.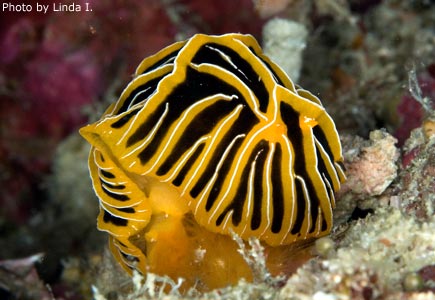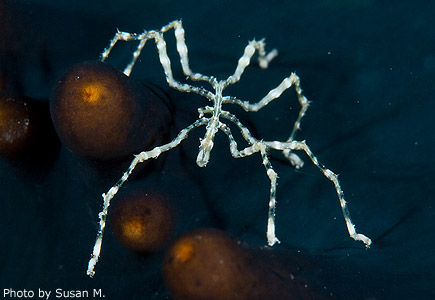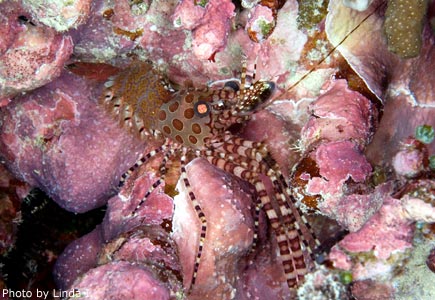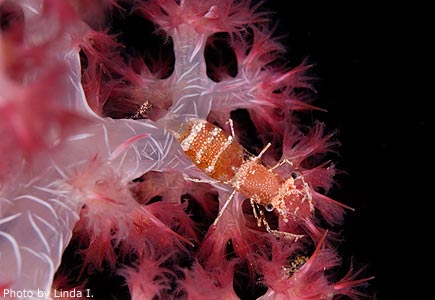 Linda I., macro lady par excellence, followed us guides closely and photographed our finds beautifully. Bob W., Linda's better half, was never far, easy going and always jolly, enjoying the underwater world cameraless.
The yellow leaf fish was playing hide and seek at Coral Corner, Vatu-I-Ra, but a purple scorpionfish was out in the open, two huge emperor shrimps were walking about on a sea cucumber, and the two sleeping baby white tip reef sharks were resting under their usual table coral, while a much larger one was patrolling the gorgeous soft corals and clouds of anthias, accompanied by a gray reef shark and a school of Chevron barracuda.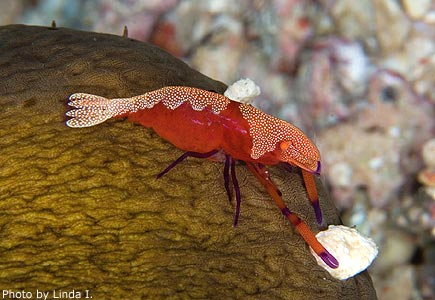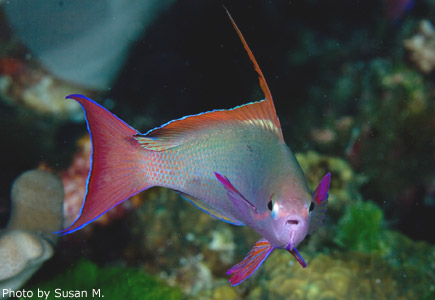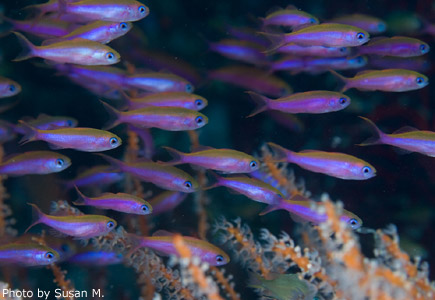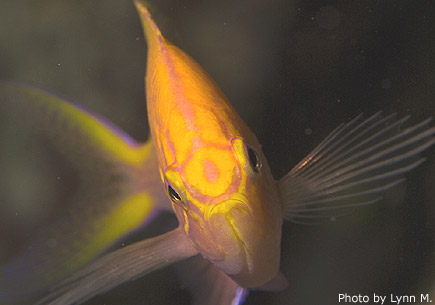 Mary and Larry L.P., never dive without each other, and notwithstanding sore knees, hardly ever missed a dive.
Makogai gave us red carpet entry, with visibility to die for and just enough current to feed the soft corals, fans and fish, and provide us with one of those stunning Fiji dives. The resident white and yellow leaf fish were right out in the open, and at Ron's Delight we had two delicate white-capped gobies living with handsome purple-spotted shrimps, and a large brown and purple adhesive anemone with popcorn shrimp and an entire family of Thor shrimps. Pinballs surprised us with the rare sight of two flame hawkfish having a territorial fight in their Pocilopora hard coral, hanging on to each other repeatedly, for several minutes at a time, jaws so tightly locked, that one of them dislocated one of his. As if that was not enough stress for a fish, the resident damselfish kept pecking at them, too.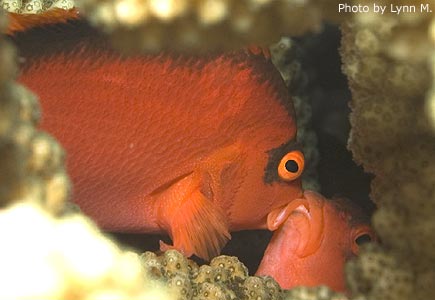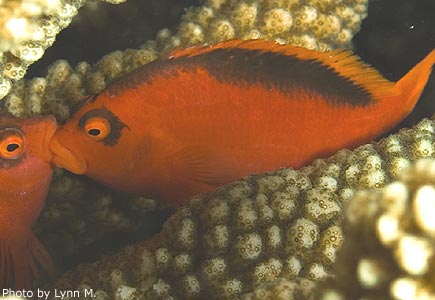 | | | |
| --- | --- | --- |
| | | |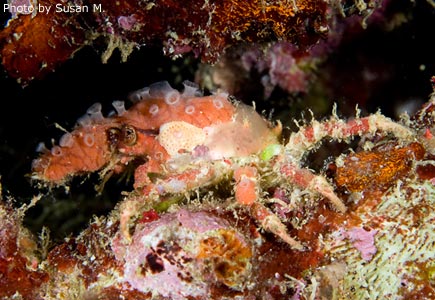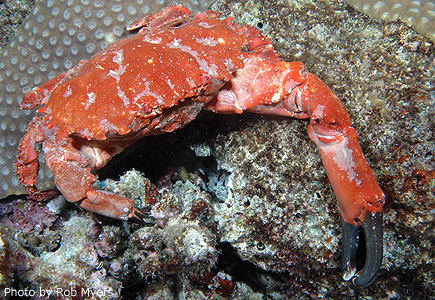 Group leader, Nils J., is a wide-angle, good visibility kind of guy. His Italian wife Ronnie F., is very fond of her son and grandchild, and pasta, of course, and unless the sun is shining, she and her diving buddy Chary L., stay on board, enjoying NAI'A hospitality and a good book.
Eunice H.'s endless enthusiasm was very infectious, and her smiles and graciousness still accompany us on NAI'A. Vinaka!
NAI'A and Fiji are not just about diving, as Holly and Ben W. understood straight away. They did not miss a single one of the spectacular Fijian sunsets on the upper deck, wine glass in hand …
The blue ribbon eel at Namena Marine Park's Teton I is of the restless kind, as it keeps changing its home on us, but we keep finding it again, most times … The deep water at Teton I is always worth a visit, as blue-head tilefish, square-spot anthias and black-spot angelfish are plentiful. Ben got some oral hygiene done, too, by busy cleaner shrimps.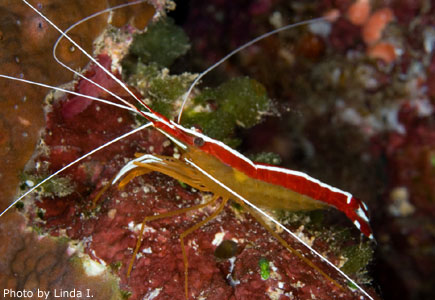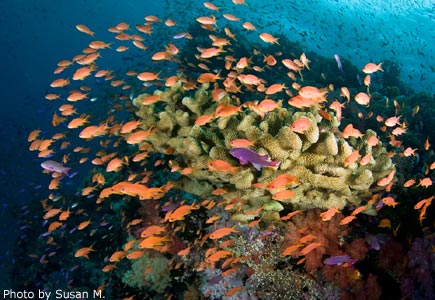 Teton II is our videographer Mike Boom's favorite site, especially the shallow hard coral gardens covered with small fish to the east of the main pillar, and the high quality and tripod friendly rubble, packed with shrimp gobies and other gobies, garden eels, juvenile fish, pipefish, dragonets and nudibranchs.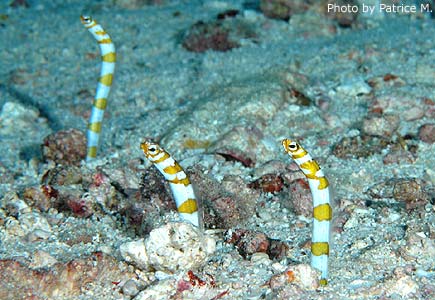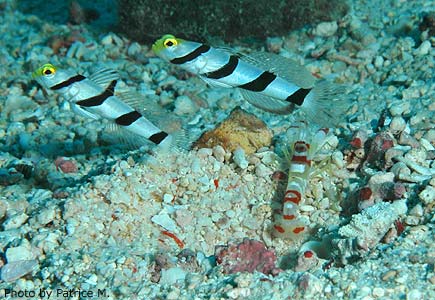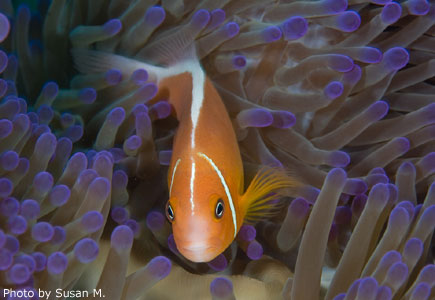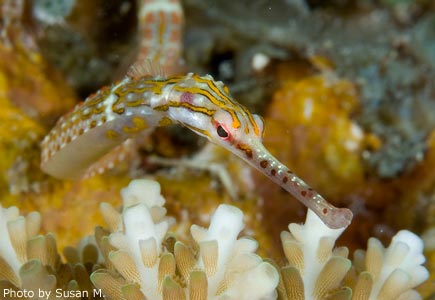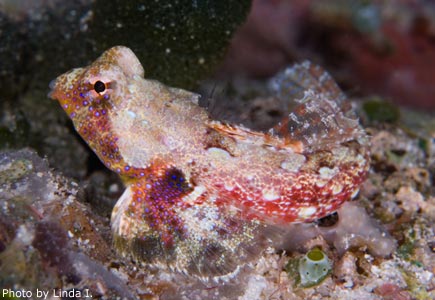 Colorful mermaid and fish shirts were Carol S.' hallmark. She is great with kids, making all sorts of head-dresses with balloons for them, and enjoys experimental photography. Thank you for your joyful company!
Our Kava Queen, Hanadi G., did not want to try kava at first, but after her first bowl of the exquisite beverage at Makogai village, she could not get enough … yummy…
A mild current at North Save-A-Tack made our stay on the plateau easy and enjoyable, as we swam right through the school of chevron barracuda and big-eye jacks, with Spanish mackerels and gray reef sharks circling around us, and malabar groupers sitting motionless on the bottom even with our close up presence. Unusual dive sites often offer unusual fish encounters, as was the case with the outer wall at North Save-A-Tack, were we saw schools of pyramid butterflyfish, oriental sweetlips and a very friendly longfin spadefish, which took turns at following each one of us closely, excellent for photography. We finished the dive on the plateau, at our usual starting point, following a large school of big-eye jacks and chevron barracuda along the edge of the wall, as well as gray reef and white-tip sharks.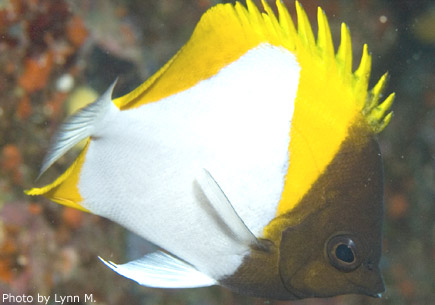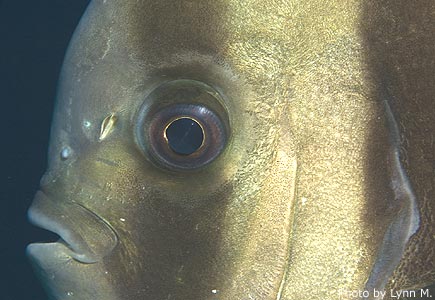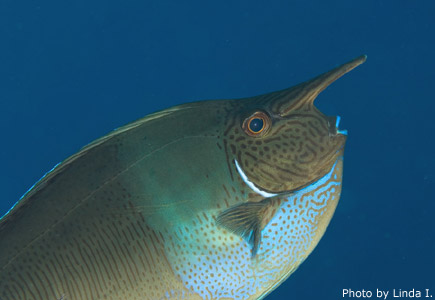 The black ribbon eel at Mushroom II, still at Namena, was following fish, and hence quite a distance out of its hole, which is always a gorgeous sight. Carol also spotted a new golden mantis shrimp by the main pinnacle, and a banded sea snake guided us to the resident purple stonefish, who was sitting out in the open on a ledge, for everybody to admire.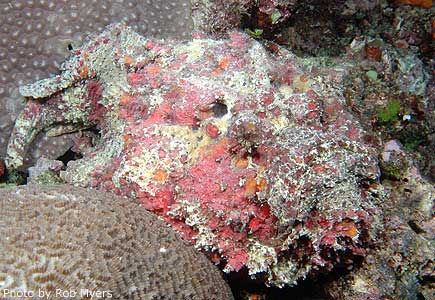 Val and Chris D., great ocean swimmers, decided to leave the Californian cold water surface for a while and join us on NAI'A for some underwater explorations … swimming will never be the same again … thank you for your kindness and your gentleness!
Lynn M., our videographer Mike's wife, caught the flame hawkfish locking jaws with her camera. Good one, Lynn. She also tried to keep up with Mike's kava drinking volume, unsuccessfully, of course, as nobody can drink kava like Mike, "sunken bowls" being his specialty …. ask the Boys what those are … delicious!!
| | | |
| --- | --- | --- |
| | | |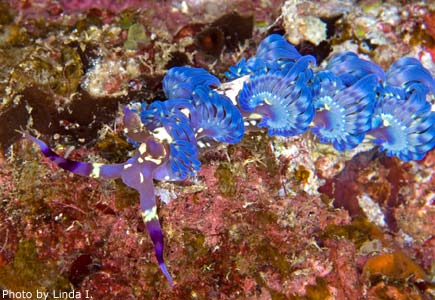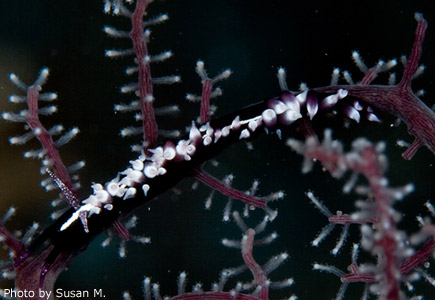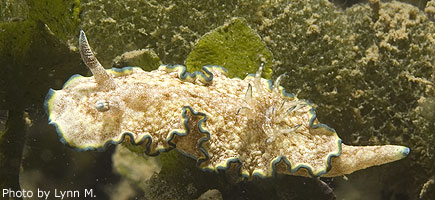 We finished the charter with an all-time high, diving on E6 with the most perfect conditions. After a rather rainy week the sky opened up, and sun and flat seas, accompanied by the best visibility, provided us with an unforgettable E6 experience. The atmosphere in the "cathedral" was absolutely mystical, with sharp curtains of light producing prisms of color on the bottom and walls, covered lushly in puffed up soft corals and fans. There is always time to look for little critters while enjoying the big picture, and so it was that we enjoyed the sight of a Reticulidia halgerda nudibranch, as well as several long and purple Chinese dragon nudis, a large Phyllidia ocellata nudi and a few dragonets hopping about. We detached ourselves from the cathedral to visit the shallow coral garden with pristine hard coral pillars on a sandy bottom, which gives the impression of a journey through the Arizona desert, except for the big school of Heller's barracuda and pelagic triggers hovering about.
Vinaka vaka levu, Viti!!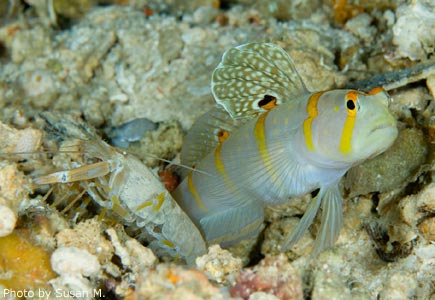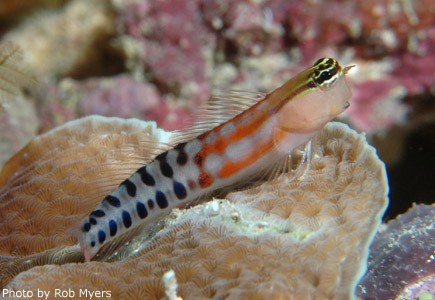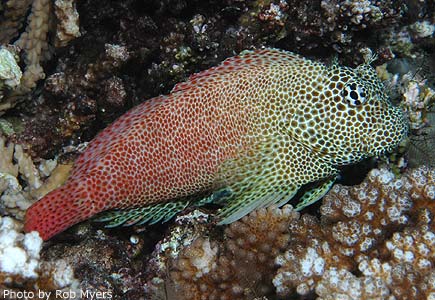 Guest Comments
The Crew is the best.
Thanks for this wonderful experience, in making it so easy and pleasurable.
Thanks to Sonia for showing us her underwater life.
Ronnie F., Lighthouse Point, FL, USA
Thanks for the wonderful memories!
Happy Bubbles forever!
Carol S., Lauderhill, FL, USA
Thank you NAI'A for my first real Pacific Ocean reef experience.
You taught me a great deal about your wonderful culture, as well as your marine life.
Your hospitality is the best, yet!
Happy sailing!
Eunice H., Lighthouse Point, FL, USA
Vinaka, NAI'A Crew!
Fiji was wonderful.
The ocean and marine life were spectacular.
It was, however, the Crew of NAI'A that made the trip.
Friendly, competent, warm, skillful, fun…
They became friends.
Val and Chris D., San Diego, CA, USA
My fantasy has come true.
I have wanted to dive with you since diving on the Undersea Hunter in the early 90s.
This is a first class dive operation.
I can now die happy!
Mary LP, Pompano Beach, FL, USA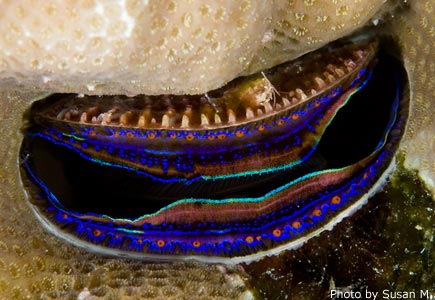 Links
Nils Jacobsen
Under Sea Adventurers Dive Club
www.usadiveclub.com
South Florida Underwater Photography Society
www.SFUPS.org
Mike Boom
Underwater videography
www.laughingeel.com