Moce mada, Mike!
Date: May 24 – 31, 2008
Destination: Bligh Water, Makogai, Namena Marine Reserve, Fiji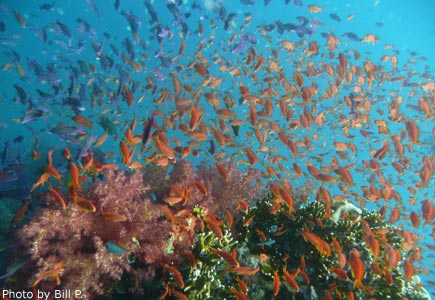 Fiji is, in so many ways, a dreamland. Not only does it have some of the world's best diving and is the home of the world's friendliest people, it also is the place of choice if you wish to get married and have a very romantic Honeymoon. Rob and Denise H. arrived on NAI'A with family and friends, to celebrate their Honeymoon after getting married at an idyllic Fijian island resort. Mum Ulista B. and Dad Joe H, sister Lista H. and Auntie Dennie B., and friends Tina S. and Brandon A., and Karen and Curtis VdW were invited to share the celebrations with cake and champagne, and lots of diving and fun.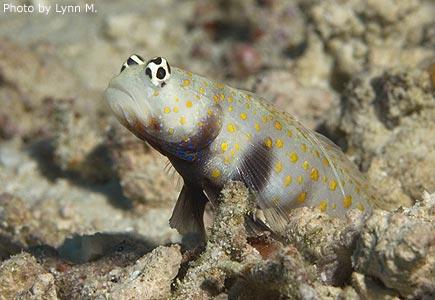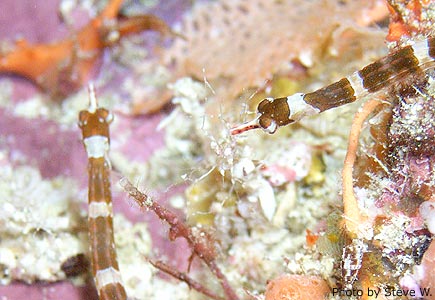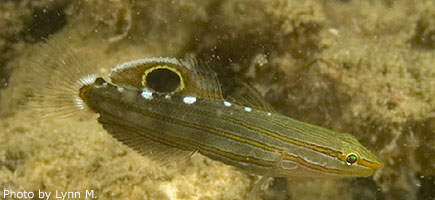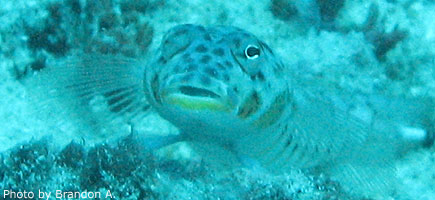 Having dived together for twenty years in the cold waters of the US NW coast, the honeymooner family had well established buddy teams of father with one daughter and mother with the other daughter, leaving Rob, the newcomer hubby, describing loose buddy orbits around them all, like an underwater planet. His spare-box came in handy many times and so did he, as fixing things is one of his many talents. Auntie Dennie, eager snorkeler, saw everything we saw and more, including rays and sharks, and not even wavy conditions could stop her from having a swim amongst the fishes and corals. The dive deck was always illuminated by her sunny character and lively reports of the news of the sea. Tina won the Kava Queen title and Brandon got his mouth cleaned thoroughly by busy shrimps. Loving couple, Karen and Curtis enjoyed the diving as much as a good game of monopoly, and Karen finally made friends with the sharks.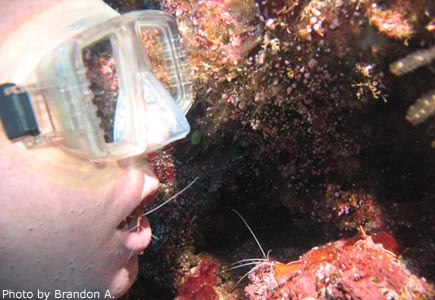 "All those fish are blocking the view", says our videographer, Mike. Fiji is the Heaven of soft corals and has the densest concentration of fish you will ever see. Our standard NAI'A joke, is coming back from a dive and saying that we saw only one orange fish … times three billion … Dive sites like Coral Corner, Gomo and Mellow Yellow, at Vatu-I Ra, or Fantasea, and all the bommies of South Save-A-Tack at Namena Marine Park, as well as Nukuravula on NE Viti Levu, justify Fiji's fame absolutely. The dense orange and purple blanket of scalefin and magenta slender anthias, with sergeants, blue chromis and black damsels mixed in, and blue clouds of fusiliers around it all, makes it difficult to see the dense forest of soft corals in all colors of the rainbow under it. When diving these sites, concepts like 'pristine', 'abundance', 'variety', 'color', 'sheer beauty' and even 'miracle', come into mind. My all-time favorite though, must be Nukuravula. The variety of fans, soft corals and hard corals, in terms of abundance of species and range of colors, on the bottom as well as on the sixty foot ridge and on the three main pinnacles is unique, and if the current comes from the SW, you get the densest mantle of scalefin anthias, Indo-pacific and scissortail sergeants, blue chromis and fusiliers possible, covering the lushest and densest purple and pink soft coral growth on any reef top I have seen in Fiji so far….. definitely as good as it gets… I could sit at eighteen feet forever, watching waves of scalefin anthias and blue chromis going in and out over all those soft corals. It makes me want to pitch a tent here and stay for life … This is when one can see the definite resemblance between coral reefs and rain forests, when in any one small area the variety of species and the quantity of individuals is overwhelming.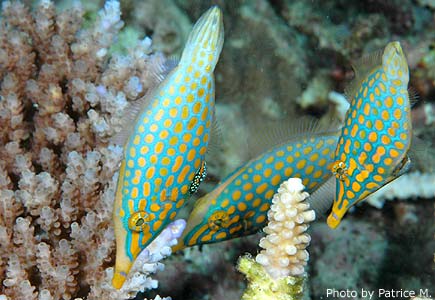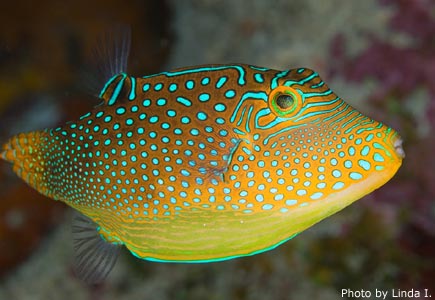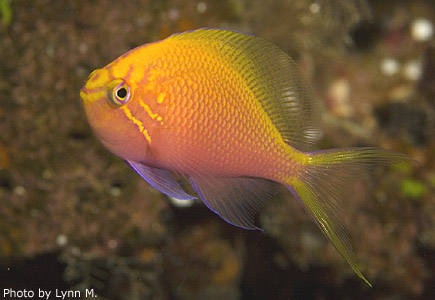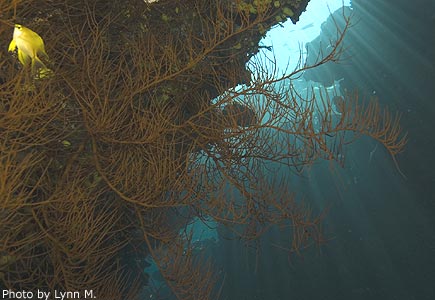 If you manage to take your eyes off the lush soft corals and awe-inspiring amount of fish, then many critters await your attention. At Nukuravula a school of about thirty longfin spadefish escorted us closely all along the deep ridge back and forth, observing us with their goggly eyes. The resident two, red and pink, scorpionfish on the thirty feet pinnacle were also sitting on their usual leather coral.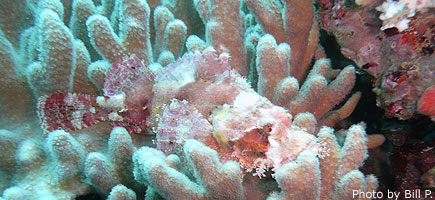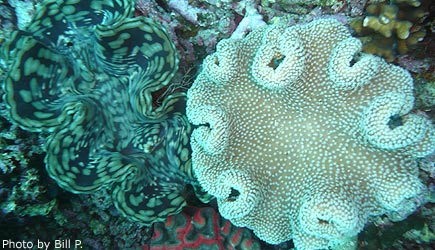 There was a new black ribbon eel at Coral Corner, as well as the yellow-motley leaf fish sitting right out on a staghorn coral, and the school of chevron barracuda came to check us out. The resident small white tip reef sharks under the table coral were also at home.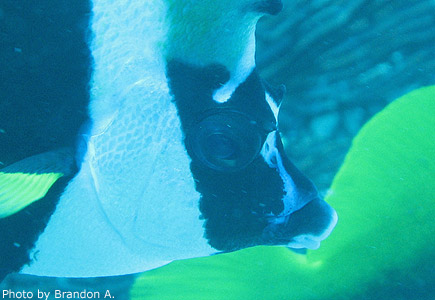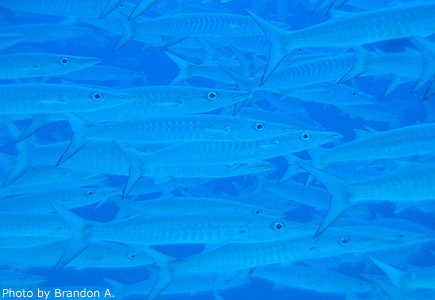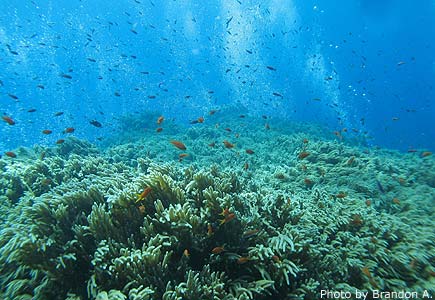 Ten gray reef sharks were circling the ridge at Maytag, more than we had ever seen on this site, accompanied by the school of big-eye jacks and masked surgeonfish, with plenty blue and yellow fusiliers and blue-streak fusiliers, which were kept in line by the enormous resident giant jack.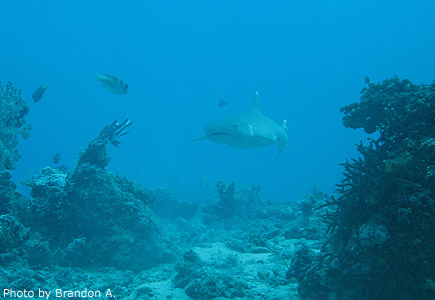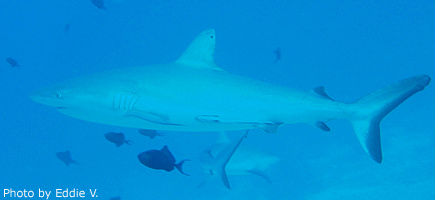 NAI'A pipefish were hovering in several crevices, and the two very gorgeous leaf-gill slugs were hiding in the green "grass" algae, trying hard not to be spotted. We also found a purple scorpionfish, a lobster and whip coral shrimps.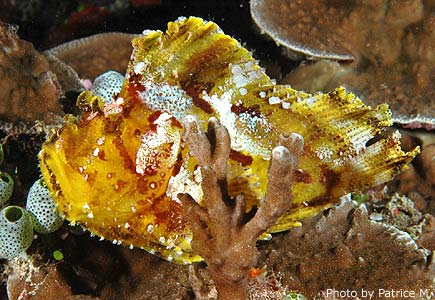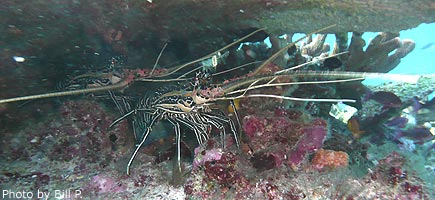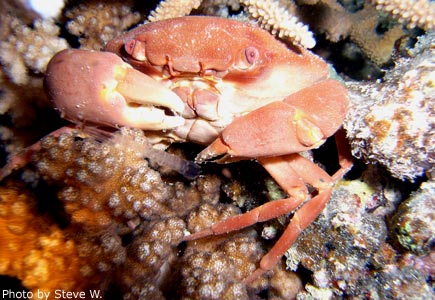 Steve W. and Curt A. are two friends who travel and dive together, and give each other a hard time day and night. If you go slow and look small you are likely to make awesome discoveries, like Steve's black ribbon eel at Coral Corner and Curt's mating couple of longnose hawkfish at Namena, zooming out of a black coral bush, body to body, spawning and returning back to their bushy home. Steve and Curt never missed a dive, even after buckets of kava at the village. Sometimes though, friends can be your worst enemies, as Steve soon found out, when we all, one by one, got to wear T-shirts, given to us by Curt, with endearing birthday thoughts for Steve printed on them, mainly on the subjects of old age and rampant senior moments … revenge is sweet and a dish best eaten cold … Curt knows all about that …
The cuts at Howard's Diner, Vatu-I-Ra, were at their best, as a slight current had all the lush fans and soft corals feeding. The resident golden mantis shrimp was in its handsome home surrounded by a garden of zooanthids at Mellow Yellow, and as Steve herded some anthias over it, it actually shot far out of its hole and caught one in mid-water …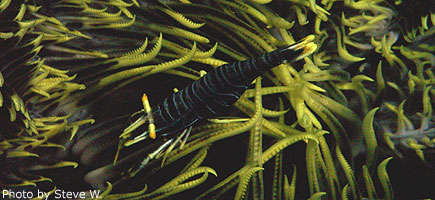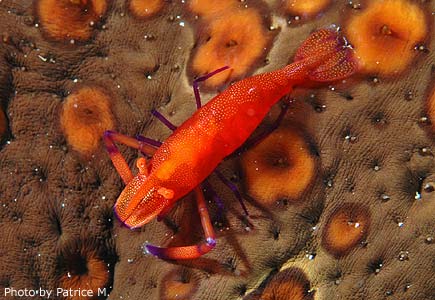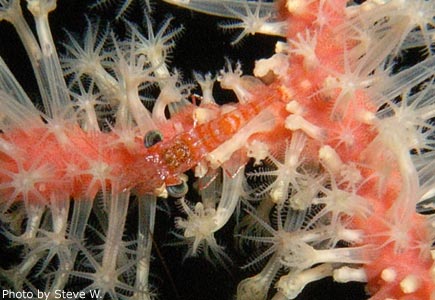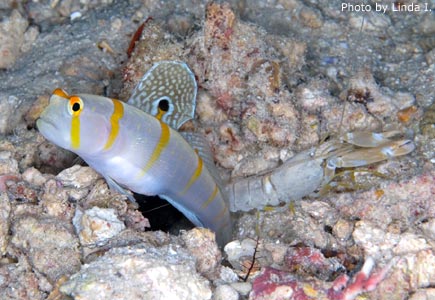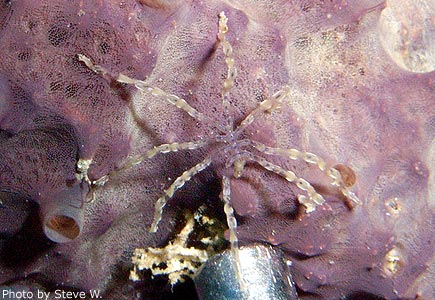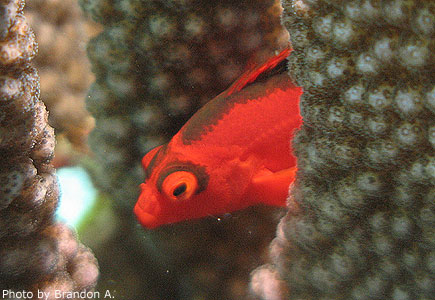 We had lost Makogai's wandering blue ribbon eel for a while, but found it again on this charter, and Curt teased several feet of its length out of its hole using his special steel pointing stick as a yummy lure. Clear visibility has been a rule in this area lately, and the usual critters kept the macro photographers happy: orangutan crabs, bubble coral shrimps, leaf fish, golden and peacock mantis shrimps, pocilopora hard coral crabs, flame hawkfish, leopard blennies, adhesive anemones with assorted shrimps, gobies, sea snakes and a great variety of colorful nudibranchs.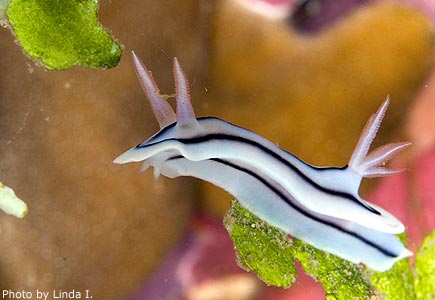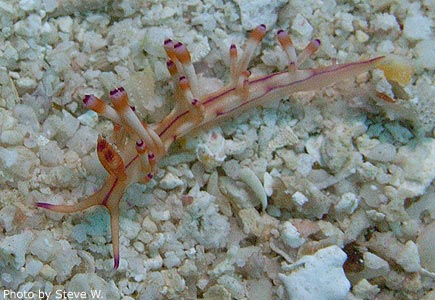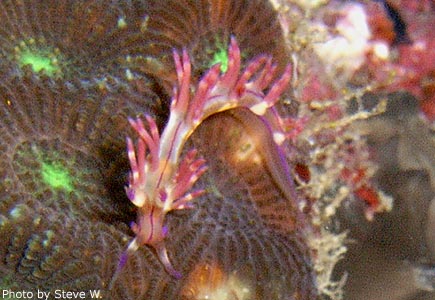 Yet another group of friends and family joined us on NAI'A for this charter. Sisters Susan I. and Ann G. with their husbands David M. and Dallas P.. As well as Dallas' brother Bill P. with wife Lori P. Kind and gentle, they followed us guides closely and celebrated our finds with shining eyes and bubbly smiles, and we had great fish and critter talks over dinner. Hope to share some more diving with you again soon!
| | | |
| --- | --- | --- |
| | | |
The right conditions often make all the difference to the quality of a dive. Fantasea with a blasting current is usually a twenty minute dive, but when the currents are mild, it is one of the most beautiful dives ever. The wall, covered in fans and large whips, is also inhabited by several decorated dartfish, and plenty magenta dottybacks, square-spot anthias, black-spot angelfish and yellow chromis, with rainbow runners and spadefish cruising in the blue. The lush soft corals on the reef top were only partially puffed up, but the stunning hard coral gardens were so densely packed with blue and yellow fusiliers and scissortail fusiliers, that soon we were all just hovering motionlessly, closely surrounded by them, covering us all around like a dense blanket, leaving us hypnotized. Needless to say, we did not get very far on that reef top. The large clouds of magenta slender anthias, scalefin anthias and damselfish were almost obscured by all those fusiliers. We finished the dive back at the rim of the wall and saw a yellow-margin moray eel trying to catch fish and at least five red-spotted blennies poking their cheeky faces out of a rock.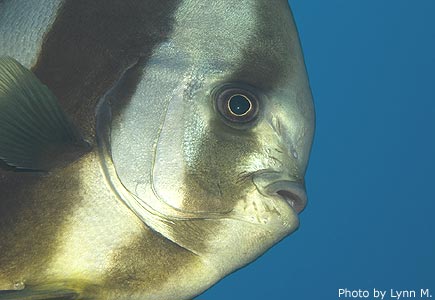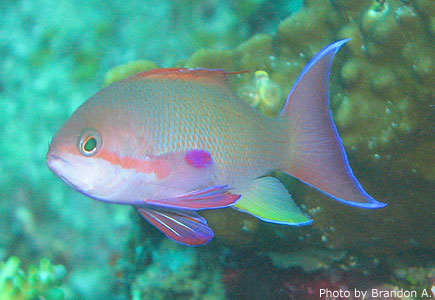 Teton I had an unusual density of magenta slender anthias all around the pinnacle, chased into the lush soft corals and fans in big waves by hunting trevallies, an awesome sight.
Night diving at Namena's Mushrooms is always great. The two stonefish were home, as well as the biggest ever red coral crab, flashlight fish, a million shrimps, a huge slipper lobster and fluorescent giant plankton.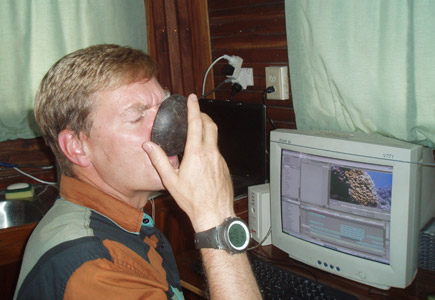 Mike Boom, moce mada!! O yau o Mike, o yau talei taka na yaqona, vaka bibi na bilo vaka lutu …. I RA … Dear Mike, don't forget your NAI'A family, you will be sorely missed!!
Guest Comments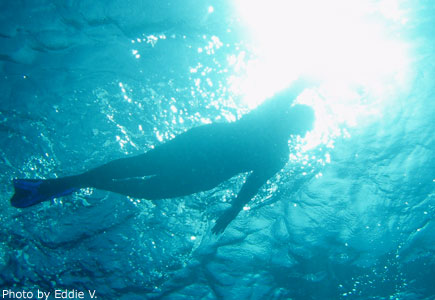 Vinaka NAI'A,
This has been a wonderful week for me and my family and friends.
You all have welcomed and nurtured our bodies and souls,
and gently helped me in, out, on and off the boats.
Mo's presence helped me come face-to-face with indescribable beauty without fear.
May we meet again.
Dennie B., Salem, OR, USA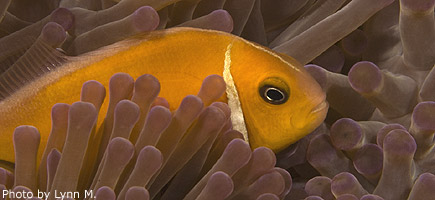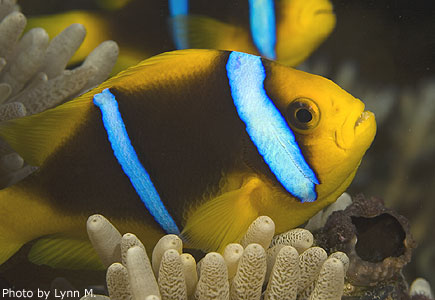 Bula!
What a wonderful week with the Crew of NAI'A and the beauty below.
We have been spoiled with service and kindness.
Loved the meals, snacks and singing.
Blessings!
Karen and Curt VdW., Salem, OR, USA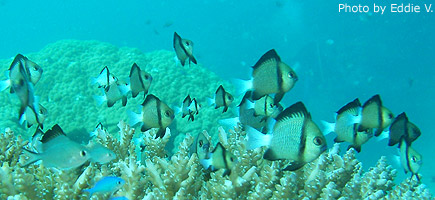 Thank you all so much –
best Crew I've ever been with!
Lista H., Spokane, WA, USA
Vinaka, NAI'A Crew!
We so enjoyed the beauty of Fiji and your fantastic kindness.
Thanks for giving us such a great honeymoon with an extra eight of our family and friends!
Best to all of you –
Denise H. and Rob H., Salem, OR, USA
Vinaka vaka levu for a wonderful trip!
The entire Crew has made this a truly relaxing vacation for our family and friends and of course the "Honeymooners".
This has been the best trip we have had on a live-aboard!
Good diving, safe sailing and fair winds –
Ulista B. and Joe H., Mcminnville, OR, USA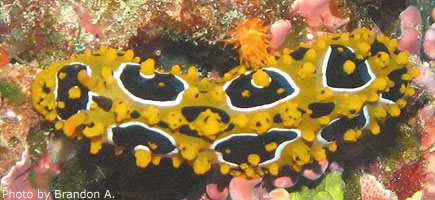 Vinaka NAI'A Crew!
Thank you very much for the wonderful trip.
You all took very good care of us.
We loved the sights and sounds of Fiji.
The diving was great as well as the fun singing and KAVA.
We hope to be back someday for more fun adventures!
Thanks again and best wishes to you all!
Tina S. and Brandon A., Keizer, OR, USA
Dear NAI'A Crew,
We loved every minute of this trip.
Your hospitality is unsurpassed, the diving was superb, and we can't wait to return!
Vinaka!
Lori and Bill P., Berkley, CA, USA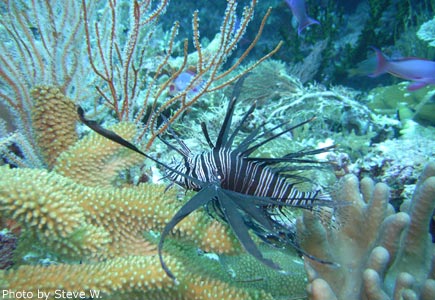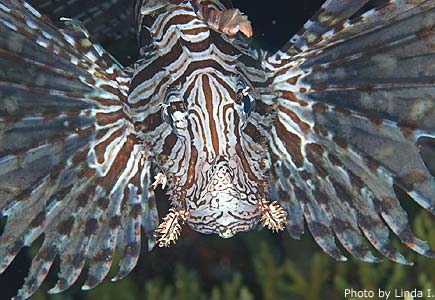 Links
Mike Boom
Underwater videography
www.laughingeel.com