Date: June 7 – 17, 2008
Destination: Bligh Water, Gau, Wakaya, Makogai, Namena Marine Park, Fiji
Welcome back: Wendy McI., Margie and Bobby S., and Ed A.
Congratulations: Ed A. and Larry D. on completing the TDI nitrox course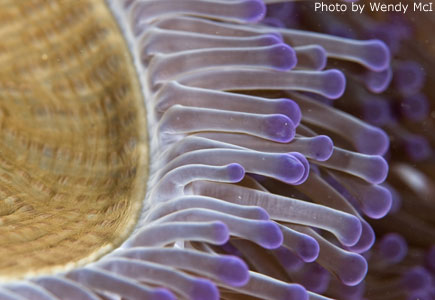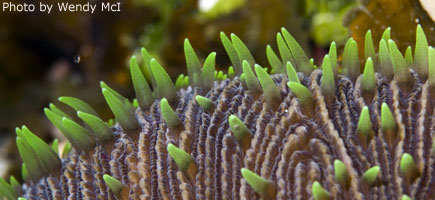 A warm welcome on NAI'A to Jamie Q. and Nick Hope. Jamie is learning the ropes to be NAI'A's new Cruise Director, and Nick Hope will be our on-board videographer for the next six months.
Wendy McI. has called NAI'A her home many times, and has brought her son Ryan N. with her this time, and friends Stacey H and Kevin S. Welcome back, Wendy.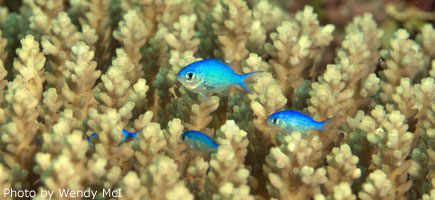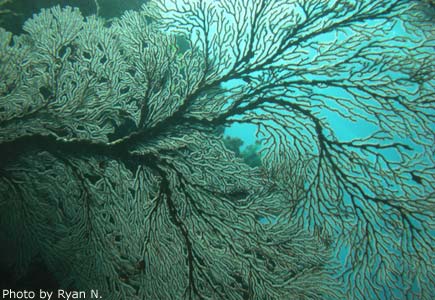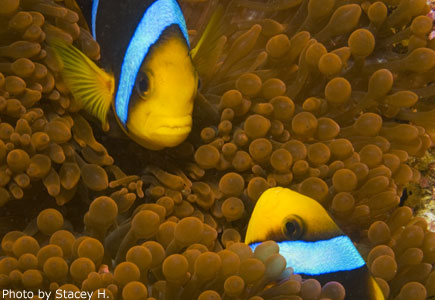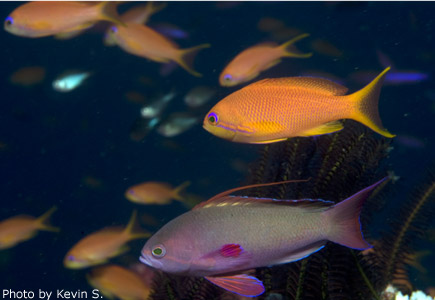 They are all keen photographers, and Wendy is always full of improvising ideas, when technology fails. Stacey and Kevin design and make their own Maori jewelry, and mainly spend their days traveling and diving, not a bad life plan. Ryan is superb company, and adjusted to Fijian life style rapidly, loving his kava in tsunami bowls and dancing meke like a real Fijian. Thank you all for sharing your smiles and your superb photographs.
E6 was again a spiritual experience, with the sun beams making their way into the 'Cathedral' cavern system, and the lush and large soft corals inside the cathedral and on the wall providing a superb frame work. Along the wall the whole reef was covered in a dense blanket of shiny magenta slender anthias, and there were many Phyllidia coelestis nudibranchs close together in a bunch, and handsome purple, long Chinese dragons, as well as a large soft coral cowrie. The seas were flat making the reef top hard coral garden with its blue chromis and anthia residents reflect from the surface, creating a beautiful atmosphere.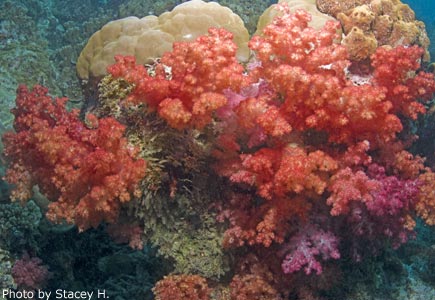 | | | |
| --- | --- | --- |
| | | |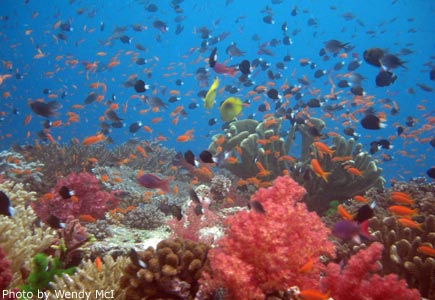 Welcome back Margie and Bobby S. Their colorful hoods and artistic jewelry, designed and produced by Bobby, were their trademark. I will not easily forget the long pirate's sword piercing Bobby's ear lobe, pretty cool! We missed their jolly and sunny characters sorely, after their trip was cut short, and took good care of their friend, Ed A., left behind with us, to enjoy the rest of the diving on their behalf. Welcome back, Ed.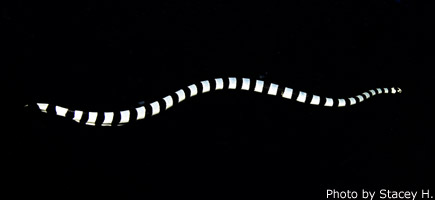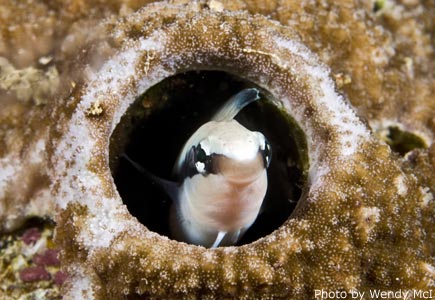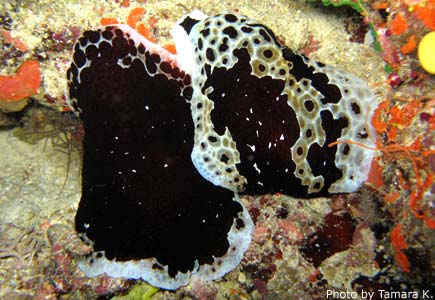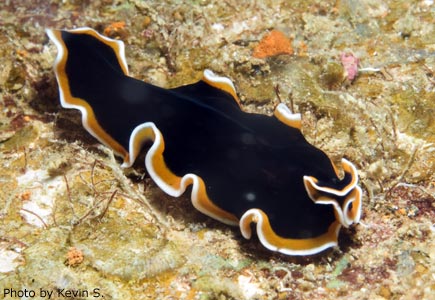 Jim's Alley and Anthias at Gau, were crawling with critters amongst the soft corals and anthias. There were golden and peacock mantis shrimps, meandering sea snakes, cryptic scorpionfish, many yellow leaf fish, lionfish, a octopus, a large school of longfin bannerfish, nudibranchs of the Phidiana indica, Phyllidia ocellata, and Chromodoris lochi kinds, as well as a friendly porcelain crab on the busy carpet anemone living on the bottom.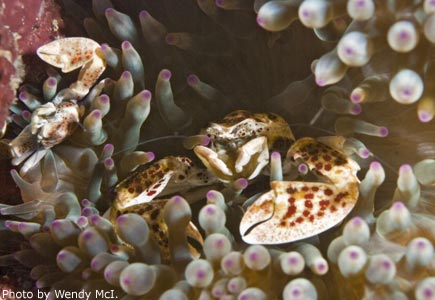 Gentle souls Mary and Brad W., are superb underwater spotters, and very enthusiastic divers. Mary's eyes widened in wonder at the spectacular beauty below, and Brad had 1001 funny stories to tell over dinner. Thank you for sharing!
Clear water and almost no current made the dives at Vatu Vai, Wakaya, very pleasant, and when a black manta with two big remoras arrived and started doing feeding circles amongst us for quite a long time, we felt really lucky. The pinnacle was teeming with anthias, blue chromis, sergeant majors and fusiliers, with a pack of blue trevally chasing everybody else around the reef. We also saw many sweetlips under the overhangs, and two leaf fish, a yellow and a white one, sitting amongst the coral.
Tamara K. came from Ukraine, to enjoy Fiji's underwater abundance and beauty, smiling day and night, and never missing a single dive, a born fish amongst fishes, with her camera always ready to shoot. I'd dive with you again anywhere, anytime!
| | | |
| --- | --- | --- |
| | | |
We had neglected one of our favorites, the Lion's Den at Wakaya, for a few charters, and it seems to have missed us, as we had hammerhead sharks circling us on both dives, three on one dive and five on the next dive, as well as another one inside the passage at the end of the dive. As if that was not enough, three mantas cruised by on the first dive. Our usual friends were at home, too. The decorated dartfish and blue-head tilefish in the deep water, as well as a big school of pinjalo snapper, closely packed together, lionfish, longfin batfish getting cleaned, the adhesive anemone with thor and popcorn shrimps, and a yellow leaf fish, all this on a gorgeous backdrop of large, feeding soft corals and fans coated in magenta slender anthias all along the wall.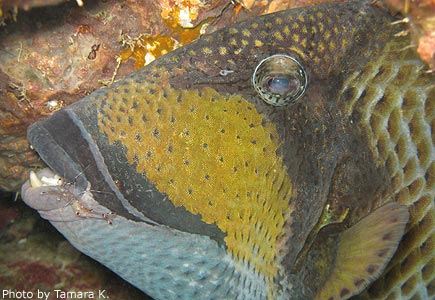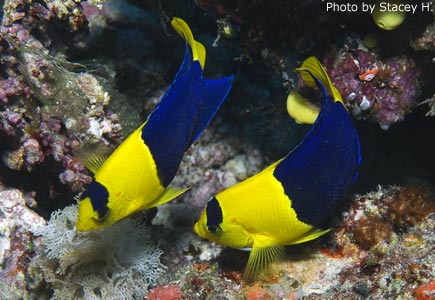 Vijay S. was definitely our Kava King, enthusiastic like no other, lively and chatty, he kept us all in line with his witty sense of humor, and never missed a dive, not even if they interfered with kava drinking sessions. You have got to get your priorities right!

He loved to ride the bow of the skiff rodeo style, and danced the Fijian meke better than the professional dancers at the village. When cigarettes run short, he found a way to get them, even miles out at sea, with no shop in sight… Thank you for your enthusiasm and your friendship!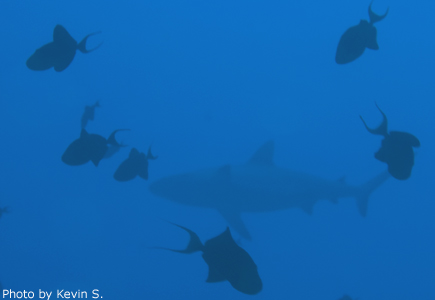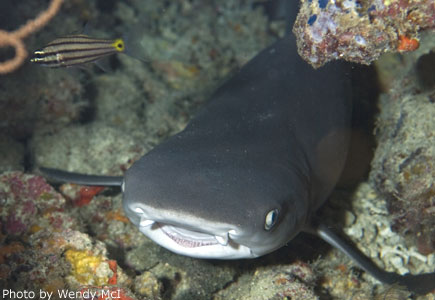 Gentle incoming currents at North Save-A-Tack are always a treat, as we were able to stay for a long time sitting along the edge of the wall, enjoying the sight of cruising gray reef sharks and schooling barracuda, big-eye jacks, pinjalo snappers and red-tooth triggerfish. The resident family of giant dogtooth tuna, accompanied by their Spanish mackerel friends were majestically patrolling it all.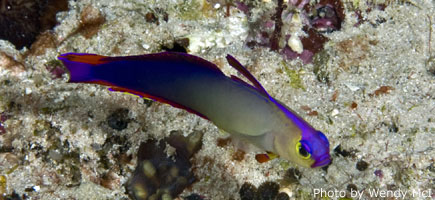 We also spotted decorated dartfish, fin-flapping juvenile many spotted sweetlips, palette surgeonfish and white tip reef sharks. On our way back past the arch, we visited the little group of splendid garden eels until our computers coaxed us to ascend along the luxuriant soft coral bushes to the top of the pinnacles and slowly drift back to Kansas, where we saw a monster moray eel getting cleaned by several banded shrimps, as well as the single resident great barracuda with the broken back hovering over the top of the Sinularia soft coral field. The mini yellow sea hares with blue dots are laying eggs again on the buoy rope at Kansas, looking as gorgeous as ever.
His Larryness, Larry D, the most unassuming diplomat you will ever meet, has been living in Fiji for the last six years, but was busy with work all this time. We enjoyed his gentle company immensely and are very glad he could finally make it to NAI'A, to experience some more of Fiji's superb hospitality under and above water.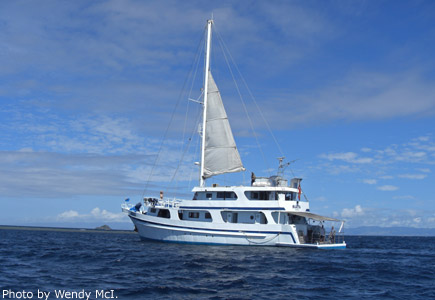 A dive site is never the same, no matter how many times one dives on it. Sometimes the same dive site inspires you to look for small critters, and sometimes one just wants to sit there and take the big picture in, soaking up the atmosphere and meditating, and getting, what Vijay called a 'sensory overload', while hovering over the top of Mellow Yellow, Vatu-I-Ra, surrounded by billions of fish and soft corals. Two Thumbs up at Namena is also usually such a dive, notwithstanding the great amount of nudibranchs, shrimps and other critters, it invites to simply hover about around the ridges and main pinnacles, taking in the view of the fans and soft corals covering the ledges, overhangs and ridge tops, and the dense mantle of small fish pulsating in and out of the reef in big waves, chased by packs of hunting trevallies.
| | | |
| --- | --- | --- |
| | | |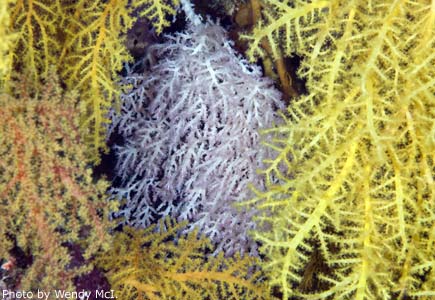 Karen B. and Nick D. did not miss a dive and came to visit NAI'A from Australia. They like to do their own thing, and Nick keeps busy counting fish species. Was great to see you again and to share Fiji's fish infested waters with you!
Teton I at Namena was covered in blue and gorgeous lunar fusiliers, while the ledges were busy with dragonets. The resident blue ribbon eel was out, and we also found a winged pipefish, a very cute baby yellow boxfish with black spots, and a new yellow motley leaf fish up in the shallows.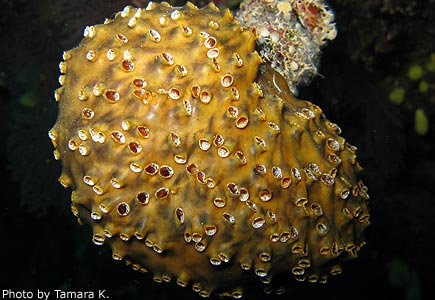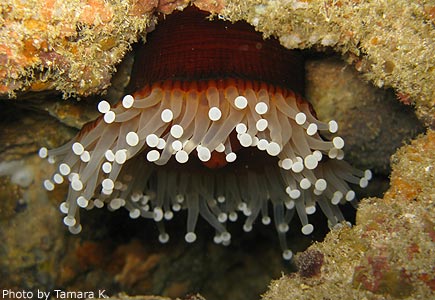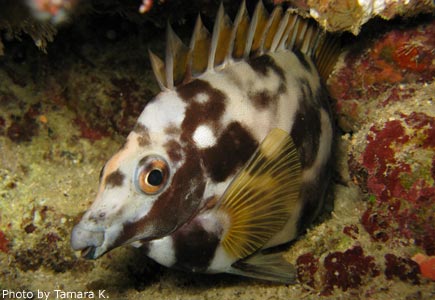 A loving couple is always a hopeful sight. Lois and Sherman Z. not only take the best care of each other, they also do so with a splendid sense of humor. Sherman looked very handsome in his Fijian sulu, and Lois' dancing technique at the village was outstanding. Sherman did not like diving in currents, and loved to shermanize ice-cream. Divers beware of the Shermanator and hang on to your desserts! Great meeting you two!
With the prevailing mild currents, we went back to Fantasea at Namena and had again a stunning dive, zigzagging our way up the wall covered in fans and inhabited by many decorated dartfish, magenta dottybacks, square-spot anthias, yellow chromis and black-spot angels. We also found a very handsome and large arrowhead crab on a whip coral, and finished our dive having a swim about in the hard coral garden on the reef top, which was completely packed with blue chromis, scalefin anthias and black damsels. All we could do was hover and watch in awe, while Vijay complained of sensory overload yet again … Before we left, we said hello to the family of cheeky red-spotted blennies on the rocks at the rim of the reef, and saw a large hammerhead meandering its way across the reef top.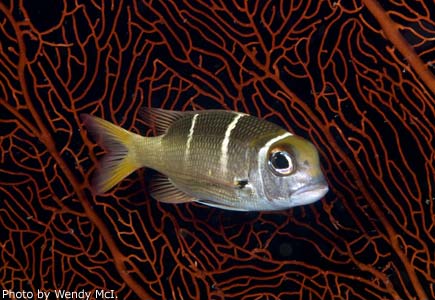 | | | |
| --- | --- | --- |
| | | |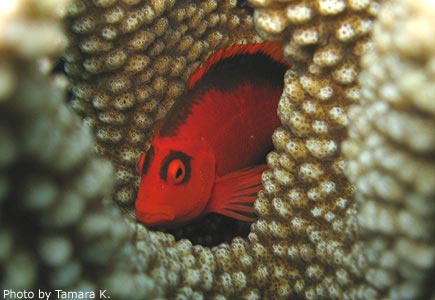 Coral Corner, Vatu-I-Ra, was everybody's top favorite dive, a definite and generalized sensory overload, as we drifted slowly along the lush soft coral wall and dense carpet of small fish. The sheer abundance and color left us all breathless, and no words do it justice… you will just have to come on NAI'A and see for yourself. Everybody falls in love with Fiji on this dive site, and Jamie was no exception … she is hooked!
Humann Nature is always a great spot to finish or start our diving. The nudibranchs must have been on some sort of day off, as they were all on walk about. Tons of large and active Chinese dragon nudibranchs were enjoying the energy of the sunlight after a few days of rain. We also spotted an always gorgeous Glossodoris atromarginata, as well as a tiny Nembrotha with red dots on black body (guttata?), a Roboastra gracilis and a few Flabellina exoptata. A real nudi feast!
Vinaka vaka levu, Viti!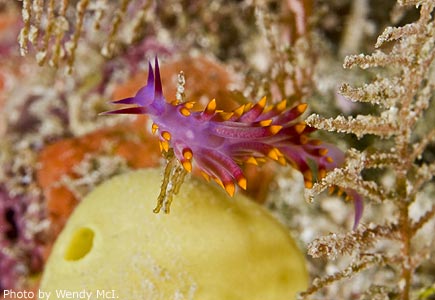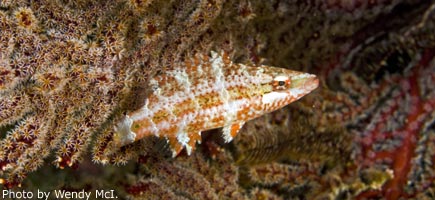 Guest Comments
One more time! Fabulous as always!
Vinaka!
Wendy McI., Koloa, HI, USA
Bula,
Loved it (Period)
Vijay S., Solon, OH, USA
PS: Sonia's smile made so much difference. All Crew – fabulous!
After six years in Fiji, I finally experienced NAI'A.
It was fantastic! Thanks to all for a perfect holiday.
Best wishes,
Larry D., Suva, Fiji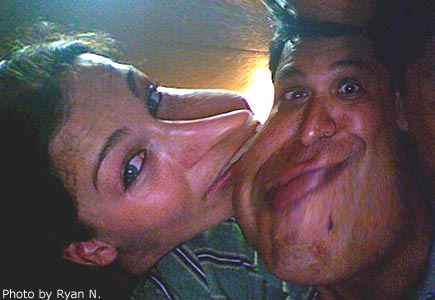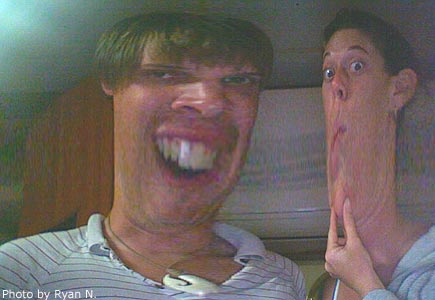 Just a little sun, but big fun blowing bubbles all day.
What a life with no strife, diving on NAI'A for 10 days.
Feeling low, but must go so I can return some day.
Good day!
Mary and Brad W., Ketchum, ID, USA
To ALL of the Crew on NAI'A, 'VINAKA' for a wonderful experience.
Hopefully we will be back!
Karen B. and Nick D., Perth, Australia / Wales, UK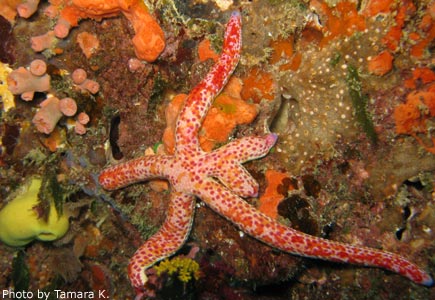 Far exceeded our expectations!
Diving was wonderful but the Crew made all the difference.
We truly felt like family!
And we will miss you all!
'Till we meet again …
Vinaka,
Stacey H. and Kevin S., San Clemente, CA, USA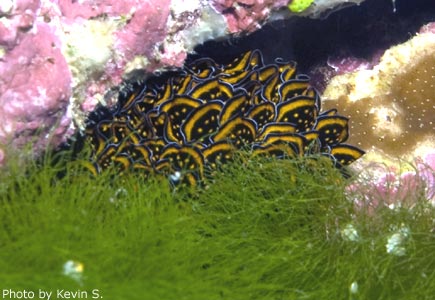 Links
Nick Hope
nick@bubblevision.com
www.bubblevision.com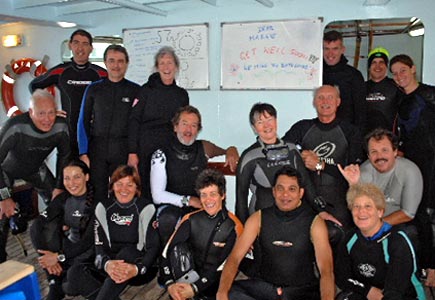 Return to NAI'A