Welcome on NAI'A, Blue XT-Sea Divers from Cozumel!
Date: June 21 - 28, 2008
Destination: Bligh Water, Gau, Wakaya, Makogai, Fiji
Congratulations: Eleanor H. on completing the TDI nitrox course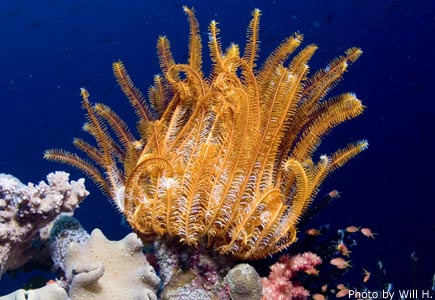 Blue XT-Sea Divers, Cozumel, came to explore Fiji on NAI'A, lead by Christi Courtney. She would never let our blue kava bucket pass by her without having a bowl or two, high tide of course, and she would jump to action whenever the delicious brew was mentioned … definitely our Kava Queen for this charter. Great to meet you and to have your enthusiastic and joyful group on board. Vinaka vaka levu, Christi!!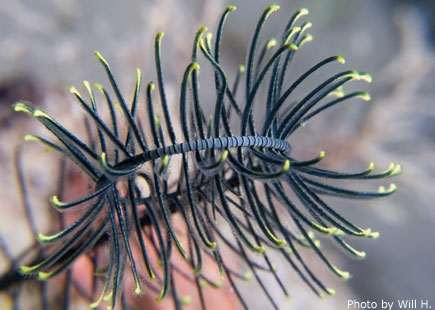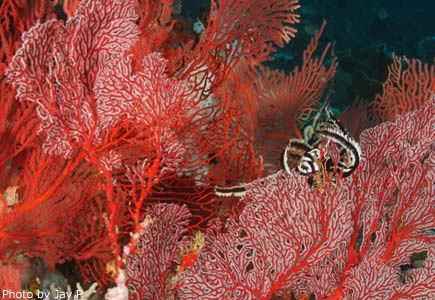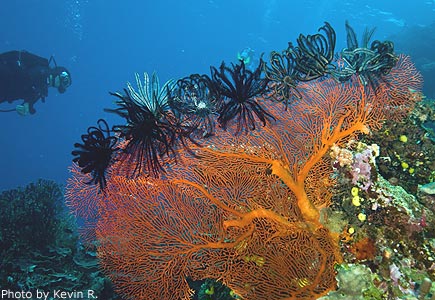 Cat's Meow and Humann Nature were critter galore. Not only was Humann Nature still crawling with handsome purple Chinese dragon nudibranchs, we also spotted quite some Flabellina, as well as a rare shortnose pipefish. The orange and red zooanthids, which cover the bottom, were much admired, as was the school of resident humphead bannerfish, a turtle and the clouds of anthias, blue chromis and fusiliers out on the currenty side. The night dive at Humann Nature was also quite spectacular, with five pleurobranchs, a sleeping turtle, arrowhead and coral crabs, as well as nudibranchs. Cat's was gorgeous as ever, with all its lush soft corals around the pinnacle and on the bottom, as well as the resident lionfish, friendly semicircular angelfish and the school of many spotted sweetlips hovering about. Critters to be seen were the stunning Reticulidia halgerda nudibranch, as well as a shortnose pipefish and a big soft coral crab with eggs.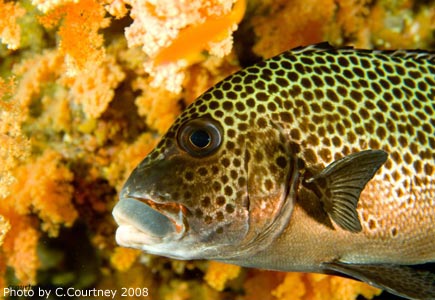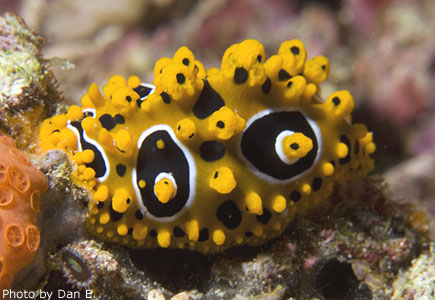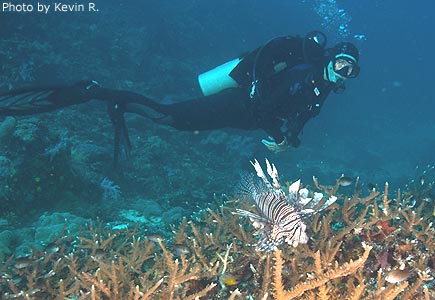 Doc Jay P. loved hovering amongst the densely packed rivers of fusiliers at Mount Mutiny, and actually loved it everywhere underwater in Fiji. Thank you for your smiles!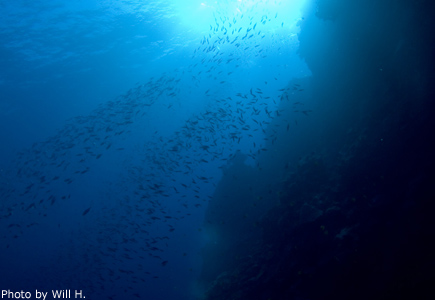 Naomi B. and Eleanor H. joined the group from Oz and tried hard to teach us to speak with Australian accent, which we managed with variable degrees of success. We definitely agree with them, that Fiji has the "best diving EVAH"!! They never missed a dive and were always last out. They taught us many Australian drinking songs and had us rolling on the floor laughing with their contagious jokes. Thanks for the good times, Mates!!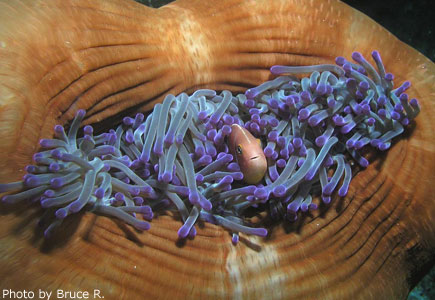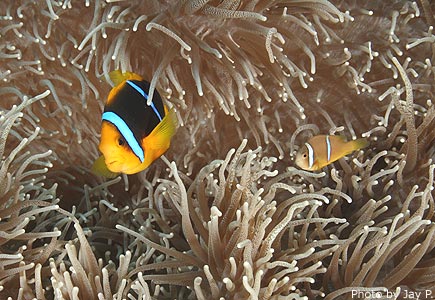 Our morning dive at Mount Mutiny welcomed us with endless visibility and several layers of fusiliers pulsating in and out of the reef in waves, chased by jacks and mackerel, a spectacular sight, which we enjoyed for a long time. There was also a big school of pinjalo snapper in the deep water, as well as the always stunning dense and colorful forest of chironephthya soft corals. We also caught a hawksbill turtle sleeping on a ledge, as well as a few white tip reef sharks under an overhang. A few special sightings included a little patch of bright pink zooanthids, a few pyramid butterflyfish, and a very rare convict tang on the top of the reef.
Alex S. was our tele-tubby lady, and got famous for making funny faces, especially when photographed. Her favorite activity was to tease us all, no exceptions …
Diving at E6 is always a treat, at night or during the day. The night dive was particularly eventful this time, with appearances of flashlight fish, dwarf scorpionfish, saron shrimps, hords of hinge-beak shrimps, as well as a white tip reef shark up close and personal. The tiger anemones in the cavern, which are usually closed up during the day, were all open and looking lush with their long white tentacles and delicately lined body decoration.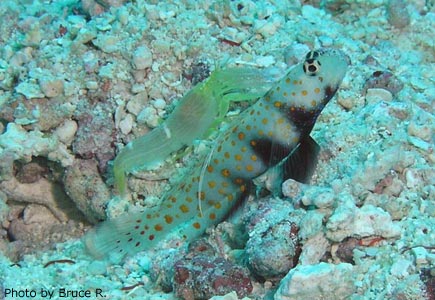 Eager photographer Amber B. was the travel agent for Christi's group, and blended in nicely with the colorful reef fish wearing her psychedelic skin-suit.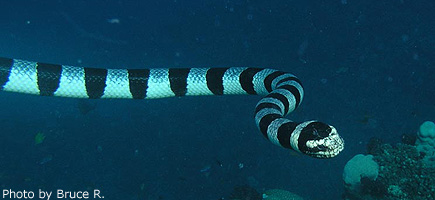 The visibility at Jim's Alley and Anthias, Gau, was particularly clear this time, making the dives very special. We had sea snakes on both sites, as well as several golden mantis shrimps. Jim's had a lovely Chromodoris kuniei nudibranch in store for us, doing the Marilyn Monroe skirt lifting moves, as well as a school of chevron barracuda and a black leaf fish. We found two black juvenile blue ribbon eels on Anthias, and not only the yellow and brown leaf fish were out, but also the gorgeous purple one was visible for everybody to admire. There were also many Chromodoris lochi nudis, as well as two Flabellina expotata feeding on a hydroid field.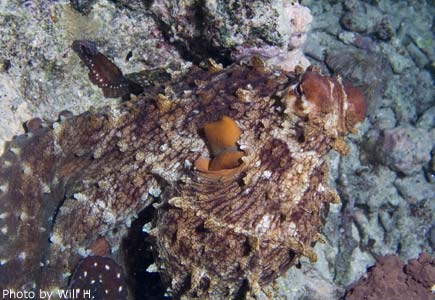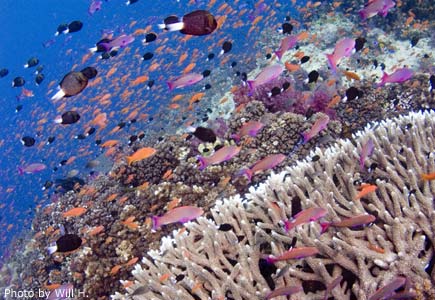 Kevin R. always had a smile for everybody and very infectious enthusiasm. He kept his wide angle lens on just in case the mantas would show up … and they did!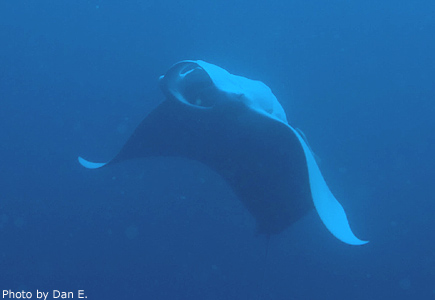 Happy birthday again, Ann R. She has been diving for the last thirty years in any water temperature and conditions … Her colorful pirate head-scarves were her trade mark. Her birthday wish was seeing a manta, and so she did, not only one, but six, yeepee!! Kevin and Sue L. were her faithful buddies. Sue did abandon her during the night dives, though, as she always preferred a good happy hour drink on the sundeck, watching the sunset … can't blame her for that…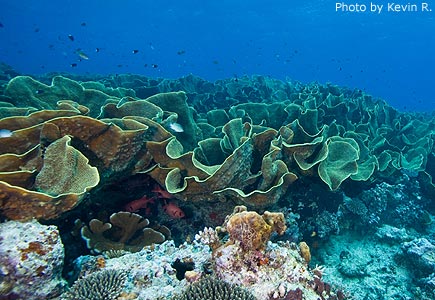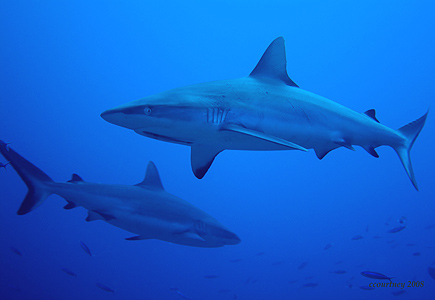 Everybody enjoyed the gray reef shark parade at Nigali Passage, Gau, but more than the sharks, we enjoyed moon-walking along the passage, fins under our arms, making summersaults and feeling like the first men and women on the moon… We also tried to lure the giant slashing mantis shrimp out of its hole, and partially succeeded, but Boris, our malabar grouper friend, was very nosy and needy of attention, so we played with him for a while … you don't want to upset Boris … size definitely matters…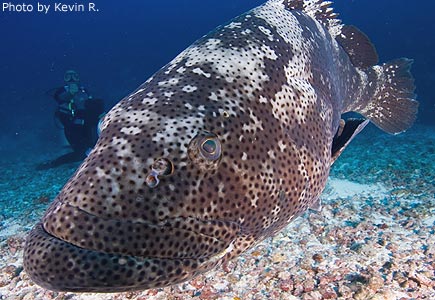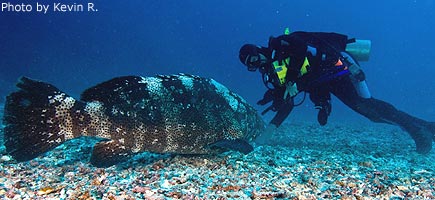 We also drifted along the right side wall, past luxuriant soft corals and fans, and spotted two big moray eels, a large map pufferfish, a shortnose pipefish, two marble stingrays and a juvenile yellow boxfish. At the end we drifted into the lagoon, right through the school of snappers and big-eye jacks, and finished our dive on the cabbage patch, which was covered with a large school of parrotfish. Magnificent diving, yet again!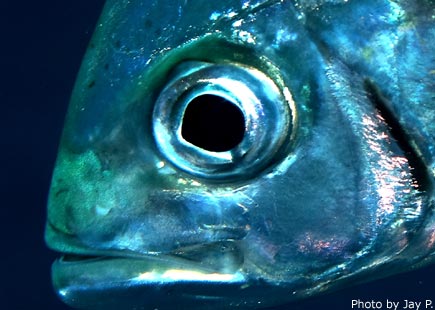 Everybody was jealous of Becky P. and Will H, for being on honeymoon for three entire weeks … good on you guys! Congratulations again, and our warmest wishes for a long and happy future together!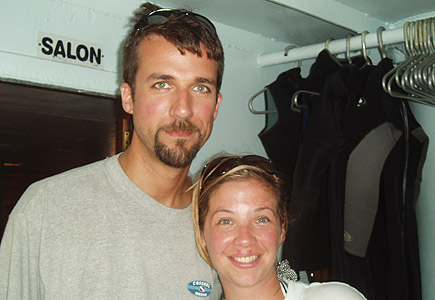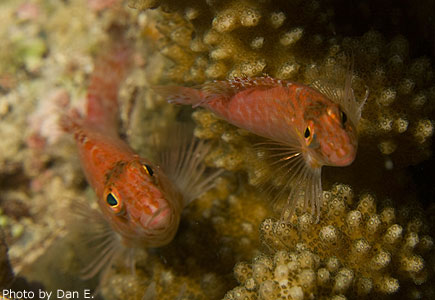 Vatu Vai and Lion's Den at Wakaya, were again very generous to us. Not only were the reefs beautiful and covered with fish and critters as usual, but we also were so fortunate to be able to watch several mantas feeding very close up for a whole dive, like a graceful ballet for our eyes only, making Ann's birthday wishes and the dreams of everybody else come true. And, as if not enough, we saw some more mantas cruising by on the other dives, as well as two hammerheads… what a spectacular treat!!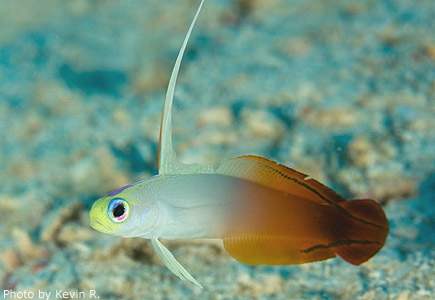 Smiley Martha E. was definitely hard core, hardly missing a dive, and spotting all the good critters for husband Dan, who was best buddies with his camera! Great manta shots, Dan, thank you for sharing!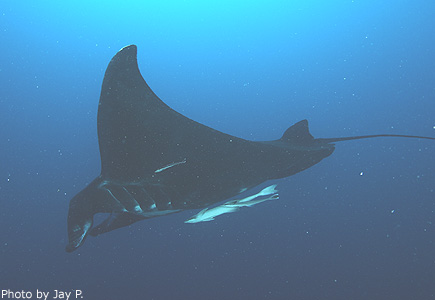 Gobies and cool yellow shrimps were Bruce R.'s favorite. He used to sleep happily through the heavy vibrations of the anchor chain, jumping out of bed last minute and straight into his wetsuit, waking up later on amongst the fishes and coral in the water.
Maytag at Vatu-I-Ra was busy with gray reef sharks in the current at the ridge, and not only did we admire its resident leaf-gill slug, but Christi also spotted a black baby ornate ghost pipefish in a black coral bush … awesome, Christi!
Marie B. and Greg A. enjoyed the NAI'A Boys' singing immensely and never refused a good kava bowl. Thank you for your gentle and gracious company!
Mellow Yellow, still at Vatu-I-Ra, was rated unanimously as the prettiest dive ever, because of its abundant and magnificent yellow soft coral growth, and the density and variety of fish on its reef top, where one could hang out for the rest of one's life without complaining of a single dull moment.
Mike S. almost got eaten by Boris, the cheeky malabar grouper at Nigali passage, but notwithstanding the grouper's harassment, he got a shot of the giant mantis shrimp. By the way, how did you like that porcelain crab??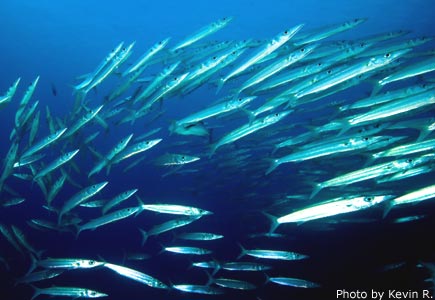 Our last dive of the charter, won "The Best Dive EVAH" Award yet again … it was, how could it not be, Coral Corner at Vatu-I-Ra, of course. It simply has everything … gray and white tip reef sharks, fantastic quality rubble with critters, pristine hard coral gardens covered in damselfish, outcrops blanketed in thriving soft corals and fans, schooling chevron barracuda, pinjalo snapper and black snapper, and then that wall packed with soft corals in all colors and, finally, the reef top blooming with lush soft corals and densely enveloped in anthias, damsels and fusiliers. Emotions were running high at the end of the dive, from loud raving all the way to crying, and then begging to stay and never leave this unique and pristine underwater paradise. This dive is really Fiji 4 U, no description will do it justice … it is simply Fiji … It was also my last dive as NAI'A's Cruise Director and that is how Fiji underwater will stay imprinted in my memory … always as Coral Corner … Vinaka Vaka Levu, Noqu Viti!!
| | | |
| --- | --- | --- |
| | | |
Sota tale Noqu Ragone, my dear Boys, sota tale NAI'A family and gorgeous, loving Fiji … I will remember you every day of my life with much love, as family and dear friends are remembered, and I will miss you terribly. A big, fat and warm vinaka vaka levu for being so special and for taking me in so lovingly as one of you from the first day to the last. You gave me the two best years of my life!!
My most heart-felt wishes for your future and happiness!!
You are definitely as awesome as it gets … THE BEST EVAH!!
Guest Comments
NAI'A Crew,
Thank you, Thank you!
Fab diving (mantas and hammerheads, too!)
Great Crew, yummy food, had an amazing trip – plans to return!
Alex S., Portsmouth, NH, USA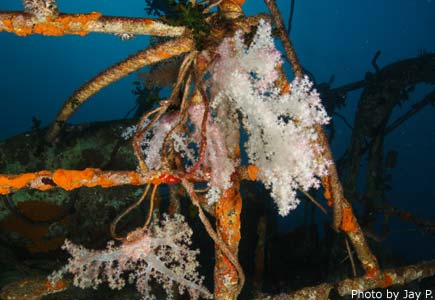 To the amazing NAI'A Crew –
Thank you for the most incredible experience – above and below the water,
You all are awesome!
Jay P., Orchard Park, NY, USA
To the wonderful NAI'A Crew,
Thank you so much for an amazing trip.
The diving was fantastic, but it was the Crew that made it really special.
We hope to see you again.
Martha and Dan E., Dripping Springs, TX, USA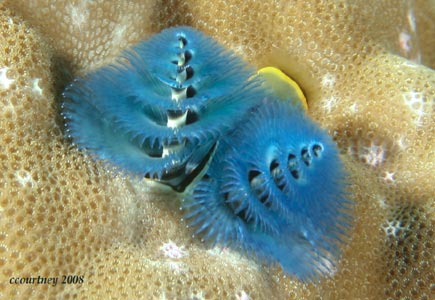 Wow, Fiji diving was a dream come true … but NAI'A and her Crew were what really made the trip.
Thanks so much to Sonia for showing us so much quality rubble!
It was a delight to have Sonia as our guide before she departs for the Red Sea.
It was just as delightful to be here for the start of Jamie's work on NAI'A –
She'll do a great job.
You all are beyond compare
Sue L., Lexington, MI, USA
Thank you for showing me and sharing the beauty,
spirit and tradition of Fiji.
Kevin R., Colleyville, TX, USA
Thanks for the best dive EVAH!
Sonia, you are a bright and shining star.
Good luck to you.
Ann R., San Marcos, TX, USA
To the Crew of NAI'A,
You are the perfect embodiment of the warmth, friendliness and kindness of Fiji.
Fabulous and memorable trip!
Our group motto may have been "what happens in Fiji, stays in Fiji", but I'll be bringing back a piece of NAI'A in my heart.
Amber B., Aurora, CO, USA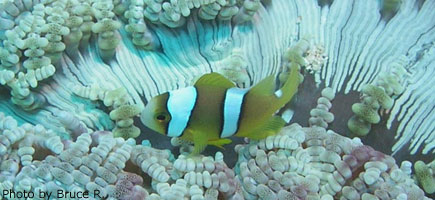 NAI'A Crew – BULA
Best Dive Boat … EVAH!
Thank you for your graciousness and friendship.
May the wind always be at your back, and the sky clear to the horizon.
Thanks again for all the great memories.
Mike S., Centennial, CO, USA
Our honeymoon to Fiji was spectacular due to the awesome Crew of NAI'A.
The diving was jaw dropping, but the shocker was the great staff.
They all went out of their way to make this the best dive trip/honeymoon we could have imagined.
We will be back again!
Thank you!
Becky and Will Horst, Andover, NJ, USA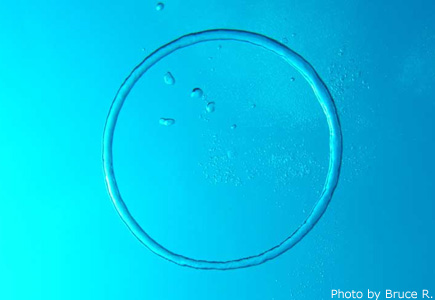 Words can't express the gratitude I feel for the truly wonderful experience of my week diving from NAI'A. The diving is incredible and the warmth and caring of the Crew is phenomenal.
Truly it has been a once-in-a-lifetime experience.
Thank you,
Bruce R., Salem, OR, USA
Sonia, Johnathan, Mo, Suli, Ben, Peni, Jioji, Joe, Peni W., John, Sevu, Pate, Eddie & Jamie (of course) –
What is there to say except that this was "the very best dive trip EVAH"!
I expected Fiji diving to blow me away – but I did not expect the fortune of you to be so fabulous, every one of you!
NAI'A and her Crew have set the bar for all live-aboard diving, and has without doubt been my personal best live-aboard experience!
NAI'A is losing a warm, funny, beautiful & extremely valuable asset in Sonia …
but also gaining a new shining star in Jamie –
We were extremely blessed to share our dives with both Cruise Directors extraordinaire
I could go on … but I'll save it for my next trip, which will be much sooner than later ;-)
Hasta luego con amor,
Christi C., aka "Kava Queen", Cozumel, Mexico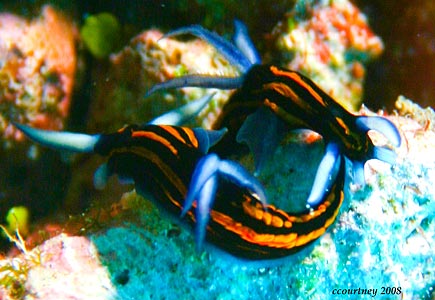 Thanks heaps to the entire NAI'A Crew for making my week so enjoyable.
What wonderful people you all are, lots of fun and the best ever singers and kava faces!!
Isa Lei, my friends.
Naomi B., Drummond Cove, WA, Australia
They say that all good things must come to an end, but this trip is harder than most.
The seven days on NAI'A have been a wonderful experience, which was only made better by the Crew. Our personal thanks go out to every member of the fabulous Crew for all you have done (wonderful food, fabulous diving, a comfy and warm home), and to "the Boys" for sharing their kava and music.
You will all not be forgotten.
Greg A., Naperville, IL, USA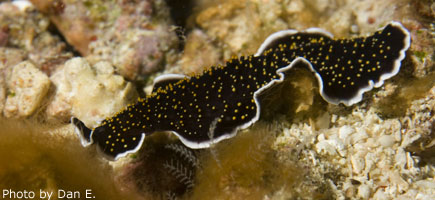 What a wonderful trip!
Cat's Meow – Best dive EVAH!
Nigali Passage Moon Walking – Most fun dive EVAH!
Mellow Yellow – Prettiest dive EVAH!
The diving was brilliant, but the Crew made this trip.
The singing, guitar playing and kava drinking was fun.
We were made to feel welcome and included.
Thank you,
Eleanor H., Bunbury, WA, Australia
To the wonderful Crew of NAI'A,
Thank you so much for a truly remarkable week.
A great location for our 100th dive milestone, and I can't wait to come dive with you all again.
Thanks to Mo for dropping us right where the mantas were, like we asked, and to Sonia and Jamie and Johnathan for being great dive guides all week.
Amazing food, diving that was out of this world, and fantastic music and kava parties with the Boys –
the best trip EVAH!
Marie B., Naperville, IL, USA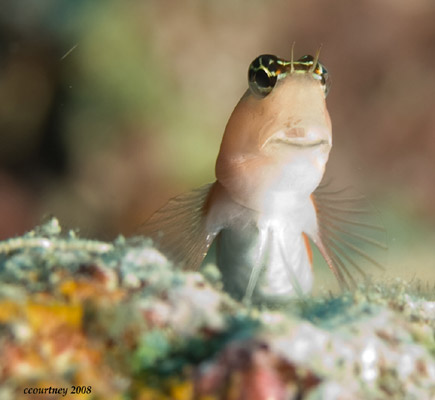 Links
Christi Courtney
Blue XT-Sea Diving
www.bluextseadiving.com
Amber Blecker
www.amberwavesphotography.com