Fiji Climate & Water Temperature
Fiji Water Temperature
The water temperature has been creeping up gradually over the last month and is now around 84oF or 29°C (March 1 2017). Most of our divers are comfortable in 3mm full wetsuits. Bring more layers if you feel the cold! 
This highly accurate sea water temperature graph was derived from data gathered over 16 years in collaboration with researchers at the University of the South Pacific using temperature recorders throughout Fiji waters, accurate to 0.05 degrees Celsius, that measured the seawater temperature every hour.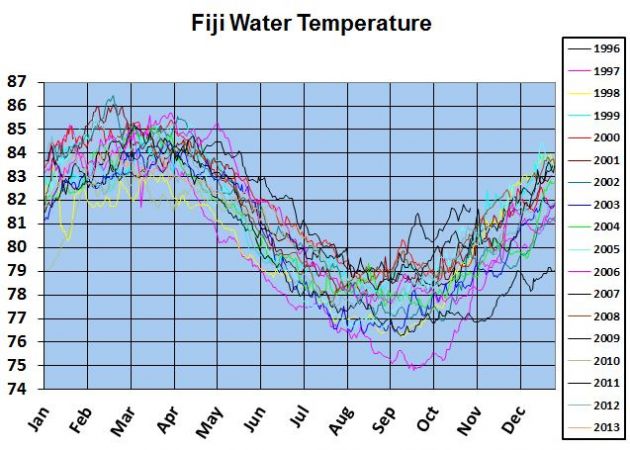 You can use this temperature graph to decide which wetsuit(s) to bring to Fiji. Notice that the temperature can vary by 4-6 degrees for a certain time of year.
NAI'A crew, who dive here continuously, tend to wear thicker wetsuits than you might expect: 3-5mm in the summer and up to 6.5mm or even drysuits in the winter. But we're wimps! Make your own call, but if you get cold, don't say we didn't warn you!
For our humpback whale enthusiasts, Tonga in August and September is about 2 degrees cooler than Fiji at the same time.
Fiji Air Temperature & Rainfall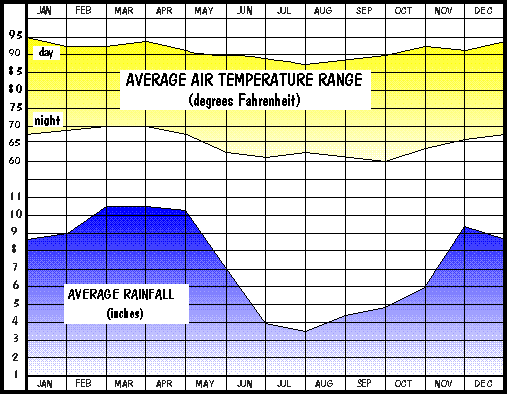 CURRENT WEATHER
Fiji Scuba Diving
DIVING LOGISTICS
UPCOMING TRIPS