Skiff Diving
The Quick & Easy Way to Dive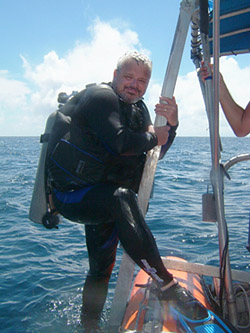 Many people diving in the Pacific for the first time seem apprehensive about skiff diving. By the end of the charter, those same people realize that well orchestrated skiff diving is the only civilized way to dive. For the most part the Western Pacific is either two feet deep or two thousand feet deep, so there is no way to anchor or moor a big ship close to the dive sites. And, where currents are a part of the picture, "close" to a dive site isn't close enough. You want to be right on top of the site when you drop in.
Even more important is the freedom of not having to get back to where you started. NAI'A's skiffs will pick you up wherever you surface. Divers accustomed to the 40-40-20 rule (swim out for 40% of your air; swim back for 40%; and hope the last 20% covers your navigation mistakes or the current you didn't account for going out....) will be delighted by the extended dive time, photographic opportunities, and room to maneuver that the skiffs allow. Skiff diving is safer, too, since you never have to stress yourself getting back to where you started.
NAI'A uses two 6.8 meters rigid inflatables designed for the lobster grounds at the bottom of the South Island of New Zealand. These are robust boats, and their low freeboard makes them easy to exit and enter. Our ladders help make those exits easy, even for those with back and shoulder problems. Because NAI'A uses two skiffs, divers who surface early are whisked back to the ship where they can have a shower and a brownie while they wait for the hard-core macro photographers to complete their dive.
NAI'A offers four or five guided dives a day. The mad keen can do as many extra dives in between as they want. Because her itinerary is so extensive, NAI'A generally travels at night so that she doesn't have to move much during the diving day.
Easy Exit
NAI'A's thousand-dollar ladders are our newest improvement aimed at making your dive adventure less of a pain in the back. Everyone who has dived from small skiffs recognizes the advantages of fewer people and more mobility, but sometimes this is at the cost of easy re-entry. Most skiff ladders just don't work very well, which is why it took us so long - and so much money - to evolve ladders that are truly effective. For most people we still encourage the old one-two-heave slither-into-the-skiff approach, but for those of us with bad backs or dislocated shoulders, the ladders are there to help. The ladders plus a big strong Fijian boatman!
DIVING LOGISTICS
About NAI'A
UPCOMING TRIPS