The Lucky 13
Destination: Fiji's Bligh Waters
Trip Date:
Nov 8th - Nov 15th, 2014 -
Comments
Author: Joshua & Amanda
Congratulations: Olya on achieving her Nitrox certification. Jim & Rachel for doubling their lifetime number of dives. Matt & Alex for not missing a dive.
The conditions were perfect for the entire week as we took a lucky group of 13 divers on our Fiji expedition. Besides our American friends, we were by international transplants: Jorge from Cuba to Chicago, Olya from Moscow to LA, Sam from Tunisia to Canada and a couple of Swaltese. That's what we dubbed Jonas and Christina, a couple from Sweden who now live in Malta. They migrated south to avoid the cold, darkness and poor viz of their Scandinavian homeland. We call our guests this week lucky because, not only was the weather ideal, but we took in some remarkable underwater sightings right from the start. On the check-out dive (never the best dive of the trip), we saw two octopi and the slender roboastra gracilis nudibranch.
For our first full day of diving, we headed towards the Vuya Reef area, but Johnathan veered the ship south in the middle of the night to avoid rising swells in that area. Needless to say, it took our guests a bit of time to get used to sleeping on a ship, but fortunately, the sea was very calm for the remainder of the week. The Swaltese are bona fide current junkies, so they were delighted to dive Vatu-i-Ra just a couple days after the full moon. The current was absolutely screaming on our first dive at Coral Corner, the strongest Joshua has seen it there in 13 months. At the end of the reef, where we can normally turn a corner and finish the dive in a leisurely current, another current met us head-on and we were literally hemmed in by intersecting currents. While other divers might have been daunted by the challenge, the Swaltese begged for more!
Other noteworthy creatures seen at Vatu-i-Ra included a skydiving sea spider and enormous schools of surgeonfish and barracuda at Gomo, the rare and shy NAI'A pipefish at Maytag and the orange-finned anemonefish jealously guarding its eggs at Charlie's Garden.
It was after our first dive on Monday that we were finally joined by our 13th guest. Originally from Tunisia, but now a resident of far northwest Canada, Sam missed his flight and did not make it aboard until that morning. He managed to get two dives in, but was so seasick that he missed the fourth. Perhaps it was a combination of stress, long flights and pretty rough seas, but he was not feeling well that afternoon. Fortunately, by his second day, he rallied and he was soon buoying up the spirits of all of our other guests with his shy smile and dances.
After a quick warm-up at Charlie's Garden, we plunged into the abyss beside the staggering pinnacles of Mount Mutiny and E-6. It was at the former where we came face to face with a hawksbill sea turtle (I thought it was going to peck Steve's camera dome) and watched as two slingjaw wrasse hunted alongside an octopus. And at the latter, we were approached by some menacing predators, two giant trevally on the hunt and a large school of blackfin trevally.
Our luck continued to roll as we steamed towards the paradisiacal island of Wakaya. Again, the sea remained flat for our dives there. Almost all of our guests saw a manta ray that day and several saw a scalloped hammerhead shark cruise by the group as well. The highlight that day, however, was five grey reef sharks, three white tips, one hammerhead, three green sea turtles, one hawksbill and several hundred blackfin and pickhandle barracuda… in one dive! Throughout the month of November, we have been participating in the Great Fiji Shark Count, the purpose of which is to get an idea of the number of sharks, rays and turtles in Fiji so that we can better protect them. Certainly in Wakaya, the numbers of all are very solid.
Before going on our village visit, we did two more dives with a macro focus at Makogai Island. The villagers were gathered near the beach to welcome us with song and flower garlands before Kameli lead our guests on the tour of their community. To teach their grandchildren the importance of generosity, Steve and Marge took a picture of themselves giving some of their clothes to one local child. The child was a little puzzled at first, but as soon as he realized that he was getting new clothes, he smiled broadly for the pictures! We then gathered in the community center for the traditional sevusevu (offering) ceremony and several rounds of kava. The children of the Makogai entertained us with dance as the adults pounded on the lali and belted out Fijian folk songs. Olya's eyes bulged as the young boys of the village performed an intimidating and vocal war dance before her. This batch of kava must have been particularly strong because Sam drank just three bowls of it and next thing you know, he was dancing in the middle of a circle of guests and villagers. He danced with so much vigor that he sent the villagers into fits of hysterical laughter.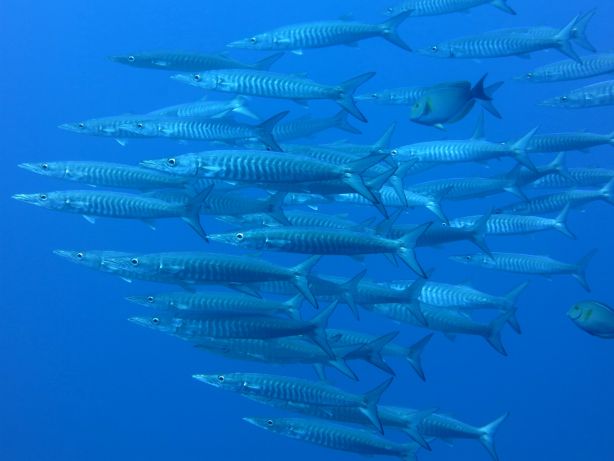 Flying daggers - by Alex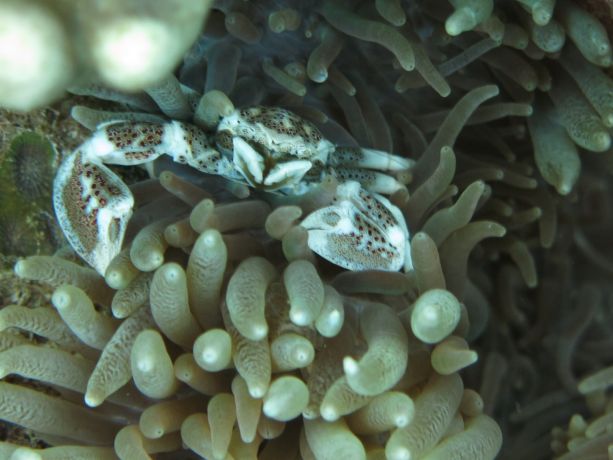 Porcelain perch - by Alex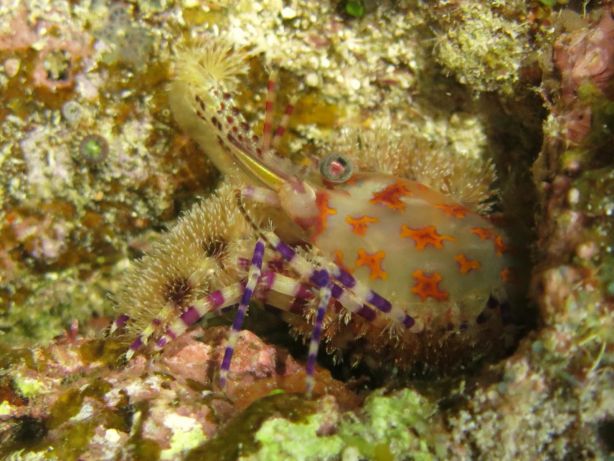 Marbled colors - by Alex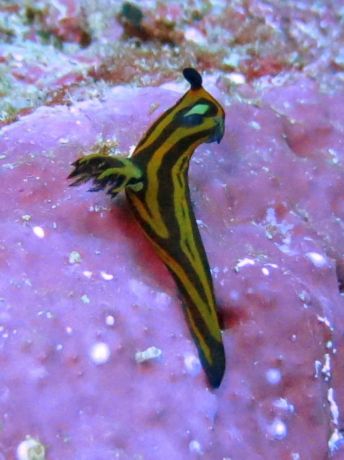 Rare tambja affinis found in Fiji - by Alex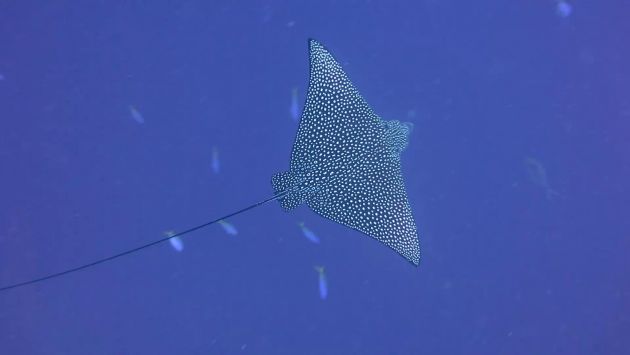 Soaring - by Alex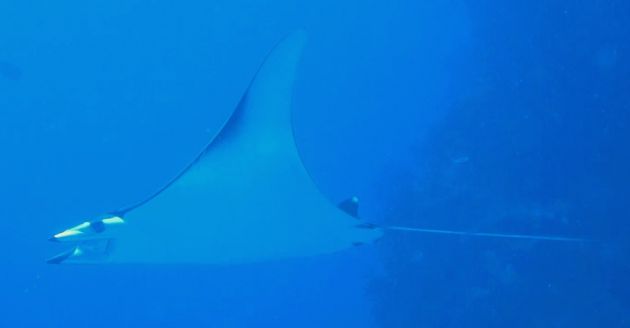 You can't spell mobula without BULA! - by Alex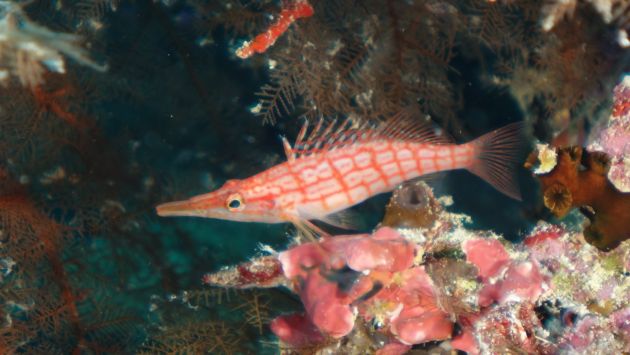 Feeling hawkish - by Sam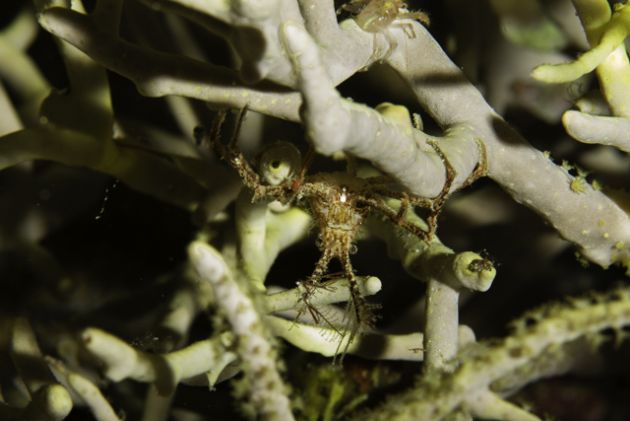 Topsy turvy world - by Steve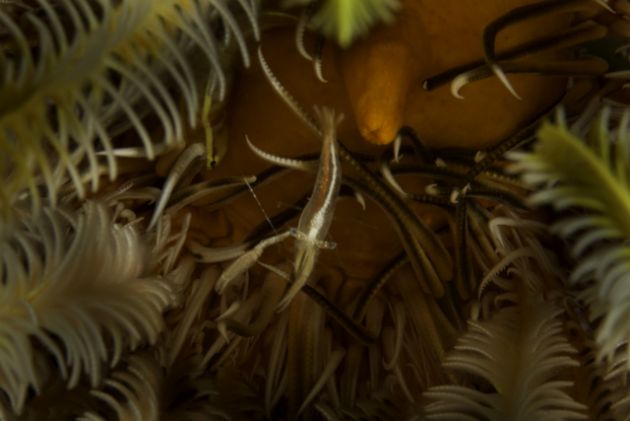 Crinoid critters - by Steve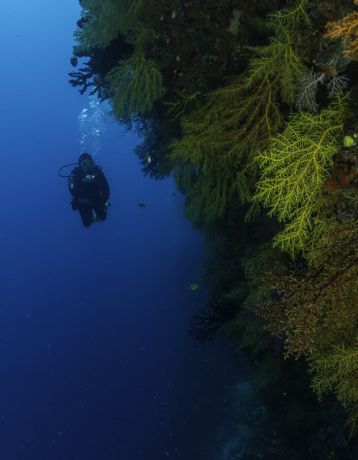 Off the wall - by Steve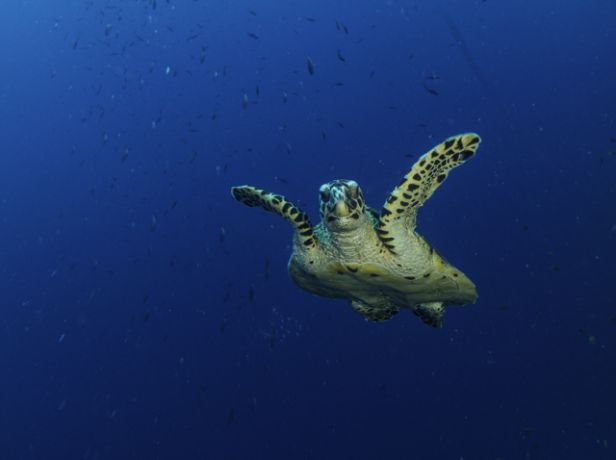 Coming in for the kiss - by Steve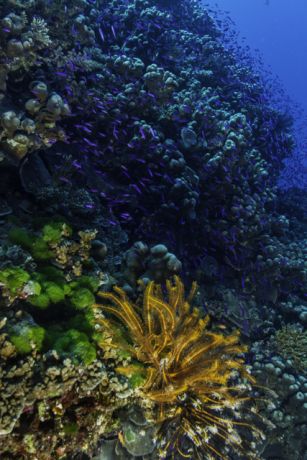 Reef life - by Steve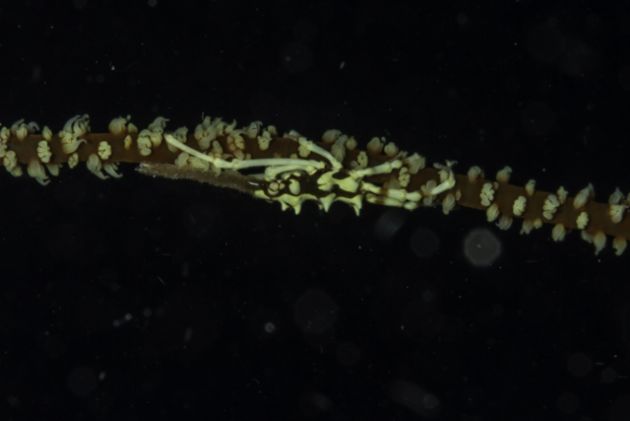 Dragon your feet - by Steve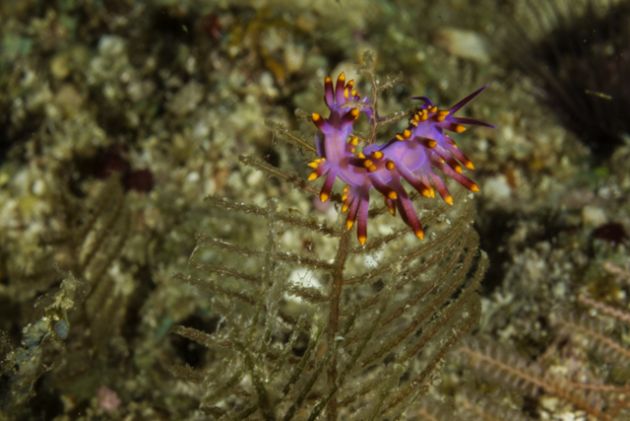 Frilly fun - by Steve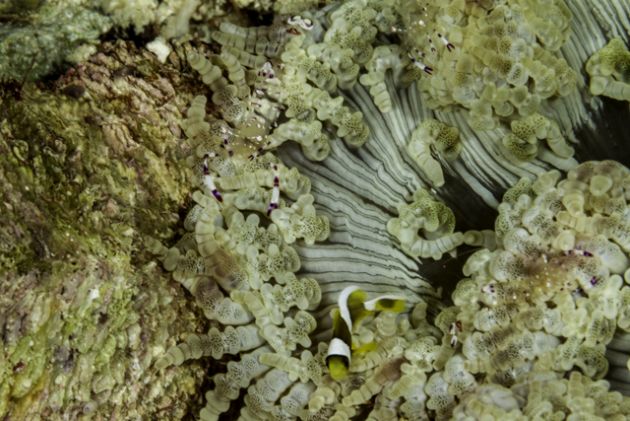 Crowded anemone - by Steve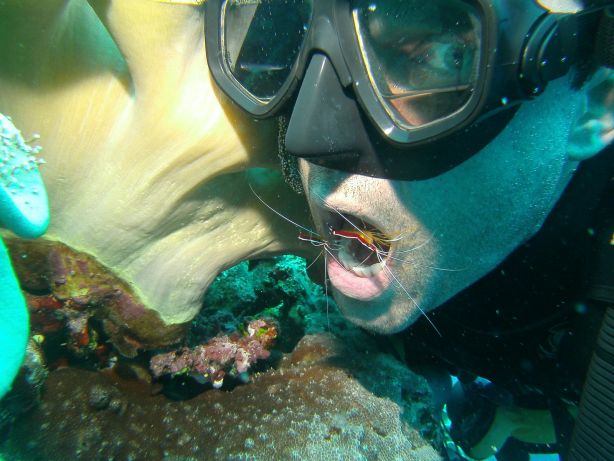 Time for Joshua's dental checkup - by Dan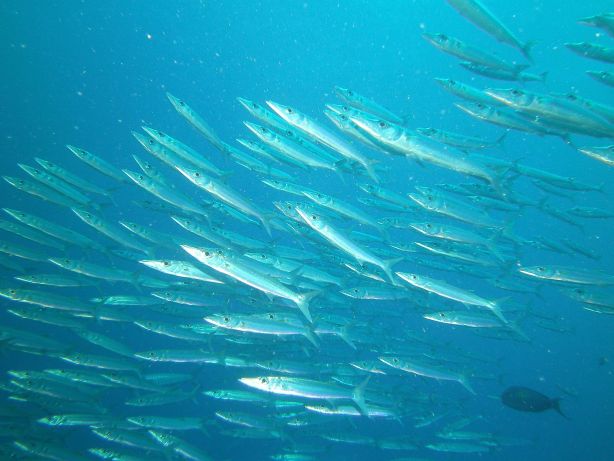 Silver swords - by Dan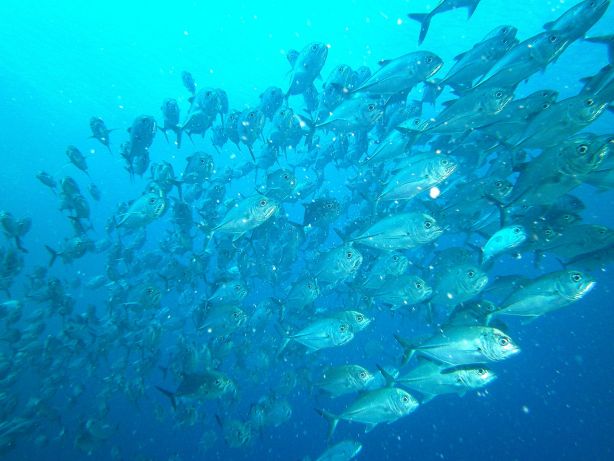 Patrol squad - by Dan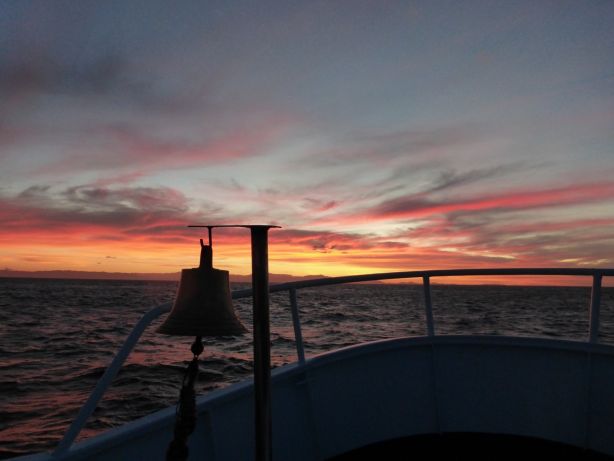 Farewell - by Dan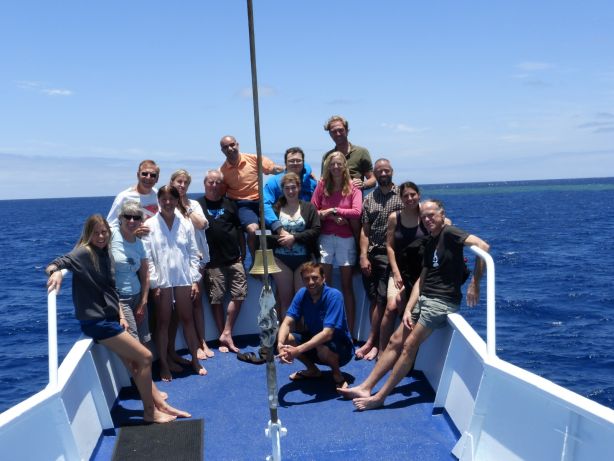 The Gang
Overnight, we sailed into the Namena Marine Reserve for two action packed days of diving. Our hot streak continued at the reliable Grand Central Station where we spotted many grey reef sharks, massive schools of approachable blackfin barracuda and bigeye trevally, the cryptic leaf scorpionfish and pygmy seahorse, a spotted eagle ray and even a devil ray (mobula)! This is only the third time we've seen the mobula in a year, so it seems to be pretty rare around these parts, but our guests really had the hot hand. For the afternoon dives, we took in the colorful South Save-a-Tack area, where there are countless bommies adorned in dendronepthya soft coral representing every color of the rainbow and then some. Our divers saw both the juvenile and adult blue ribbon eels and our laser-visioned divemaster, Joe, found another pygmy seahorse at Tetons II.
We hosted our guests for a kava party that evening with a one-to-one ratio of crew to guests. Jonas seemed to enjoy the kava party most, silently grinning the entire time, seemingly enraptured by the catchy music. New buddies Jonas, Christina, Alex and Matt cheersed each other with each kava bowl, swiftly followed by a whisky chaser. That's one way of doing it.
During our second day at Namena, we ventured to the unpredictable Schoolhouse in search of schools of fish and big pelagics. The current was howling and Sam didn't manage to stay with the group, but he did manage to stay with a hammerhead shark! Back on the south side, the encounters with unique macro critters continued to pile up. At the always-satisfying sites of Tetons I and Two Thumbs Up, we observed brown banded pipefish, leaf scorpionfish, peacock-tailed anemone shrimp and the mysterious dragon shrimp. Joshua delighted the guests with a full dental cleaning from two white banded cleaner shrimp, but, as much as Dan wanted to have a go, it was a tight space and too long a breath hold to get his own teeth cleaned.
For our last day of diving, we finally made it to the place that we intended to start this voyage, Vuya Reef. We closed strong yet again with our last three dives. The conditions were unusually calm at Cat's Meow where we tracked down a very rare nudibranch that resembles tambja affinis. However, according to the nudibranch bible, this species is not found anywhere near Fiji! In the meantime, at Humann Nature, Jonas lured in a large silvertip shark by squeezing a plastic water bottle. Jorge and Christina were witnesses, so we're sure he wasn't lying.
The Most Improved Diver Award goes to both Jim and Rachel. Arriving with only 17 dives apiece, they listened to advice and worked hard at implementing it. By the end of the trip, they had doubled their dive times and gotten a comfortable handle on buoyancy and Fiji's unpredictable currents. But then, for a couple who arrived at their wedding by rappelling down from a 3-pitch climb in the desert, it's no surprise that they rose to the challenge!
This group was unique because it was the first one we have had in which none of the guests had been to Fiji before. After a week of wonderful weather, diving, food, culture and conversation, however, I think it's safe to say that this won't be their last visit to the friendly Fiji Islands.
"We have been lucky to have dived in many parts of the world. The diving here cannot be matched anywhere. Had a terrific time. Staff and crew did a great job!"
-Marge & Steve
"This was a wonderful trip. Everything was fantastic. The crew, the hosts, the weather, the sea, the topography, the music, the kava. Many thanks for all the hard work."
-Jorge
Our Guests...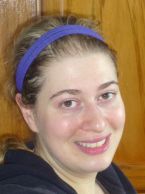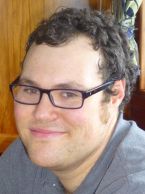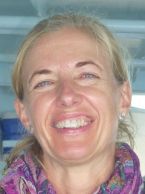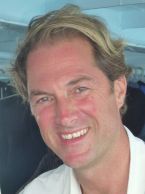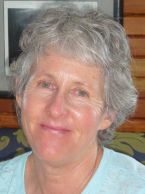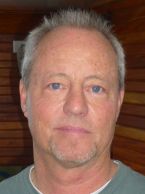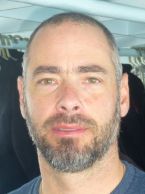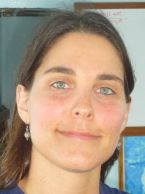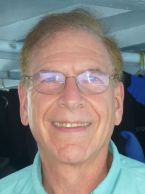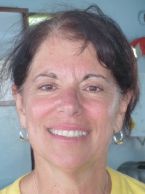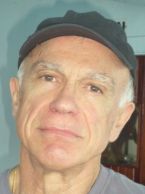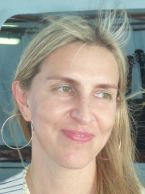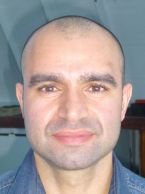 Comments
"NAI'A made a believer out of me! Fiji has been grossly underrated by both divers and scientists. Incredible fishes here and definitely worthy of protection."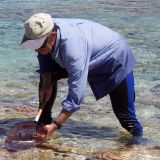 ~ Dr. Gerry Allen, Ichthyologist & Author, Conservation International