Humpback Whale Watching Expeditions
The water temperature in Tonga as of 1 August, 2016 was around 74°F or 23.5°C. We suggest bringing full 5-7mm wetsuits, underlayers and hoods / hooded vests.
Every year since 1996 NAI'A has voyaged to Tonga to conduct expeditions among the humpback whales who have traveled north from the Antarctic to mate and give birth in Tonga's (relatively) warm tropical waters.
NAI'A's 10-day trips begin in Tonga's capital "city" of Nuku'alofa and extend north into the untrammeled coral atoll wilderness of the Ha'apai Group, where the greatest number of humpback whale pods are found -- but almost no other boats, save the fishing canoes of villagers.
Sailing throughout this maze of islands and reefs, the location and activity of the whales largely determines the precise course of each new day. These are wild animals and this is no zoo! However, our experience has proven the mornings to be the best time for whale spotting and swimming encounters. Later in the afternoon NAI'A finds a safe evening anchorage near a dive site. We always plan to do at least one and sometimes more dives each day. Night dives are also a spectacular option on coral reefs.
Our 10-day itinerary to includes time for Whales, Volcanoes & Virgin Coral Reefs and our daily schedule is very flexible. Usually our days on board are so busy - spotting, observing, photographing and swimming with whales; snorkeling or zooming out to record whale song from the skiffs; visiting a village or scuba diving virgin reefs - that our chefs become somewhat miffed about slaving over a delicious gourmet meal only to have everyone rush outside screaming "WHALE" as soon as it is served!
From the sight of the first breach at dawn, to the silhouette of whales resting at sundown, these expeditions are a special and rare kind of ocean adventure in a particularly picturesque part of the world. It's no wonder the whales like it here. Join us!
Explore more about Tonga Whale Watching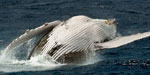 About Tonga's Humpbacks
This Tongan tribe is even more special than other groups of humpbacks - the last to be hunted, the fewest survivors and the least understood.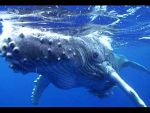 Swimming with Whales
The experience of swimming with a whale is so profound and the memories and images brought back from an in-water encounter are so exciting that it can change the way people see nature, understand it and, in turn, care for it.
Tonga Whale Watching
UPCOMING TRIPS