"The Cove"
Date Published:
Jun 30th, 2010 -
Comments
Author: Rob Barrel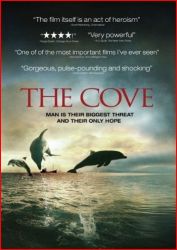 The Cove is an important film for all divers and anyone else concerned with animal welfare. It has been released for some time now, but I only just managed to see it last night on DVD here in Australia. In case you don't know, the film is about the annual dolphin slaughter at Taiji in Japan driven by the capture of dolphins for swim-with-dolphin shows. The dolphins that aren't chosen for aquariums are killed -- as many as 23,000. The Japanese claim that the dolphins are killed instantly and humanely, but the film clearly shows that this is untrue.
The Cove was directed by Louie Psihoyos and features Simon Hutchins, Mandy-Rae Cruickshank and Kirk Krack, all of whom were together in Fiji aboard Jim Clark's magnificent yacht Athena in 2006. I was hired as local guide and got to spend ten days on the boat showing off the best of Fiji diving. If you watch the film closely, you'll notice Mandy and Kirk swimming through the cathedral at E-6. My only annoyance is that they were planning the film then and they kept the secret from me. It's probably just as well because I'd have given up everything else to help them...!
The Cove -- if you haven't already, go see it!
Comments
"NAI'A made a believer out of me! Fiji has been grossly underrated by both divers and scientists. Incredible fishes here and definitely worthy of protection."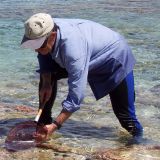 ~ Dr. Gerry Allen, Ichthyologist & Author, Conservation International