NAI'A is Safe as Cyclone Evan Moves Away
Date Published:
Dec 17th, 2012 -
Comments
Author: Rob Barrel
NAI'A is safe!
The wind is finally dropping over Fiji as Severe Cyclone Evan moves away to the south. NAI'A survived the night unscathed in her safe hurricane hole and our office and homes in Pacific Harbour are okay.
Evan was the worst storm to hit Fiji since Cyclone Kina, which arrived the day before NAI'A and I did in 1993.This time the brunt of the storm was felt in Lautoka and Fiji's west and we still do not have information about the extent of the damage there. As the storm approached Lautoka yesterday afternoon, our operation manager, Hussain, got his last call through before the phones went down to say he was sheltering in the house he just finished building and that it was terrifying to see things blowing away all around him. We don't yet know how Hussain's house stood up to the full force of the winds last night.
My neice, Wrenn, is in the air right now on a flight scheduled to land at Nadi in six hours time, which, in the absence of more information about damge in the west, we take to be a good sign....
This will be the last update I post as all of us now turn to looking after our families as Christmas approaches.
Best fishes,
Rob Barrel
Cyclone Evan, 12:30 Monday
Cyclone Evan, 17:30 Monday
Cyclone Evan, 05:30 Tuesday
Comments
"Any country with coral reef like this has a national treasure that should be protected. Fiji is one of the few lucky countries."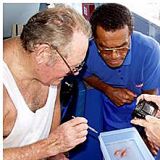 ~ Roger Steene, photographer, author, naturalist