The New NAI'A!
Date Published:
May 18th, 2010 -
Comments
Author: Rob Barrel
After the tragic explosion at the end of January that destroyed NAI'A's interior, we have worked around the clock to rebuild her in time for the major expedition to Nikumaroro in the Phoenix Islands in support of TIGHAR. It was a serious sprint, but we made it!
Here are the first photos, taken just before the ship left. Look closely and you'll see some cosmetic items we didn't quite get to: no trim around the portlights, no corner mouldings, etc. But all those pieces will be varnished and ready to install when NAI'A get back to Fiji in mid-June.
Room 4 with single beds separated
Room 2 with queen bed
Room 2 queen and new reading lights
Room 4 singles
Room 4
Given the (unexpected) opportunity to start completely fresh, we completely redesigned NAI'A's interior, keeping the features that worked well over the years and changing those that weren't so great. Mainly this refit gave us the chance to use new materials and technologies that weren't available in Fiji seventeen years ago when we first rebuilt her.
For anyone who cursed the old super-steep stairs (or fell down them!), you'll appreciate the new shallower version, complete with stainless steel rails that are actually at the right height. In the hallway at the bottom of the stairs, instead of having to navigate slippery tiles with wet feet, you can now step into toasty warm genuine New Zealand wool carpet.
Entering your stateroom through the new heavy timber door, you'll notice the cool air but you won't be assaulted by the massive air-conditioner box. Tastefully hidden in new mahogany furniture, the AC hums away quietly.
Taking a cue from the new adventure cruise ships, we've redesigned three of the staterooms to feature two single beds at normal height that can be joined together into a queen for couples. And all of the single bunks have been reoriented fore-and-aft, which is more comfortable for long ocean passages like the trip to and from the Phoenix Islands.
The new furniture, built by an Italian craftsman, features many spring-loaded drawers for easy storage and sorting of all your stuff, a hanging space suitable for dress shirts and dive formal wear, and plenty of clean flat surface adjacent to the stylish semi-recessed basin. The sink and shower taps are robust and clean: lovely examples of modern design and construction.
The new heads are sparkling custom-moulded fibreglass units with all stainless steel fittings – clean to look at and easily kept clean down the line. For those who care, the actual toilet is a state-of-the-art water-jet macerator model like those used on the most expensive private yachts (we passed on the gold flush button though, settling instead on plain old stainless steel).
We even upgraded the lighting using cool energy efficient LED and compact fluorescent bulbs in small stainless steel downlights. The reading lights are individually controlled, gorgeous, and guaranteed to last for about a thousand years.
We are exceptionally proud of the New NAI'A. We loved her before, but she is a much better ship now than she ever has been. I guess that's the silver lining....
Comments
"Central Fiji has all the elements of the ultimate ocean wilderness: diverse creatures and habitat, nutrient-rich water, spectacular scenery and owners who respect it."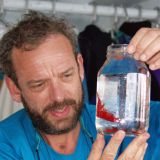 ~ Dr. Greg Stone, Executive Vice President of Conservation International