Online Forum Comments
Date Published:
Aug 5th, 2010 -
Comments
Author: Rob Barrel
The online diving forums are often a good source of unbiased information. We normally don't have the time to monitor them, but the magic of Google Alerts sometimes brings them to our attention. Here are links to a few of the recent threads that concern NAI'A:

"I'm a big fan of the Nai'a. The boat (haven't seen it since the renovations but have heard it's improved) is first rate. The crew has been dedicated and very skilled on both trips I've been on. Their itinerary doesn't cut corners. Their food is the best I've had on a liveaboard. Their pre-planning and assistance is comprehensive. 

"Bottom-line is they know what's the right thing to do and they are willing to do it. They don't skimp on gas to get you to the right site, they listen and respond to customer complaints and they take care of their own."      -Tracy G, August 2010
For the rest of this thread, click:  http://divertodiver.scubadiving.com/tm.aspx?m=192822&mpage=1&key=&#193317

"Our June 26 departure is the first Nai'a cruise post-explosion refitting. The new cabin interiors are clean, comfortable and inviting. The mattresses are great. The AC, WC, shower, lamps, etc. are first class and in perfect working order. This 20 year old boat feels new and shows the obvious affection the captain and crew have for her."    -Jeremy C, July 2010
Undercurrent members can see the rest of this review (including discussion of a major problem onboard) at http://www.undercurrent.org/members/UCnow/dive_reviews/Fiji_and_Tuvalu/NaiaFiji_Fiji_report_5611.html
Undercurrent has several recent reviews in its Fiji section, including a long review of the new Peter Hughes boat in Fiji. http://www.undercurrent.org/members/UCnow/dests/FijiInfo.shtml

"Just to be clear, I paid for my trip and am not employed by the Naia. I am not obligated to say nice things. The truth is they deserve accolades for what they do because impressing me is hard to do. I am a bit tainted having worked and traveled on many dive boats. My expectations are for a well organized boat and a crew dedicated to making each trip the best it can be. I was not disappointed, and I can't wait to go back!"
-Douglas Hoffman, June 2010
For the rest of this story and some magnificent photos, go to: http://www.uwphotographyguide.com/naia-liveaboard-fiji
You can see more of Douglas Hoffman's work at: http://www.aboutunderwaterphotography.blogspot.com/
Comments
"NAI'A made a believer out of me! Fiji has been grossly underrated by both divers and scientists. Incredible fishes here and definitely worthy of protection."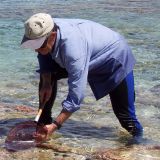 ~ Dr. Gerry Allen, Ichthyologist & Author, Conservation International