A Lithuanian Dance
Destination: Bligh Water, Wakaya, Namena
Trip Date:
Nov 11th - Nov 18th, 2023 -
Comments
Author: Bel&Mike
Congratulations: Irena, on her 500th dive and Vilma, on her 300th dive
Not even a cyclone was capable of stopping this group of Lithuanian friends from having a fantastic time in Fiji! We saw sharks, we saw mantas, we saw hammerheads and we saw A LOT of fish! Our journey was only mildly altered due to TC Mal, and after that we had very calm waters and a big bright beautiful sun.
We started our journey at Vatu-i-ra Marine Reserve with incredible dives at Howard's Diner, Maytag and the iconic Mellow Yellow and Coral Corner. Aside from the incredible reefs and abundance of small fish, we saw some sharks, a giant trevally, a massive school of queenfish, another of big eye trevallies, and yet another of red snappers. With all that abundance, barracudas, lionfish and tunas were around hunting. And for the macro lovers, we saw flabelinas, phyllodesmiums, blue dragons and nembrothas! 3 boobies and 35+ noddies that we found on board (and released) warned us that the weather would get serious very soon.
We moved to Wakaya and spent a day diving the beautiful wall. We saw barracudas, schooling cornetfish, milkfish, turtles, big tunas and mackerels, leaf scorpionfish and a couple of hammerheads. The lucky divers on Mighty Right spent 25 minutes with Dorothy (still very pregnant) and Shirley (my favorite manta) and the four few that braved out for dive 3 spent 25 minutes with Lagi Lagi! This may be our last charter of 2023 with mantas, so we were happy to see some of our regulars. On the night dive, our guests saw a swimming moray eel, an enormous pufferfish and a turtle.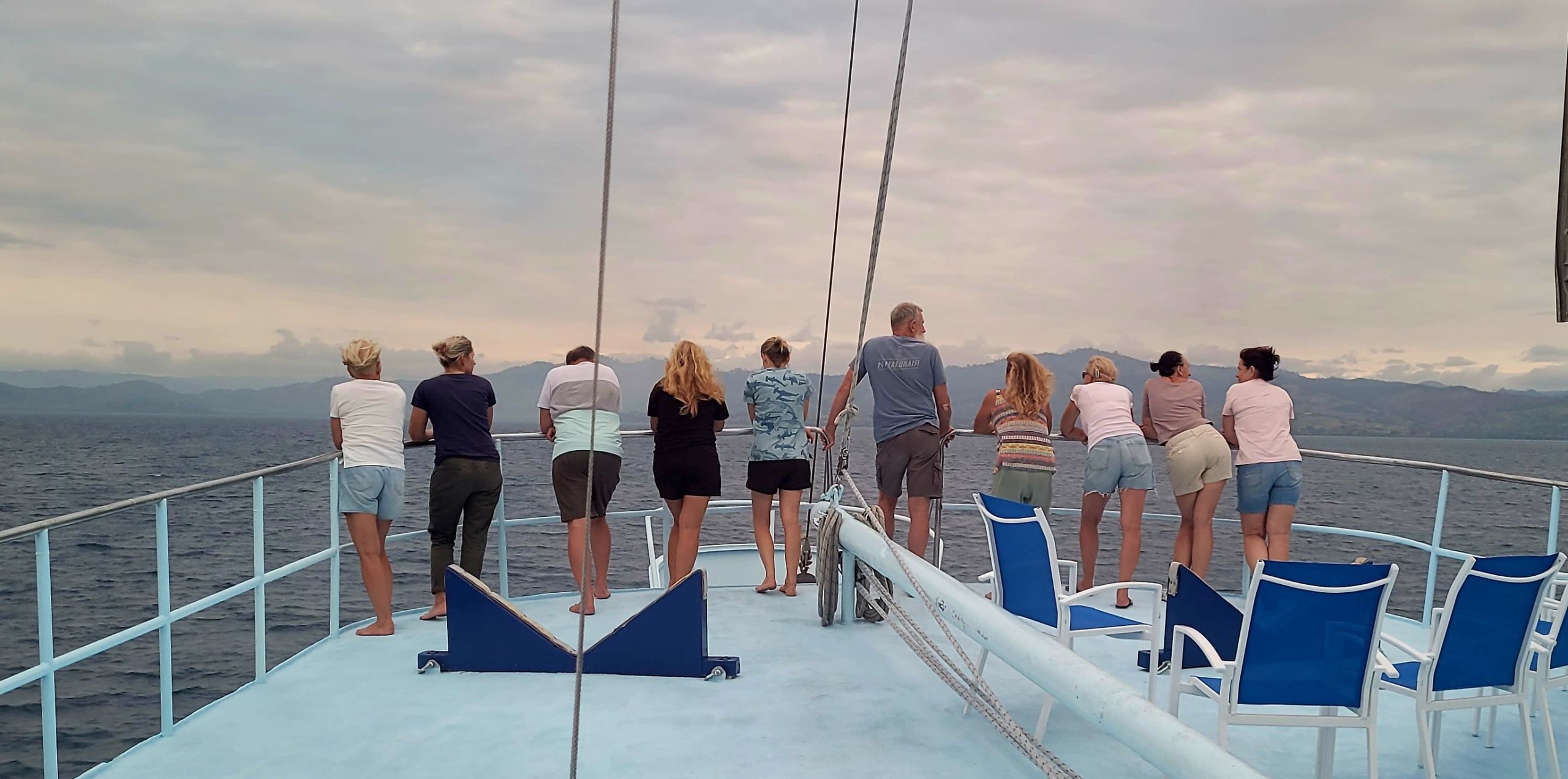 Our guests on the first evening on board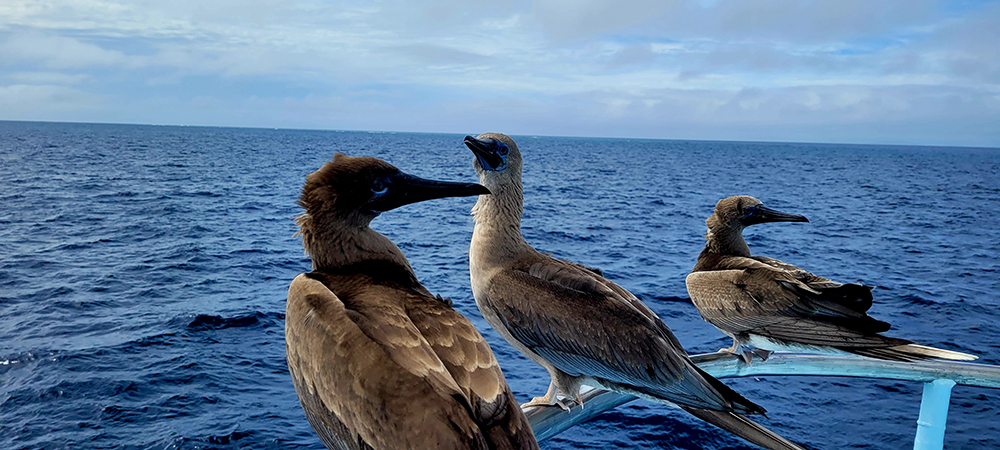 Boobies on board looking for a break from the wind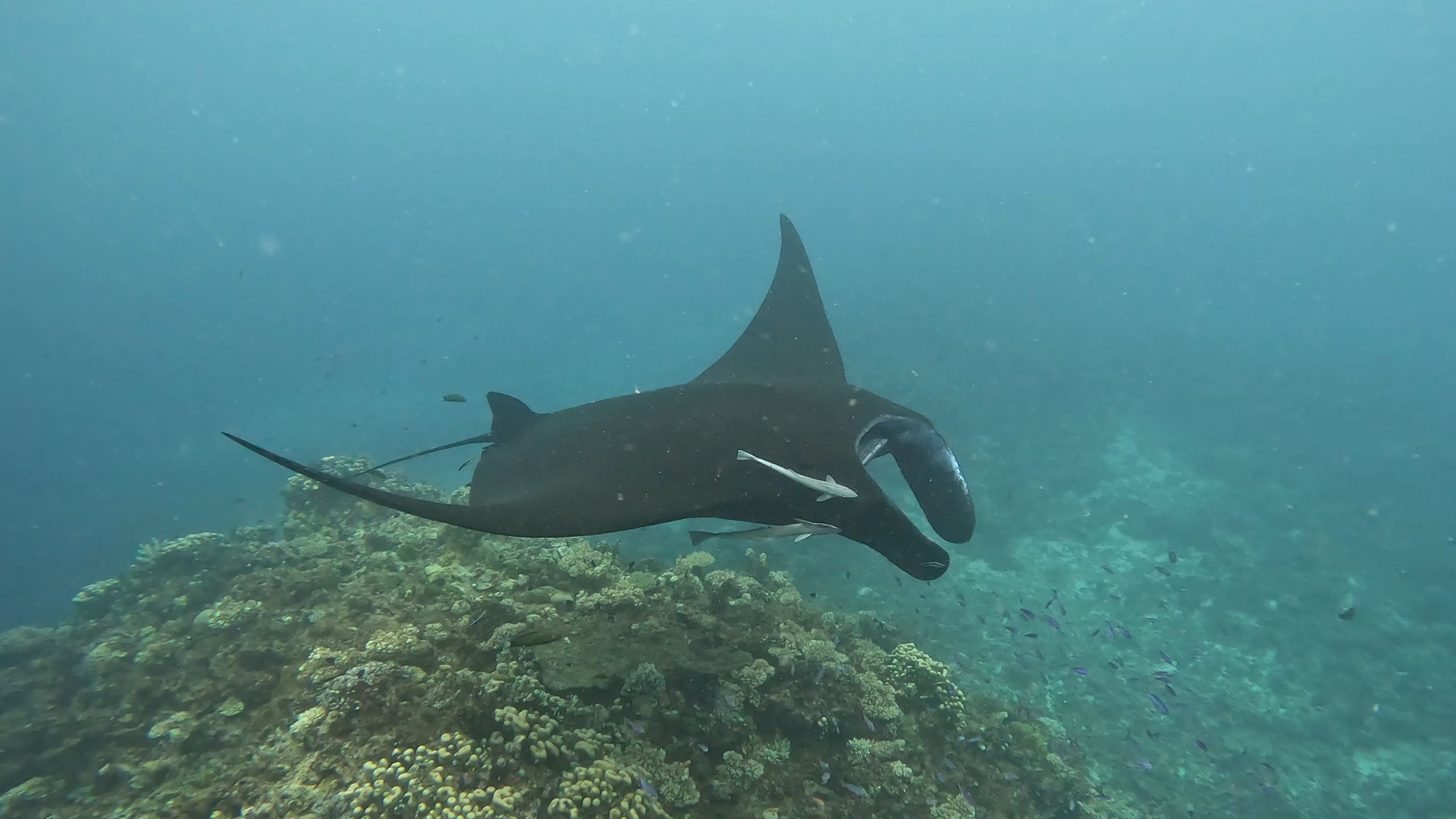 Shirley and some very annoying remoras
We moved to Namena earlier than planned as the area was sheltered from TC Mal for longer than our other destinations. We dived Mushrooms and Thumbs and saw a few sharks, a school of tuna, some barracudas and sweetlips getting cleaned, spadefish and some funky nudis. As the storm approached, we moved to Wainunu Bay for the evening and had one of the most wild kava parties NAI'A has ever hosted! After the "formal" part was over, we alternated Fijian songs with Lithuanian songs (and dances!), with barely time for "Kava Time". Our crew was outpartied, probably for the first time ever!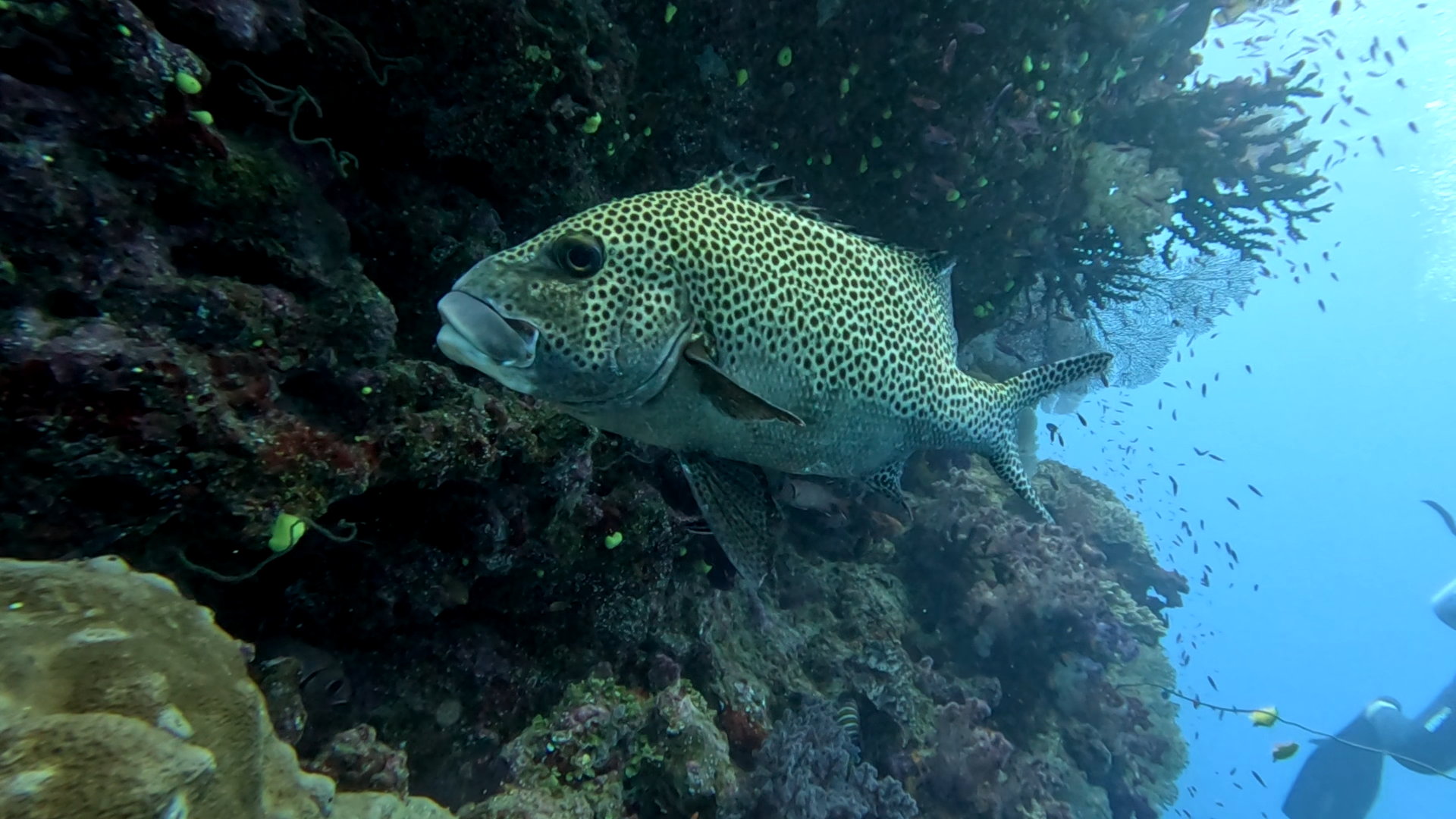 Sweetlips getting cleaned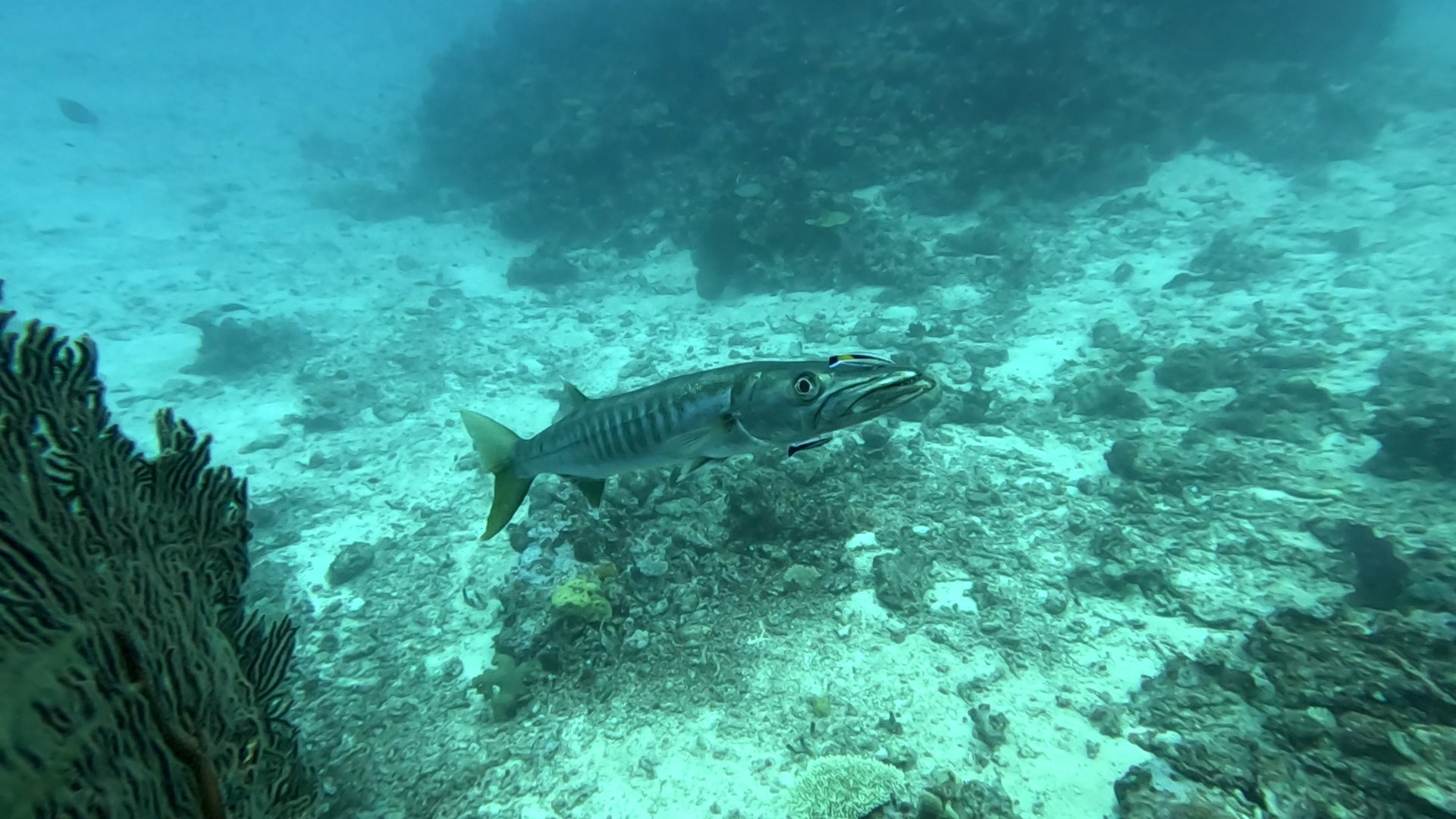 Barracuda getting cleaned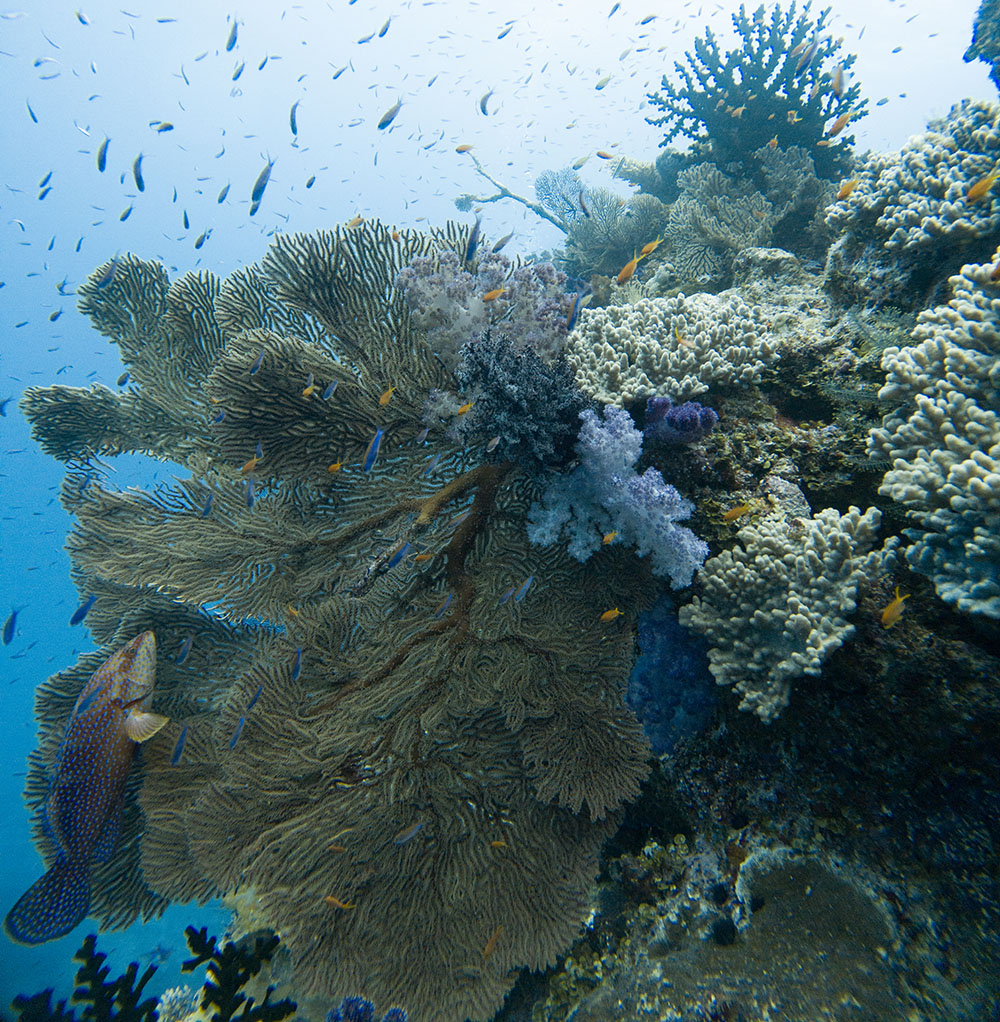 Namena
Fijian and Lithuanian songs on Kava Night!
The next morning we moved after breakfast, knowing the worst of the cyclone winds were behind us. We had great shelter and a comfortable night, but we were ready to move as soon as the weather allowed! We dived a beautiful reef we decided to name Gražus, which means beautiful in Lithuanian. Aside from the beautiful corals, we saw rainbow runners, a few white tips and some lovely channels. Then we moved to Namena for our second dive, at Schoolhouse. The schools were a little dispersed and confused with the contradicting current, but the big schools of trevallies, pinjalos and bannerfish were all there. We also saw grey reefs, a turtle, schooling milkfish and some palette surgeonfish. On the night dive, we saw a coralimorph decorated crab, a slipper lobster and an urchin filled with purple urchin shrimp. But the divers really loved the crazy amounts of krill!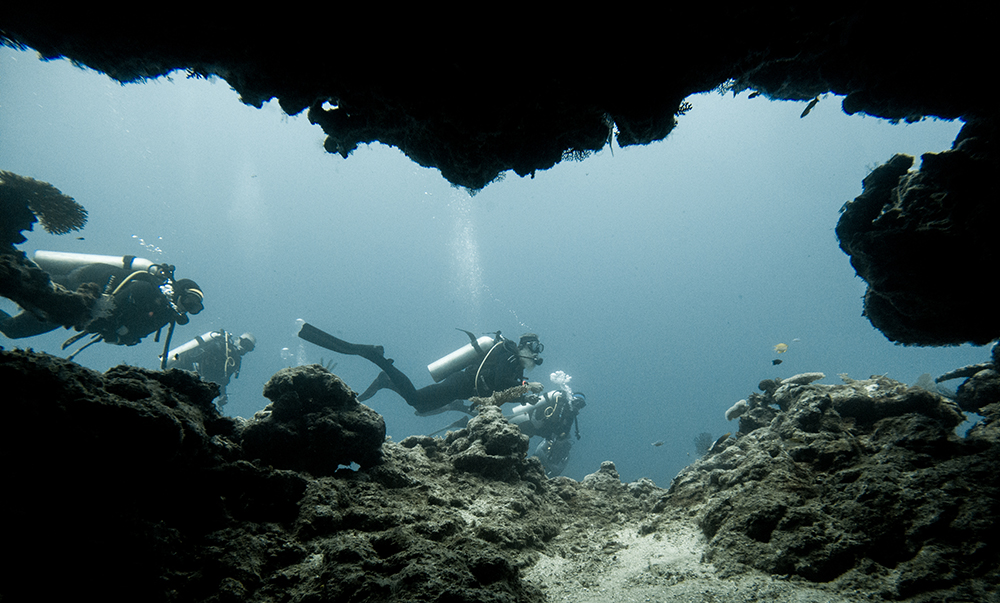 Diving Gražus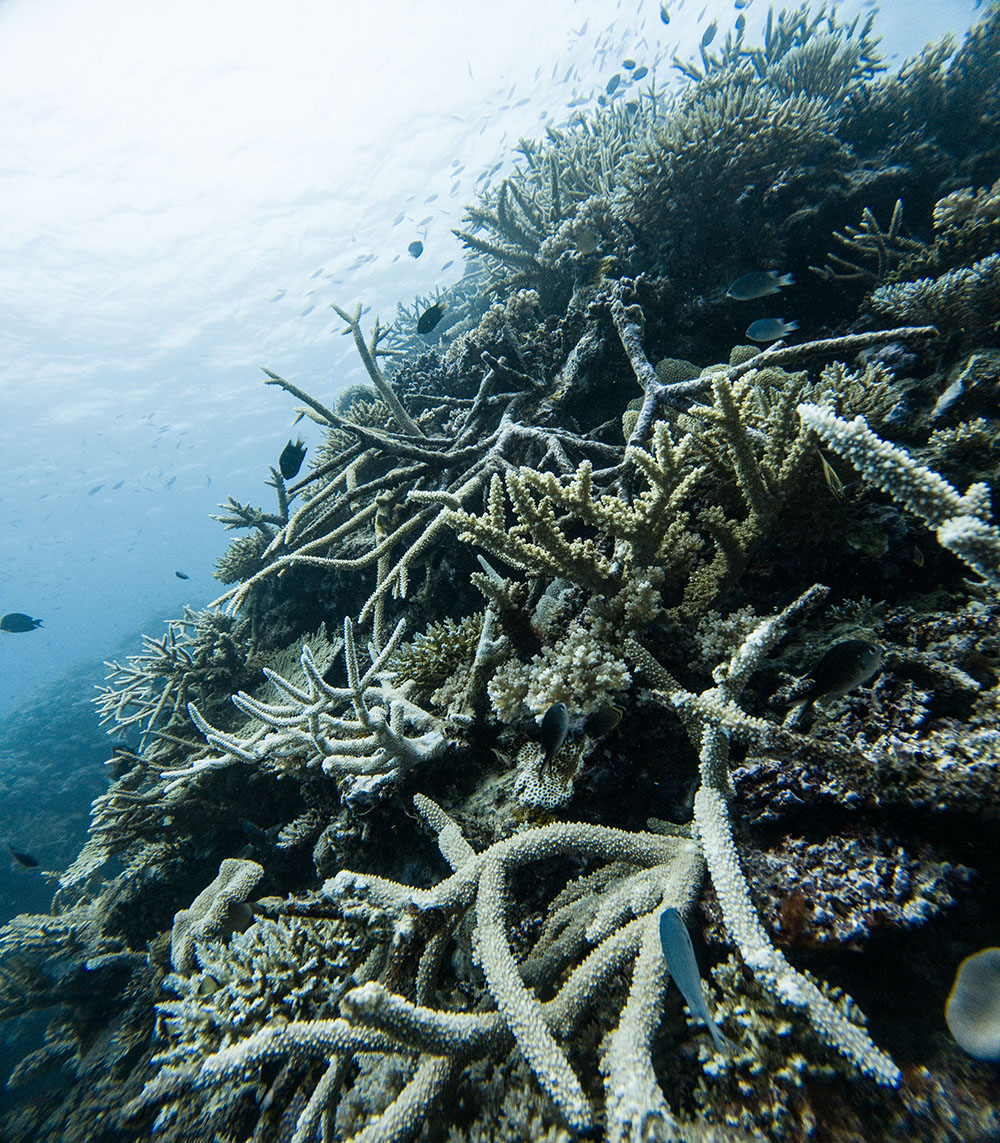 Gražus hard corals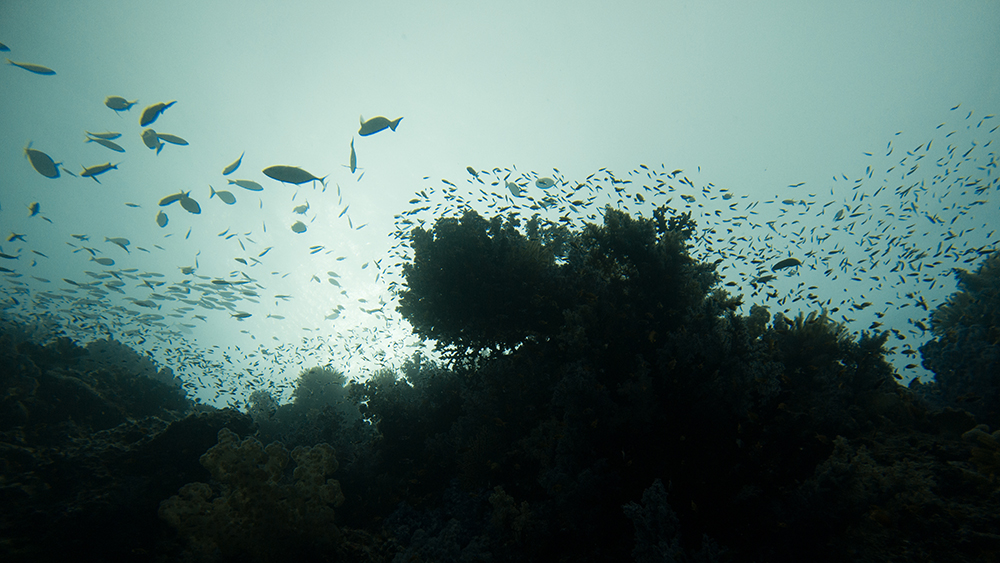 Eerie Schoolhouse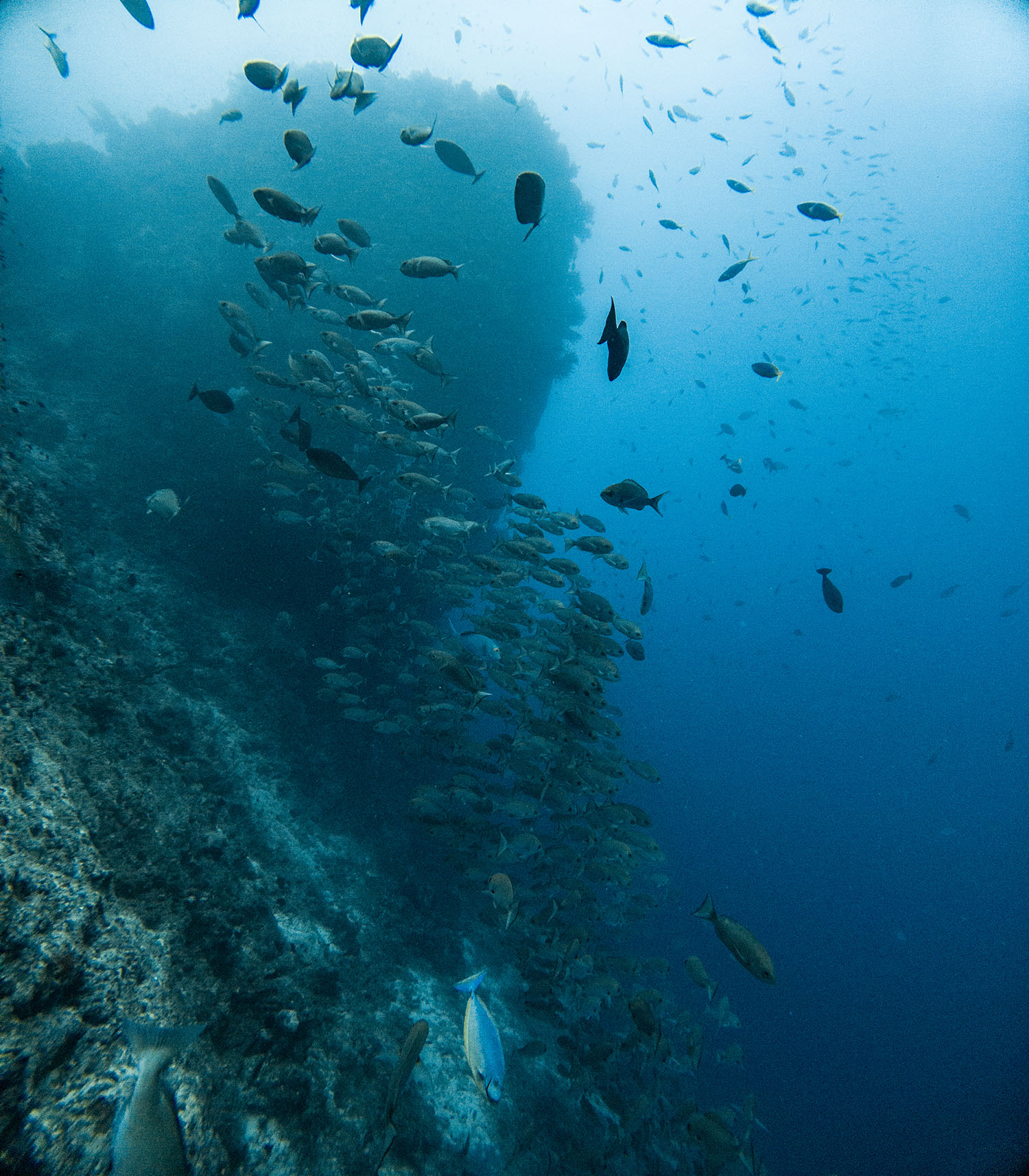 Pinjalos at Schoolhouse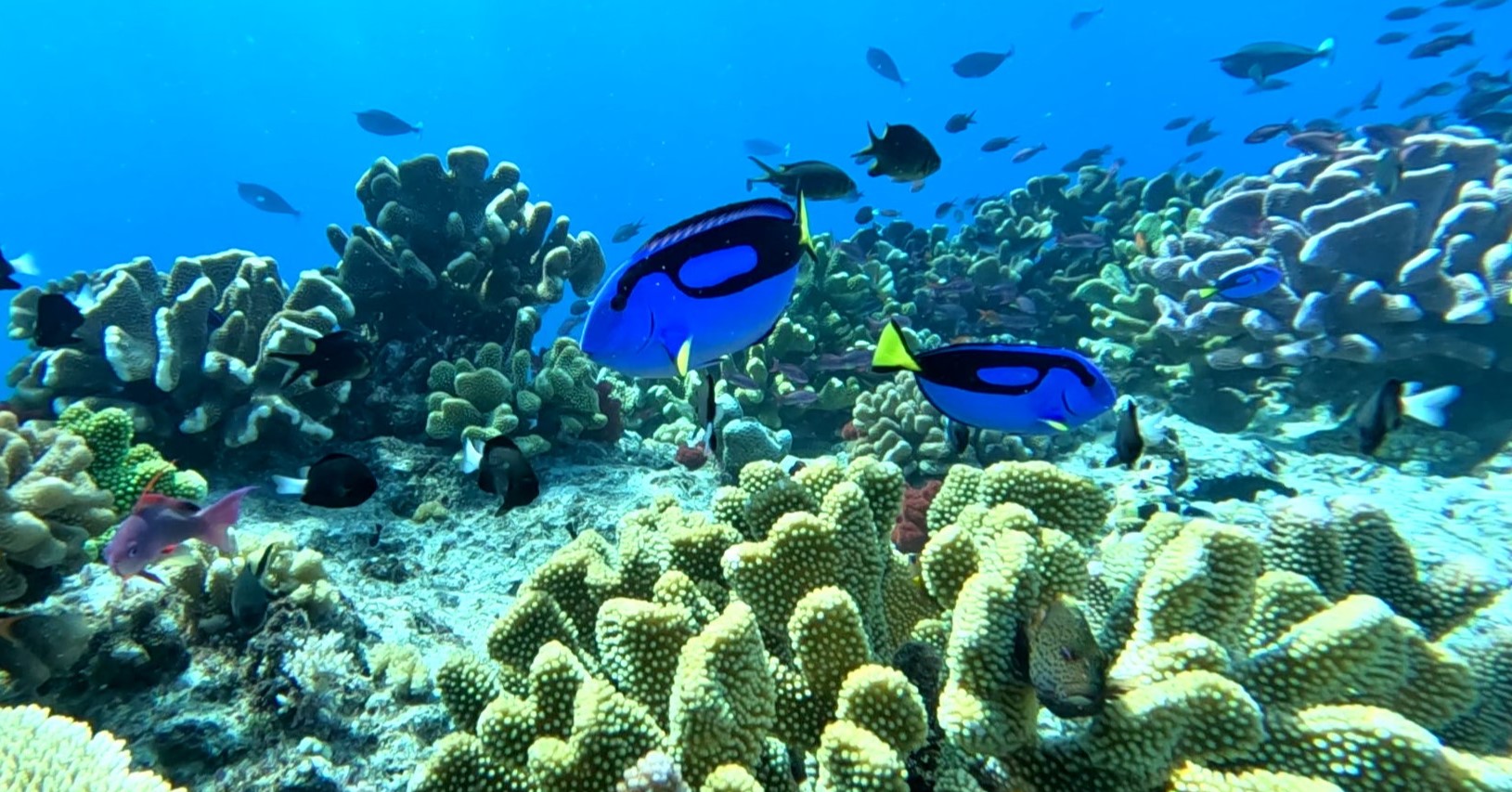 Palette surgeonfish
For our third day at Namena, we dived Grand Central and The Arch twice, with sightings of hammerheads, huge tunas, massive mackerels, a hammerhead, a gazillion scads and barracudas, an enormous giant pacific grouper and a lot of hunting action. On the south, a couple of lucky guests saw a huge eagle ray, a ribbon eel, mantis shrimps and moray eels. At the end of the day, we took the guests to check out the beach at Namena and the gazillion hermit crabs that live there.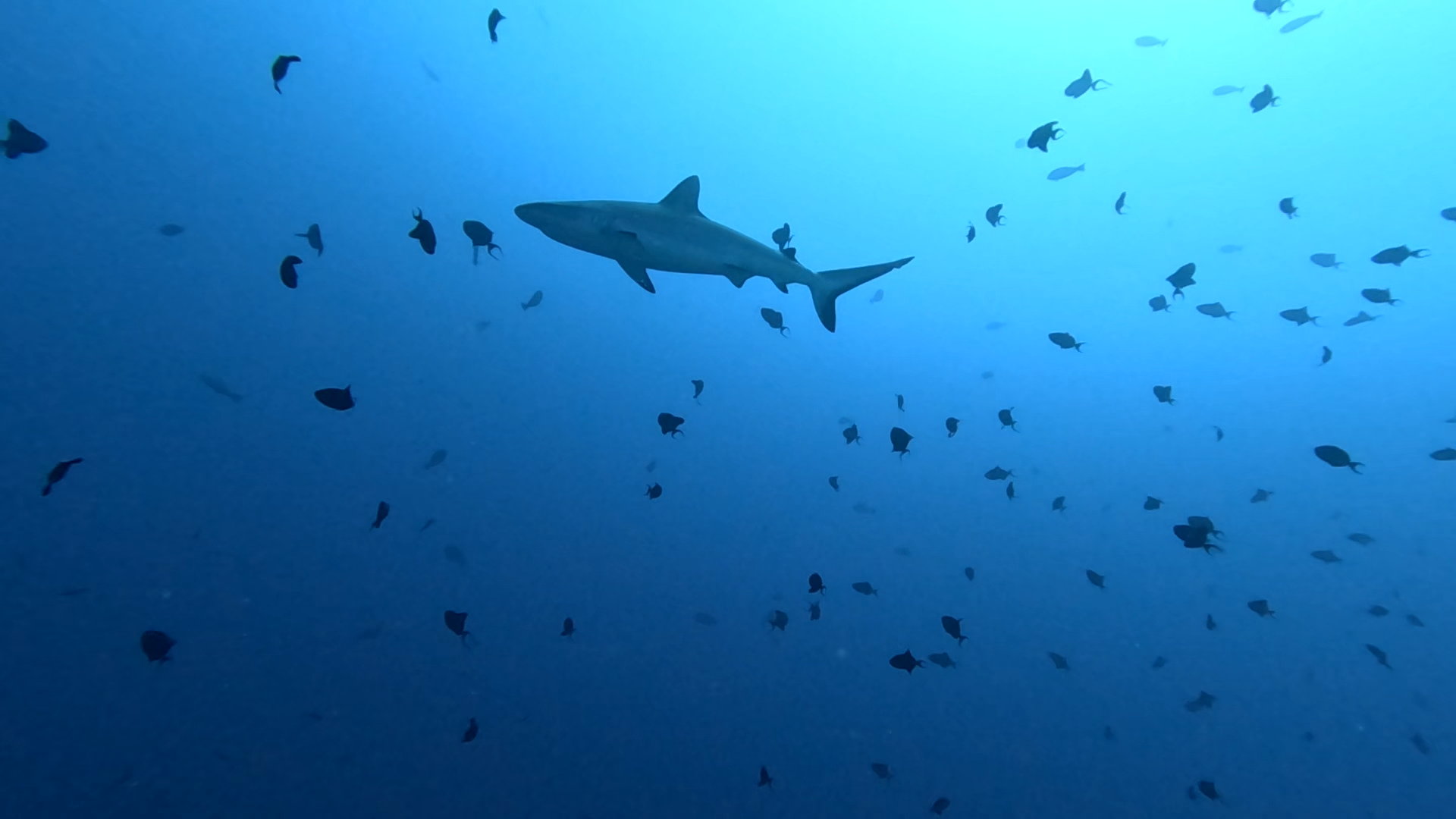 Gray reef shark at Grand Central Station
The Arch
And we finished this amazing journey at UndeNAI'Able Reef and Pinnacle. Our guests cannot get enough of the beautiful corals we have here. A turtle, a few sharks, a couple of African pompanos and an injured coachwhip trevally were sighted, and the tiny nudibranchs at pinnacle challenged the dive guides. The massive phytoplankton arrival in the morning brought all the fusiliers and majors to the surface. The sun was shining. It was nothing short of perfect. After arriving in Lautoka earlier than usual, the guests joined the crew on our sun deck for one last kava session and plenty of music!
UndeNAI'Able Pinnacle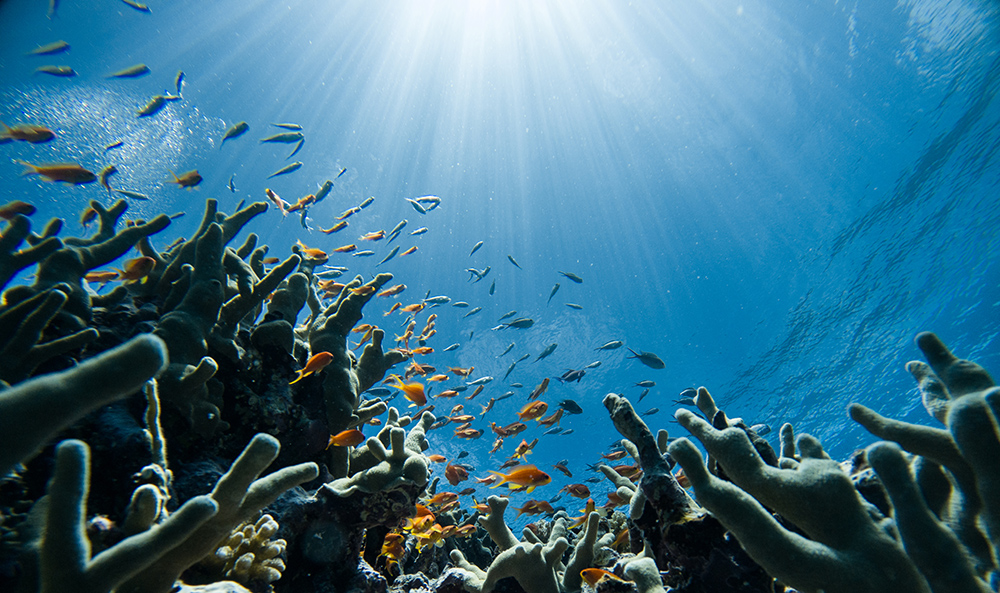 UndeNAI'Able Reef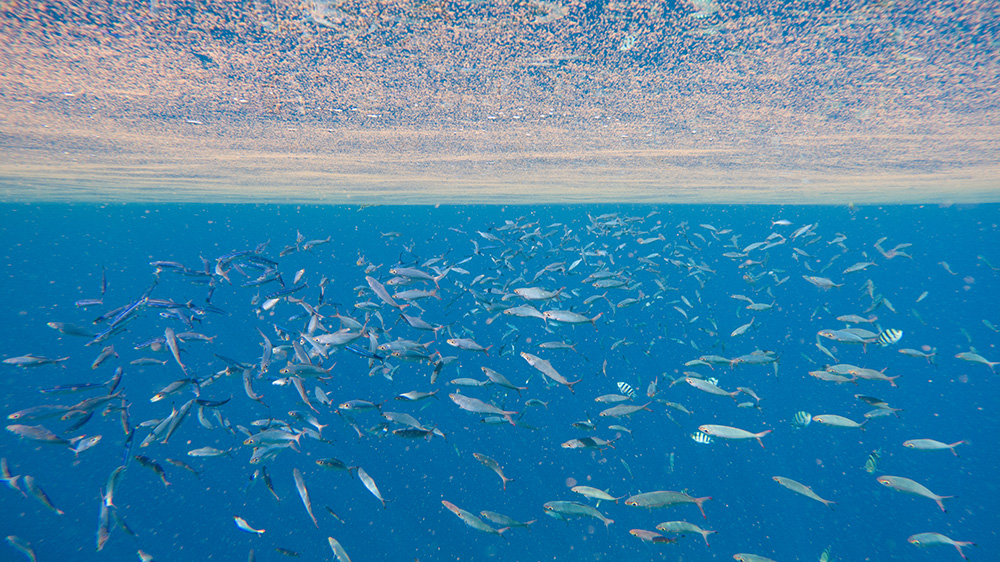 Phytoplankton party!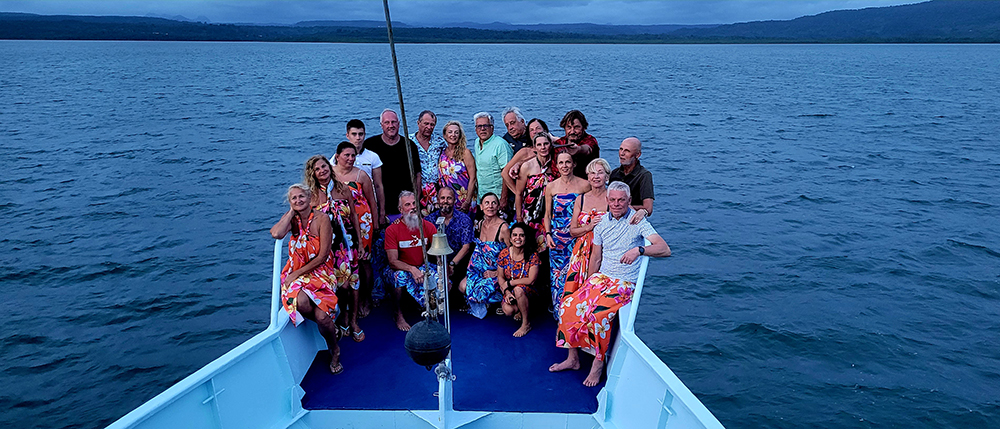 Our fierce group!
Comments
"This was my first visit to Fiji and my first time on a liveaboard. I must say it exceeded all expectations….Food, diving and hospitality was 5*"