Recent Reviews
By Warren and Gilda, May 2017
THERE IS NO BAD ABOUT FIJI! THE PEOPLE ARE THE FRIENDLIEST AND HAPPIEST PEOPLE ON EARTH. I MEAN WHERE HAVE YOU BEEN THROUGH CUSTOMS & IMMIGRATION WHERE ALL THE OFFICERS SMILE AND WARMLY WELCOME YOU TO THEIR COUNTRY?!
AND THE ATTITUDE OF EVERYONE ON THE NAI'A IS JUST AS LOVELY! AND THE DIVING MATCHES THE OTHER WONDERFUL THINGS OF THIS ISLAND NATION.
FROM ONNO LENTING @ www.scubadiveasia.com TO JOELI & MIKE IN THE NAI'A OFFICE HQ WE WERE COVERED ON ALL OUR HOUSING NEEDS AND TOURS BEFORE THE BOAT TRIP.
AND ONCE ON BOARD THE NAI'A (OUR 3RD TRIP AND #4 COMING SOON!) THE CREW AND FACILITIES FROM NITROX TO THE FOOD TO THE CAMERA STATIONS TO THE WONDERFUL BRIEFINGS BY VANESSA & CHAD WERE PERFECT. I THINK MY WIFE AND I HAVE ADOPTED "BIG MO"!
THE DIVING CAN'T BE BEAT! BIG FISH, LITTLE FISH, CRITTERS, CORALS SOFT & HARD WILL BOGGLE YOUR MIND.....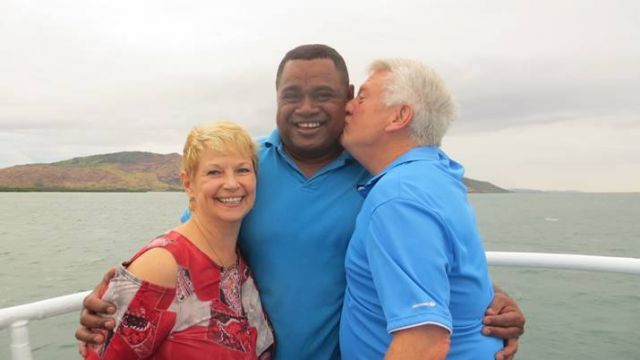 THE PANGA DRIVERS, DIVE GUIDES, EVERY SINGLE PERSON WORKING ON THIS BEAUTIFUL BOAT WERE ALWAYS THERE FOR US AND I DON'T REMEMBER ANYTHING BUT SMILES AND HAPPY "BULAs" FROM ANYONE.
THERE WAS A TYPHOON IN THE FAR NORTHERN PART OF FIJI THAT CAUSED US TO HAVE CHOPPY CONDITIONS AND WIND, BUT NO PROBLEM WITH THIS PROFESSIONAL CREW.
By Mark, May 2017
This was my twelfth trip aboard the Nai'a, my favorite liveaboard in the world. While the diving is great, and the boat is well laid-out and comfortable, it is the Fijian crew that make it special. They are friendly. All speak English. They have a great attitude, joking with each other and playing guitar on the deck in the evenings.

Colorful reef fish are seen by the thousands. I logged 510 species during the ten-day cruise. Several sites have schools of barracudas and trevally, and it wasn't unusual to see reef sharks, mackerel and tuna at open ocean drop offs. They do a shark dive without feeding at a passage with 10 - 20 grey reef sharks circling. You can see natural behavior and get close to the sharks without the dangers of shark feeding. And after twelve trips, I am still finding new fish I haven't seen before. A personal highlight of this trip was seeing and photographing a Golden Angelfish, Centropyge aurantia.

The sites visited usually had great coral coverage too. Walls were covered in pink, orange and yellow soft corals. Reef tops were beautiful hard coral gardens. And there were critters: several octopus were seen, and turtles, and a vast variety of nudibranchs, shrimp, and crabs.

This trip was unusually windy. This made for choppy water that made getting into and out of the skiffs tricky, but two strong crewmen were always there to assist. Those same winds made some of the ocean crossings bumpier than usual, but I took my dramamine and slept through them, as the boat moves mostly by night. They were good at finding quiet bays to anchor in, and still offered night dives about half of the evenings we were there.
By Dorothy and Robert, April, 2017
Due to flight delays and being so tired from travel and time change, I recommend arriving a day or two early to allow time to acclimate to Fiji time. Soon after departing on the Nai'a we had a check-out dive. Not exactly mandatory, but good to do - but after the long flight we were so tired it wasn't all that enjoyable - arriving a day or two earlier would have made a big difference.
All the Nai'a crew were fabulous. Vanessa & Chad were great cruise directors, knew how to "help" people without making it seem like a criticism or reprimand. Also we loved Vanessa's twenty minute "Scuba School" that she held most days, highlighting a different sea creature each class. All of the crew quickly knew our names and were willing to help with anything and were always cheerful and friendly. The skiff drivers were quickly there to pick divers up at the end of a dive. Sly will always be my all time favorite skiff driver just because he made heaving me out of the water seem so effortless! The chef is superb - a delicious and varied menu and able to adjust to individual wishes - portions are enormous, but we asked for half portions and which worked out to be just right!
The boat layout is very well organized for divers. It was especially great that after you initially put your BC and regulator on your tank it is moved to the back of the boat where the filling station is. Divers go to that area to check and record their nitrox readings then the crew puts your tank onto the skiff that you're assigned to. Divers only have to carry their mask and fins onto the skiff. You don't don your tank until at the actual dive sight. The 3 dive guides (Vanessa, Chad and Koroi) rotate between the two skiffs. Divers can stay with the guide or not - our experience was that each of the guides was excellent at finding and pointing out small critters, so there were advantages to staying near them. During our trip we had a few unusually calm, flat dive days - currents ranged from none to very strong. We were surprised at how warm the water was - we had brought 5mm and 3mm wet suits along and definitely did not need the 5mm.
By Chrys and Jack, April 2017
This trip was outstanding. Great diving, wonderful boat, superb food and great weather. The local staff met our every need, valet diving at its best. Big Mo was outstanding at finding big and little things for us and made us all comfortable in the water and helpful afterwards identifying all that we saw. Kori, our skiff driver (who many weeks is also a dive master) was very safety conscious and lots of fun! The cruise directors Chad and Vanessa were very well organized and on top of things. Very laid back week of diving as the boat wasn't full. Travel mostly at night, have to get used to the expected engine noise and anchor lowering and raising, but we slept well, had good weather so the travel was smooth. Up to 5 dives a day if you wanted. Good briefings and wide variety of dive sites. The reefs are amazing despite Cyclone Winston a year ago. Some famous sites are not recovered yet, but plenty of great ones, do not miss Fiji. The reefs at Namena were by far the best. Great boat set up with big dive deck for gearing up right next to camera room. Short walk back to the skiffs with all gear already loaded; help from local staff to board the skiffs, great dive support at the back of the boat. Good salon in which to eat, rest, work if need be, with opening windows for fresh air so not chilled to the max with AC! This is pure eat, dive, eat, dive repeat schedule. Village visit was heart-warming and genuine. Singing and guitars with the staff at night if you are so inclined. Nice upper deck to rest and relax on in the sun if you want to skip a dive or on one of the days without 5 dives. Good food variety with local cuisine and more "American" choices if desired. Lots of flexibility in food. Best of what Fiji diving is about is what Nai'a does. We'd do this trip again. Check out their Tonga whale shark trips also.
Explore More...
"We loved NAI'A and it superlative crew 12 years ago. We adore you truly. Thanks for a sublime experience – an unparalleled opportunity to marvel, laugh and sojourn with the best of nature and humanity."