A NAI'A New Year Adventure
Destination: Fiji Bligh Waters, Taveuni & Northern Lau Group
Trip Date:
Dec 28th - Jan 7th, 2020 -
Comments
Author: Jemma & Scott
Welcome Back: Almost everyone: Bob, Darlene, Heidi, Sarah, Lureen, Steve, Tricia, Jason & Marielena
Congratulations: Tricia on her birthday, to Malia (the super invert hunter) and Parri (the nudi queen) on completing a couple of their adventure dives towards their advanced certification (come back soon to continue)!
On our New Years charter we welcomed back many old friends and some new to ring in 2020 on an adventure in the South Pacific! In true expedition style it wasn't always plain sailing, but we sure made the most of our time exploring new dive sites and making lasting memories.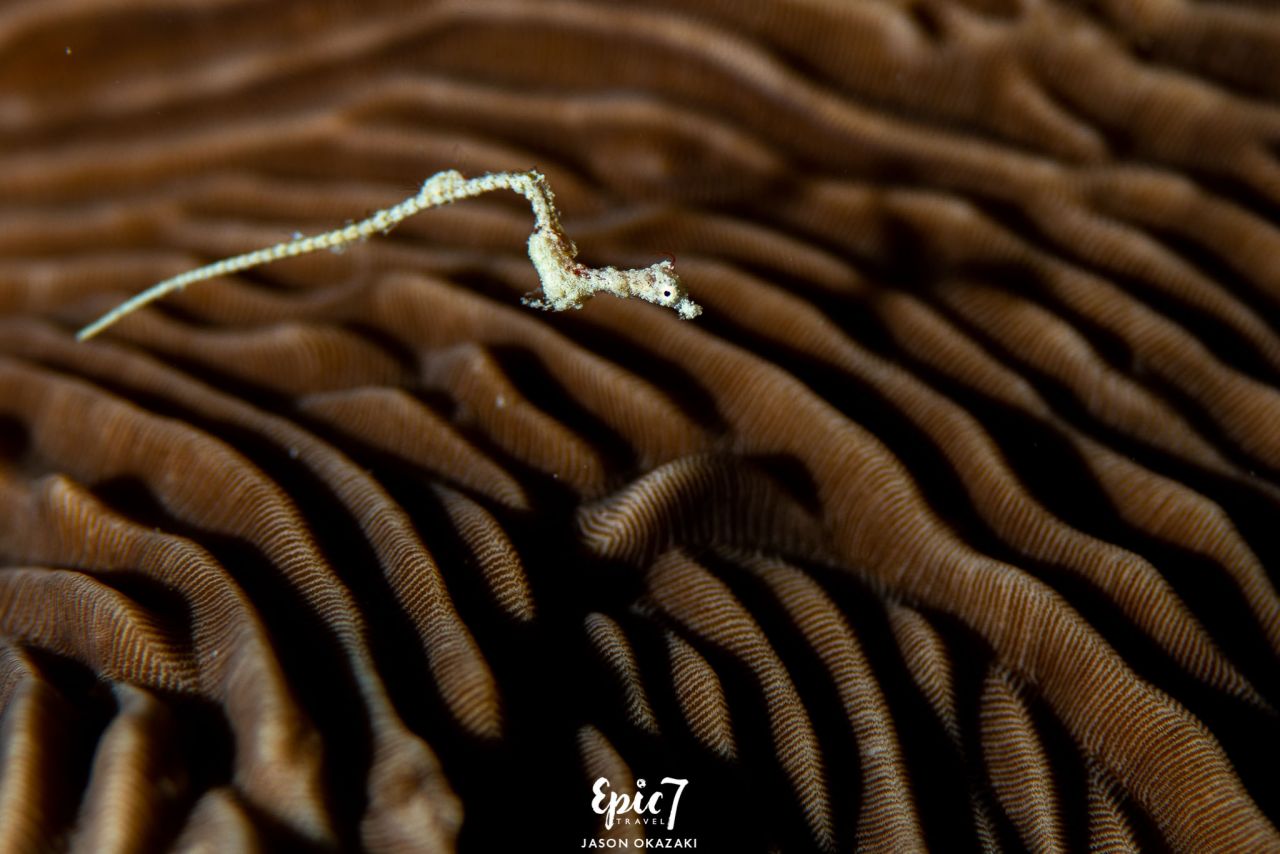 Photo by: Jason epic7travel.com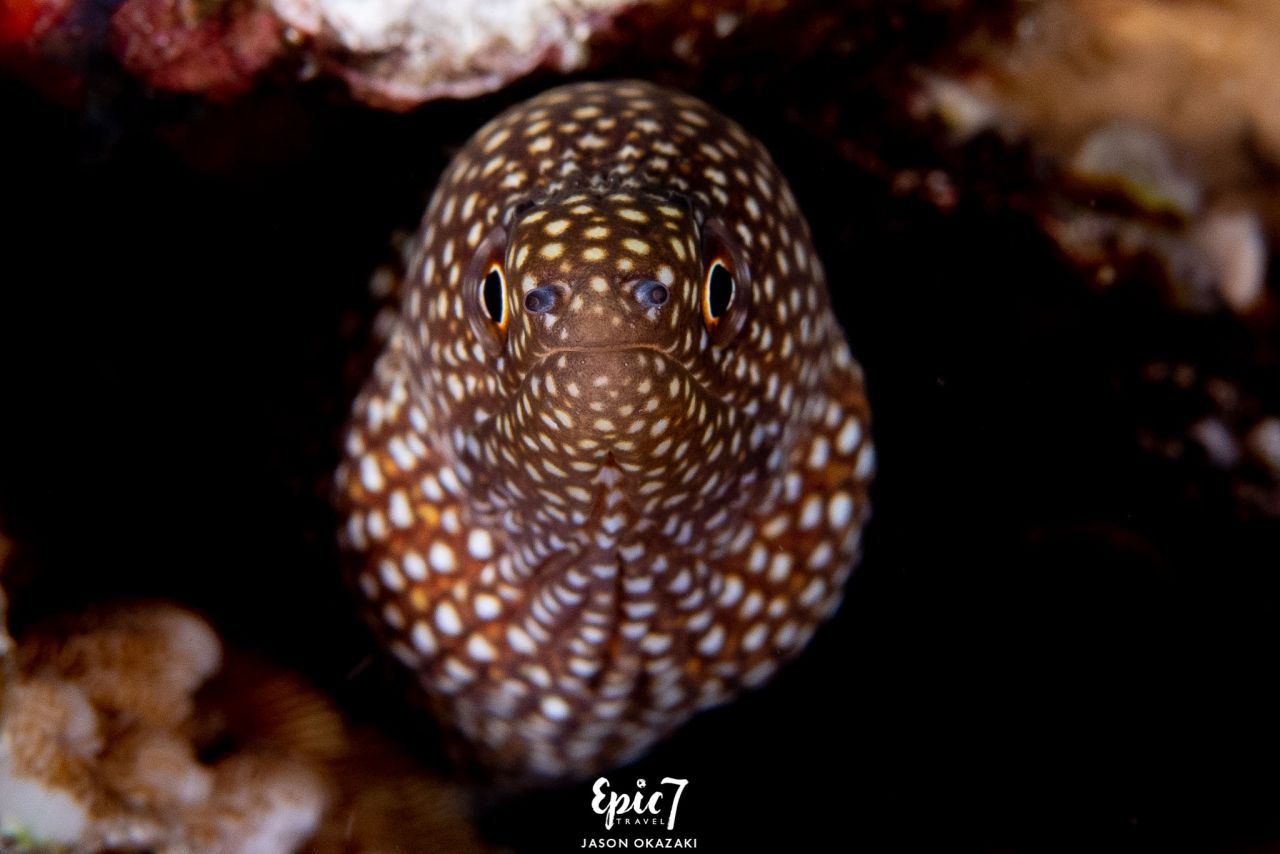 Photo by: Jason epic7travel.com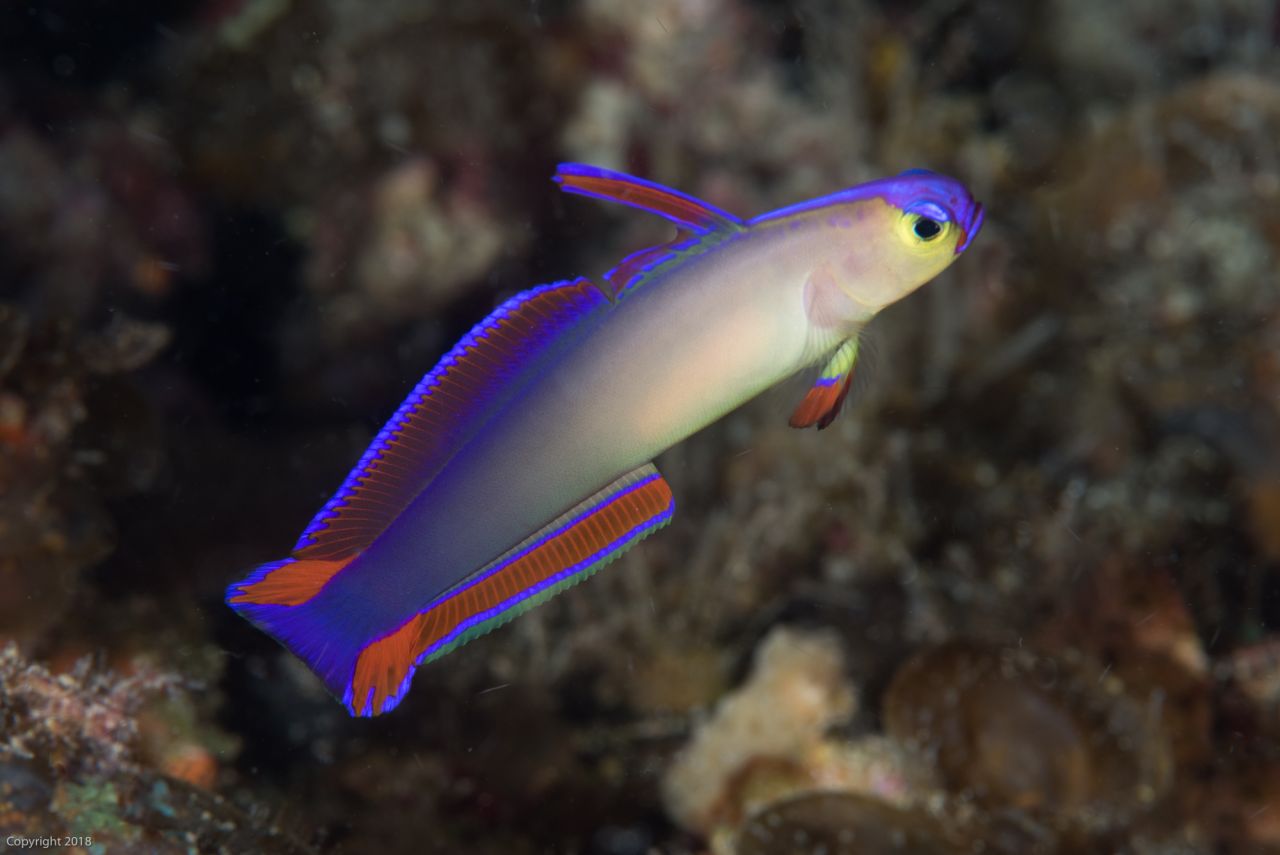 Photo by: Bob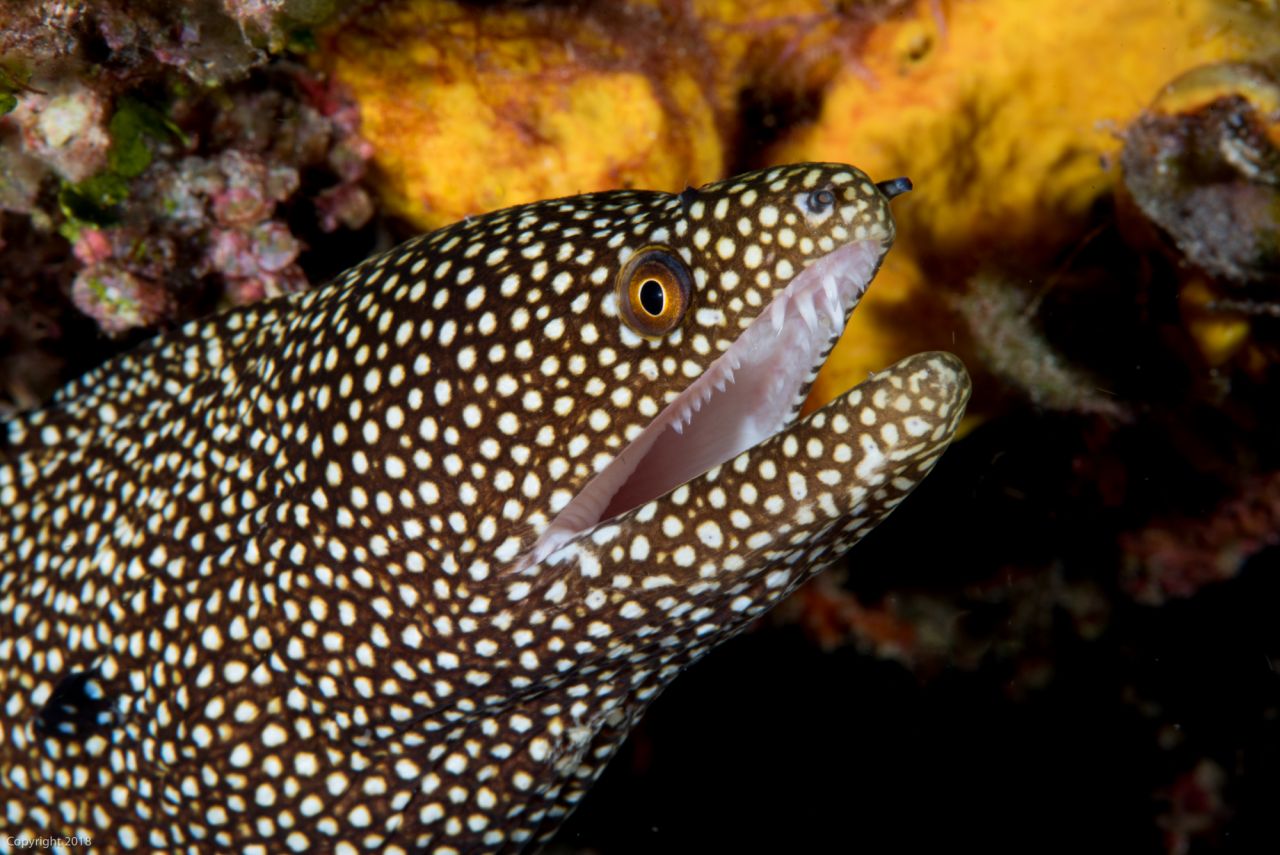 Photo by: Bob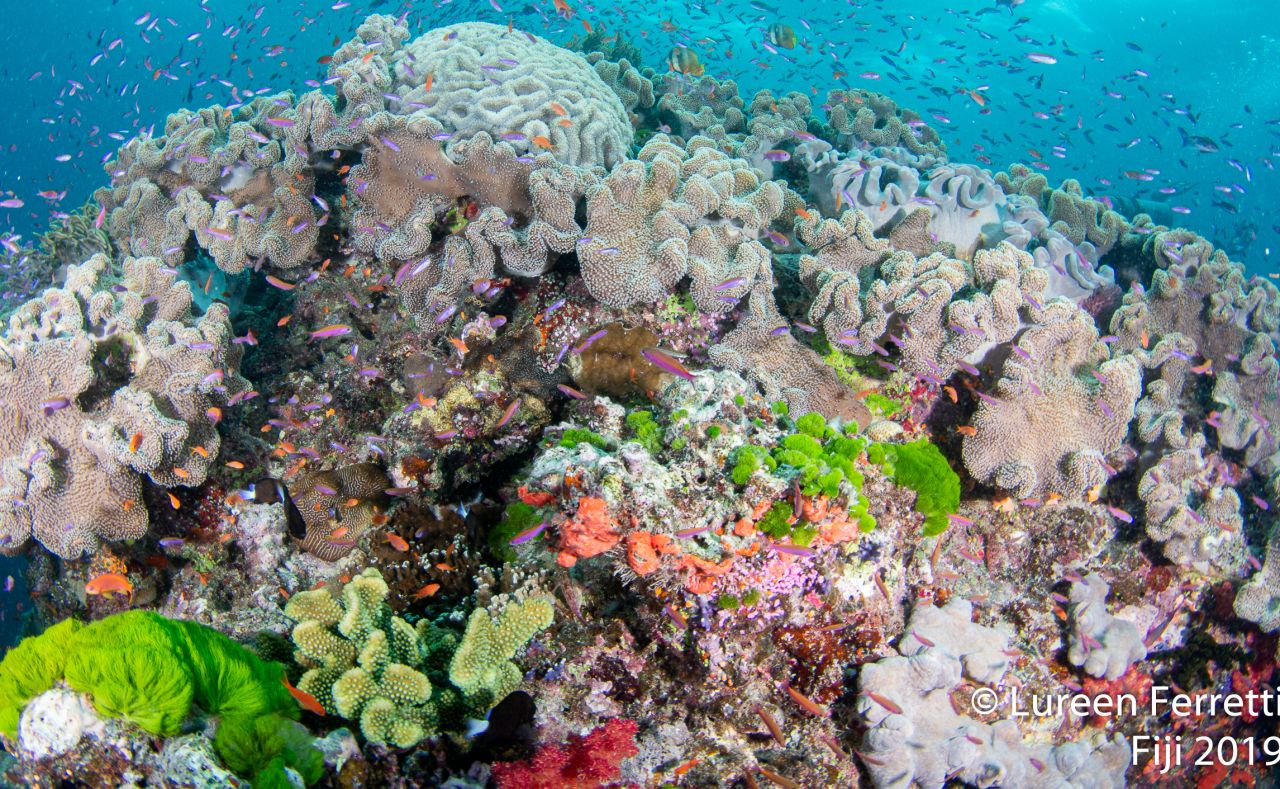 Photo by: Lureen
It is a tradition for the NAI'A New Year trip to be slightly different so this year an exploratory expedition out into the Fijian Islands of Lau was planned. We were all set to go with Rob, Cat and the family ready to fly in after Christmas and for our NAI'A New Year adventure to begin……however mother nature had other plans!
As we were all on break enjoying Christmas festivities, Tropical Cyclone Sarai was brewing. With everyone monitoring the weather updates and predicted routes closely it was decided that the NAI'A should be prepped and taken to her safe mooring until Sarai had passed. This was for the best as Sarai eventually became a Category Two Tropical Cyclone which luckily passed west offshore of Fiji. So whilst everyone was safe, our guests' flights were delayed and some were stuck in other parts of Fiji whilst the worst of the weather passed.
Meanwhile in Australia, Rob and the family were tackling their own issues with the bush fires and Rob fell off the roof and injured his foot too badly to be able to join us in Fiji! So we welcomed Cat, Malia and Parri with Rob having to stay at home (we missed you Rob!).
Whilst Scott and I were waiting in Nadi to welcome our guests as they arrived, Alexx and the NAI'A team performed miracles with many calls, hotel bookings and transfers to organise guests (and lost luggage) to board NAI'A, who returned from her mooring unscathed, on Monday. Thanks to the amazing shore and ship crew we were ready to head out and begin the adventure!
After a murky "just check your weighting" dive in Lautoka bay (where Scott STILL managed to find nudis) we had dinner and welcomed our final arrivals Lureen and Moon, who had been stranded on Beqa Island, and we set sail!
After a surprisingly calm crossing overnight we awoke in one of our favourite spots Vatu-i-ra. We spent the morning diving at Charlie's Garden and The Whole Shebang where despite the churned up water we were relieved to see barely any damage to the reef from the cyclone. We dived at Mellow Yellow and Coral Corner that afternoon and again despite the visibility we were still surrounded by anthias, damsels, fusiliers, anemone fish and those beautiful walls of soft corals.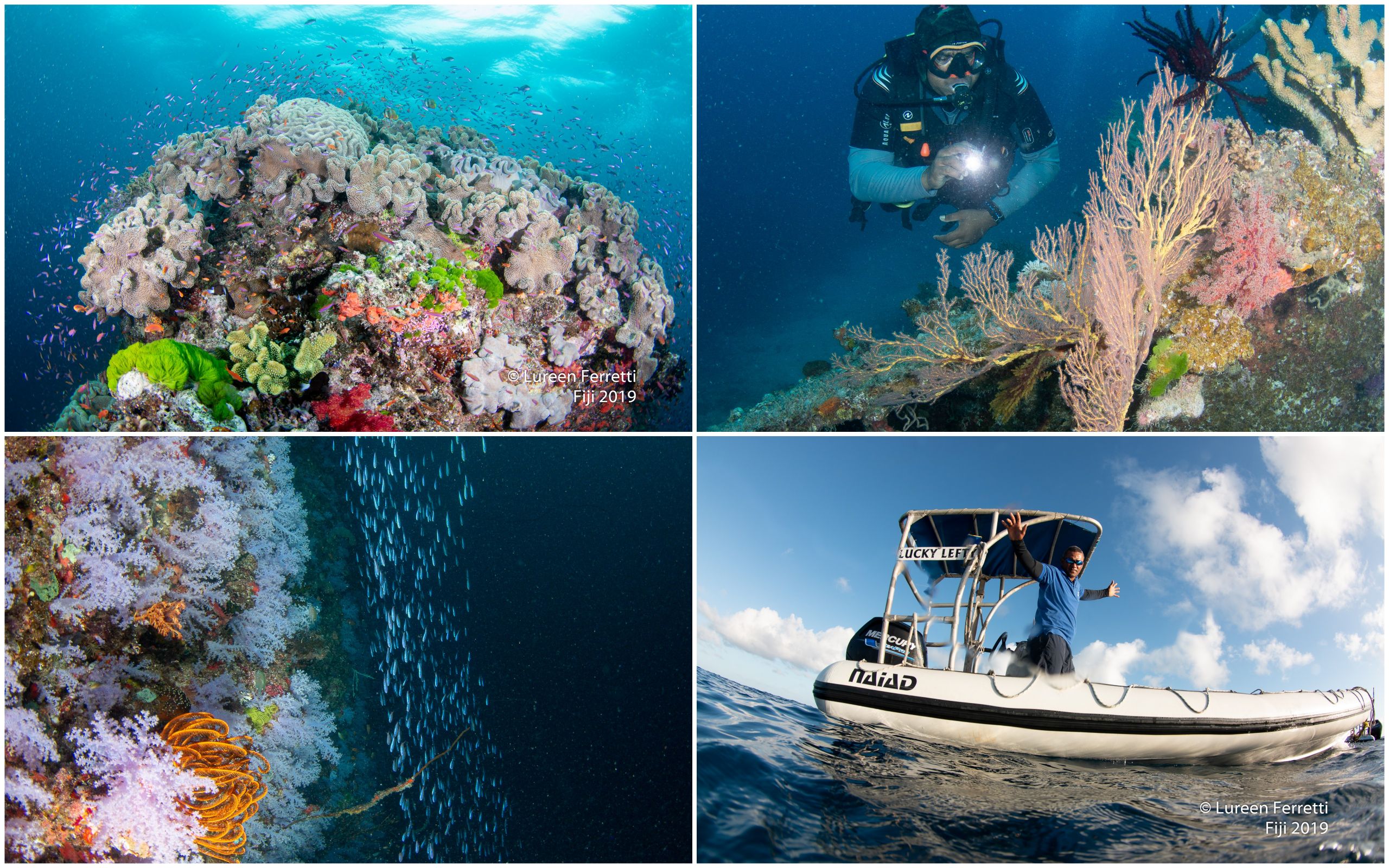 Photos by: Lureen Ferretti 
That evening we had planned for a night dive, however due to the current and the wind and conditions picking up we decided to cancel it, which was probably for the best anyway as it was New Years Eve and Anna had popped open the Champagne and we all enjoyed Mita's New Years feast! It didn't take much for an impromptu Kava party to start on deck and Big Mo and the boys got out the instruments for some songs! Steve put in a stellar effort keeping up with the boys and their New Year tsunami bowls of kava! Despite the celebrations I believe only Captain Sue was awake (sailing us to Namena) at midnight to see in the new year, with the rest of us all fast asleep!
So 2020 began at Namena!  I honestly could not think of a better place to start the New Year as we were analysing tanks and kitting up and a rainbow appeared in the sky! Our first dives of 2020 were at Grand Central Station and Kansas. Dive one was pretty quiet current wise as we explored the dive sites dropping in at Kansas on a marbled stingray, a chilled turtle and finding flabelinas of plenty, chromodoris lochi, phyllidias, lined nembrotha, gloomy tambja and so many pipefish in the sinularia wheat field. At Grand Central station Scott started the year with a black and gold sapsuckling slug flexing its body ontop of the arch!
For our second dive the skiffs switched sites and oh boy had the current picked up. An exhilarating ride at Grand Central Station meant that the group made it all the way to Kansas...I have a great image in my head of Bob and Darlene appearing and grabbing the metal pole on the top of Kansas to do their safety stop as flags on a flag pole then hand in hand as they surfaced! Those of us at Kansas were zig zagging the site to shelter from the current then found our spots on the top to just watch the wheat fields in all their glory. Malia and Parri had an awesome deep dive with Scott as part of their advanced course. Mighty Righty skiff even saw a hammerhead…ok we saw it on the surface as we were heading back to NAI'A…but it still counts!
In the afternoon we moved to the South of Namena and enjoyed diving the beautiful pinnacles of Two Thumbs Up and Tetons 1. The sheer number of schooling fish and pumped up soft corals make for the most spectacular hues of purples, oranges and maroons. Some current on the top of Two Thumbs resulted in lots of fish action and we found our leaf scorpionfish friend hiding out from the current between some coral!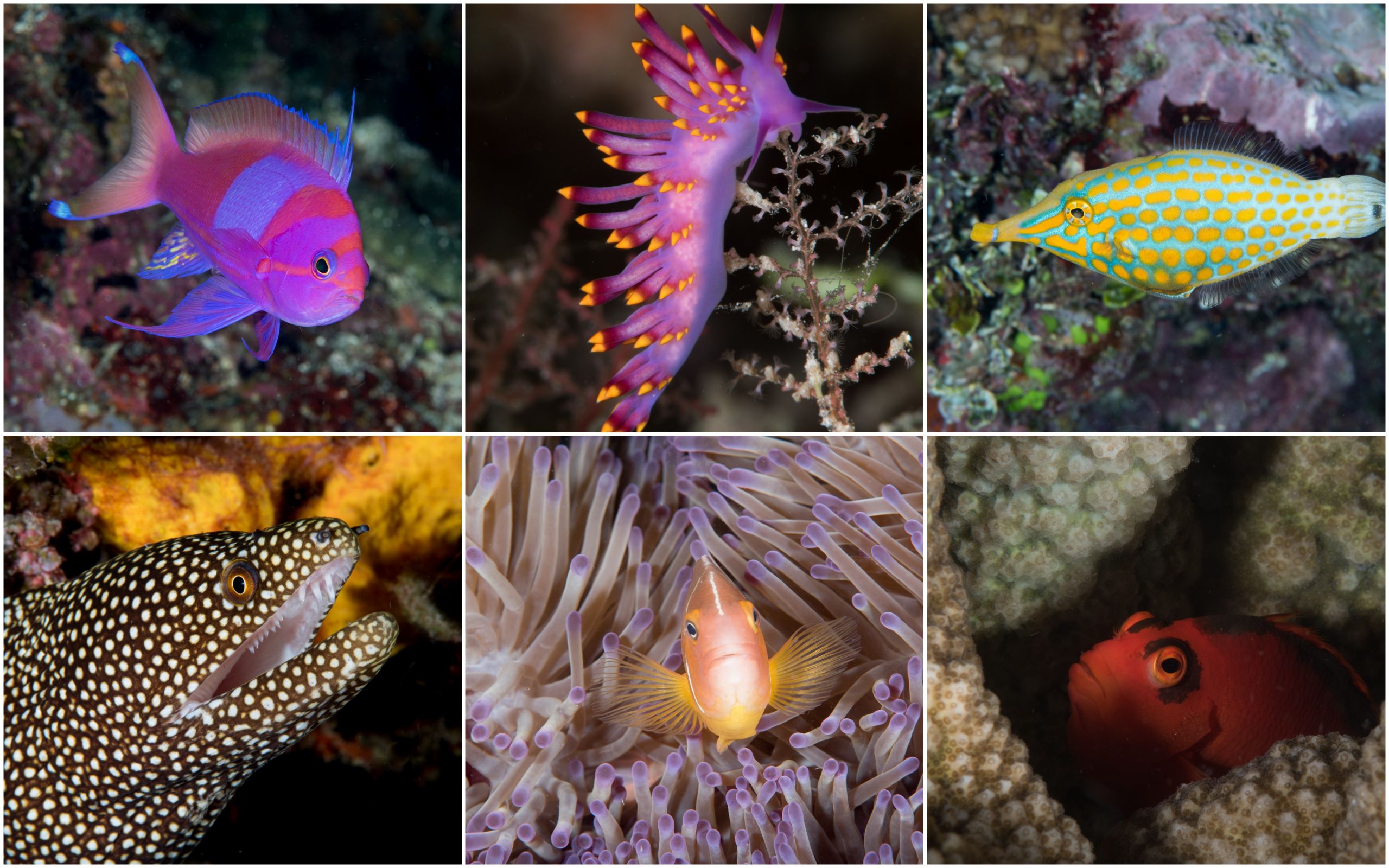 Photos by: Bob 
That night we headed out on a night dive in the sheltered bay of Namenalala. We dropped down right onto an octopus and spent the hour finding all kinds of critters: shrimps, crabs, feeding corals and tiger cowries. Big Mo signalled to Malia, Parri and me super excited to show us an ornate ghost pipefish then a halimedia ghost pipefish, then TWO thread pipehorses, then after we had surfaced he found TWO more ornate ghost pipefish!!!! Overall a pretty epic night dive for Parri and Malia's advanced course! Meanwhile others guests had headed across to the beach on Namenalala Island to look for turtle tracks and enjoy the clear night sky!
That night we set sail for Taveuni and the beginning of our exploration… but it was a pretty rocky crossing (at one point Scott was thrown out of bed) and only the hard core emerged early that morning for the first dive of the day. I headed out with Vernon, our skiff driver, who is actually from the area and used to work diving in the Somosomo Straights, who guided me through the current check at the Great White Wall! Conditions were perfect so we briefed the divers and off we went. The dive site gets its name from the ice blue-white soft corals that cover the wall. It felt like we were diving in the snow, a beautiful winter wonderland with the bright soft coral lighting up the deep drop off. To top it off Big Mo found ANOTHER thread pipfish hanging out with TWO pontoh's pygmy seahorses. I have officially now named him King Neptune! Our next dive of the day was at Freeway where we had a chilled dive along the very fishy reef and were escorted back to NAI'A by a huge pod of spinner dolphins. After lunch we dived Jerry's Jelly and Storms Warning where the current had picked up! Here we found a couple of blue ribbon eels, napoleon wrasse, white tips, soft corals, beautiful hard coral gardens…and Dory (palette surgeonfish)!
Later that afternoon we headed to the island of Kioa to visit a village with an interesting history. The villagers are actually Polynesian, have been settled in Fiji after WWII from overcrowded Vaitupa, Tuvalu. We enjoyed some beautiful singing, music and traditional fateli (dancing) in the stunningly decorated community hall. As it was a holiday, a big volley ball type game was taking place between the blue and red teams which involved a lot of cheering, chanting and laughter!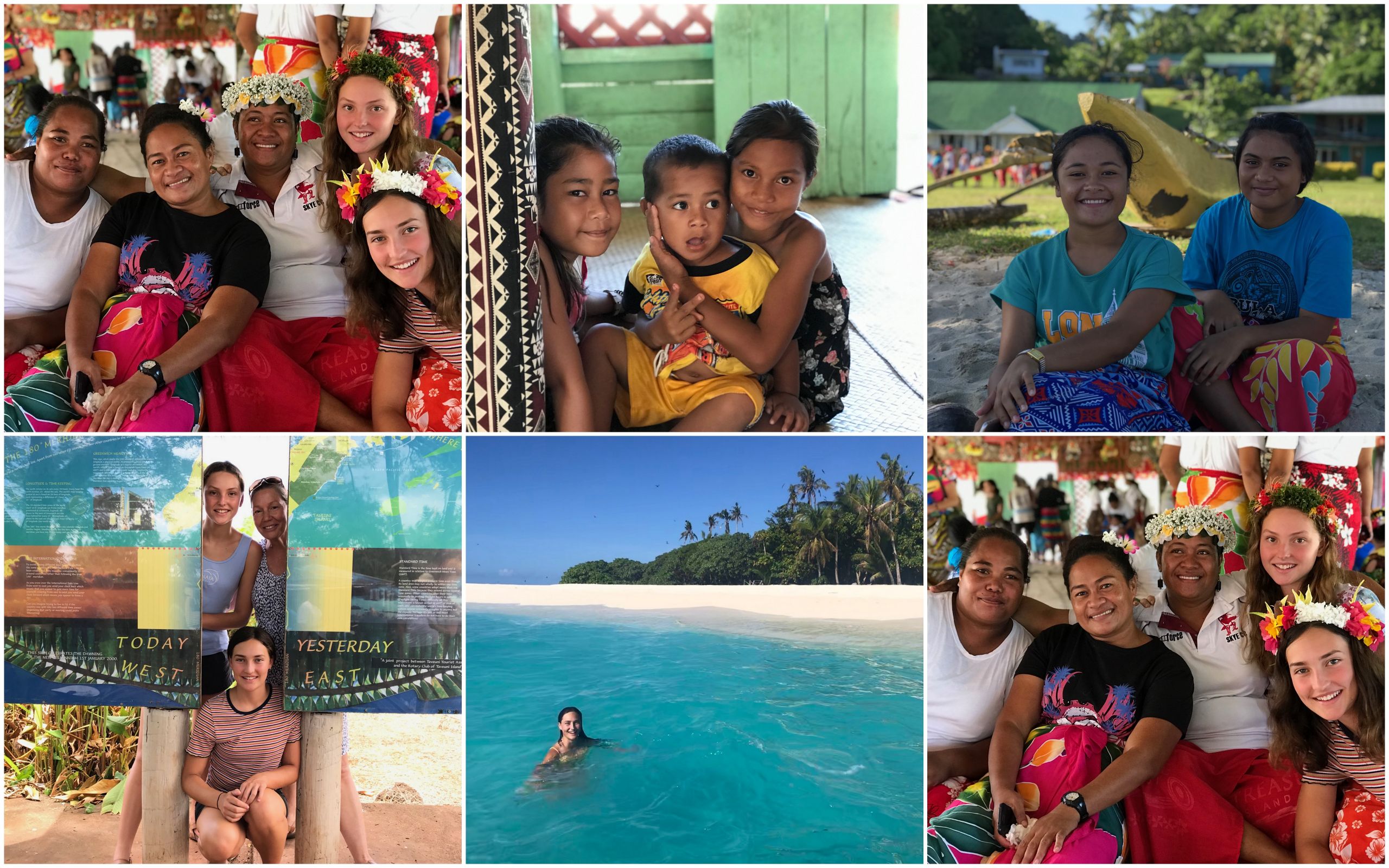 Photos by: Malia 
That night we had a night at anchor (to the relief of many for a good night's sleep) so the next morning we were all refreshed and ready to go! Another dive at the Great White Wall finding nudis, dragonets, dartfish, a flatworm and a flame hawkfish to challenge Bob's photo skills and patience! The next dive, one skiff went to Rainbow's End, the other to Jerry's Jelly to enjoy some current where we saw a HUGE sea krait!
After lunch most of the group headed with Cat, Scott and Mike for a tour on Taveuni. They visited the International Dateline, jumped off and swam in the beautiful waterfall in Bouma, stopped for delicious homemade soursop ice cream and found a Kava root taller than Scott! Meanwhile Big Mo and I with Heidi, Bob and Darlene checked out another of Vernon's suggestions, a site called Champions Rock which proved to be a nice spot with the most staghorn acropora branching coral I have ever seen! We worked our way along the reef reaching the end met by a wall of schooling bannerish! We then spent some time on the top reef finding leopard wrasse and coral guard crabs in the many colonies of branching policopora.
The following day it was time for some true exploration. We anchored in the bay of Wailagilala (which means water, sky, empty (as in not inhabited)) Island, a stunning atoll in Northern Lau. Throughout the day we sent out skiffs to various parts of the reef, either side and in the channel and whilst the diving was hit and miss we saw a number of white tips and grey reef sharks, a school of hundreds of pyramid butterflyfish, an eagle ray and a cabbage patch of lettuce coral full of fish (and Sarah's extremely rare yellow thread fin thingy…)!
After I gave a quick sea turtle talk some of us ventured ashore to search the beach for evidence of turtle nesting…and we were super excited to find fresh green momma turtle tracks up the beach, multiple nests, HUNDREDS of baby turtle tracks and even some turtles swimming out in the bay! Thrilled with our discovery we had dinner and then ventured back out after dark onto the beach to patrol the shore and sit and wait for any turtle action. Just as we were about to give up, Joka and Parri signalled from down the beach and low and behold there was a big beautiful green female sea turtle making her way up the beach to the vegetation ready to nest. We all watched in awe as she swept and pushed about the sand, nested and made her way back down the beach to the sea!!! What a perfect birthday treat for Tricia!!! An experience never to forget and a privilege to witness!
The following day we started to make our way back in the direction of central Fiji stopping along the way to explore a few more dive sites. First up Motua Levu and a site called Noel's Wall, a dive spot suggested by Chief Officer Angus who is also from Taveuni and worked for years on dive boats in the area. This dive site was a hit with fantastic topography (perfect for Lureen to photograph), a steep drop off, healthy hard corals and abundance and diversity of fish species.
Our next stop was a site right next to Matagi Island called The Wreck, however only one skiff dropped onto the wreck which is a scattered wreckage consisting mainly of the bow. The rest of the site seemed to get better the shallower you went with some nice hard coral on the top reef with juvenile longnose filefish, spotted crouchers and boxfish.
Next up was a return to Champions Rock where, despite a bit more current than last time, we met the schooling banners again joined by schooling pyramid butterflyfish! We spent time hunting in the policopora again, followed a sea krait and Bob found himself another flame hawkfish….and we all found about eight Dorys!!! We anchored in a bay for dinner and Cat, Malia, Parri, Moon and Lureen headed off for an exploratory hike, finding beautiful views…and a peacock!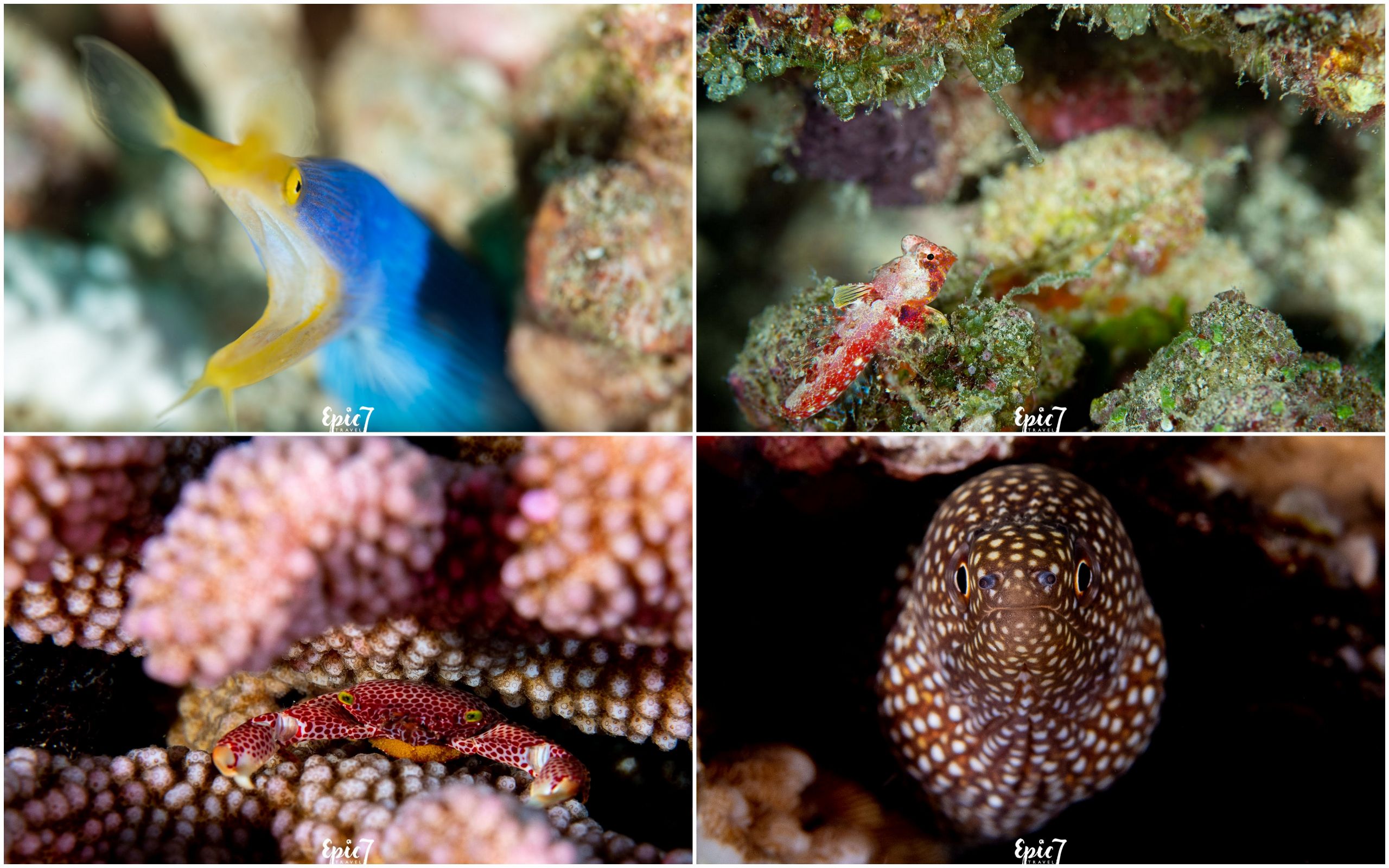 Photos by: Jason Epic7Travel.com Adventure Travel Blog
Overnight we travelled back through our familiar Bligh Waters and spent our final day diving in the Vuya region. Our first two dives were Humann Nature and Cat's Meow. We were super happy to be back with the beautiful soft corals and teeming anthias and fusiliers. The top of Human Nature was just amazing. At Cat's Meow Big Mo found the resident pontoh's pygmy seahorses as well as a tiny ornate ghost pipefish! As we swam through the swim through at the base we were met by a HUGE school of the most chilled unicornfish, and on the top of the pinnacle I swear the Fiji anemonefish were grunting at us from their deep red anemones! For those still joining the last dive many went to check out Mo's Main Reef and Sarah, Dawn, Lureen and I went back to Cat's to spend more time with the pygmys!
That afternoon we made our way back to Lautoka. After dinner (Mita's LAST!!!) Scott showed the slide show with some fantastic photos! Thank you Bob, Jason, Marielena, Moon, Cat and the girls, and Lureen for contributing your amazing shots!
So whilst our South Pacific expedition had a tricky start, we defiantly shared some memorable experiences to start off our year with one hell of an adventure! Vinaka vakalevu to you all, Happy New Year and safe travels and dives for the future!
The SPECIES OF THE TRIP this time is one of my favourite; the Pyrmid Butterflyfish (Hemitaurichthys polylepis). Like most butterflyfish they are yellow, white and black in colour, however the Pyramid Butterflyfish has a distinctive white triangle shape on its body. They can be found from 3m to 60m / 9ft to 180ft usually aggregating in large schools off of outer reef slopes and feeding on plankton.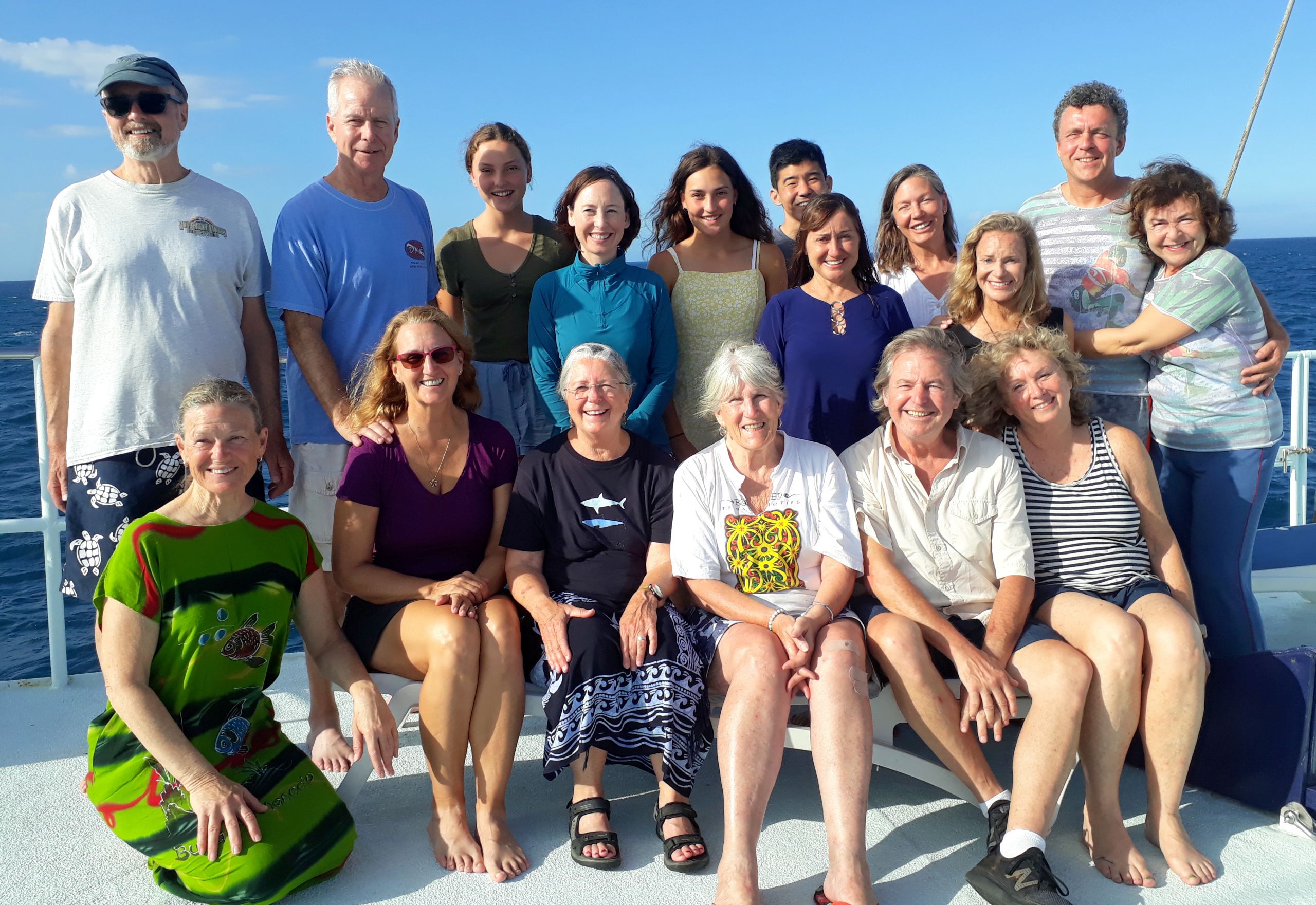 "NAI'A remains my happy place and feels like a second home" – Sarah
"Vinaka vakalevu to NAI'A and all her crew for taking such good care of us and making every guest feel like part of your wonderful family! Not even cyclone Sarai could spoil our fun! " – Heidi
Vinkaka vavalevu fantastic NAI'a crew for a wonderful end to 2019 and start to 2020! What a way to ring in the new year" – Marielena & Jason
Our Guests...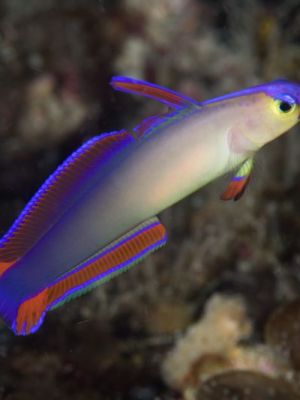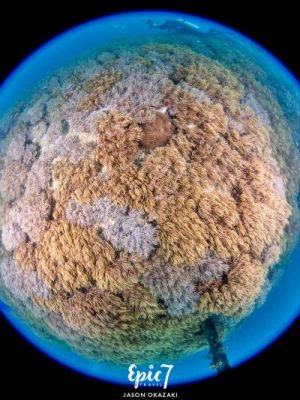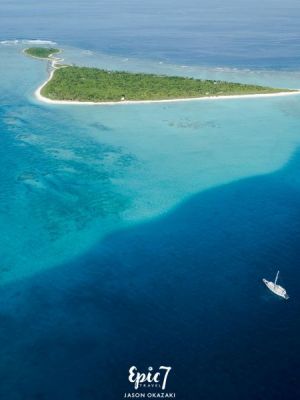 Comments
"Central Fiji has all the elements of the ultimate ocean wilderness: diverse creatures and habitat, nutrient-rich water, spectacular scenery and owners who respect it."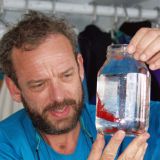 ~ Dr. Greg Stone, Executive Vice President of Conservation International