A spy, a superhero, and a lot of bad jokes!
Destination: Bligh Water, Namena, Wakaya & Makogai
Trip Date:
May 14th - May 21st, 2022 -
Comments
Author: Bel & Mike
Welcome Back: Bruce and Ginny
Congratulations: Ian Ray, on completing your Advanced Open Water!
Mantas Rays, Pygmy Seahorses, a Deluxe Village Visit and exploring new dive sites! This week had a little of everything, and although the winds proved a little challenging, it was nothing we couldn't take on. Our itinerary adjustments meant we got to see new sites we hadn't yet dived, and we found them to be exquisite!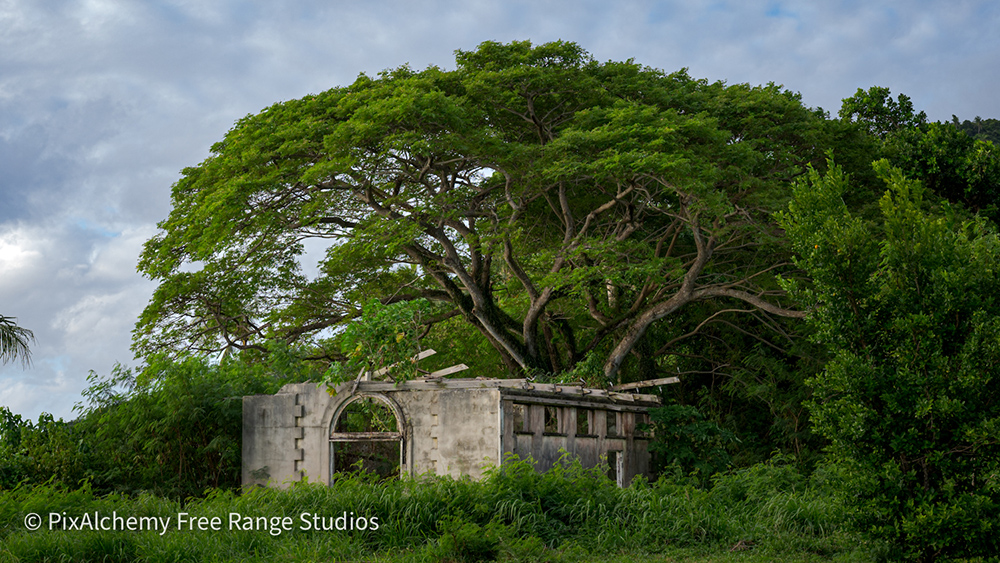 Photo by Bruce Thayer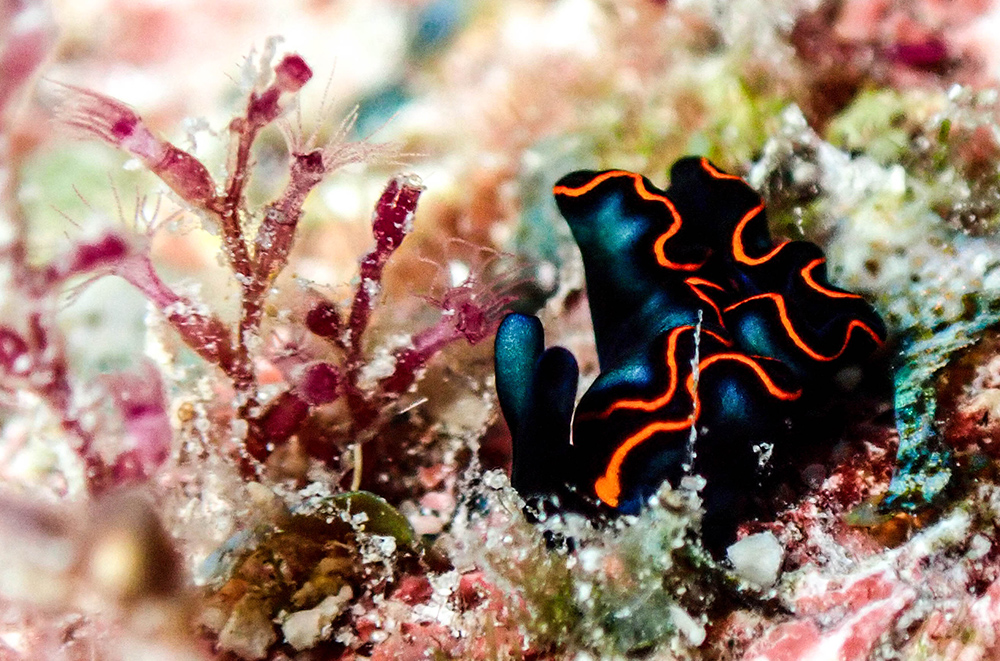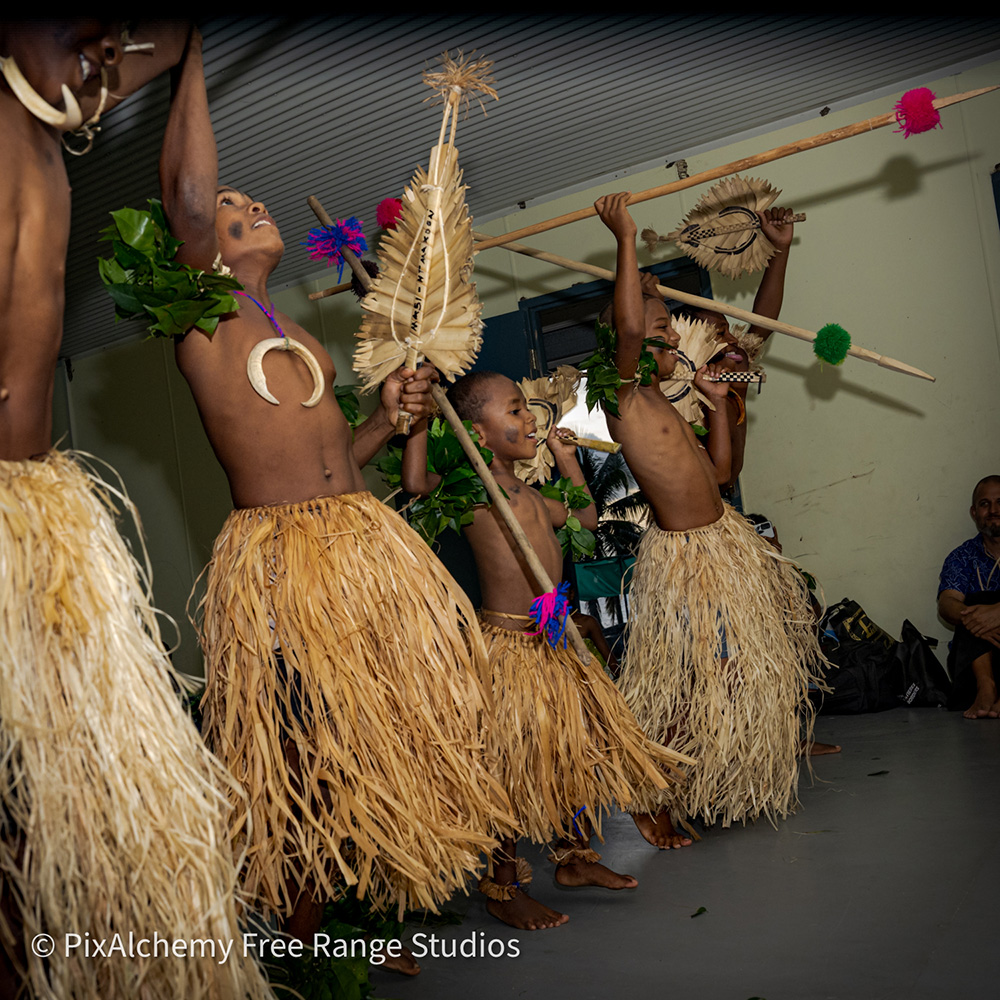 Photo by Bruce Thayer
This was truly a trip to remember, as we had both Master Bruce (AKA Batman) and James Bond (albeit Mexican, he held the name well) on board. Spies vs superheroes. Batman had bad jokes as his weapon, but 007 had all the puns on Kava night. Russ and Connie were on board celebrating their 3rd year anniversary and many of our other guests were diving Fiji for the first time. Forecast was for heavy winds during the week and so we adjusted our itinerary to make the trip enjoyable, comfortable and safe for everyone.
Our first day started at Vatu-i-ra on some protected dive sites as the currents seemed to be running every other way. After a couple of dives, we all settled in and made the necessary adjustments. A small detour took us to Nananu-i-ra where we dived Maze and Wedding Chapel, both gorgeous sites with nudibranchs, beautiful gorgonians, hundreds of solitary tunicates and great Leather Coral coverage. Koroi led the night dive on the bay and found yet more nudibranchs and an electric clam.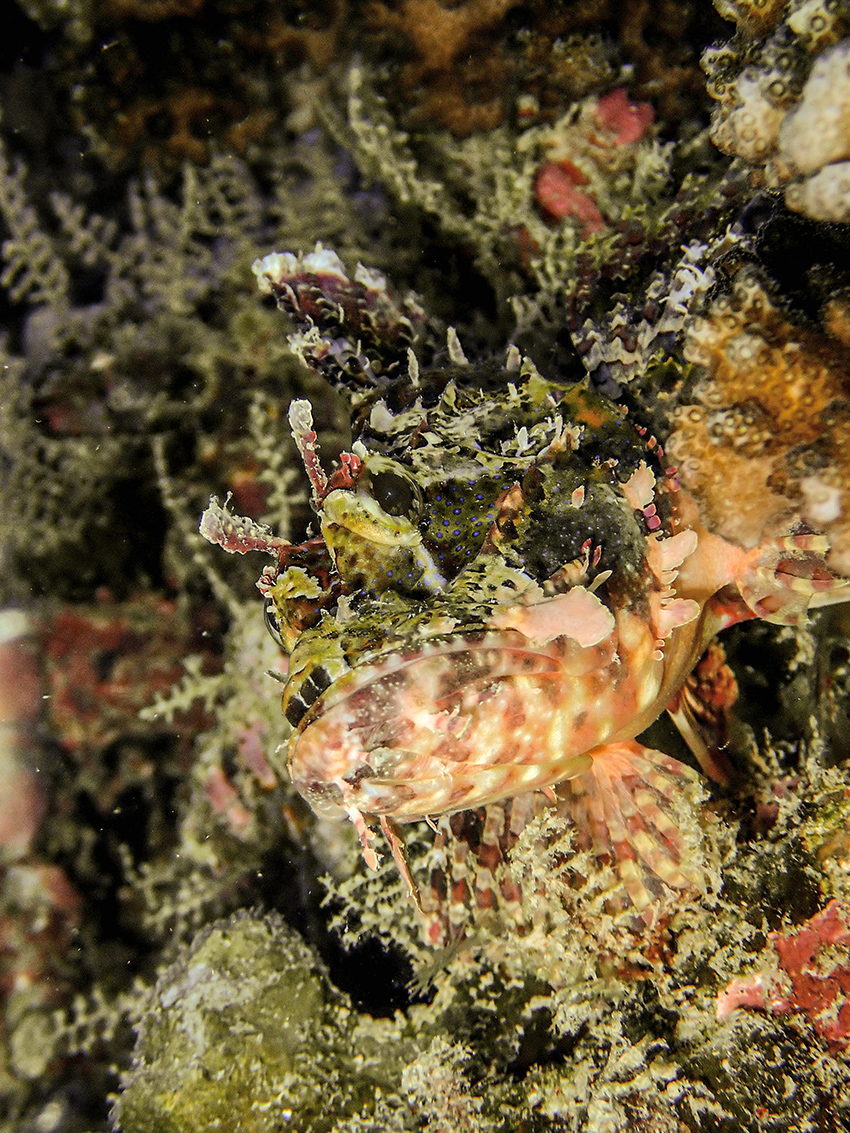 We cruised overnight to Namena Marine Reserve, one of our favorite places in Fiji! In the morning we dived Tetons I and II and saw a Golden Mantis, Yellownose Shrimpgobies, Longnose Hawkfish and an Arc-eye Hawkfish eating a female Scalefin Anthias. Poor darling! The afternoon dives were a success with sharks, turtles and huge tunas. We finished off with a great Kava party, but Bel somehow lost the command over calling Kava Time. James Bond won the dispute by calling: Time, Kava Time. Shaken, not stirred. I mean, how can one compete with that??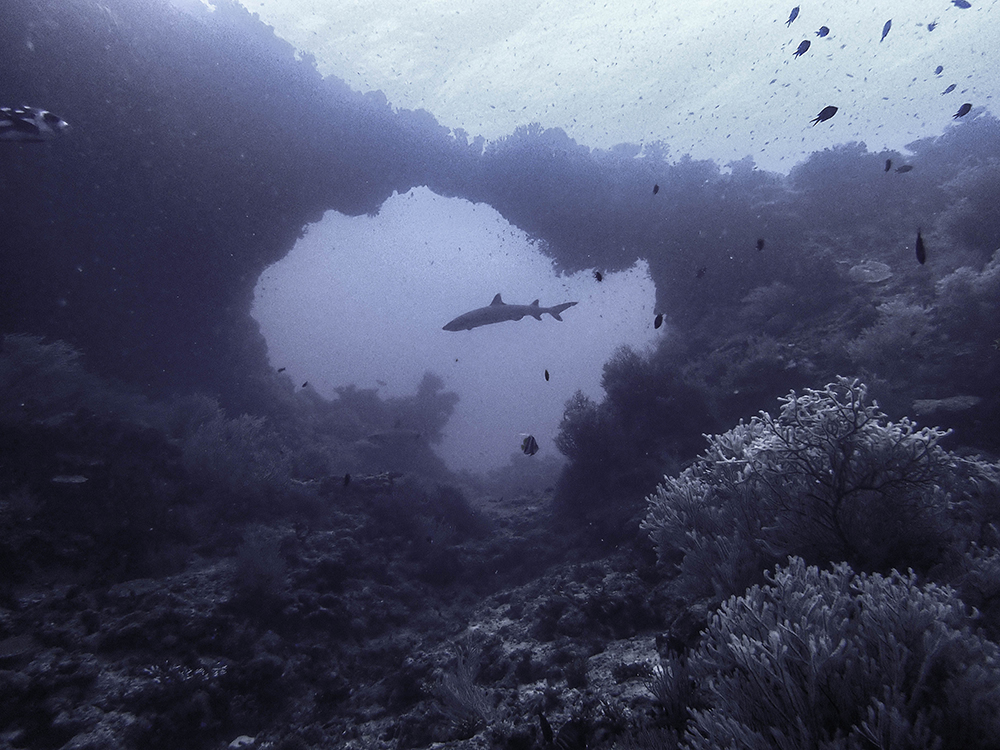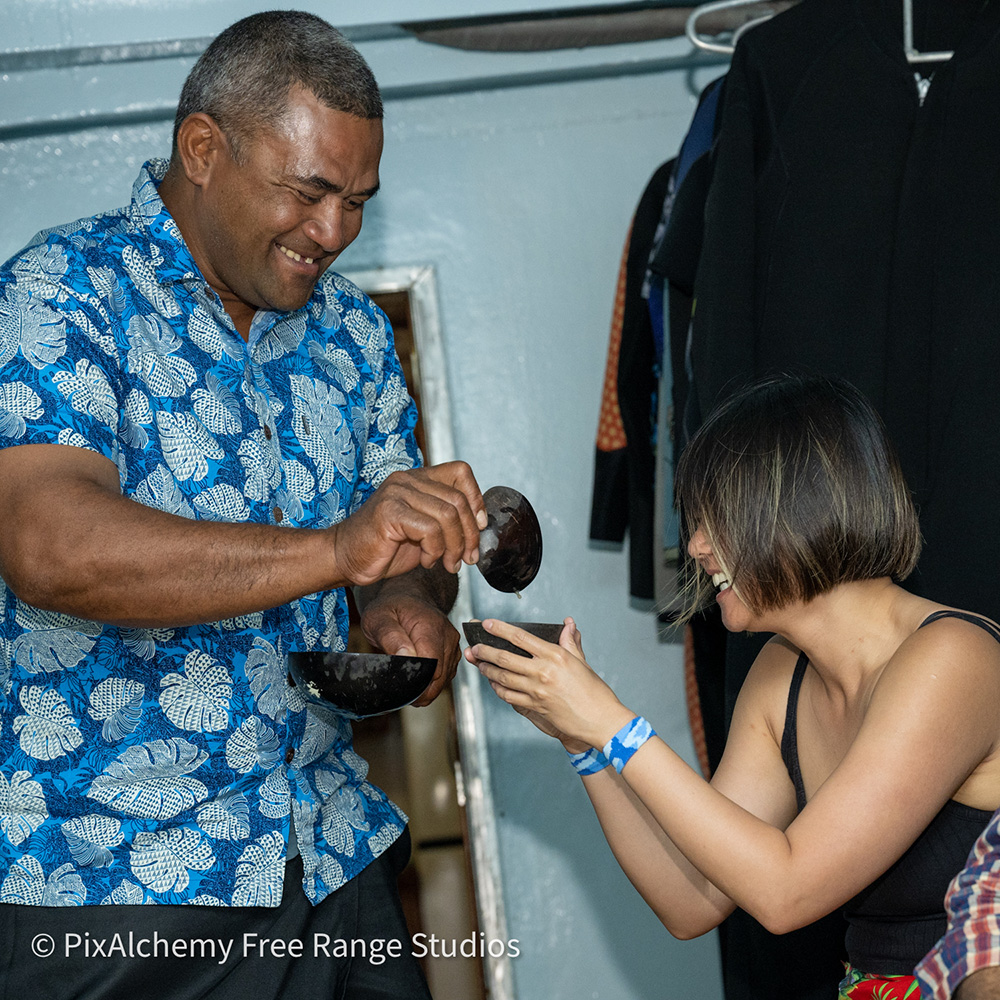 Photo by Bruce Thayer
The next morning we did gorgeous dives at The Arch and Kansas and revisited last week's Pontoh's Pygmy Seahorses, as well as a load of sharks, pipefish and blennies. With the winds picking up, we sheltered at Namenalala for a Macro Dive and our guests were very pleased with the relaxing nature of the dive. We also saw a Peacock Mantis, Whitecap Shrimpgoby and a 5ft Humphead Wrasse. With rough seas and queasy guests, we decided as a group to move from Namena to Makogai after lunch in order to have a quiet night sleep later. So, after a nap we finished our day at Rick's Rocks and Dominoes and did a fabulous night dive at Ron's Delight. Sightings included many moray eels, lots of nudibranchs, tons of skeleton crabs and a sleeping turtle.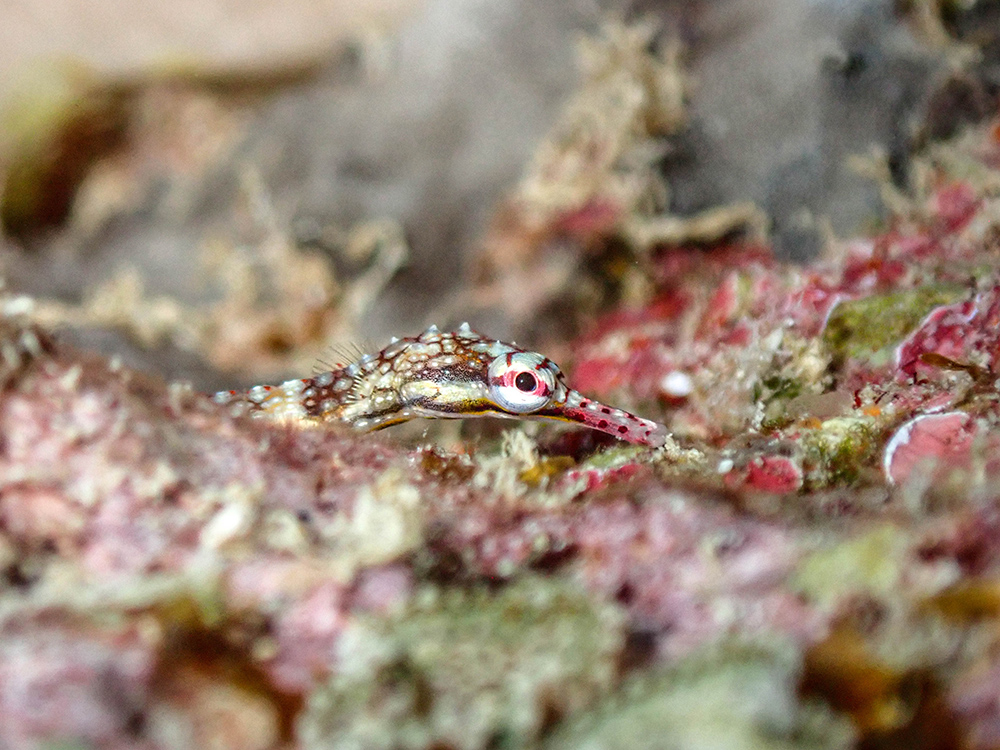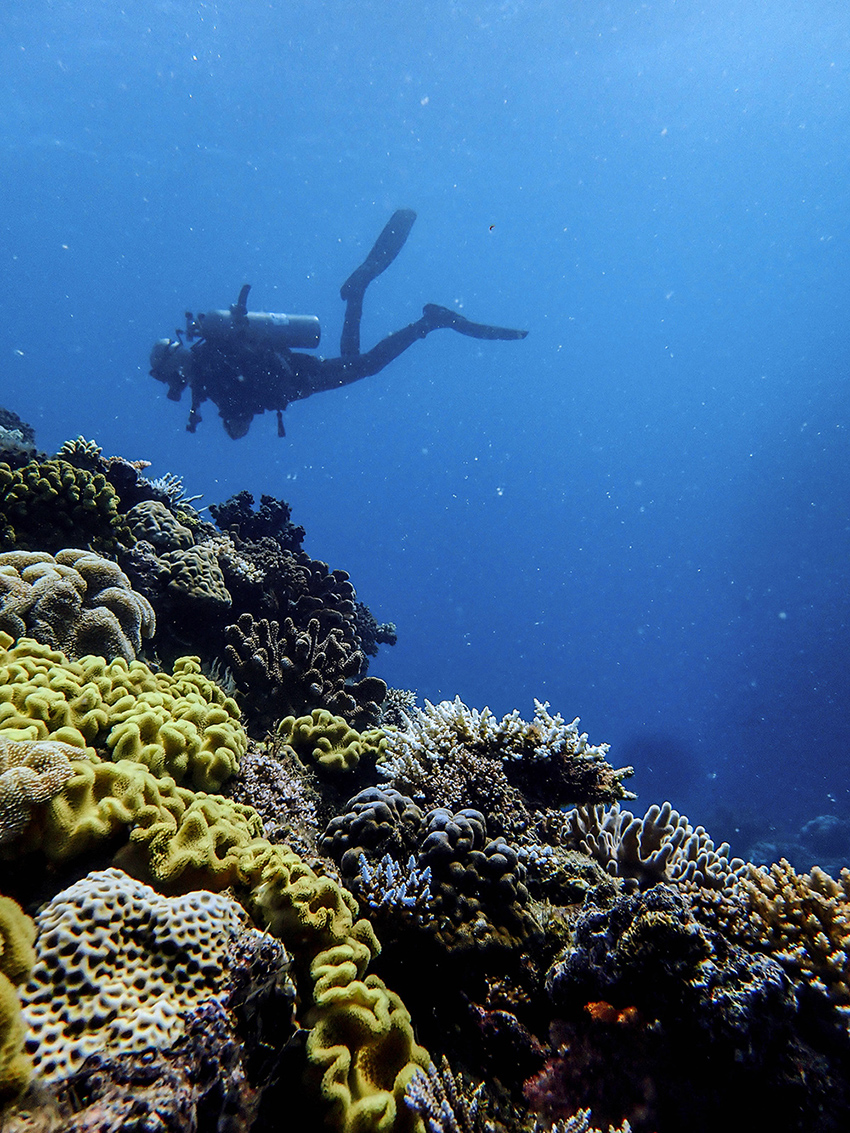 Then we spent another full day at Makogai and added Pinball Alley to our list of sites checked. Throughout the day, we saw every kind of shrimp one can see in the day time, moray eels, reef sharks, juvenile scorpionfish and an abundance of anemone fish. We feel like renaming the area Macrogai, such was the variety of small critters there. After 3 dives, we headed to our village visit and had a wonderful time exploring the Lepper Colony ruins (including grave yard, theatre and prison) and finished off strong with heart-warming mekes presented by the children. The high point may have been Bruce running with about 15 children after him as we all waited on the skiffs to leave. I have a feeling on one of these trips Bruce may stay behind in a village for a few weeks!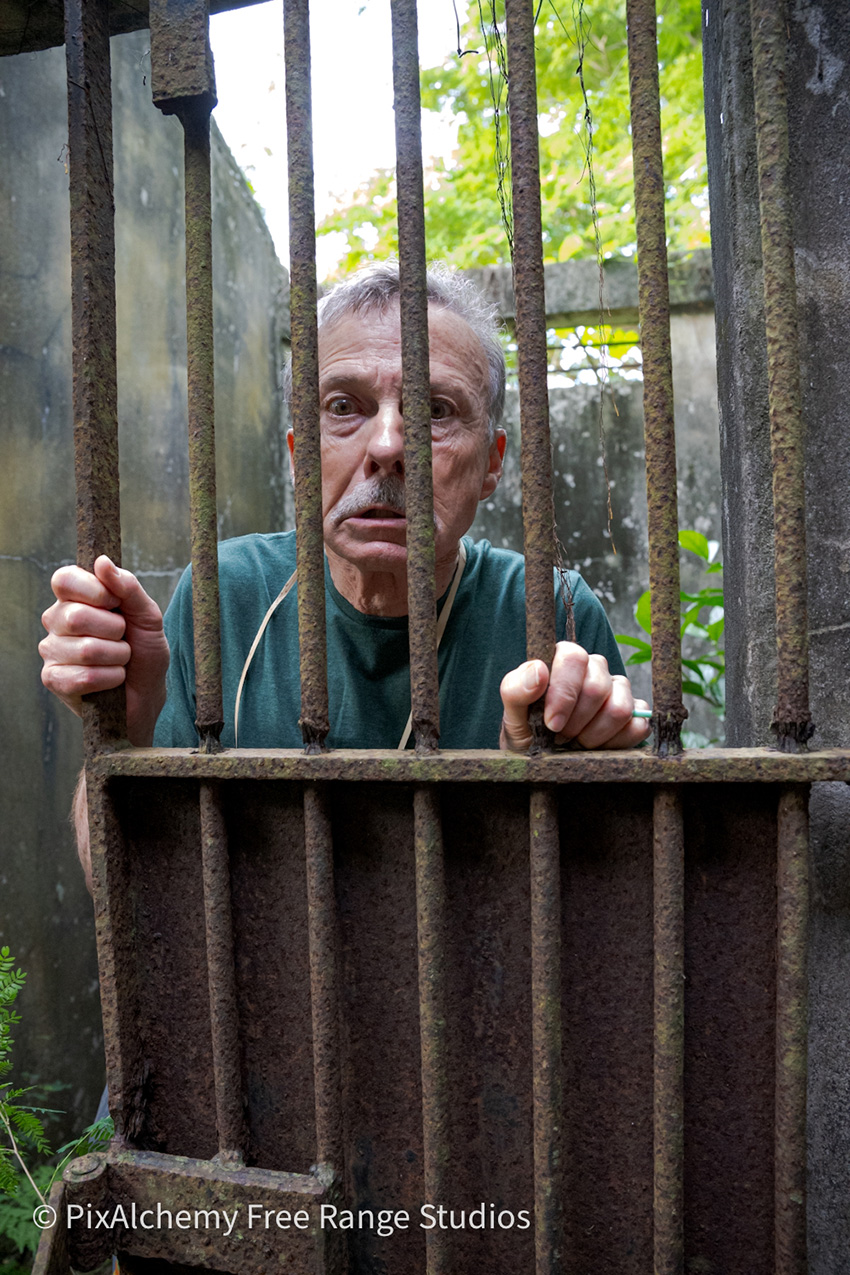 Photo by Bruce Thayer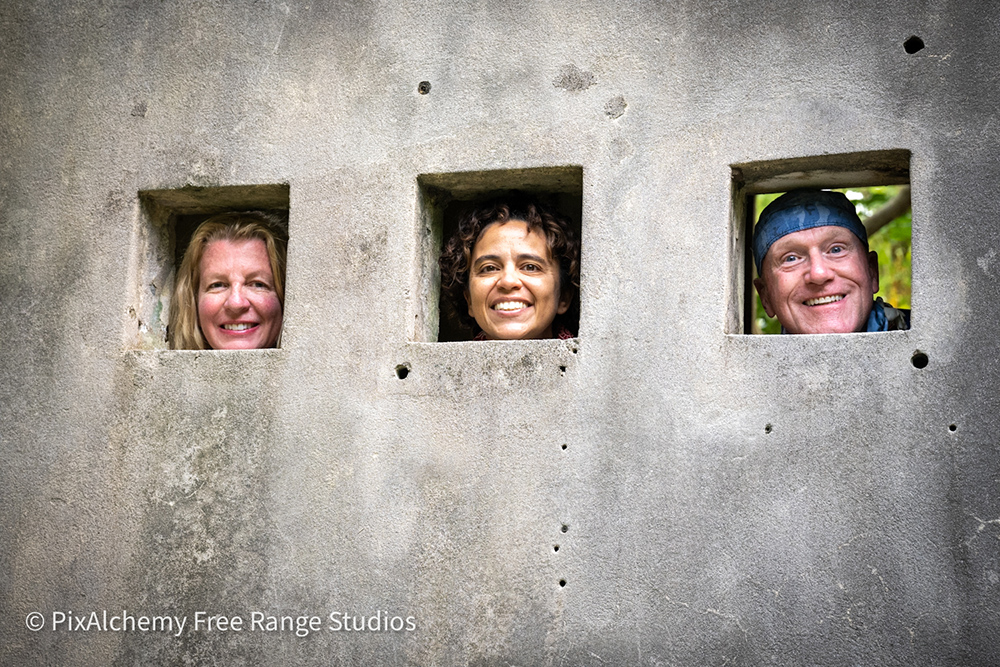 Photo by Bruce Thayer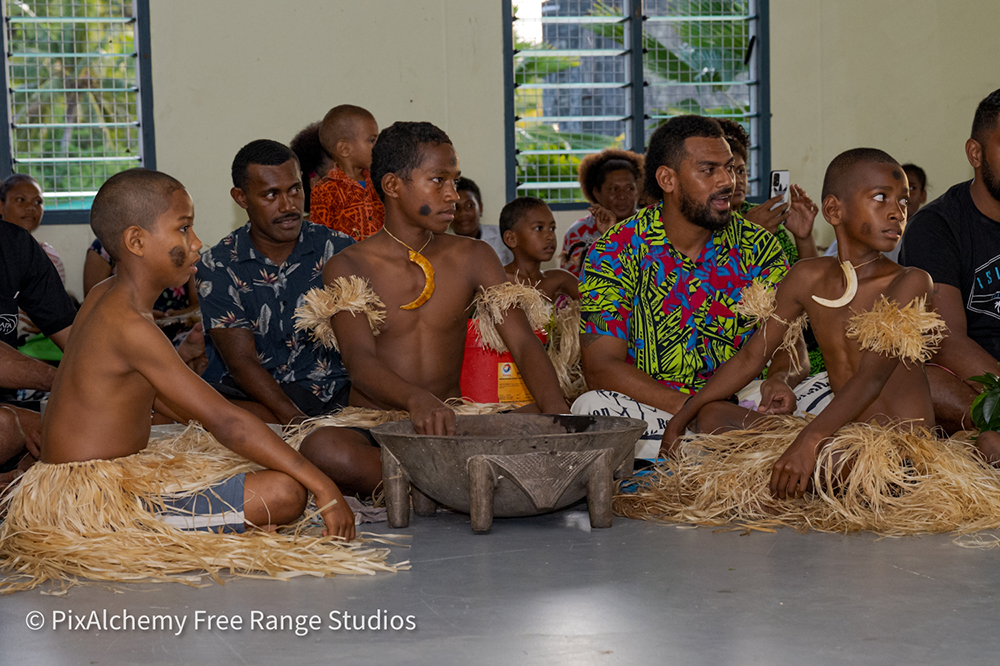 Photo by Bruce Thayer
After a short passage, we dived Wakaya's beautiful sites with limited visibility, and if you're thinking this meant mantas were around, you are correct! A few short but memorable encounters throughout the day, including dropping on 3 mantas barrel feeding together for dive number 2! We also saw Gray and White Tip Reef Sharks, turtles, Decorated Dartfish, Longjaw Mackerel and a Leaf Scorpionfish. For the night dive, Wakaya took the win for this charter! We saw a Gymnodoris, juvenile lionfish, 3 Barchin Scorpionfish, a mantis larvae, a few cowries and Bel's first Bearded Brotula!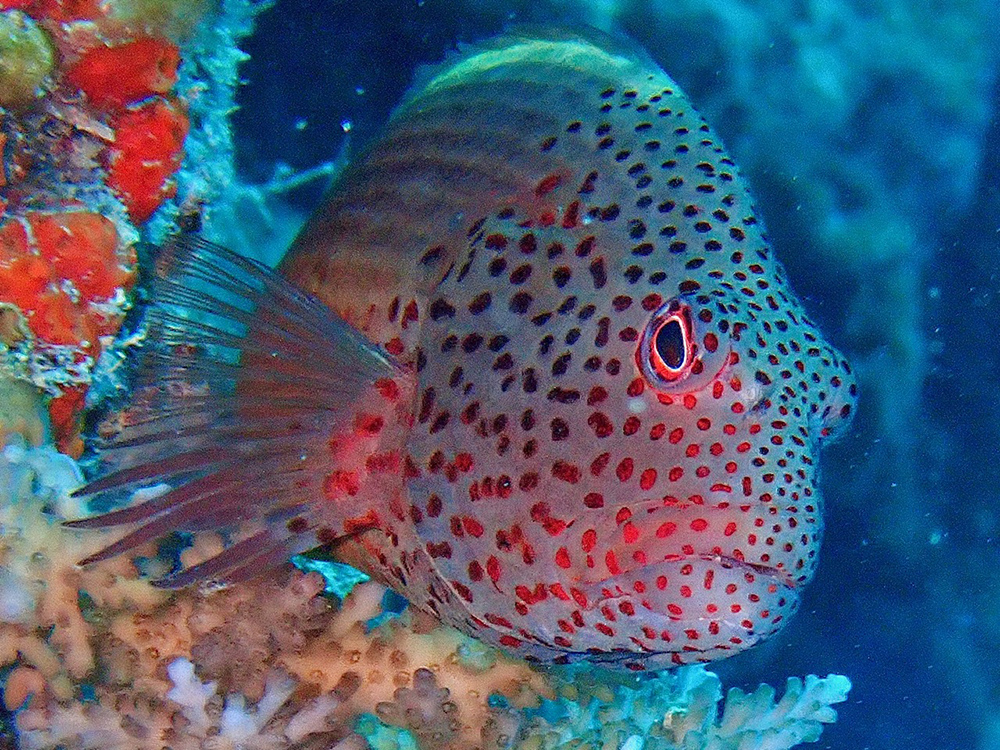 Photo by: Dan Smith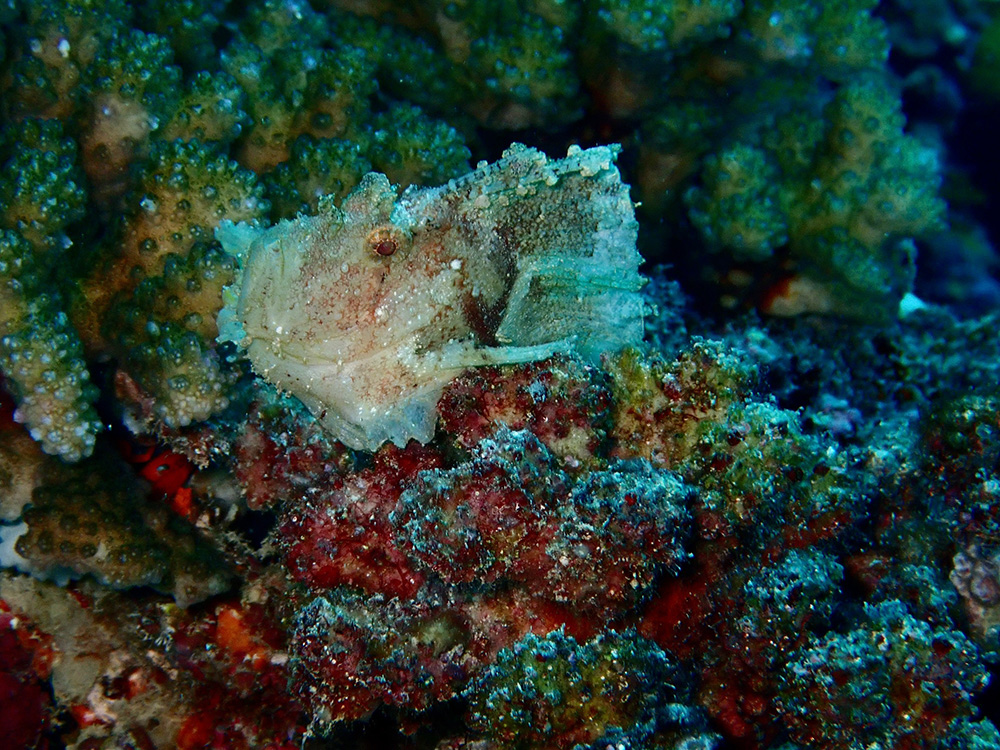 Photo by: Dan Smith
We started our last day diving the iconic sites Mellow Yellow and Coral Corner, with mild to moderate currents and all the abundance that comes with it. Sea spider, scorpionfish and blue dragons were sighted, and the reef top was as alive as it can possibly be, with the fusiliers putting on a special synchronized show. We finished off at Whole Shebang with many Slingjaw Wrasse for company and a mix of wild ride in the beginning with a chilled second half of the dive. Just stunning. A perfect end to a fabulous week! We will miss the guests, the smiles and even the bad jokes!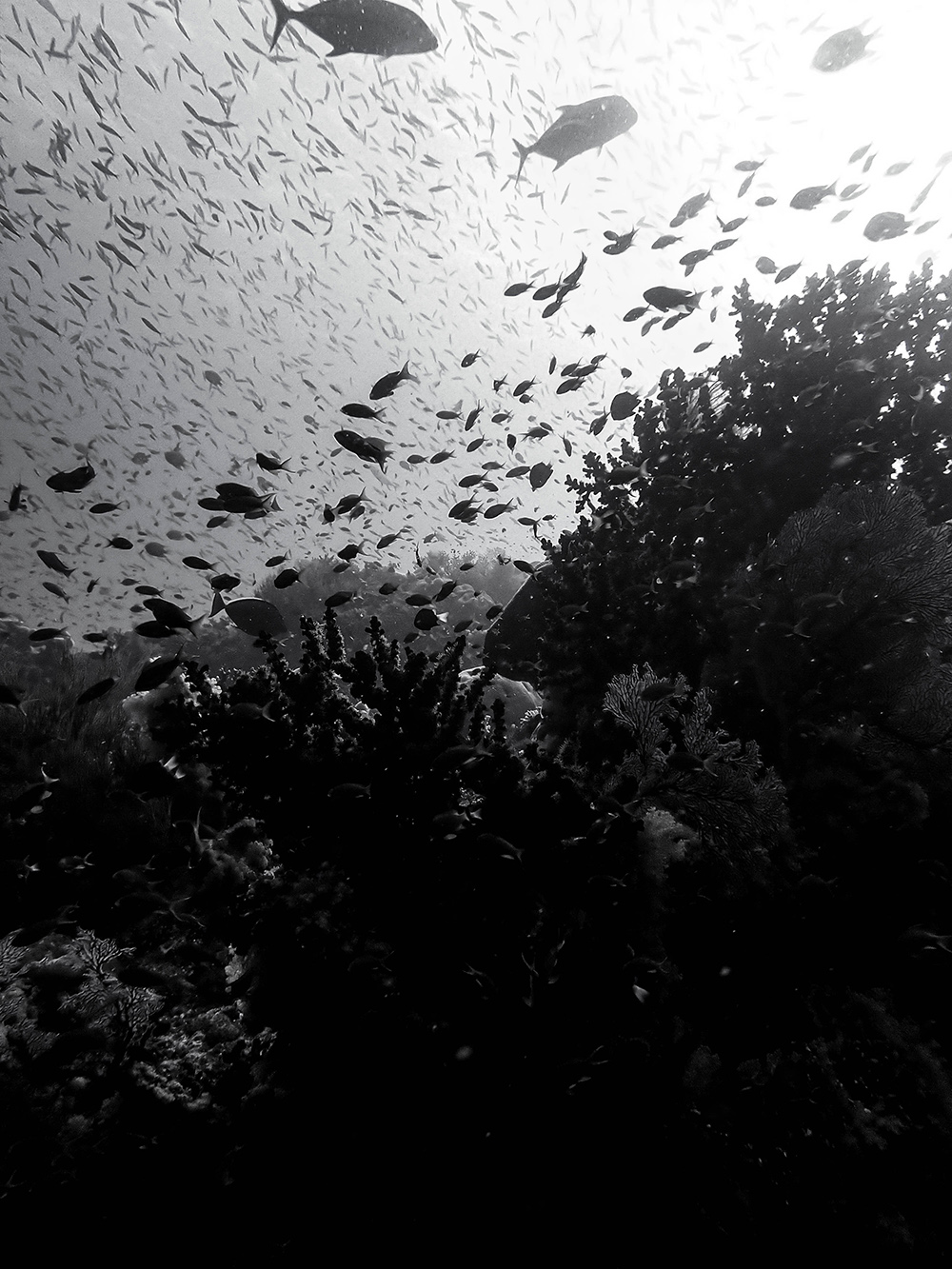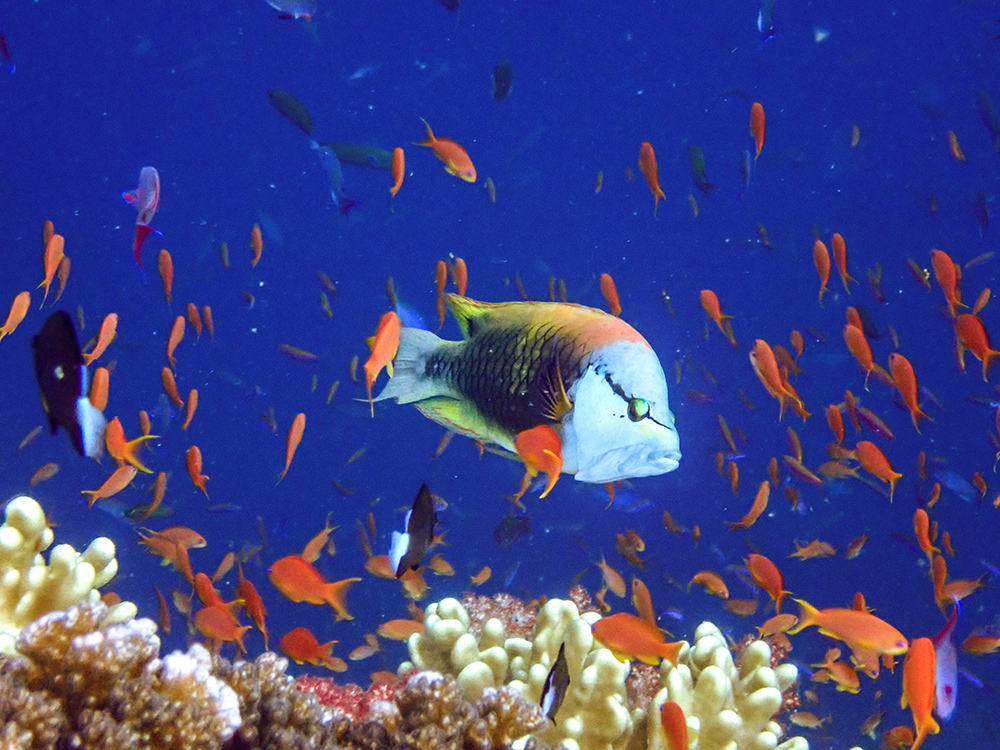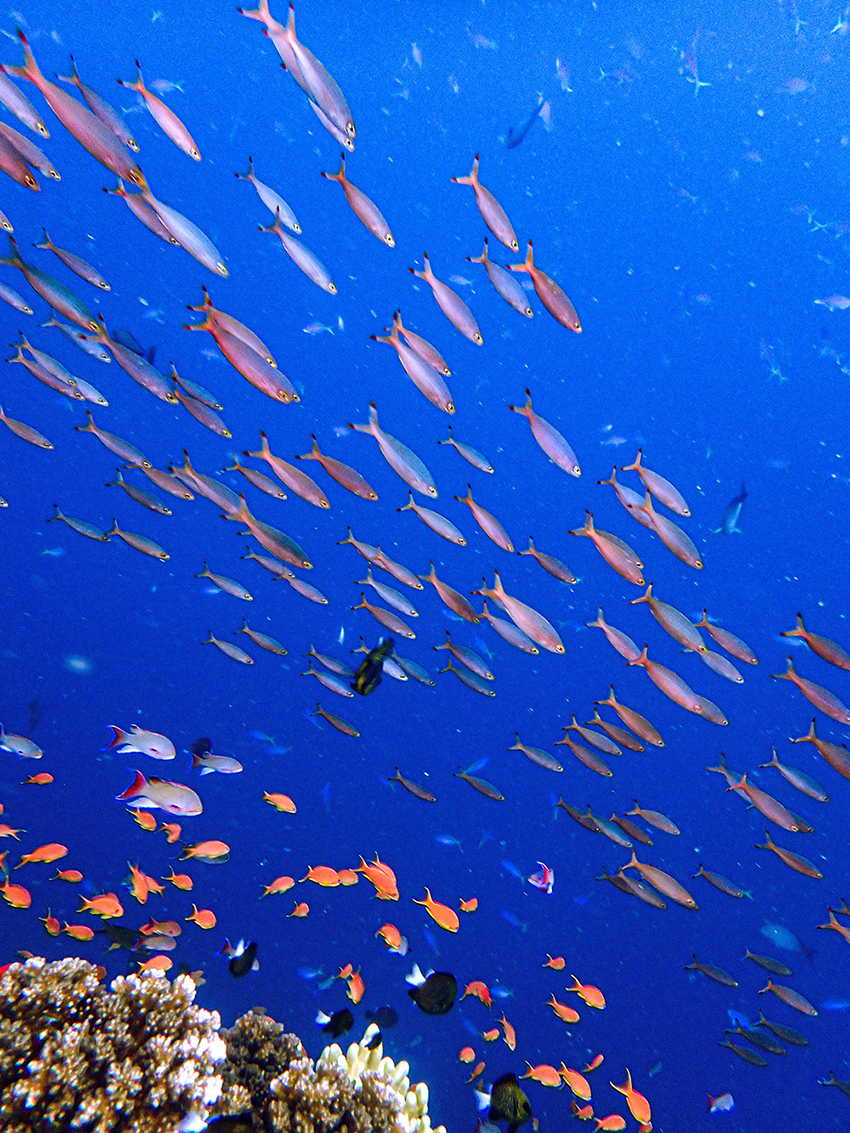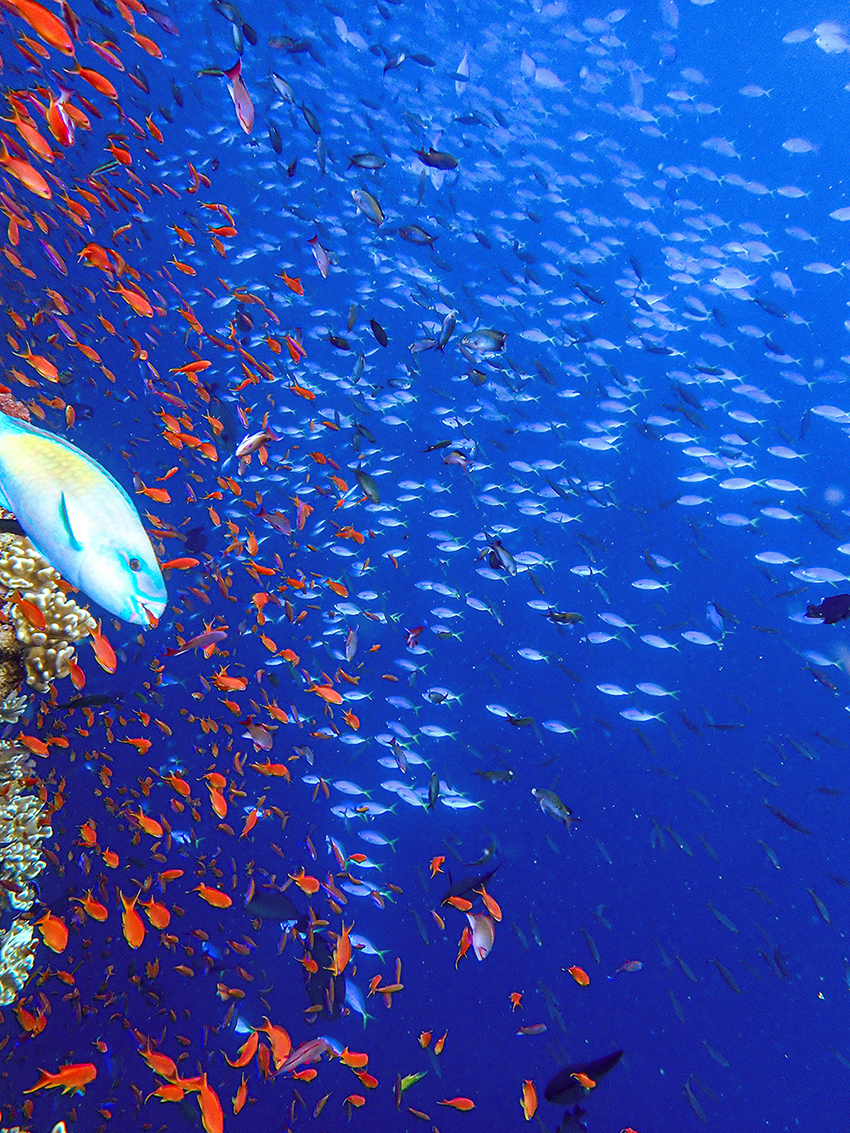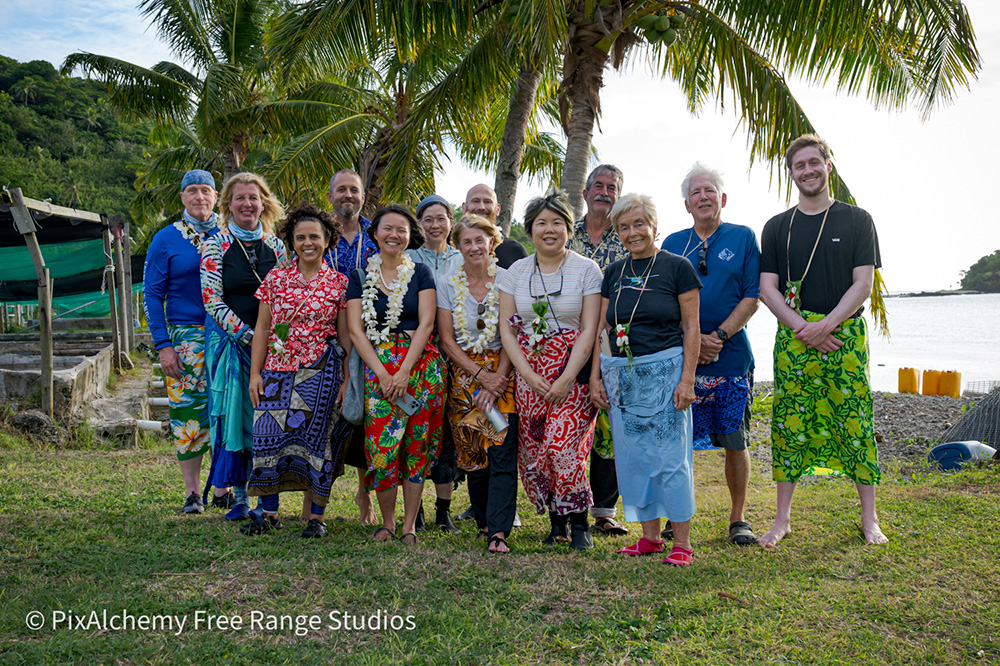 Photo by Bruce Thayer
Comments
"Fiji is a hot spot of biodiversity. We're here for the rich colorful soft coral reefs as well as the unusual stuff - the strange little creatures and endemic fishes."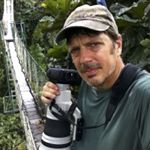 ~ Dr. Tim Laman, biologist and National Geographic Photojournalist