An Extra Special Fiji Adventure
Destination: Bligh Waters, Somosomo Straight, Ringgold Isles & Northern Lau
Trip Date:
Aug 22nd - Aug 29th, 2020 -
Comments
Author: Jemma & Scott
Welcome Back: Renee, Judy
Our second NAI'A all local trip was a little bit special - rather than focussing solely on diving, we added an extra twist of adventure! Welcome Team NAI'A Adventure!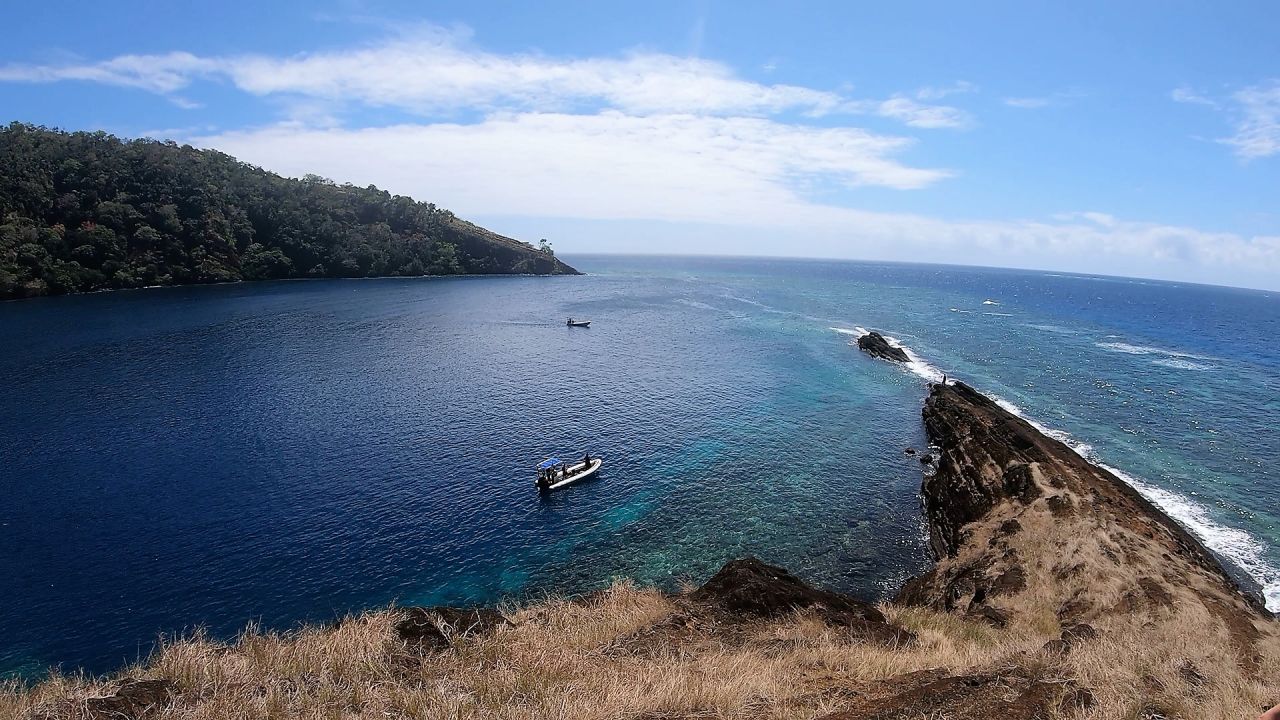 Photo by: Greg
Photo by : Greg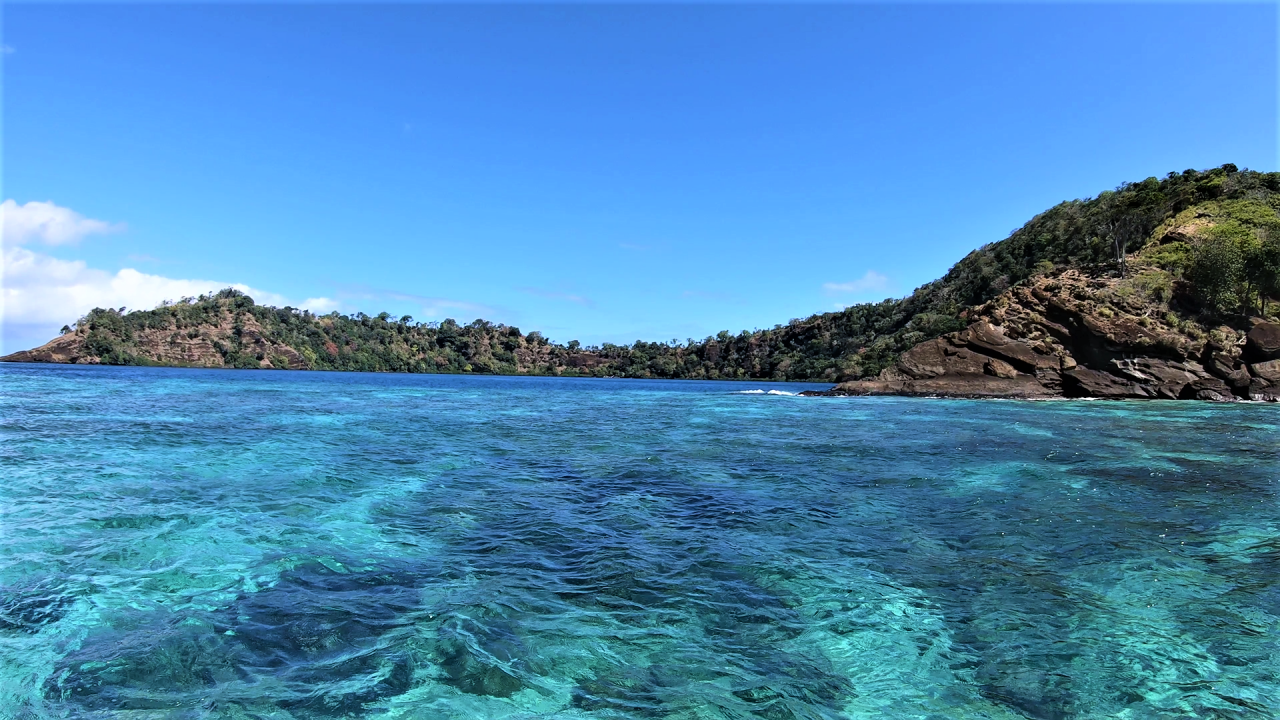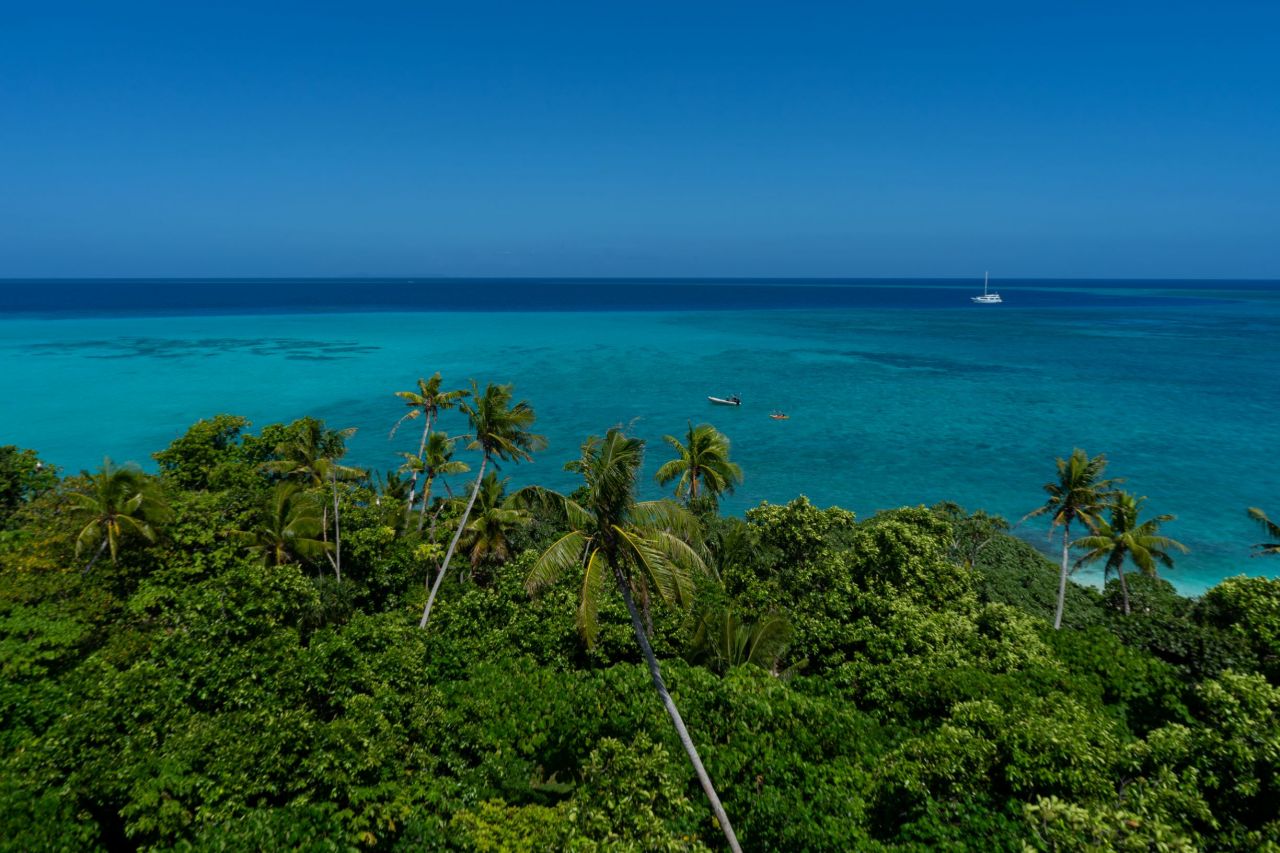 Photo by: Greg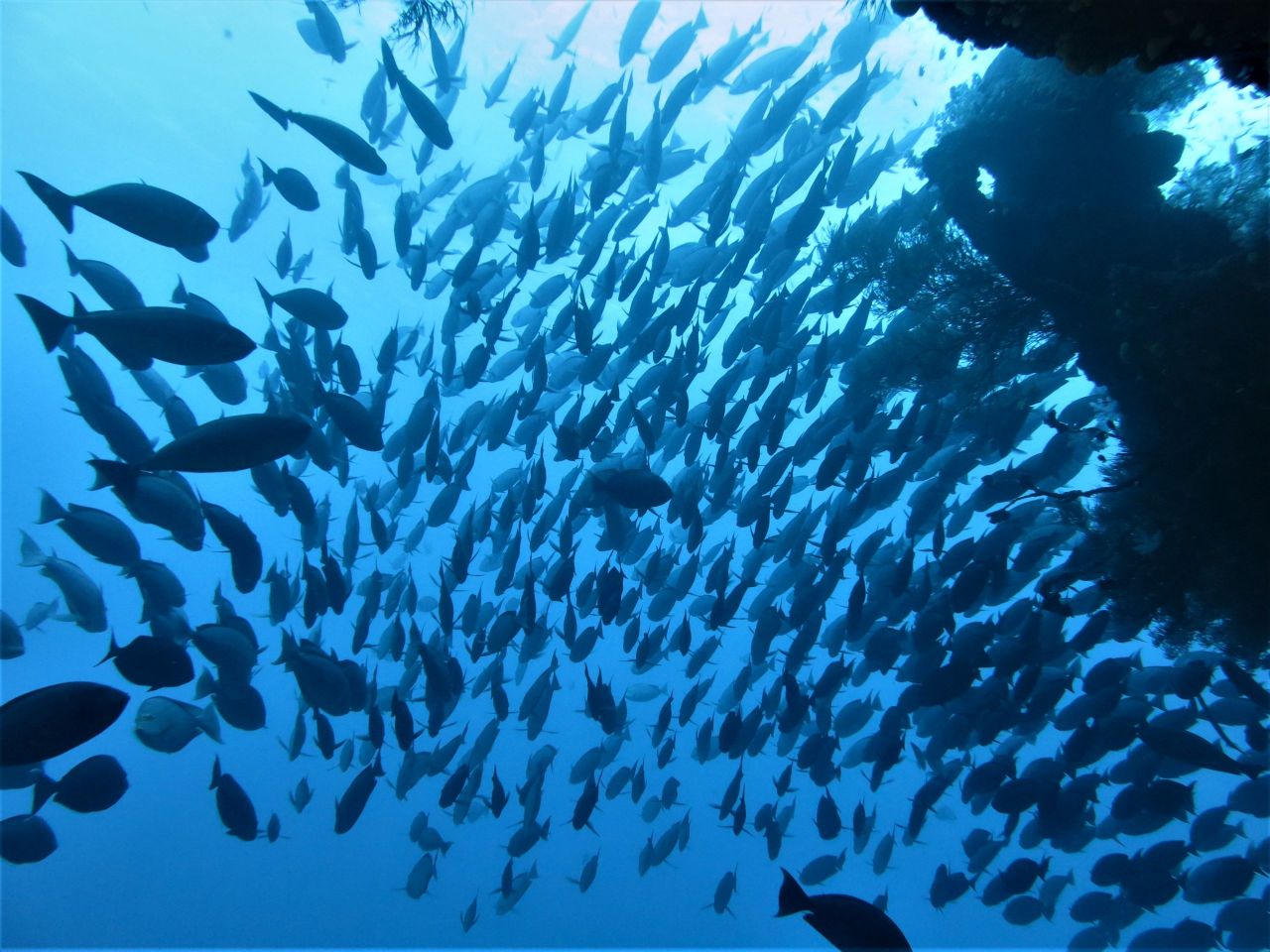 Photo by: Mike
We welcomed guests from all over Fiji at our starting point in Volivoli to join our next big Fijian staycation. This trip included a mix of long time NAI'A friends, new friends and oh yes…one of the owners! We are really enjoying these local trips as are getting to know so many amazing people who live right here in Fiji.
As soon as everyone had boarded we set sail for Vatu-i-Ra to spend the afternoon diving. We completed our check out dive at Howards Diner, whilst those who had recently been diving with us headed straight for some Mellow Yellow action. So impressed with the beautiful soft coral covered corner at Howard's, Big Mo lead the second dive there too, giving our local divers a chance to explore part of the reef they usually don't see.
Some current had picked up at Mellow Yellow so the stunning yellow dendronephthya soft coral was pumped up and we definitely stretched our legs after weeks of not diving trying to kick around to the front of the pinnacle. It felt so good to be back underwater! I was also super happy about the tunicate appreciation from Jessie and Elliot! (FYI Mike got wet, and Abi saw a shark).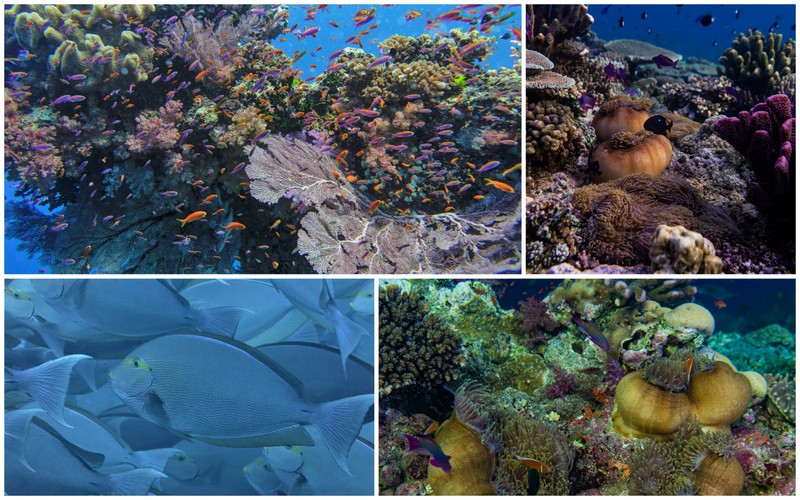 Photos by ( Right to left from top ) : Greg, Greg, Mike, Greg 
Straight after our dives NAI'A began its crossing to reach our next destination by morning – Viani Bay at the far, south end of Vanua Levu. The morning was spent diving on the Rainbow Reef in the Somosomo Straight. We did a couple of dives around the Fish Factory region being dropped either side of the site depending on the current (hey it was around there somewhere guys!). We effortlessly drifted past hard coral crops and bommies, spotting a few white tips, a stream of lunar and blue and yellow fusiliers, longnose filefish, the rare lesser spotted Mikefish (who was following along free diving on the first dive), some huge sea cucumbers (perfect specimens to check out with the torch), and Greg and Gen hung out with a turtle. We basically had to drag Judy away who claimed she was going to just cut and paste the fish book into her log book as she had seen so many species of fish!
Meanwhile; Elliot, Jessie, Alexx and Scott took the kayaks out to explore Viani Bay, and we gained our last member of Team NAI'A Adventure; Mattia who joined us from Taveuni.
After lunch we crossed the Somosomo Straight for a little tour around Taveuni. I will forever feel bad for not believing Mike about the friendly sea krait that came to check us out as we landed the skiff at the shore (I don't know why everyone's first response was not to believe you Mike - never again).After a look at the Catholic Mission and photos at the International Dateline we headed to Waitavala natural waterslide. It being a Sunday meant we got to witness the water slide Fijian Style! The kids were jumping off of rocks, surfing the waterslide standing up and had invented the super tidal wave method of building up the water with their bodies and then releasing it washing the kids down the slide at full power! One of the best scenes was seeing a huge group of Fijian kids get washed down in a big wave of water, then as they were flying out into the pools, Mike and Doug emerging from the centre of the wave! Everyone was suitably impressed as daredevil Jessie leaped off the top rock into the pool!
That evening we cruised between Vanua Levu and Kioa Island to Buca Bay for a sheltered night at anchor. A perfect spot for stargazing after dinner.
The next morning we steamed across to our next destination – Rabi Island. We got to our spot just before high tide, so after a presentation about manta rays we waited for the action to begin. Up on the top deck Molly spotted the first sight of mantas feeding right beside the NAI'A! From then on it was all about patience as the skiff headed out to keep checking on the current at a channel, which at this time of year, is a favourite spot for feeding manta rays.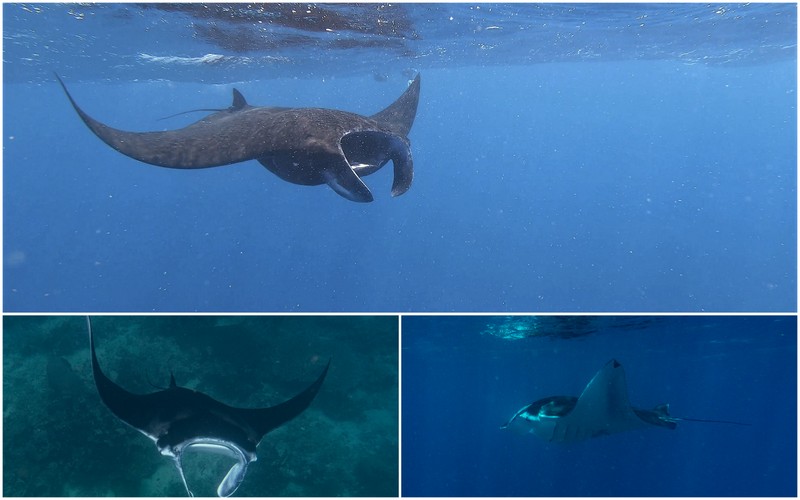 Photos by: Greg 
Finally the current turned and started to run and we got the OK to get suited up, grabbed fins, mask and snorkels and spent the most amazing time hanging out with the mantas! Each skiff would take turns dropping in and watching the mantas as they were busy feeding on the plankton rich water. We would be swept along on the surface in the current, as we would see them effortlessly glide past us in the opposite direction into the current, mouths open and cephalic fins funnelling plankton through their gill rakers. It was such a special experience watching these majestic rays do their thing (but the question is did Doug see any?).
One skiff also checked out Dolphin Bay further along the Rabi coast, and whilst there were no dolphins, there was some nice snorkelling and tonnes of Christmas tree worms (I have renamed it Calcareous Polychaete Tube Worm Bay…maybe not so catchy though).
After our manta madness we headed back for another dive on the Rainbow Reef at The Ledge where everyone enjoyed a pleasant dive with great viability and a gentle current. It was exciting to see some pyramid butterflyfish and Judy pointed out an octopus (which Mike missed) (and yes Mike got wet, and yes Abi spotted a shark).
That night we travelled across to our furthest point, the stunning atoll of Wailagilala, the most northern island of the Lau Group. We spent the day exploring the islet and diving, snorkelling, paddle boarding and kayaking in the picturesque sheltered lagoon. We did a couple of exploratory dives in the channel and found a huge cabbage patch of turbinaria coral. We explored the reef wall and shallowed up to the hard coral reef tops.
Team NAI'A Adventure walked around the island to the sand spit, Elliot, Alexx, Renee and Lenore headed off around the islands in kayaks; Judy of course took off snorkelling (and found the picasso triggers); Abi and Doug chilled on the beach; Mattia, Mike and Scott tried out the paddle boards but it turns out that Gen and Greg are secret SUP experts so became our paddle board models for Marks drone shots! It was hard to blame the wind and current when they were making it look effortless! (Jessie and I actually snuck back to the island for a little SUP practise later in the day).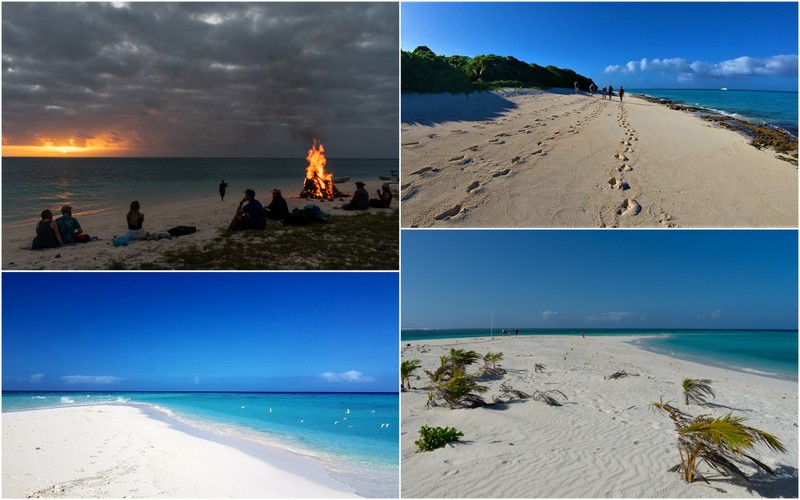 Photos by ( Right to left from top ) Greg, Scott, Abbie, Greg 
Some of the team headed back for sunset drinks and bonfire on the beach, and were treated to some "local entertainment"!
The next day of adventure was spent in the Ringgold Isles archipelago. As we arrived, some of the crew jumped off at the village on Yanuca for a sevusevu before we continued to the island of Cobia. As we were waiting for high tide to access the shore, we headed off for an exploratory dive on the outer reef. We were met with amazing visibility and fantastic topography with a deep drop off to one side and channels between pinnacles on the other. We explored in and out of the swim throughs shallowing up to end the dive on the hard coral covered pinnacle tops hanging with a turtle. Big Mo, of course spotted a Pontoh's pygmy amongst the halimedia (we are sure he keeps one in his bcd pocket), there were white tips, fusiliers, clown triggers (Abi's mystery fish) and the most colourful giant clams! (and yes Mike got wet, and yes Abi spotted a shark!).
After breakfast we jumped on the skiffs and headed to the shore to start our hike up to the summit of the crater and along the rim. We worked our way through the forest and vegetation led by Vernon and Joka (Vinaka to all the crew who went out to recce the path and clear the trail). Luckily we had a professional geologist, Abi, with us to explain all about the rock formations!
The views down into the crater lagoon were just spectacular. The crater itself is over 500m deep (maybe way deeper as that's as deep as they have been able to measure - did we decide the perfect spot for a combined exploratory tec diving and freediving camp Mike?). Unfortunately the island goats were hiding from us, but we watched as hundreds of fruit bats flew in and out of their roosts in the trees.
Once we descended to the end of the crater we hopped into the skiffs to a beach to pick up our kayaks and paddle boards and cross the sunken volcanic crater and out around the outside of the island to a golden sandy beach. Looking around at the surrounding island whist in the middle of the lagoon was just stunning (although risky to do whist balancing on a paddle board…no one saw you Alexx!) Judy being Judy snorkelled her way out and around, and Renee enjoyed her very own private skiff tour with Sly. Mike challenged himself to paddle board all the way back to the NAI'A – which led to Mattia, Gen, Greg and Scott not wanting to be outdone!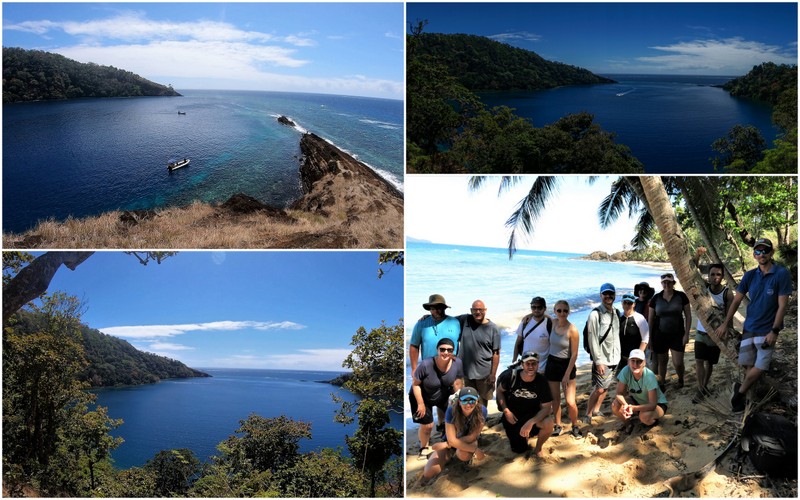 Photos by : Mike 
After a late lunch we started our journey back west, stopping off in the sheltered Matei Bay for sunset drinks and dinner, then onwards to awake in Namena Marine Reserve for a full day of stunning diving!
Back in our beautiful Bligh Waters we started the day off in the South Save-a-tack Passage of Namena at Tetons 1 and 3. At Tetons 3 we dropped down and checked out the ribbon eel, then worked our way around the deeper pinnacles finding a peacock shrimp and Mattia spotted an active little Schultz's pipefish. Over on the larger pinnacle we circled and shallowed up amongst the schools of anthias and fusiliers, spotting brown banded pipefish and hanging with the anemone fish on the top. Over at Tetons 1 were the square spot anthias, decorator dart fish and trevally darting in and out of the schooling haze of anthias.
Next we moved to the North Save-a-tack Passage for the next two dives at Grand Central Station and Kansas. With some current running the redtooth triggers, grey reef sharks, barracudas, jacks and dog tooth tunas were hanging out in Scott's happy place, on the ledge just at the drop off of Grand Central Station. Back up in the arch area were the gang of flame hawkfish and palette surgeon fish (Dory). Mark (a.k.a. The Flash) attempted to navigate to Kansas but got distracted by a huge marbled stingray…he did however make it there on the second dive.
Over at Kansas the sinularia soft coral was wafting in the current looking as beautiful as ever! Jessie and I had a great time spotting pipefish everywhere (Schultz's, network and brown banded – yes I have an obsession), starfish, and the disappearing moray!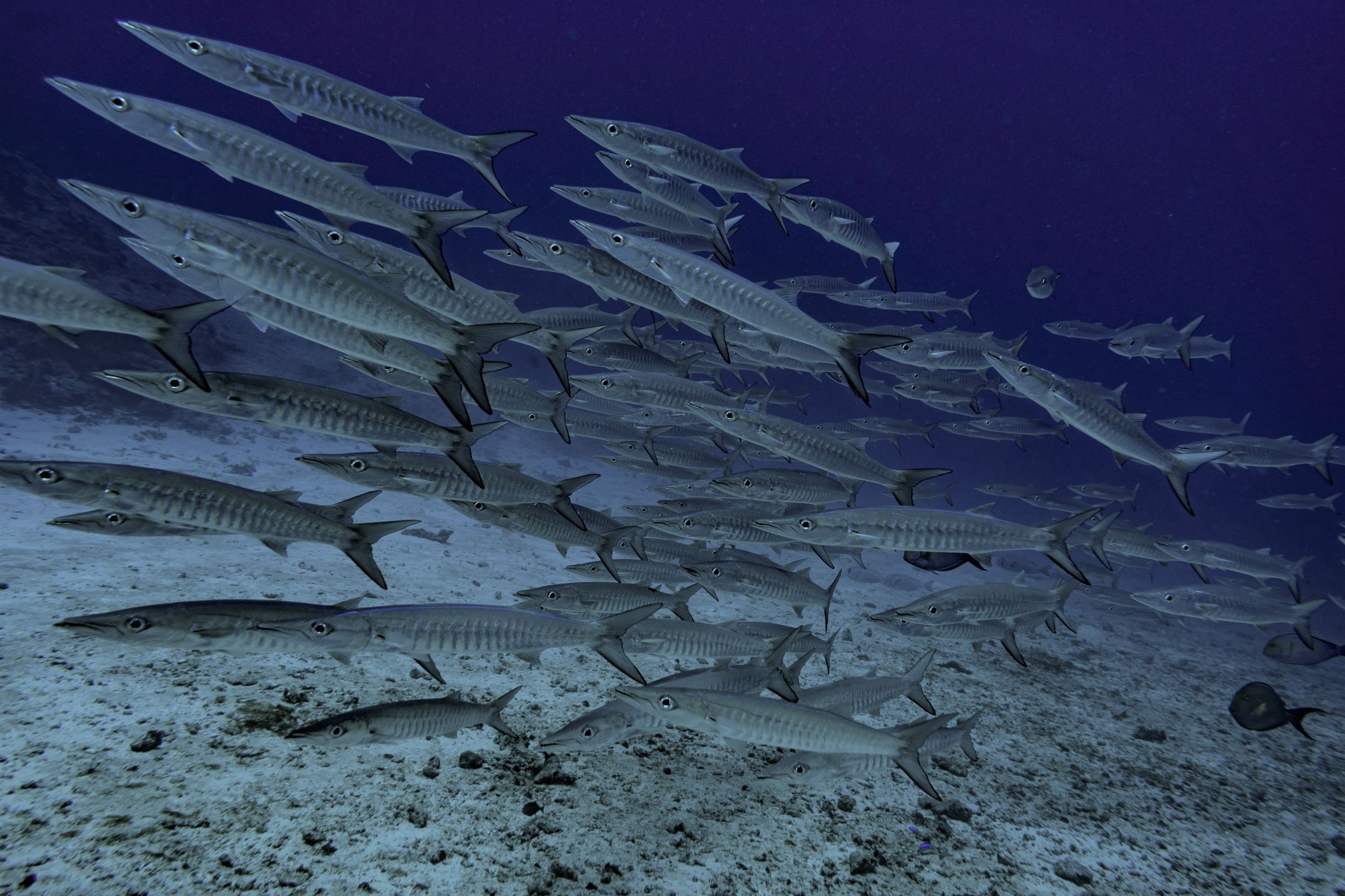 Photos by: Greg 
We then moved back south to end the day switching sites at Tetons 1 and 3. Scott found his orangutan crab friend on a patch of bubble coral, and Lenore tried her very best to get a photo of a chubby little crinoid clingfish! (3 out of 4 dives Abi spotted a shark, 5 out of 5 dives Mike got wet).
After dinner (and two chocolate puddings for some) Mike, Molly and Greg headed out for a night dive in Namena lala bay. Mike got an awesome octopus video…and then got inked. Meanwhile Doug (a.k.a. Chief of Labasa (?)) spent the evening (like most evenings) working on his Fijian (good words taught by Anna, not so good words taught by Joka!).
For our last day of diving we started off at Cat's Meow and Humann Nature where the brisk current meant we were treated to stunning schools of fish! At Cat's the surgeons and unicornfish were out in their hundreds! At Humann Nature it was raining anthias! However as we returned from the dive, the easterly wind had picked up so after breakfast we headed along the top coast of Vanua Levu to find a spot a little more sheltered from the pesky wind!
We made it back to Nanau – i – Ra where we anchored in the channel and the skiffs headed out to The Maze and Wedding Chapel where everyone wound in and out of the channels, finishing up on the hard coral covered top reef. Still a pretty brisk wind we moved closer into land so for our last dive we ended up exploring along the sand spit and shallow reef at Volivoli. Mike and Molly found a swimming upside-down jellyfish, a big shrimp and baby shrimp riding a sea cucumber, and Scott found a strange double tailed nudi!?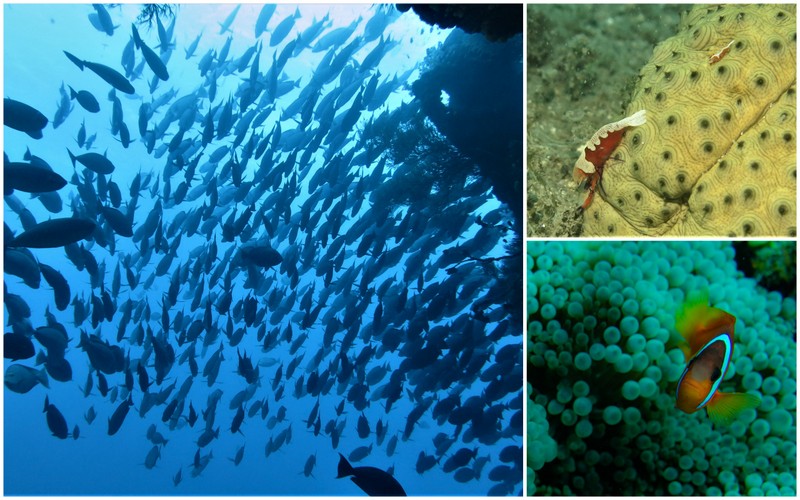 Photos by: Mike & Greg 
After an amazing last dinner (Vinaka vaka levu na kakana Chef Vili), we ended the trip with a kava party, hanging out with the crew and singing songs and enjoying a bilo or two of kava around the tanoa.
What an epic first NAI'A Dive and Adventure trip. We are excited to have made more local friends and extended the NAI'A Family! Such a fun week, full of laughs…where we clarified that Dad jokes are the best and yes Mike you will get wet!
The week seemed to fly by, but we did so much…mantas, hikes, kayaking, paddle boarding, beach walks, snorkelling, diving…and eating lots! Together we voyaged through Bligh Waters, the Somosomo Straight, around the Ringgold Isles, and into Northern Lau. Vinaka vaka levu Team NAI'A Adventure for sharing these amazing experiences with us! Come back for the next adventure!
(Note, for whoever asked me the difference between islands and cays – an island is a piece of sub-continental land, an islet is a small island, and a cay or a key is an islet formed by the accumulation of sand or coral on top of a reef.)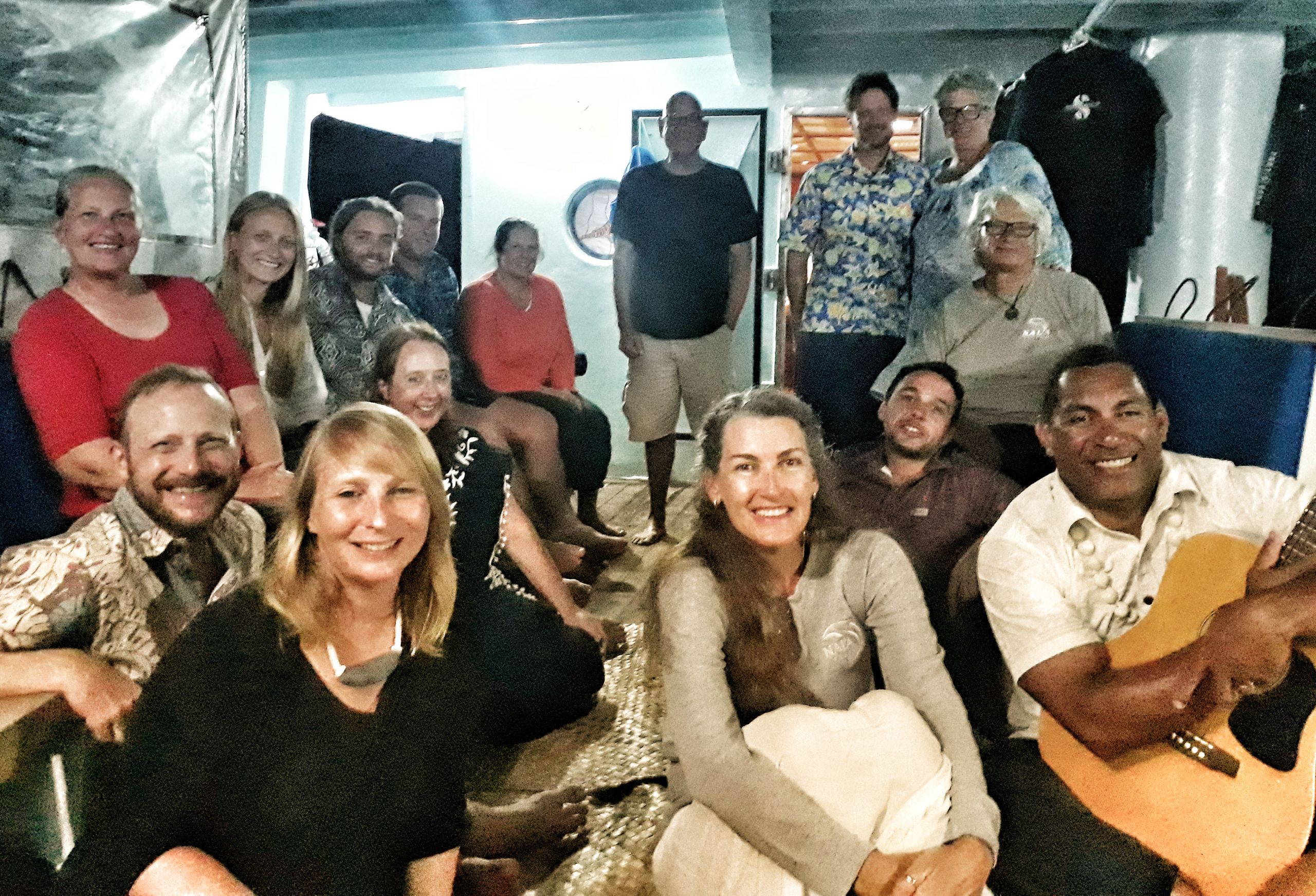 Comments
"Thank you to everyone on NAI'A who makes NAI'A what it is – an exceptional operation and a gateway to underwater wonders. What a fantastic crew! Thanks for an incredible life experience!"