...and a Pygmy in a Pear Tree!
Destination: Fiji's Bligh Waters
Trip Date:
Nov 30th - Dec 7th, 2019 -
Comments
Author: Jemma & Scott
Congratulations: Jean on her 100th Dive!
Our last trip before Christmas we were joined by a very merry group from Goose's Scuba Shack, Chicago, USA plus guests from the Netherlands and the UK. Everyone on the charter was new to NAI'A and we feel so privileged to have the chance to welcome them into the family and show off our beloved reefs to Fiji first timers.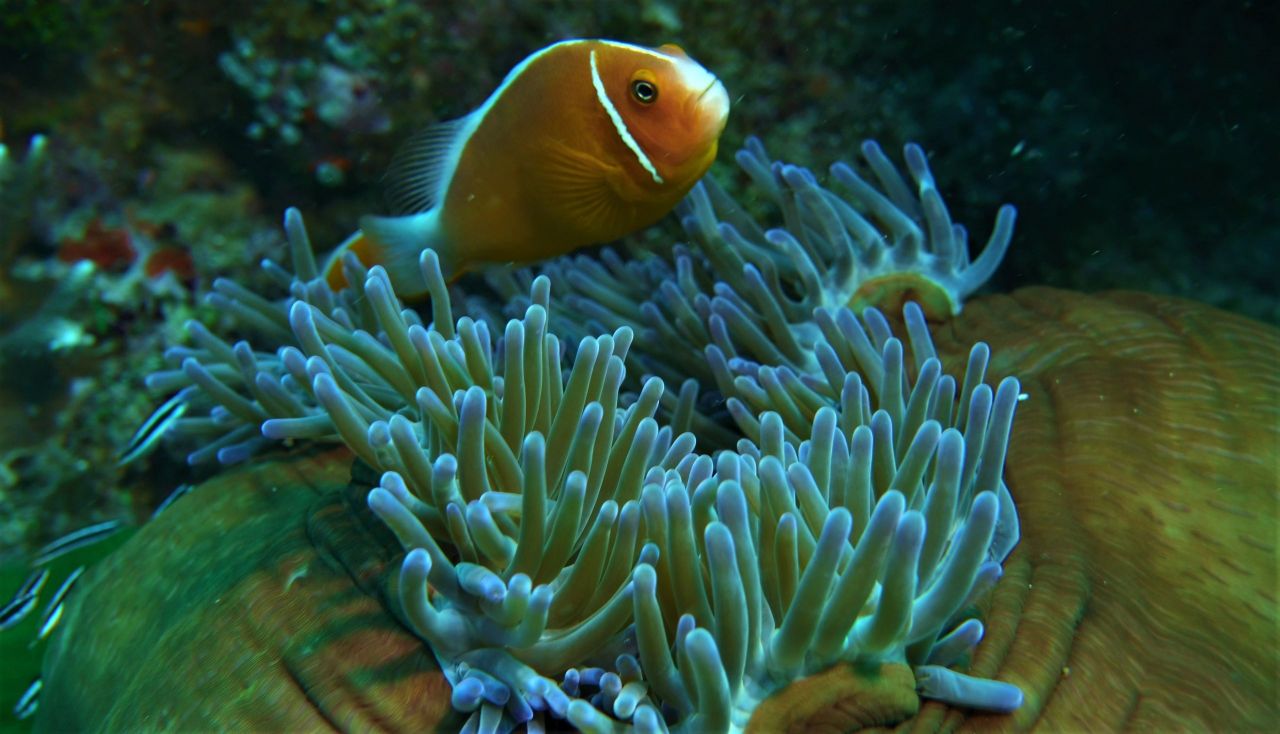 By Nick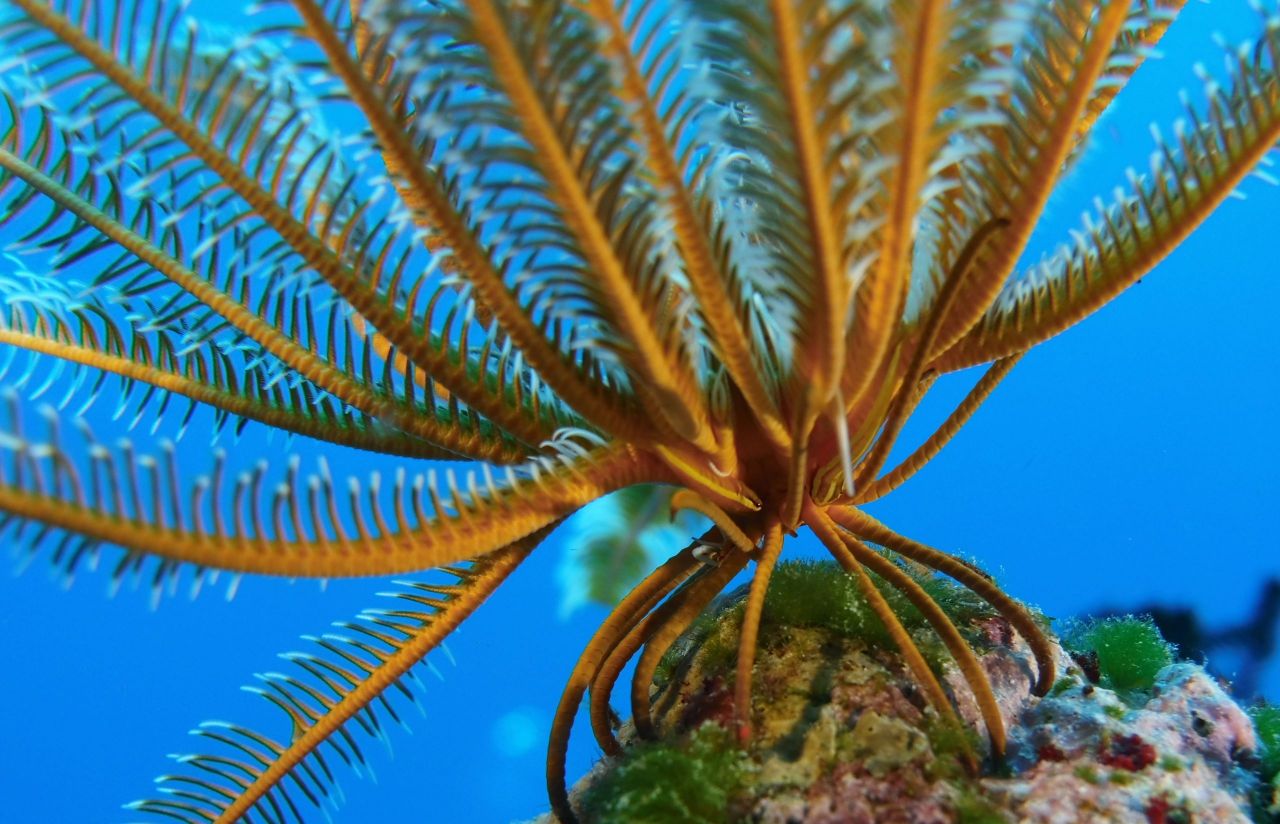 By Brenda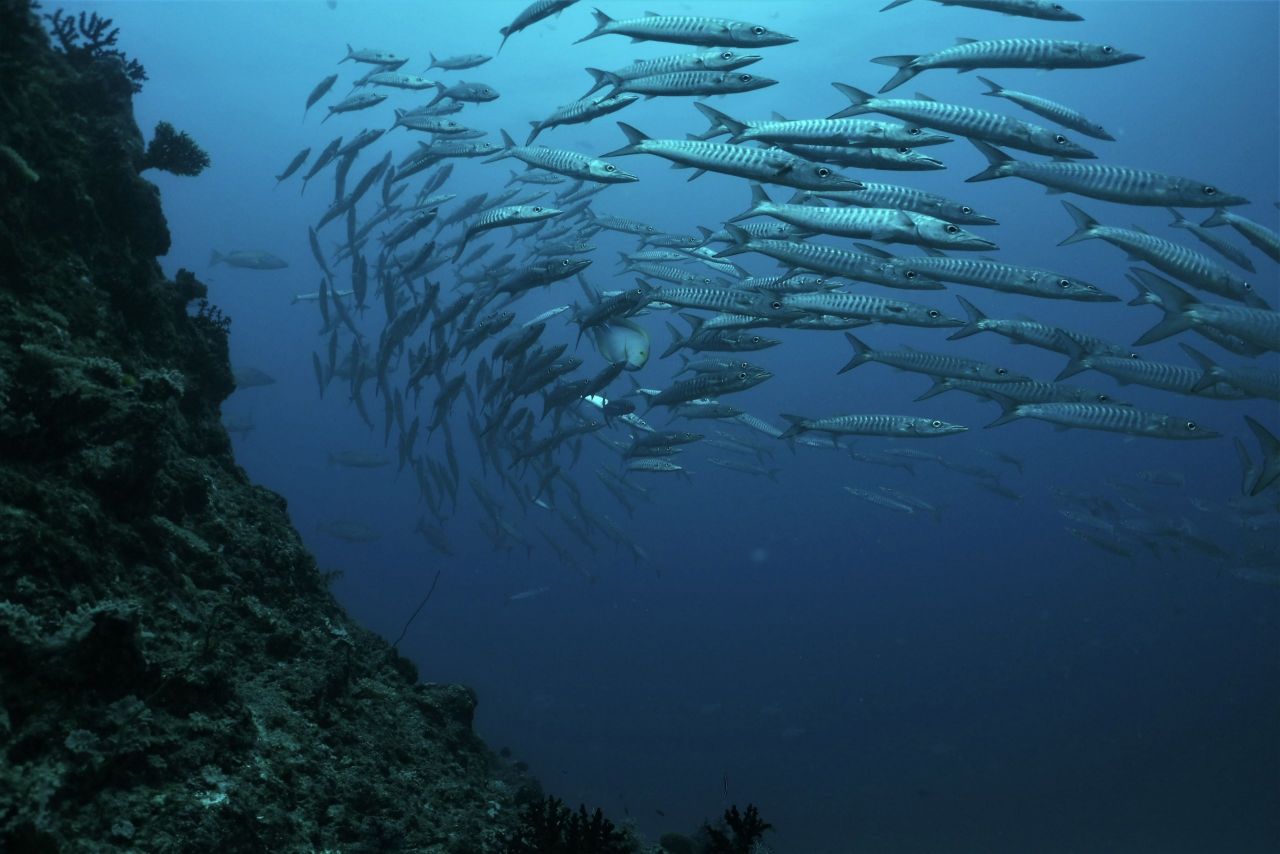 By Doug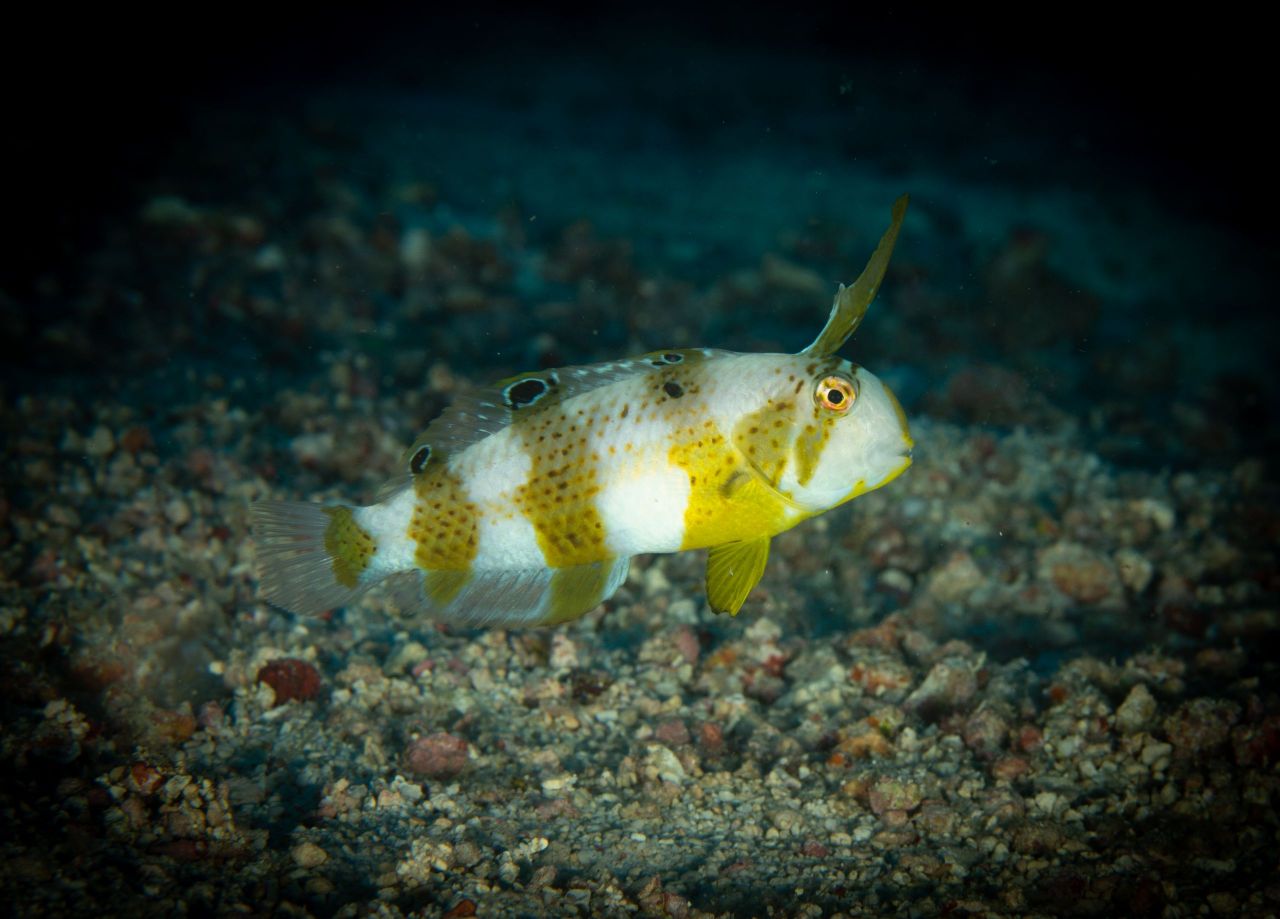 By Patrick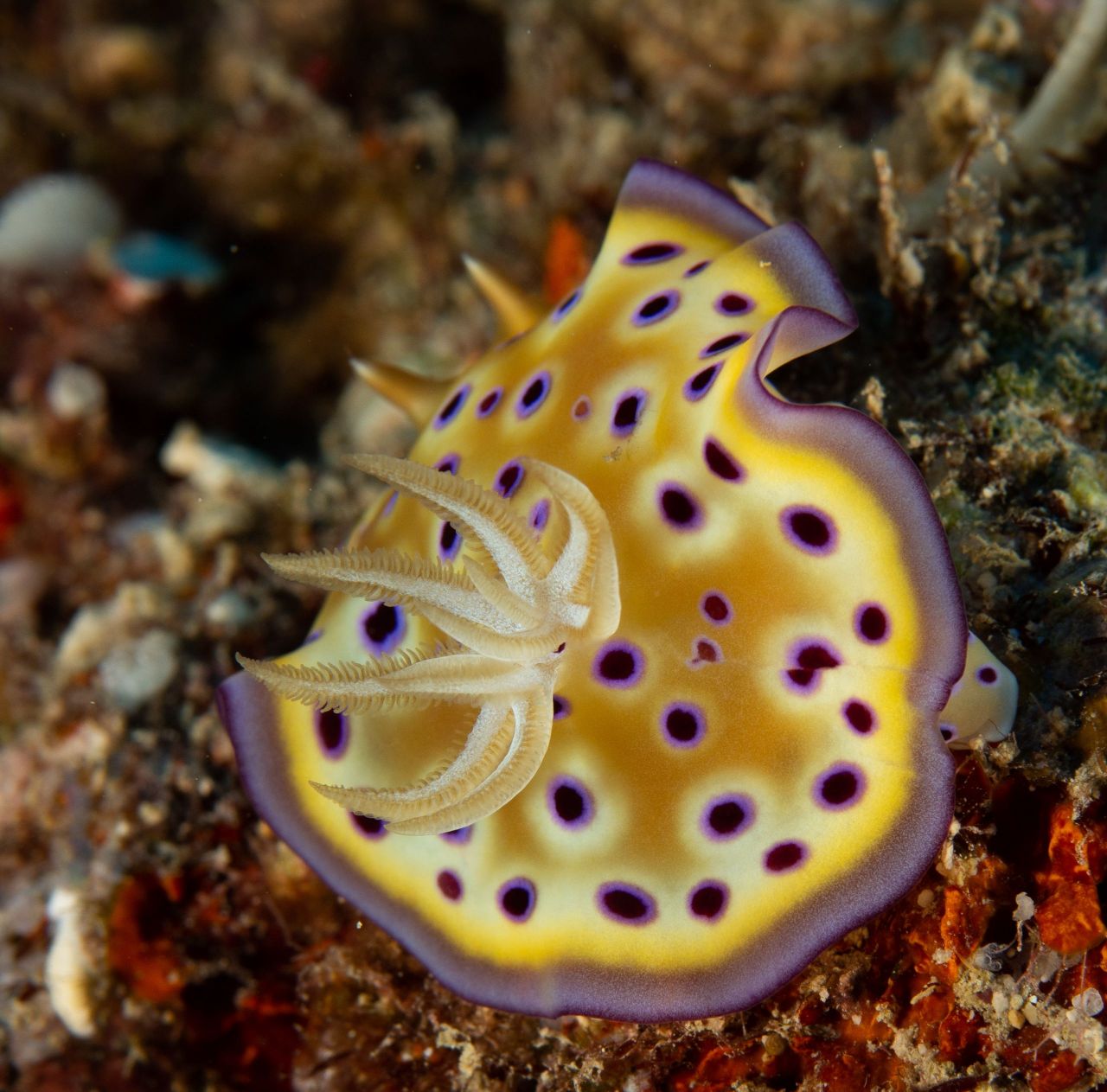 By Patrick
After the check-out dive at Samu Reef, people were already claiming how beautiful the Fiji reefs are….oh just you wait guys!!!
That night we had a super calm crossing to Vuya where we started off at Humann Nature and Cat's Meow. Humann Nature stunned as ever with the sheer amount of life including a visit from a green turtle. At Cat's Meow Scott found the pontoh's pygmy playground finding five!!! Big Mo matched his five pygmy's and raised him a halimedia ghost pipefish (!!!). Both sites popped with colour swarming with anthias, damsels and fusiliers in their thousands.
That afternoon we enjoyed dives in the UndeNAI'Able region finding all sorts of nudis including flabelinas, chromodoris, blue dragons and phyllidias. We had coral hermit crabs, squat anemone shrimps, longnose filefish, scorpionfish and whitetip reef sharks, as well as schools of fusiliers and a HUGE school of barracudas as we hung out on our safety stop.
Our super enthusiastic divers this trip meant we sent out TWO boats on the night dive, the UndeNAI'Able reef is a beautiful site at night and Big Mo found another three pontoh's  pygmy seahorses AND a hairy ghost pipefish!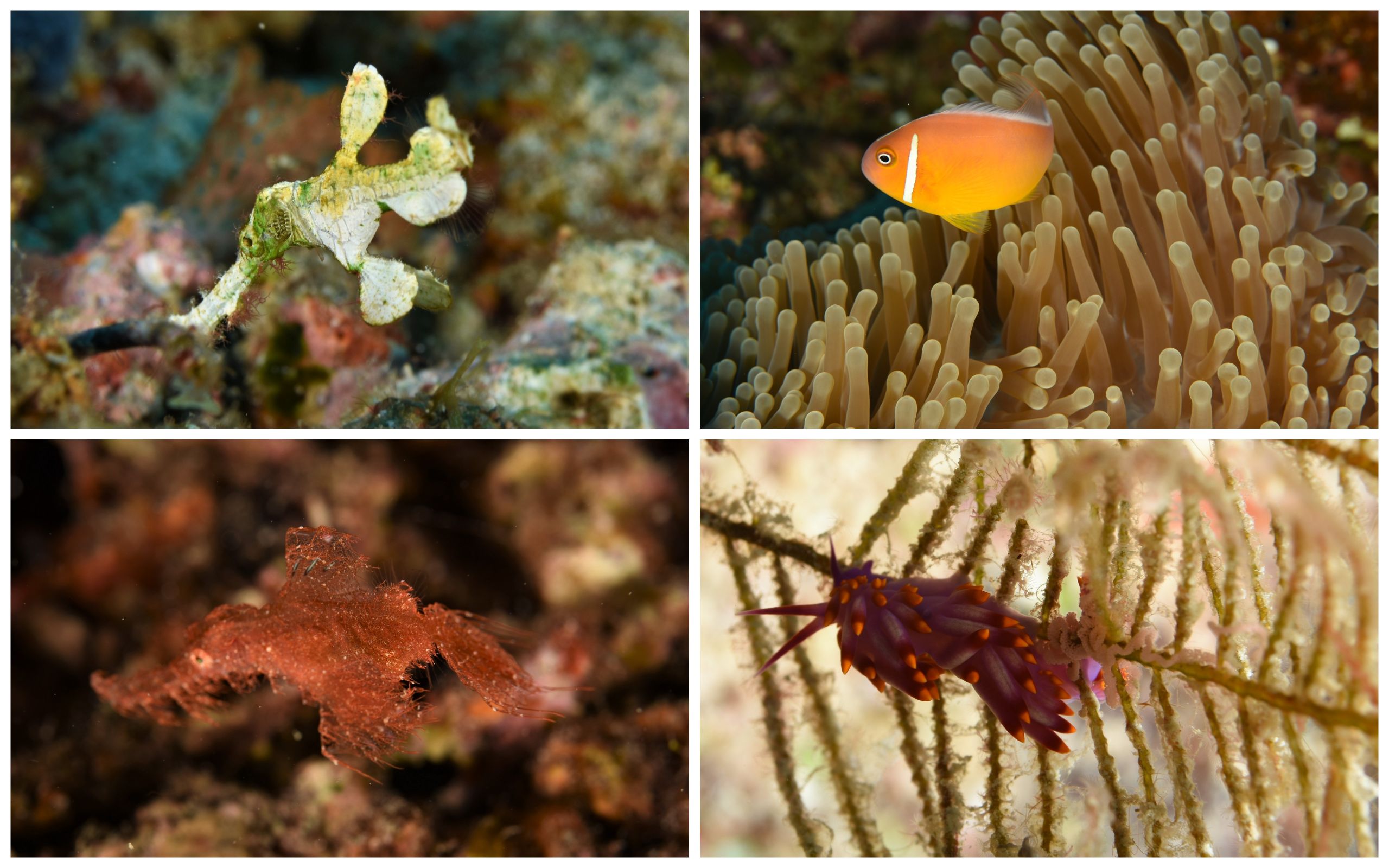 Photos by: Ron 
Another easy crossing overnight across Bligh Waters to begin our morning diving on the North side of Namena at the deep wall sites at Grand Central Station and Schoolhouse. Here we were greeted by grey reef sharks and huge schools of barracuda, snappers and jacks. It was interesting witnessing a strange behaviour…the jacks were rubbing up against the grey reefs...we just couldn't figure out if they were using the sharks rough skin for a good scratch, or if they were actually chasing the sharks off!
At Schoolhouse whilst cruising along the wall watching the silhouettes of grey reefs above, Jemma's group were lucky enough to be joined by a scalloped hammer gliding past a couple of times, and as we drifted over the top reef we hung out with a HUGE napoleon wrasse. The current had picked up on the second dives of the day which brought out the big schools and took us all for a ride to earn our (second) breakfast that morning.
Over on the South side of Namena, Tetons 1 and 2 impressed everyone as we circled the pinnacles, shallowing up to the top in awe of the amount of life. Nudis, unicornfish, anthias of every type, flame hawkfish, Fiji anemone fish, super cute porcupinefish and a very serious looking hunting barracuda on the top of Tetons 1. It's such an amazing site gazing up the side of the tall Tetons seeing the teeming fish dart in one direction then another in unison as the bluefin trevally cut through the schools hunting. Richard described the pinnacles perfectly by saying it looked like the crayon box had melted and all the colours had merged together.
That nights Kava party was a particularly rowdy one with singing, dancing (thanks Lesley) and so so many tsunamis …all together now…BULA clap clap clap! Tsunamis seemed to flow most nights (at least with Richard aptly nicknamed the Kava King by the crew) with unofficial sing songs and dancing all week long. These young ones just can't handle it, isn't that right Lesley?
Our second day at Namena was as good as our first. There is a reason we spend two days in this beautiful marine reserve.
When you are heading out under a rainbow, on calm waters towards your dive site escorted by a friendly pod of pilot whales…you just know life is good. This, followed by incredible dives at Two Thumbs Up and Tetons 3, makes for a magical way to start your day. The haze of purple, white, yellow, pink and orange composed by a combination of beautiful pumped up soft corals and swarms of fish is just breath-taking.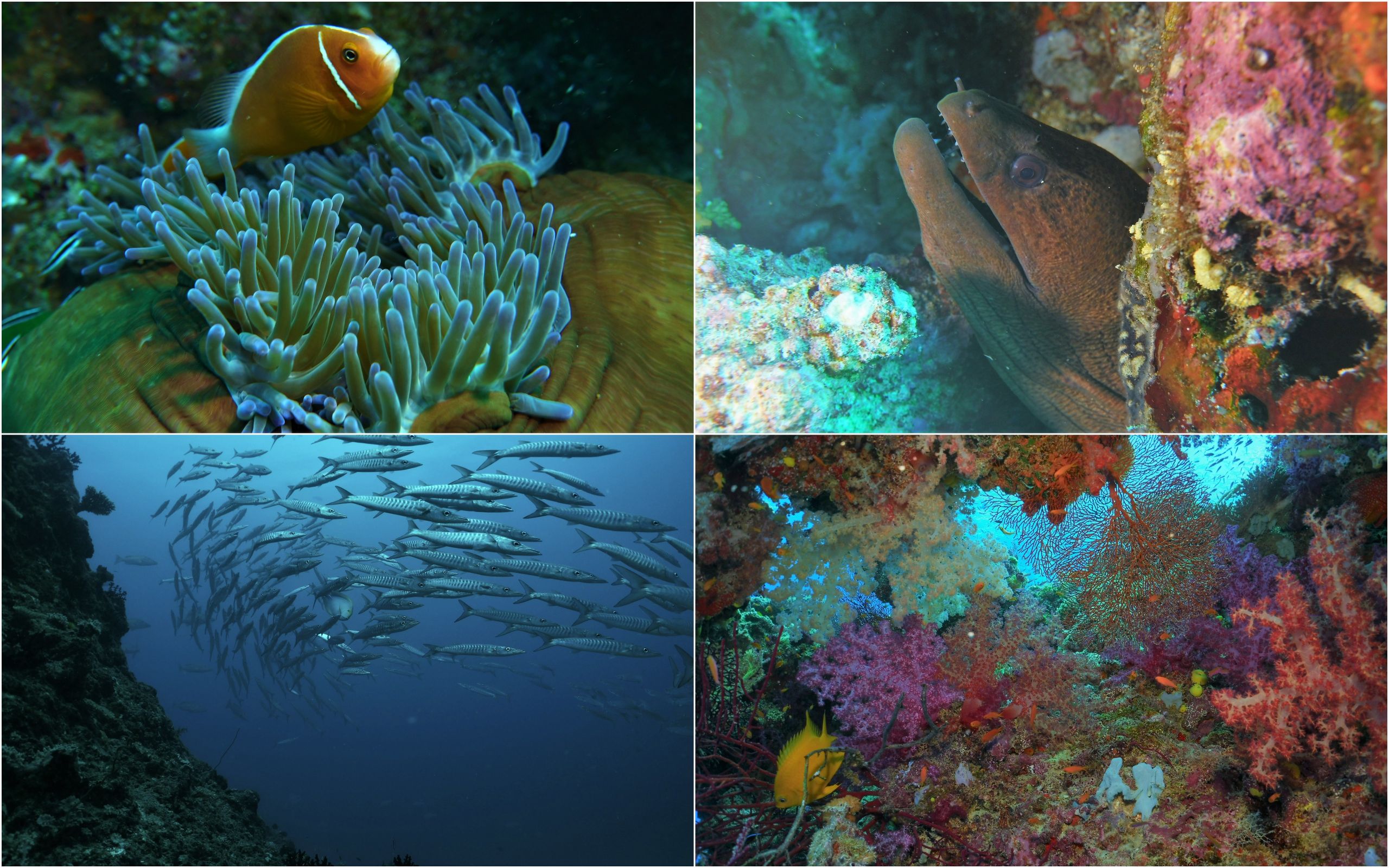 Photos by: (Top) Nick (Bottom) Doug 
Then it was back over to the North of Namena for two more dives. At Kansas we were dropped in right on top of a HUGE marbled stingray resting in the sand and had plenty more pontoh's pygmy seahorses and thanks to Big Mo's directions Jem found them for her group also! Flabellinas, pipefish and a giant moray were also some highlights. We were joined by a hawksbill on the safety stop and the field of wafting sinularia soft coral on the top of the pinnacle provided the wow factor. At one point an eagle ray had flown past us at Kansas and headed over to the other group at The Arch…not that they needed such a treat as had been just hanging out with a school of scalloped hammers (Ron counted 11), plus huge schools of barracudas and snappers!
During our night dive, everyone explored around the sheltered Namena Bay finding octopus, crabs, shrimps, snakes and feeding corals.
The next day we awoke at Wakaya and spent the day diving the wall. Whilst we saw napoleon wrasse, turtles and leaf scorpions, the mantas stole the show with I think everyone seeing one on at least one of the dives! Some epic first time manta experiences had by many!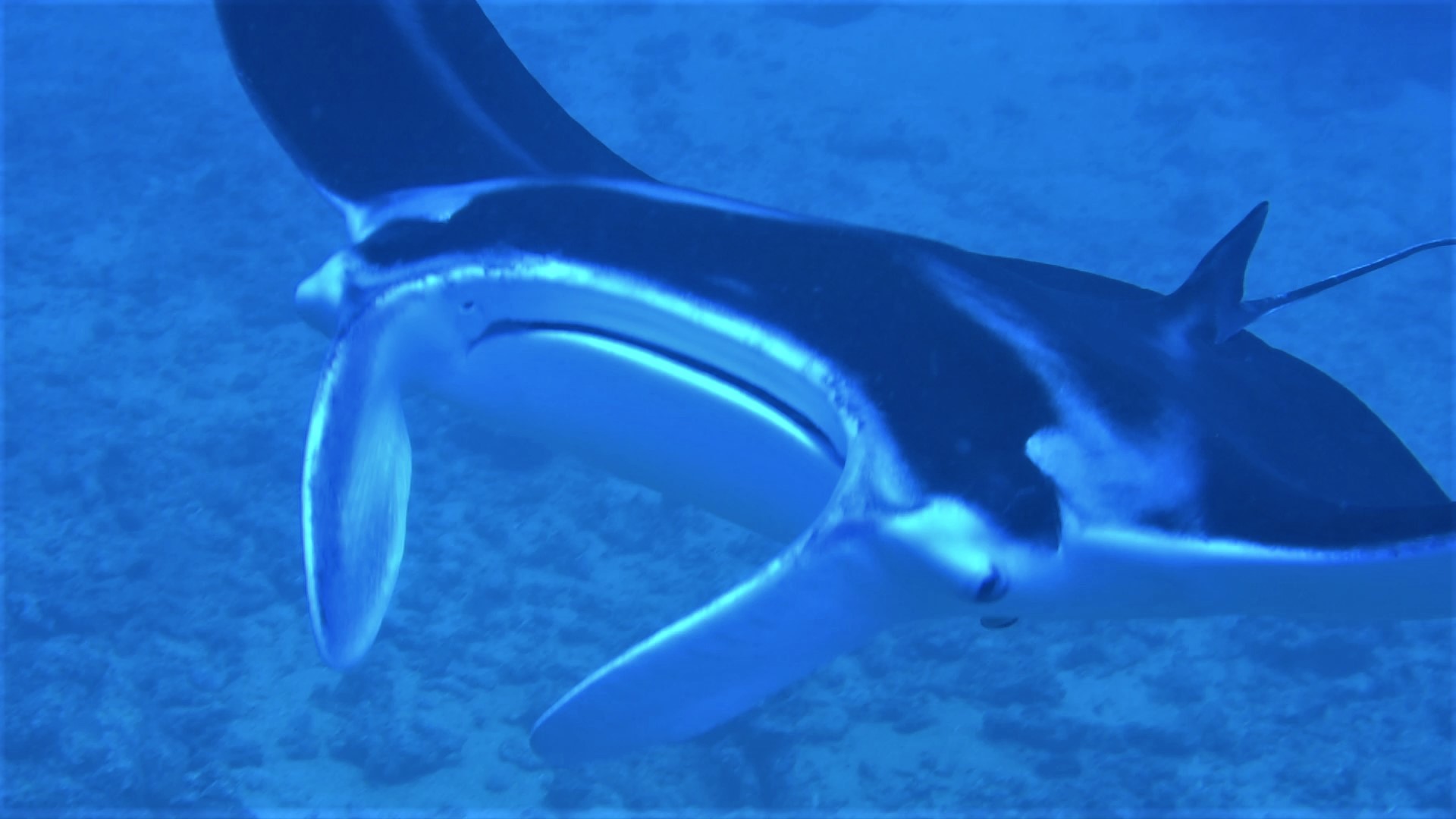 Photo by: Patrick 
Overnight we travelled down to the island of Gau. After a pretty chilled dive at the Nigali Passage with the wall of bigeye barracudas, jacks and a few sharks…we were all blown away by our next two dives at Anthias Avenue and Jim's Alley. As we headed out on the skiffs the surface was like glass and the amazing visibility that awaited underwater was INSANE! The deep purple and red soft corals were out and we lost count of flabellinas feeding, mating and laying eggs on the hydroids. Anthias Avenue was true to its name with adult and juvenile magenta slender anthias in their swarms and every kind of anemone fish! The top of the reef was buzzing with all kinds of sounds; clicks, scrapes, grunts and croaks! The lucky group at Jim's even had a bonus manta fly by!
That afternoon we were welcomed onto Somosomo beach with the biggest Bulas and Tom gave us a great tour around the village with Nick, Rob and Hedwig getting whisked away by the kids! We were treated to beautiful hymns, traditional songs and very lively mekes as the kids were back from school for the holidays so joined in, especially the warrior mekes with the young Fijian lads joining in. It ended with the beautiful farewell song Isa lei bringing Lesley to tears!
Back on board followed a lively evening of sorting photos, fish identification and a serious game of what looked like Uno with dice??? Meanwhile the Kava King Richard was back on the tsunamis!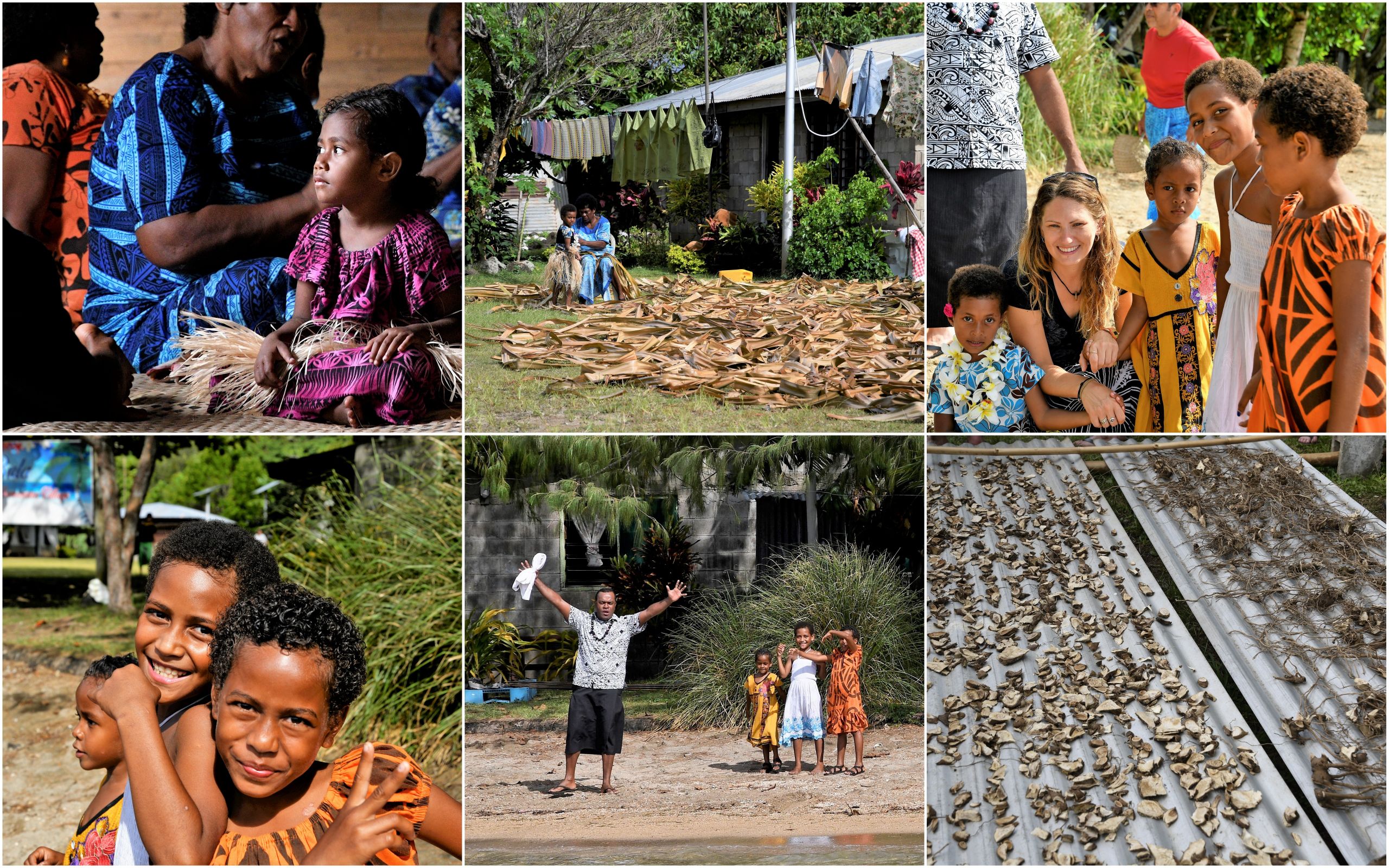 Photos By: Brenda 
Our last dives were spent at Vatu – I – Ra where we hit some of our favourite sites Coral Corner and Mellow Yellow. The yellow dendronephthya soft corals were pumped up at both sites and we were just immersed in fish! Big Mo found a bright yellow robust ghost pipefish at Mellow Yellow and Scott found a bright yellow leaf scorpion at Coral Corner. Jean was joined by a hawksbill turtle as she celebrated her 100th dive at Mellow Yellow which was just the icing on the cake. It was a sad sight to see Doug waving goodbye to the reef as he left to surface…but remember in Fiji it's not goodbye…just Isa Lei!
That afternoon we had a nice calm sail back to Lautoka and that evening we enjoyed a slideshow of some of the amazing shots taken by our many photographers this trip and relived the manta ray encounters though the videos taken (thanks Patrick, Doug, Ron, Brenda, Rob, Nick, Paul and Rich for sharing).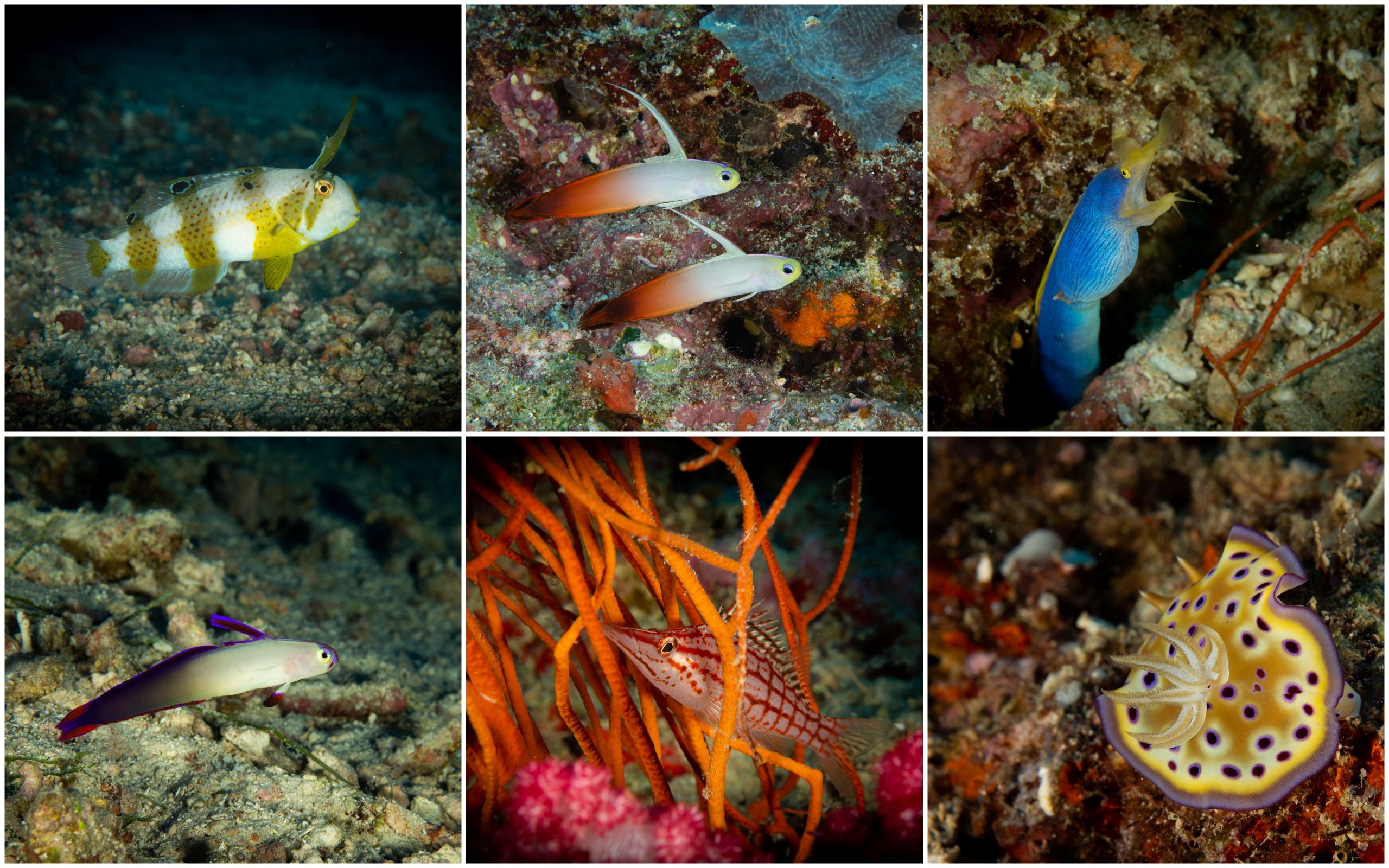 Photos by: Patrick 
Another rowdy evening of dice (you don't need to know how many shots were on your invoice Scott)….and tsunami's for the Kava King.
Thank you all from team Goose's Scuba Shack (Doug, Brenda, Richard (Kava King), Patrick, Paul, Nick, Rich, Jen, Scott, Jean, Jeff, Ron and Christine), plus your adopted three (Hedwig, Rob and Lesley), we had a great week on NAI'A showing Fiji off to you all! Have a very Merry Christmas and come back to see us soon!
This time the SPECIES OF THE TRIP is the Pontoh's Pygmy Seahorse (Hippocampus pontohi). Reaching a maximum recorded height of 1.7cm it is one of the smallest pygmy species discovered. The Pontoh's is also known as the Weedy Pygmy Seahorse and is notoriously hard to spot as camouflages with halimedia algae and hydroids. Like other Hippocampus species these tiny seahorses are carnivores and feed on crustaceans and other plankton. Seahorses pair for the entire breeding season (possibly for life) and meet each day to reinforce this bond. The males brood the eggs in their pouch and give birth to live young known as fry.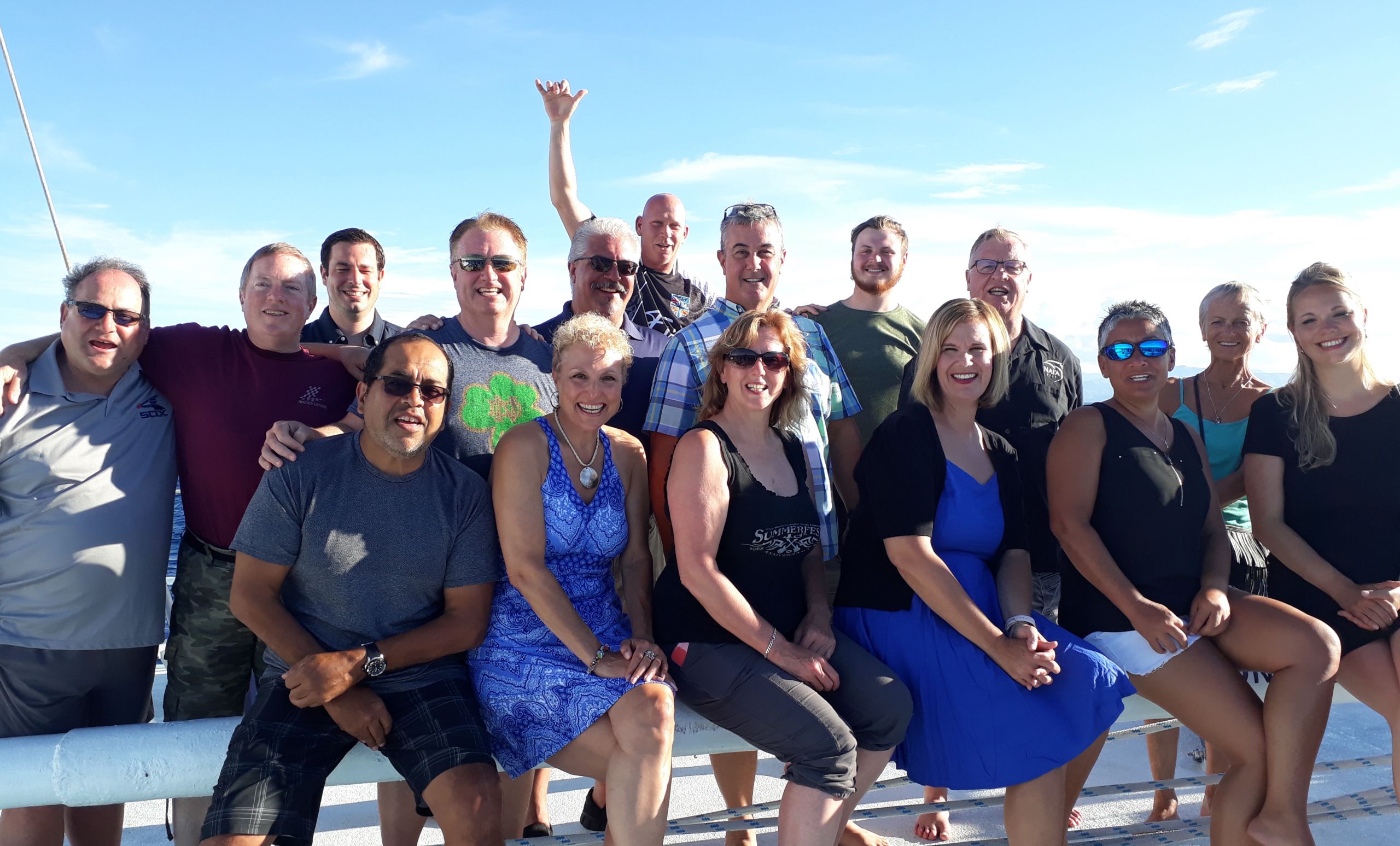 "Thank you very much for this wonderful trip. Dear NAI'A crew, you're the best. Every single one of you. We travelled to the other side of the world, but you made us feel like home." Hedwig & Robbert
"Thank you for the wonderful experience, the warm welcome, your wonderful crew, best dive trip I have ever had" – Nick
"Dive sites are fantastic, crew is amazing" – Patrick
 "Thank you, Vinaka for a great experience. The most beautiful thing of the ship were the smiles and wonderful spirits of the crew. Diving was awesome too" Brenda
Comments
"Joann & I had a remarkable experience here in Tonga! Our diving trips mostly entail liveaboard boats and this one was the best yet – great crew & great food! You are fortunate to have the ownership in place to allow you to do it right! We won't easily forget our "Whale Week" on NAI'A – it's a once-in-a-lifetime gig!!"