Bring on 2023!
Destination: Vatu-i-ra, Sea Mounts, Wakaya, Makogai, Namena, Vuya
Trip Date:
Feb 18th - Feb 25th, 2023 -
Comments
Author: Bel & Mike
Welcome Back: Renee and Judy 2!
Congratulations: Renee, for her hammerhead!
We are back, and so very glad about it!!! Vacationing is nice, but nothing like coming home to the gorgeous reefs of Fiji. Due to some last minute cancellations, we had an intimate trip with seven guests, who enjoyed the 13 crew there to serve them! Namena was an great as ever, Bel saw her first Bobtail Squid in Fiji and a pod of Pilot Whales decided to get close and personal with our group. Not a bad start to the year!!
We welcomed back Judy 2, one of our most frequent Fiji residents, and Renee, who left Fiji but needs her dose of NAI'A and Fiji's underwater scenery every so often. We had a lot of rain on the days leading to the trip and some roads in Judy's neighborhood were flooded…  but she wouldn't give up that easily! She hitchhiked with a 26-wheeler truck and made sure she was in Lautoka in time to board NAI'A. It had been far too long…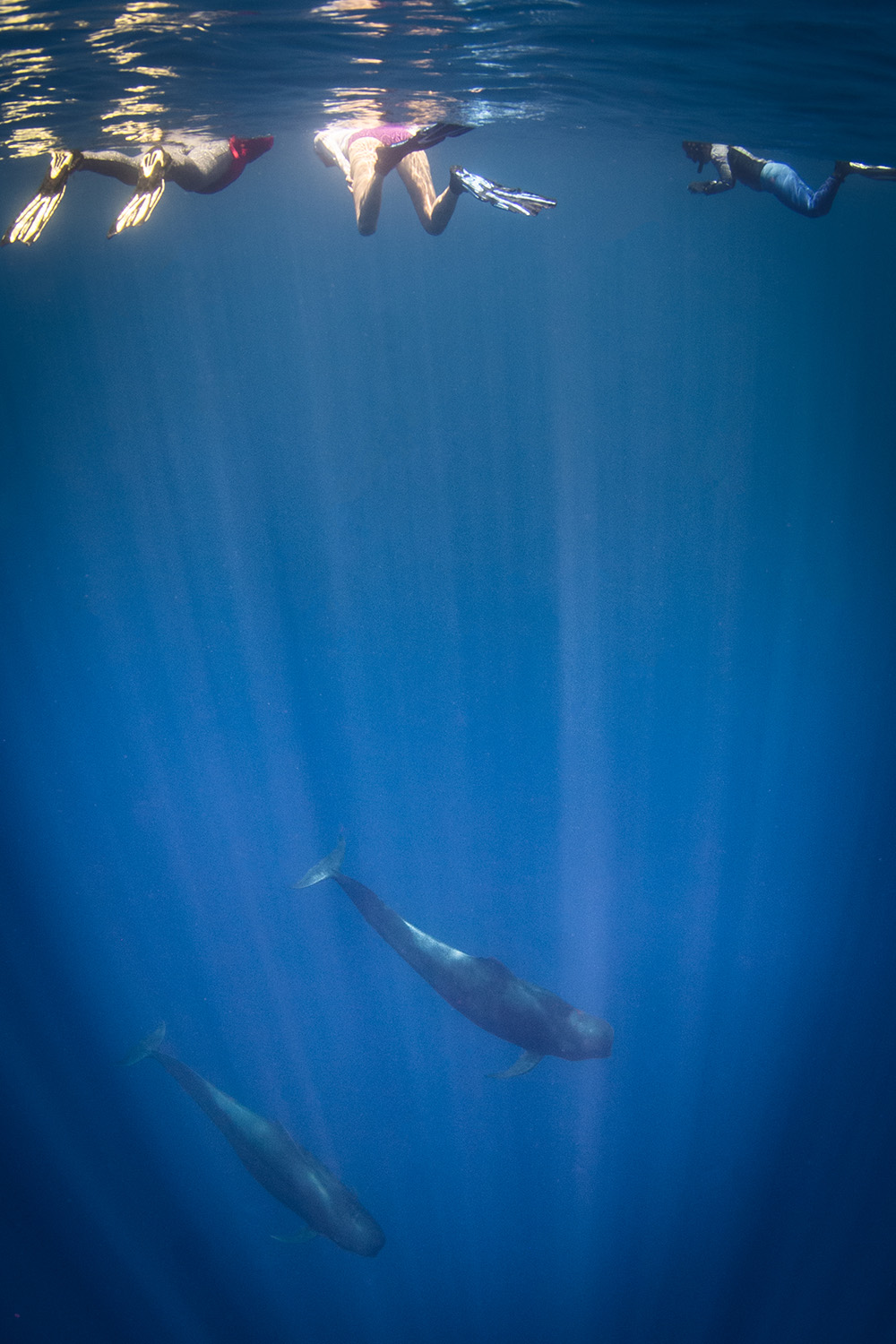 Photo by Francesca Trotman: Pilot whales and snorkelers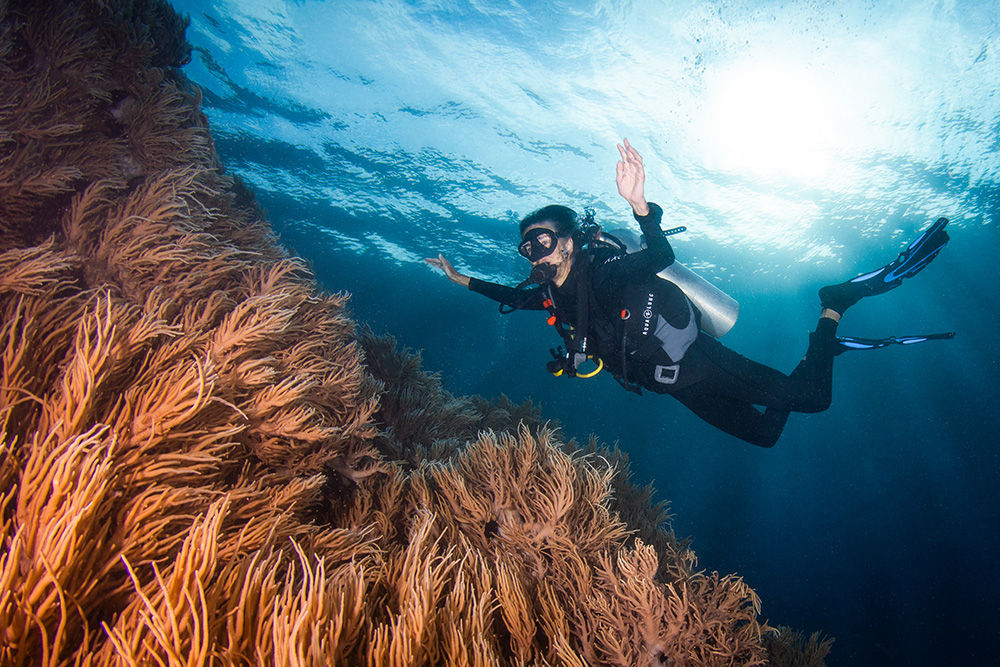 Photo by Francesca Trotman: Judy 1 flying over Kansas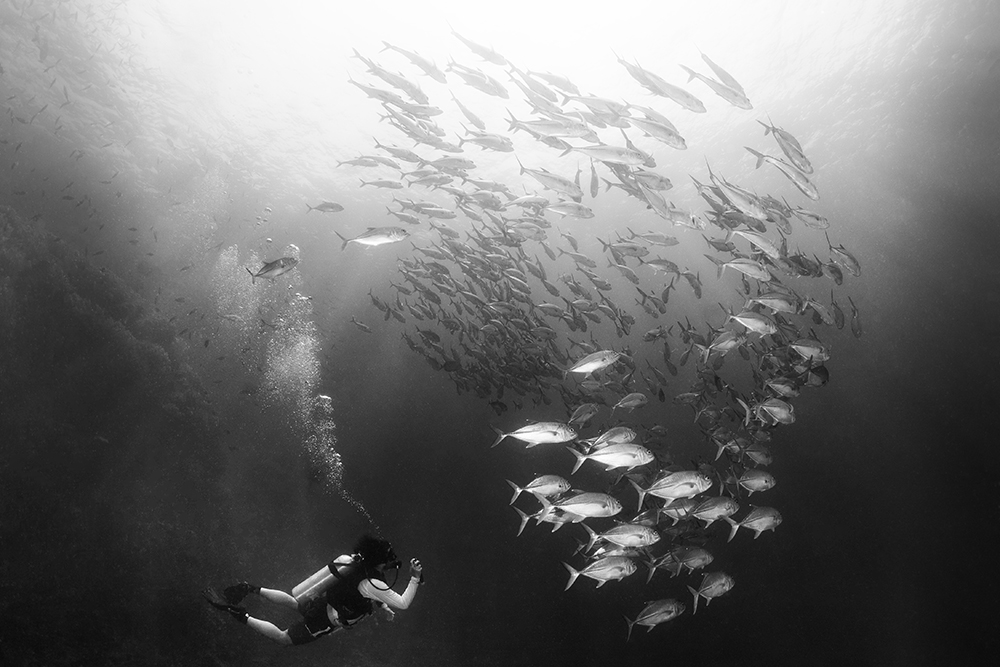 Photo by Francesca Trotman: Pete and bigeye trevallies
We spent our first day at Vatu-i-ra with our fabulous coral gardens, warm waters and mostly mild currents. We sighted blue dragons, scorpionfish, sponge crabs, flatworms and the one thing we missed the most… all the fish drama! Mellow Yellow and Coral Corner were specially aquarium-like and as vibrant as we remembered. At the end of the day, the current caught us by surprise and Whole Shebang became 1/3 Shebang and Reverse Shebang… It was wild, but Bel and Judy saw an enormous stingray swimming midwater… the tail alone was 8ft+! Pete and Judy 1 ventured with Koroi on a slow drifting night dive with cool macro critters and surfaced to a sky full of stars and the Milky Way as their witness.
Then we moved to our beloved Sea Mounts, E6 and Mount Mutiny. The sheer greatness of these dive sites is enough to make any diver happy, and the conditions made it for a stunning day with extremely calm waters and beautiful sunshine. The corals are as beautiful as ever and the small reef fish who shelter on these oasis surrounded by blue water were all still there. A few barracudas made an appearance and Bel almost succeeded on her goal to get a cleaner wrasse to go inside her mouth. The wrasse was willing, but unsure as why it couldn't see any gills on the side of her head… The rain and wind joined a few brave souls for the 4th dive of the day, and we made our way to Wakaya to shelter.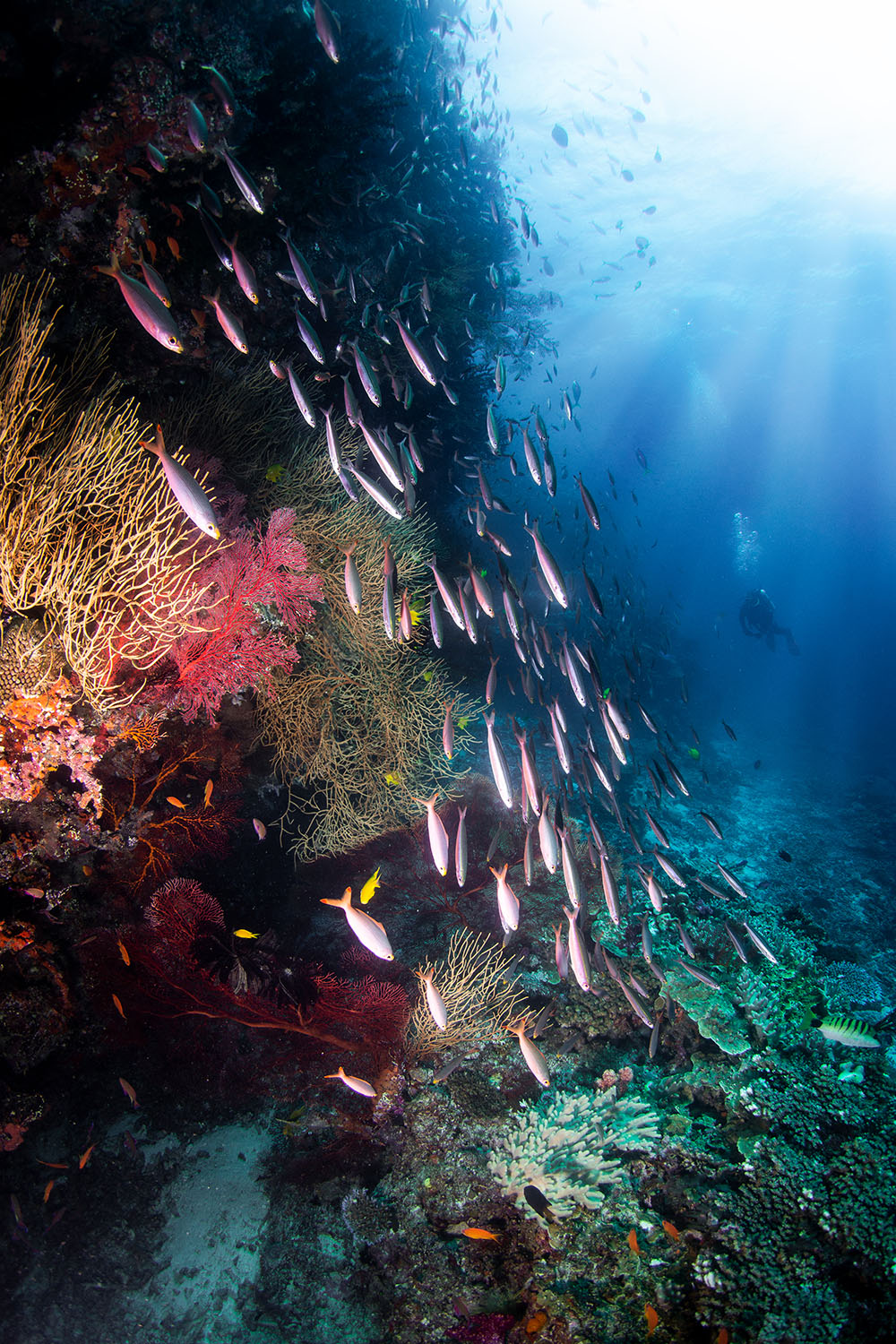 Photo by Francesca Trotman: Fiji reefs and fusiliers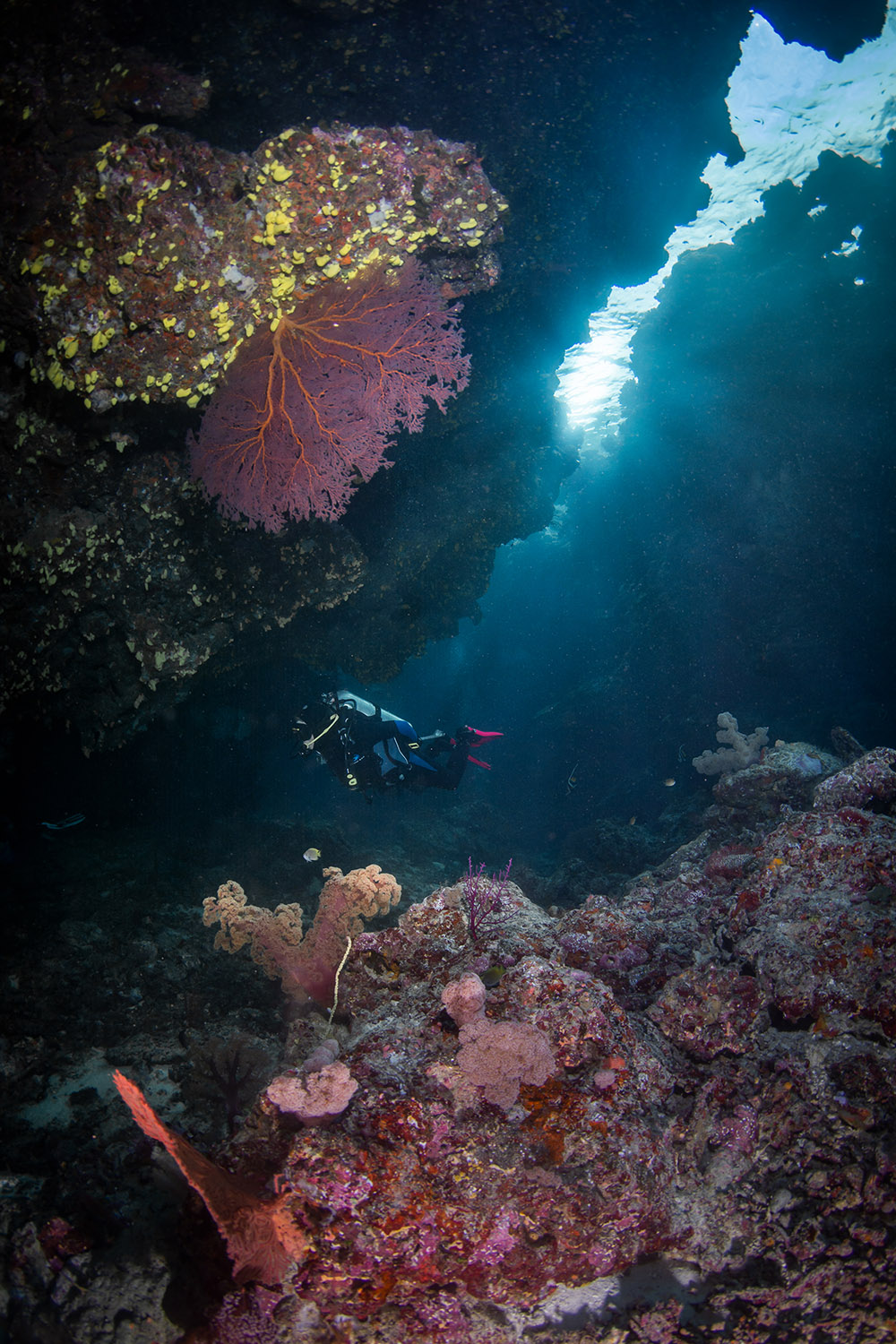 Photo by Francesca Trotman: Cathedral at E6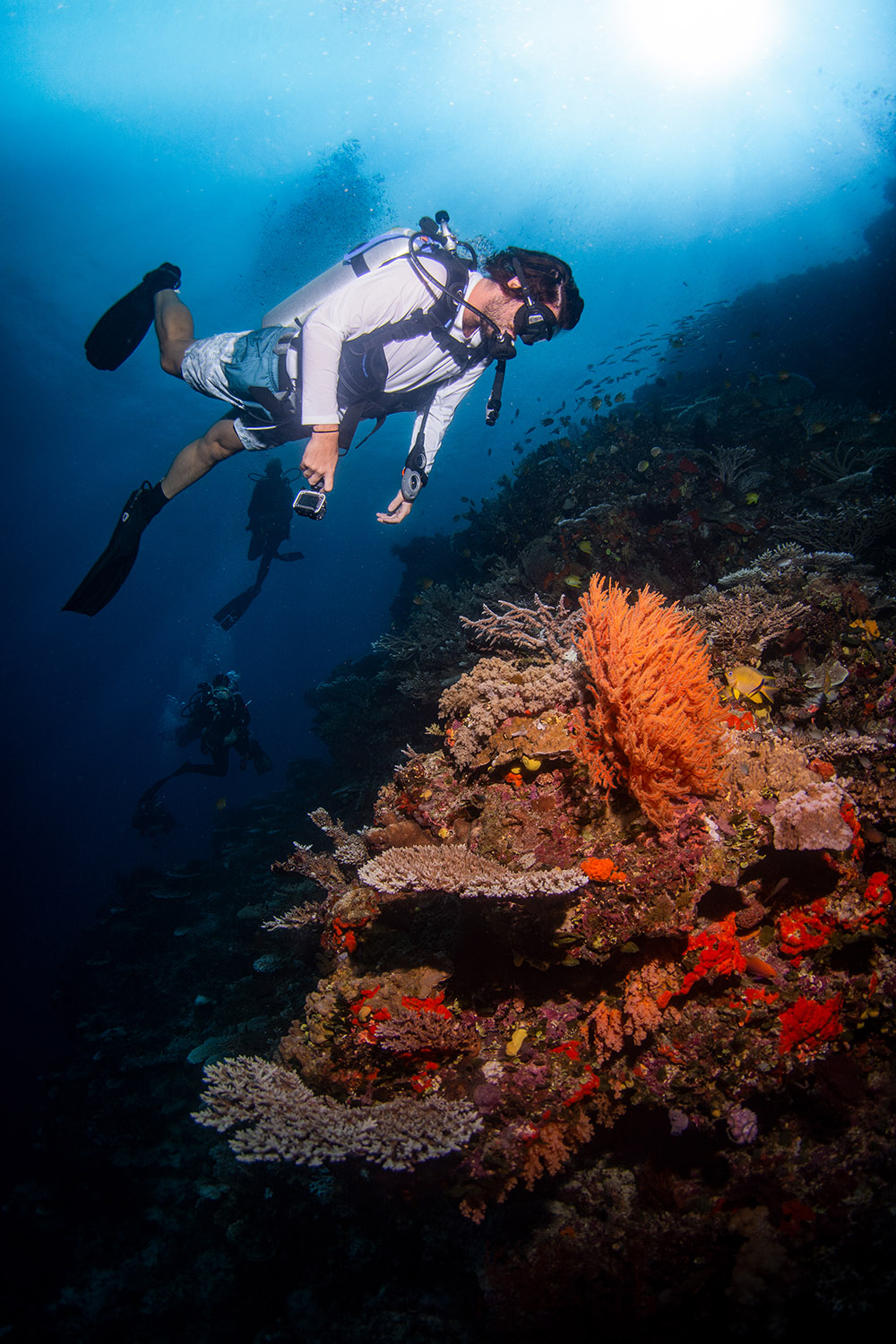 Photo by Francesca Trotman: Sea Mounts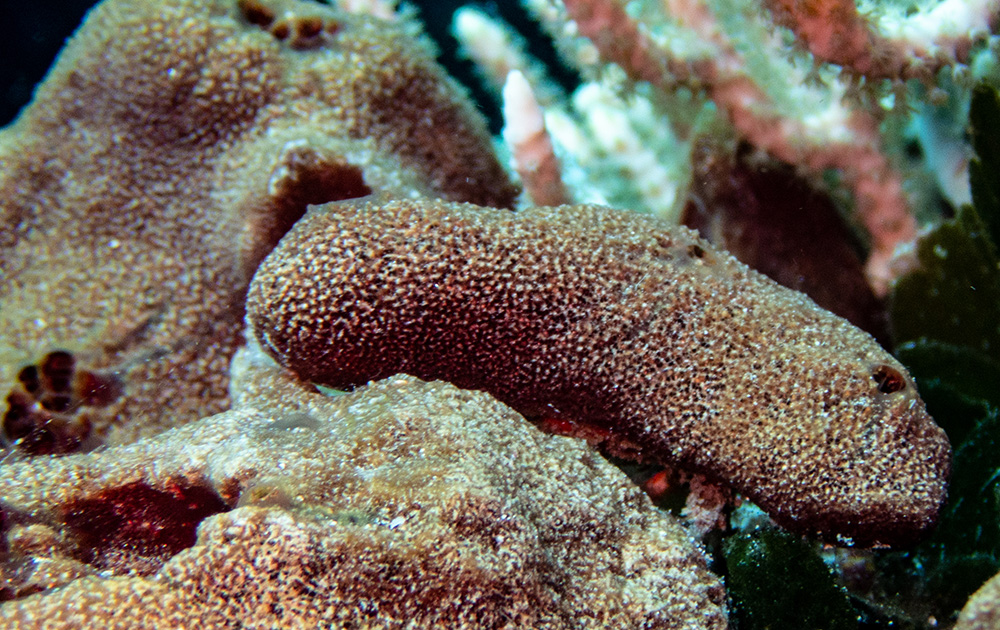 Photo by Judy Lewis: Sponge crab. Can you see him??
Our next day was extremely sunny and the water was so very calm. Our Wakaya dives included sightings of pickhandle and blackfin barracudas, rainbow runners, a few white tip reef sharks, humphead wrasse, hawksbill turtles, and the beloved melanistic reef manta. They are rare worldwide but very common in Wakaya. Lucky us! The reef was just… very much alive! Francesca even saw a Hammerhead down at 90ft and Judy 1 saw a baby manta… Mike's new toy! It was funny, and confused the big Manta too!
On the ride over to Makogai we had a phenomenal treat, a rare encounter with relaxed and curious pilot whales. We set out to snorkel with them, got in the water 3 times and had 6 magnificent encounters. All guests listened well to instructions and the whales approached us, stared at us, swam right under us… We even saw a group of 9, all vertical, taking turns spyhopping. It was like watching angels. We had a nice dive at Becky's, but after the morning we had… poor Becky didn't stand a chance! We steamed to Namena in flat calm seas and finished the day with the only event that could properly end this perfect day, our Kava Party! Among all the privileges that come with diving on NAI'A, that is definitely top 3! This crew sings like none we have ever seen!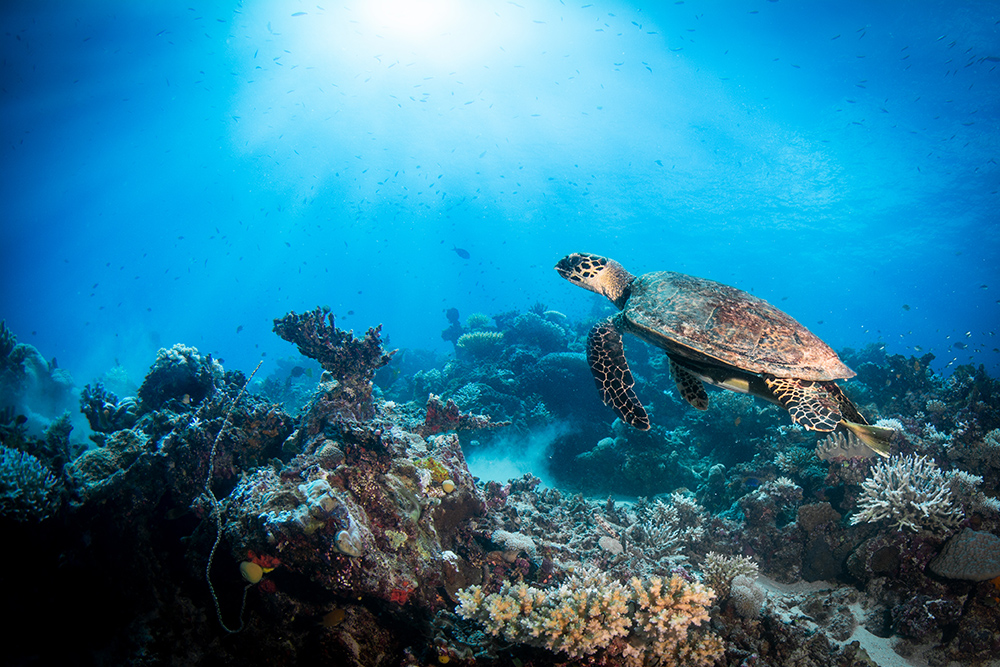 Photo by Francesca Trotman: Hawksbill turtle at Wakaya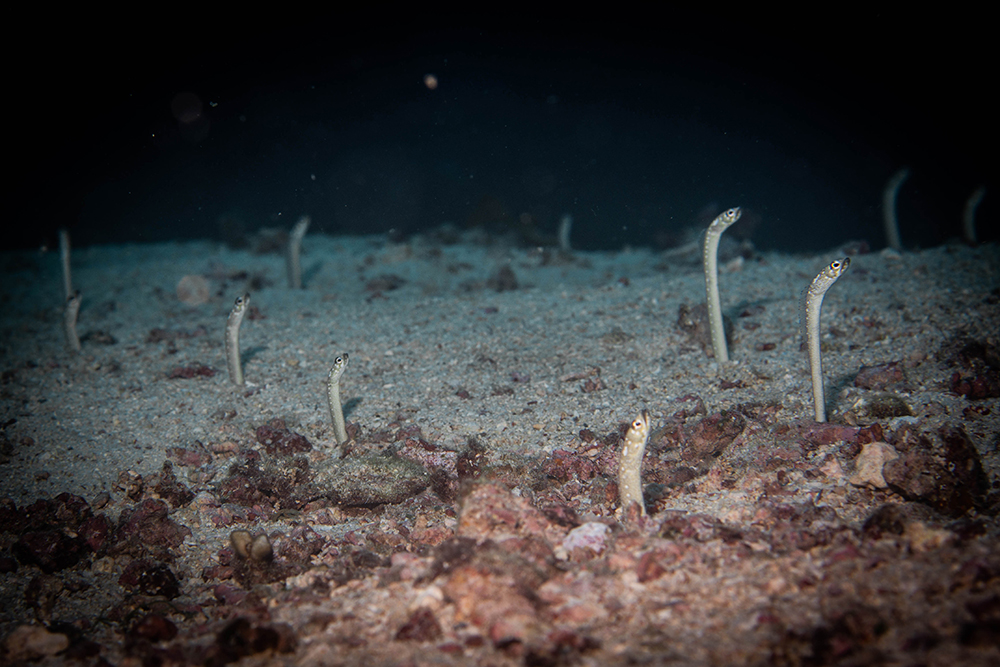 Photo by Francesca Trotman: Garden eels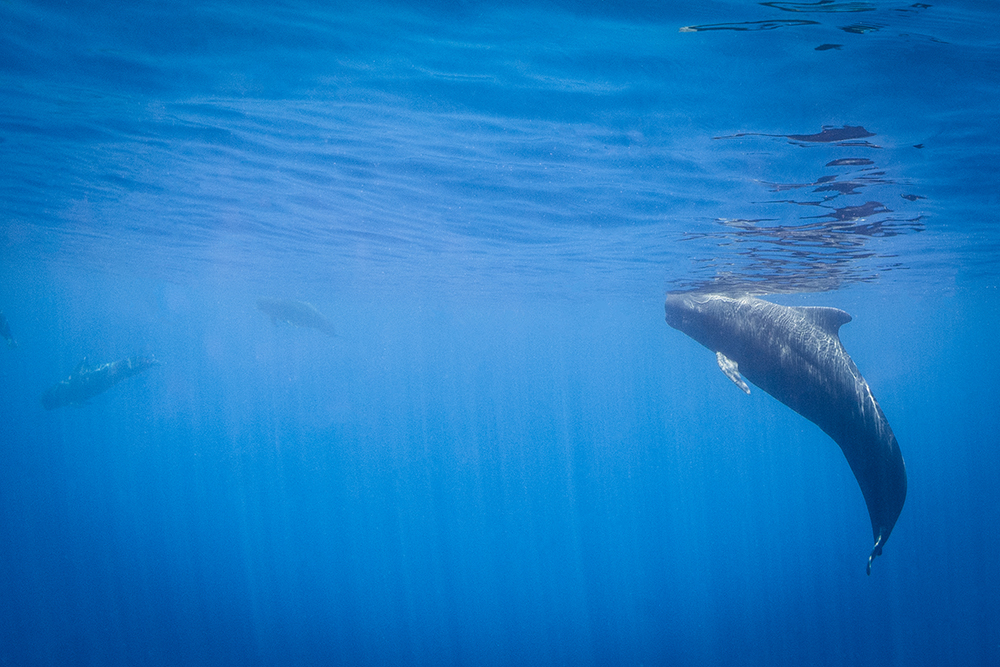 Photo by Francesca Trotman: Pilot whales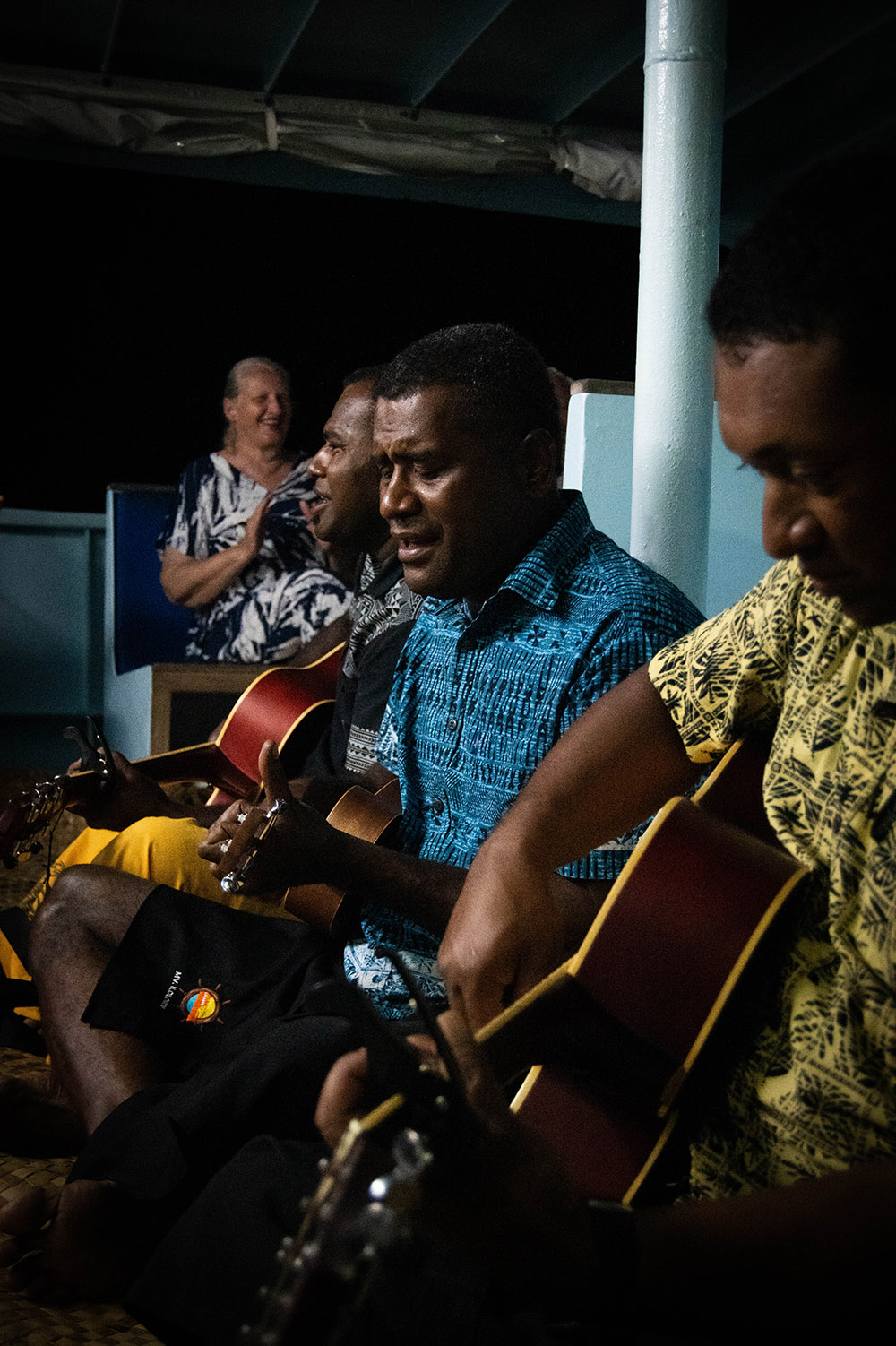 Photo by Francesca Trotman: Kava time!
The next day we woke up real fast once we hit the water at Kansas… the current was stronger than expected and limited our mobility a little… but what a fantastic dive! Adrenaline junkie Jennifer was in heaven, and critters like nudibranchs and pipefish were still spotted. The corals are still vibrant and the fish are still plentiful. Dives 2 and 3 were blissfully calm. Judy 2 and Jennifer saw… everything! Decorated dartfish, blueribbon eel, squarespotted anthias… the full briefing! Thousands of garden eels covered the rubble flat and we also saw an octopus and a golden mantis! The last dive at Grand Central Station lacked strong currents but made it for a pleasant dive peppered by abundant barracudas, trevallies and triggerfish. On the night dive not one, but TWO bobtail squid were the highlight!
Our second Namena day started with a bombastic Grand Central Station dive. Plenty of grey and white tip reef sharks, redtooth triggers, thousands of bigeye barracudas and queenfish, dozens of blackfin barracudas, emperors, clouds of trevallies, a few tunas and a gorgeous banded sea krait flying from the great deep towards the surface right in front of us! Renee even got to see her hammerhead, even though she won't count because it wasn't close enough! We then had amazing dives at Kansas, Two Thumbs Up and Magic Mushrooms with sightings of schooling trevallies, masses of fusiliers, a pygmy seahorse, whitecap shrimpgoby, crinoid clingfish and shrimp, a white tip and a juvenile rockmover wrasse. Mike and Arthur finalized with a relaxed night dive over the shallow reef at Namenalala.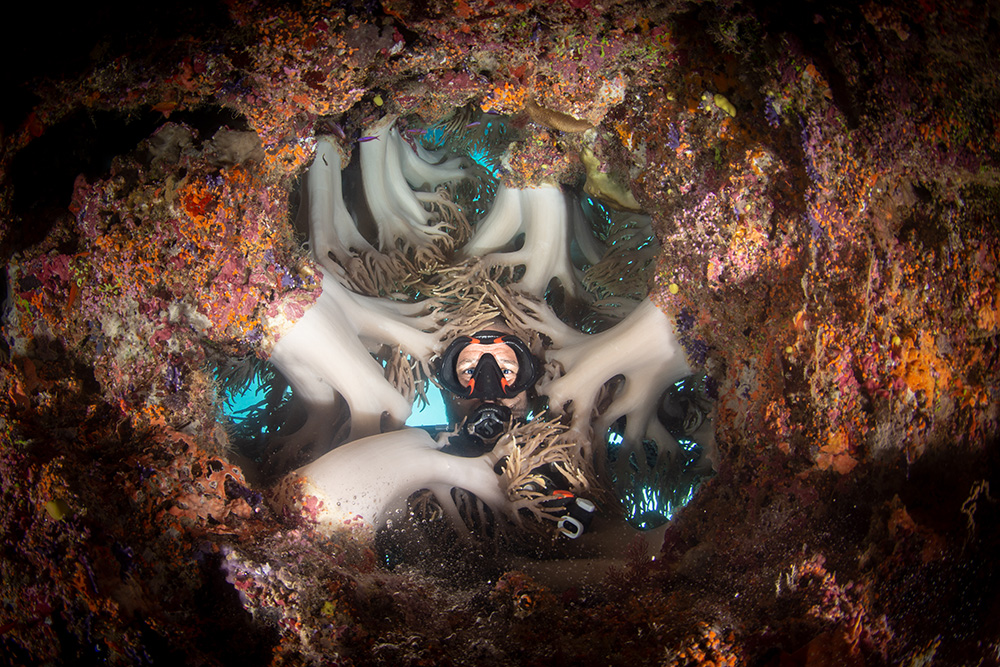 Photo by Francesca Trotman: Mike, happy to be back at Kansas!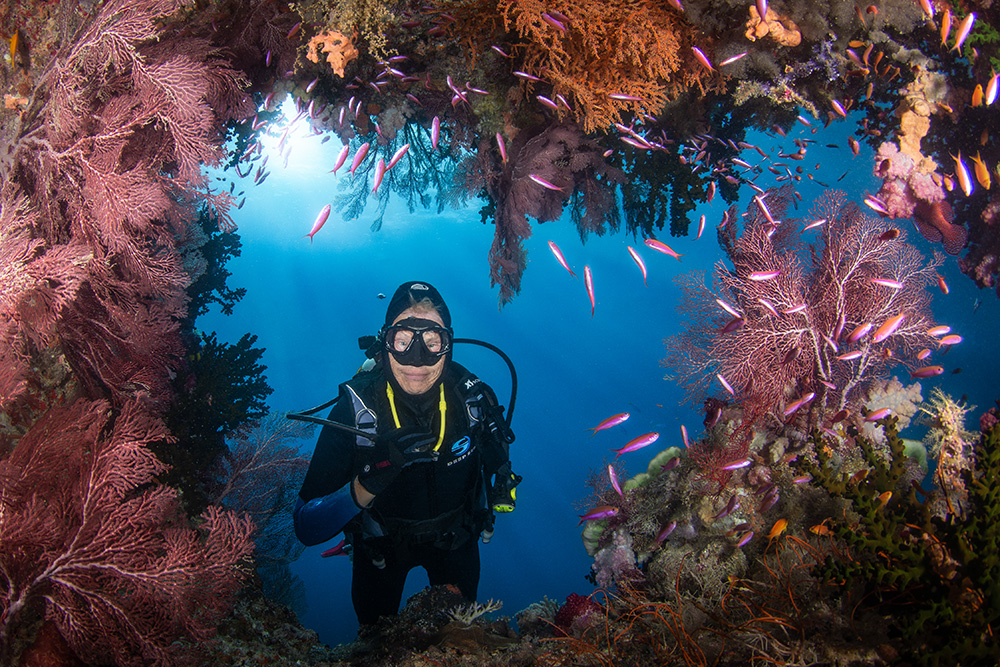 Photo by Francesca Trotman: Renee, VERY happy to be blowing bubbles in Fiji.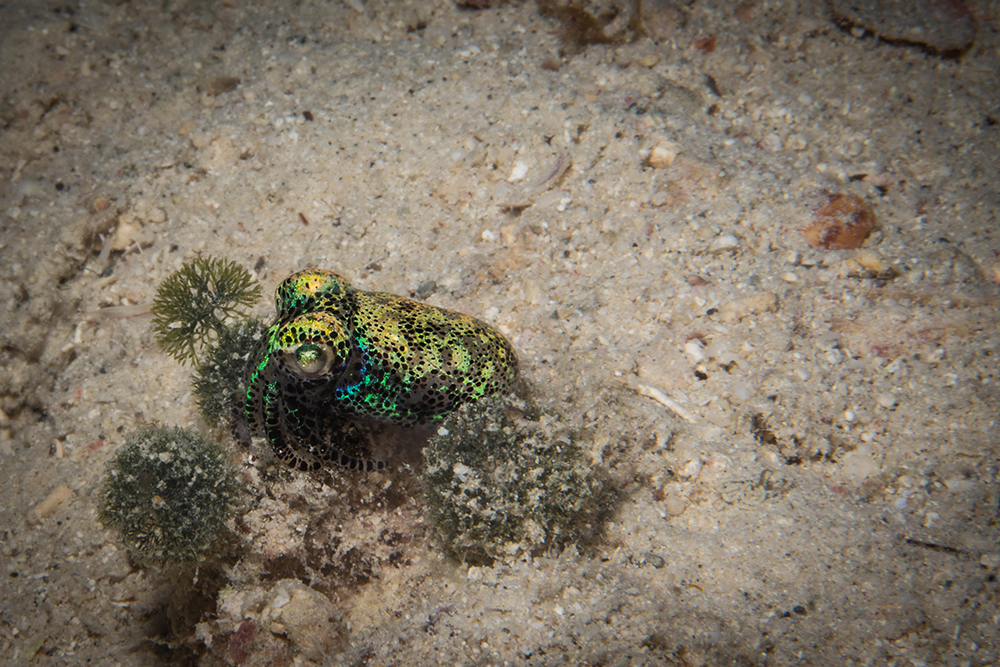 Photo by Francesca Trotman: Bobtail squid.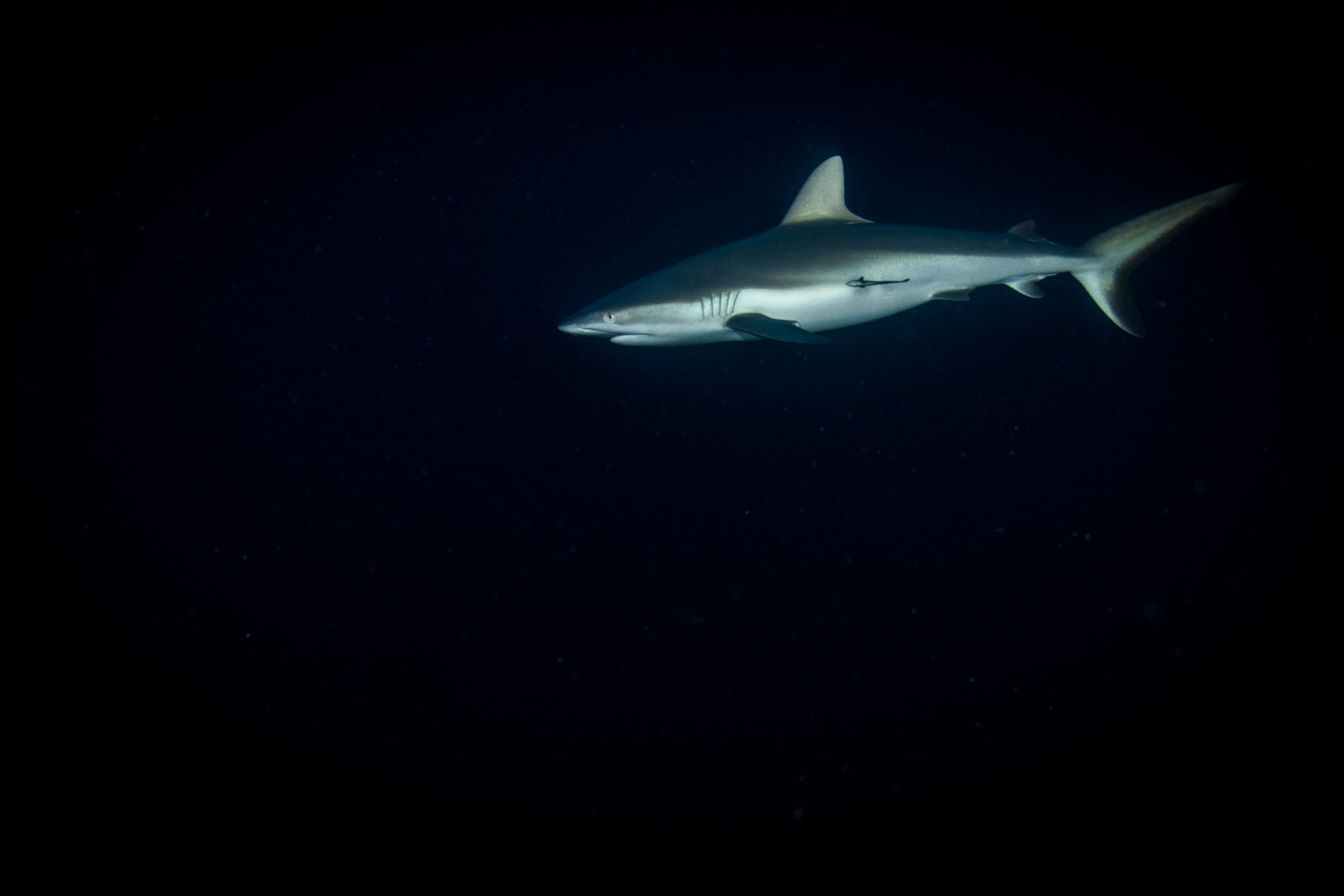 Photo by Francesca Trotman: Grey reef shark at Grand Central Station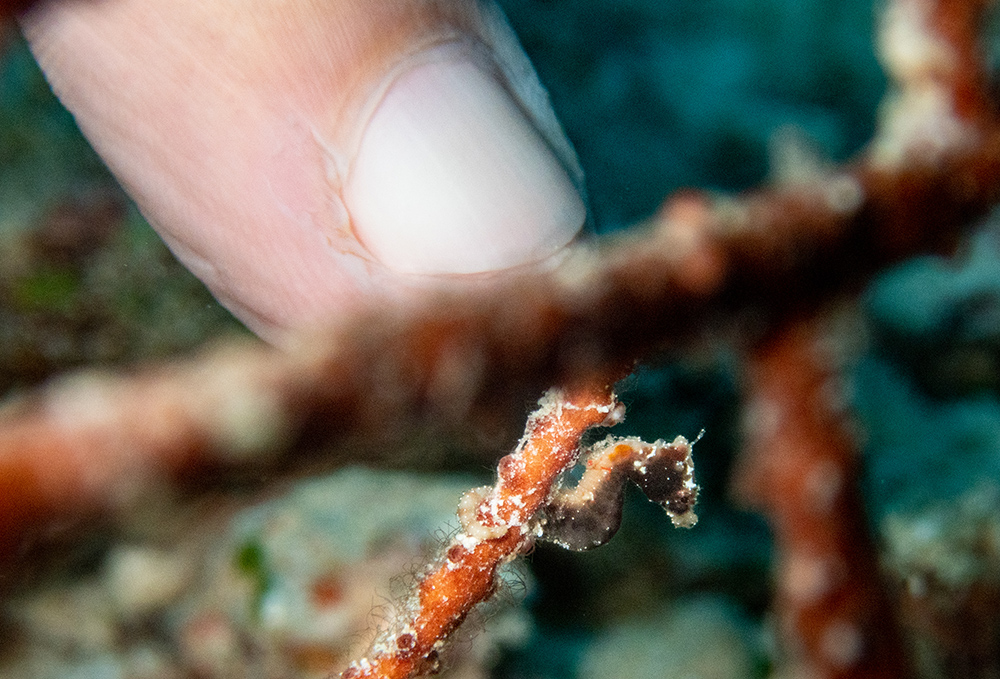 Photo by Judy Lewis: Pontoh pygmy seahorse (and Bel's finger for reference)
Vuya welcomed us the following day with three fantastic dives. Cat's had moderate current, soft corals blooming, nudibranchs, flatworms and clouds of anthias. Humann Nature was so incredible, Arthur decided not to do the third dive because "no dive could possibly top that". We love to hear these words! Our final dive at UndeNAI'Able Pinnacle had swooping current that kept us on the sheltered side, but we saw amazing critters, including Judy's second ever leopard blenny!
Photo by Judy Lewis: Flabelina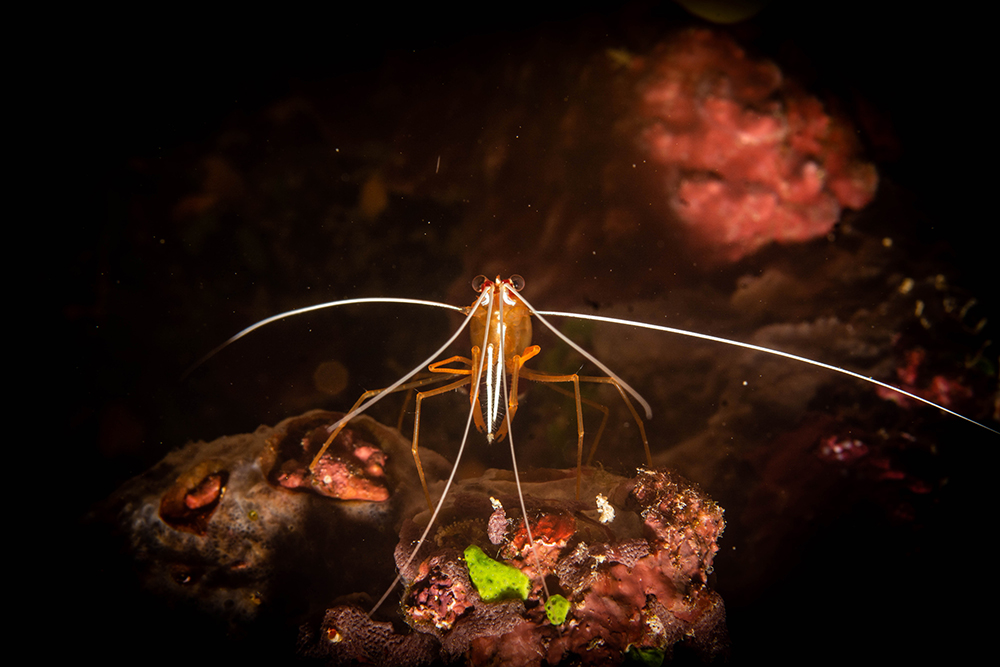 Photo by Francesca Trotman: Cleaner shrimp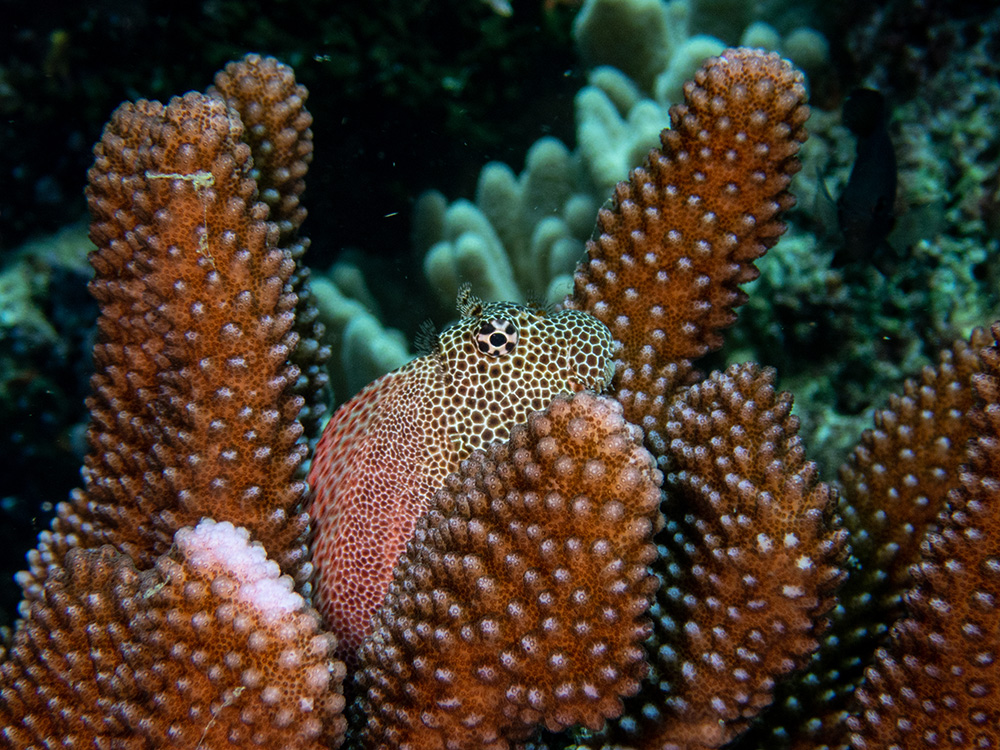 Photo by Judy Lewis: Leopard blenny
Our journey home was blissful and as we look back on it… it made us even more excited for the rest of 2023. We're looking forward to sharing our beautiful reefs with our next guests!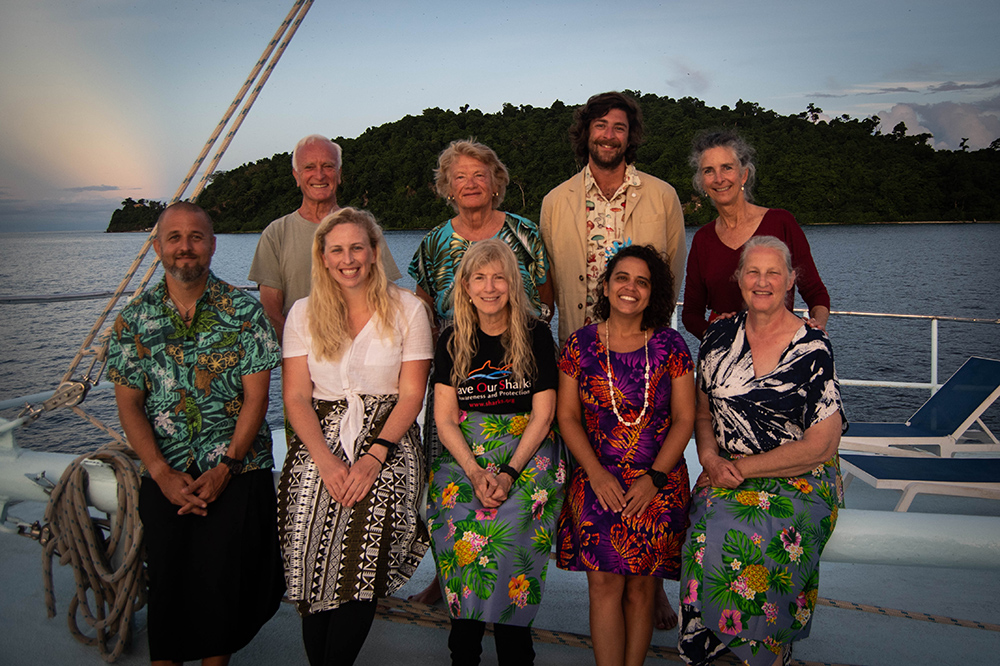 Comments
"Lomaiviti reefs are in extremely good condition compared to Indonesia and PNG. Immediate action must be taken to conserve this unique region."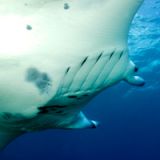 ~ Dr. Michael Marnane, Marine Biologist, Wildlife Conservation Society