Richard Levu Part II - Fish Drama
Destination: Bligh Water, Wakaya, Gau, Makogai, Namena
Trip Date:
Sep 17th - Sep 27th, 2022 -
Comments
Author: Bel & Mike
Welcome Back: Richard Levu, Audrey, Phil & Merry, Cherry Pie, Bill & Michelle, Joan & Jerome, Jenny, Gloria
Congratulations: Michelle on her 800th dive, Jenny on her 1650th dive and all the ladies on Lucky Lefty for their backward roll INTO the skiff.
Dancing Mantas, curious Hammerheads, overwhelming amounts of pelagics (Fiji's abundance at its best), loads of Sharks and baby Sharks (too-too-doo-doo) and a kickass group of divers. This has been one our most memorable trips yet, including the amount of ladies able to do the Back roll INTO the skiff (to Vernon's amusement) by the end of the trip.
Only 6 short hours after saying goodbye to Richard, Jerry, Merry, Phil and Audrey, we welcome them back alongside another 5 NAI'A return guests (Joan, Jerome, Jenny, Bill and Michelle) and seven new guests. This is another of Richard's group and we were very excited to show them even more of Fiji with a 10-day itinerary!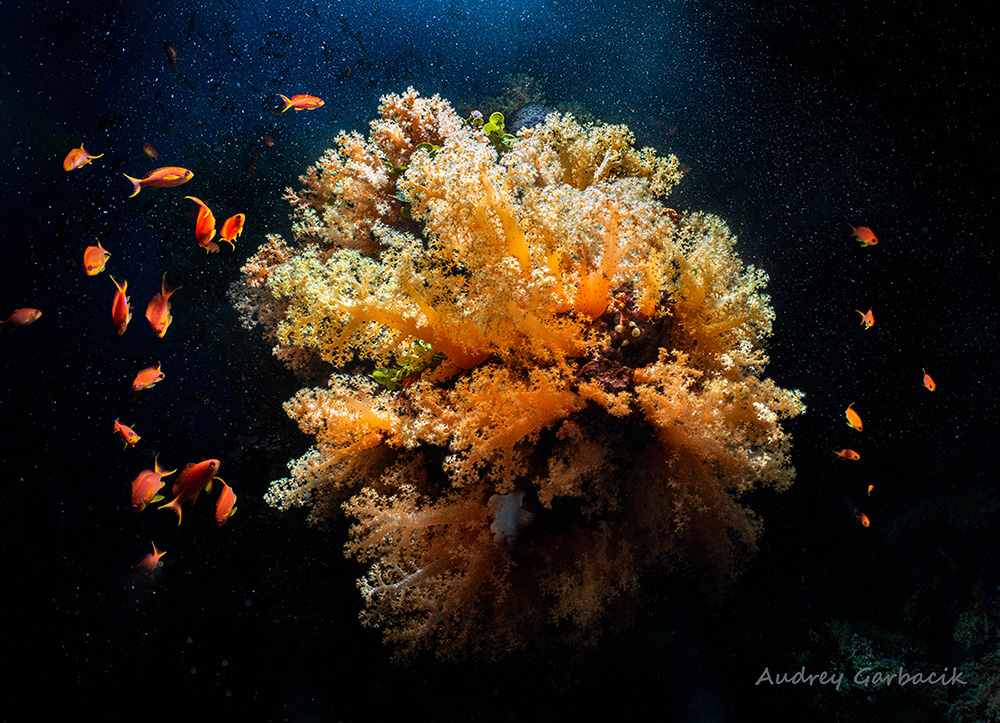 Photo by Audrey Garbacik: Orange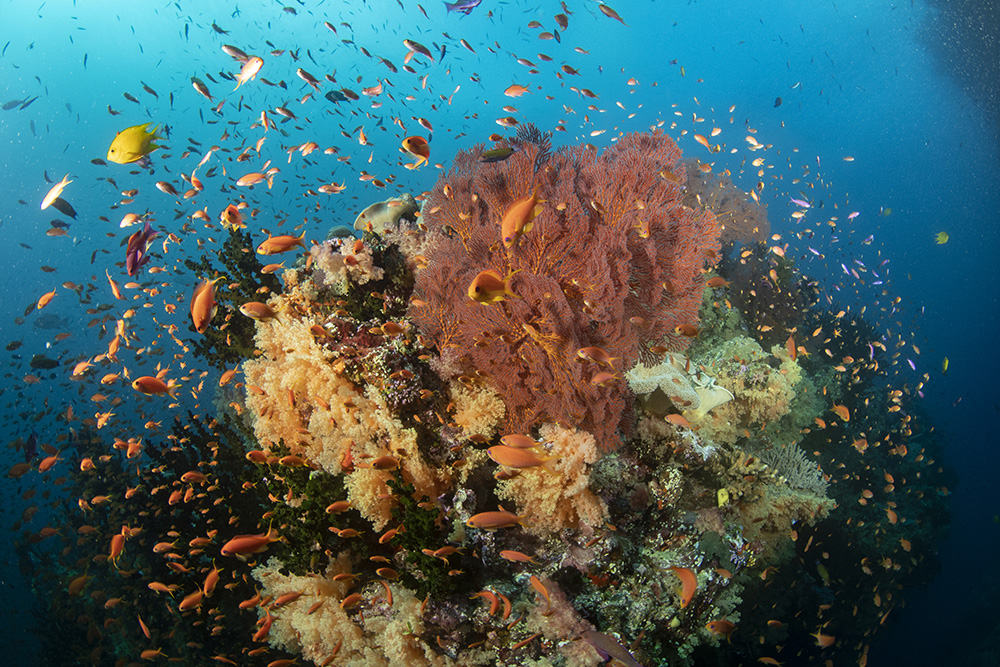 Photo by Gloria Freund: Fish Drama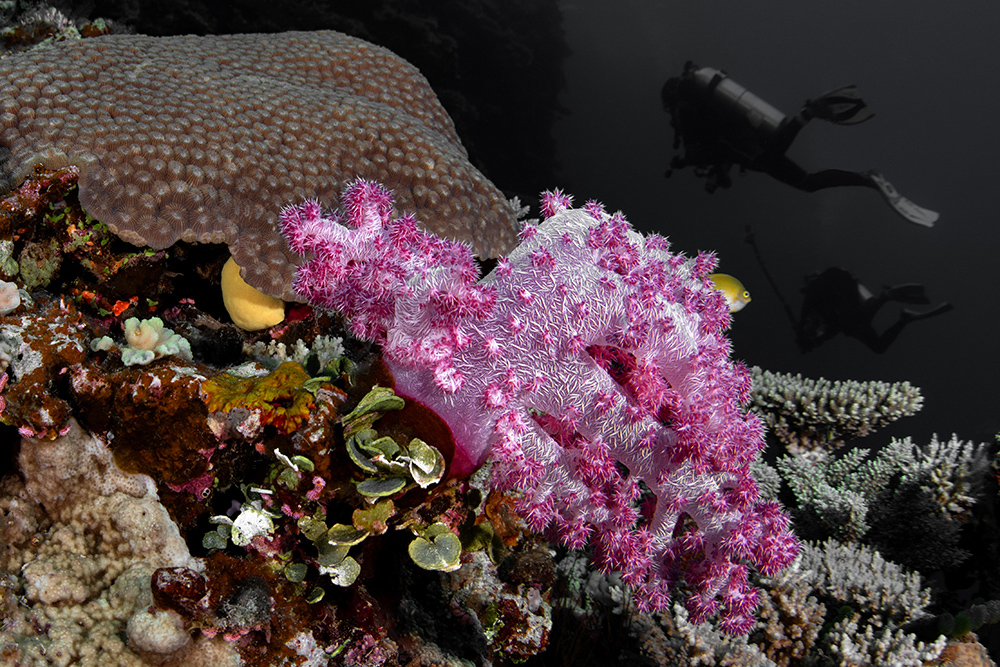 Photo by Phil Garner: Soft coral and divers
Photo by Richard (Levu) Salas: Crinoid
Our first day was at Vatu-i-ra, with easy dives in the morning and more challenging sites for the afternoon. We saw different Nudibranchs and Flatworms, Longnose Filefish, a few different Shrimpgobies as well as an Eagle Ray, a Sea Spider and a lot of magnificent corals. Joan was amazed at the "Fish Drama" on top of the bommies, and we love that term so much we're switching from Fish Soup to Fish Drama!
Then we moved to Wakaya where Lucky Lefty had the best encounters with the Manta Rays, several throughout the day. Both skiff saw Hammerheads, White Tips and Grey Reefs, Randall's Shrimpgobies, Hawksbill Turtles, Rockmover Wrasses, Crinoid Clingfish and a Leaf Scorpionfish. Only 4 divers made it to the 4th dive, and three Mantas approached Britta, who swims just like a Manta herself!
Gau was our next destination and the Current Gods kept us waiting and waiting for the right current for Nigali Passage. That time never came, so Bel checked the water and saw good visibility and good marine life despite the outgoing current. We found out later that Mexico was hit by a 7.6 Earthquake and they had a Tsunami warning for 3m/10ft waves, so that explained why our current was a bit wacky. We did 2 dives at Nigali (one as Ilagin Flush) with very mild current but plenty of fish. We saw Grey Reef and White Tip Sharks, a minuscule Rockmover Wrasse, Three-spot Angelfish, a few Yellow Boxfish and 13 baby sharks (Grey Reefs, all together). We dived Anthia's and Jim's last, and were surprised by a strong and sudden outgoing current, courtesy of the Earthquake. We still had fun and saw a sleeping Sea krait, a few nudibranchs, beautiful Soft Corals and a lot more fish drama.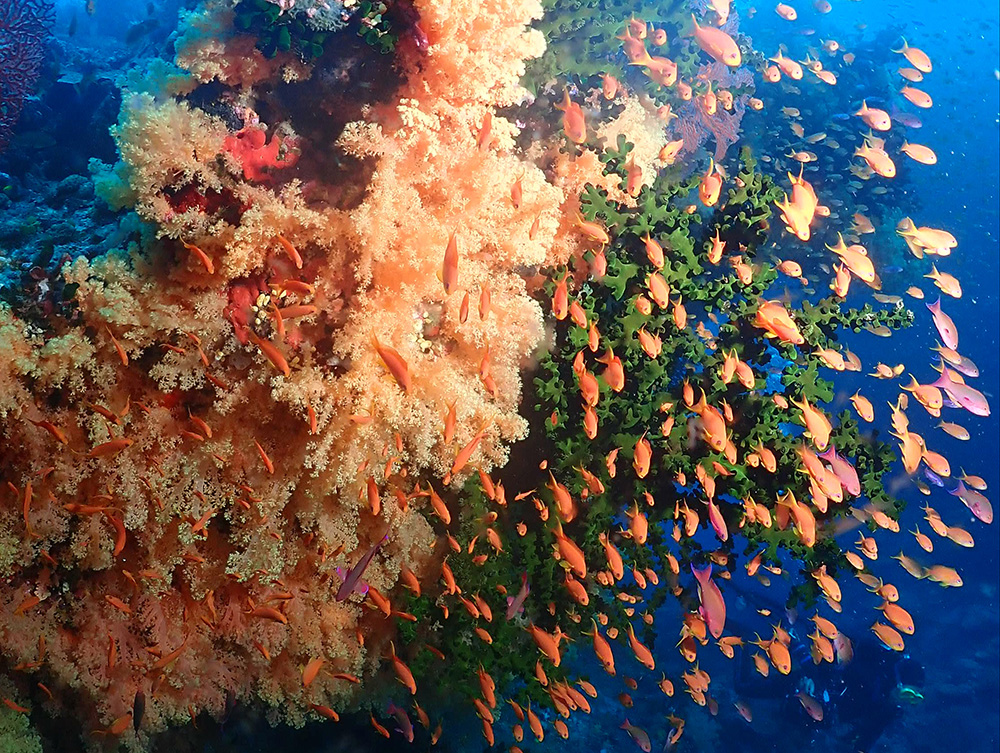 Photo by Britta Siegers: Not so Mellow but very Yellow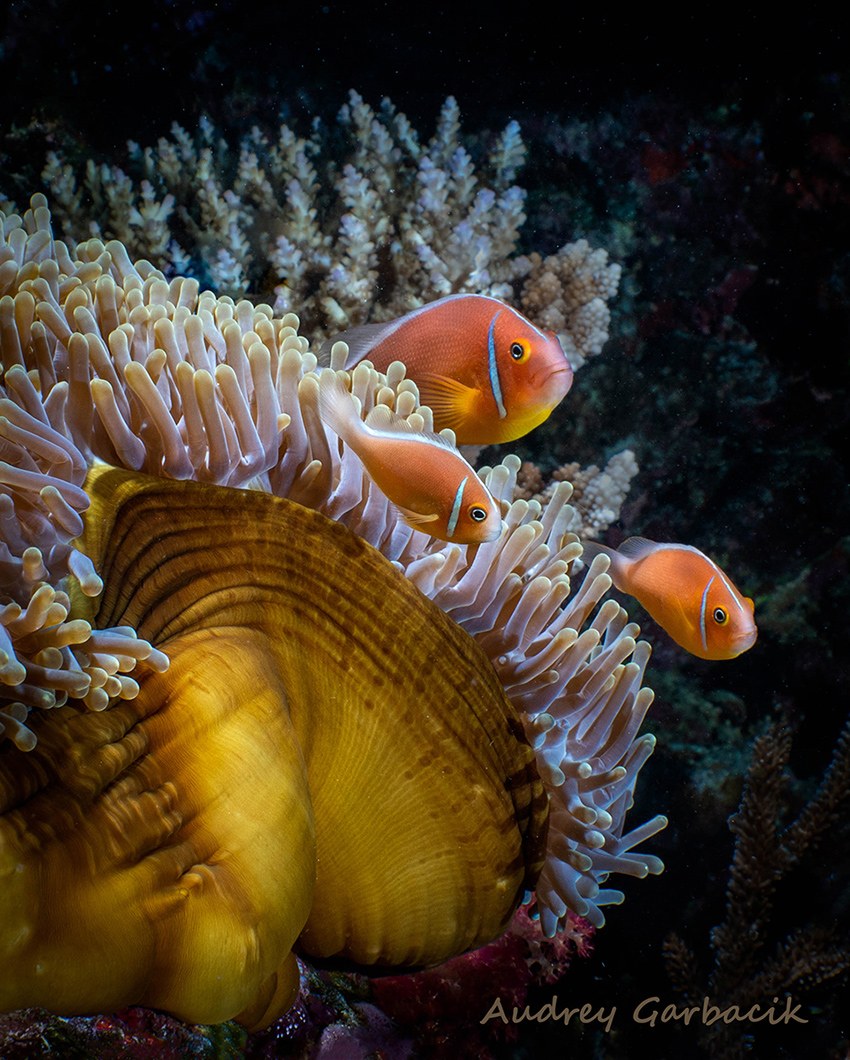 Photo by Audrey Garbacik: Anemone Fish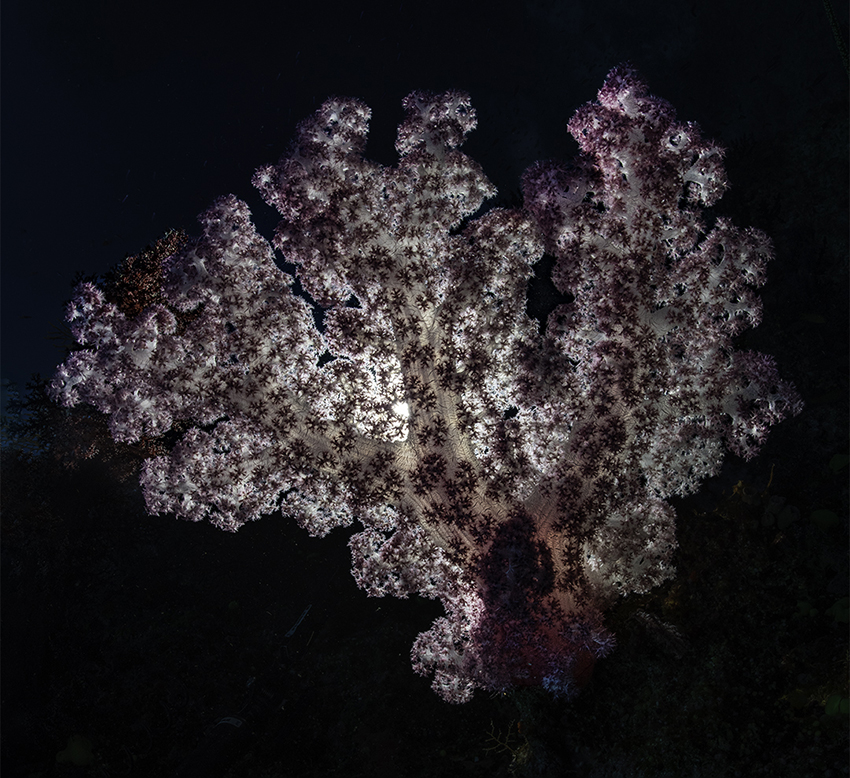 Photo by Richard (Levu) Salas: Soft Coral Lamp
We moved to Makogai and spent the day Bommie Diving, enjoying the landscapes, Soft Corals and critters. Jemore spotted another sleeping Sea Krait and Bill and Britta each found an Octopus. We also saw Longnose Hawkfish, Flatworms (half eaten), more juvenile Rockmover Wrasse, NAI'A Pipefish and some Bluespotted Stingrays. On the night dive we saw a few Scorpionfish, Lionfish, a nice Flatworm and Bel had a very special encounter with a Squid.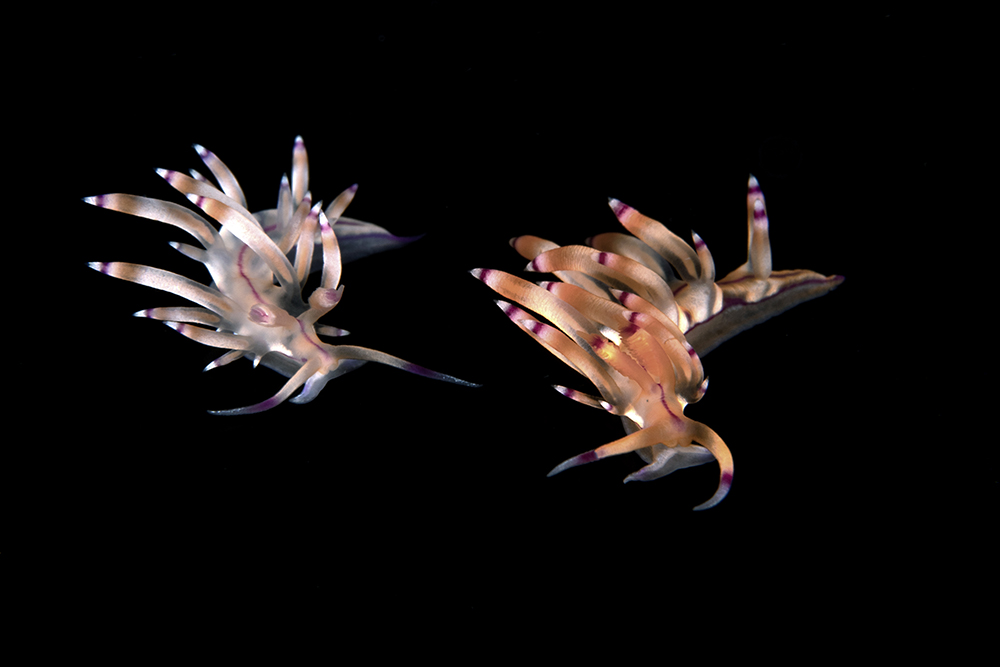 Photo by Phil Garner: Nudis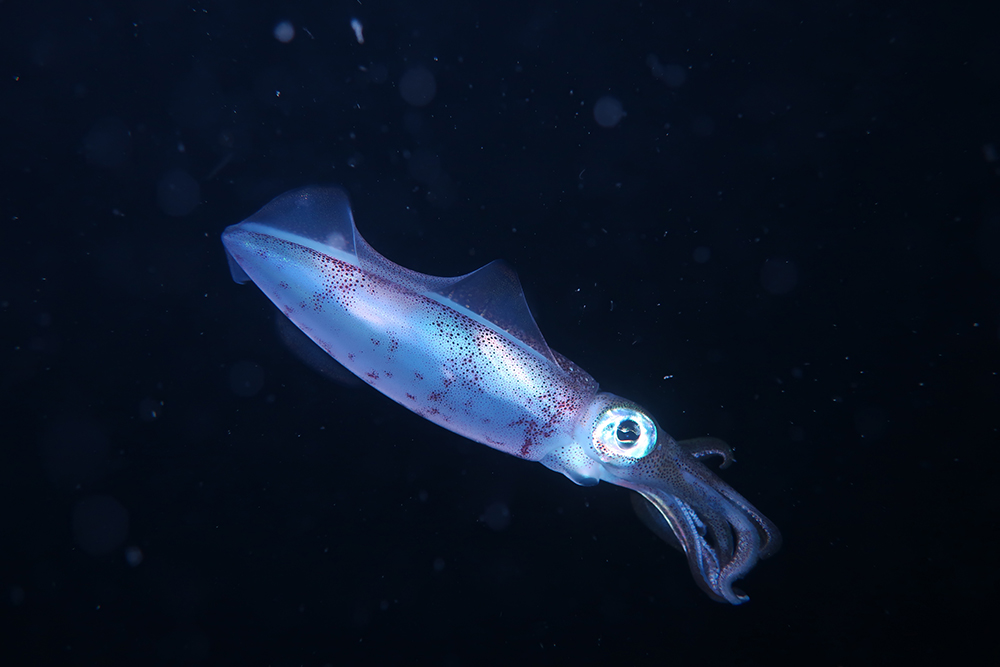 Photo by Joan Lopez: Bel's squid friend
We spent the next two days at Namena Marine Reserve doing the most fabulous dives. We saw hundreds of Barracudas and Bigeye Trevallies, Lobsters, Flatworms, Rumengan's Pipehorses (Snotty and Phlemmy), dozens and dozens of Green Jobfish, hundreds of Emperors, Midas Blennies, juvenile Rockmover Wrasses, Golden Mantis, two Hammerheads and many Gray Reef Sharks and White Tips. More than a few times a Moray Eel scared the hell out of divers getting manicured by Cleaner Shrimps. Grand Central Station was at its best and dazzled even the most experienced divers with plenty of sharks and huge schooling pelagics. On the first night there, we had a lively Kava Party and learned Gloria is her own animal.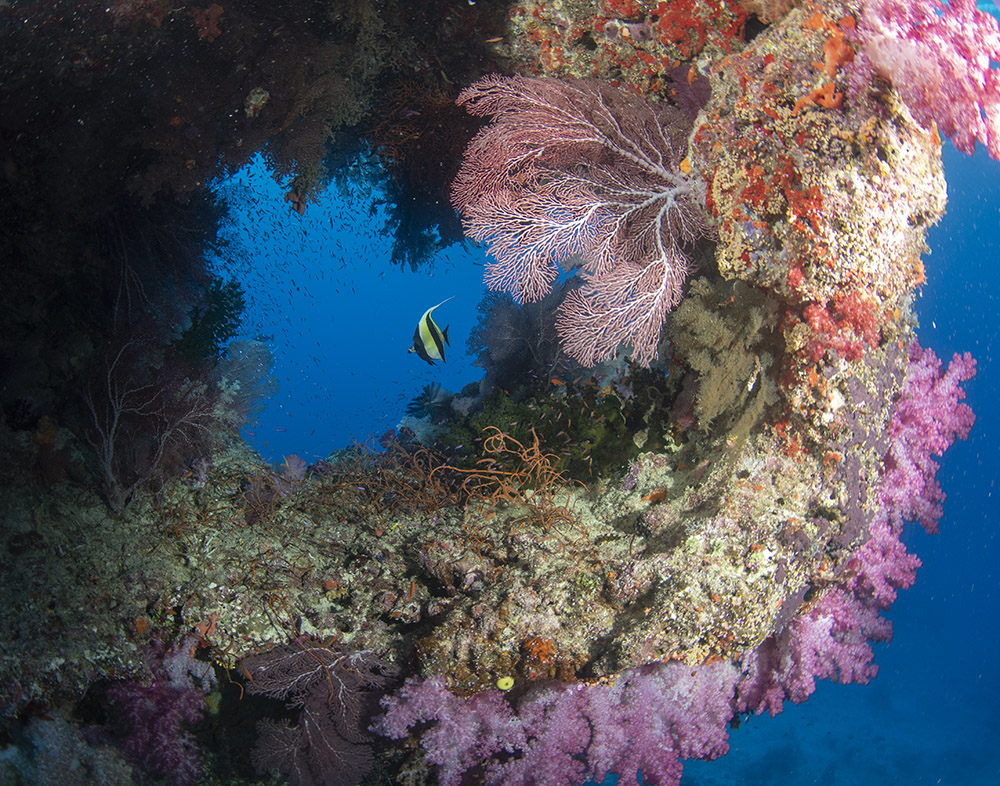 Photo by Gloria Freund: Kansas Window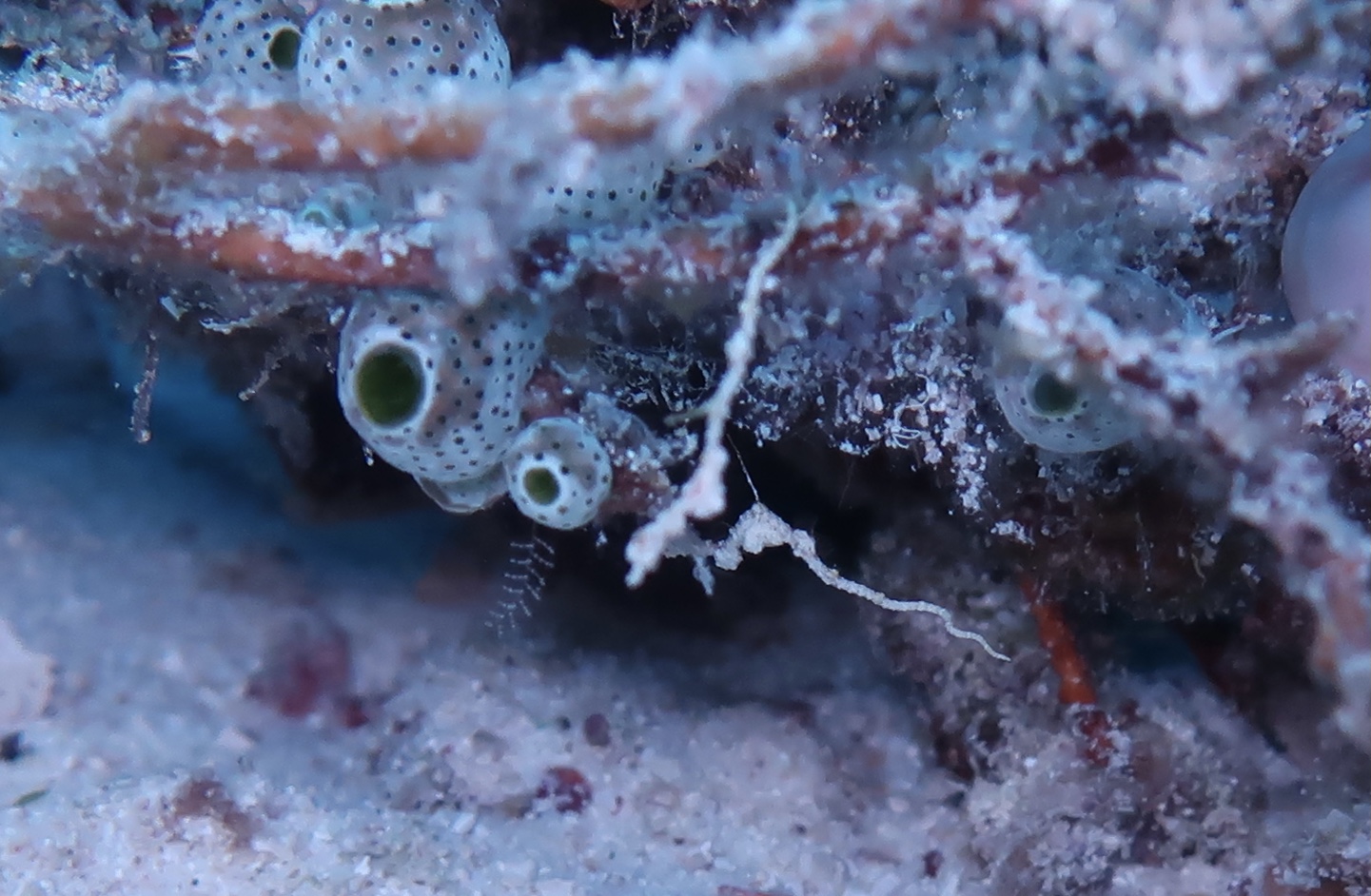 Photo by Joan Lopez: Snotty (out of focus) and Phlemmy (hiding his head)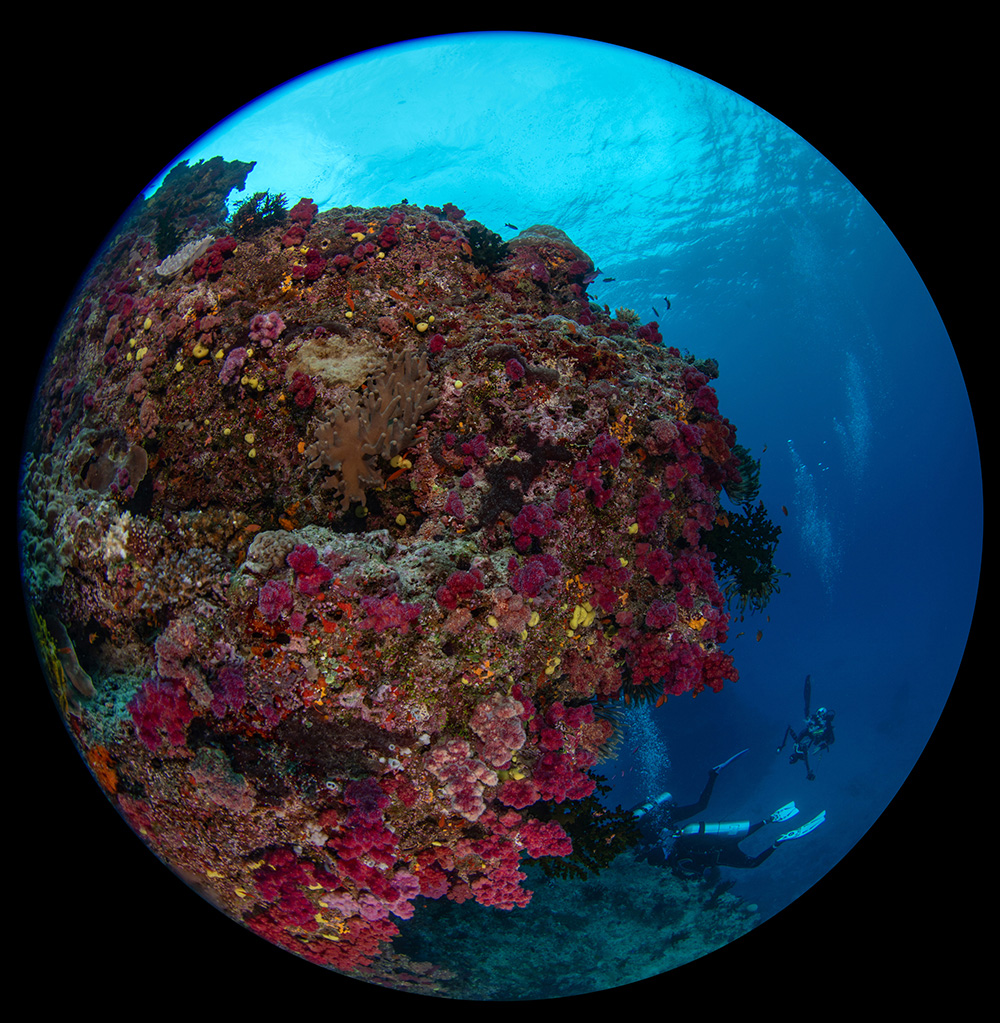 Photo by Phil Garner: Namena bommie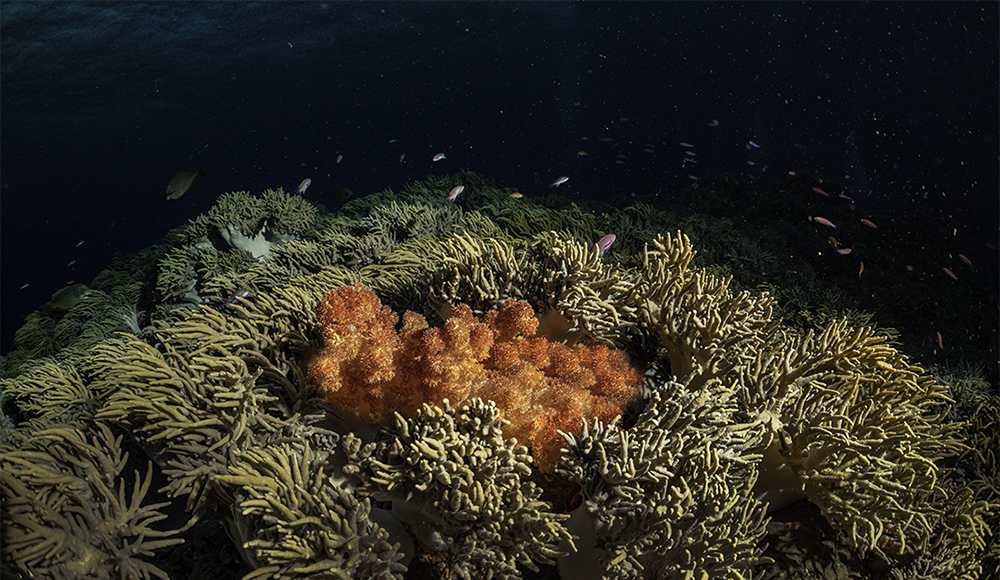 Photo by Richard Salas: Kansas Sinularia field
The next day we went to Vuya, and spent the day watching more fish drama. The stars of the day were the 2 Pygmy Seahorses holding tails and the many different species of nudibranchs and Scorpionfish. Mike showed Britta, Kayla and Dean a brand new species of Sea Snake (of the plastic kind) and got a good laugh out of them. As the sun was out, Jerry, Merry and Phil went out for a photoshoot of NAI'A and ended up on a Spinner Dolphin Cruise with Luck Lefty divers. Not a bad way to end the day.
We woke up to 2 stunning dives at E6 and Mount Mutiny. We saw Nudibranch Porn, White Tip Reef Sharks, unbelievably great corals and mesmerized divers. Mike and Regina saw a massive Bumphead Parrotfish. In the afternoon we moves to Vatu-i-ra, where the currents were well above average. Lucky Lefty had a Flying Dive at Coral Corner and Might Right had a very Yellow but not Mellow last dive. A perfect drop from our skiff drivers allowed for great, albeit wild, dives.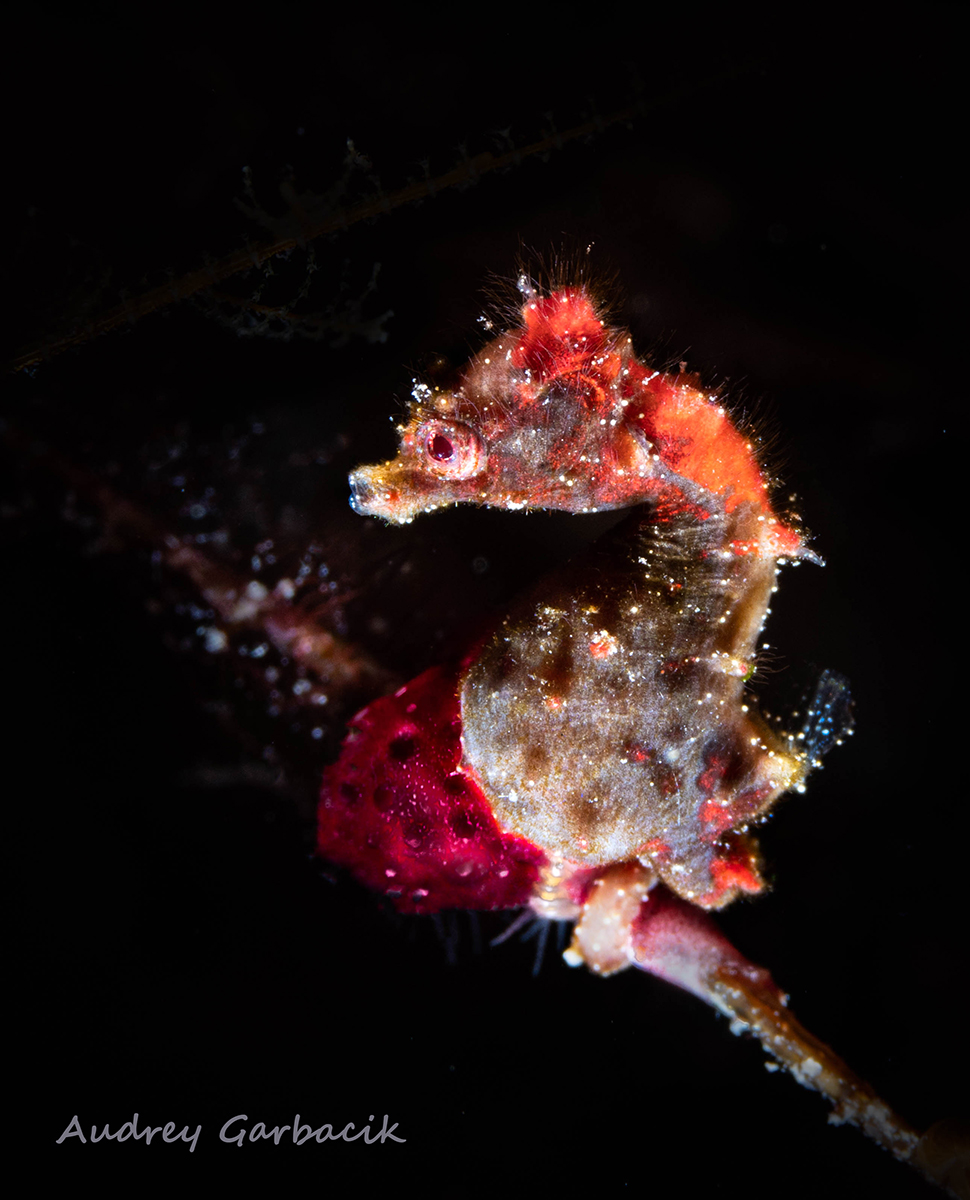 Photo by Audrey Garbacik: Pygmy Seahorse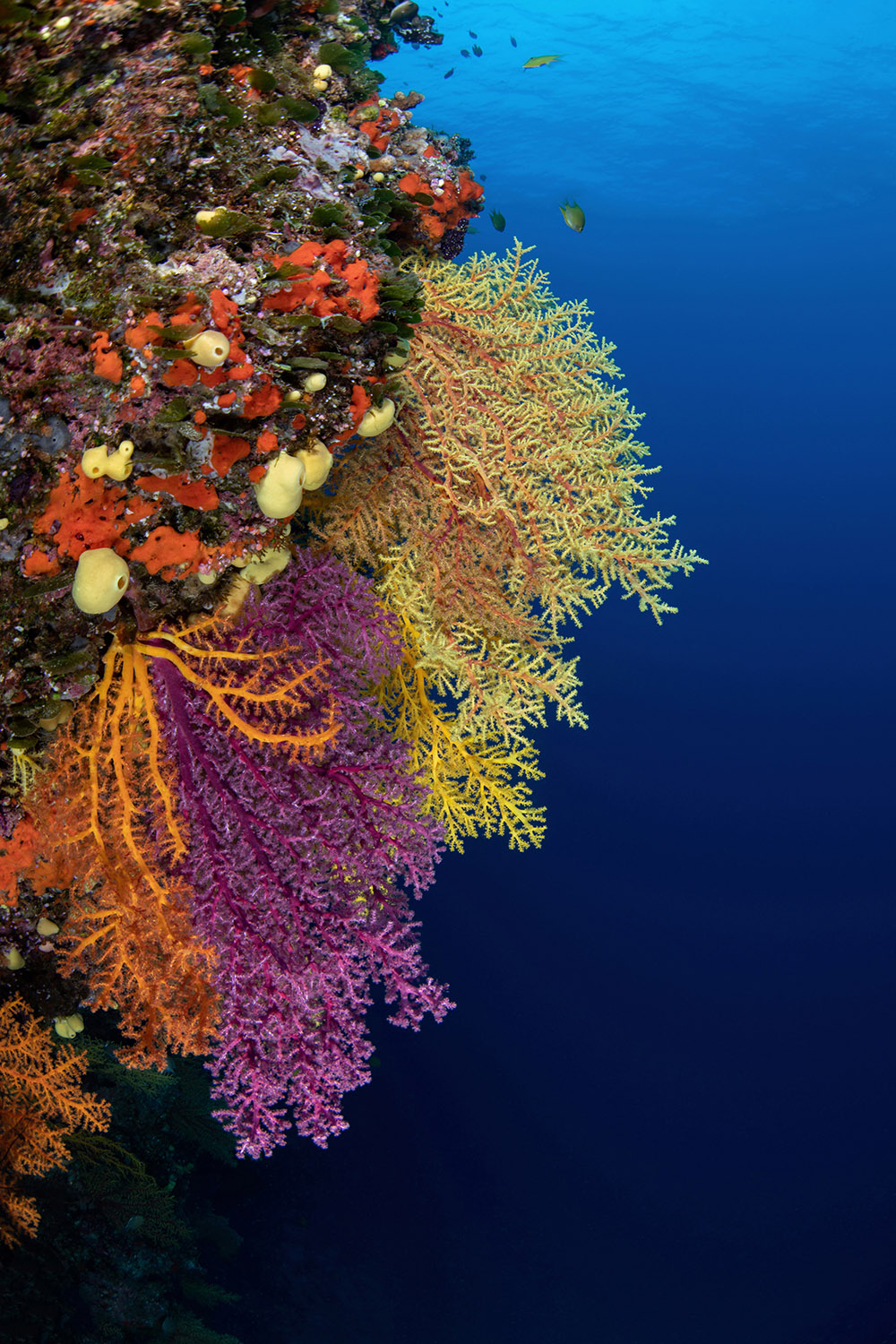 Photo by Phil Garner: Rainbow Wall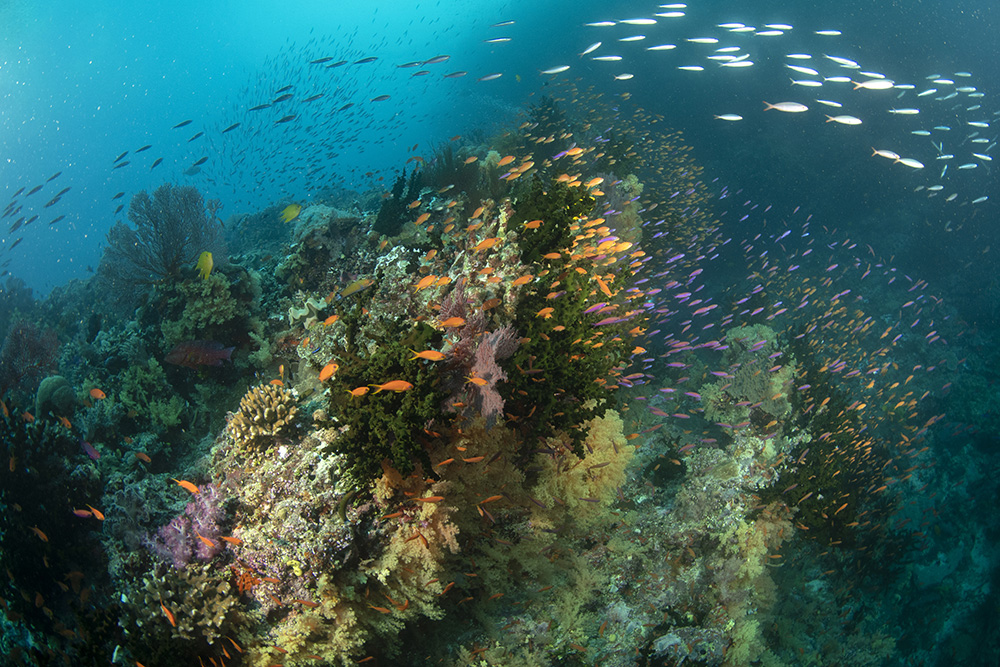 Photo by Gloria Freund: Fish Drama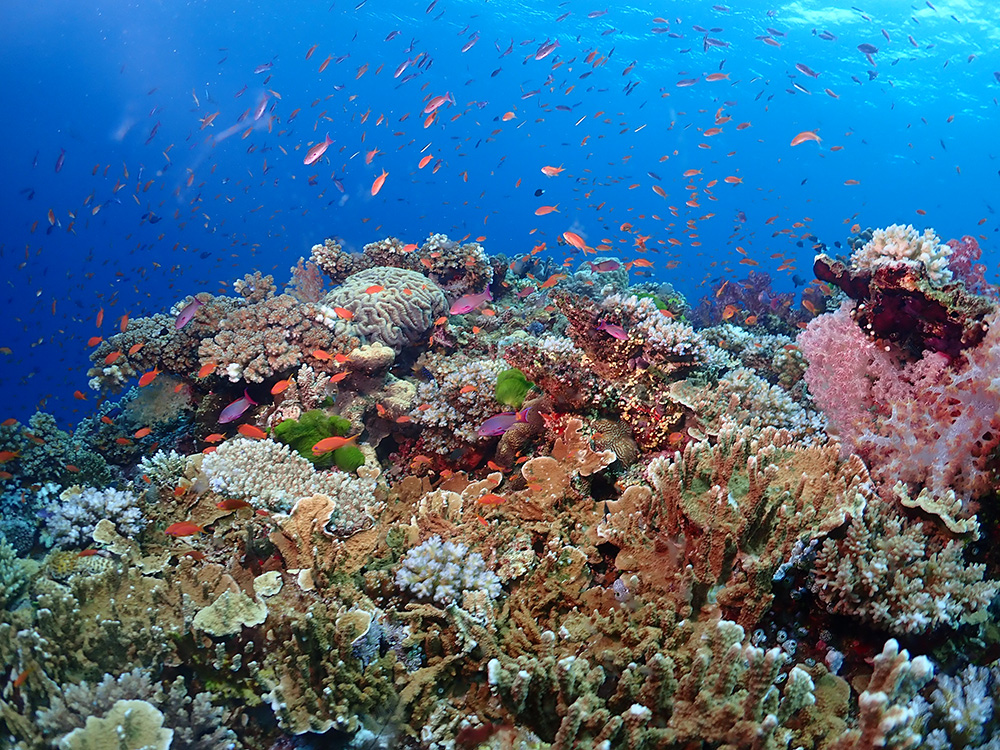 Photo by Britta Siegers: Colorful Fiji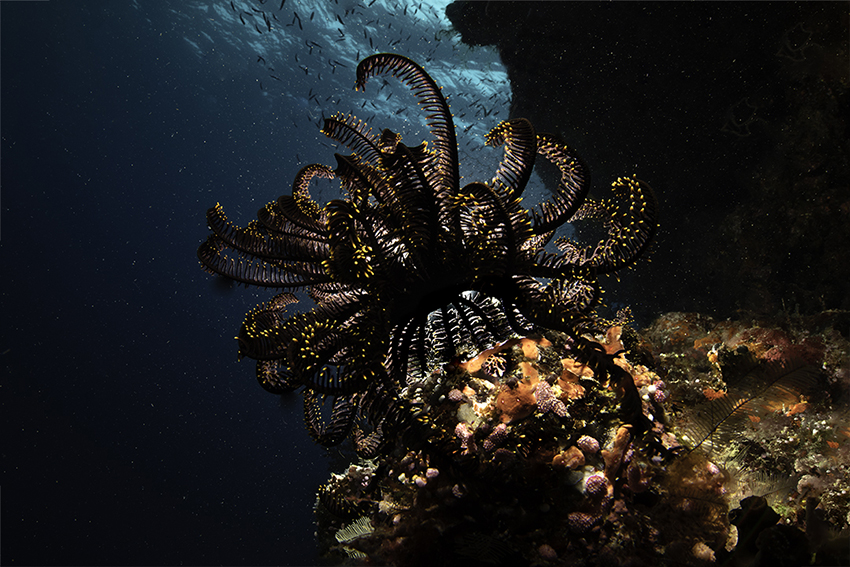 Photo by Richard (Levu) Salas: Crinoid Levu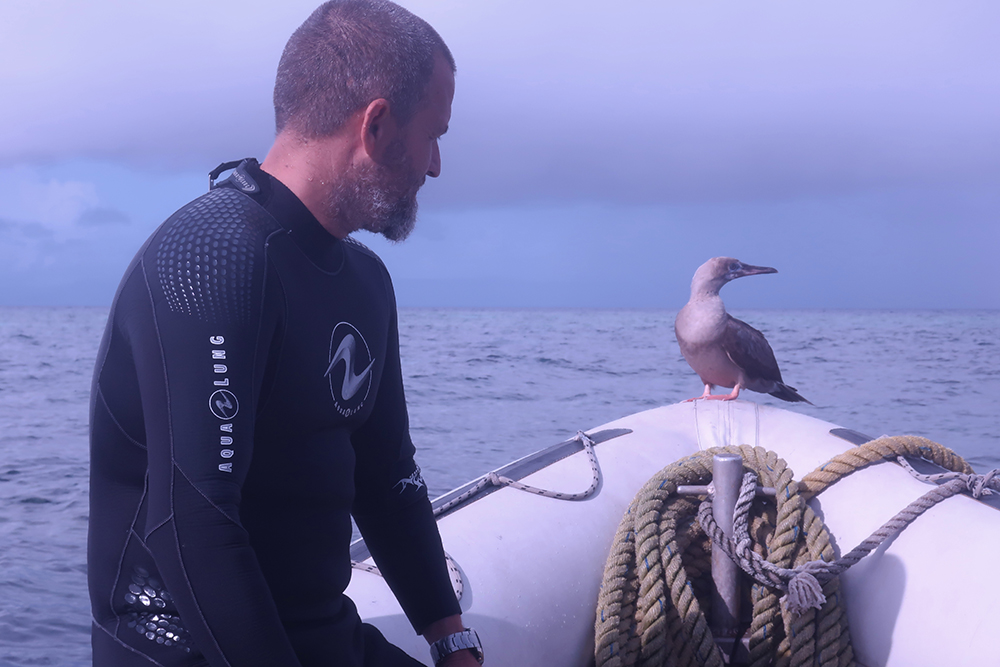 Photo by Joan Lopez: Mike staring at Boobie
On the last morning the currents seemed a little easier… but they weren't really. Our first dive was manageable and beautiful, but with the currents increasing and mini whirlpools forming all around the reef, we retreated to Vatu-i-ra Island for our last dive. It was beautiful and calm. Stunning corals, an Intermediate Manyspotted Sweetlips, an Octopus, a Turtle and a mini Squid Squad were the highlights. Our divers say we must add this dive to our regular itinerary!
After lunch, we visited Vatu-i-ra and admired the many birds flying around and nested. A little hermit crab race kept some guests busy while others decided to clean up the plastic they found on the grounds. This island visit is always a great addition to the trip. We then headed home to Lautoka and had our traditional gathering on the top deck for sunset (kind of). We're gutted to see such a great group say goodbye to us, but look forward to having Bill and Michelle back in November, and the rest of these crazy kids in 2024!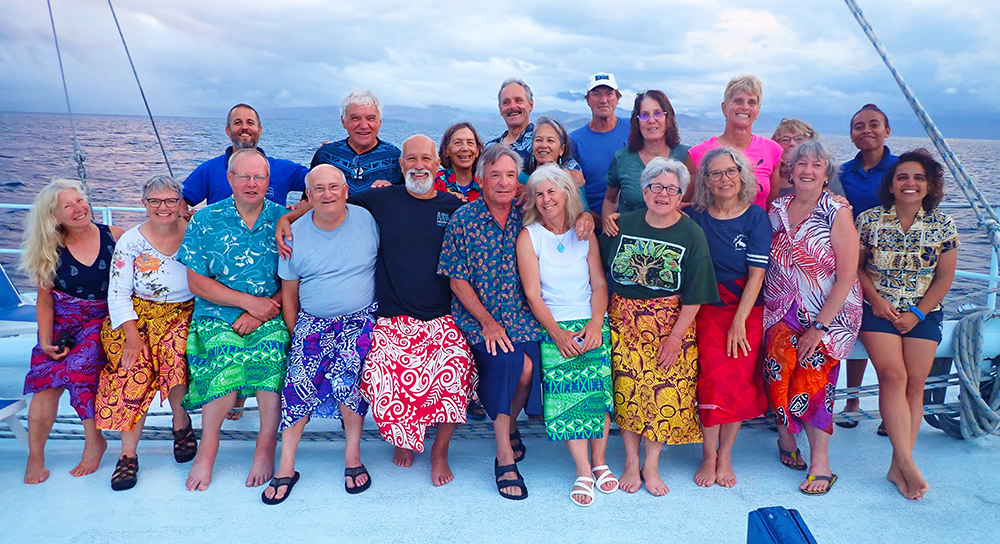 Comments
"I have just had a marvellous 10 days aboard Nai'a. As usual, your Fijian crew are rather special, and all the other guests felt the same. It was so great to be aboard again."

~ Quentin, 6-time passenger, New Zealand