Graceful as shit!
Destination: Vatu-i-ra, Sea Mounts, Makogai, Wakaya, Gau, Namena & Vuya
Trip Date:
Nov 29th - Dec 9th, 2022 -
Comments
Author: Bel & Mike
Welcome Back: Heidi, Mark, Bill, Michelle, Doug, Chard, Jan, Andy, Ginny, Steve, Lauralee and Phil! Whew!!
What a splendid time we had this trip! Team Canada and Team USA competed fiercely to see who was more graceful backrolling into the skiff (OK, maybe it was just Canadians vs Heidi!). We all agreed with Lauralee's assessment that they were all "Graceful as shit!" That's divers for ya!. With Heidi and Mark on board, it was time to take advantage of our Fish Geeks and discover new creatures we hadn't seen before. Yes, we saw all the big boys (minus the big black fish) and huge schools of… well, everything. But this trip we also had a surge on the sightings of small critters, such as a Pygmy Squid, juvenile Ornate Ghost Pipefish and minuscule nudibranchs we had a hard time identifying. The year is coming to an end and it's bittersweet to think we won't be diving Fiji's beautiful waters for two full months!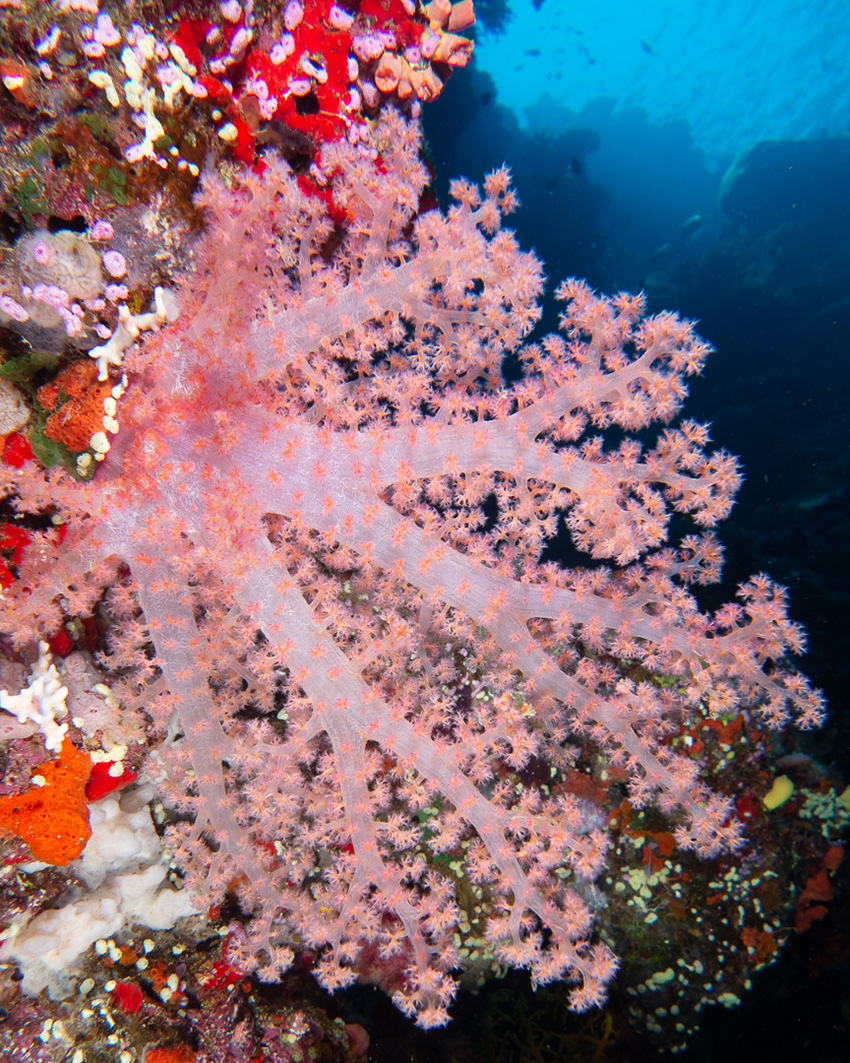 Photo by Chard: Dendronephthya soft coral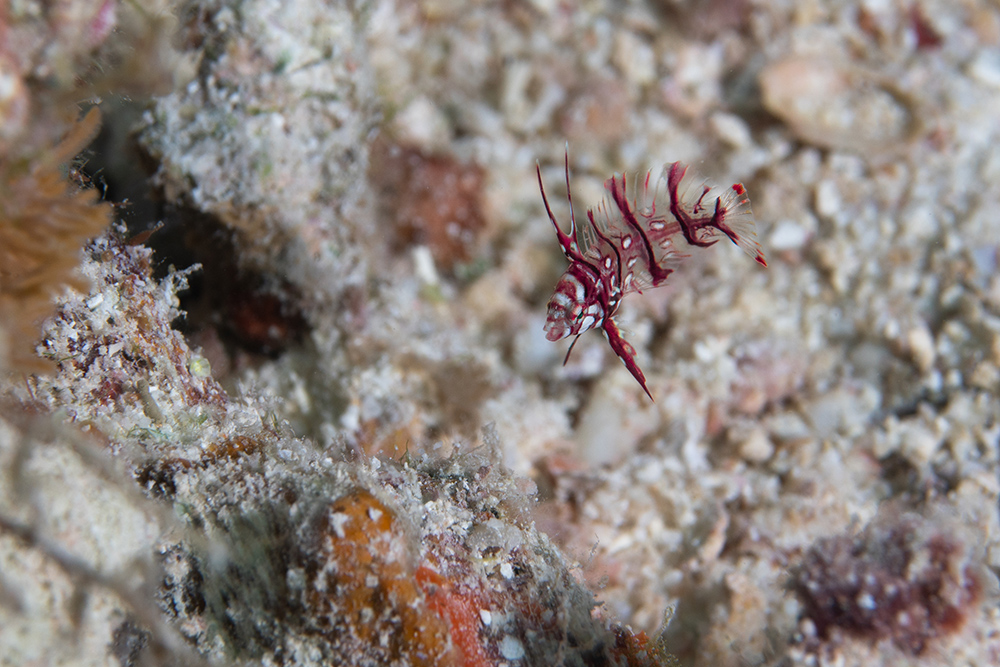 Photo by Doug: Mini juvenile Rockmover Wrasse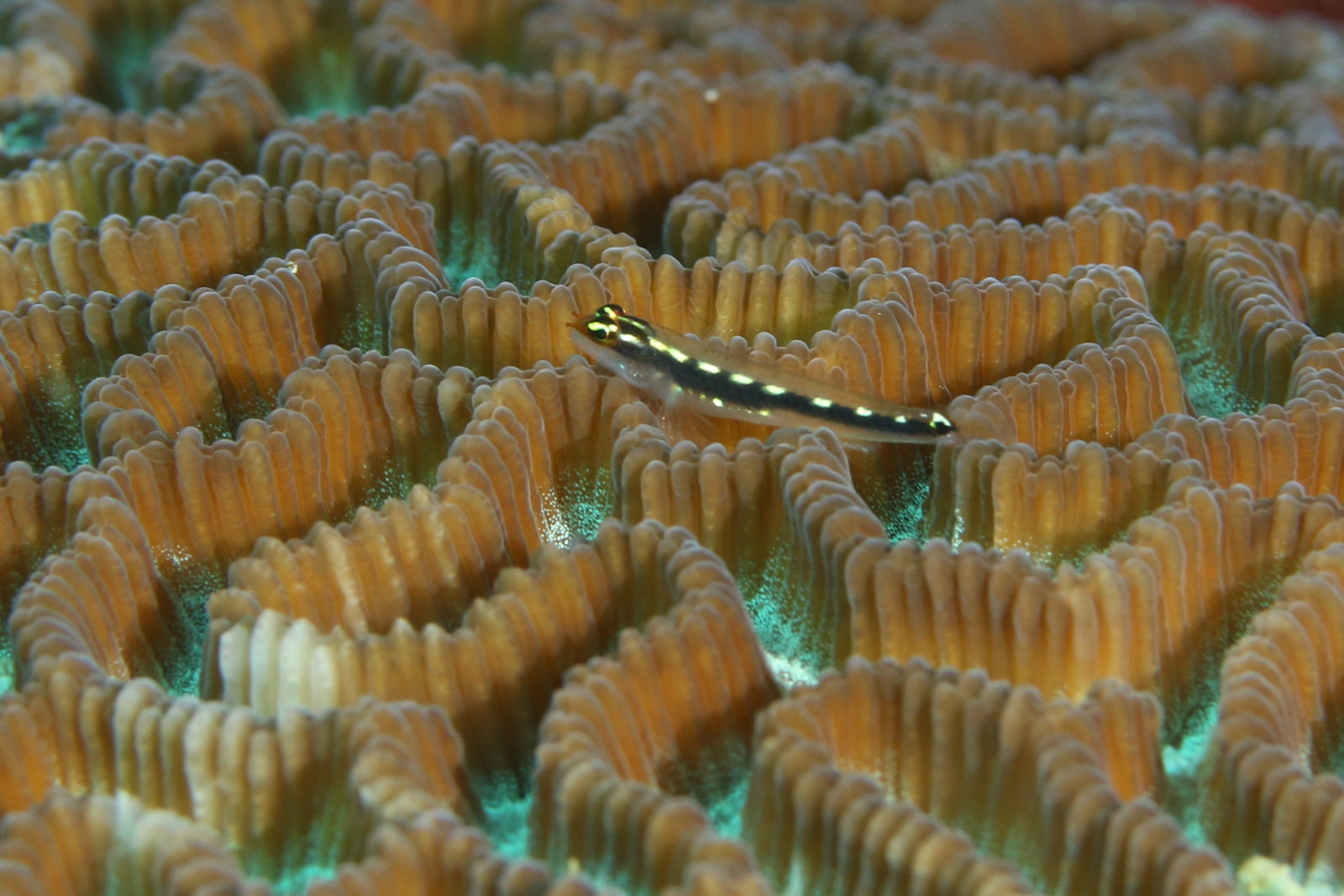 Photo by Mark Rosenstein: Microgobies make everything look big
You know you'll have fun when 12 of your 16 guests are returnees. These guys just cannot get enough of NAI'A, some being on their 2nd, 3rd, 5th trips… or 16th! They knew the ropes and helped us guide the newbies and so we were ready for orientation and checkout dive in record time! After dinner, Team USA presented the NAI'A crew with their sevusevu: Kadavu Kava.  Needless to say the crew were VERY happy and excited for the 10 days ahead of us. Thank you, Team USA!
Our first day was at Vatu-i-ra with creatures big and small. Some tiny headshield slugs populated the rubble at Howard's Diner and Coral Corner and Mellow Yellow provided a variety of Flabelinas, Blue Dragons and all the Fish Drama our guests could handle. We also saw Lionfish feeding and some huge Spanish Mackerel. We finished the day with a dive at GoMo with an unbelievable amount of Unicorn Fish, Surgeons, Rainbow Runners, Barracudas, Trevallies, Fusiliers and all our usual reef fish. At the end, three Palette Surgeonfish and a hungry Grey Reef Shark. The night dive at Alacrity was filled with decorator crabs and many shrimps.
Our next day at the Sea Mounts was one of the most incredible we ever had. At E6 the water was so calm we could see the reflexion of the reef on the surface… breath-taking! The Rainbow Wall didn't disappoint and Team Canada saw Hammerheads. Other sightings included curious White Tip Reef Sharks,  Slugs and Nudibranchs, Scorpionfish, Dragonets and another whole bunch of Fusiliers… We're getting used to doing our safety stops engulfed by these guys! More crabs and shrimps populated the night dive, as well as the stunning Mount Mutiny shallow reefs!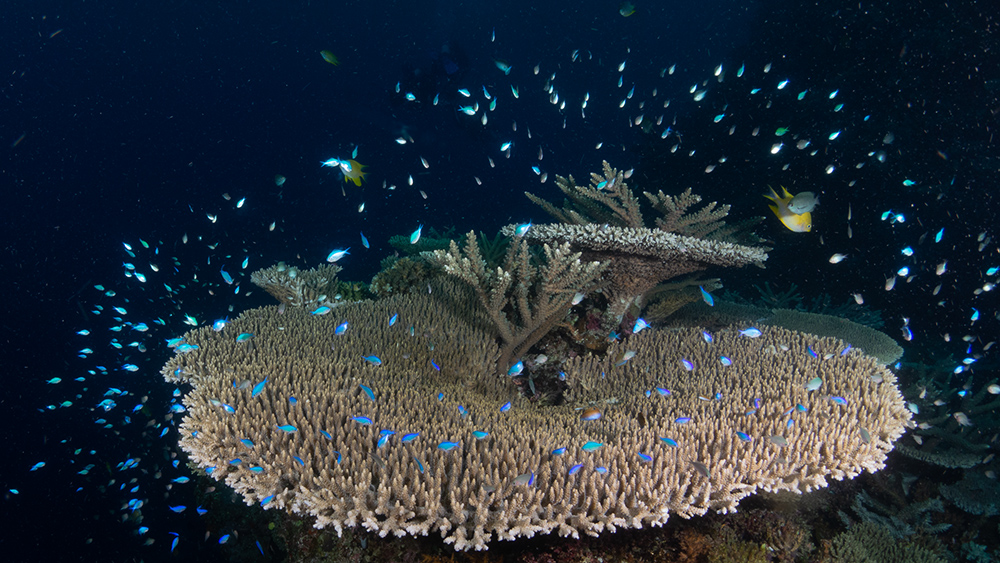 Photo by Chard: Fireworks Fiji style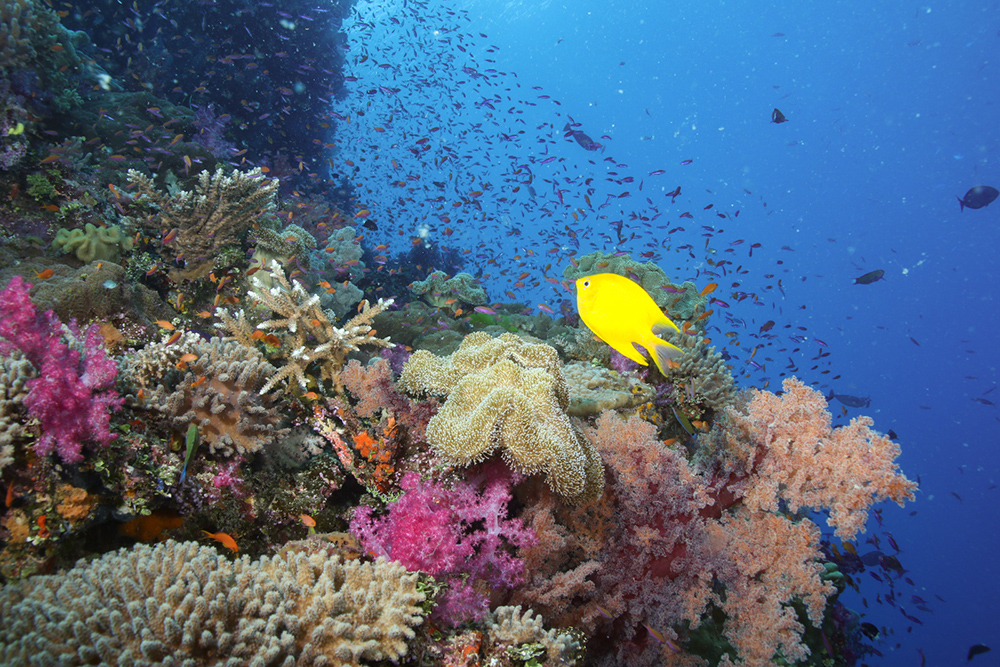 Photo by Mark Rosenstein: Healthy reefs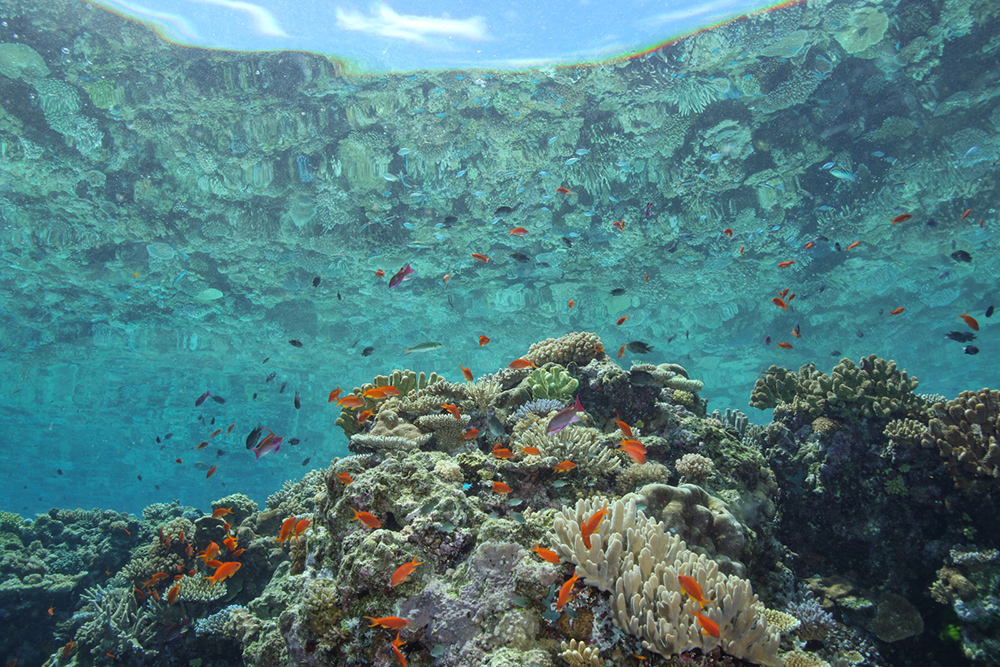 Photo by Mark Rosenstein: It's only the second time we have a reflective surface on our Sea Mounts... lucky guests!
We moved to Makogai early enough to start the day at 4:15 with a Dawn Dive with a few critters, Scorpionfish, Lionfish and a Hawksbill Turtle. Throughout the day we saw Pipefish (NAI'A, Brownbanded and Schultz), 4 different Cleaner Shimp, a variety of Nudibranchs (and eggs), a juvenile Ornate Ghost Pipefish, a Spotted Eagle Ray, Redfin Anthias and a teeny tiny Pygmy Squid. Makogai for the win!
Then we spent a day diving Gau's beautiful waters… but the current never really showed up for our dives. So, we had to work a little bit to cross Nigali Passage with Barracudas and found the Grey Reefs at their cleaning station all the way after the bleachers. Phil had his face in his camera and missed the big Manta Ray that passed over his head. On the Outer Ridge we saw armies of Fire Dartfish and a Reeftop Pipefish. At Jim's and Anthia's we saw a Sea Krait, Wormfishes and even a Chelidonura mandroroa. Our village visit was a blast as usual, and after seeing the guys dancing, Bel decided they are very elegant underwater!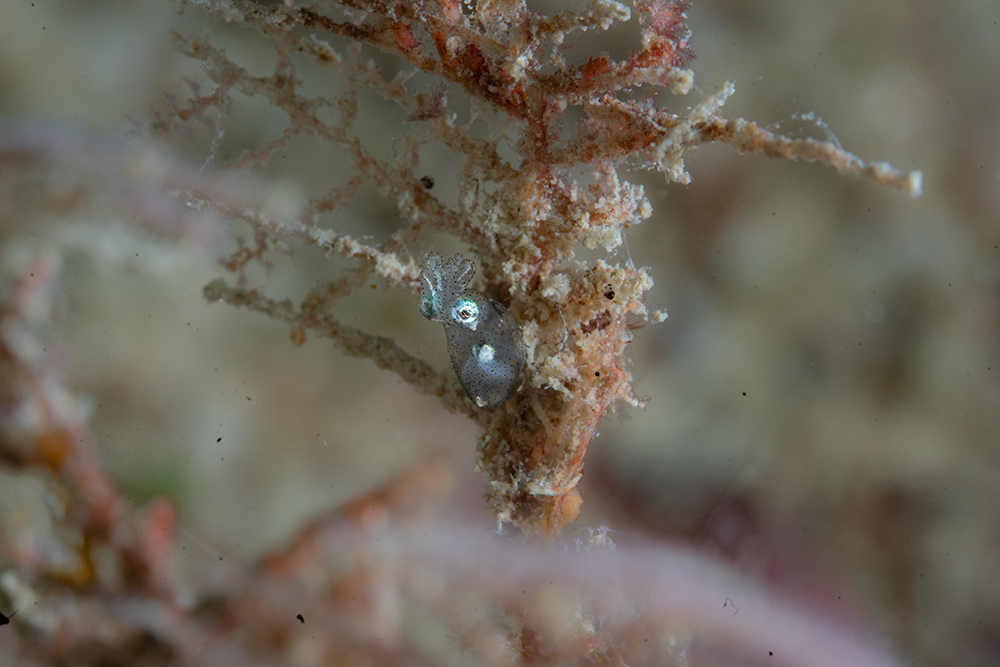 Photo by Doug: Pygmy Squid by hydroid (for size reference)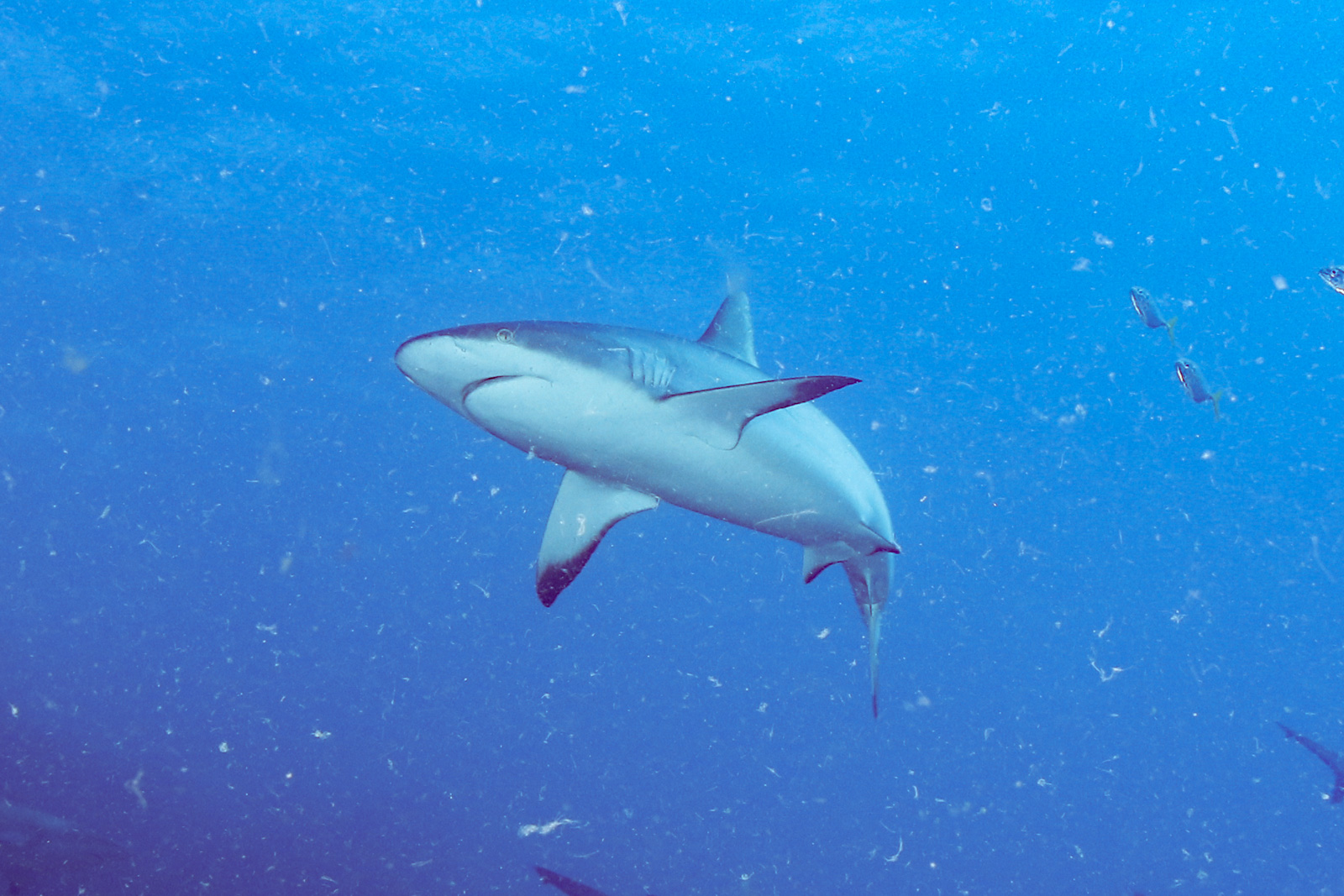 Photo by Mark Rosenstein: Grey Reef Shark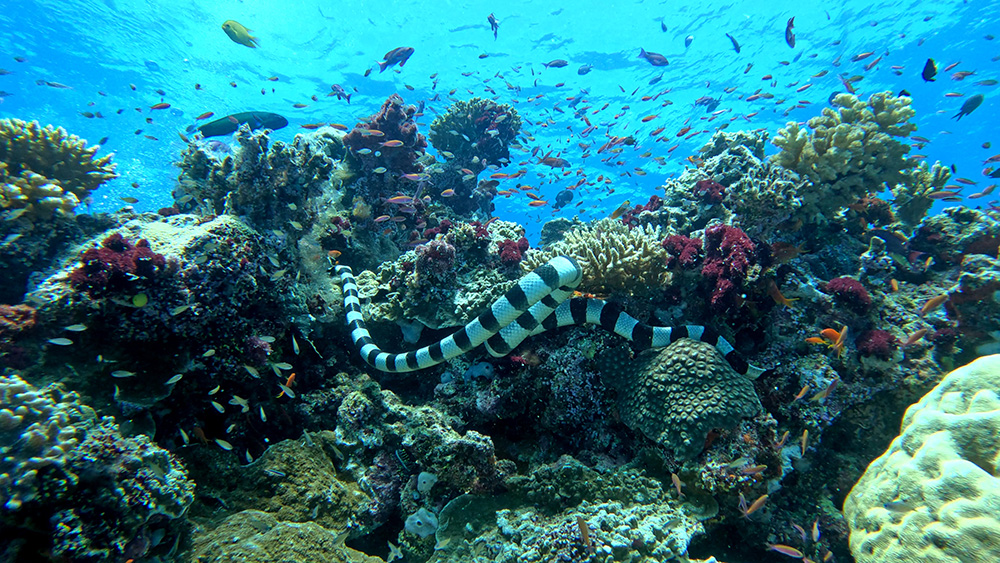 Photo by Bel: Banded Sea Krait 
We headed to Wakaya for more shark action, and saw 4 different species! Mark had a Grey Reef and a Black Tip Reef Sharks, everyone saw White Tip Reefs and Team Canada saw Hammerheads… again! We also played with a juvenile Mantis Shrimp (and saw a Golden and a Peacock), saw an African Pompano, a Giant Moray, many Orange-barred Garden Eels, Decorated Dartfish, Squarespotted Anthias, Green Jobfish, Milkfish and some Wormfish. The current was wild in the morning and sent Team USA shooting up the channel, where we saw many Yellowmargin Triggerfish preparing to nest. On the night dive we saw lots of interesting "gelatinous stuff", Upsidedown Jellies, huge colonies of Skeleton Shrimp, crawling and swimming Flatworms and a nice Squid at the very end.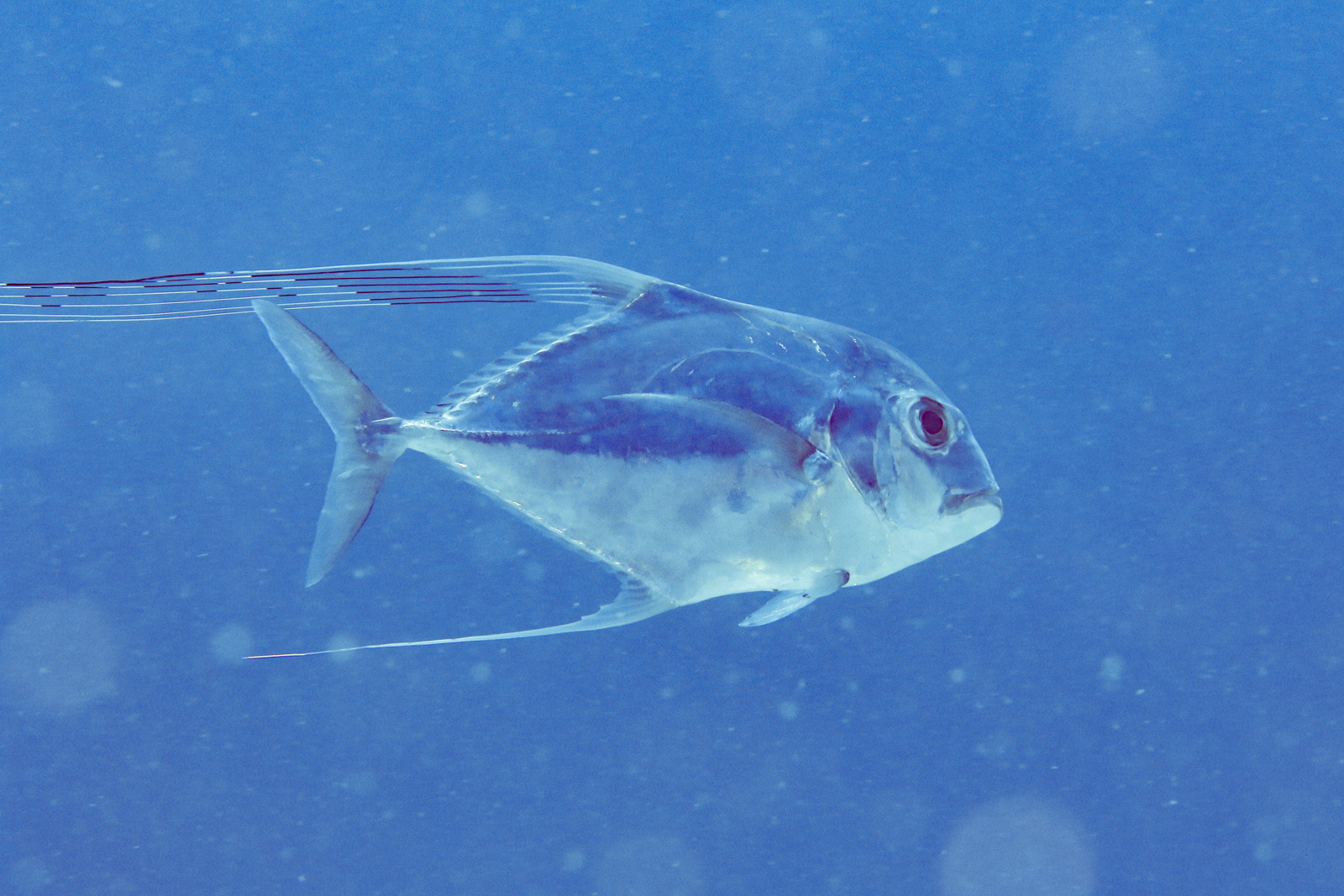 Photo by Mark Rosenstein: African Pompano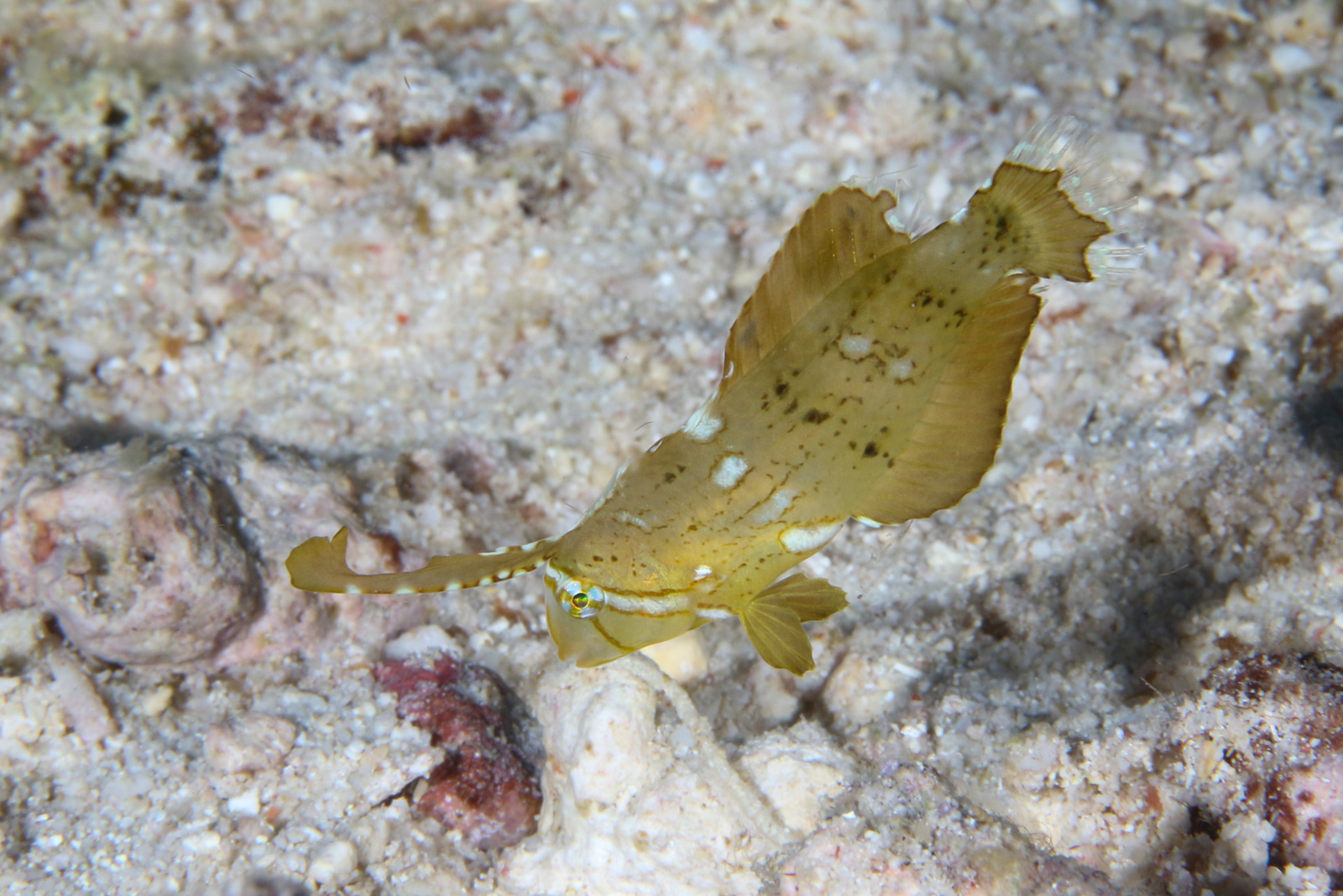 Photo by Mark Rosenstein: Peacock Razorfish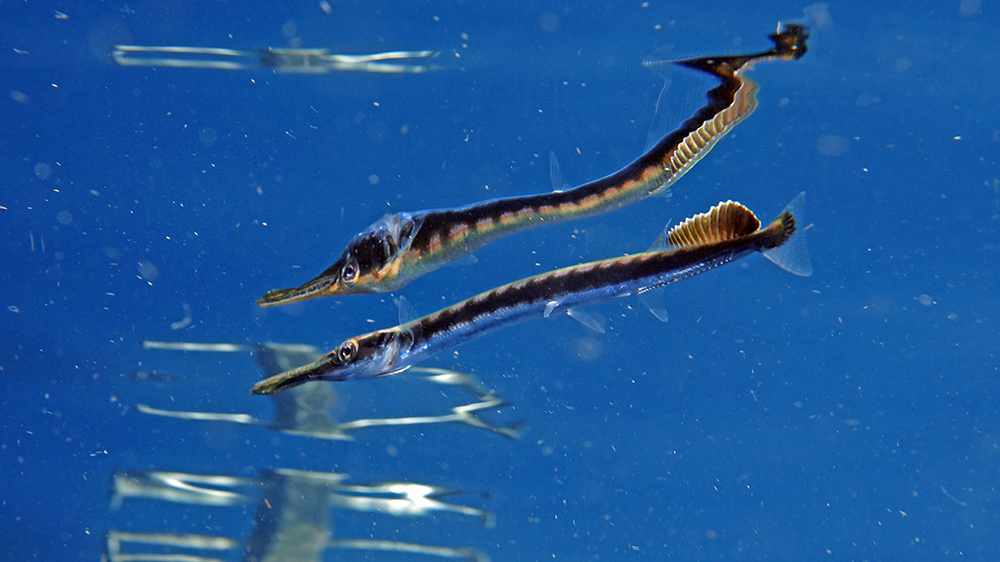 Photo by Steve: Water mirror
We spent two fabulous days in Namena enjoying the abundance of life found in the Marine Park. We saw two Blue Ribbon Eels (thank you, Mark!!), Spadefish, Anthias (Luzon, Squarespotted and Stocky), Blue-eyed Coral Crabs, many Humphead Wrasses, huge Dogtooth Tunas (one eating a Trevally!), Sharks (Jan even had a close Hammerhead encounter… or so she claims!), Pipefish (several species) and an African Pompano. Huge schools on North Save-a-tack included Barracudas (Bigeyes, Pickhandles, Blackfins), Trevallies (several species), Queenfish, Oceanic and Redtooth Triggers and Schooling Bannerfish. An Octopus at Kansas entertained divers for a long time (both skiffs) and small critter like nudis, shrimps and a Seaspider carrying eggs kept the macro fans happy. On the first night we had our Kava party and learned people do strange things to goats in Canada… they do not sound right! On the second night we had a night dive and saw yet another Octopus and a couple of Bluespotted Stingrays.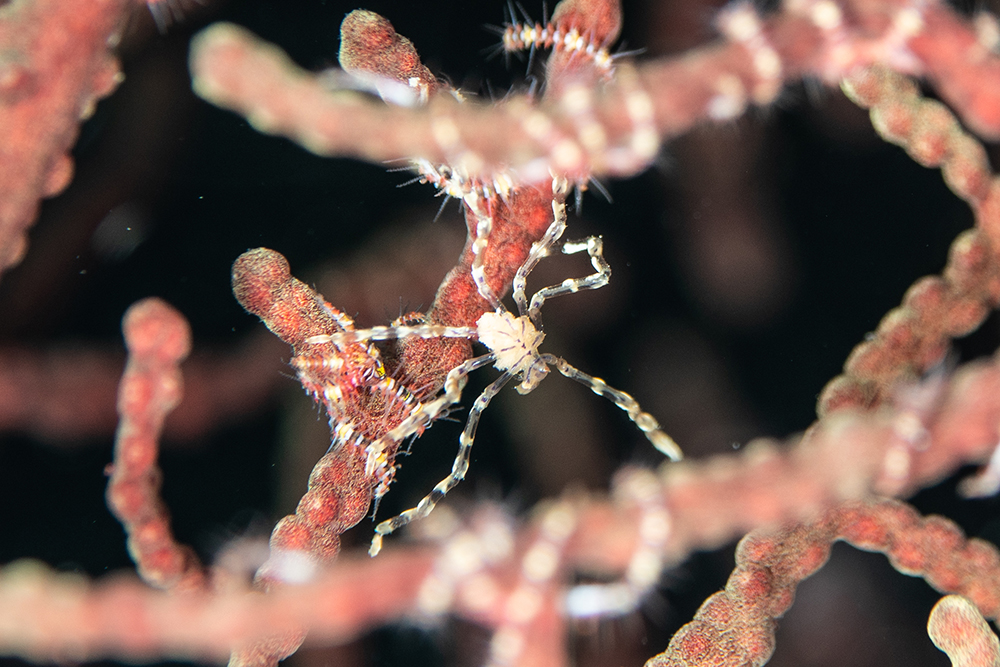 Photo by Doug: Seaspider with eggs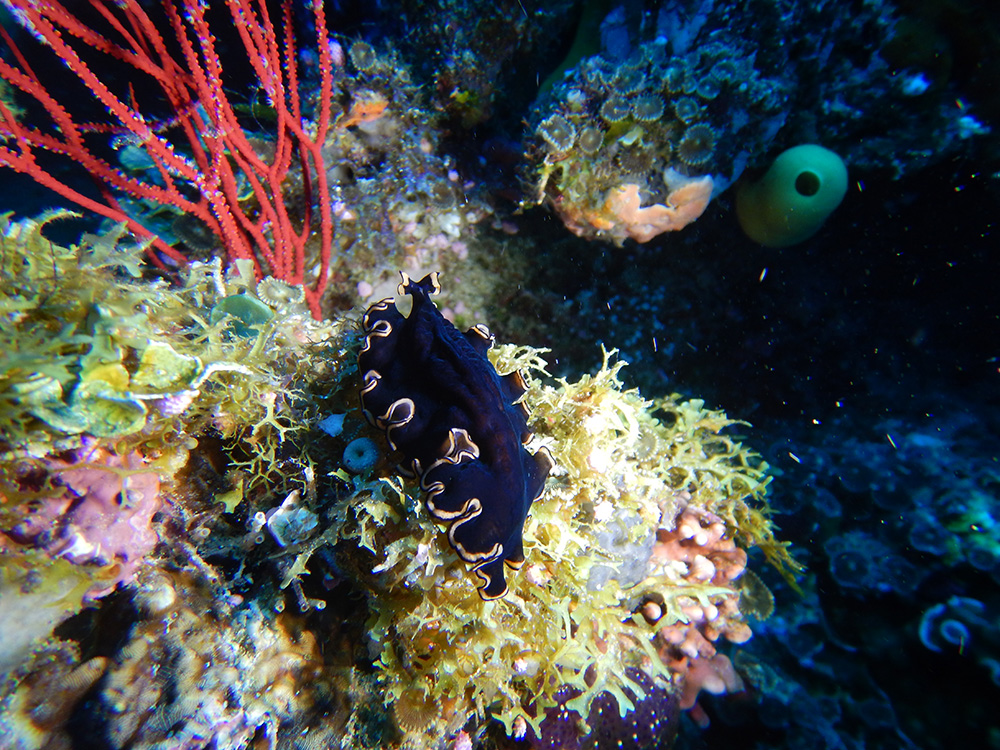 Photo by Jeannene: Flatworm. Or is it Bel's scrunchy??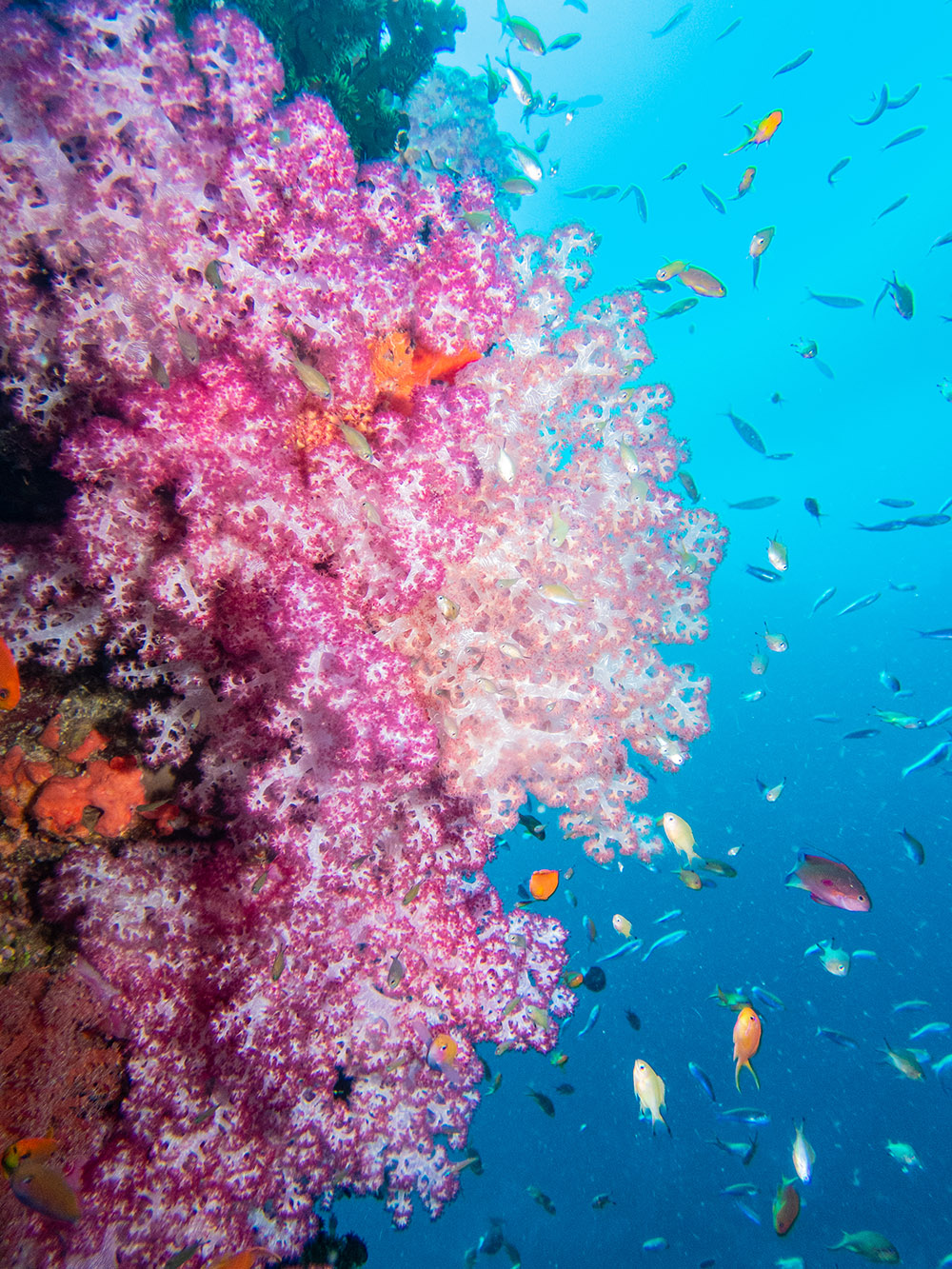 Photo by Bel: Kansas colors
We moved to Vuya for an incredible day of diving. Being so close to the full moon, we expected a lot of current, but our morning dives had very little current (just enough to open the soft corals) and in the afternoon it picked up to a surgy current. Throughout the day we saw multiple nudibranch species, a Turtle, Dogtooth Tunas and our beloved Pygmy Seahorse. Our afternoon briefing was done in the company of Spinner Dolphins and Jeannene and Koroi saw a Minke Whale right by NAI'A while the others were diving! With the current ripping by sunset, we cancelled the night dive and had a small informal Kava Party on the top deck. What a luxury to look at the almost full moon and stars as we listened to the crew sing…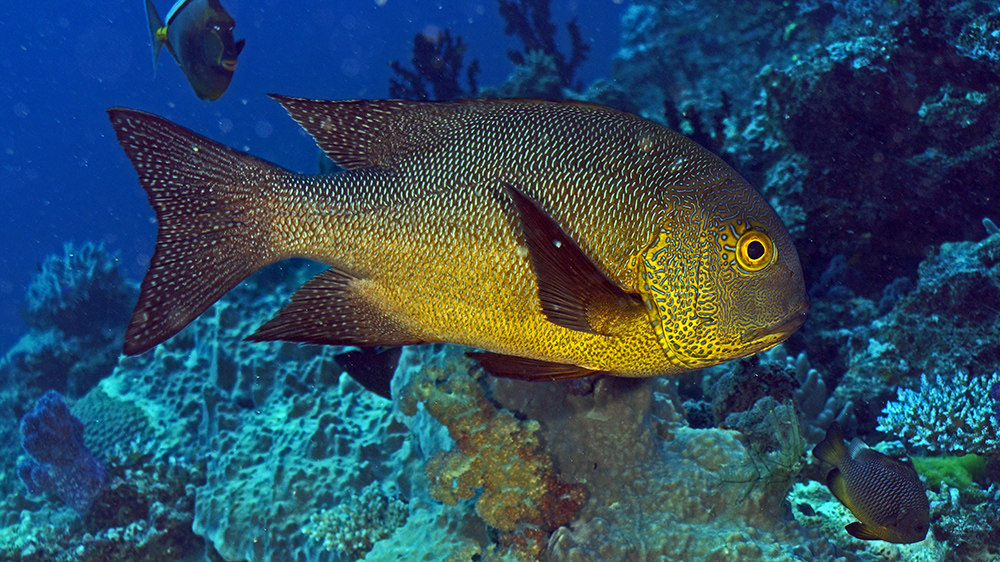 Photo by Steve: Midnight Snapper (and photobomber)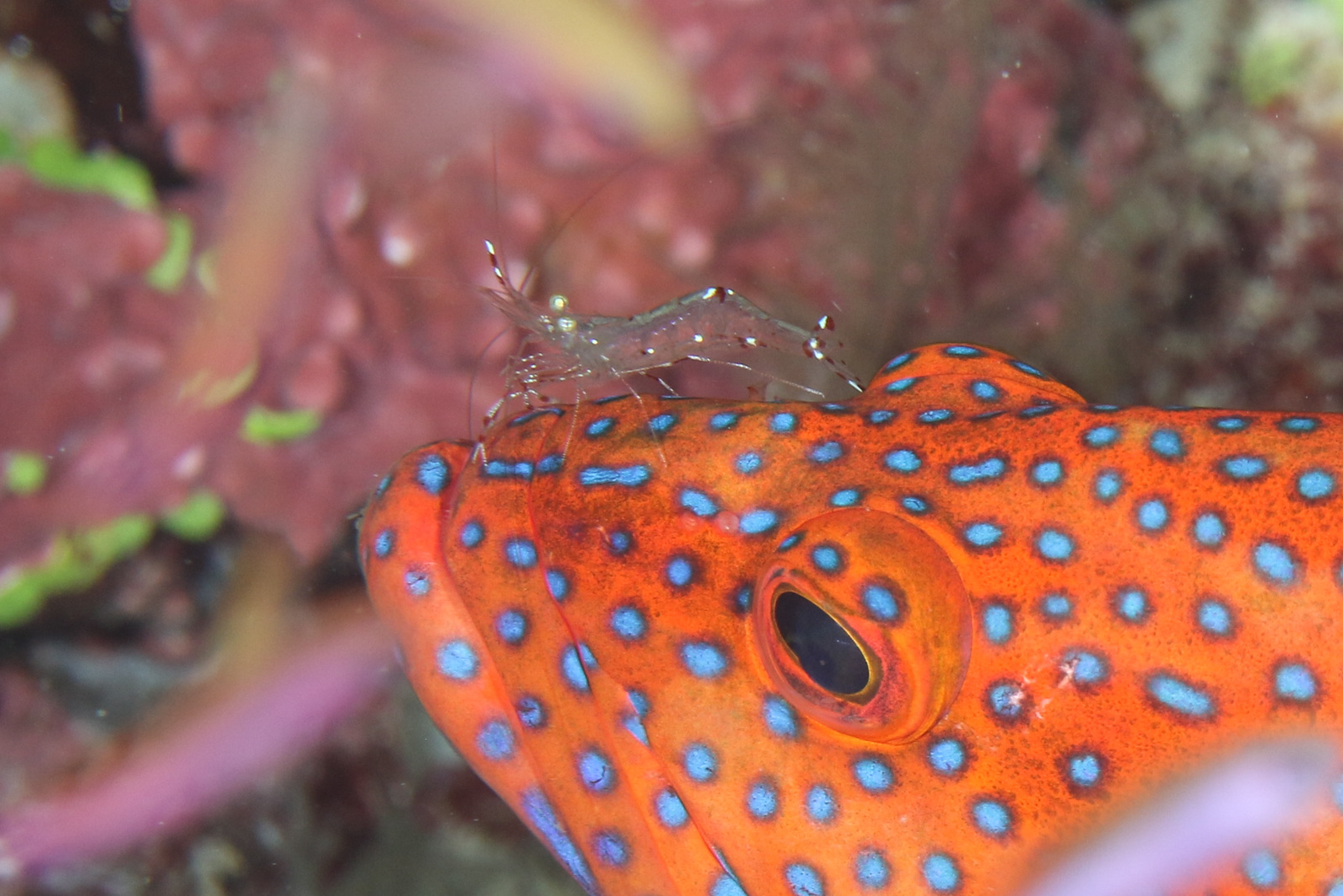 Photo by Mark Rosenstein: Coral Grouper getting cleaned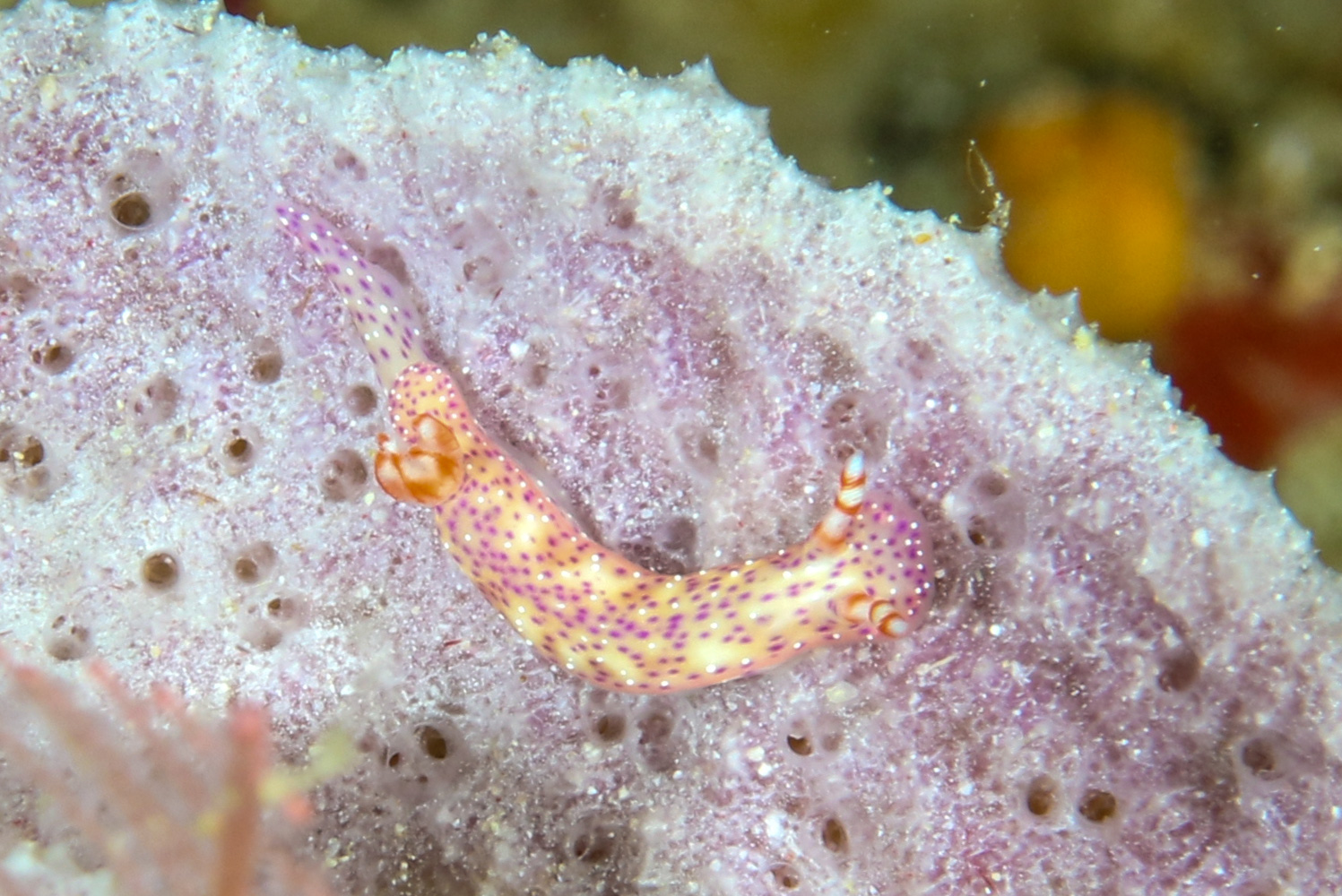 Photo by Mark Rosenstein: One of eight species of nudibranchs seen on a single dive at Cat's Meow
We braced for our last day at Vatu-i-ra and revisited the some of the crowd's favorite sites (Coral Corner and Mellow Yellow). As the current picked up, we did a fly-drift-chill dive at Whole Shebang and it was just so… perfect. Steve wondered if we could ever top that dive. Him and the others were not disappointed with our Vatu-i-ra Island dive with its lovely hard coral scenery and calm waters. We steamed back already making plans to see these crazy kids again in Canada and on our 2024 Lau Trip (way to take over a charter, Heidi!).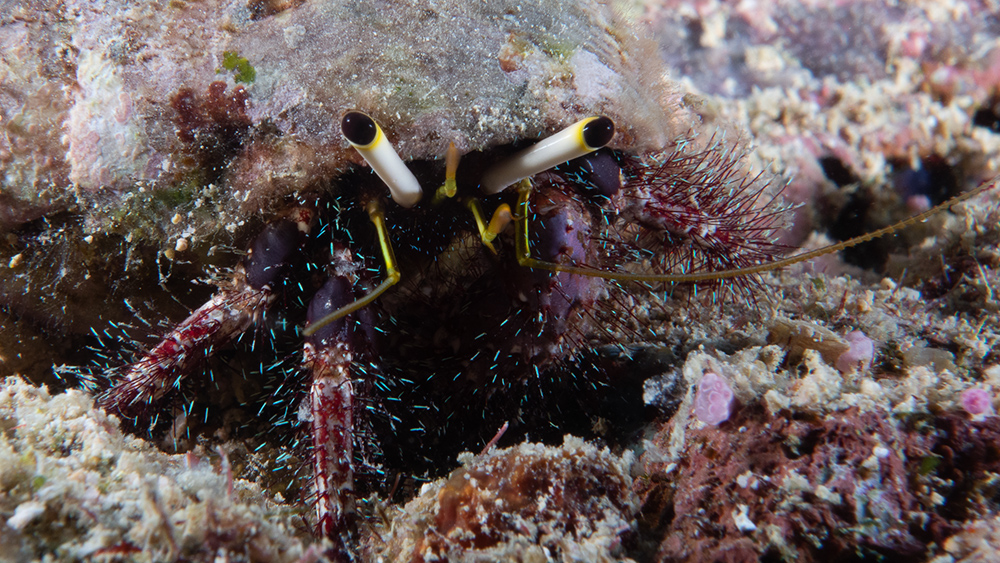 Photo by Chard: Hermit Crab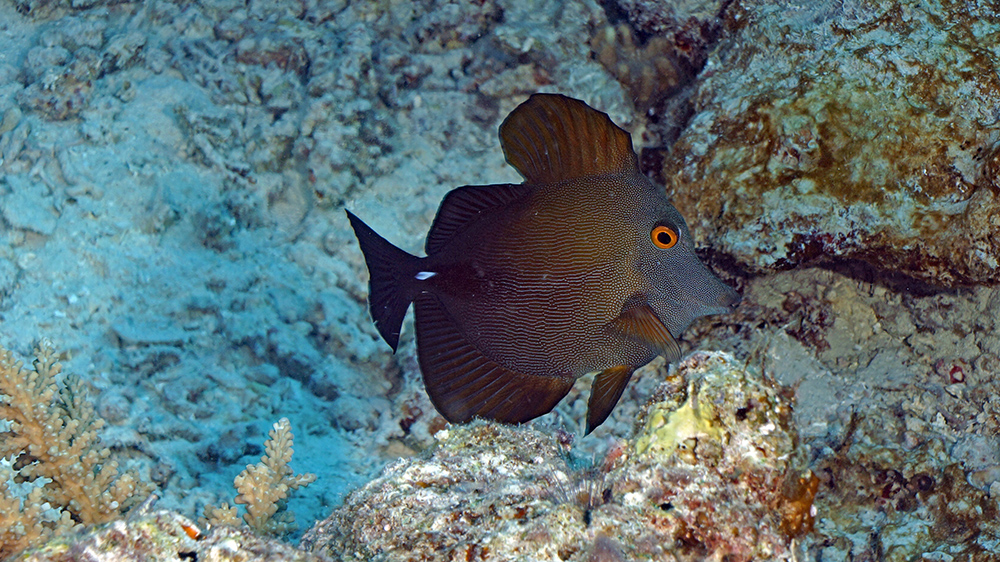 Photo by Steve: Brushtail Tang... a little banged up!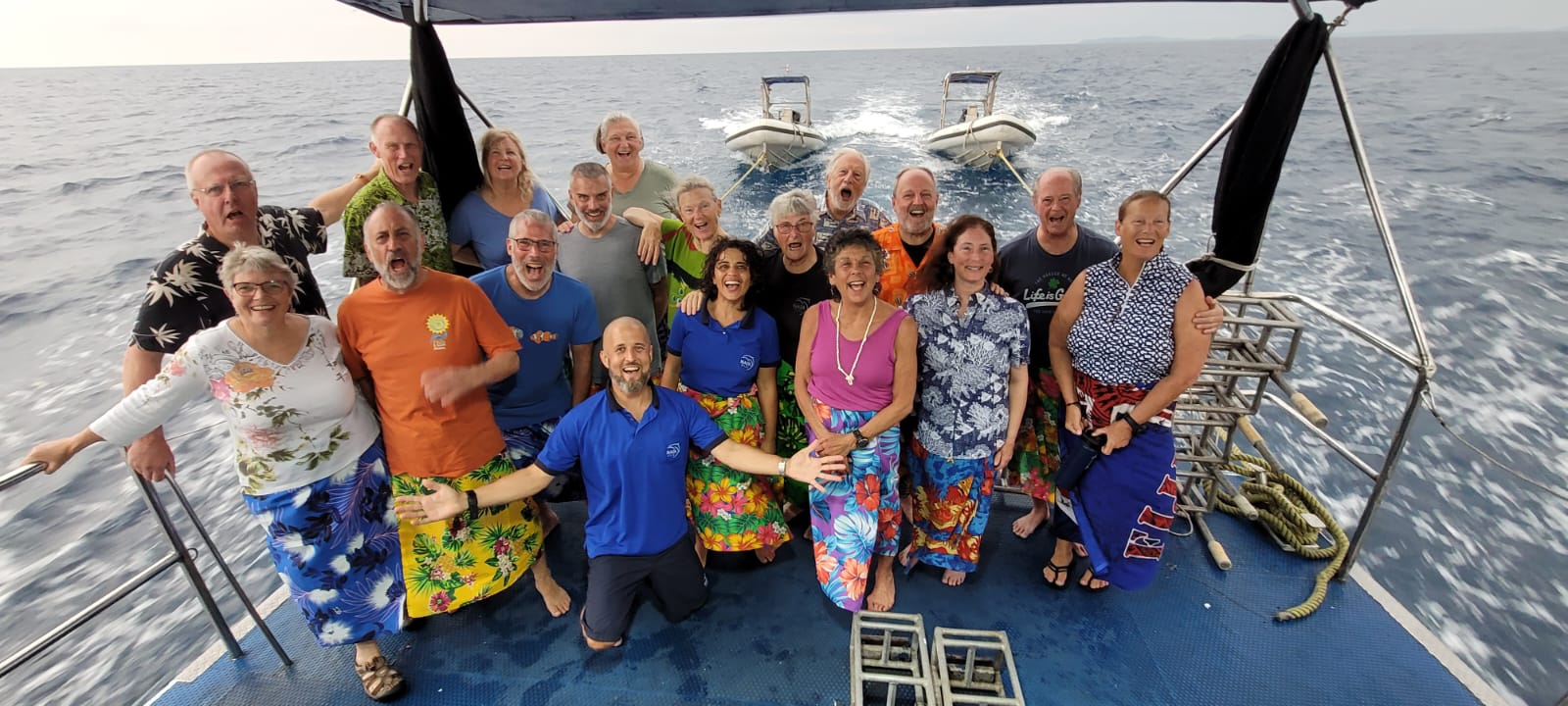 Sunny for 10 days, of course it got rainy at Group Photo time! Its OK, we improvised on the dive platform. BULA!!!
Comments
"NAI'A dives the world's most beautiful coral reefs."