Lau, Whales and Diving
Destination: Bligh Water, Somosomo Straight, Lau, Wakaya & Makogai
Trip Date: Jul 30th - Aug 9th, 2022
Author: Bel & Mike
Welcome Back: Jeanette, Ladonna, Trudy, Bill, Jane
Combining the Lau scenery with swimming with a Humpback Whale and diving the best of Fiji has made for a fantastic journey! We saw Spinner Dolphin, Pilot Whales and a Humpback Whale (who we swam with, heard sing and saw breaching). We dived with schooling Scalloped Hammerheads, Leopard Sharks, Hawksbill Turtles and Barracudas. It has been a trip of a few "firsts" for us, and one we will never forget!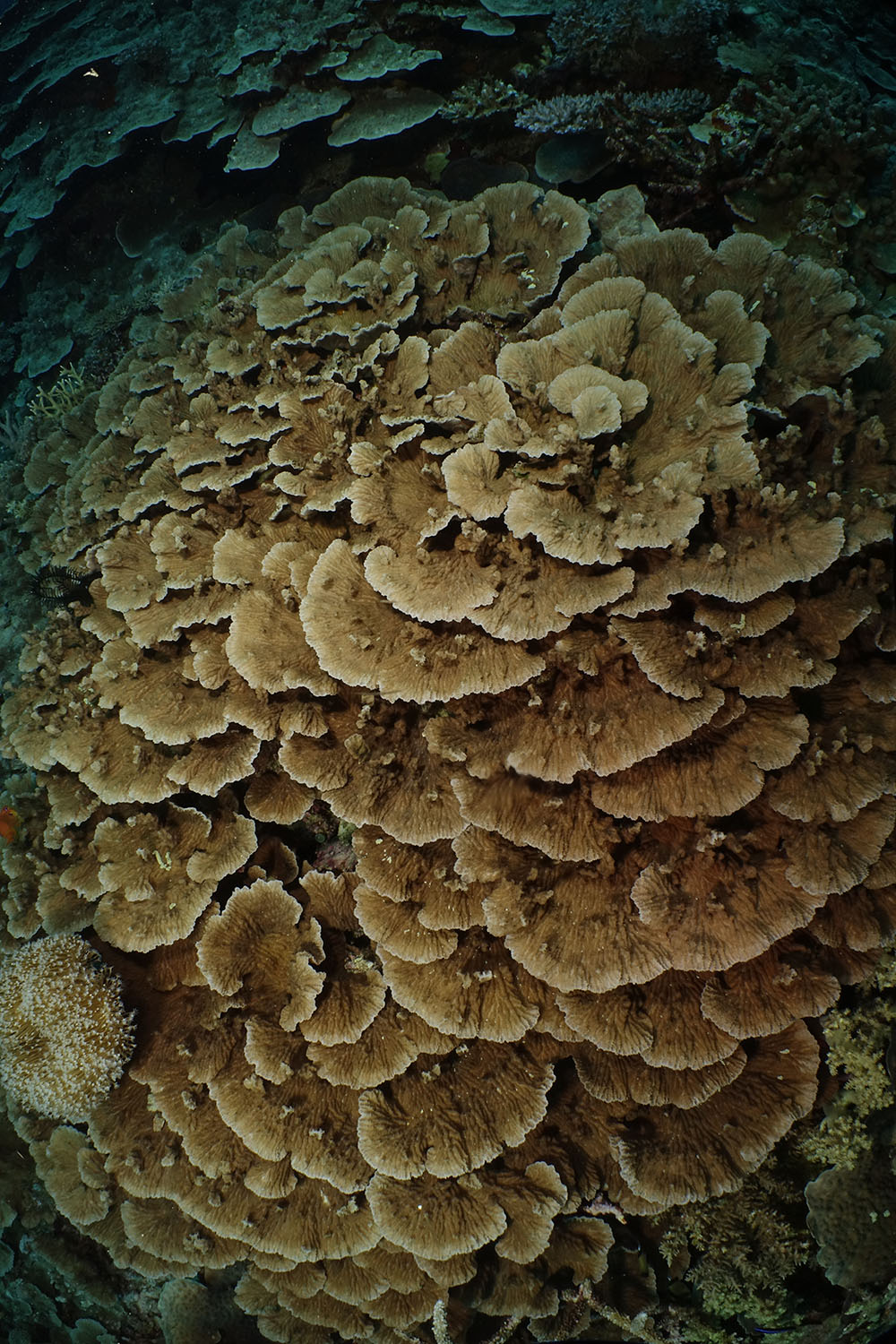 Photo by Ladonna: Healthy reef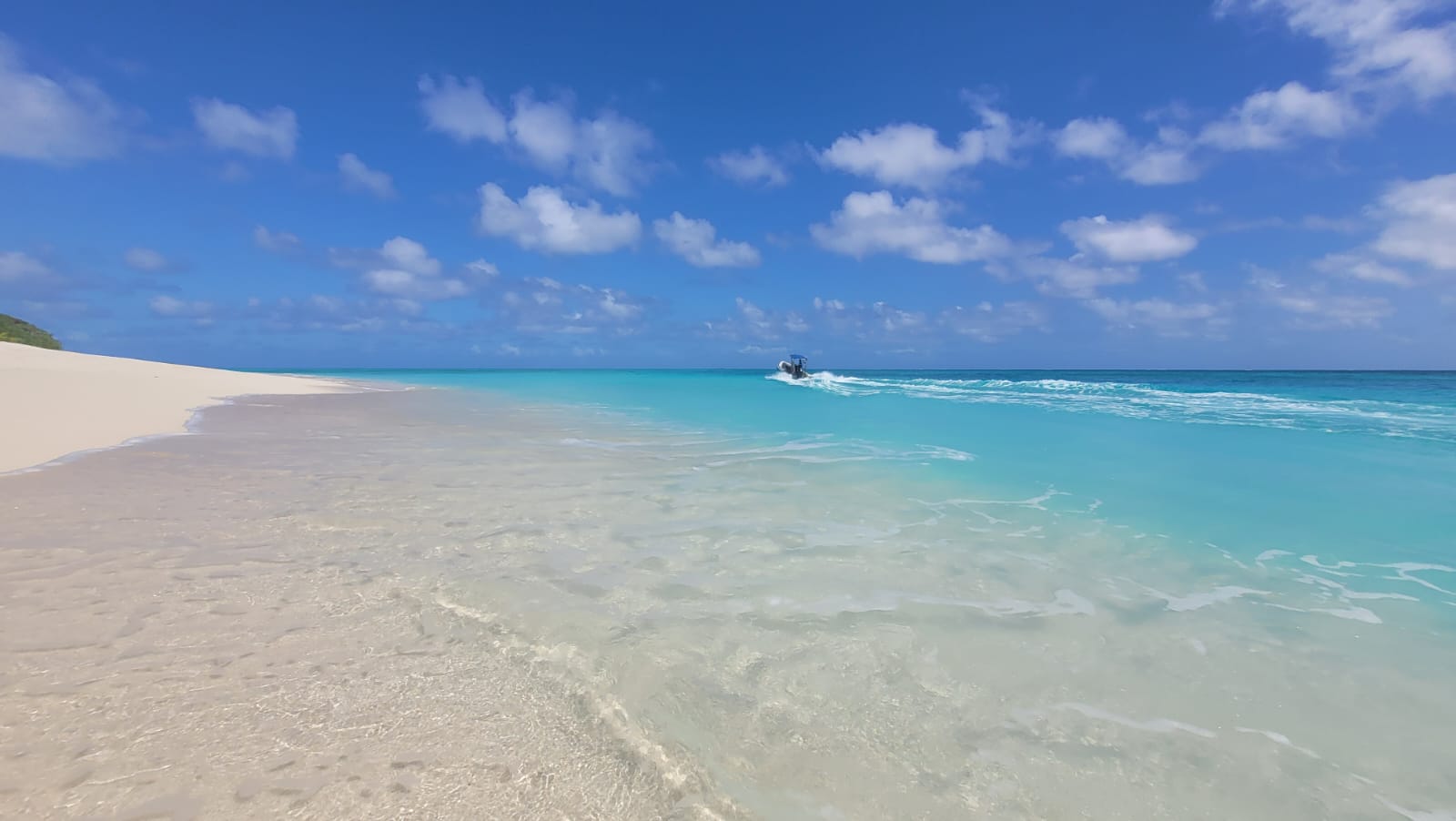 Photo by Mike: Wailagilala beach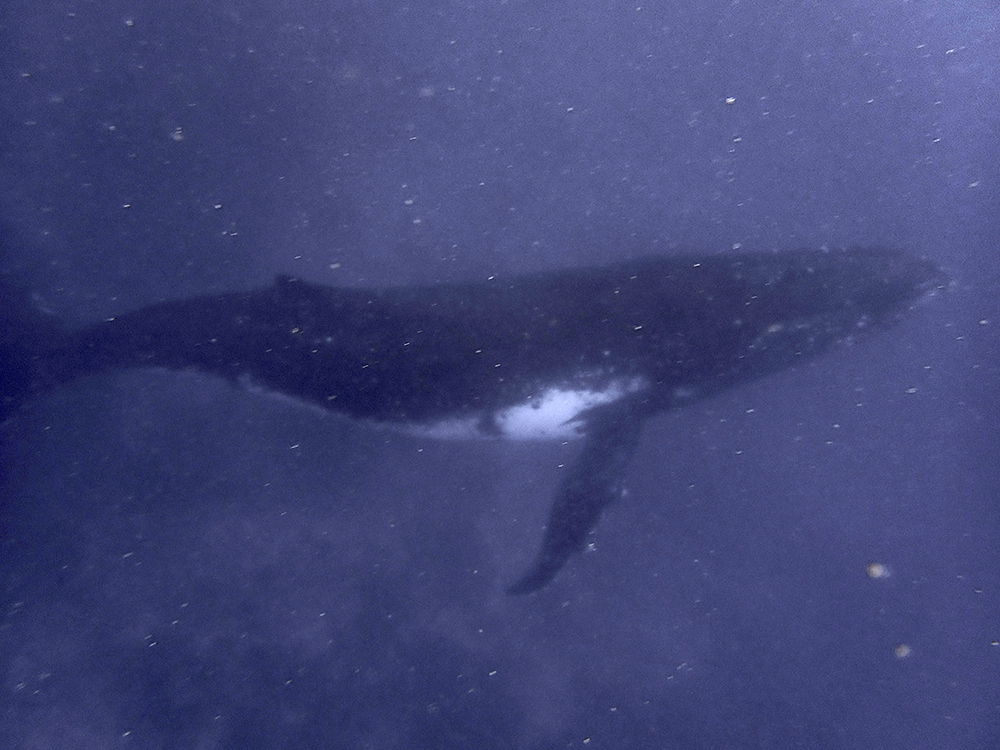 Photo by Mike: Humpback Whale
We were both very much looking forward to this trip since we saw it on the calendar: Whales & Lau. A journey to this fabulous area of Fiji, diving some of our best dive sites and looking for the glorious Humpback Whales. So, Bel was very sad when she tested positive for covid the morning of the trip and had to isolate in her cabin for at least the first half of the trip! Mike was to run the show by himself until Bel was allowed out again, and he started by welcoming back Trudy, Bill, Jeanette and Ladonna who only just left NAI'A that morning. We set extra safety and testing protocols in place to insure everyone's safety and off we went on this new adventure.
The first day on the trip was spent in Vatu-i-ra with some wild current, so we picked our dive sites carefully throughout the day as many guests were still working on adjustments on their weights. We saw many sharks at Coral Corner and the guests enjoyed being taken for a ride around the corner at Howard's Diner. They were all impressed with the exuberance of our reefs, a comment we do not get tired of hearing. With every trip we receive sad news about reefs around the world that used to be fabulous and now are dying… we are so lucky here in Fiji to have managed to dodge this bullet so far. Our night dive was cancelled due to the winds and current directions and we set out to Namena late at night.
Those who follow these diaries will know Namena Marine Reserve to be one of our favorite places in Fiji, and it is always a big hit with our guests. At Grand Central Station, the big stuff impressed the guests, a lot of Grey and White Tip Reef Sharks, a big school of Barracudas, a few Dogtooth Tunas as big as the sharks, a Humphead Wrasse and, to top it all, a Hammerhead! South Save-a-tack pleased everyone with the healthy and busy reef tops, stunning soft corals and many, many nudibranchs. On the night dive, we saw most of our regulars, but two foot-long Seahares stole the show. As we always say: Namena never disappoints!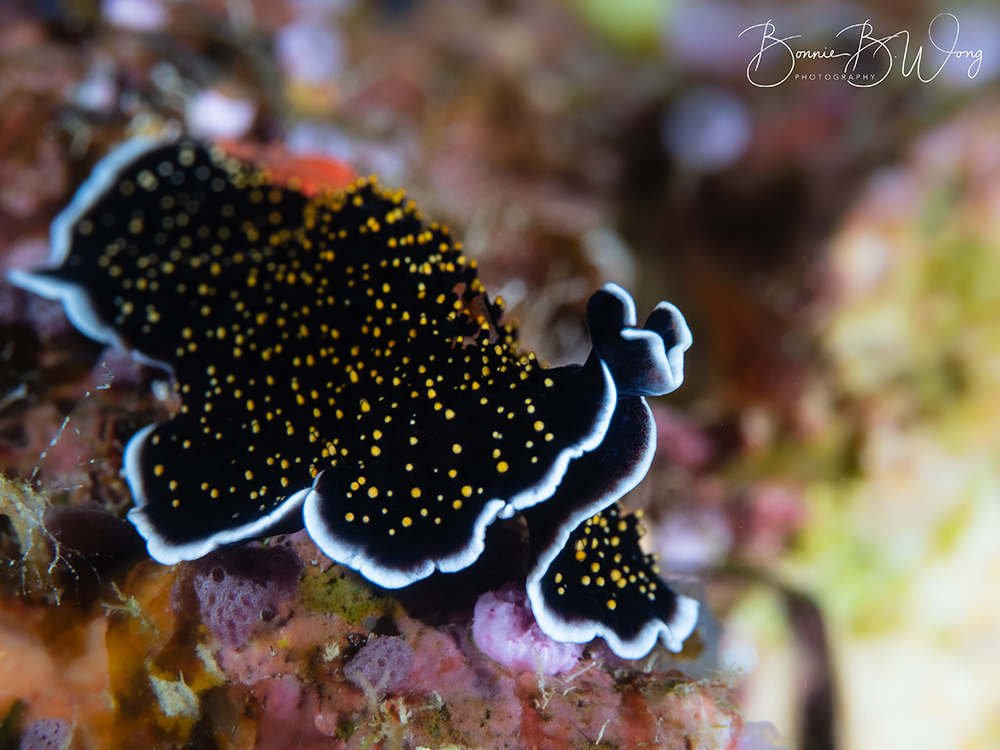 Photo by Bonnie: Flatworm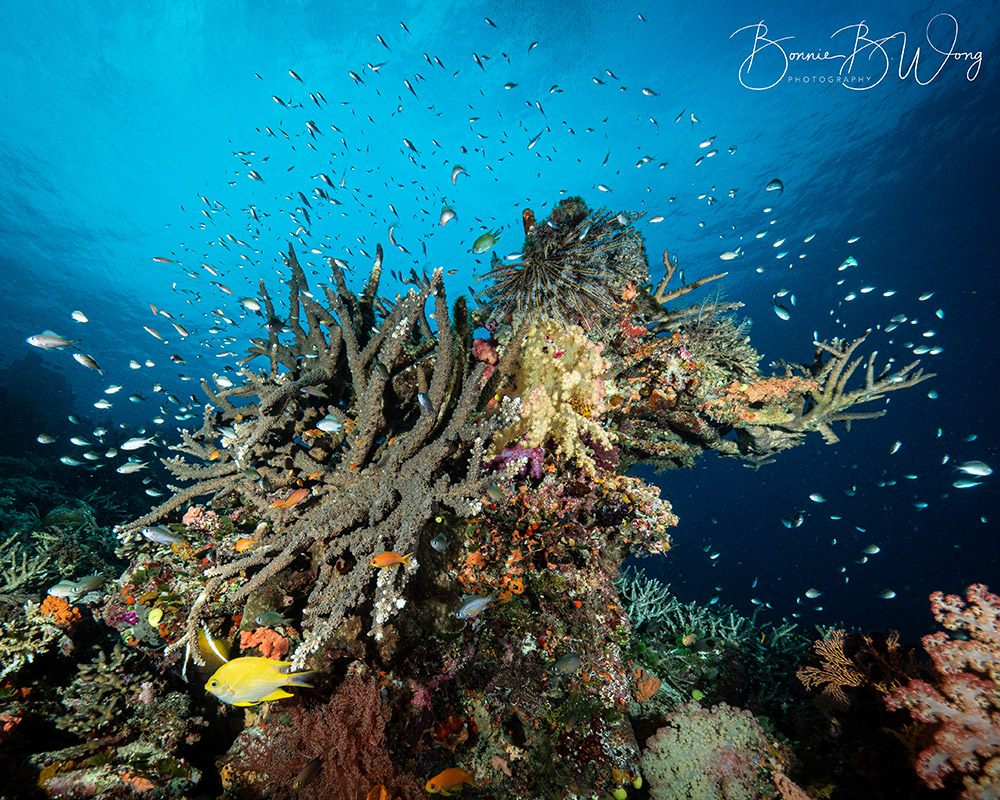 Photo by Bonnie: Reef action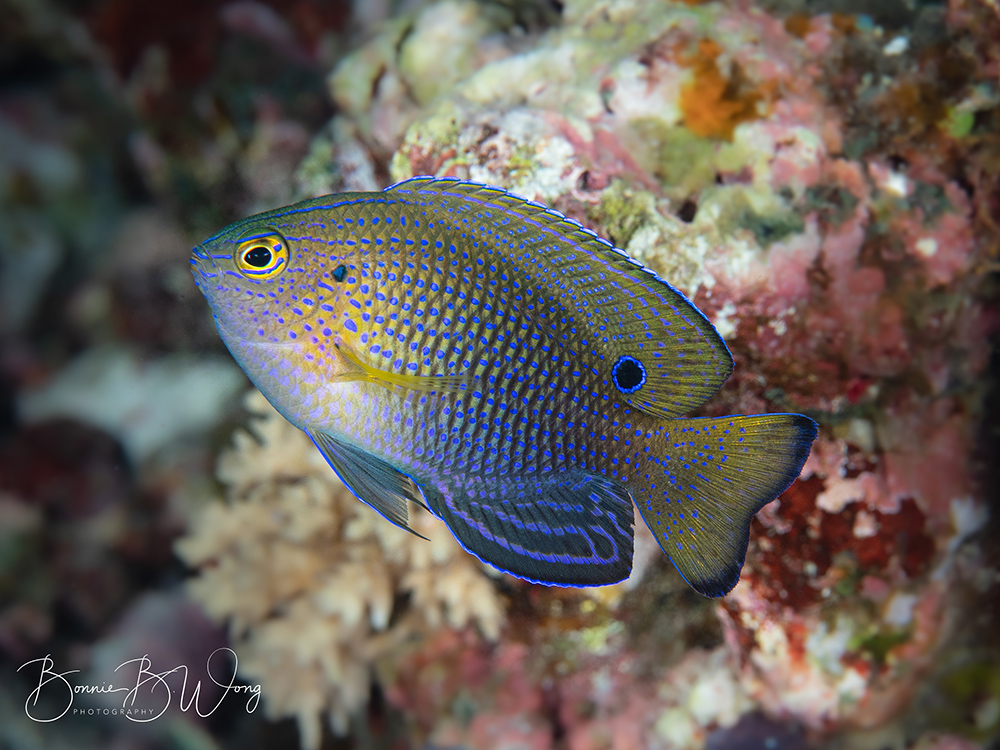 Photo by Bonnie: Princess Damsel
The next morning we started the day at Taveuni diving the Rainbow Reef. Our guests were happy with that first dive but couldn't help in noticing it wasn't quite as fabulous as Namena… but then again, very few places are. Spinner dolphins escorted them back to NAI'A and we dropped Trudy and Bill off, as Trudy tested positive that morning and decided to quarantine in Taveuni. Sad, sad news. But they did get a private dolphin entourage following the skiff that took them to shore. On the way to and from dropping them there, NAI'A was on the lookout for Humpbacks, as they were sighted in the area the last two mornings, but unfortunately saw none. The afternoon dives brought on a few sleeping White Tips, an Octopus and a pair of Two Tone dartfish… but also schooling and feeding Jacks, Trevallies, Parrotfishes and stunning hard corals. We found our favorite site in Taveuni: Champion Rock. The star of the night dive was the small Cockatoo Waspfish that Ladonna found.
After a bumpy passage we woke up in Wailagilala, the northern most island in the Lau group and Fiji's only true atoll. A male Humpback Whale was welcoming us right at the passage and so we decided to spend the day with him. We had many surface sightings and a few snorkelling encounters. Bel got so jealous she pushed out the last of covid out of her (finally tested negative after 36h of no symptoms) and joined us for our beach/sunset/lovo/bonfire. Many birds flew around as we explored the beach and the ladies fell in love with Bel's favorite Fijian dish: palusami. Talk about finishing the day right, the crew really outdid themselves this time!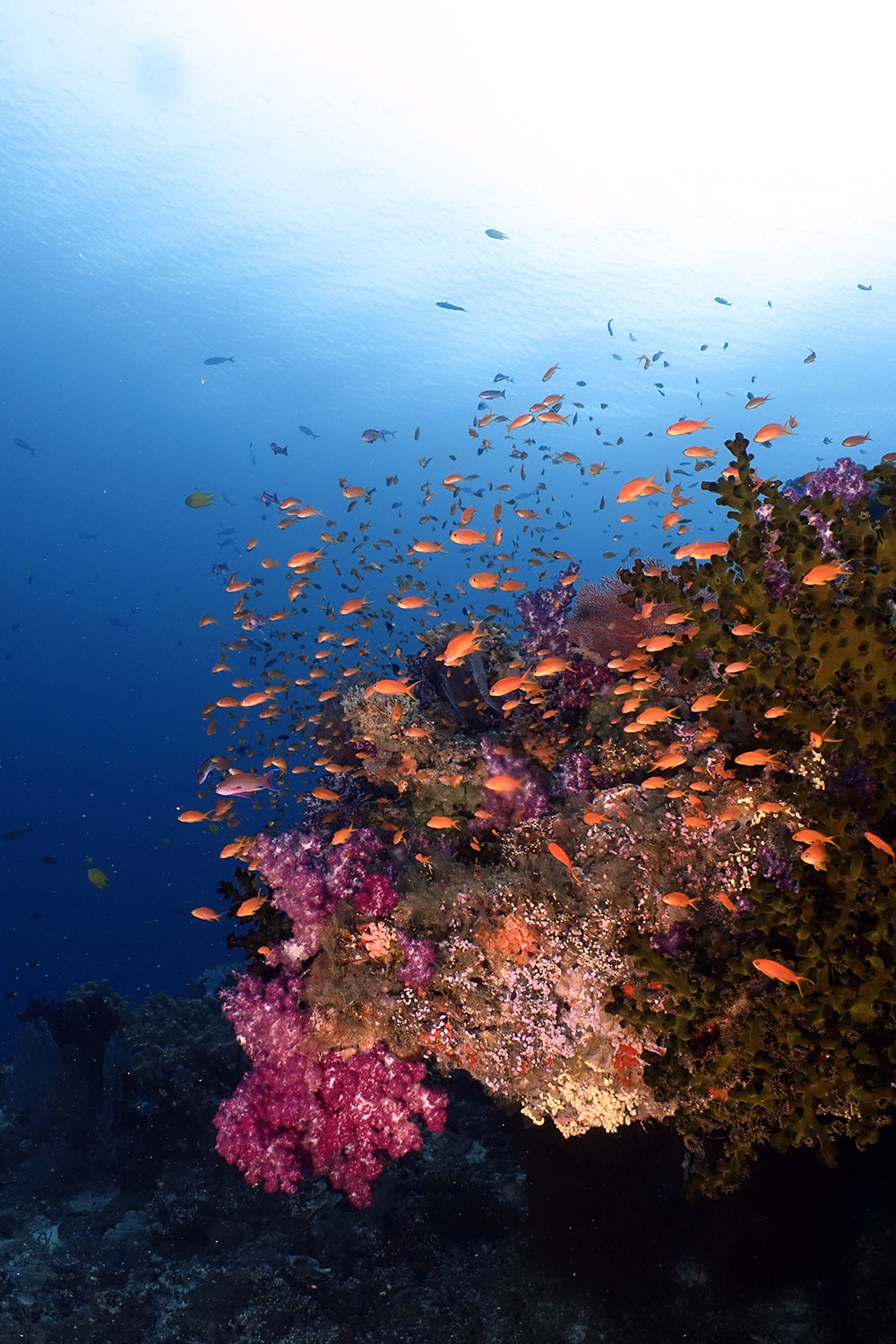 Photo by Ladonna: Reef action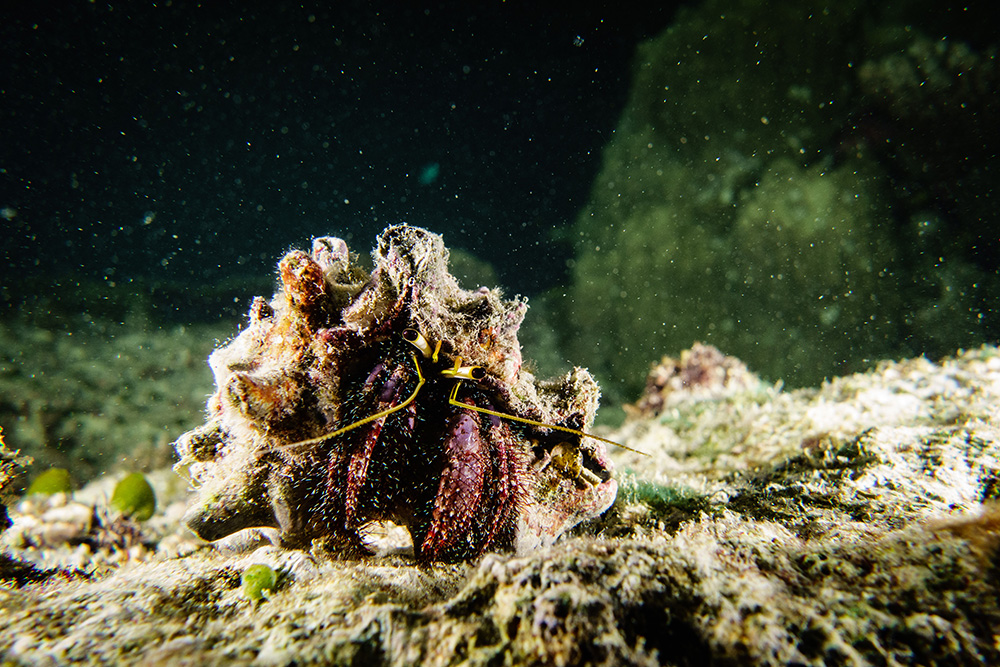 Photo by Jeanette: Hermit Crab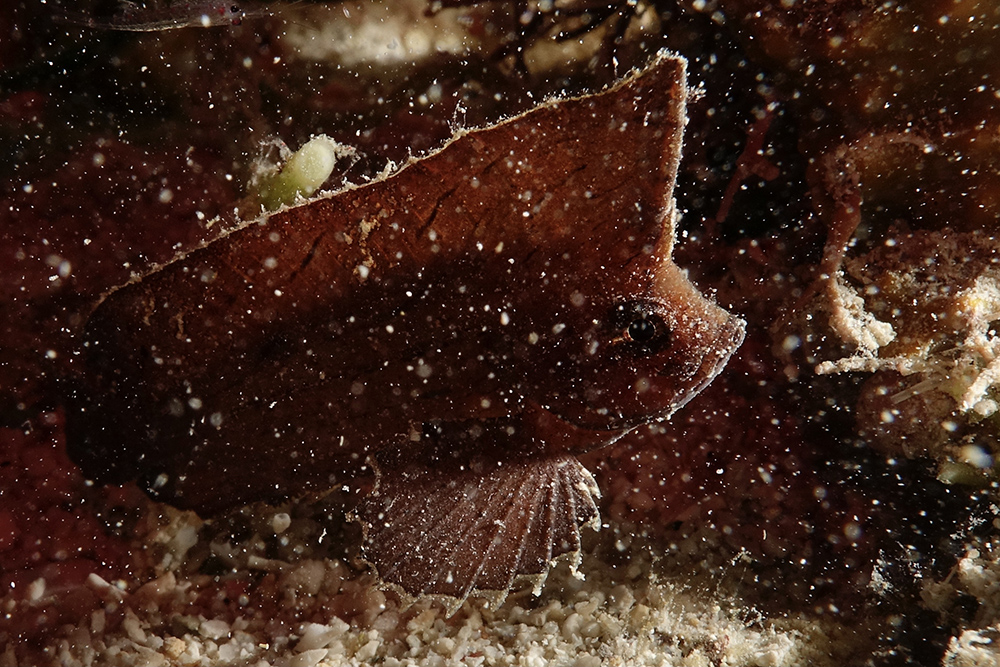 Photo by Ladonna: Cockatoo Waspfish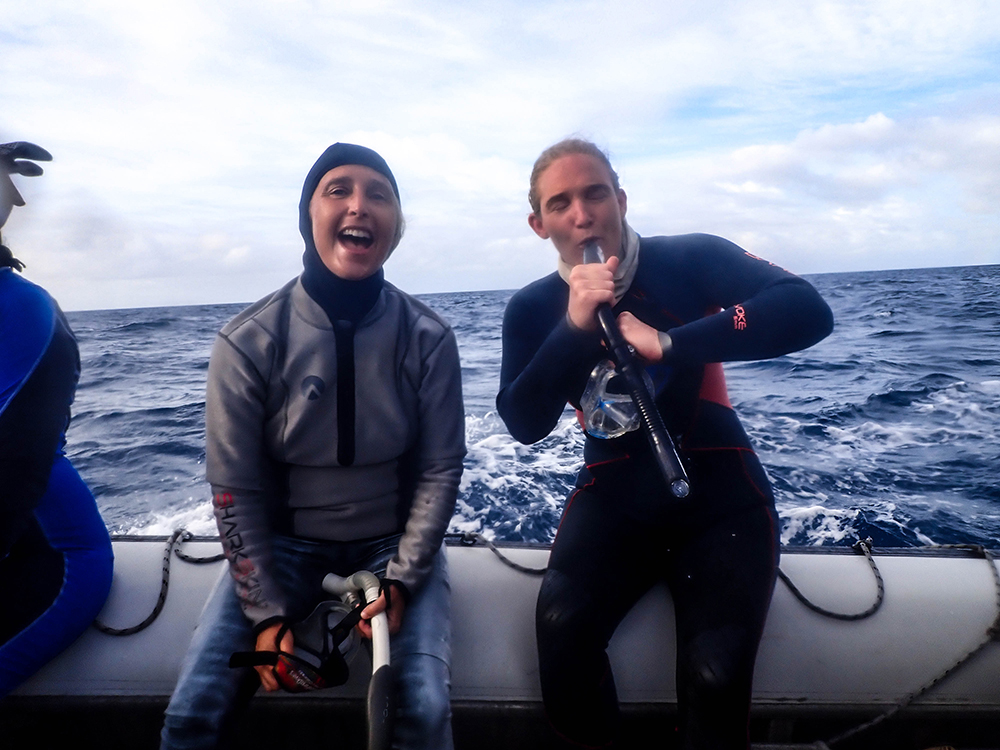 Photo by Bel: The ladies singing for the Whale... he sang back!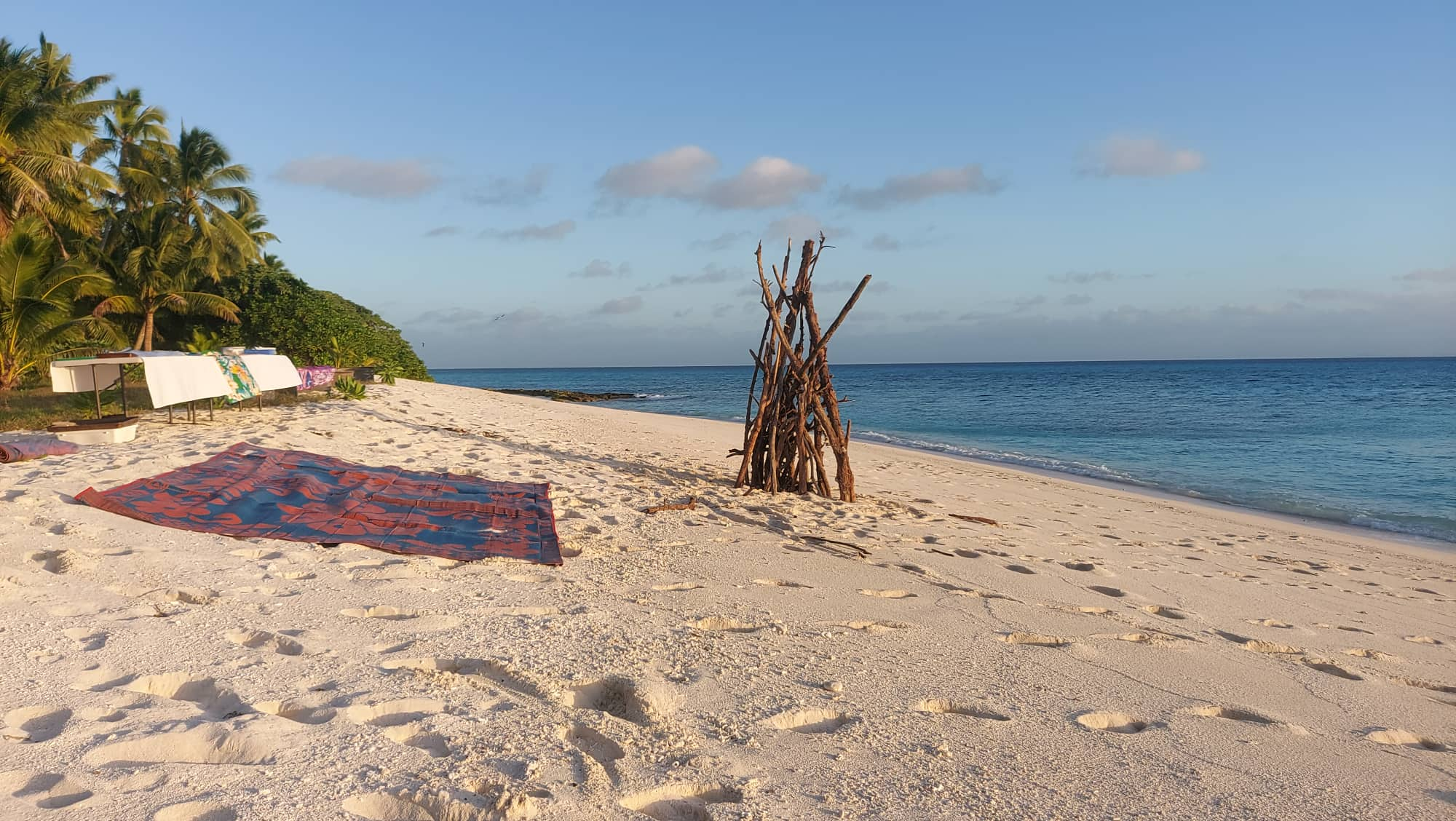 Photo by Bel: Our lovo bonfire picnic setup.
We slept in Wailagilala and split the groups into Divers and Whale Watchers for our first session of the day. The divers enjoyed the diversity of small reef fish and a few sharks and the Whale team saw the same male from the day before breach (full body) right behind the skiff and later heard him singing. After breakfast we set out to Duff Reef and did another pleasant dive where some of the guests heard Humpbacks. The reef wasn't in great shape, but there were an abundance of small reef fish (amongst it a few Flagtail Blanquillos, some Dotted Fairy Wrasse) and a curious Octopus stole the show. We made our way into Vanua Balavu's Bay of Islands just as the sun was setting. Our guests were mesmerized by our surroundings and excited about spending the following day.
After dinner, we had our Kava Party with our thirsty goats who thoroughly enjoyed sharing this time with our crew. Tomo was adventurous enough to drink a few Tsunamis, there was a lot of dancing and our animals seemed somewhat confused this week. But, as usual, the highlight was the singing… and our crew does it so very well. Nothing more special than hearing Lomaloma while in Vanua Balavu.
The sun was a little shy in the morning, but we venture to dive Qilaqila Passage twice, a sandy area with rubble and small bommies. A Scultz's Pipefish was seen by each group (one of them pregnant), a few Sapsucking Slugs, colonies of Twotone Dartfish (up to 20 individuals) and a curious White Tip. In the afternoon the rain discourages most of the group from going on a tour of Bay of Islands followed by snorkeling, but those who went did not regret it. They were amazed by the rock formations, by the beautiful hard corals and by some lovely soft corals they found. They asked us to take them diving there the following day and we agreed!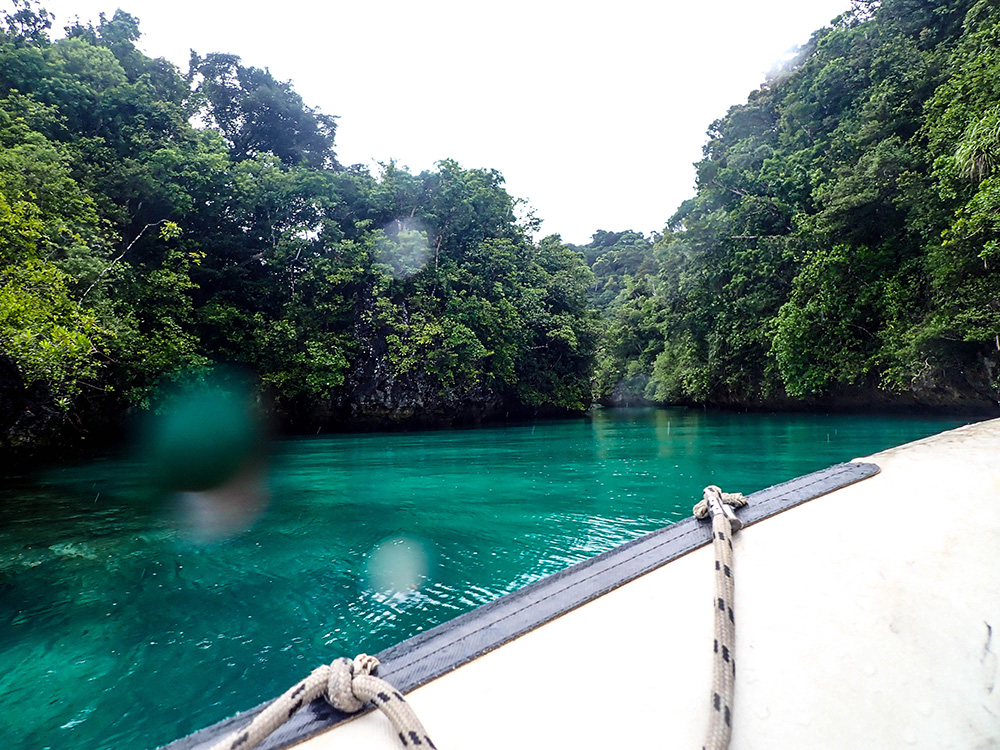 Photo by Bel: Bay of Islands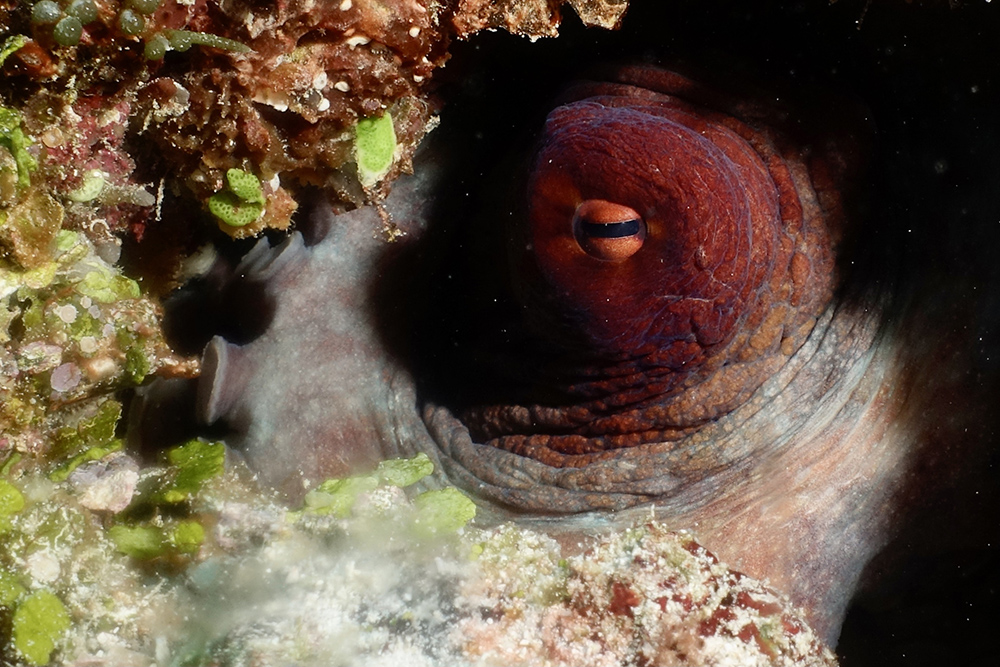 Photo by Ladonna: Octopus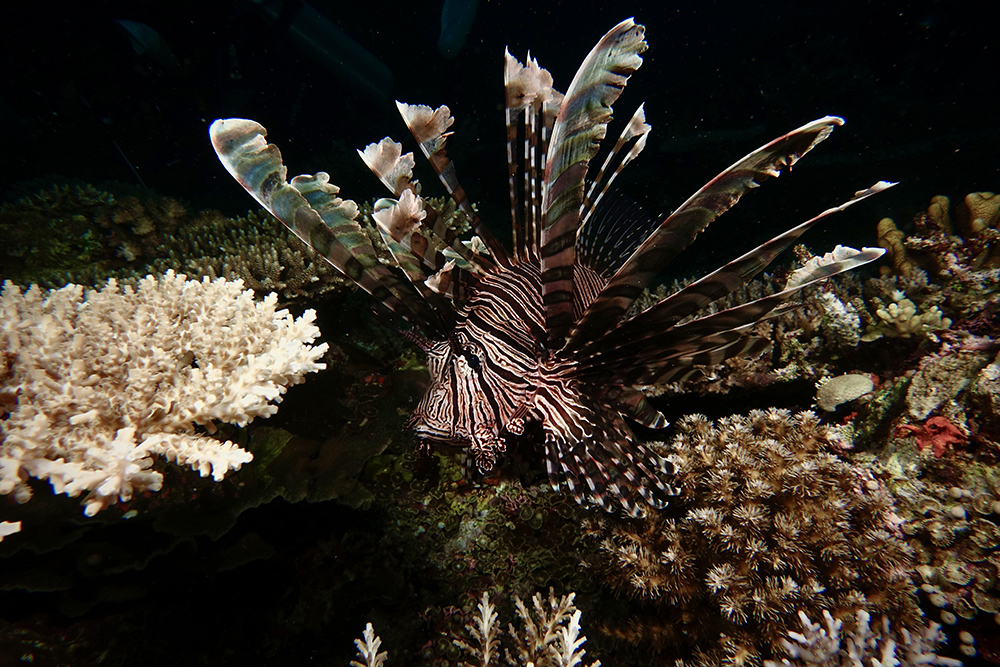 Photo by Ladonna: Lionfish
The plans changed a few times during the afternoon and evening due to stormy weather, with wind gusts far higher than the forecast. We sat tight and woke up to most of the bad weather gone, so we took them diving on their bay. A rain of pipefishes of at least 3 separate species were spotted, an octopus and passing schools of fusiliers and snappers. On the way back, the skiff drivers treated the divers to a tour of the bay, a lot more scenic this time with the sun being out. We set sail to Mago and dived there after lunch. We had good visibility and an ordinary reef, but many sightings of fish we don't normally see and a few sassy nudibranchs. Back on board, we started our 14h journey to Wakaya as we looked outside hoping for another Humpback sighting.
Despite no sightings on our journey, we had a fabulous day at Wakaya with about 10 schooling Hammerheads (and many single-sightings), Hawksbill Turtles, Reef Sharks, Leaf Scorpionfish, Yellownose Dartfish and a GINOURMOUS Leopard Shark. Wakaya was alive, and I can almost say we didn't miss the mantas (only had 1 short sighting). On our way to Makogai, we saw both Dolphins and Pilot Whales. Our Makogai dives were a hit, especially the night dive! A very special NAI'A Pipefish carrying eggs was spotted at Rick's Rocks and a curious Leopard shark was seen on the night dive. None all year and then 2 sightings in one day… what a treat!!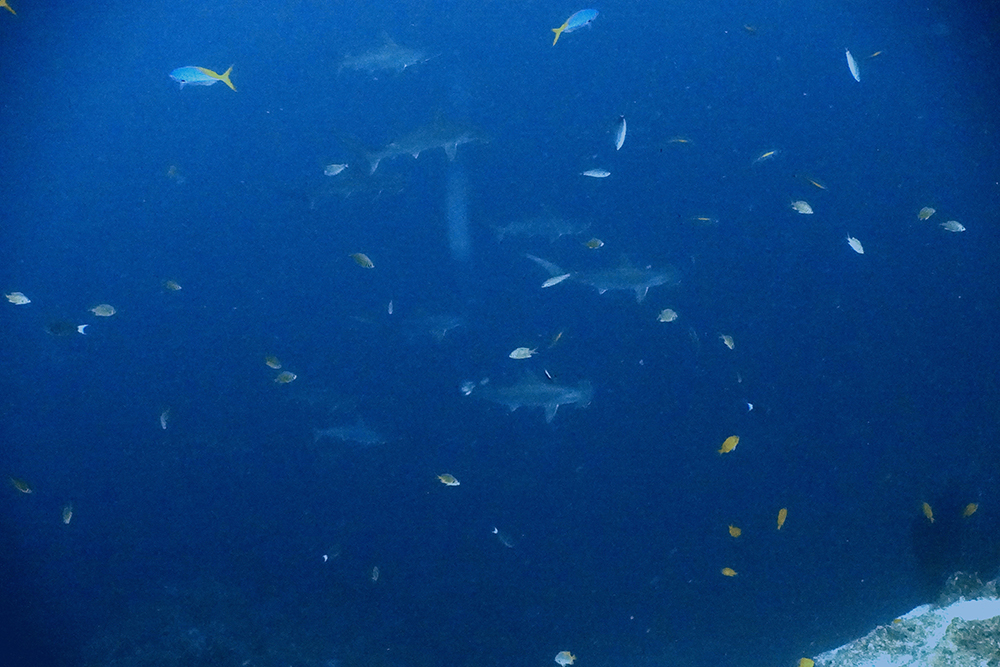 Photo by Ladonna: Hammerheads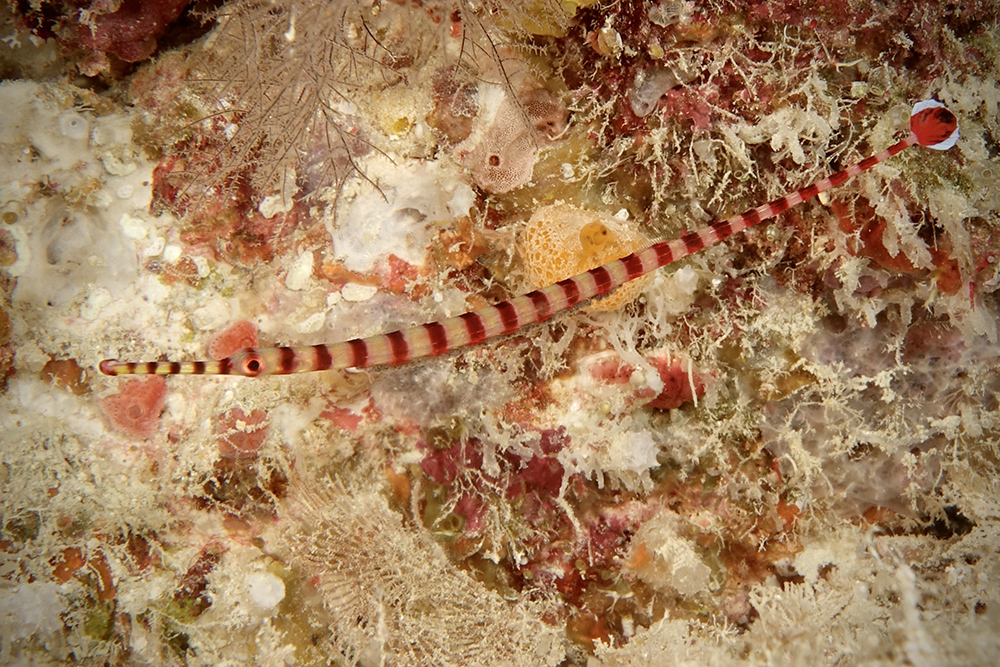 Photo by Ladonna: NAI'A Pipefish with eggs.
Our final day was spent diving our beloved Sea Mounts and the iconic Mellow Yellow. Tomo's comment that we "could just be here for two weeks" says it all. We had beautiful dives surrounded by stunning corals, abundant fish life and even a few pelagics to please Weng. Exploring Lau and being that close to a Humpback Whale has been incredible. Above water, the scenery of Vanua Balavu and Wailagilala are absolutely marvellous, but we were glad to finish the trip diving our favourite places in Fiji.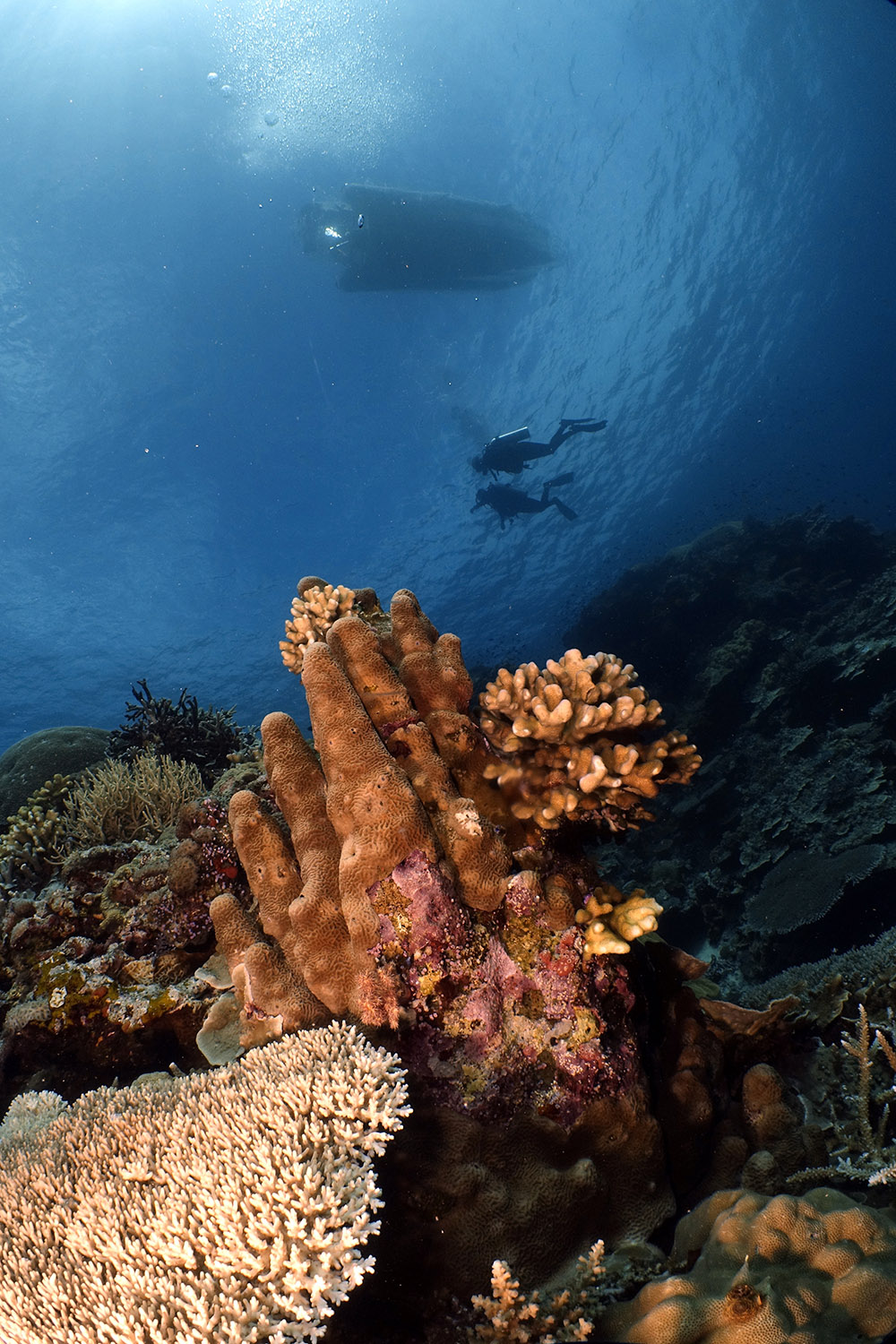 Photo by Ladonna: Reef, divers and skiff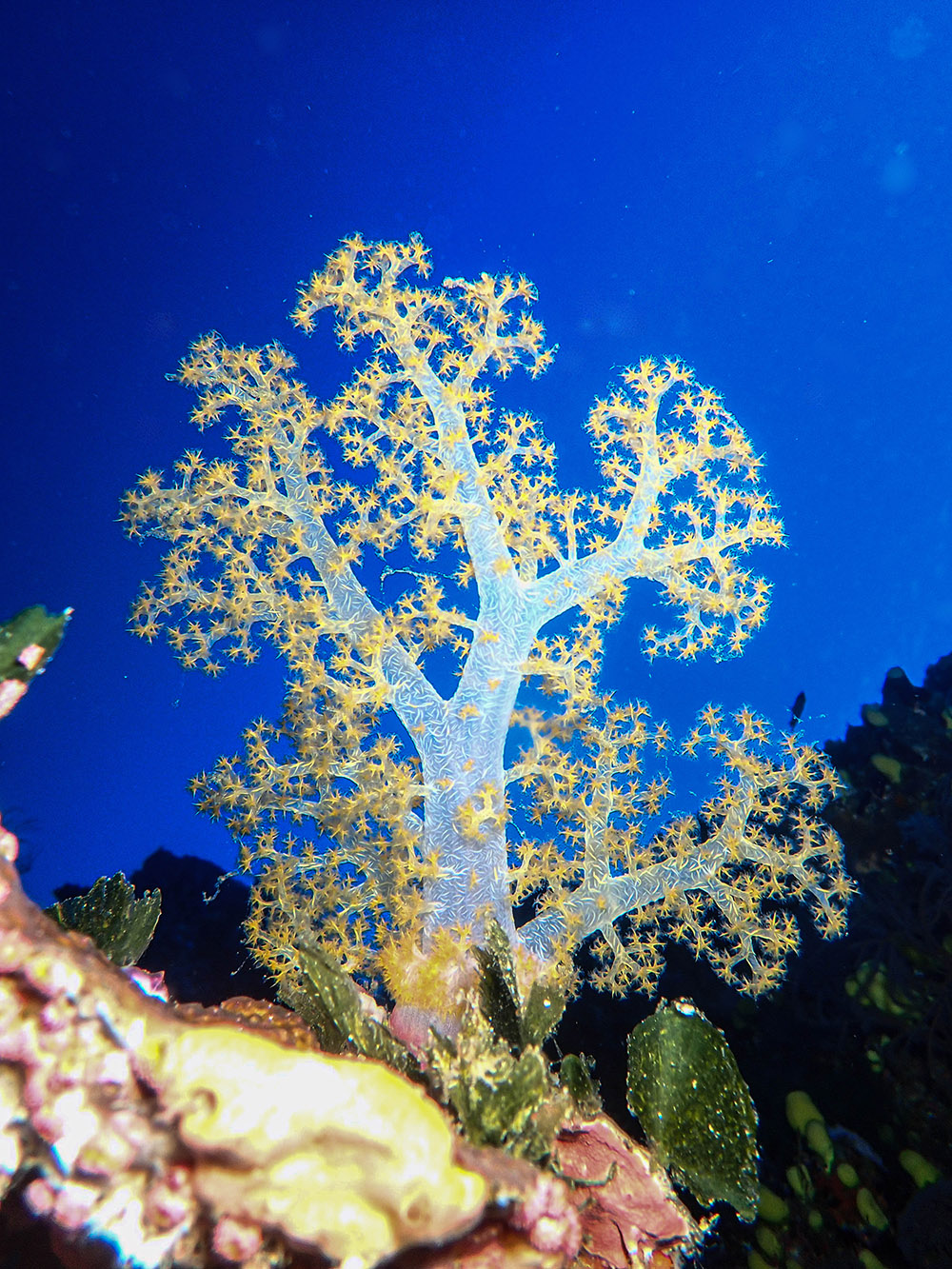 Photo by Bel: Soft Coral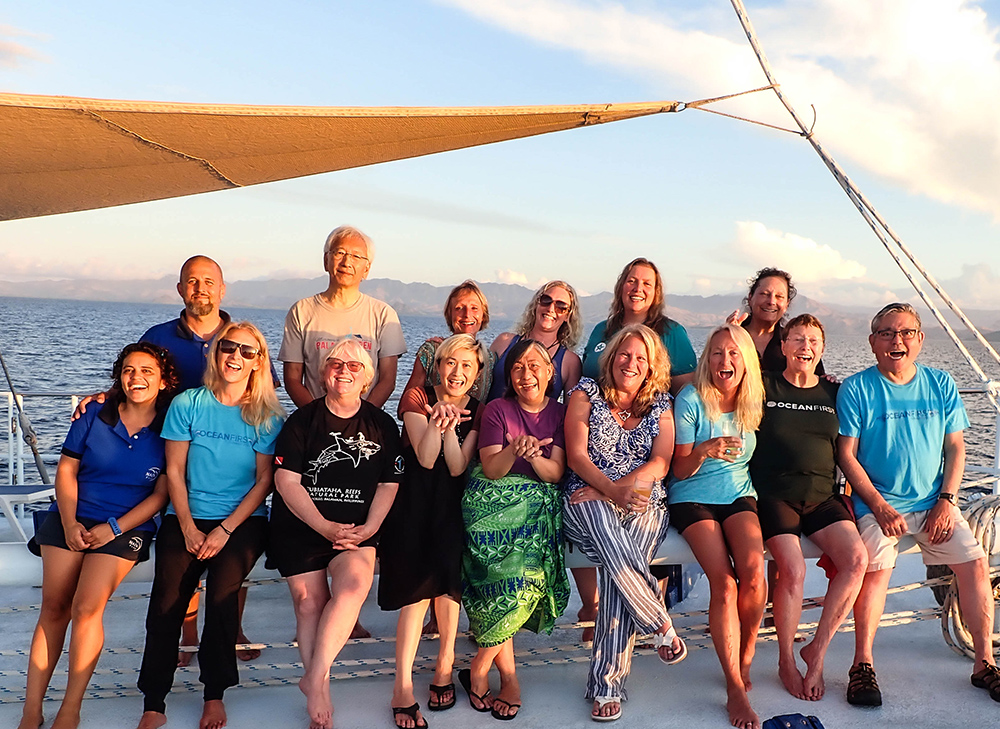 "We've been on other liveaboards – this is by far the best. Crew, food, sites – everything fantastic!!! Amanda – thanks for saving my ears & Joshua – thanks for saving Steve! The boat layout is top notch & the rooms are great. Thanks so much for an excellent trip."