Manta Season is ON!
Destination: Bligh Water, Gau, Wakaya, Makogai, Namena, Nananu-i-ra
Trip Date:
May 6th - May 16th, 2023 -
Comments
Author: Bel & Mike
Welcome Back: Bill
Congratulations: Gilly for her 400th dive!
What a fabulous charter we had! Many shark sightings throughout our trip, a special muck night dive, a tiny baby frogfish on one of Fiji's most action filled dives and the manta rays are back with multiple sightings at Wakaya! We had to adjust our plans due to weather conditions, but these hard core divers did not slow down and enjoyed our trip until the last moment.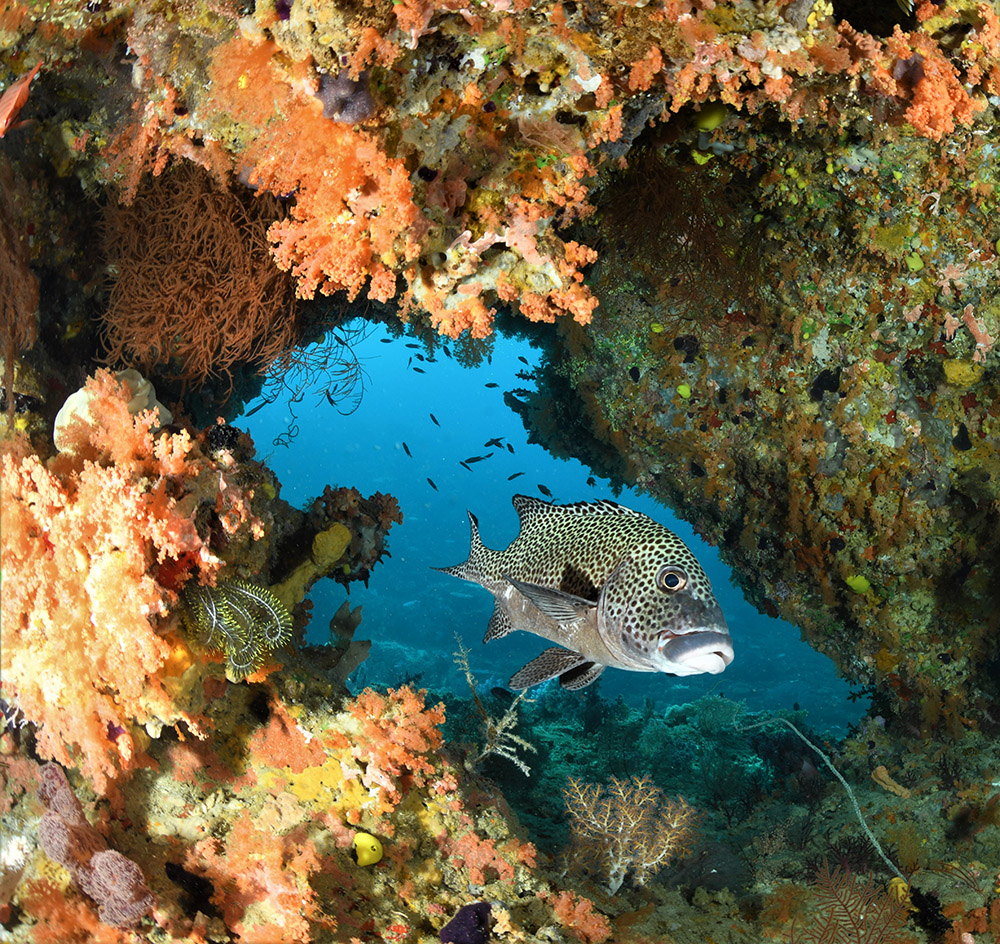 Photo by Bill: Sweetlips and soft coral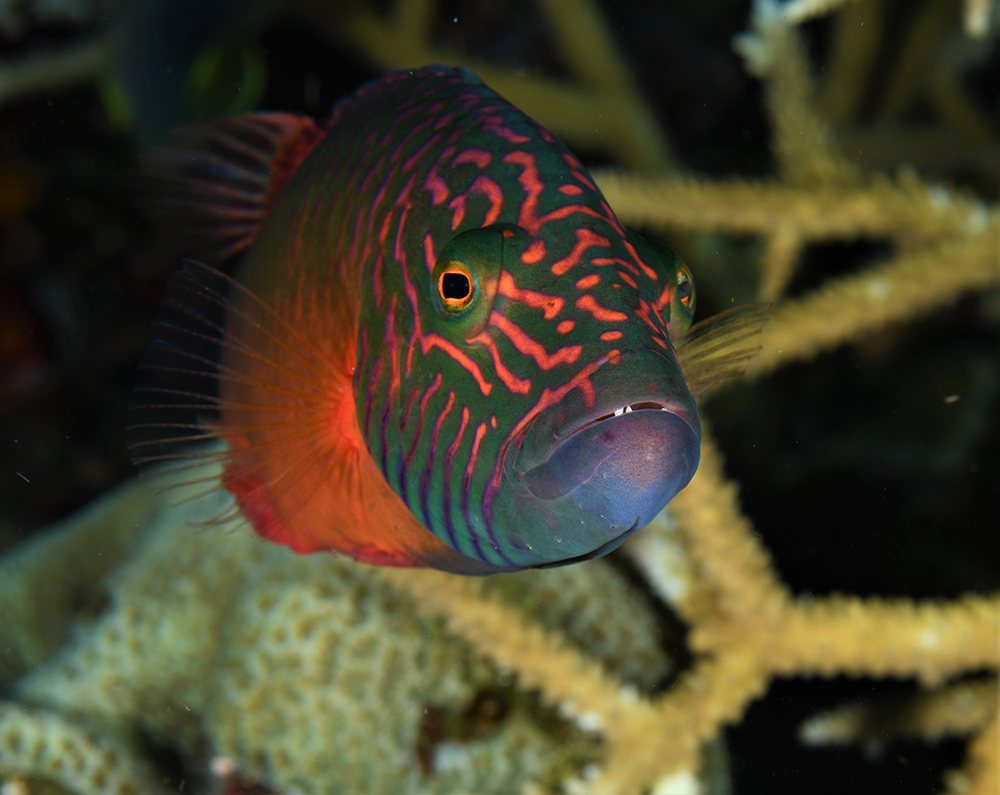 Photo by Bill: Wrasse portrait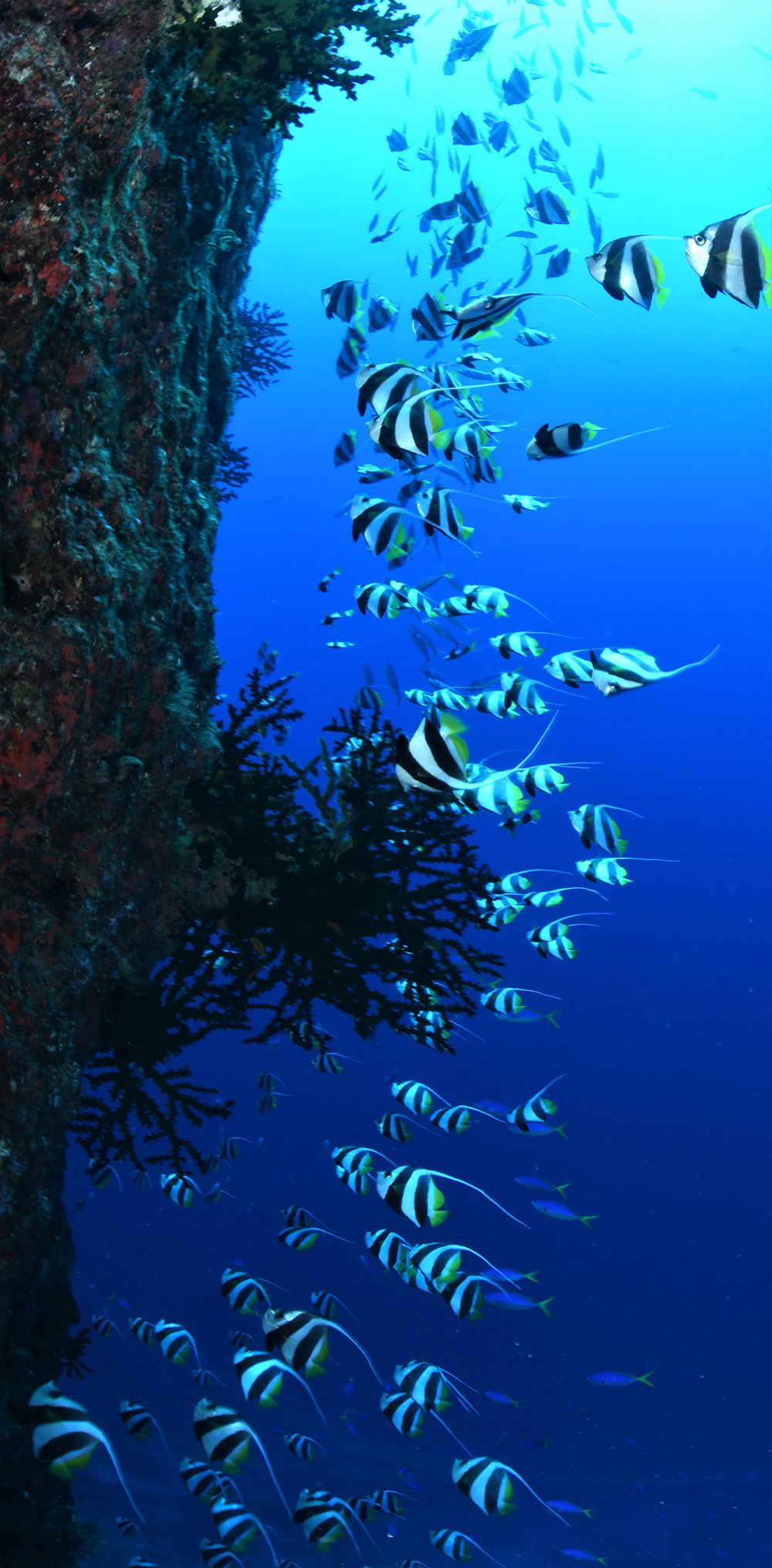 Photo by Bill: Schooling bannerfish
We started our journey at Vatu-i-ra. It was an incredible first day with sharks, nudibranchs, turtles, scorpionfish, humphead wrasses and a lot of fish! We were only a day after a full moon, so we expected crazy currents all day, but instead we had this weird surge, which was uncommon since the surface of the water was flat. It made for easy dives filled with a lot of fish, big and small.
We had a long crossing overnight to Gau and started the day diving Jim's Alley and Anthia's Avenue. One of the skiffs saw 2 mantas passing quickly, and everyone got to swim with thousands and thousands of blue and yellow fusiliers… all around us and as far as the eyes could see. We moved to Nigali passage and the sharks did not disappoint. We had many pregnant grey reefs, a few babies and tons of trevallies, snappers and barracudas. The cabbage patch was filled with breams and more fusiliers… This day could only get better with a village visit, which started with a welcome by 9 piglets on the beach and ended with an outstanding dance performance from Bill and Richard.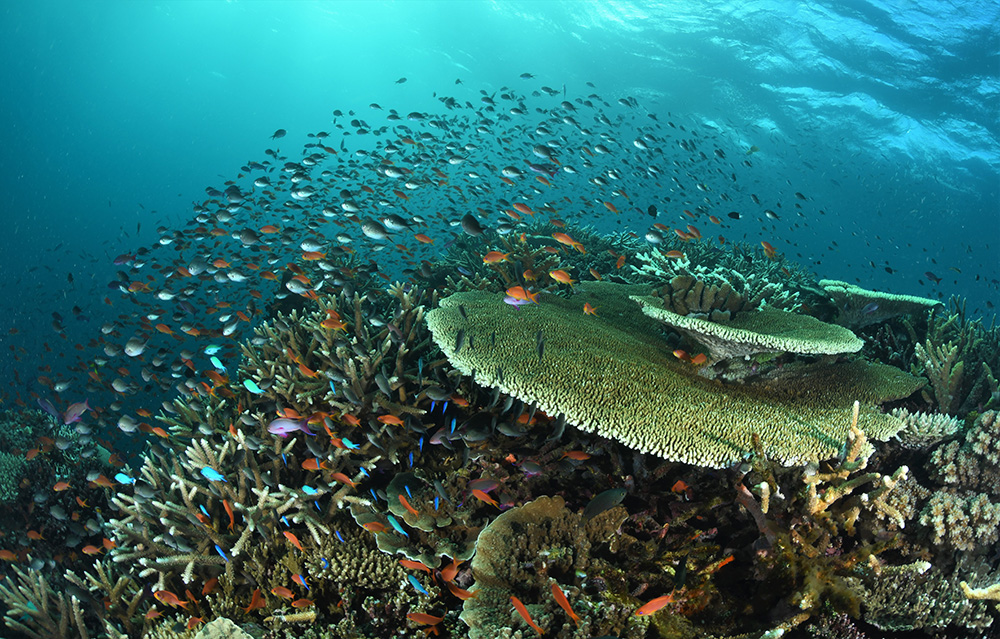 Photo by Bill: Fish drama
Photo by Leigh: Curious shark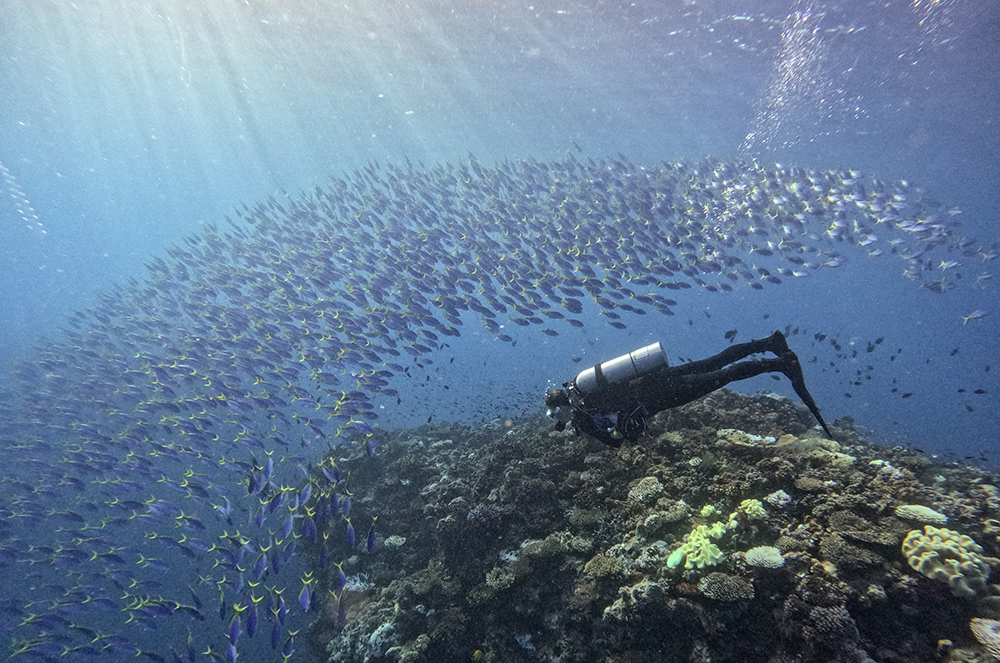 Photo by Bel: Blue and yellow fusiliers at Jim's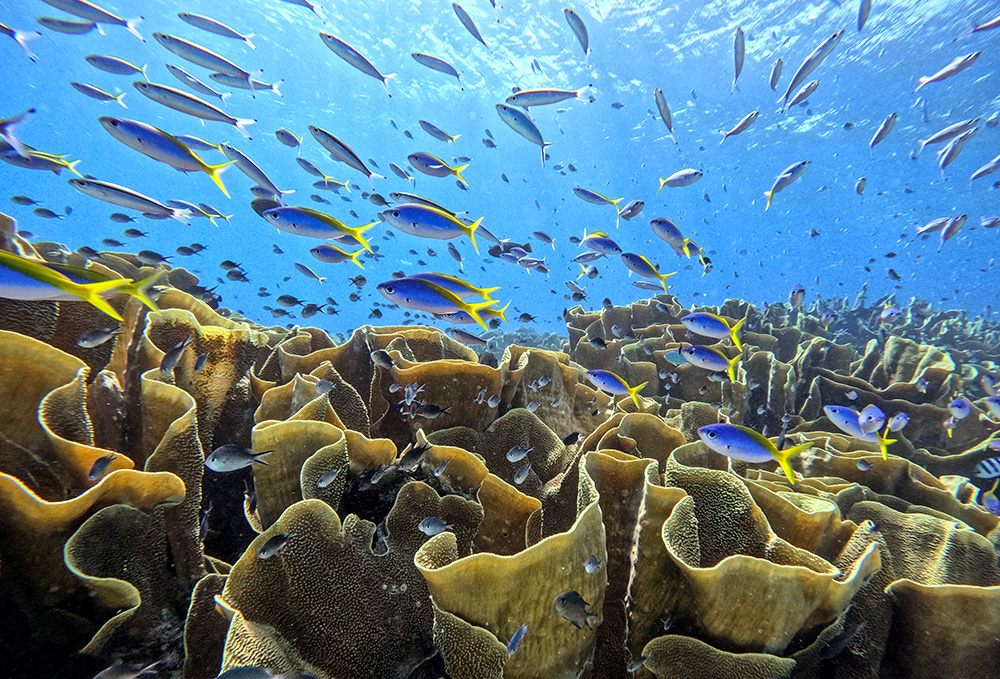 Photo by Bel: Cabbage patch
We moved to Wakaya and the pressure was on to top the day we had in Gau… So the mantas showed up with multiple sightings on the first and last dives. We saw some old locals (Polyp and Dingo), a new manta (named Nai'a Blue by the guests) and Riley, one of the mantas that bounces between Wakaya and the Yasawas. We also saw some sharks, a leaf scorpionfish, rainbow runners, sexy shrimps, peacock shrimps, barracudas and the beautiful ballet put on by the magenta slender anthias. On the night dive we saw an octopus and Gilly found a couple of cockatoo waspfish.
The next day we were at Makogai, and our first dive was at Vatu Vula, a site we started going to earlier this year that has been a great first morning dive. We had grey reefs and white tips, clouds and clouds of 6 different species of fusiliers, thousands of surgeonfish, dozens of exquisite flasher wrasses and many barracudas as well as a leopard blenny. We moved to the bommies in the afternoon and Bel got a huge fright by a moray eel while getting her manicure done by a couple of cleaner shrimp. And it is on video, thanks Vicky! Our night dive was at SKAVAnger Hunt, a new site with Kava-like visibility and many great critters. Jill hated the muck but she and Richard loved the different nudibranchs, the olive purse crab, sponge crabs and ornate lobster.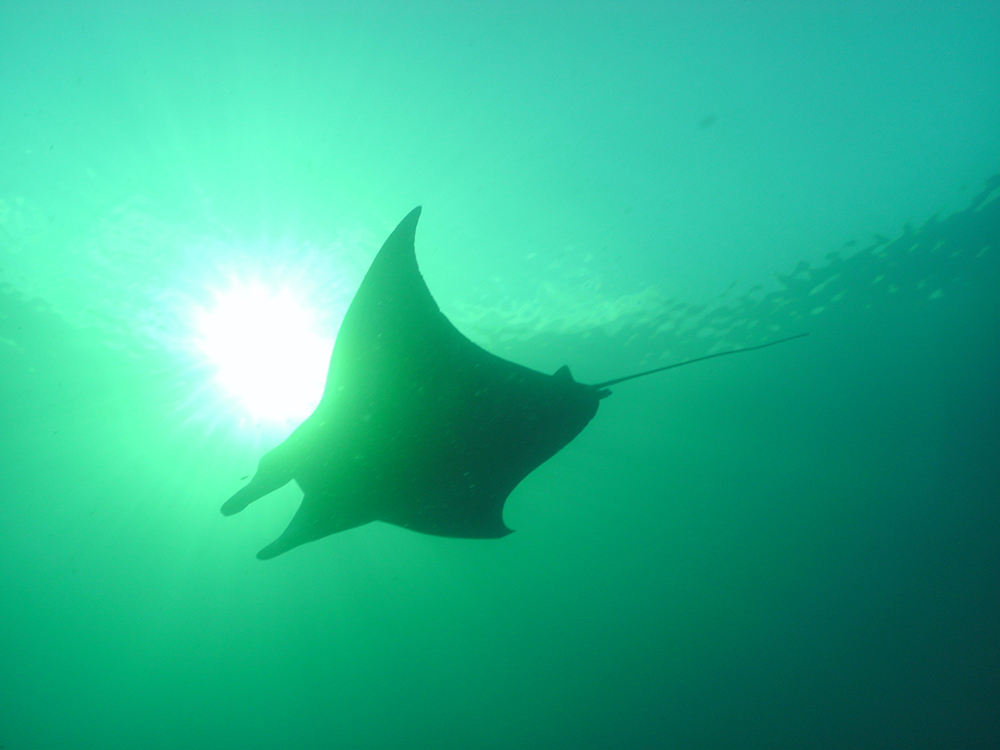 Photo by Richard: One of many manta sightings throughout the day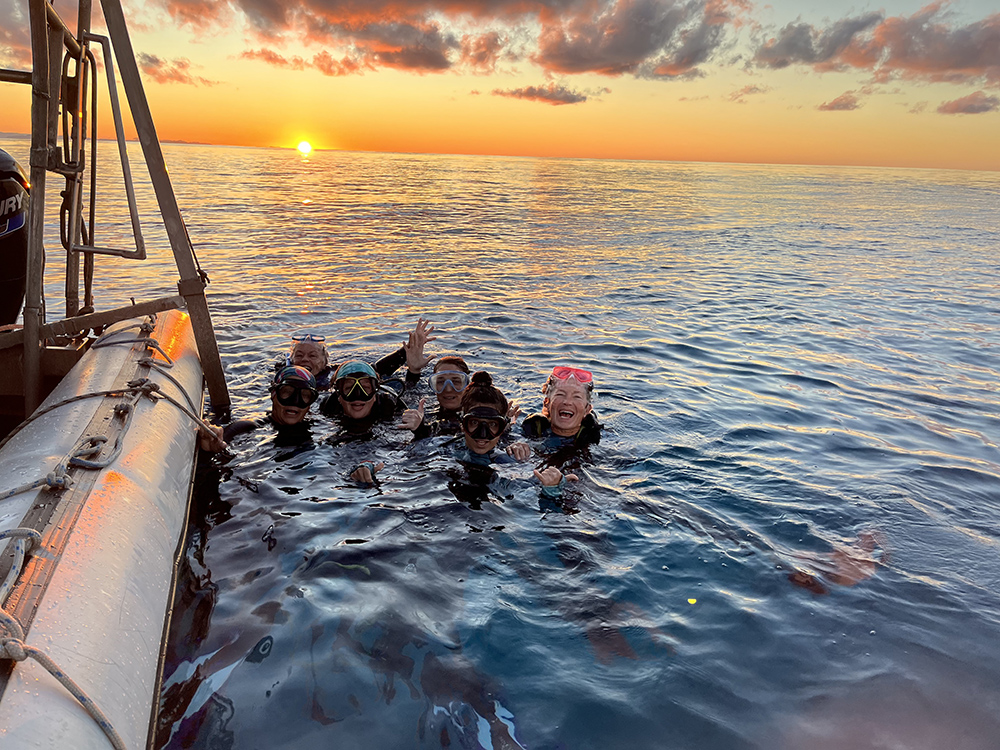 Photo by Vernon: The gals celebrating manta sightings and watching the sunset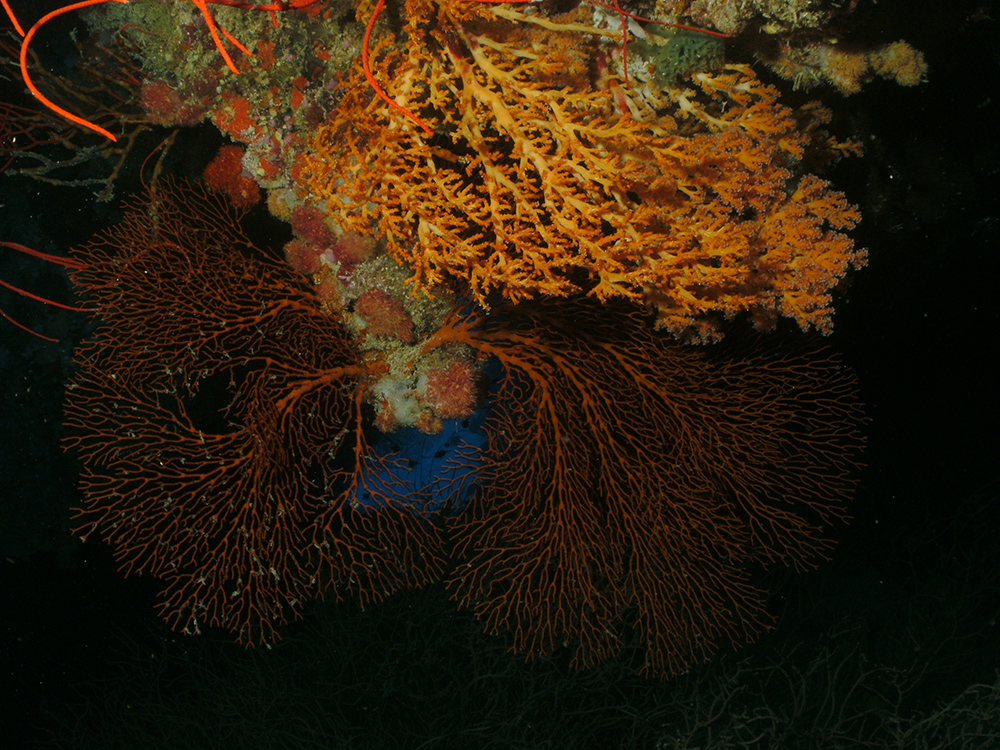 Photo by Richard: Soft coral and gorgonian
Then we went to Namena for two days of incredible dives. The low currents meant we could explore the sites a lot more and notice the small details we sometimes miss… And so, surrounded by grey reef sharks, big dogtooth tunas, huge mackerels and big schools of barracudas and trevallies, we saw a baby frogfish at The Arch! What a treat… many squeals later, we focused on the big fish again. Schoolhouse lived up to its name with schooling oceanic triggers, redtooth triggers, bigeye trevallies, schooling bannerfish and 3 different barracudas. With all that food, the sharks showed up, and Lucky Lefty lucked out with a hammerhead sighting. And towards the end… palette surgeonfish, many of them!
The bommies were also incredible and offered sightings like decorated dartfish, pipefish, octopus, cleaner shrimps, ribbon eels, golden mantis shrimps, feeding midnight snappers and even a passing manta ray! These really were perfect days at Namena, with the abundance brought by currents but with mellow waters. Our night dive had a sleeping turtle, a couple of white tip sharks and a ribbon worm. On the kava party everyone had a blast, and the favorite animals were definitely Bills rabid monkey and Gillys star impression of a nudibranch.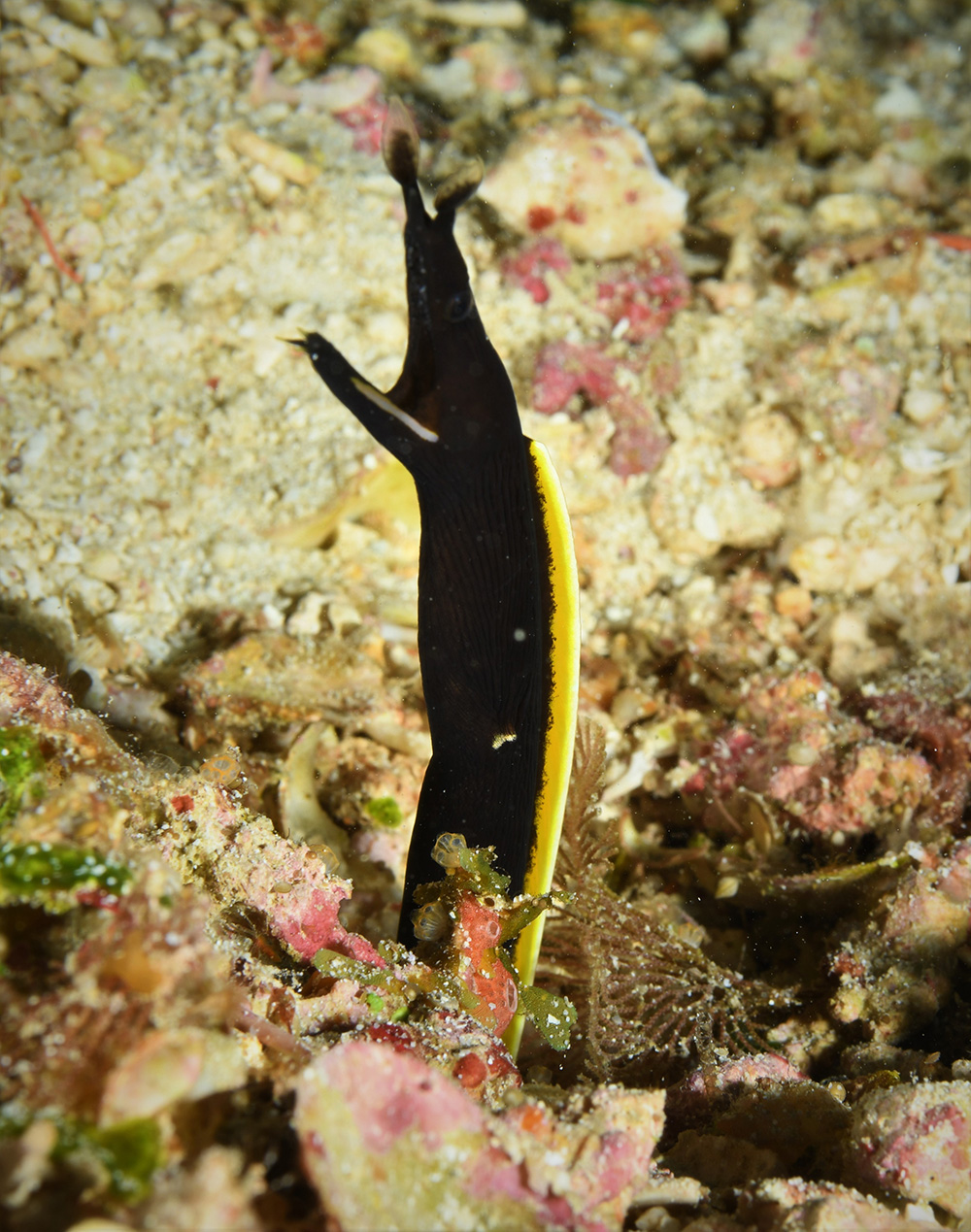 Photo by Bill: Juvenile ribbon eel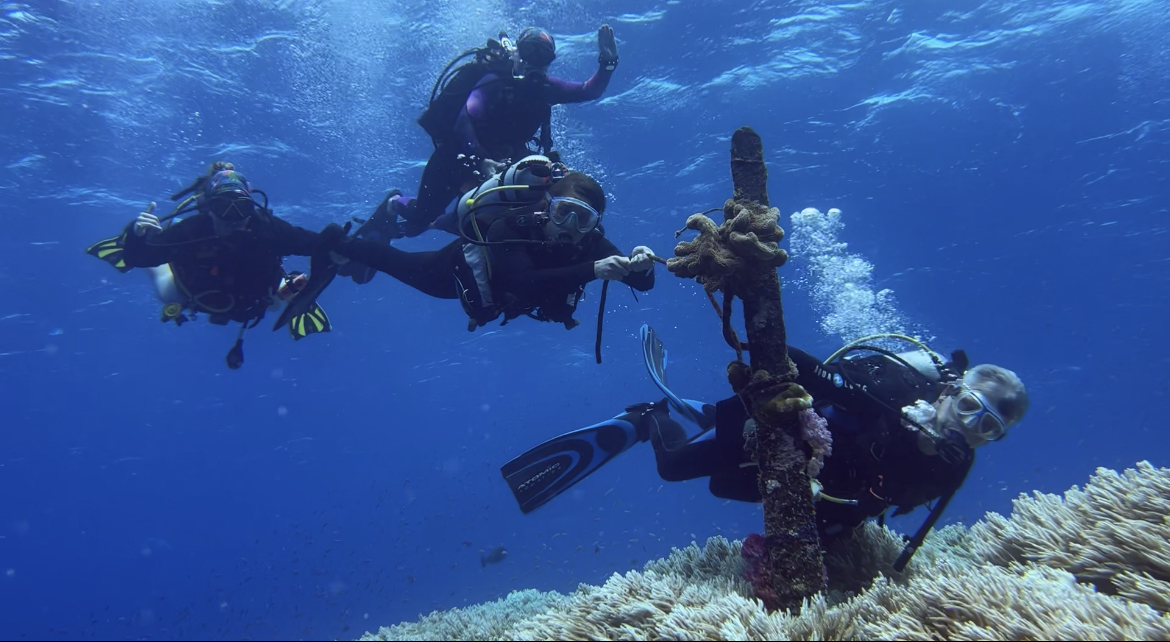 Photo by Victoria: Kansas surprised with the current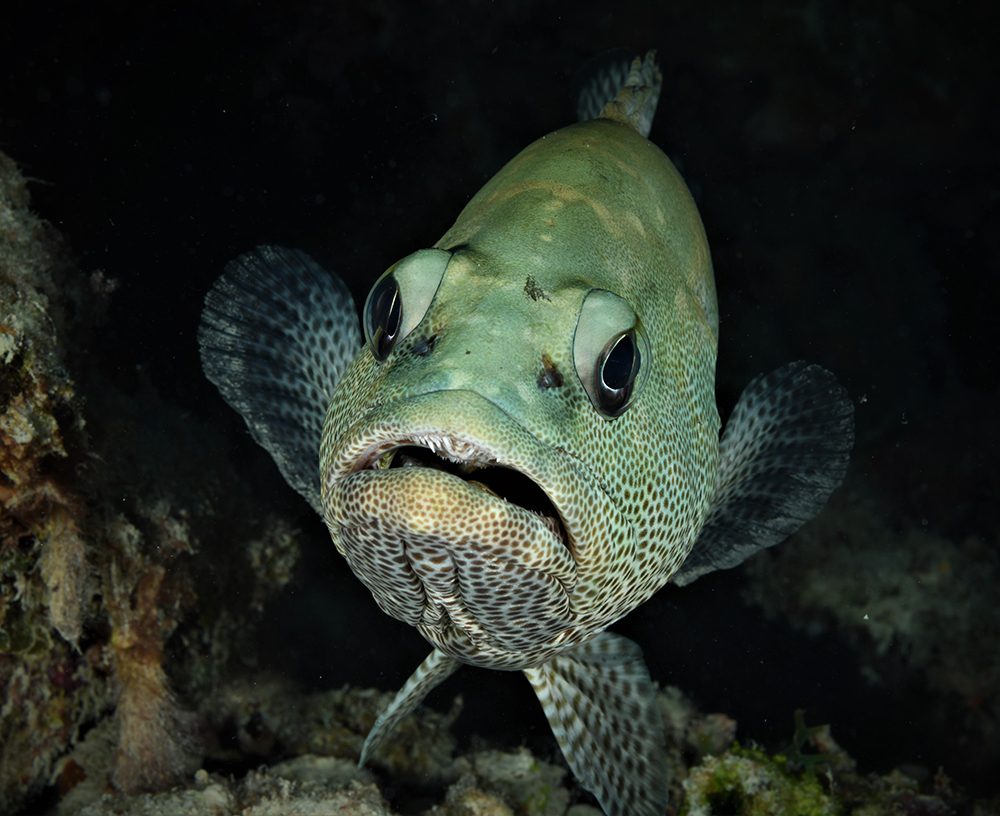 Photo by Bill: Grouper portrait
Then we moved to Vuya for another day of hearing "This was the best dive so far", which we never complain about. Flabelinas, crazy amounts of blue dragons, chromodoris sex (and the hilarious signs for it underwater), sea spiders, neon pink anemones and a snubnose pompano sightings were only part of the fun, as the topographies, corals and fish drama were the true stars of these dives. With the night dive cancelled due to weather, a happy hour sunset party developed and we all had a great evening.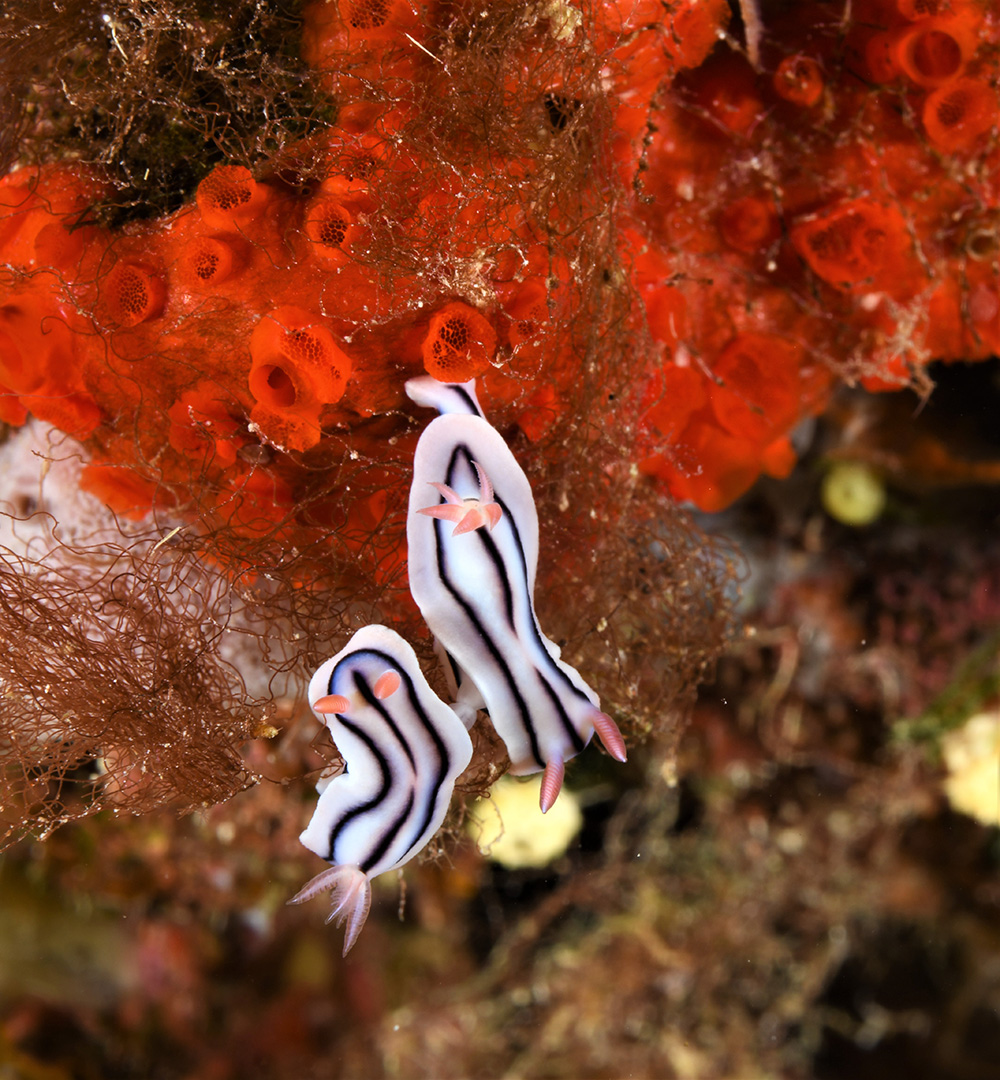 Photo by Bill: Nudis get no privacy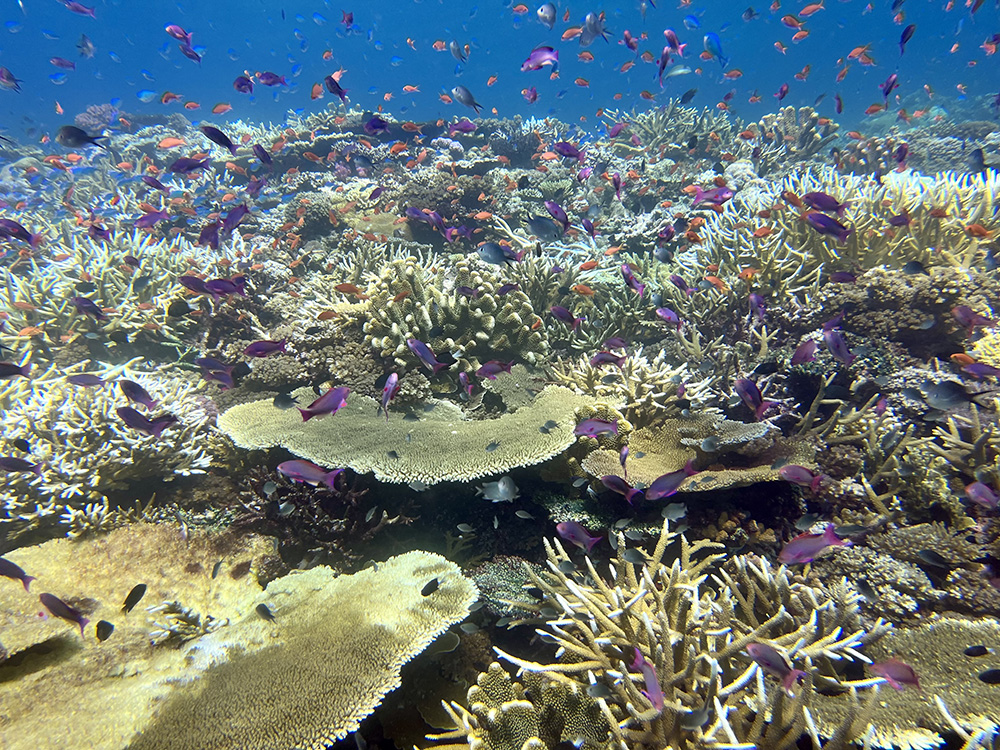 Photo by Victoria: Fish drama and hard corals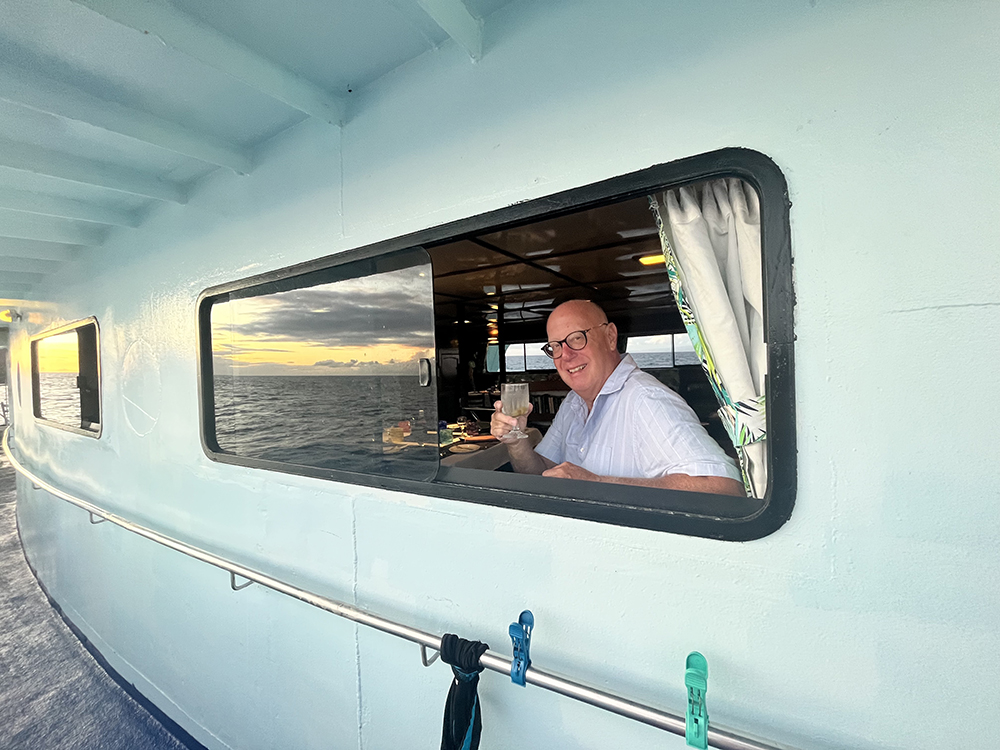 Photo by Victoria: If we can't dive, we drink
Then we had an unexpected and unannounced weather change, so we did one morning dive at Alacrity then moved over to Nananu-i-ra, our home base for the last two days of this trip. Our first day there was extra windy, so we had to improvise and dive the absolutely most sheltered areas we could find. We saw an insane amount of sea stars, a couple of moray eels and stingrays, some nudibranchs and a very high turtle. At night we saw larval mantis shrimps, urchin shrimps, malble complex shrimps, a few big crabs and a cowrie. It was Gillys 400th dive and at her request it was 44 minutes. The site is now named 444.
On the last day we managed to move to the outside of Nananu-i-ra passage, but only after exploring Bay of Cake with gorgeous corals, plenty of fish, upsidedown jelly and stunning clusters of leopard anemones. At Maze and Wedding Chappel we saw scorpionfish, funky anemones, assorted nudibranchs and a chilled turtle.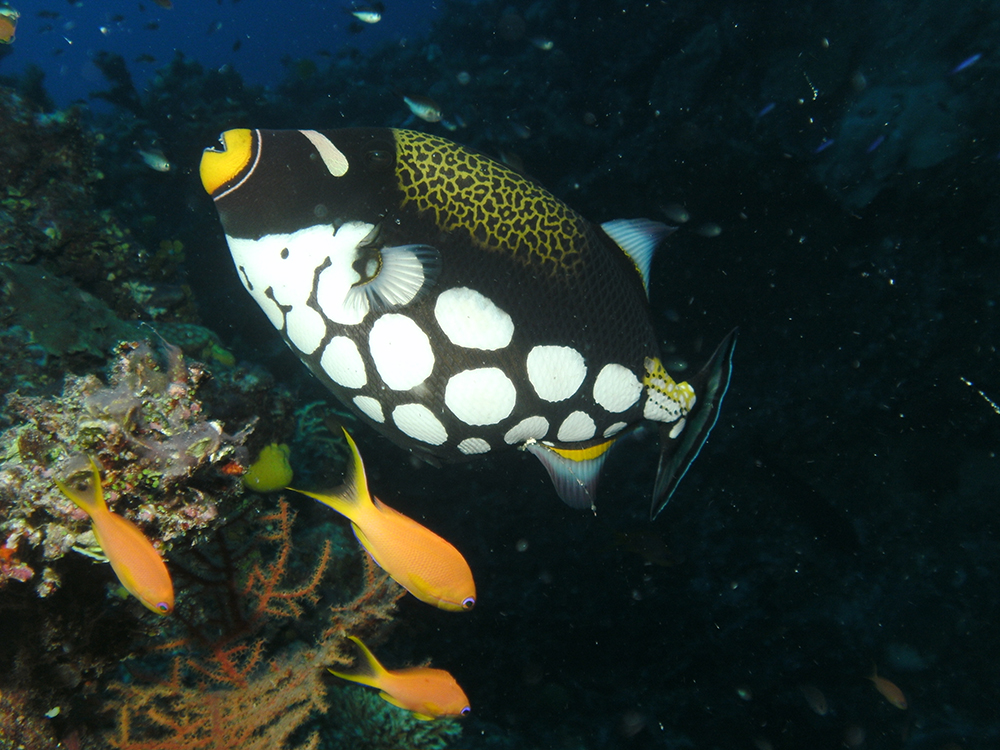 Photo by Richard: Clown triggerfish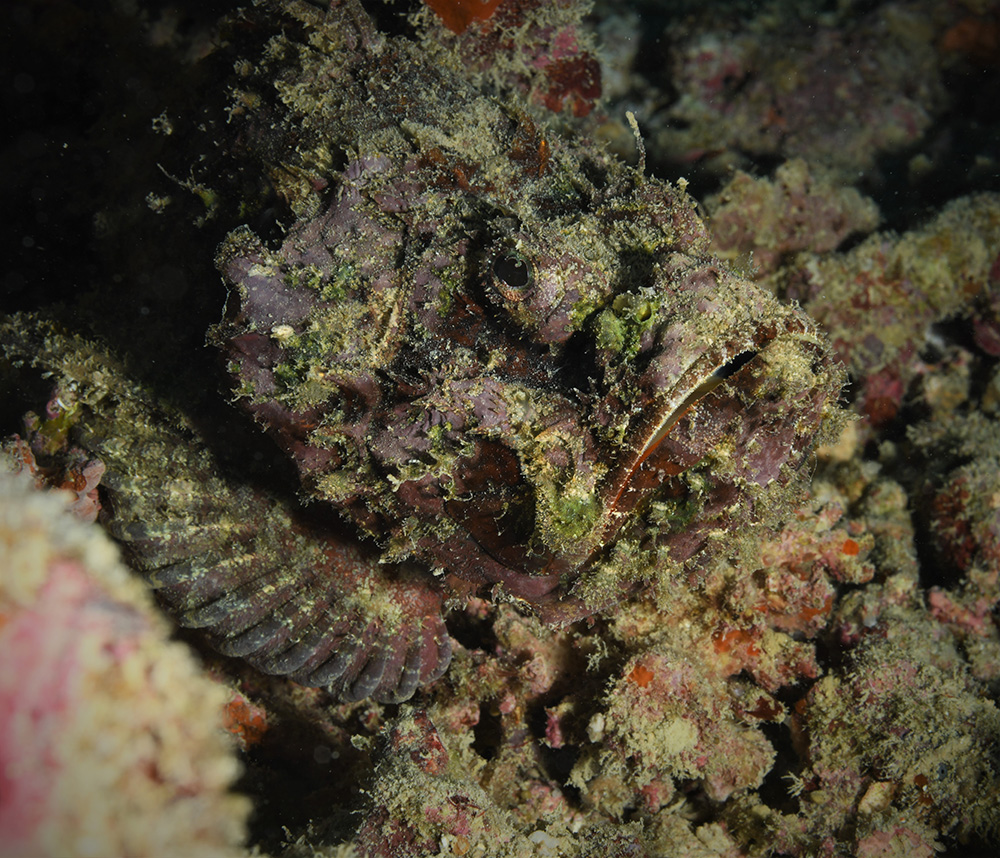 Photo by Bill: Scorpionfish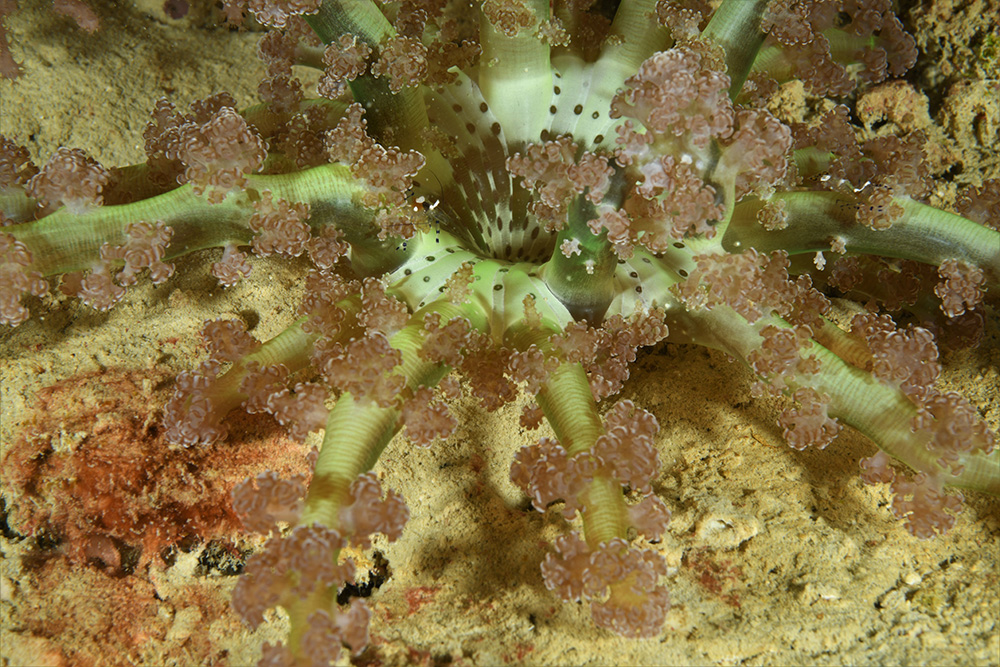 Photo by Bill: Anemone and shrimps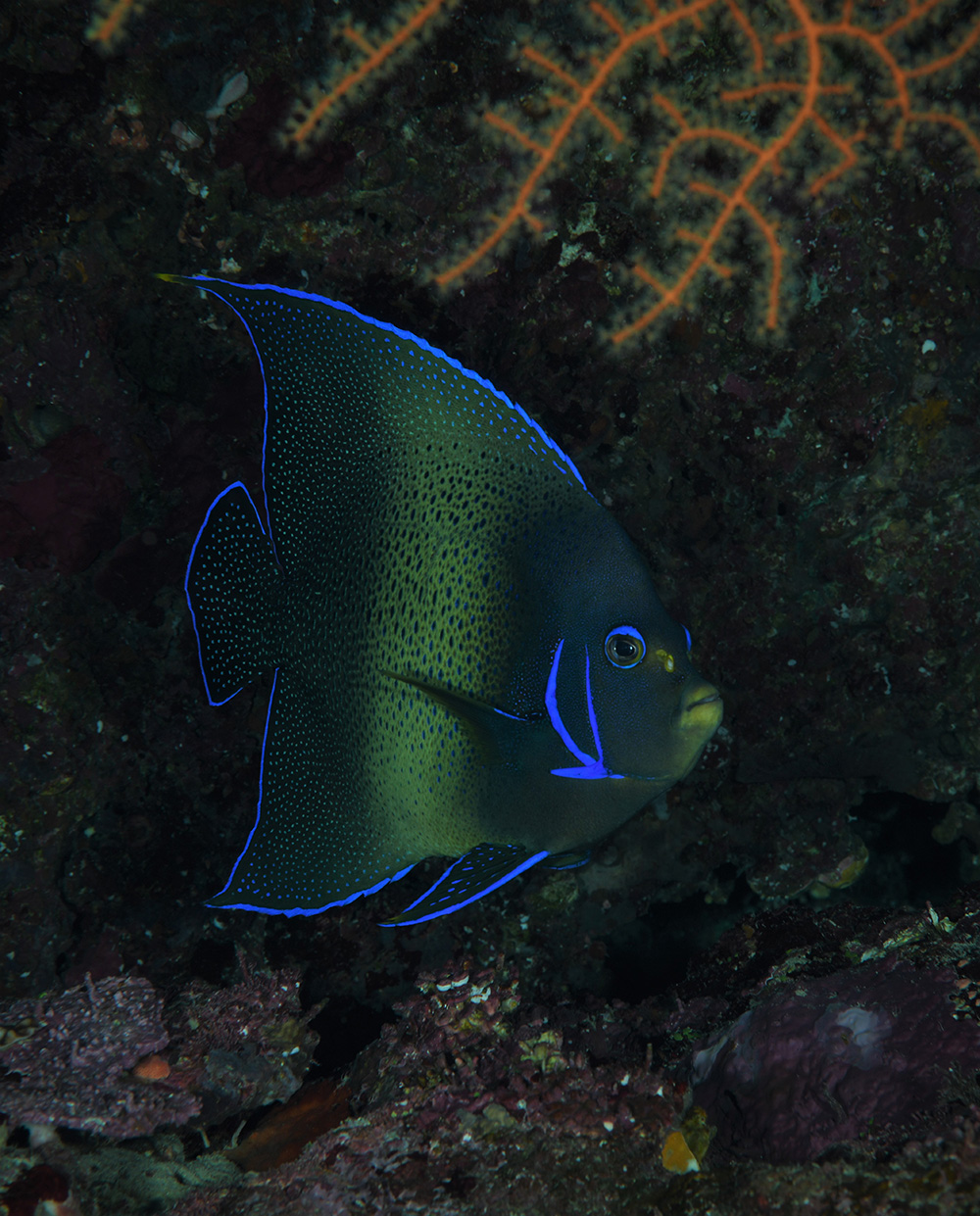 Photo by Bill: Semicircle angelfish
A rum punch party followed as we headed back to Lautoka. This group was smaller than most with only 12 divers, but they were hard core divers. They barely missed any dives and were stoked after every one of them, even the improvised sites. Thank you all for making this trip so enjoyable for us, we sincerely hope to see you all in the future!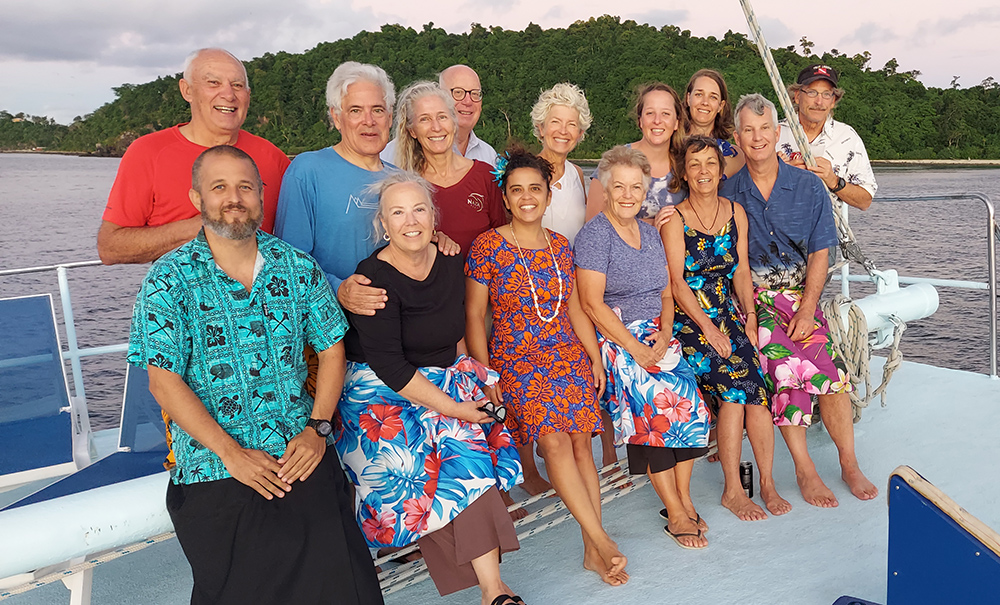 Group photo
Comments
"Thank you to everyone on NAI'A who makes NAI'A what it is – an exceptional operation and a gateway to underwater wonders. What a fantastic crew! Thanks for an incredible life experience!"