NAI'A Turns 30
Destination: Bligh Water, Namena, Wakaya & Makogai
Trip Date:
Jul 11th - Jul 18th, 2023 -
Comments
Author: Bel & Mike
Welcome Back: Basically everyone
Congratulations: Alexx on her birthday, May&Brian and Malia&Reilly on their anniversaries, Malia and Parri on completing their Advanced Open Water certification and NAI'A for 30 years of bringing people together
This was a trip more special than any other we have ever done. We had the bosses on board with their respective families, (except for Brigg, who couldn't make it from Romania) including 6-month-old baby Koa. They invited some of their closest friends, many who were there for NAI'A's shakedown cruise, to celebrate the 30th anniversary of NAI'A and share stories from the good old days, many of which ended with Rob naked in various random places.
We didn't have the best weather, as a Bogi Walu arrived early into our trip, but we certainly had fun. This trip was about family and friendship, about long years spent together and apart, about all the stories that one way or another inspired the NAI'A dream, and all the stories since. The weather impacted our route, but not the joy of the celebrations, which also included Brian and May's wedding anniversary, Malia and Reilly's anniversary, and our Boss Lady's birthday.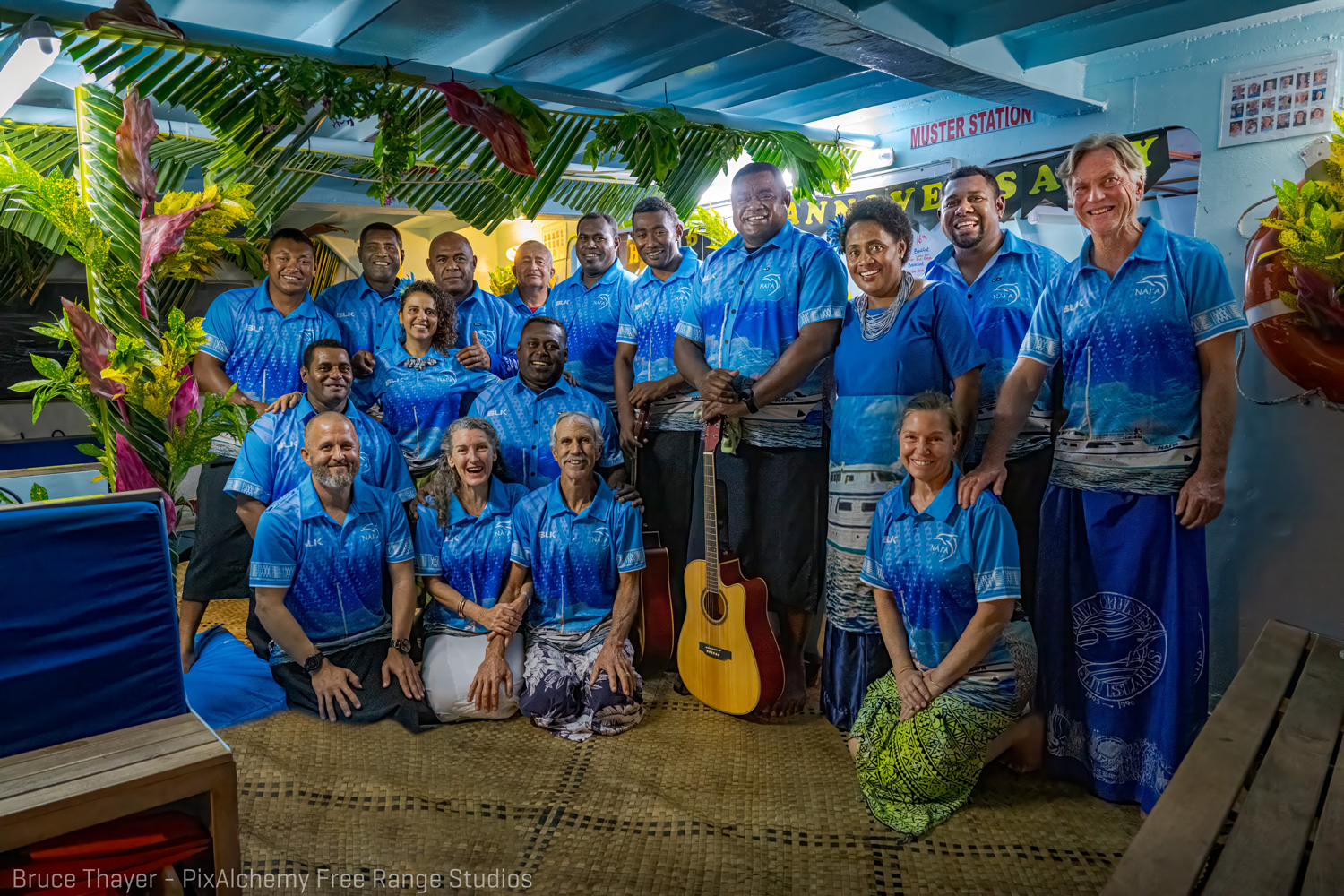 Photo by Bruce Thayer: NAI'A family and crew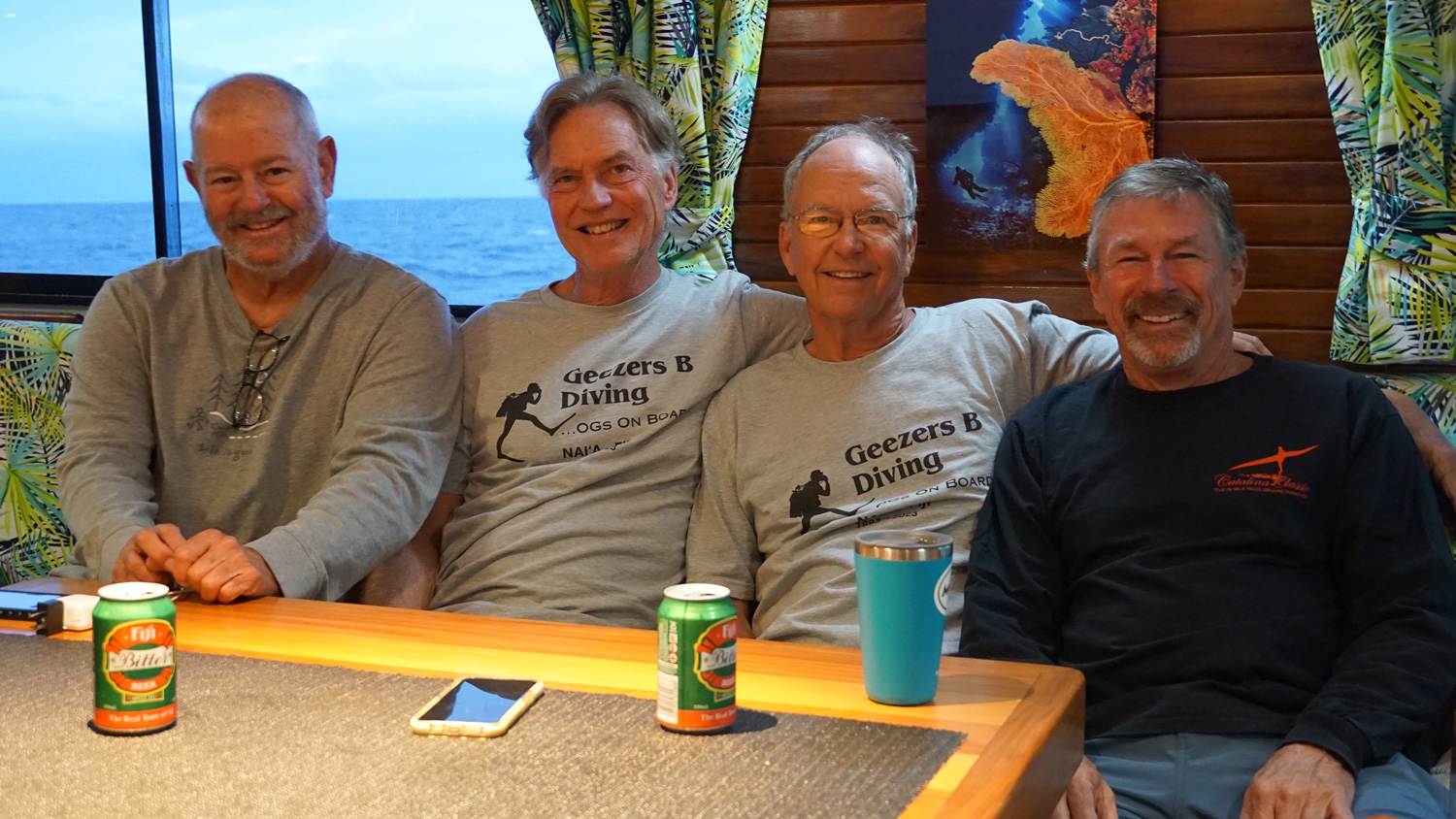 Photo by Bruce Thayer: From the Apapane Street boy's home to NAI'A Fiji: buds for 40 years!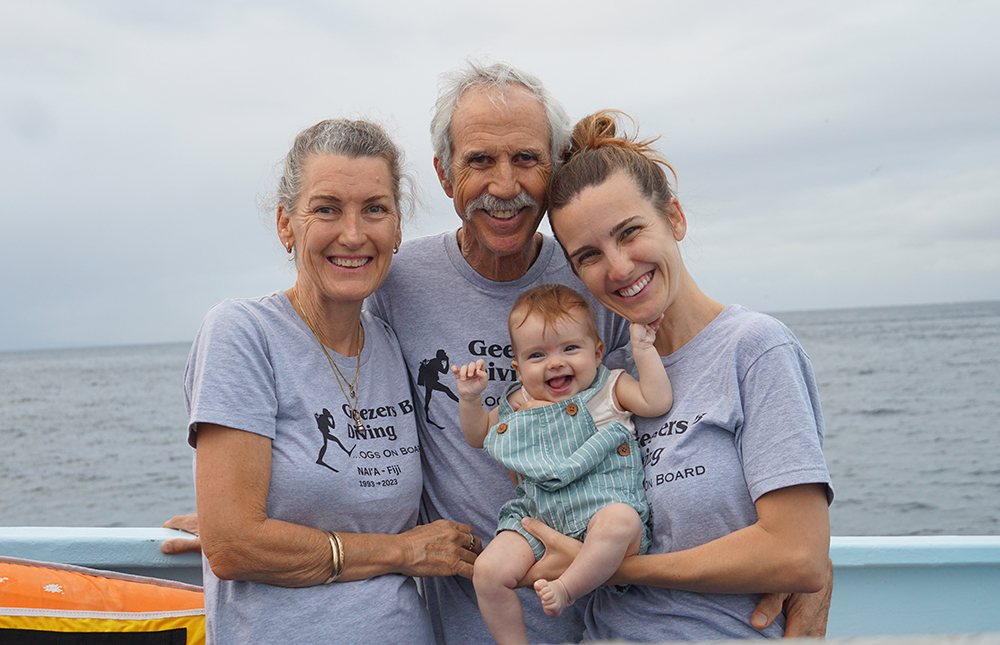 Photo by May: Alexx, Todd, Wrenn and baby Koa.
After a lovely sunset on the first evening, we dined and headed over to UndeNAI'Able, Cat's Meow and Humann Nature for our first day of diving. We saw nudibranchs (and egg ribbons), barracudas, scorpionfish, a juvenile ribbon eel, a tiny crown of thorns, a juvenile rockmover wrasse, some longnose filefish, sea spiders and incredible reefs, especially at the top of Humann Nature. The snorkelers had a great time at UndeNAI'Able and Meme saw a turtle! Bruce took photos of Koa.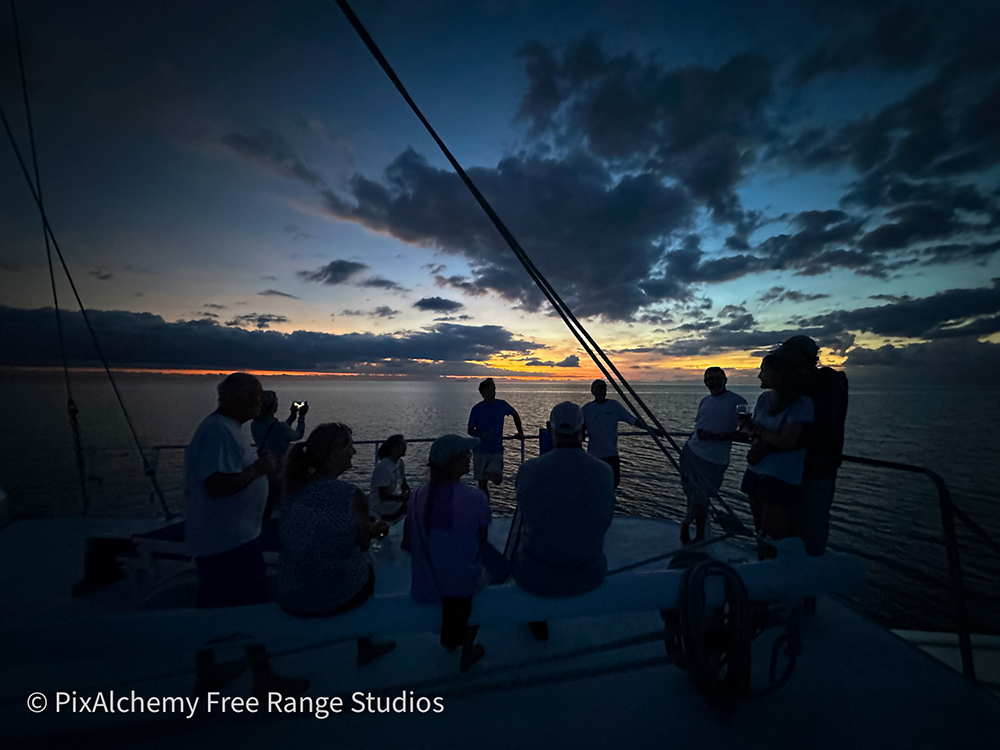 Photo by Bruce Thayer: Sunset drinks
We moved over to Namena for two days of diving, kayaking and snorkeling. On the south dives, we saw nudibranchs (Wrenn and Parri were always counting them), orangutan crabs, ribbon eels, dartfish (twotone, zebra, fire and decorated) as well as pickhandle barracudas and masked surgeonfish. On the north, we saw schooling bannerfish, triggers, barracudas, bigeyes, pinjalos, trevallies, and palette surgeonfish (Dory!). We also saw the bigger boys, four hammerheads for the Barrel clan, several enormous dogtooth tunas circling overhead, eagle rays cruising through the Arch and several grey reef sharks all over. Meme and Reilly got to make some bubbles underwater under Mike's care and Meme may or may not have squealed a few times through her regulator.
Alexx and Todd decided they needed some exercise and headed out kayaking in perfect synchrony as Bel waved and May took photos. According to Alexx, the harmony of their strokes only lasted about 10 strokes, after which Todd hit her on the head with his paddle. Mike went ashore with some of the guests and the bird nerds went crazy over all the bird activity. At sunset, the group took a photo with the Geezers B Diving t-shirts that May ordered for this occasion and that turned into many smaller photo ops. In case you were wondering, Bruce took more photos of Koa.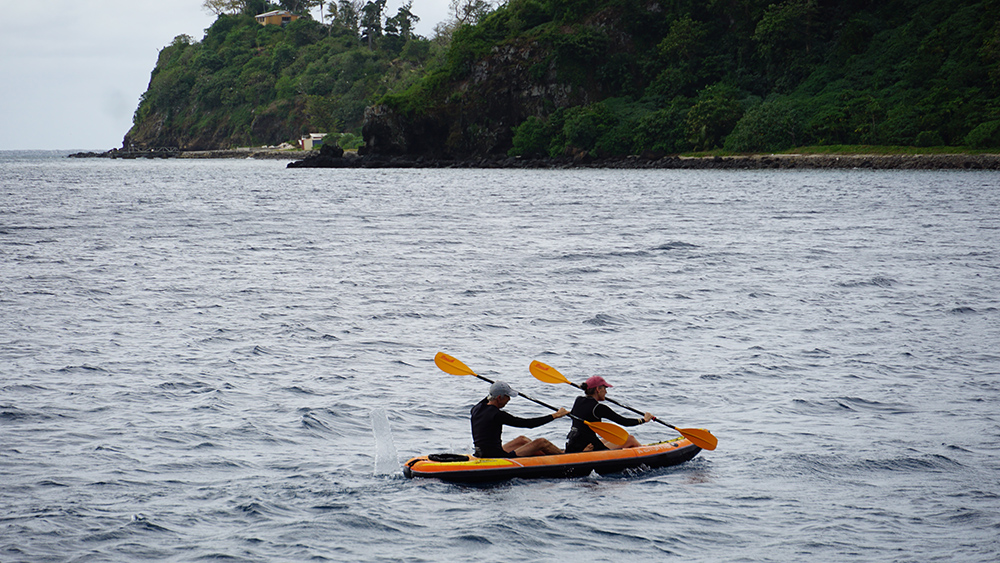 Photo by May: Todd and Alexx kayaking in perfect synchrony... for a short while anyway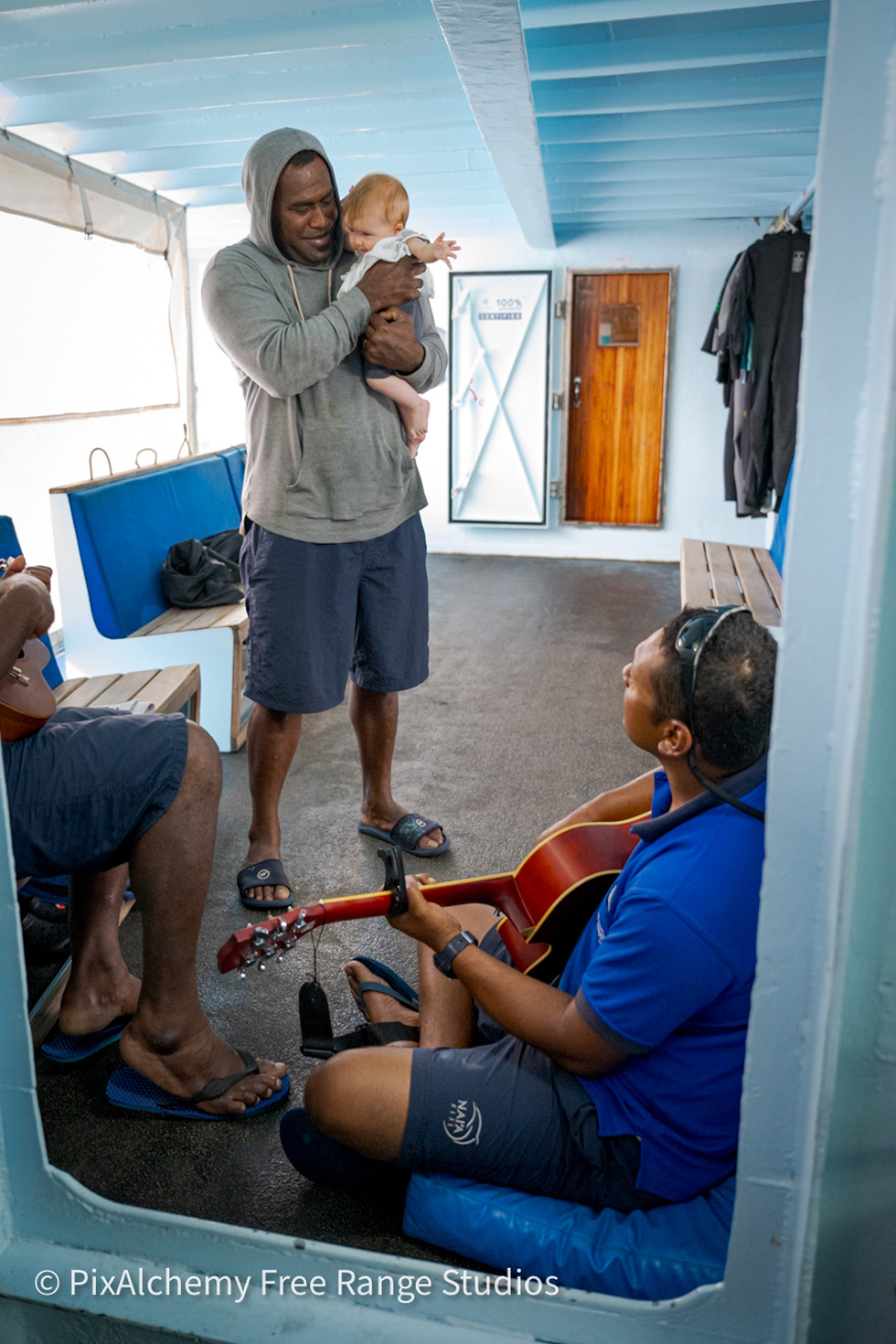 Photo by Bruce Thayer: Koa gets serenaded by the crew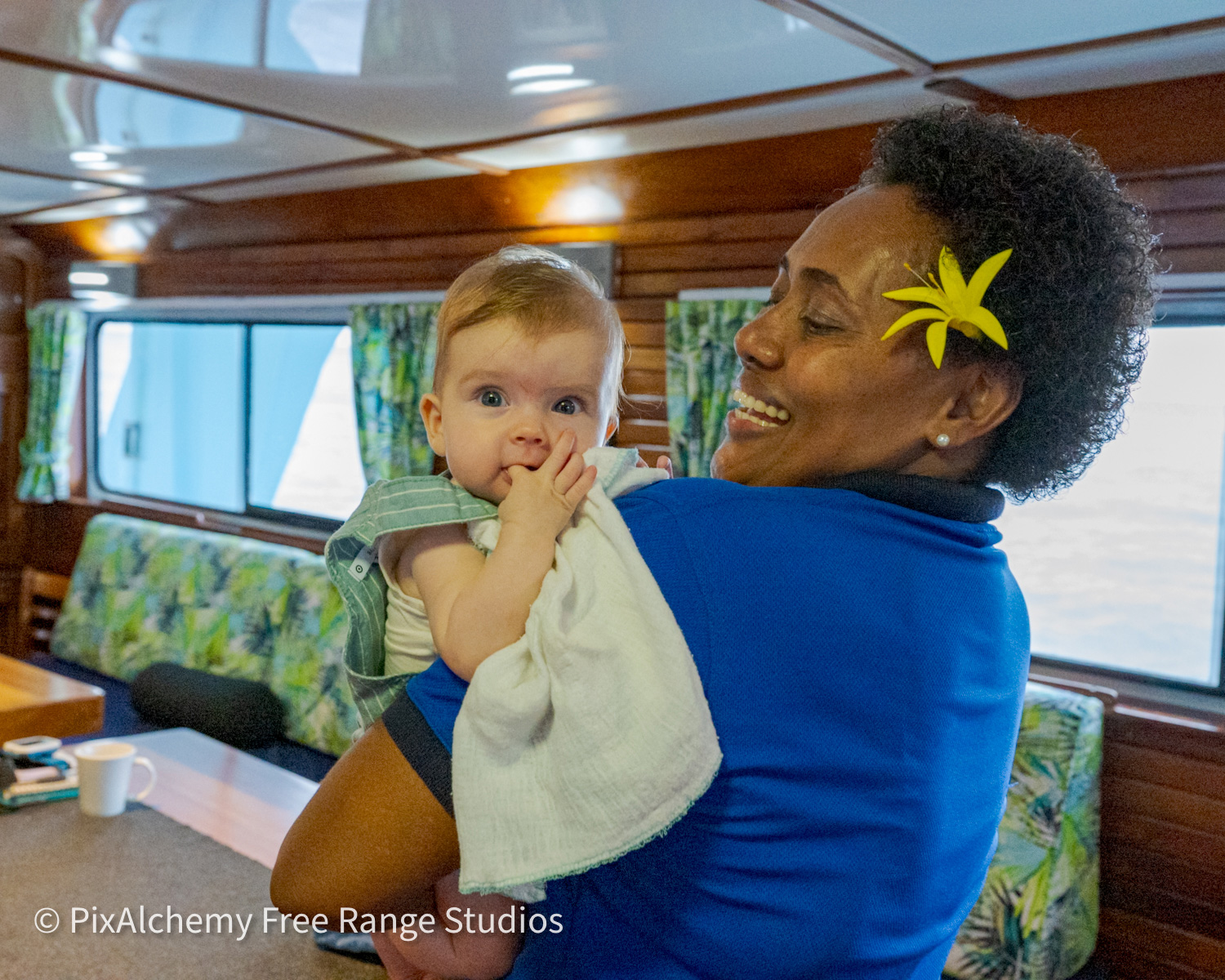 Photo by Bruce Thayer: Ana and Koa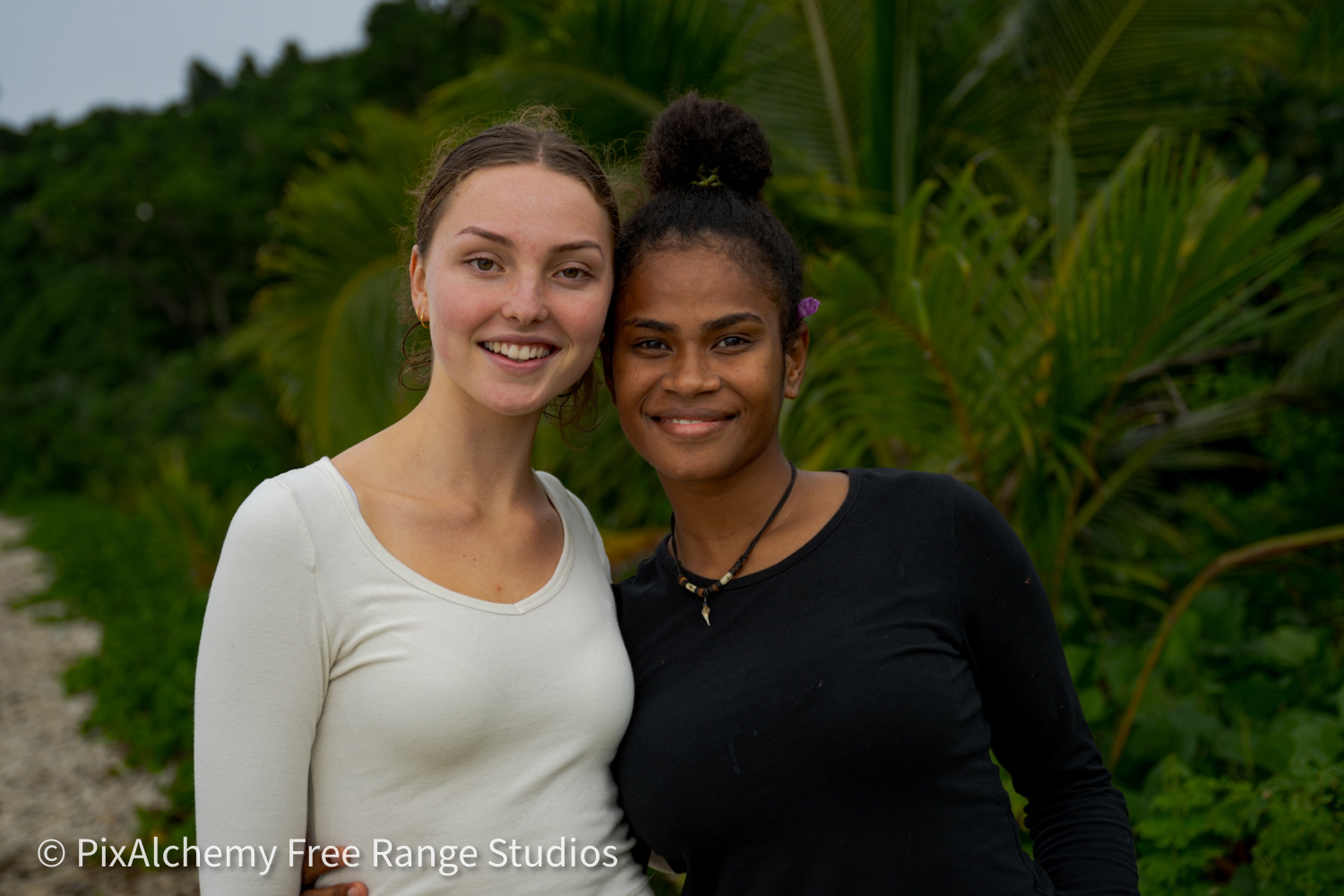 Photo by May: best friends since they were born: Parri and Meme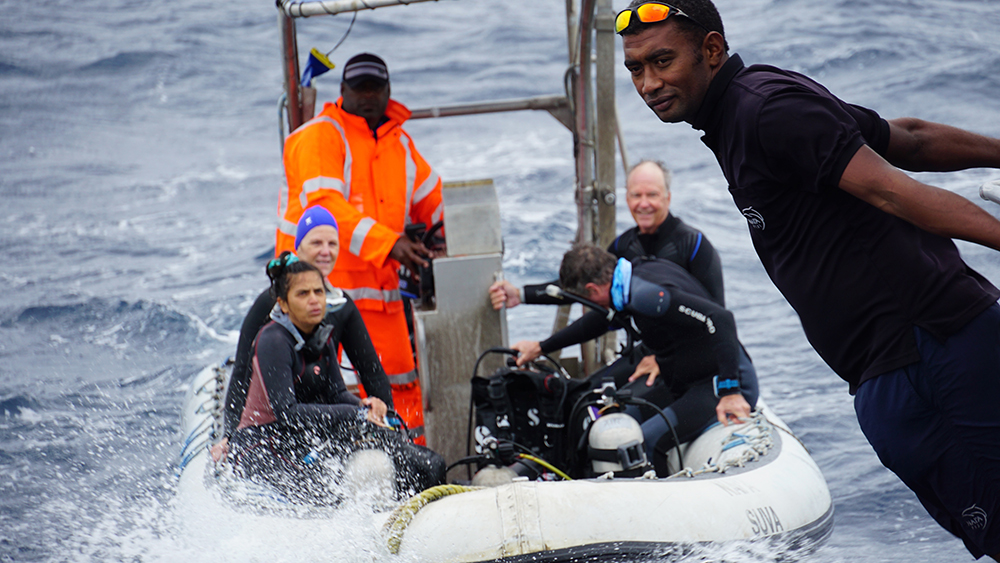 Photo by May: divers returning to NAI'A
We departed on our second day at Namena right after our early afternoon dive and had a very rocky passage to Makogai. Everyone was happy to be anchored that evening and we all woke up fresh the next day for a tour of Makogai followed by more diving, kayaking and snorkeling. Bill, our esteemed Makogai guide, took the group to see the old lepper colony graveyard and outdoor cinema as well as the giant clam project. While they did all that, Alexx and Todd kayaked some more and swam a little as well. Later, the snorkelers headed to Makodroga (and saw a white tip from VERY close) and the divers explored the bommies. We moved over to Wakaya and had our Kava Party to celebrate the 30th anniversary, and the Boss Lady's birthday. Rob made a beautiful and emotional speech, followed by Alexx and Cat. There is just so much appreciation for the years, the crew, the memories… We all had a fabulous time, but Meme stayed up with the boys until after midnight. Oh yes, and Bruce took some more photos of Koa.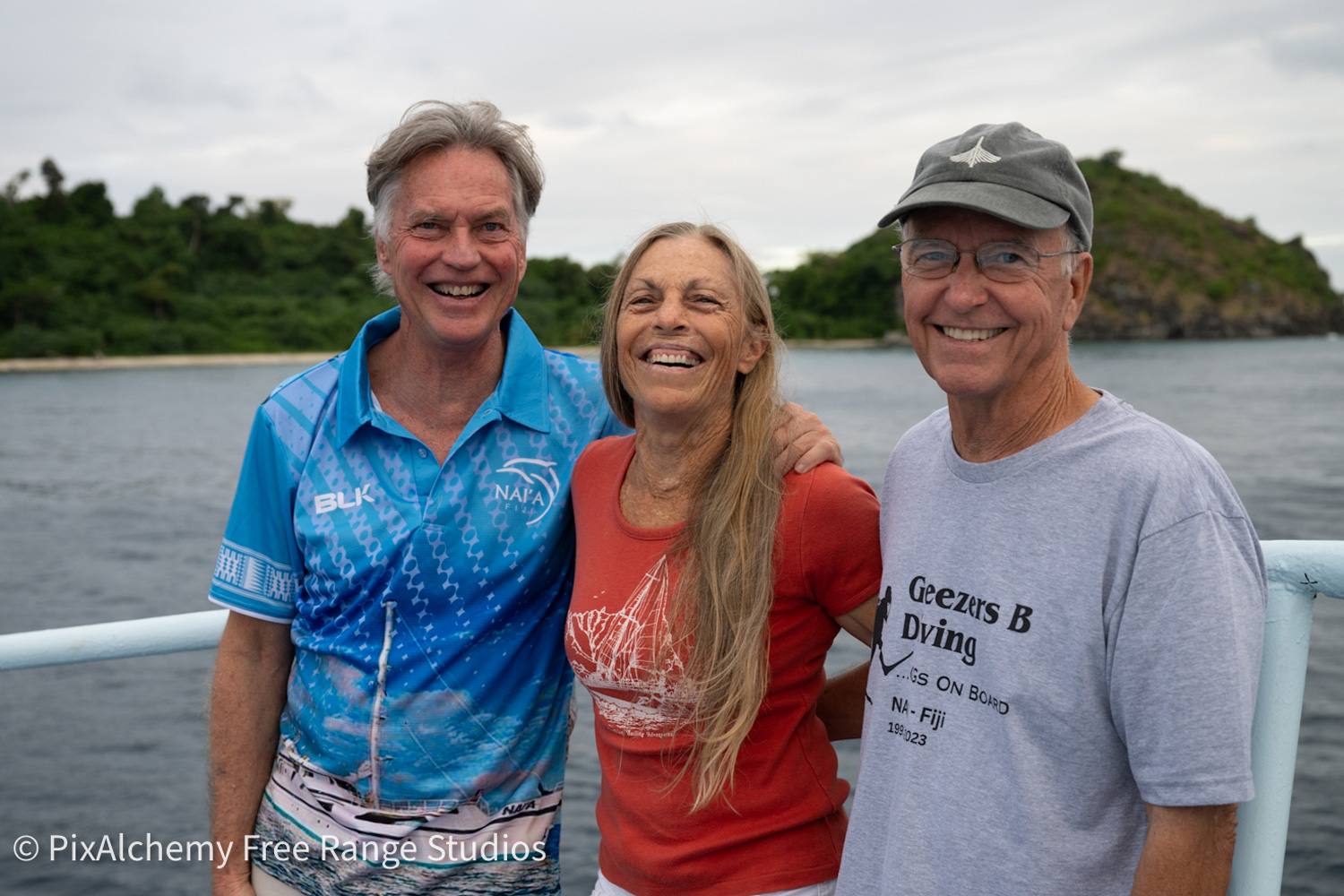 Photo by Bruce Thayer: Rob, Susie and Brian back together in Fiji after sailing here with Contessa in 1985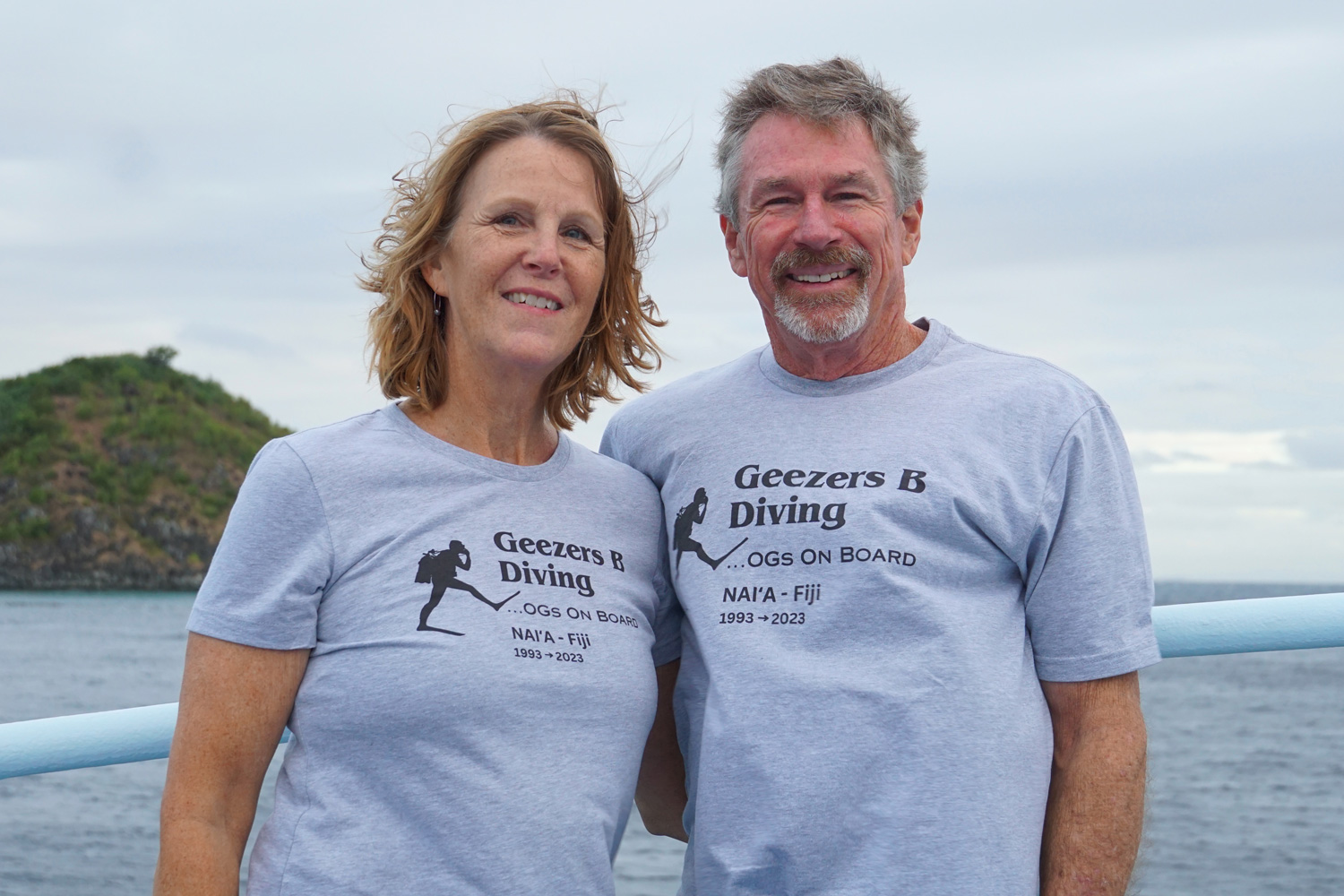 Photo by Bruce Thayer: Barrie and Paul cruised Fiji on Contessa in 1985 and helped launch NAI'A in 1993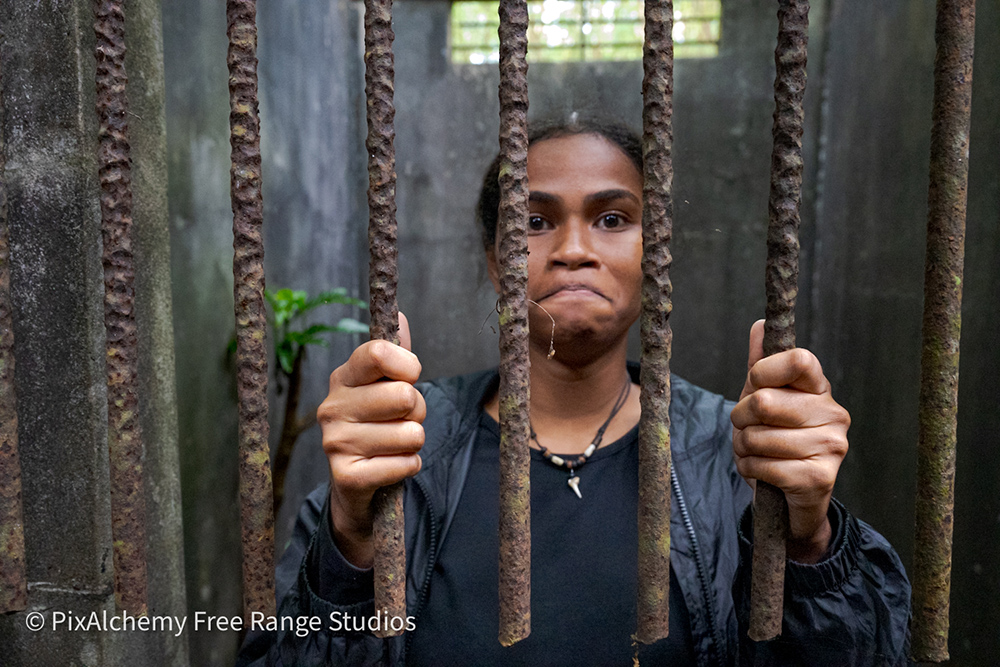 Photo by Bruce Thayer: Meme gets in trouble during Makogai visit
Photo by Bruce Thayer: Kava Time!
Photo by Bruce Thayer: Reilly and Malia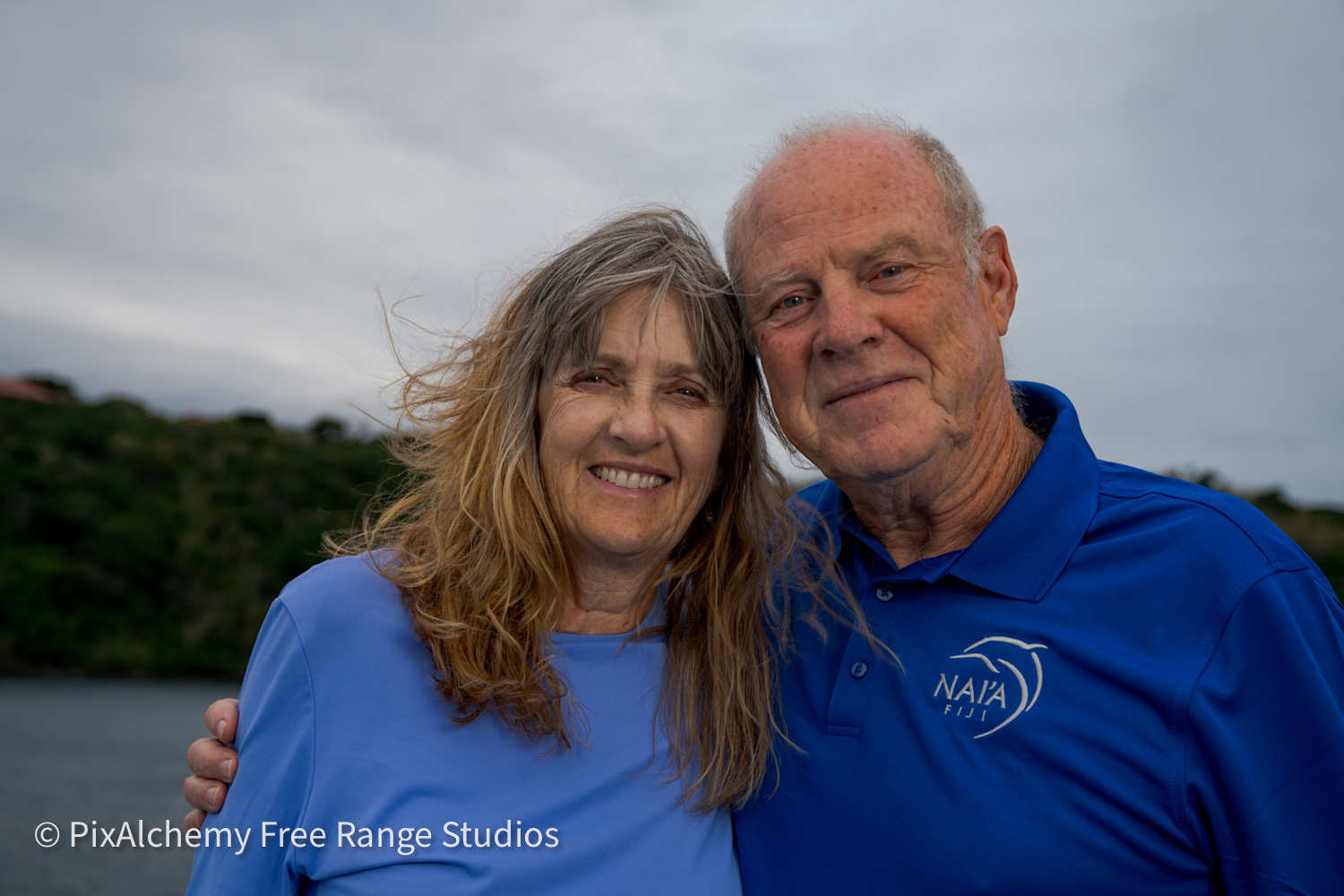 Photo by Bruce Thayer: John and Wendy. John also sailed with Rob and Susie in Fiji in 1985
The next morning we had dives and saw leaf scorpionfish, a few sharks, schooling barracudas and, yes, the big black flappy fish: manta rays. On the first dive we saw Flapuccino, M435 (so poetic) and a very pregnant Django. Then the snorkellers saw a sea krait (spotted by Wendy, the snorkel queen), Christmas tree worms and jobfish. For the last dive of the day, everyone spent a loooooong time with Tasha Angel, and Bel had a hard time getting Malia and Parri to identify some fish with Tasha hovering around so much. Oh well, that's a good problem to have, and the girls named enough fish to complete their Advanced Open Water class. Bruce found himself a little bored, so he took some more photos of Koa.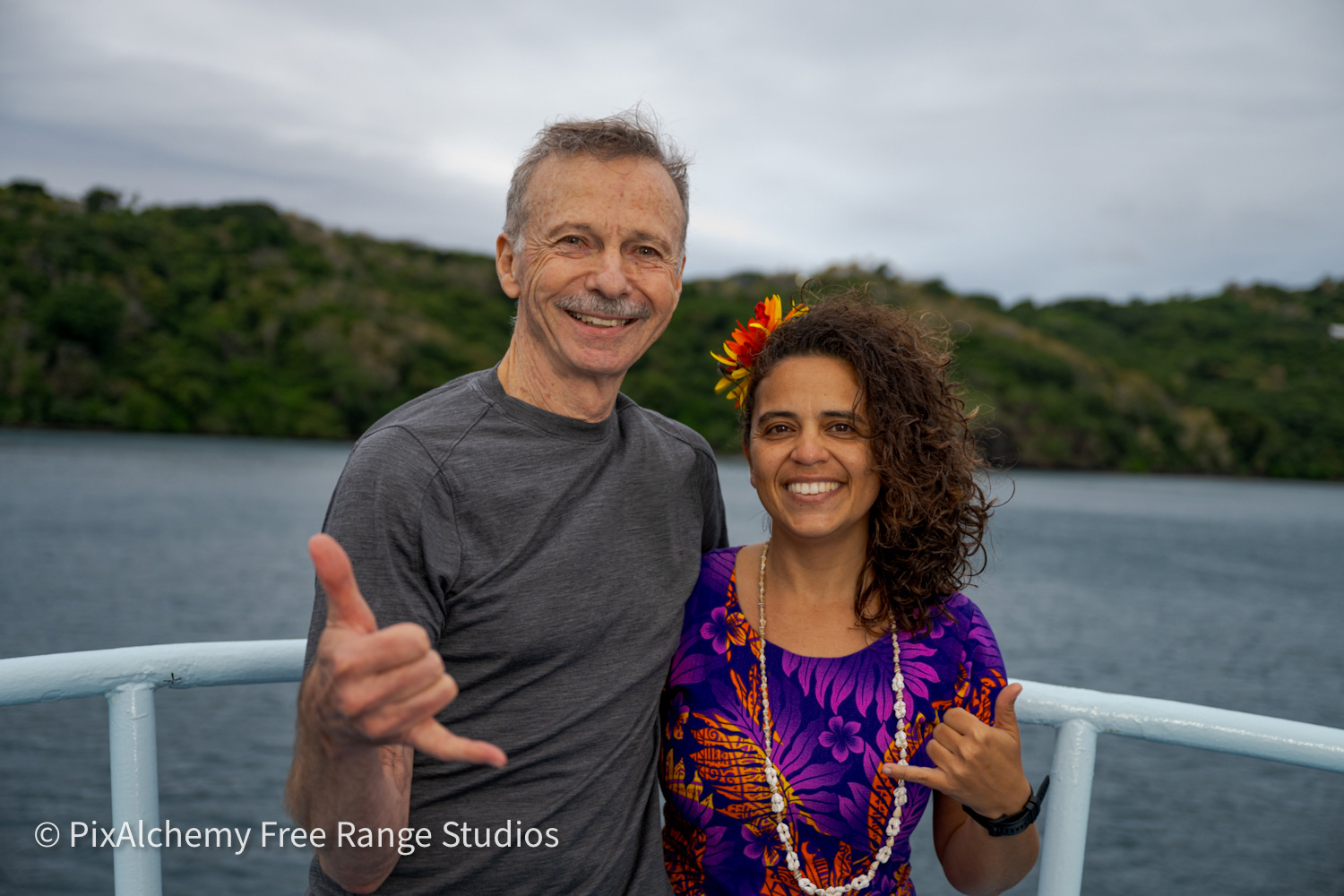 Photo by Meme: Bruce and Bel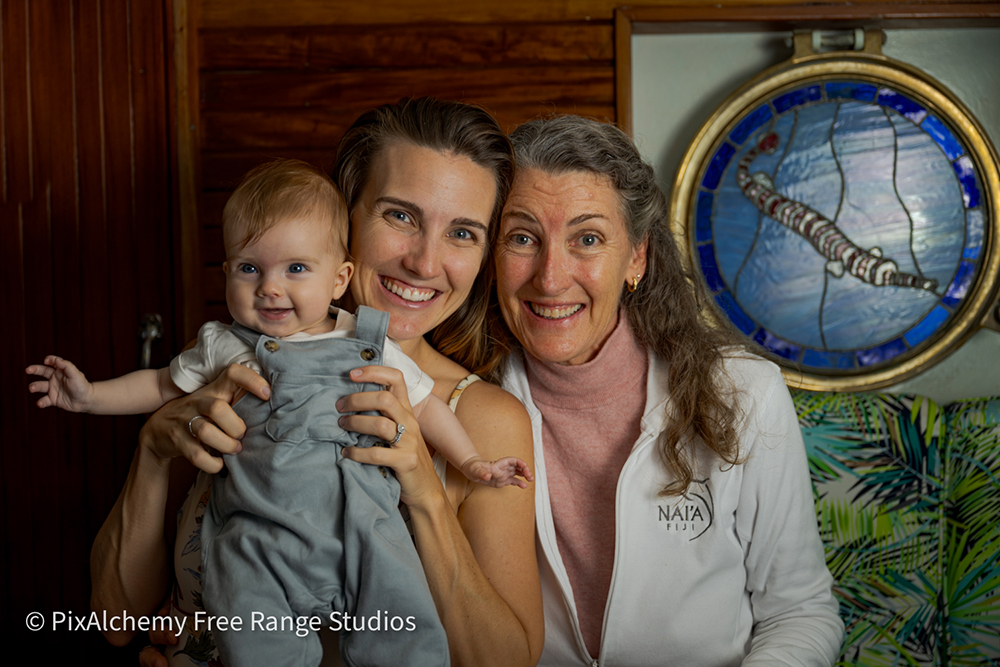 Photo by Bruce: Three generations
On our last day we were surprised by calmer waters and a strange orange ball in the sky, some call it the sun. Maybe it was luck, maybe it was the universe's gift to Alexx for her birthday. The divers thoroughly enjoyed the beautiful reefs and the abundance only healthy currents and marine protected areas can offer. Wendy, the badass snorkel queen, outsnorkeled the youngsters at the top of Charlie's Garden and was mesmerized by all the colorful corals. After the two dives, we went to Vatu-i-ra island (even baby Koa, who got photographed by Bruce again) but got a little damp as the sun liquified and poured on us. We then headed back to Lautoka grateful for an incredible week with amazing people, happy to have been a part of this big celebration.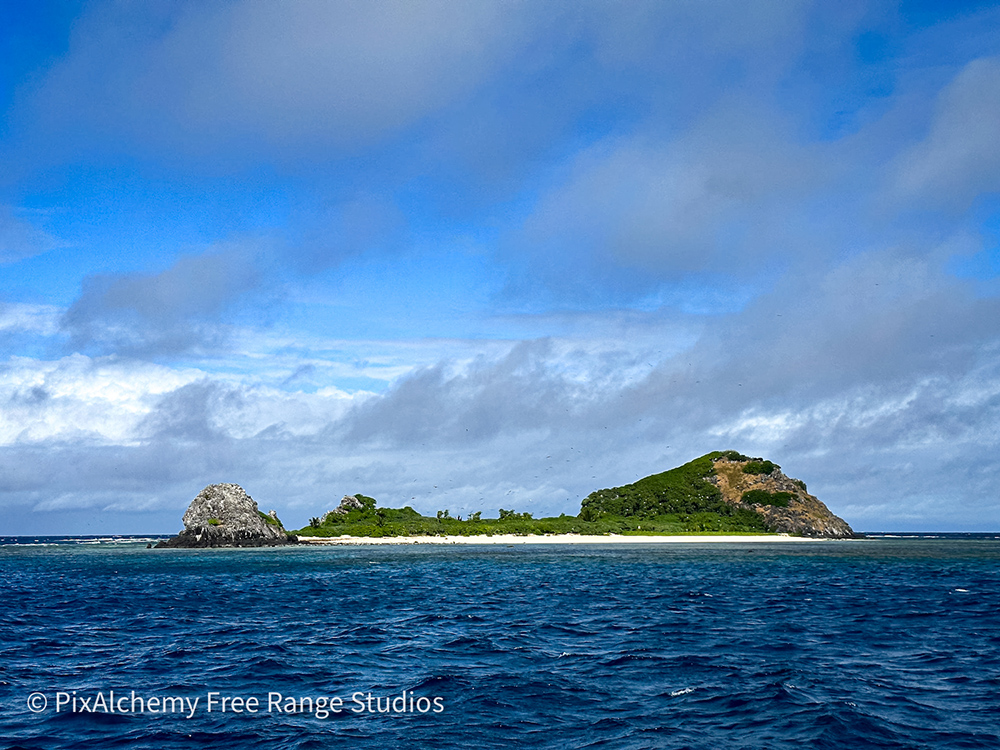 Photo by Bruce Thayer: Vatu-i-ra and... the sun??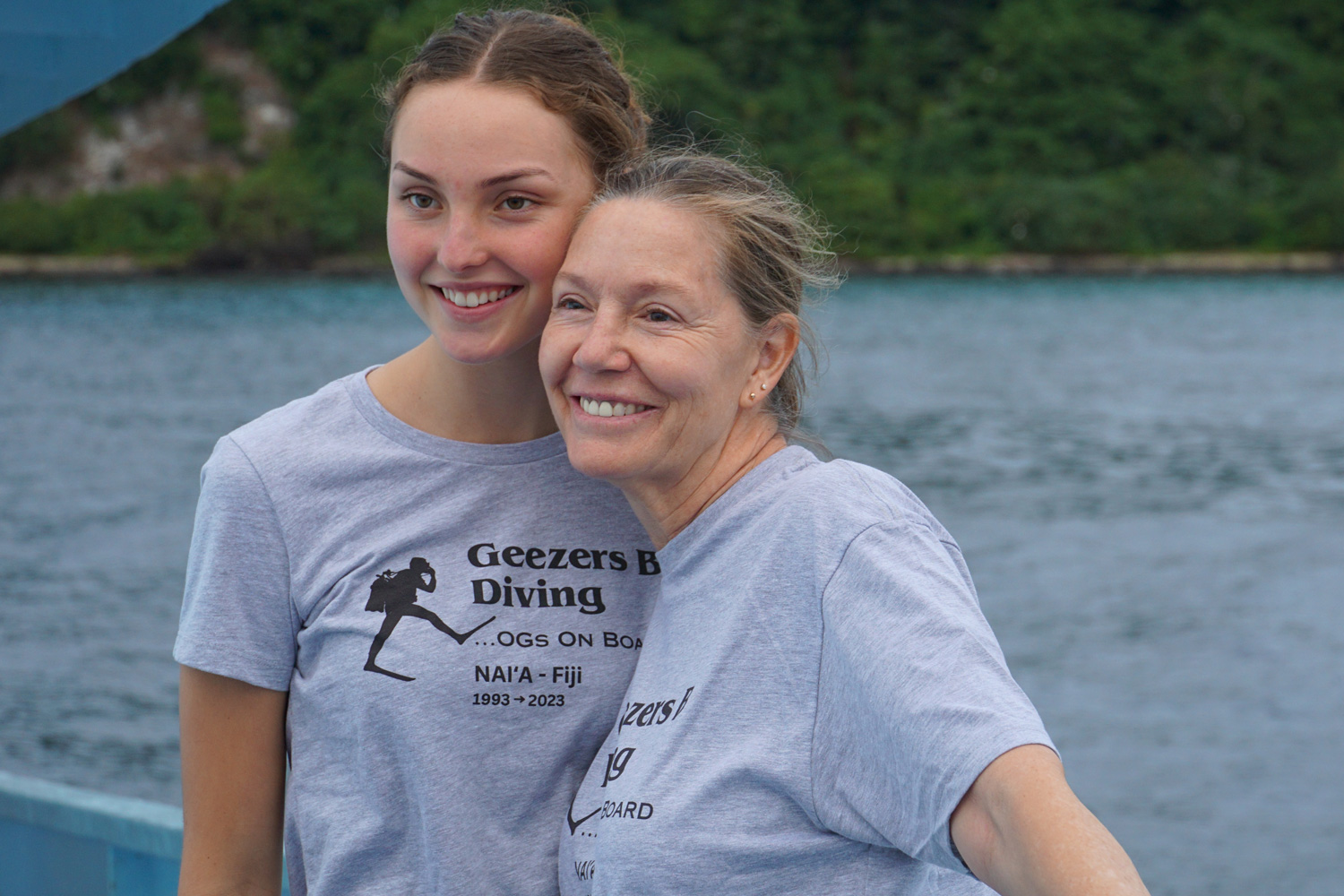 Photo by Bruce Thayer: Cat and Parri, a Geezer and her girl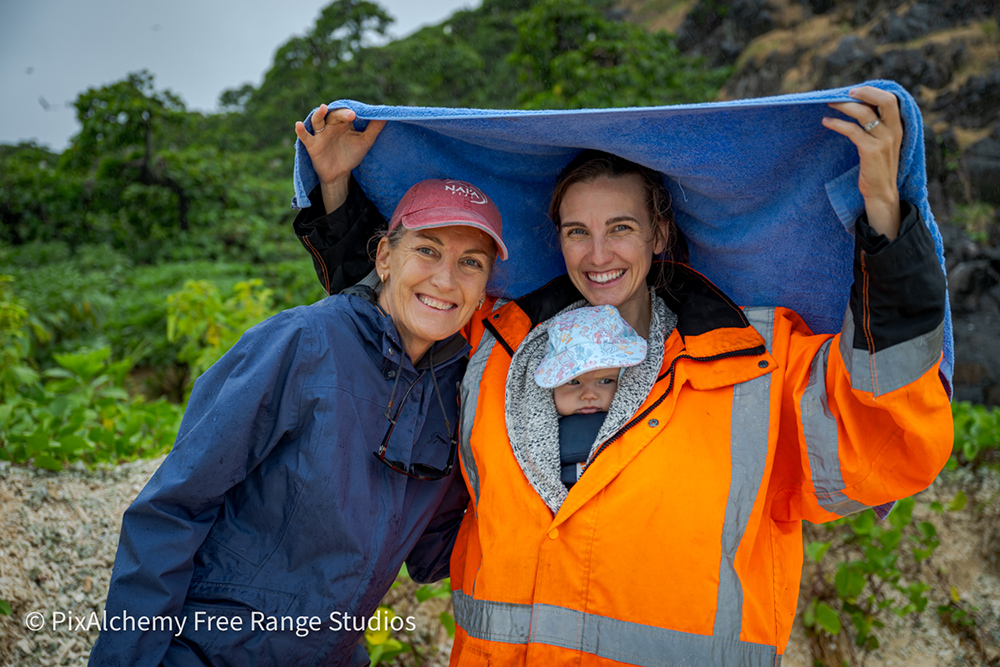 Photo by Bruce Thayer: Ready for liquid sunshine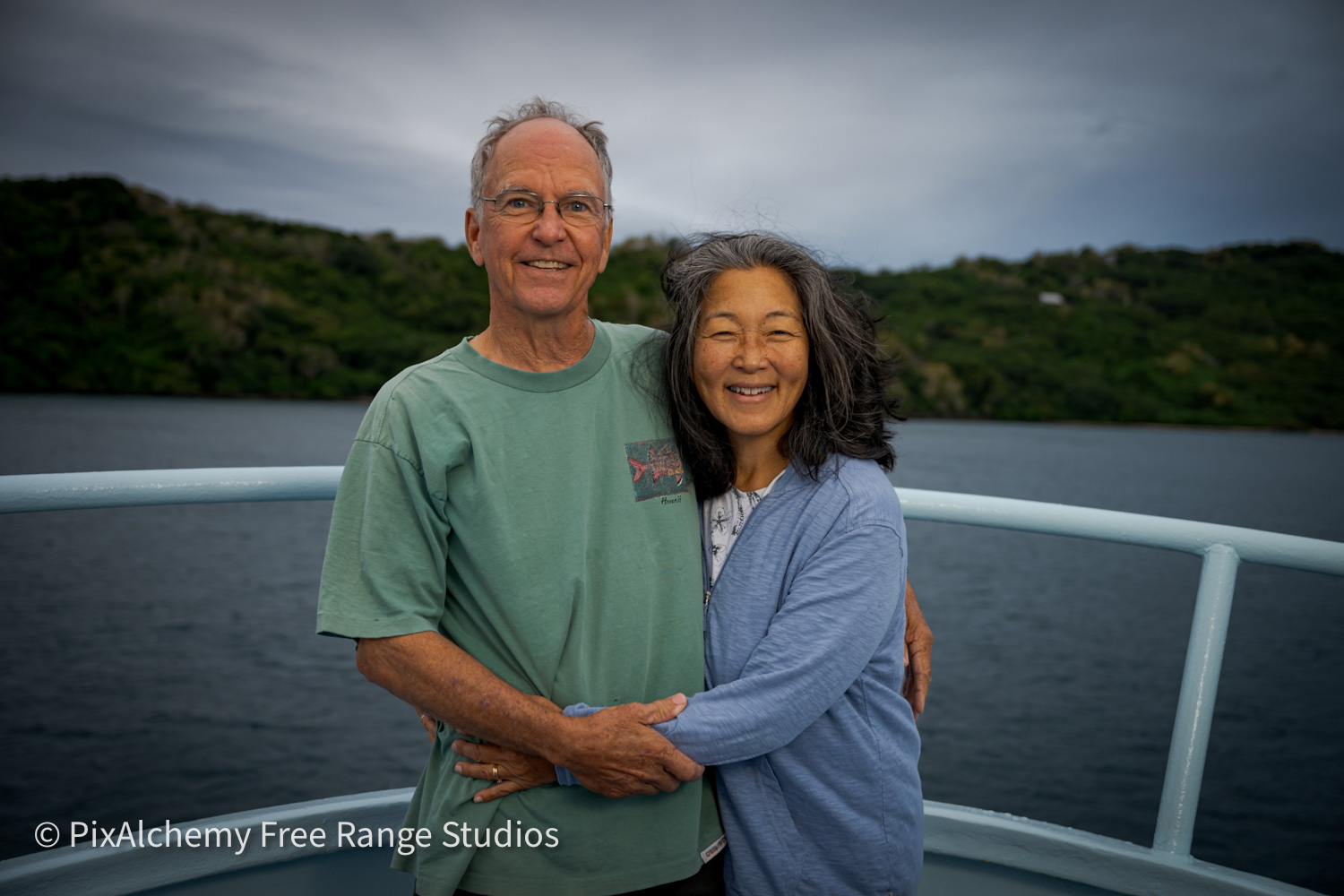 Photo by Bruce Thayer: Brian and May shared their first kiss aboard NAI'A 25 years ago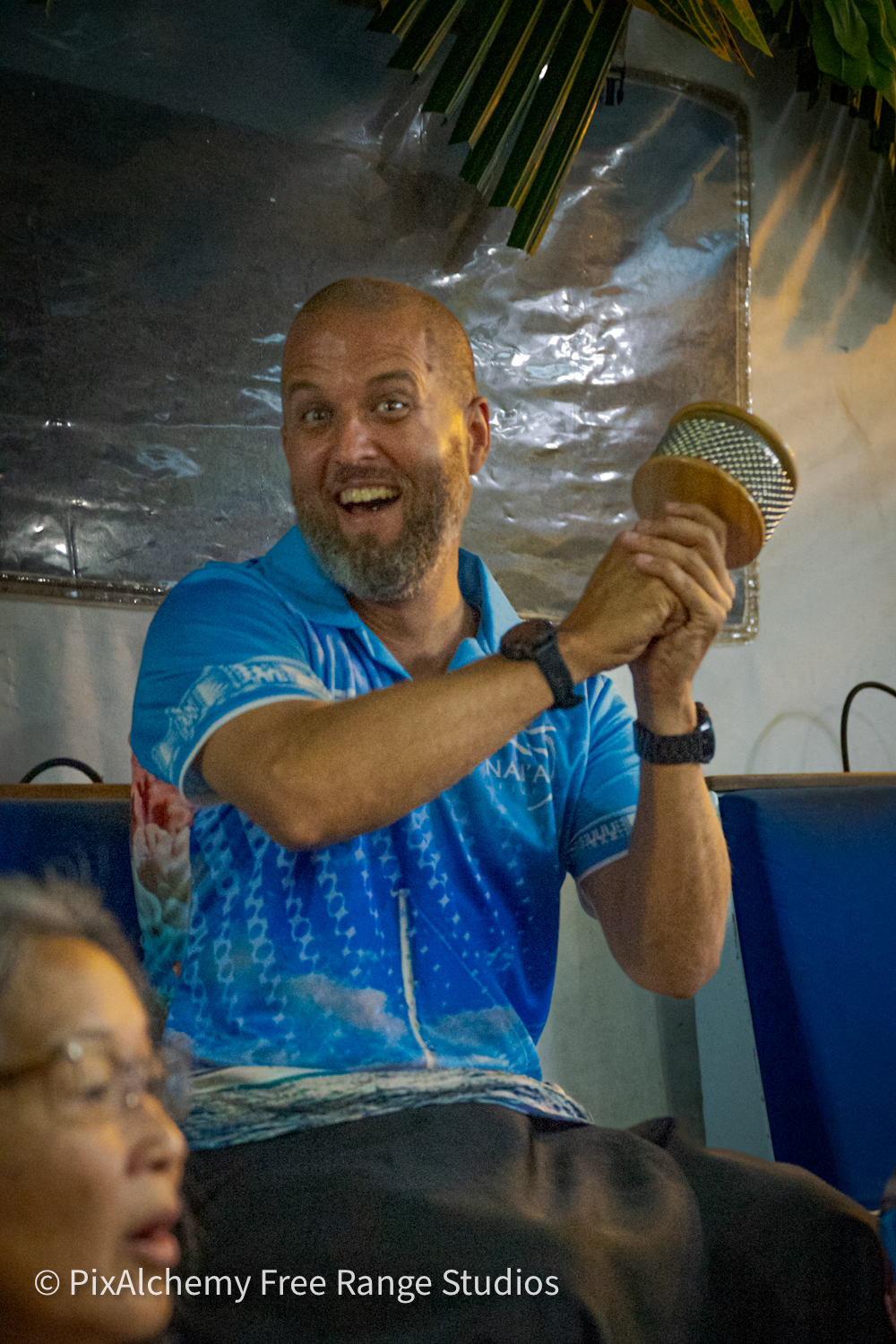 Photo by Bruce Thayer: Mike rocks a mean rattle after a few bowls of kava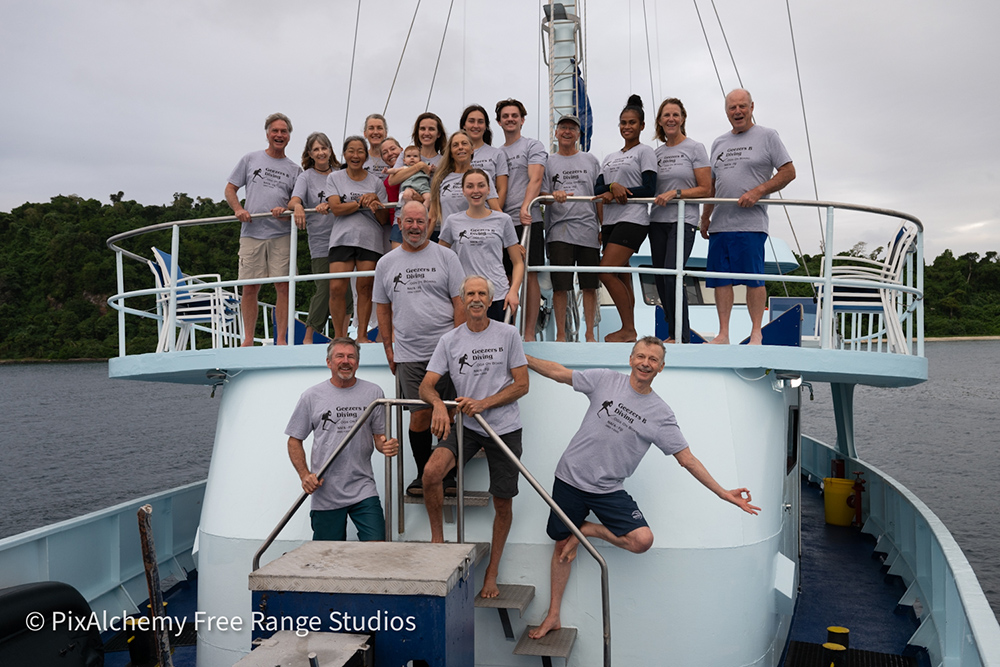 Group photo: Geezers B Diving
Comments
"Central Fiji has all the elements of the ultimate ocean wilderness: diverse creatures and habitat, nutrient-rich water, spectacular scenery and owners who respect it."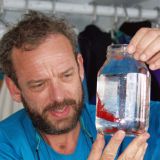 ~ Dr. Greg Stone, Executive Vice President of Conservation International