Ninja Penguins vs Bottom Dwellers
Destination: Namena Marine Reserve & Vatu-i-Ra Conservation Park
Trip Date:
Sep 21st - Sep 26th, 2020 -
Comments
Author: Jemma & Scott
Welcome Back: Sangeeta, Stacy, Helen, Amanda & Tom
Congratulations: To the whole team monitoring 28 survey sites!
What do you get when you combine a dream team of reef scientists, the NAI'A and a list of coordinates? An epic 6 days of diving, surveying Fiji reefs.
The monitoring expedition was led by The Wildlife Conservation Society to complete reef surveys around Namena Marine Reserve and Vatu-i-Ra Conservation Park. The aim was to determine reef health and, in particular, recovery in these areas after Cyclone Winston 4 years ago. The monitoring crew consisted of Team Bottom Dwellers (Sangeeta, Ana, Wise, Helen and Amanda),Team Ninja Penguins (Yash, Stacy, Luke, Katy and Wise) plus Team Floater (Tom and his camera).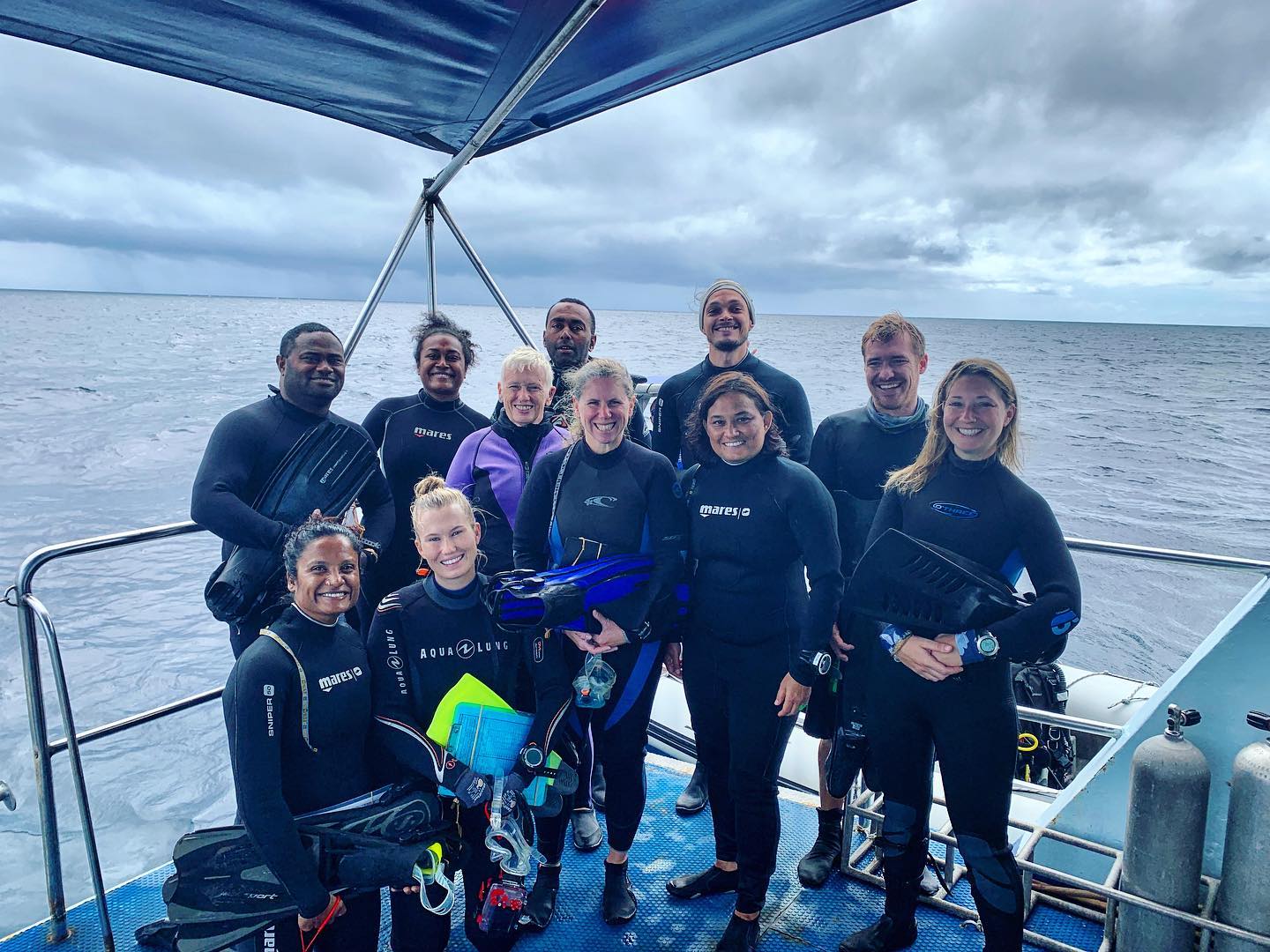 We picked the team up at Volivoli and headed straight out to the first survey sites around Vatu – i – Ra. We knew these guys meant business as soon as we jumped in for the first dives. We witnessed all teams descend, find their starting point and begin surveying no fuss, no faff, no problem – a well-oiled machine of experienced experts, focussed on the job at hand – complete fish and benthic surveys at sites in and around the marine protected areas.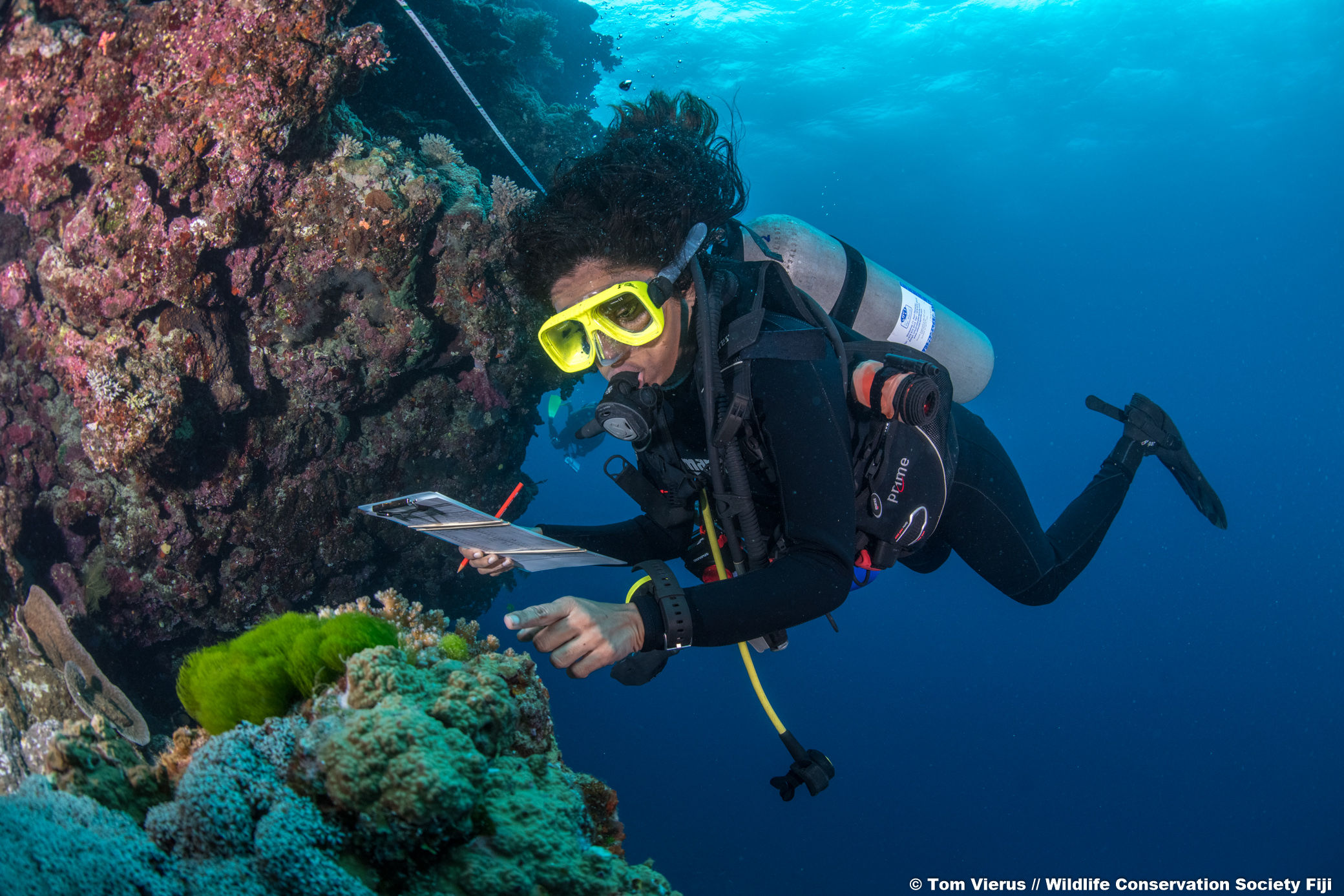 Overnight we headed across to the survey sites at Namena Marine Reserve. Despite a choppy crossing, everyone was up and ready to go with fresh survey sheets, sharpened pencils and charged camera batteries. (I think this was in part due to Helen's supply of seasickness patches).
Once the Namena surveys were completed we moved to slightly more sheltered sites after lunch to complete the last set of survey dives of the day. This was the day of every season, we dropped in with the sun, ascended to the rain, headed through the swell, bounced about on the skiffs, got chilled by the wind, then had a clear afternoon – but despite the weather above, conditions were great below the waves.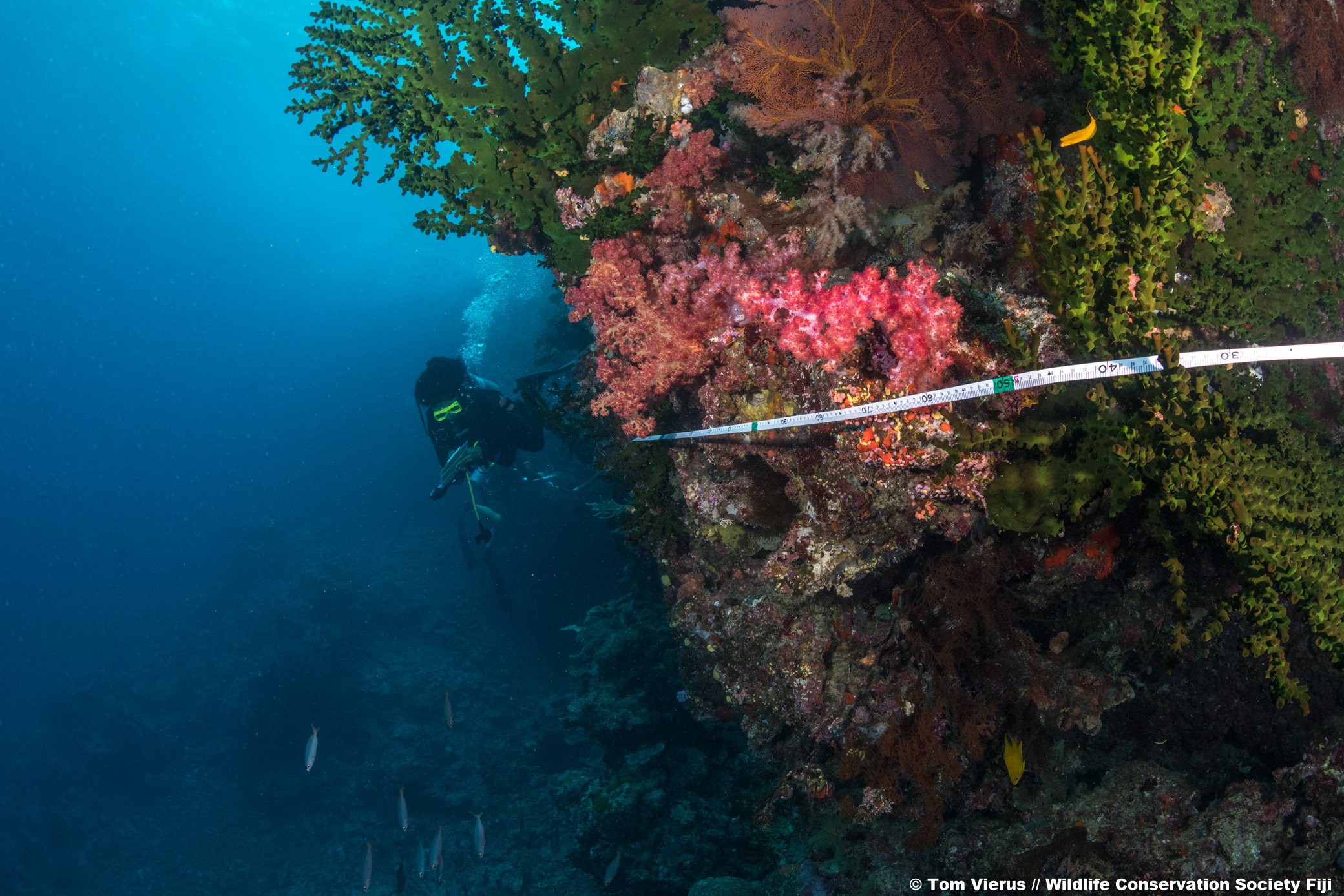 After the dives were done, the rest of the day (and evening) consisted of data entry. These guys were super dedicated - up from 6am to dive and then reviewing photos, identifying fish and coral, discussing species and inputting data until 10pm some nights! I am sure it was nice for Tom not to be the only one tied to his laptop after a dive for a change!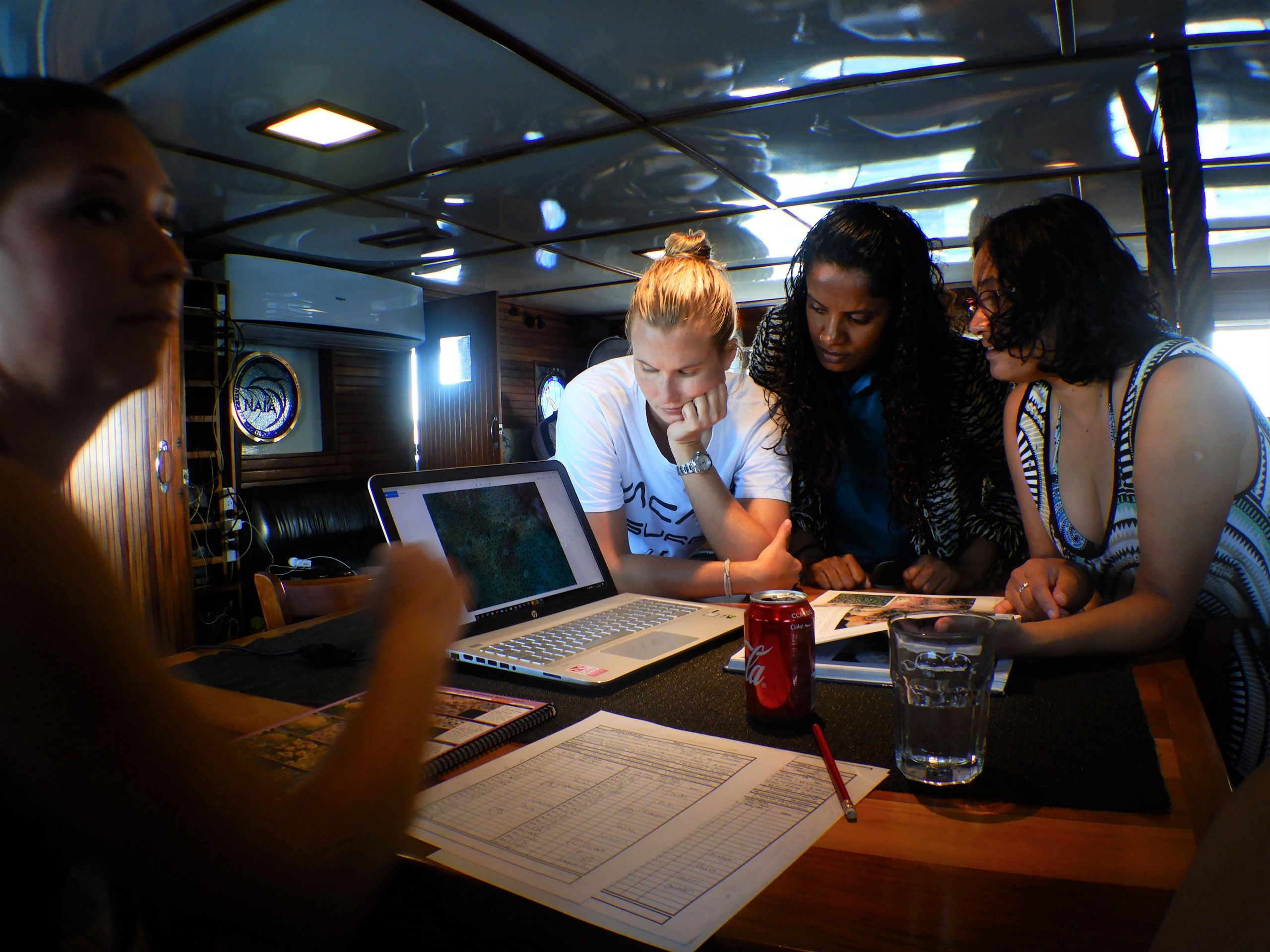 A nice calm night at anchor meant we were ready for the next full day of surveys. Those South Easterlies were testing us so we did our best to re arrange survey sites to try and reach the more protected spots– but this team of scientists were as tough as it was rough so nothing was stopping them from collecting that data.
Another afternoon of data input meant that some were finished in time to join the kava party that night. For the rest it was a nice treat to have beautiful music and singing in the background as they were busy on their laptops. But no one could get away without joining in the animal song and partaking in a bilo!
By the next morning the conditions had calmed down, so the teams spent the day surveying the remaining sites in the Kubulau region. After another successful day we were treated to a stunning sunset – a great excuse for sunset drinks and a break from data input.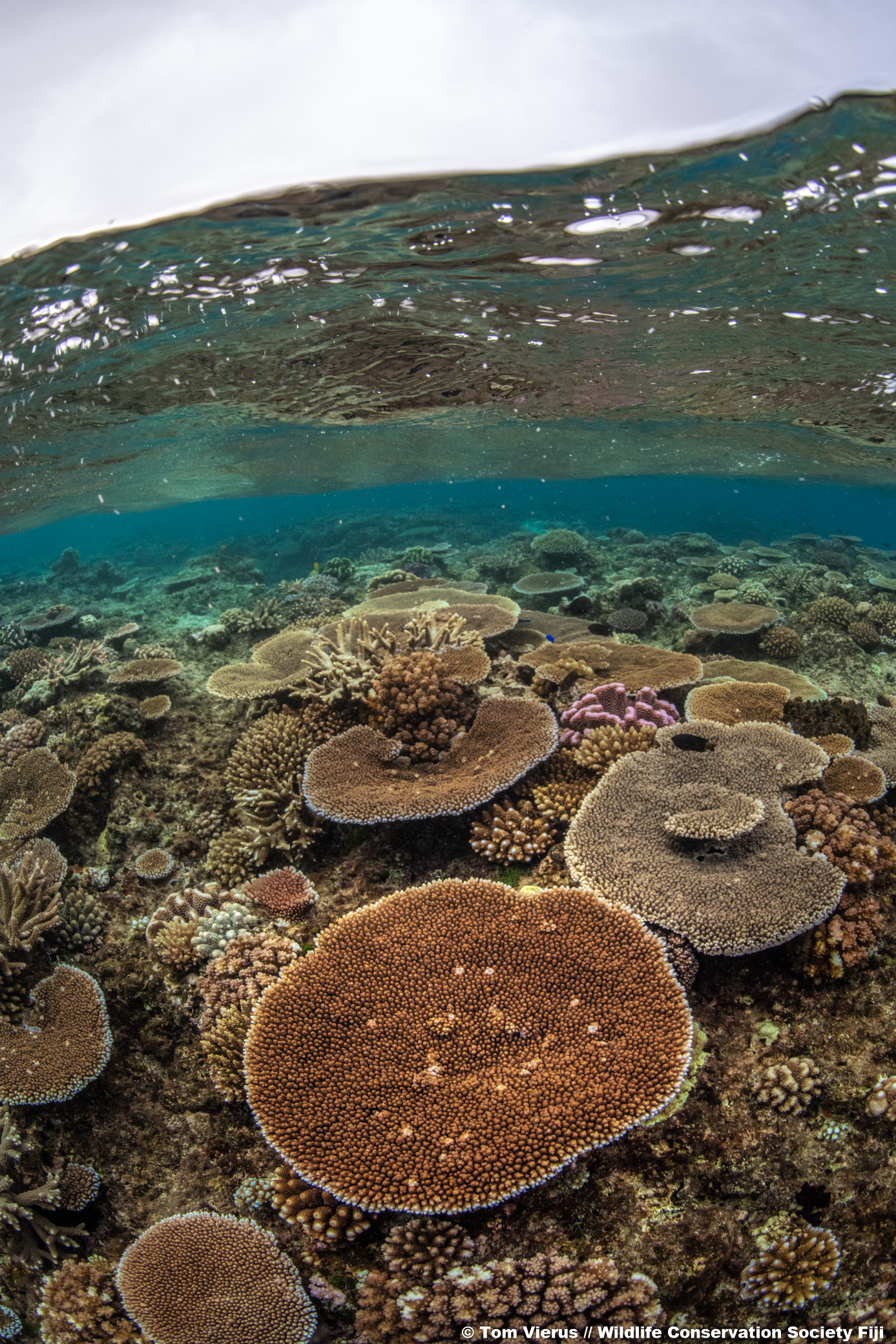 The following morning we arrived back to the Vatu-i-Ra region and completed our last full day of surveys. As dives had been shifted a little earlier to work around the currents we had time for a fun dive (yes Didi we know every survey dive is also a fun dive). So Stacy, Tom, Amanda, Ana and Katy took full advantage and joined us at one of our favourite dive sites - Mellow Yellow. Here we enjoyed the usual splendour of schools of scalefin and magenta anthias, ruddy, bluestreak and scissortail fusiliers, chomis and damsels. Bird wrasse, longnose wrasse and anemonefish on the reef. Our pair of peacock-tail anemone shrimp hanging out on their pizza anemone home. Hunting lionfish, and trevally darting in and out of the schools of fish. A column of lunar and blue and yellow fusiliers schooling between the pinnacles, and Tom found a tiny hawksbill turtle friend to pose for him!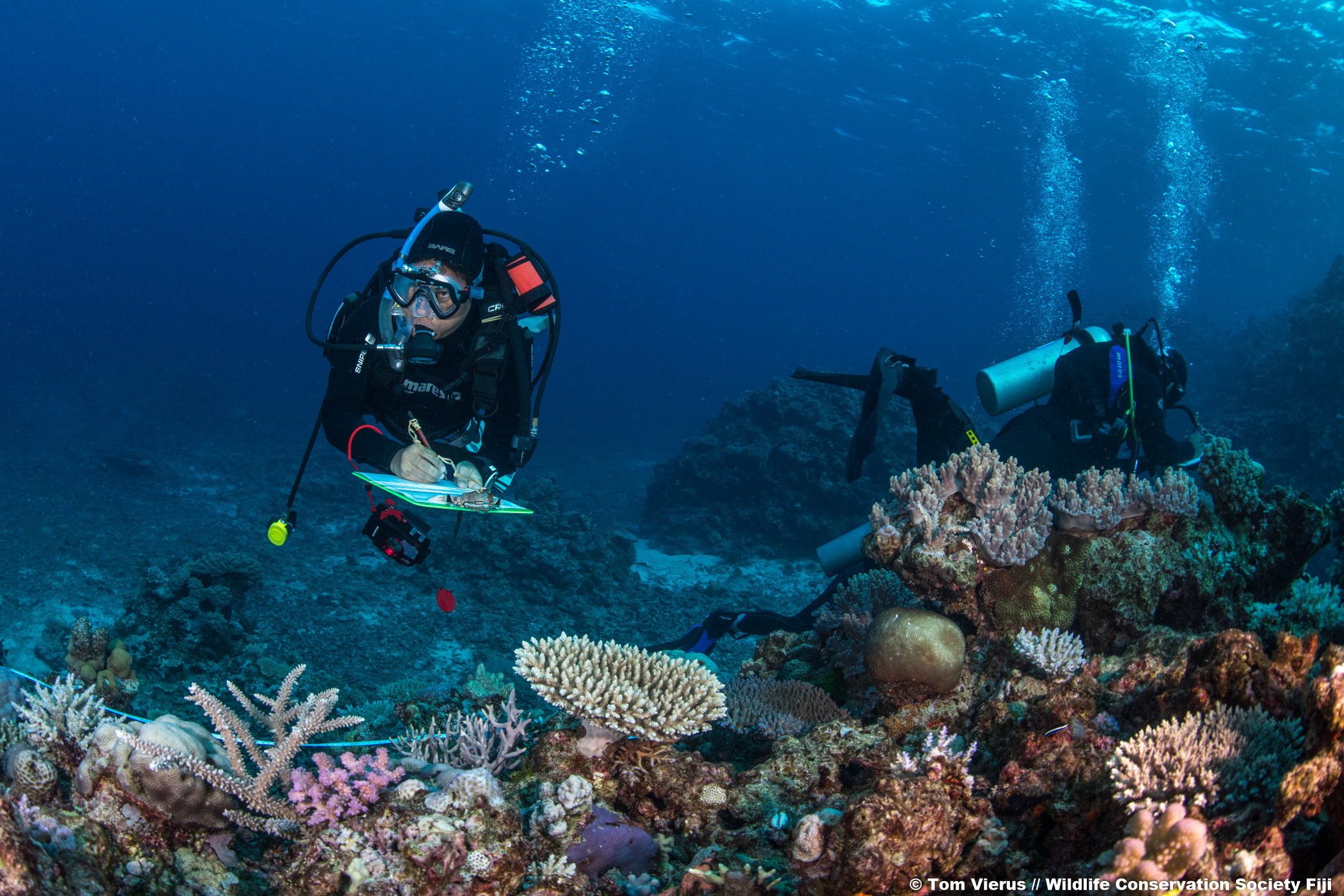 On our last morning we awoke to complete the final survey dives, before heading back to Volivoli to disembark.
Over the trip the salon tables were covered in reference books, survey sheets and laptops; and the evenings were spent discussing one another's work, science, projects and collaborations - just a wonderful atmosphere among passionate professionals in the field. 
The coral crew (plus Luke) had so much fun (yes we call it fun) deciphering corals. Cameras were passed around and energetic debates were had on what was what – "are there paliform lobes?", "but how about the monticules?", "can you see the corallites?", "are they intra or extra-tentacular?" "do you have another photo of it?" "you know the shaggy one?" "the one with the iced gems!", "what do you mean you think it's cyphastrea?"…so great to be a part of, I was in coral geek heaven! Sangeeta had to tear herself away one night as the excitement was just too much so late in the evening! You know you have a problem (or are in just amazing company) when you all find photo of a bent coral hilarious.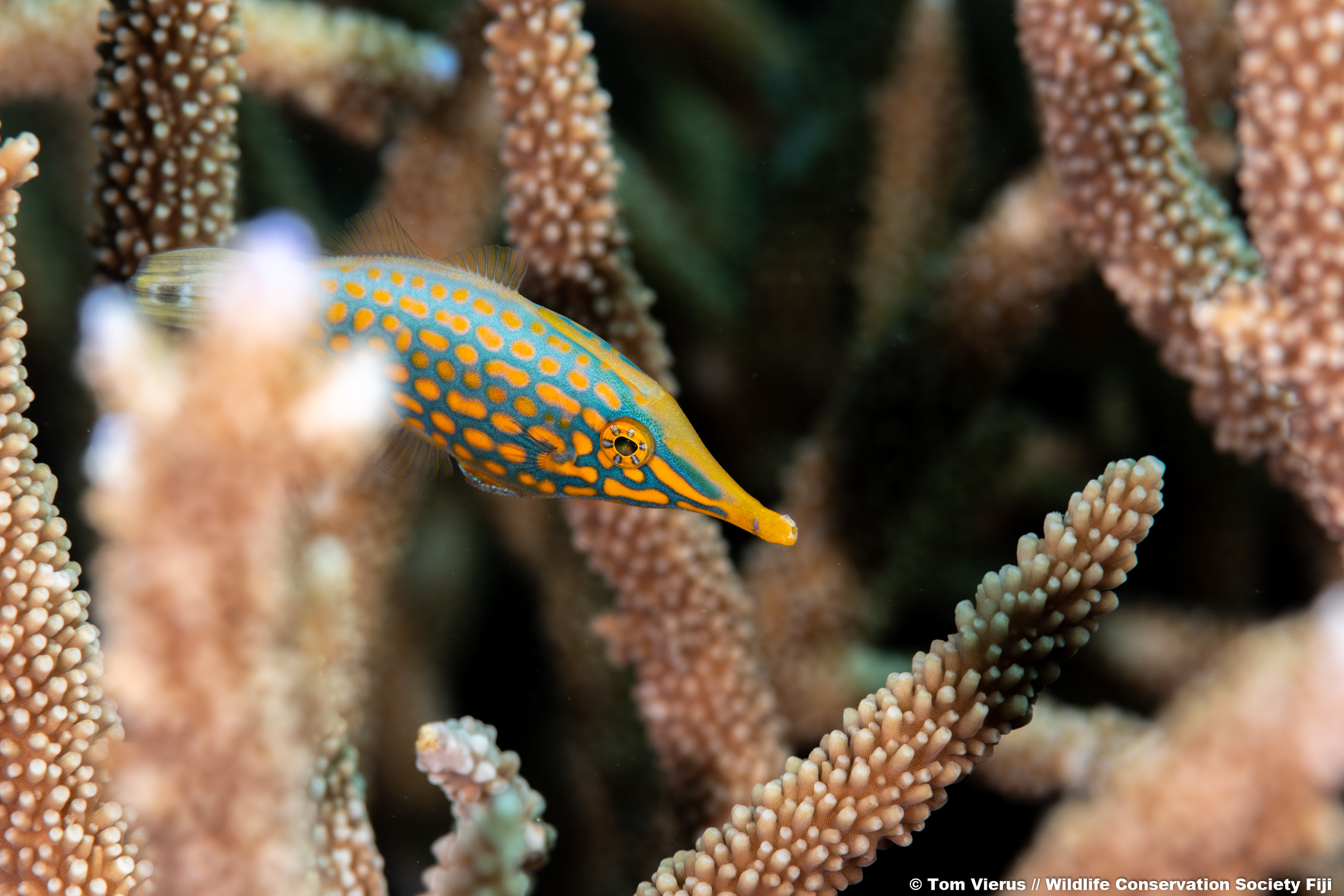 The fish crew didn't seem to need to have these debates…they just quietly got on with entering their data keeping out of the concerns of coralline algae vs macroalgae! Although Helen did pull up a photo of a mystery soft coral or sponge that required some debate!
Dive leaders Didi and Wise would often be found up in in the bridge with the crew planning the daily schedule with a close eye on the weather, currents and tides-shifting around exposed and sheltered dive sites as needed. Yash could be found in "her" corner, Ana was tirelessly entering fish data, Katy always had a new coral photo to ID, and Amanda would be tending to her bags of cyanobacteria (which FYI is so much harder than it looked to collect).
Some highlights (off transect) included Big Mo's shortnose pipefish, Scott's zebra shark and peacock mantis shrimp (stunning photo Tom), hawksbill turtles, gray reef and whitetip reef sharks.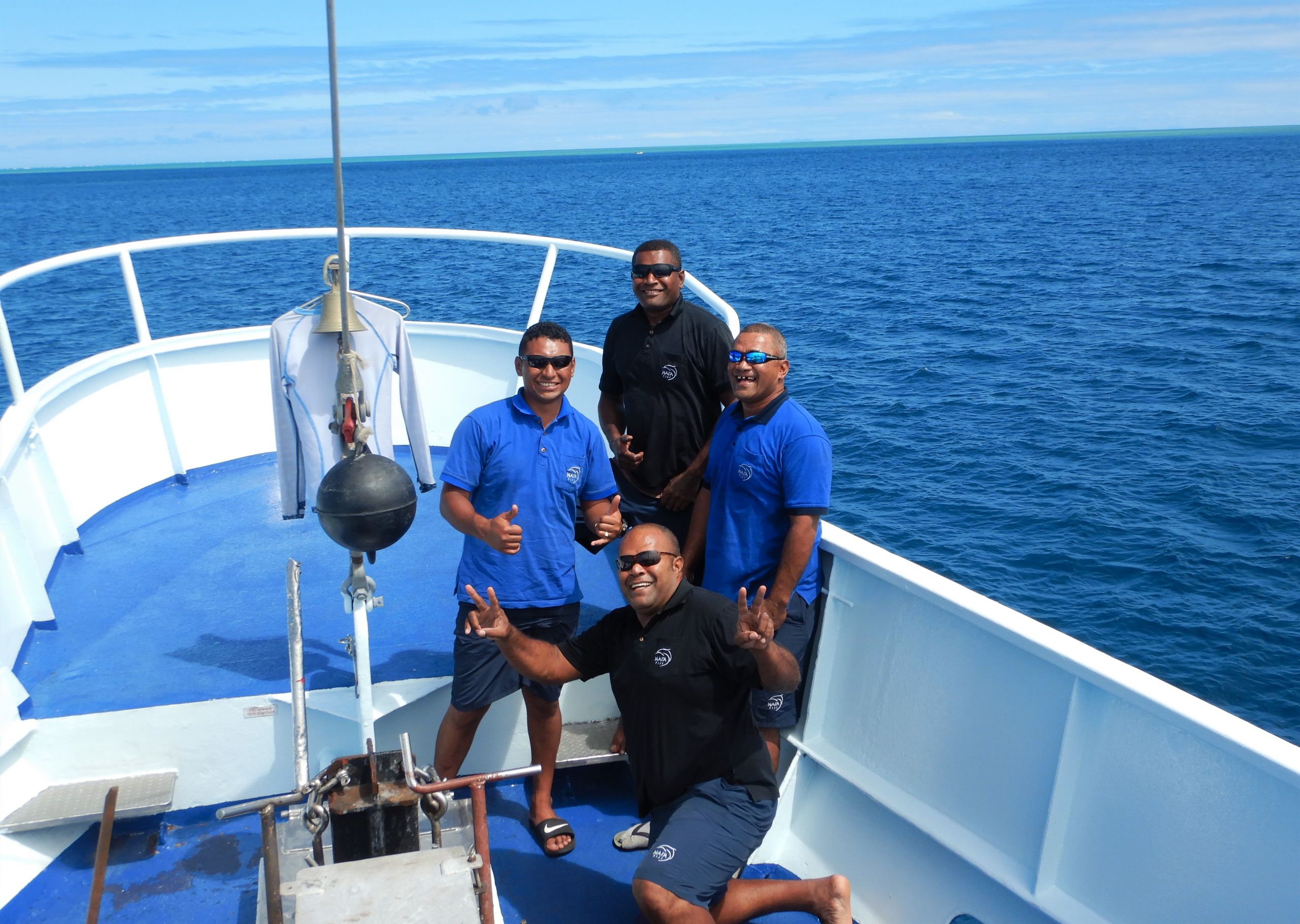 Overall a super successful trip managing to make it to every single survey site planned (come rain, or shine, or wind or bumpy rides) (damn you Nasonisoni Passage!). The only casualty was the arm of Amanda's wetsuit and Luke's shame at being called out for those two beers (sorry Luke – Danke Tom for coming to the rescue and also tallying two!)
It was really great to hear from Stacy that it the reefs are looking healthy with incredible recovery of corals after TC Winston damage. She was happy to see many young colonies, around four years old, which show how well the reefs here can rebound – we are so lucky to still have happy, healthy reefs in our beloved Fiji waters.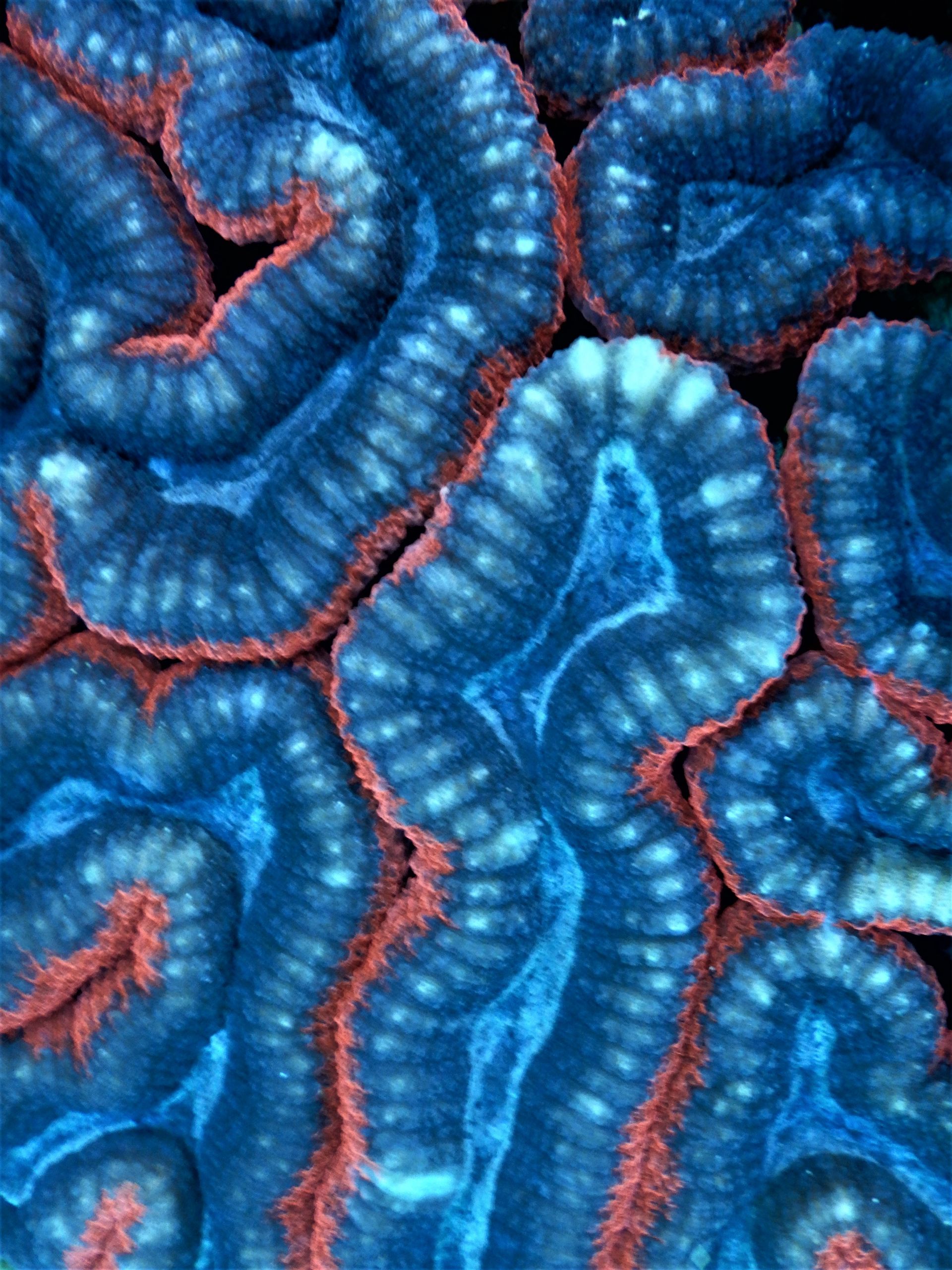 You guys were a dream to have on board with amazing knowledge, experience and passion for marine conservation in Fiji – true inspirations each and every one of you. Why did the trip need to end….who will I geek out with now!
We look forward to seeing the results of all your hard work and feel privileged that NAI'A has been able to be a part of it. Now the important question is…was it a macroalgae, coralline algae or a sponge??? I need to know!!!!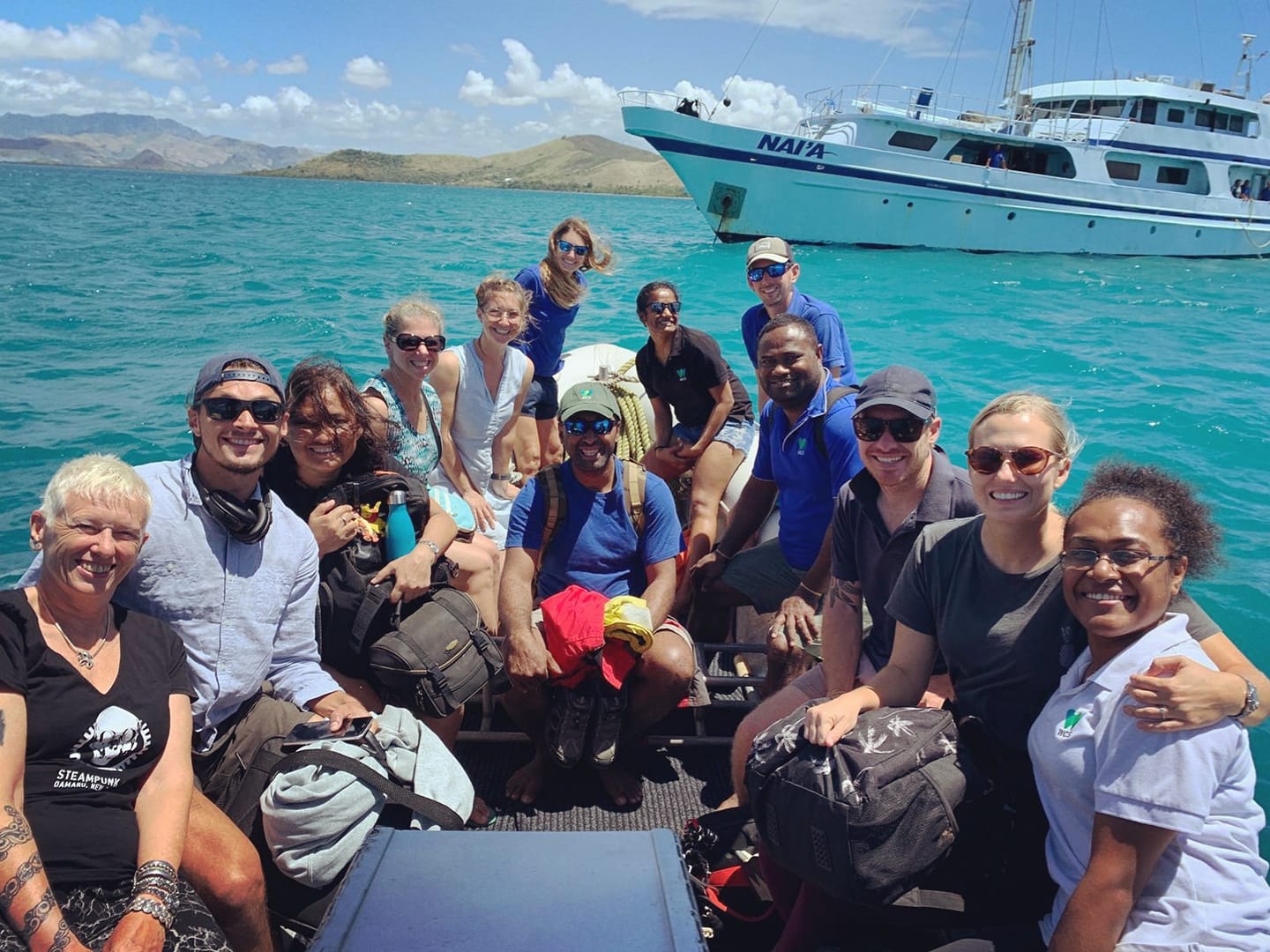 Comments
"We loved every minute of our time with you in Tonga! It could not have been any better. Each and every member of the NAI'A team was outstanding and each of you made our whale expedition unforgettable. The whales, the hospitality, the guides, the skiff driving, the dinners and the singing and kava… Everything was wonderful. It was the best honeymoon ever!"