Northern Lau Treasures
Destination: Northern Lau
Trip Date:
Apr 15th - Apr 29th, 2023 -
Comments
Author: Bel & Mike
Congratulations: To the entire team, for their efforts to spread conservation in Fiji
This was one of our most atypical trips so far. Our guests didn't do a single scuba dive (although we heard there was some unintentional swimming in a few caves), their schedules were all different (and different each day), only 3 guests were not from Fiji and we finished the trip with one additional guest. Which is always better than finishing a trip with less guests than you started with!
This trip was chartered by Conservation International, and the main goal was to find a possible new species of bat in Vanua Balavu, in northern Lau. Kris (the man who discovers new mammals) was in charge of the bat team, and there were also other teams responsible for plants, birds, lizards, rats, insects, drone mapping and Vido, the human GPS. We even had Kalisi, the mother of dragons with us! It was clear we were among some of the best scientists in Fiji and this would be a memorable trip. You don't always have scientists giving you all the kava facts and setting them aside from the myths.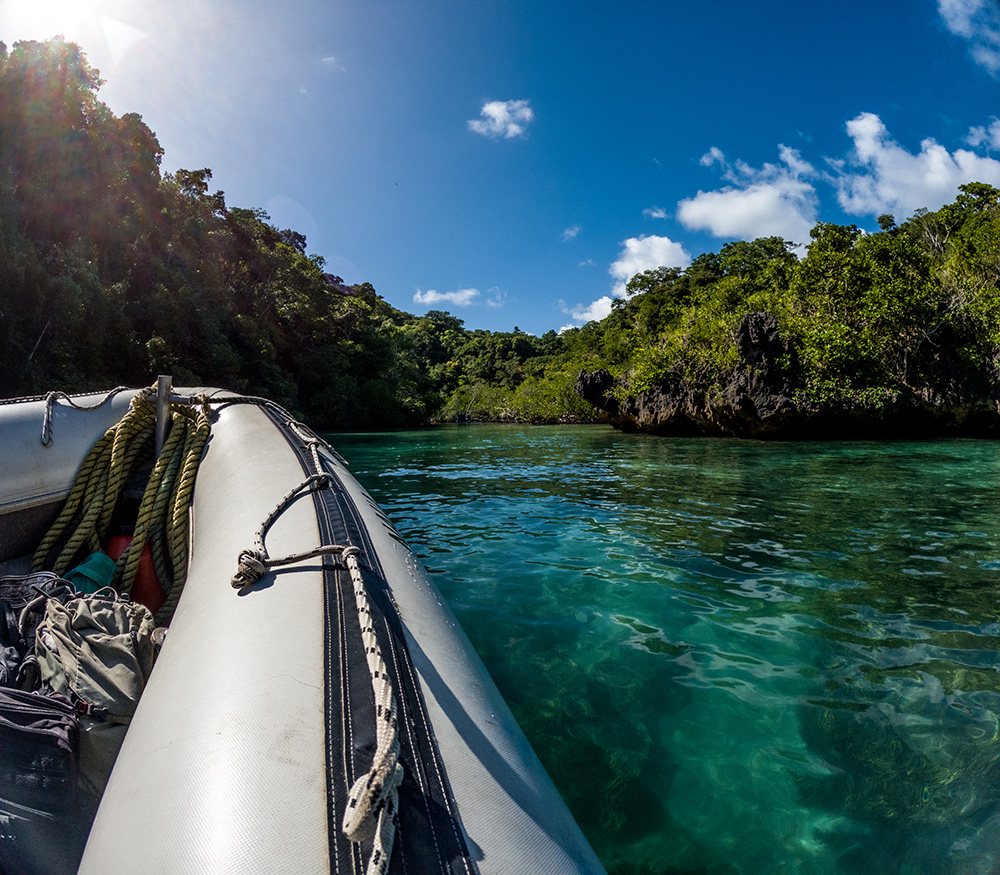 Photo by Bel: Bay of Islands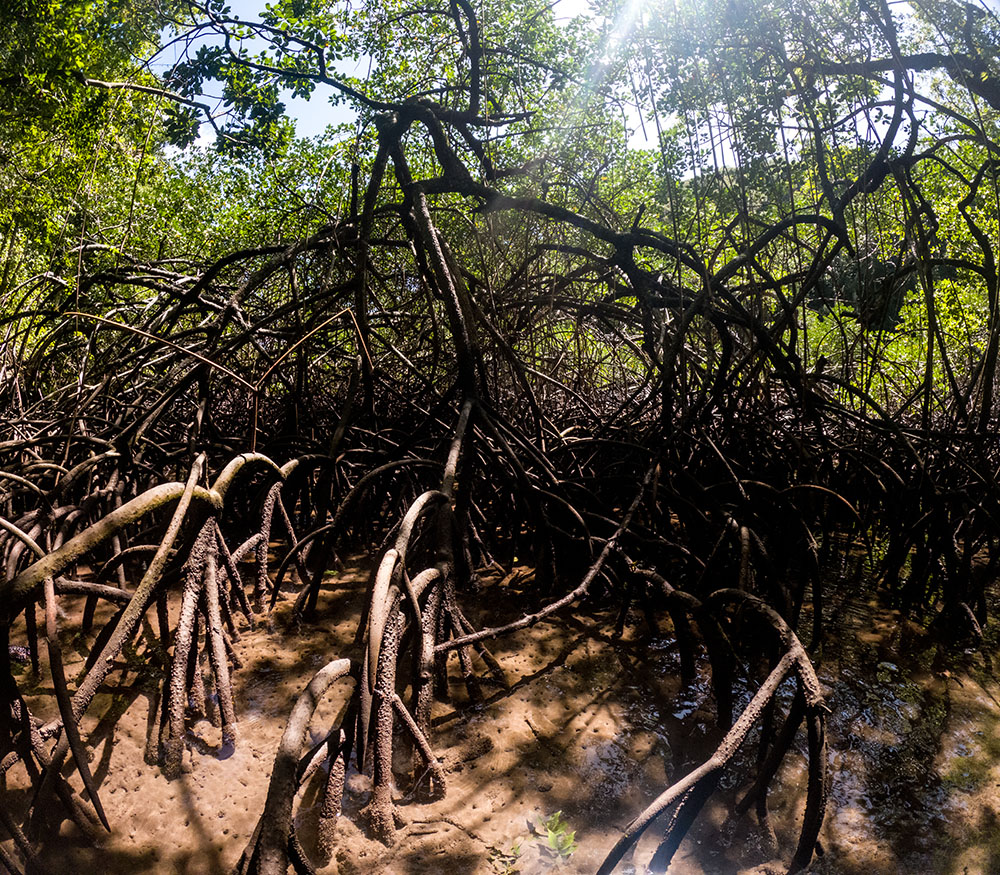 Photo by Bel: Mangroves
Photo by Mike: Private Island
Our initial journey out was meant to be 22 hours, but due to currents, strong winds and  adverse swells, it was soon clear our midday arrival would be postponed to 10pm. In order to avoid arriving in the middle of the night in a place with no anchorage, we anchored around the island of Koro and stayed there for lunch and dinner, as it is much easier to eat when your plate is stationary. Our guests ventured ashore for a stroll, but the rain didn't encourage us to leave the ship. The team had a nice stroll and John came back with some ferns.
Upon arrival at Vatuvara, the CI team secured permission from the island's caretakers to go ashore. The island is privately owned but the caretakers not only allowed for the team to go ashore, but also provided a roof for them and a guide to take them to the right caves. We did a dive while all guests were on the island and had the company of a friendly grey reef shark. The passage for the skiff there is only accessible on mid to high tide, so the team had all sorts of weird schedules for the following 2 days. The bat team disappeared entirely for those 2 days. It rained a lot. John collected more ferns.
We moved to another privately owned island and again the caretakers were happy to have us over. As the weather was favorable and instructions were given to have 2 cars available to take the team around, we joined ashore for a few hours. We saw a whale bone on the beach that the locals told us washed ashore some 3 weeks earlier, and it seemed to belong to a juvenile sperm whale. We went for a dive around the island and got to see the main house, originally built in the 1940's according to our guides there., and even have a fabulous goat curry lunch. Our hosts were fantastic and took the team to all the places they needed to go according to their specialties. All they asked is that we do not reveal the name of the island. Fair enough.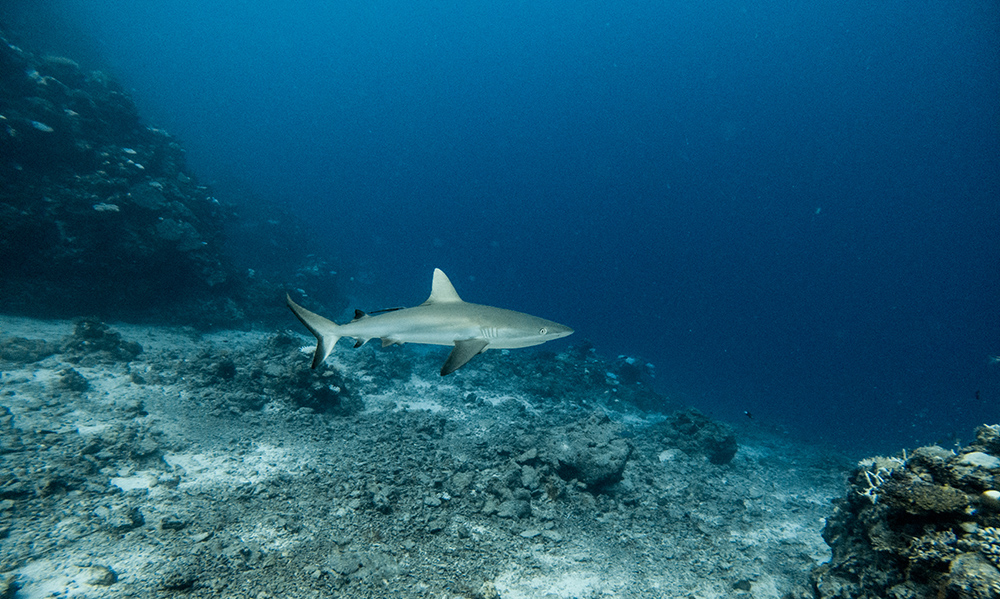 Photo by Bel: Grey reef keeping us company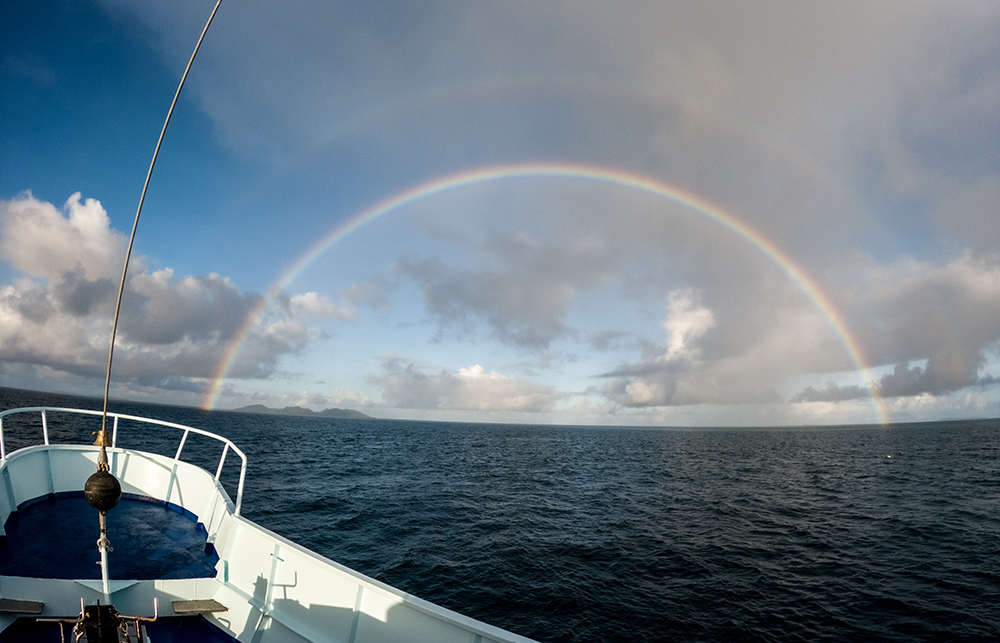 Photo by Bel: A lot of rain, then a lot of sun. Double rainbow.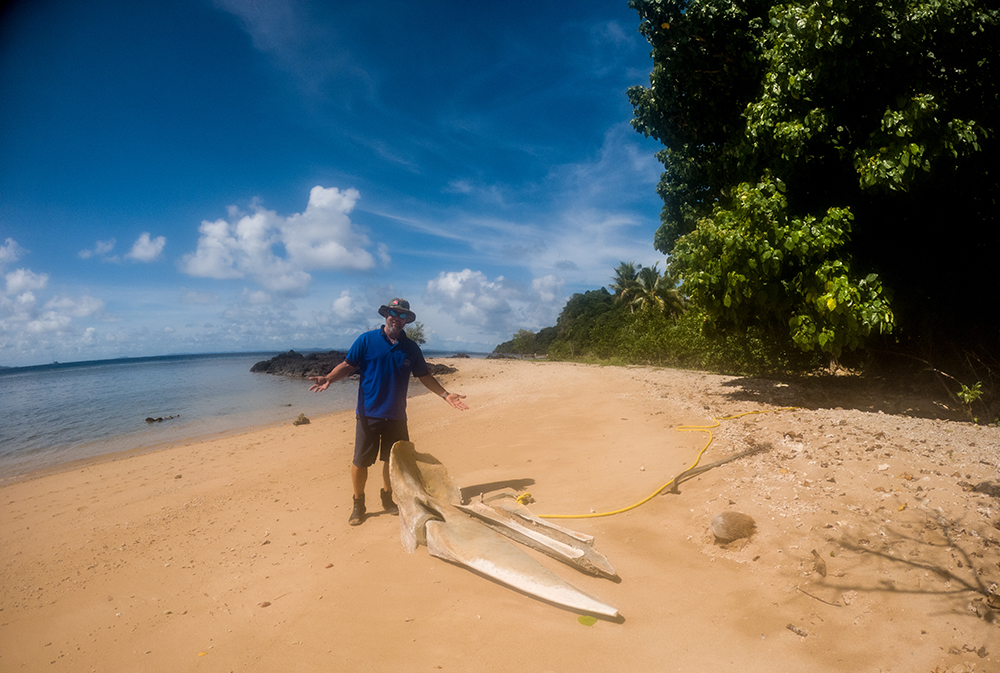 Photo by Bel: Mike with wlale bone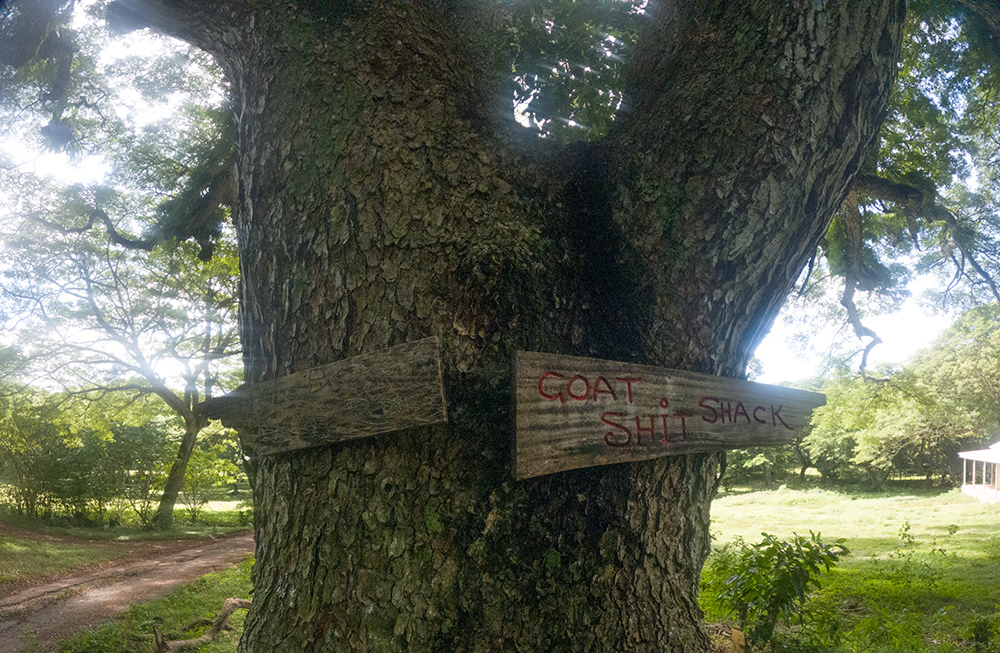 Photo by Bel: Goat shit shack sign
We then headed to Vanua Balavu, where we would stay until the end of the trip. It was there that, 21 years ago, Alifereti photographed the possible new bat. Kris had been trying to arrange a trip to Fiji since then, but had been a little busy visiting some other 50 countries to discover some 100 species of mammals around the world. He made it simple to us, and from what we understood they were expecting to find 4 types of bats there: the big one, the little one, the little rare one and the new one. With Jona at their side armed with knowledge about the caves and absurdly funny stories about YouTube videos to keep them awake during the long nights, they searched the islands. They found the big bat, the small bat and the small rare bat (an endangered species, and they found what they believe is their biggest population in the world). So… no new bat, but hopeful news and a lot of good information. All the teams collected good specimens and John gathered yet more ferns.
One morning the guides took us to visit a lake. There is a trail, they said. It's 10 minutes, they said. We spent more than that just trying to climb from the mangroves into the limestone shore. There was no trail. The hike was 30 minutes for one team, around one hour for another team. And it was stunning. We swam and hung around the lake then headed back following Vido, who had us back to the mangroves in less than 10 minutes. That earned him the title of Human GPS. According to Isaac, he got so good due to many, many years getting lost in the forests of Fiji. I can believe him.
We moved away from Qilaqila (Bay of Islands) and close to Lomaloma for the last couple of days and John went out with Rusi, as Marika was apparently no longer able to keep up with him. And yes, he came back with yet more ferns. During our long journey back, Elia played some old Attenborough videos recorded in Fiji in the 1970s. A truly special addition to our onboard library for sure. Wayne asked for the TV to do a presentation we assumed would be about bats but had everyone wondering a) what in the world Kris did to him and b) was Kris wishing he was anywhere else in the globe for half the trip?? Oh, the joys of sciencing in the wild.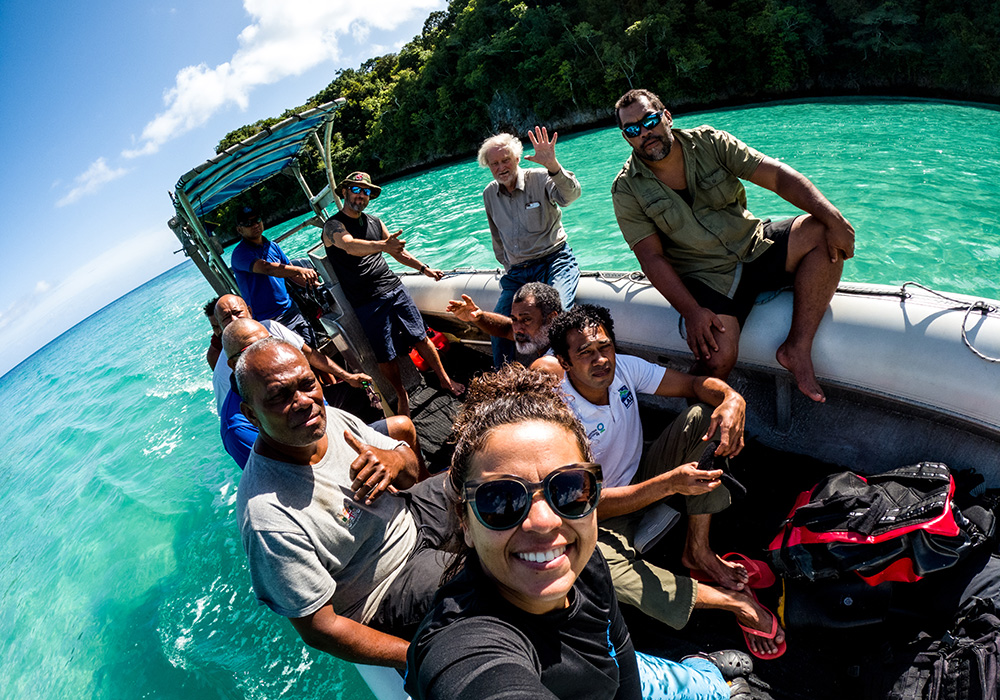 Photo by Bel: Let's go find a lake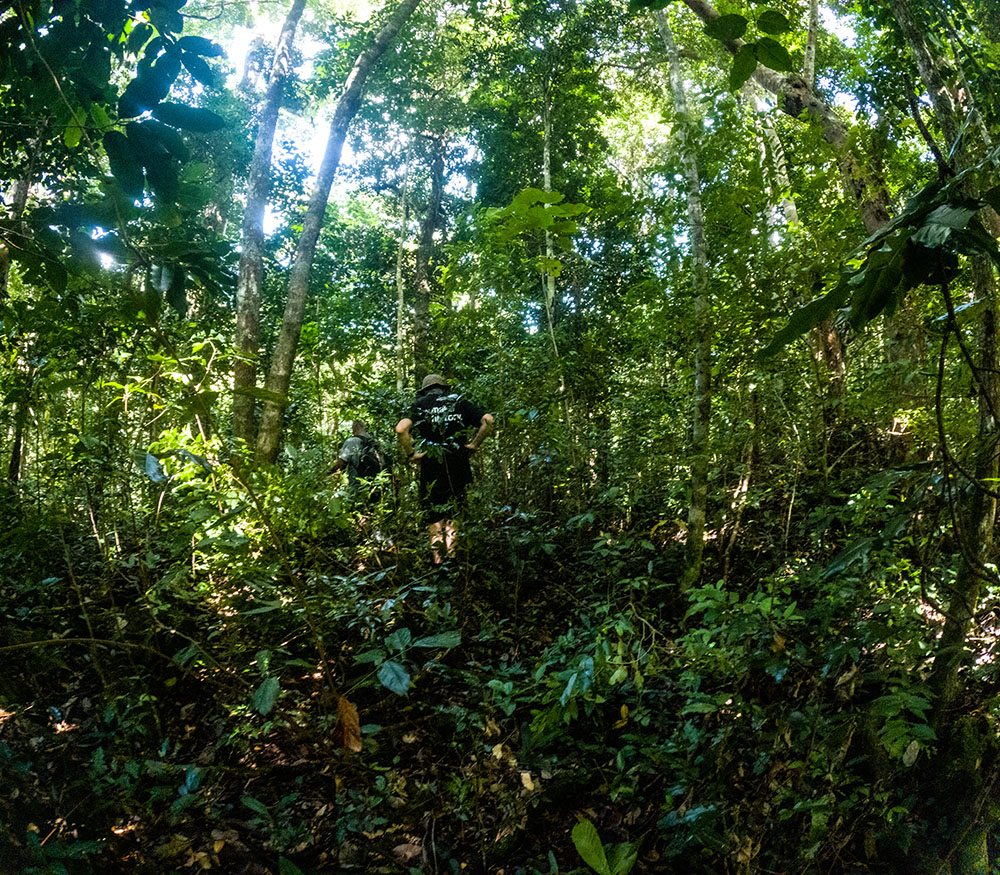 Photo by Bel: The "trail"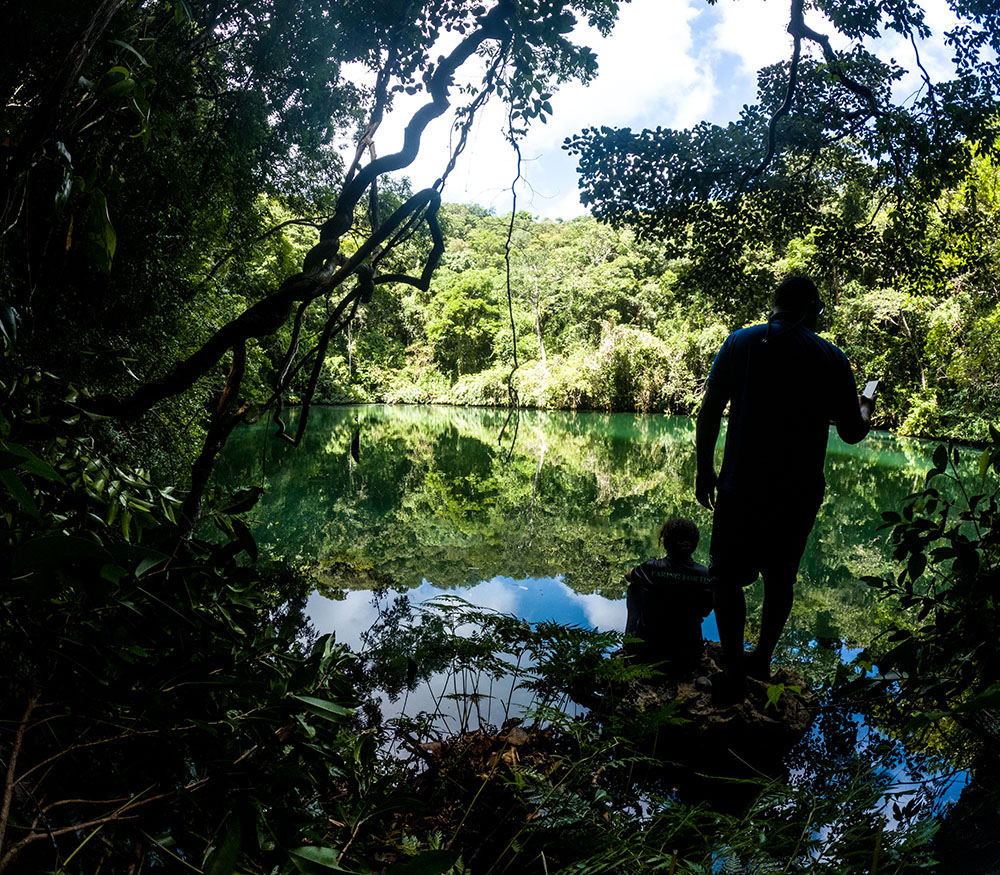 Photo by Bel: The lake
Photo by Bel: The access to the "trail" from the mangrove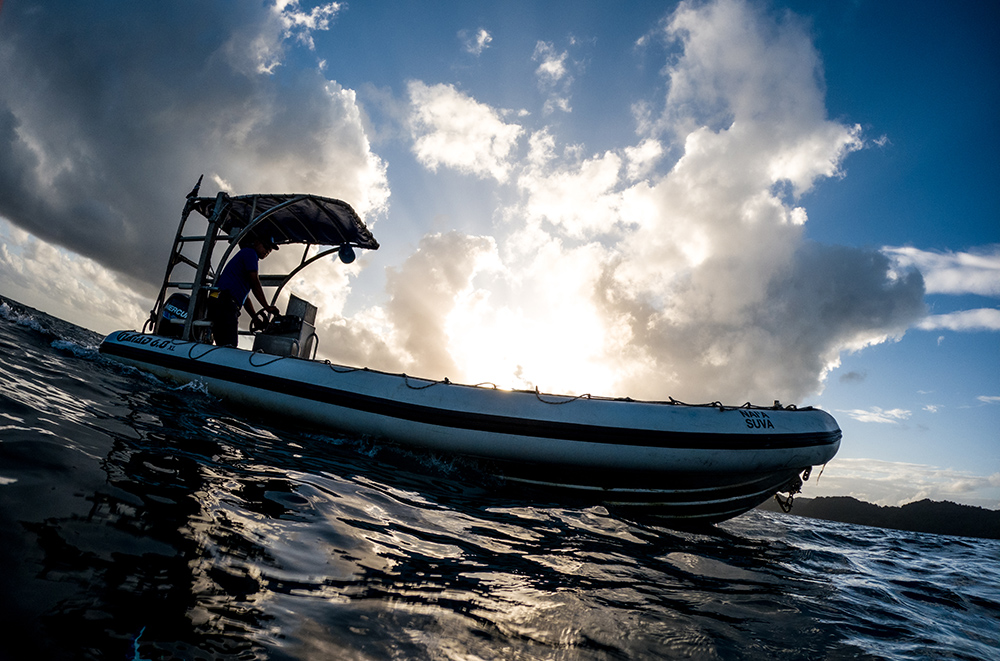 Photo by Bel: Skiff and sunset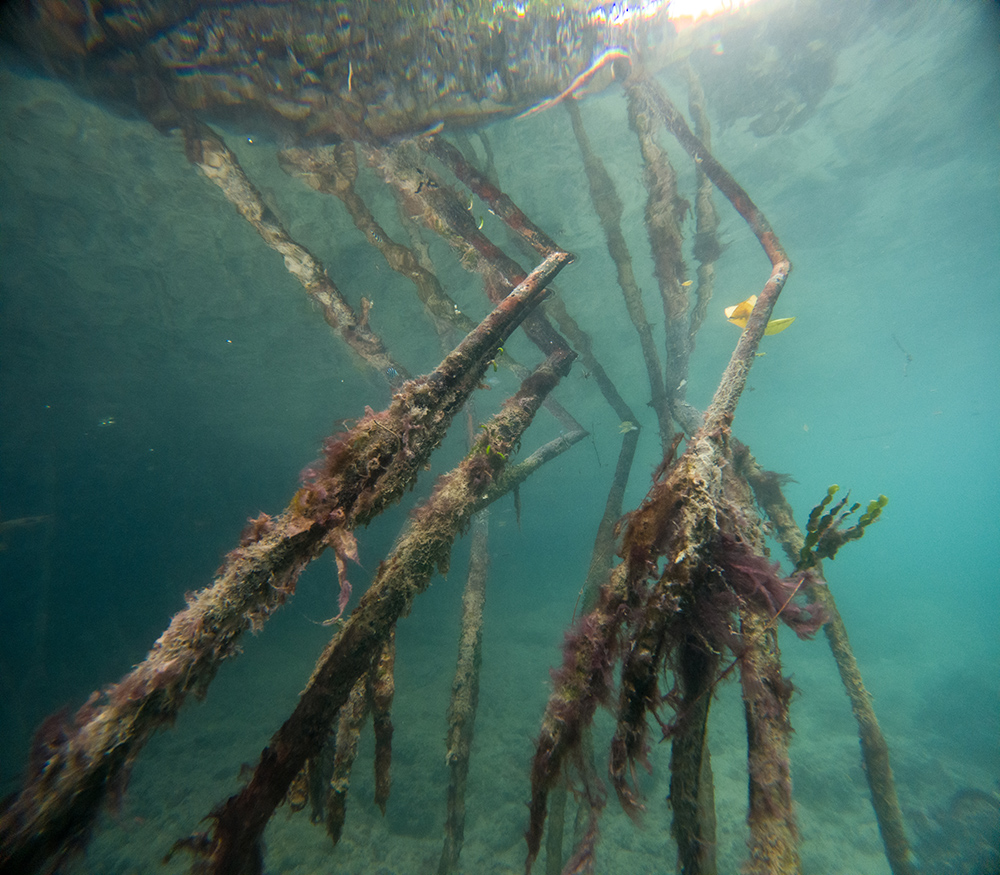 Photo by Bel: Mangrove from underwater
We learned true facts about Kava. We learned about different projects being developed in Fiji to map the natural landscapes. We learned the word "trail" is very loosely used around Fiji. We learned about old traditions and modern science. We learned Wayne and limestone don't go together. We learned John will climb and collect ferns as long as you keep him fed.
We are incredibly grateful for, once more, being among some of the best people in Fiji. Sota tale!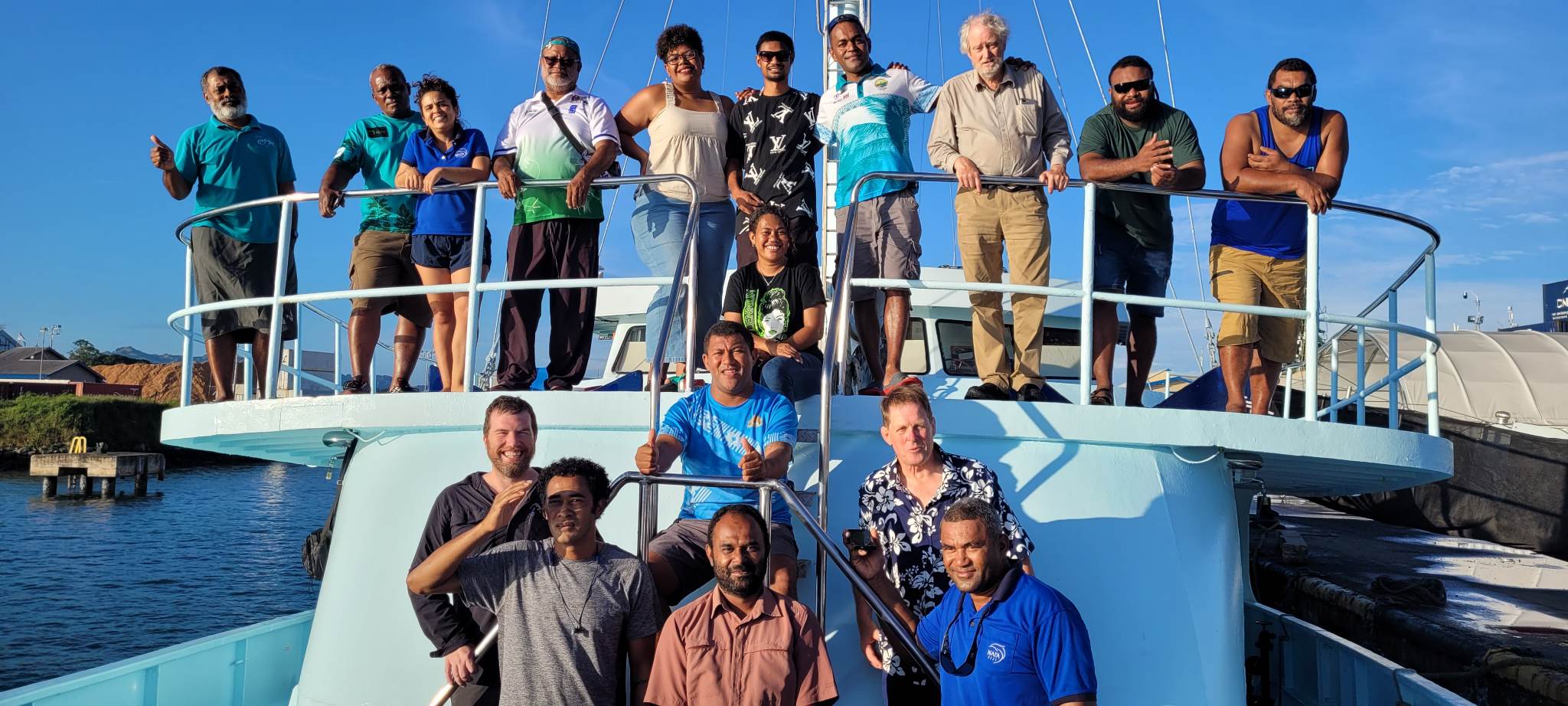 Comments
"I'm sure that it's very difficult for the Nai'a establishment to solve this thorny situation. But, be assured that we, your Nai'a family in a small way, are sympathetic. We realize that the reason we love your trips is that you spend what it takes for a quality voyage. That's why we come back. And that's why we plonk down $10K to sail with you. We know it's worth it."