Old Man Eel and his Villagers
Destination: Bligh Water, Gau, Wakaya, Makogai
Trip Date:
Oct 1st - Oct 8th, 2022 -
Comments
Author: Bel & Mike
Welcome Back: Diane
Congratulations: Beth, for finding her mermaid self!
Our week was once again filled with beautiful dives and the small critters seem to be coming out of hibernation as the water temperature slowly rises. The main event of the trip, however, was the Manta dive at Wakaya. We saw multiple individuals and spent a long time with them. Just magical!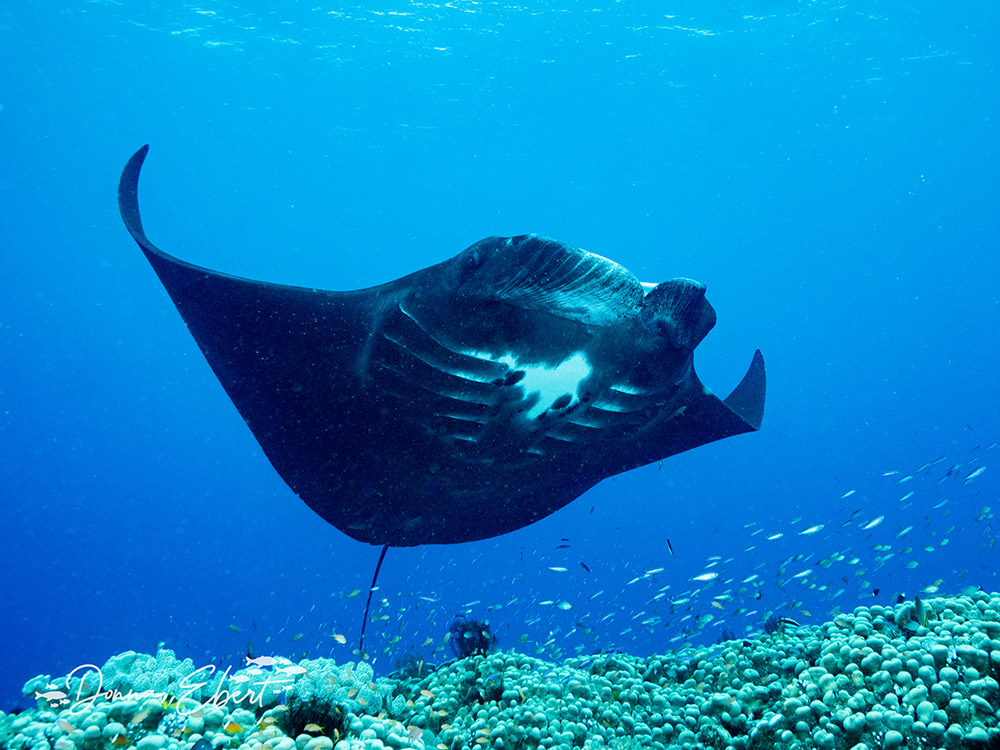 Photo by Donna Ebert: Manta Ray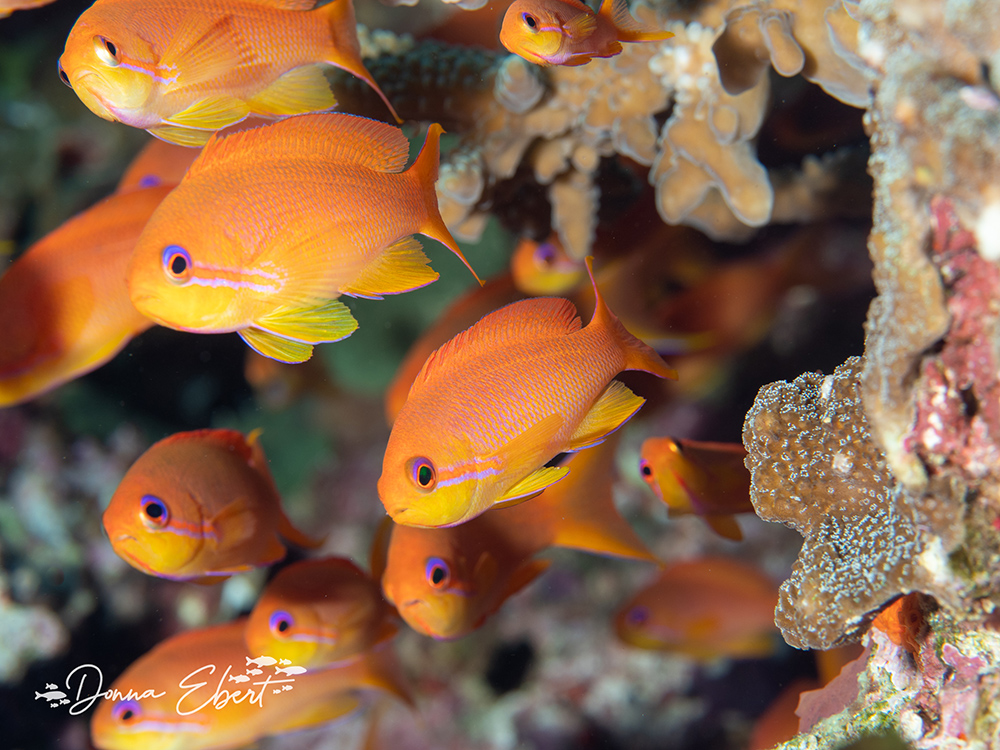 Photo by Donna Ebert: Scalefin Anthias Females
Photo by Kari Morgan: Morish Idols... or are they Irish Models??
This week we welcomed aboard Diane and Jennifer, who tried to join Richard Levu's group but it was fully booked. That did not deter them from coming one week later and joining a very merry group. We had couples, a family and singles who left their non-diving partners home. We met Dee, who in the past did free spaying/neutering on Utila, where we lived until 2020. It's a small, small world. Our checkout dive had a lot of "Fried egg nudis" and a few mask issues, reminding us just how important the checkout dive is, no matter the divers' experience.
We spent our Sunday at Vatu-i-ra, and the current gods were kind to us on our first day. We heard dolphins for the entire first dive, but saw none. Throughout the day we saw sleeping White Tips, a few Scorpionfish, some huge Spanish Mackerel, nudibranchs, Twotone Dartfish and Longnose Filefish. Kari found an Octopus and Mike and Robin saw 3 corals that looked like they were spawning... very weird. Mellow Yellow had lots of Fish Drama, but wasn't very Yellow, since the current was Mellow. The night dive had many critters, especially small crabs and squat lobsters.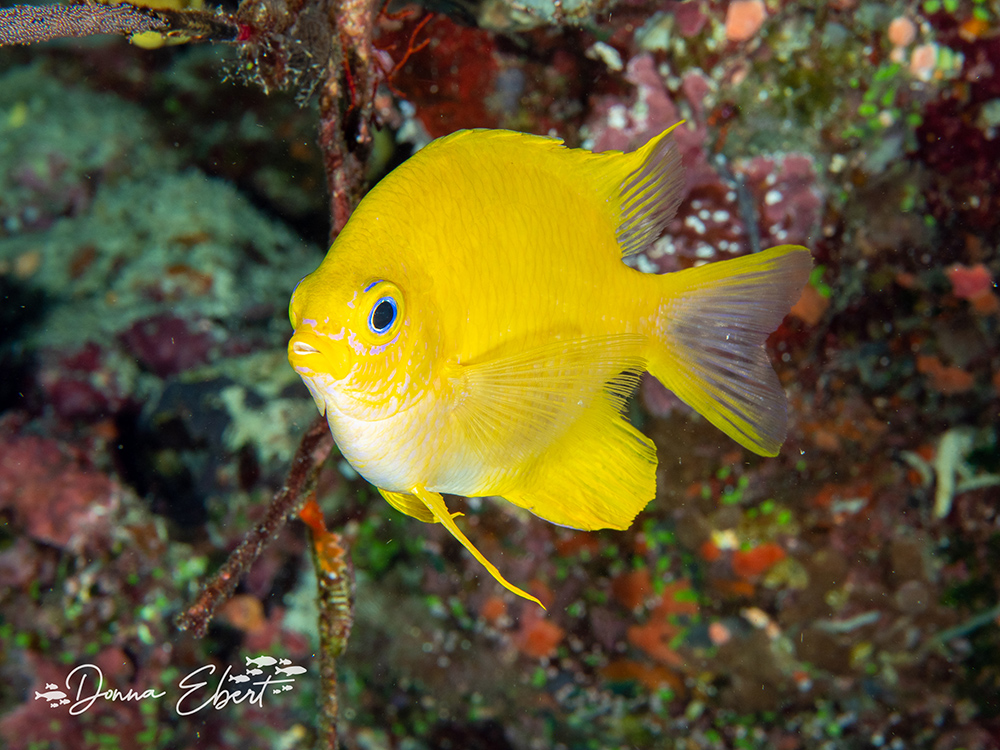 Photo by Donna Ebert: Golden Damselfish, with eggs on top left corner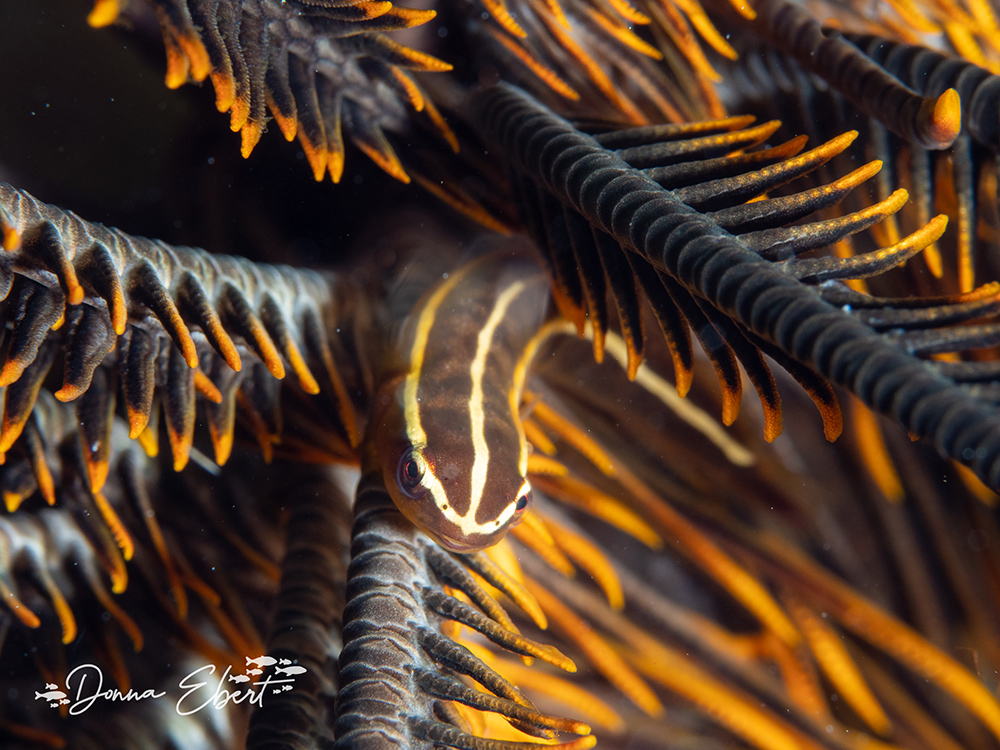 Photo by Donna Ebert: Crinoid Clingfish
Then we moved just a little bit the next morning and spent the day at Vuya Reef. One of the resident Pontoh's Pygmy Seahorses was at Cat's, and a baby Scorpionfish at Humann Nature. We also saw a Hawksbill Turtle, Depressed Spider Crabs, Lobsters, plenty of Anemone Fish, Oceanic Triggerfish and many, MANY Flabelinas (whatever it is they have been renamed, they remain Flabelinas to us) and other nudibranchs as well as a purple Flatworm. The Fish Drama did not disappoint, and Fred decided to spend most of his time in the shallows watching "the colors National Geographic told me were here". Go Fred. At the end of the 4th dive, what seemed like coral spawning again, and fish eating it… yum. On the night dive, Kari and Tony had fun with the abundant bioluminescence.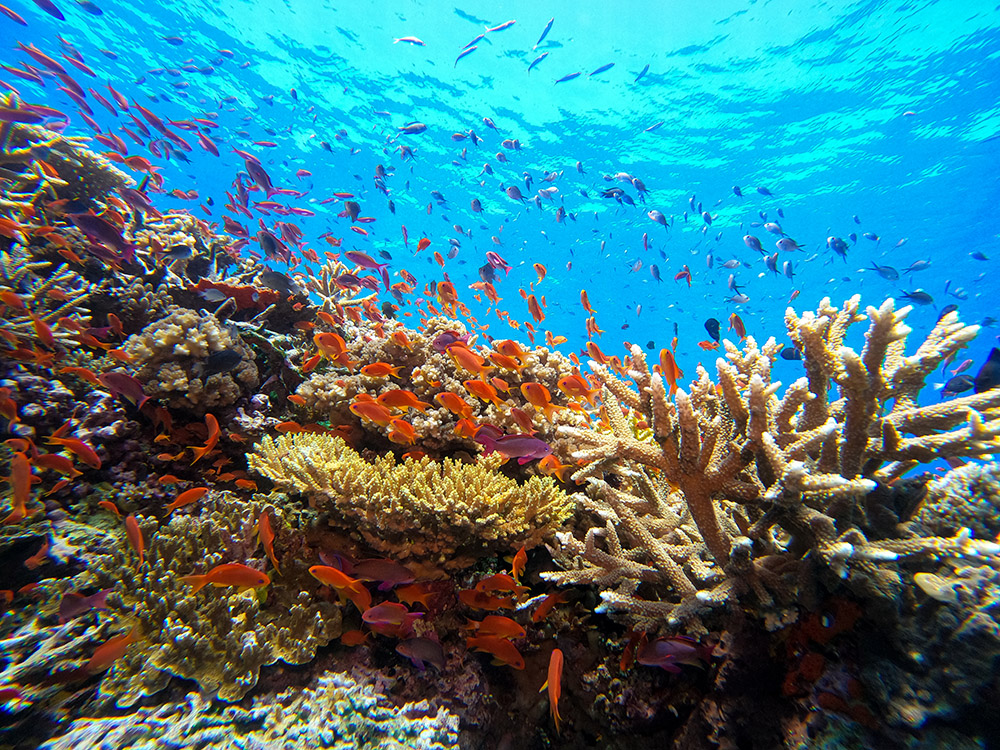 Photo by Kari Morgan: Top Reef at Humann Nature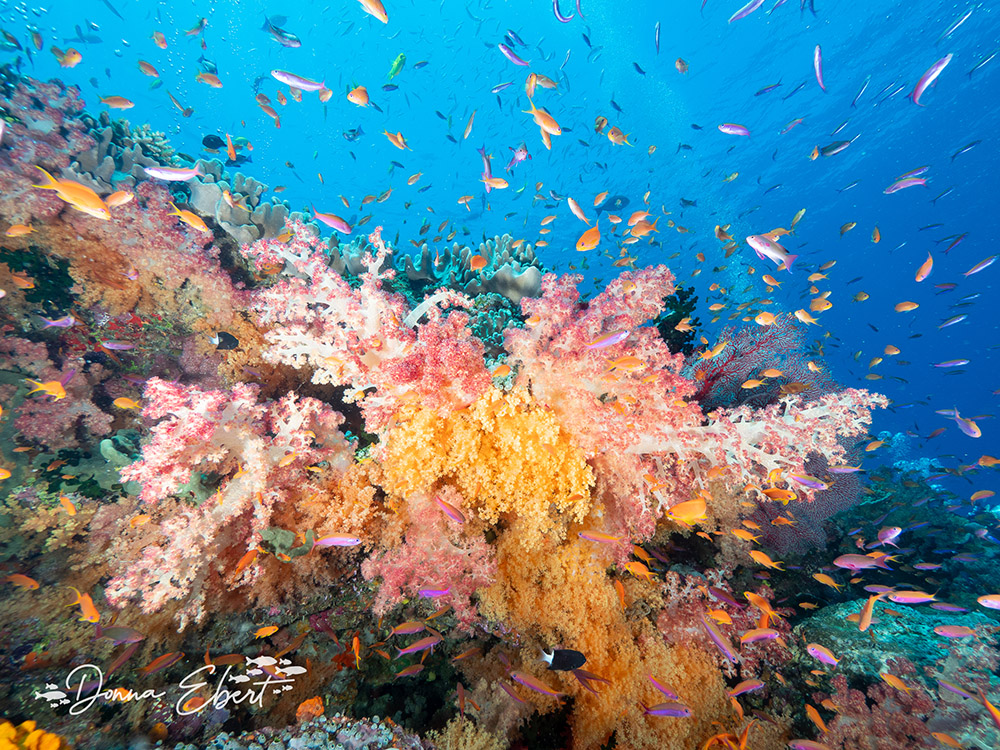 Photo by Donna Ebert: Cat's Meow
We moved to Makogai and had fabulous time with critters and gorgeous soft corals and gorgonians. Cleaner Shrimp, Old Man Eel (Bel's name for it), NAI'A and Brown-banded Pipefish, Flatworms, Crawling Crinoids actually crawling, Lionfish, Decorator Crabs, Sea Krait, Morrison's Dragonet, Fire Cleaner Shrimp, many different nudibranch species and some nudi egg ribbons as well. Our village visit was great, the children put a big smile on everyone's faces as always. Tim was elected chief and represented us well. The kids were ALL OVER Beth and her fold-out frisbees!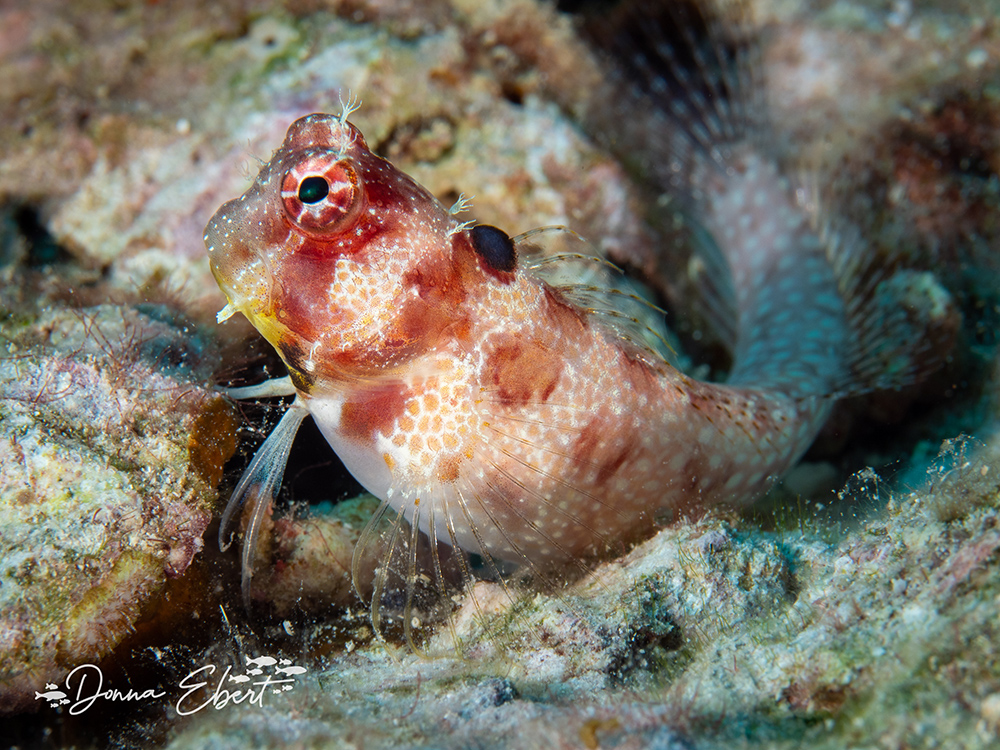 Photo by Donna Ebert: Triplespot Blenny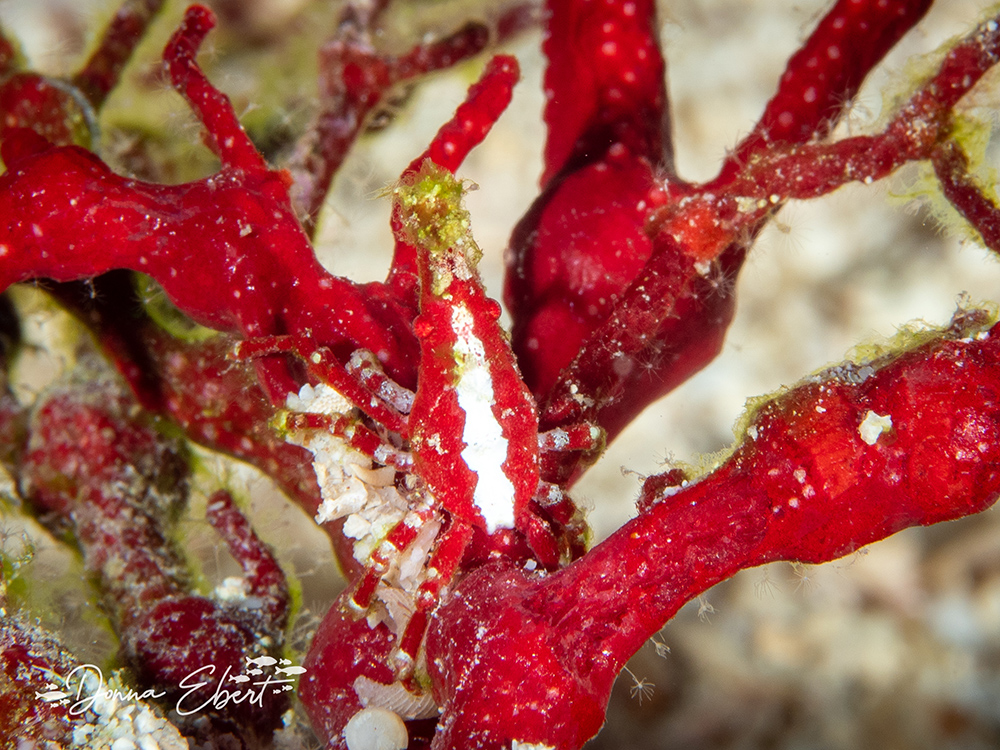 Photo by Donna: Depressed Spider Crab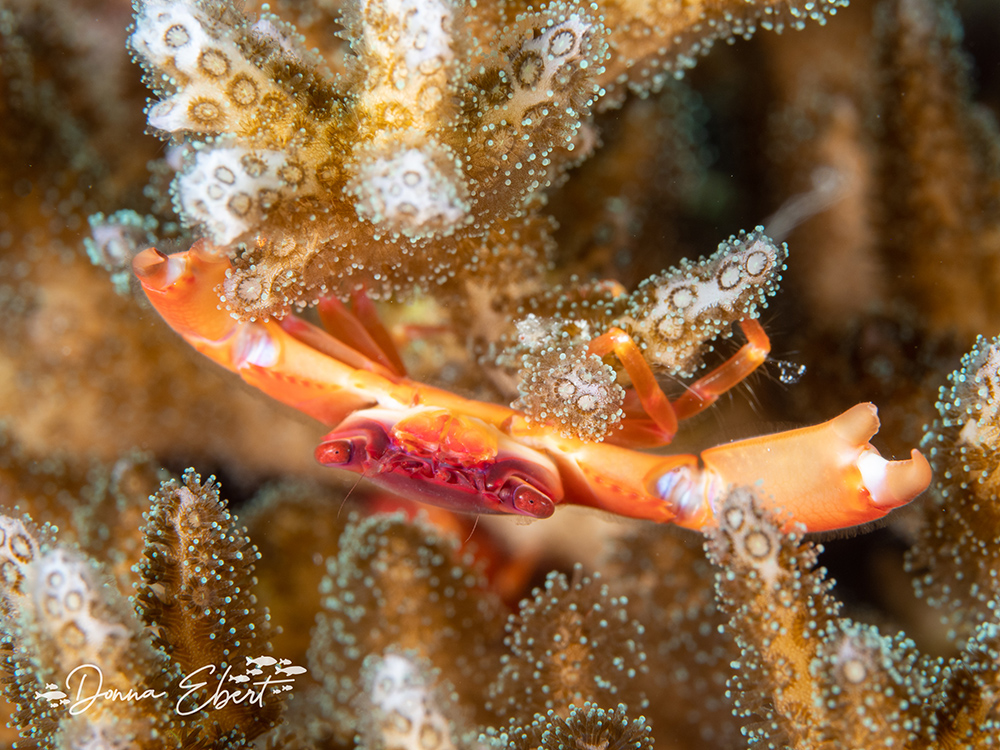 Photo by Donna Ebert: Crab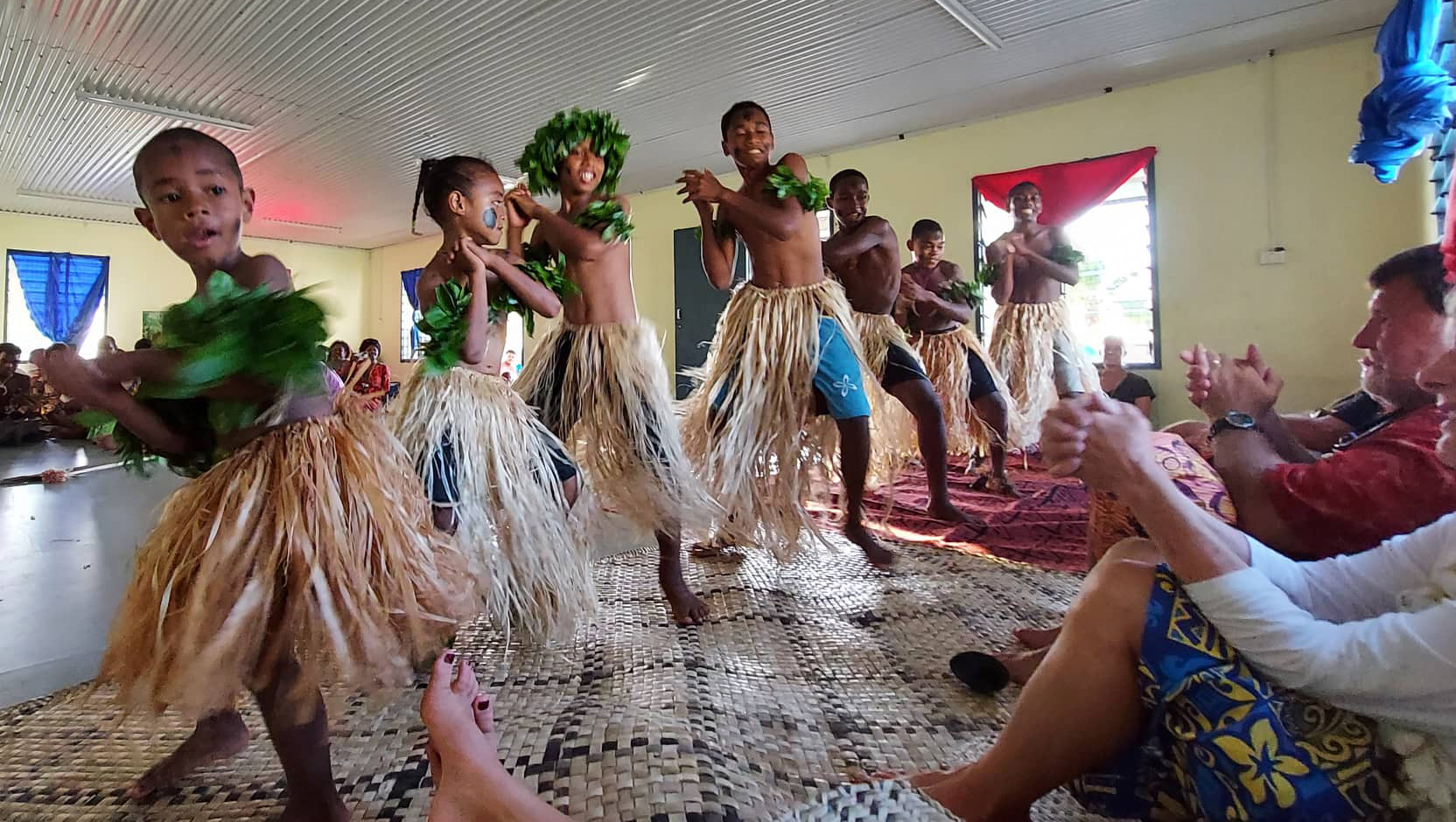 Photo by Bel: Village Visit - Makogai
Gau was our next destination, and Nigali had plenty of Barracudas, Midnight and Red Snappers, as well as some frantic Bigeye Trevallies and a ton of Striped Large-eye Breams at the Cabbage Patch. The sharks were present, but scattered and we also saw a Hawksbill. On the Outer Slope, Jim's and Anthia's we saw Sea Kraits, more Turtles, more Depressed Spider Crabs and nudibranchs. The soft corals were gorgeous and the plankton floating by had a mystery creature Bel insists on calling Vilagers, even after Jennifer told her they were only maybe Veligers. We steamed to Wakaya and were greeted by a few Pilot Whales just before heading into the channel. Our Kava Party was a blast, and Diane, Sam, and Audrey High Tided all the way to the end!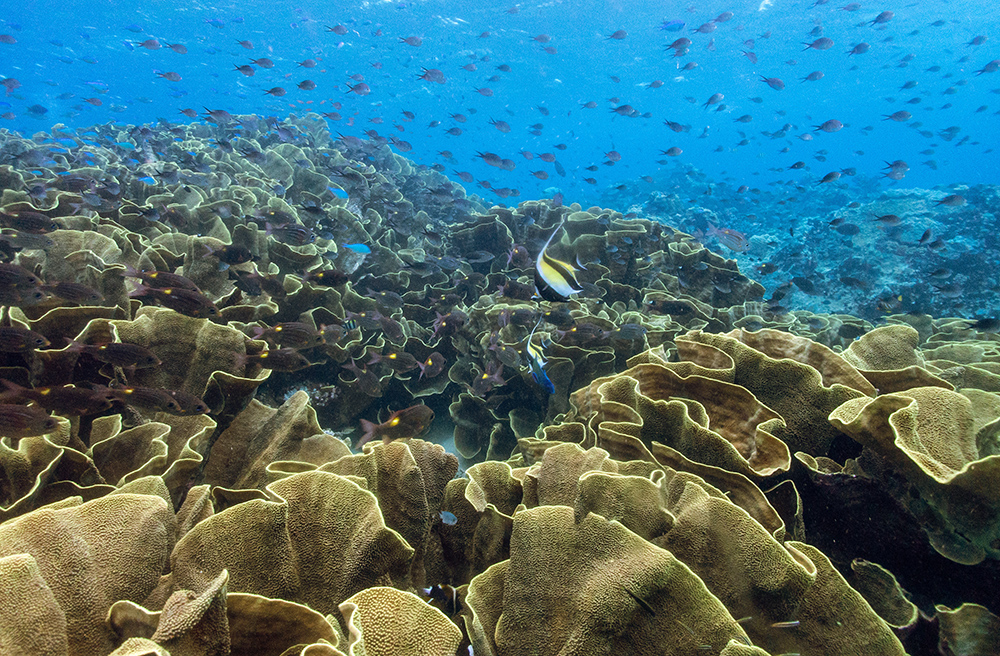 Photo by Bel: Cabbage Patch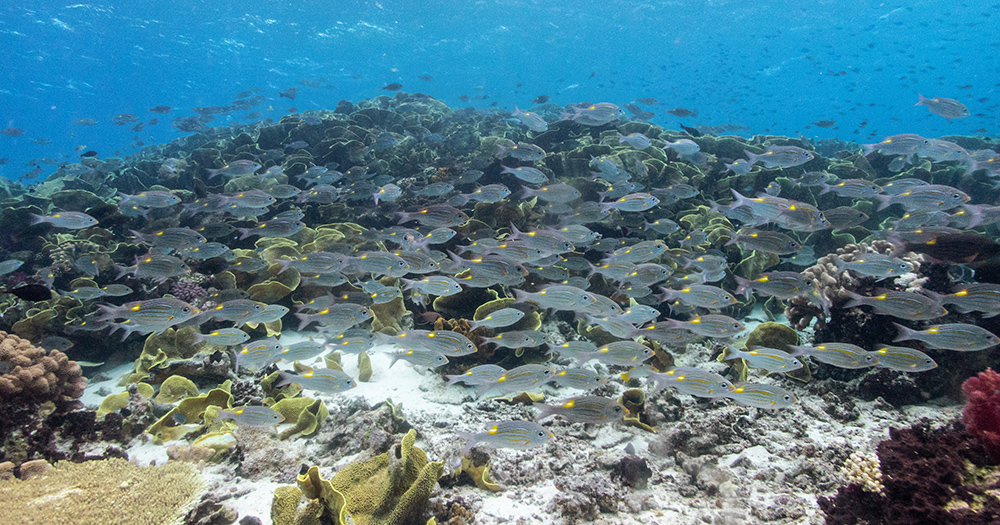 Photo by Bel: Striped Large-eye Breams at Cabbage Patch
Then we had a great Manta Day at Wakaya, with multiple encounters on the first dive. We saw mantas at the cleaning station and some guests even spotted 5 of them swimming together towards the shallow. We also saw  Barracudas, White Tip Reef Sharks, Octopus, Nudis, Turtle, Spanish Mackerel, Goram's Dragonet, Solor Boxfish, Rockmover Wrasses and Scorpionfish. On the night dive, we saw an angry Octopus, many Barred Morays, a huge Mantis Shrimp and loads of Sea Pens and Cowries.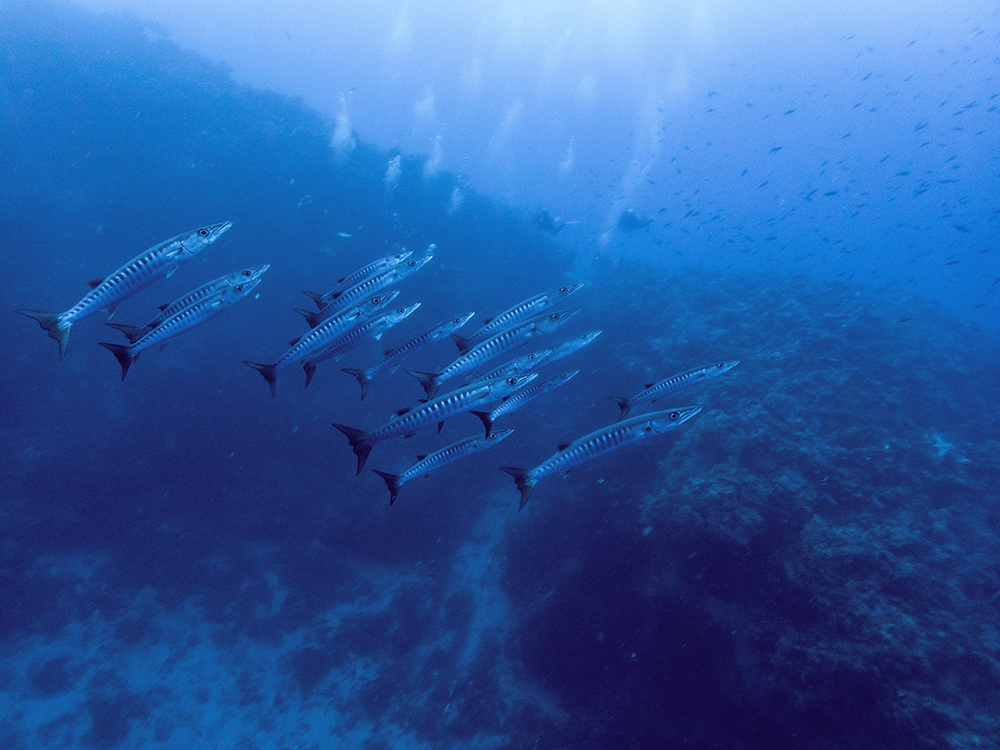 Photo by Bel: Barracudas at Lion's Den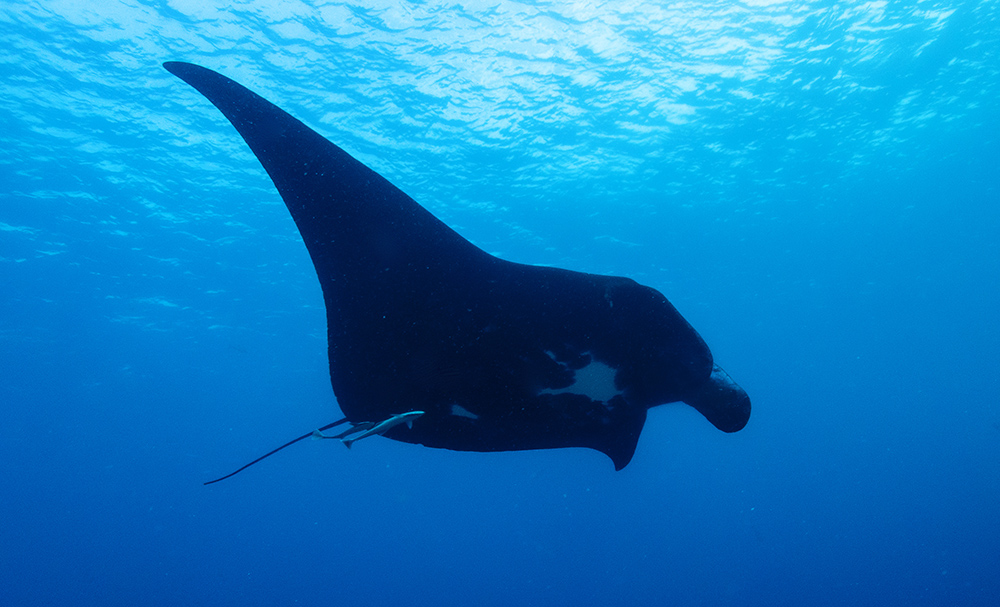 Photo by Bel: Manta Magic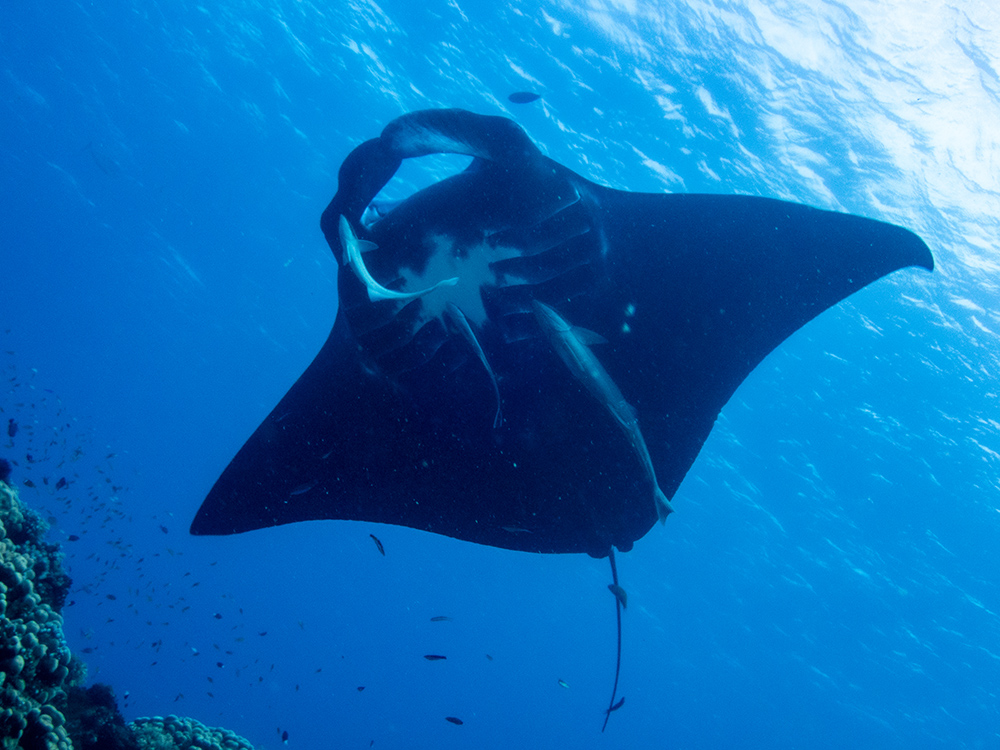 Photo by Bel: Manta Magic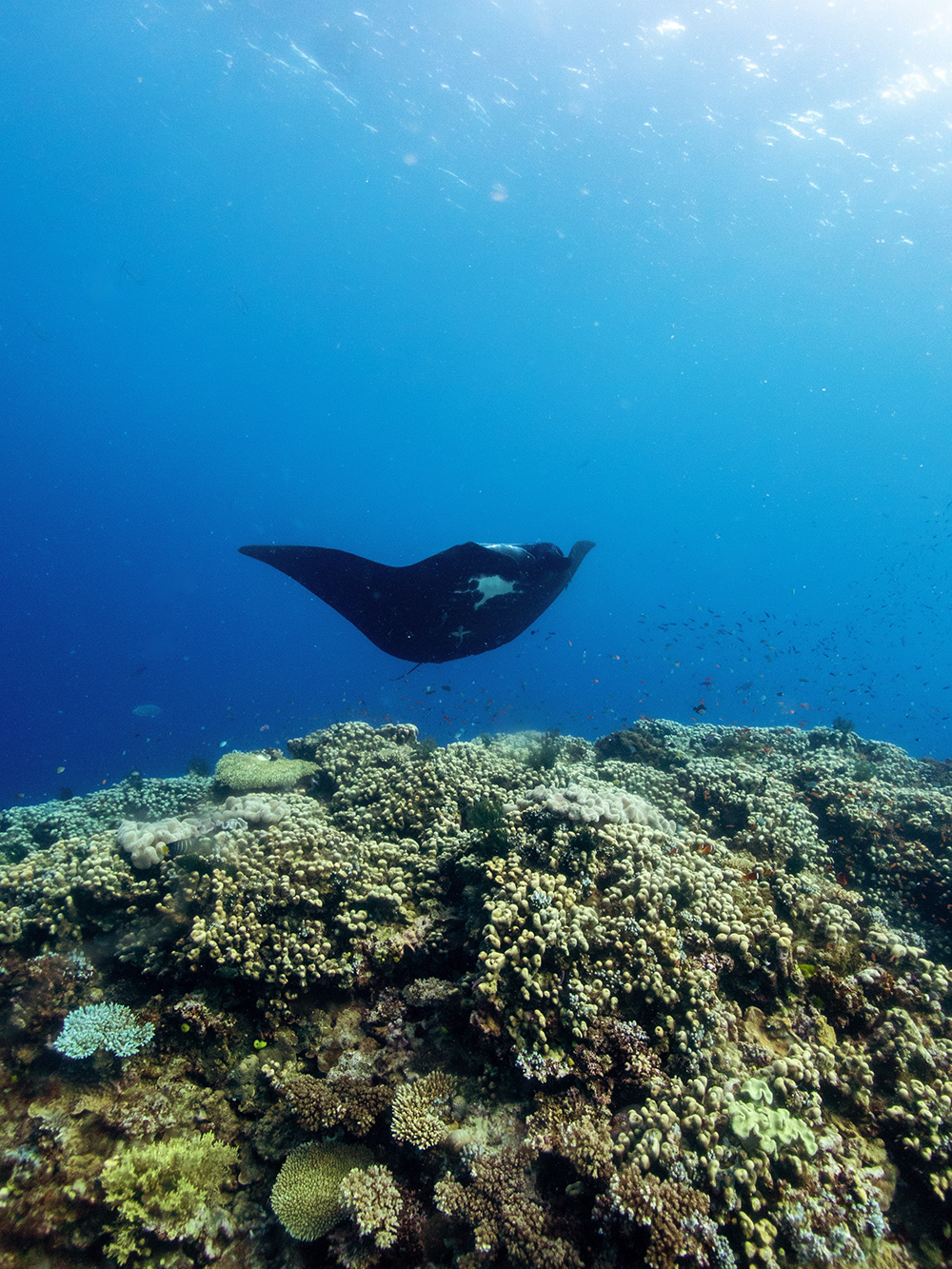 Photo by Bel: Manta Magic
Our last day was at the Sea Mounts, the perfect way to end a trip. Just to make it a little more perfect, we were greeted by Pilot Whales as we arrived. We saw Barracudas, Dogtooth Tunas, Blue Dragons, White Tips and all the other usual suspects. Our trip home included a lot of chatter in the salon, as we had a group that got along very nicely.
Photo by Donna Ebert: Anemone Fish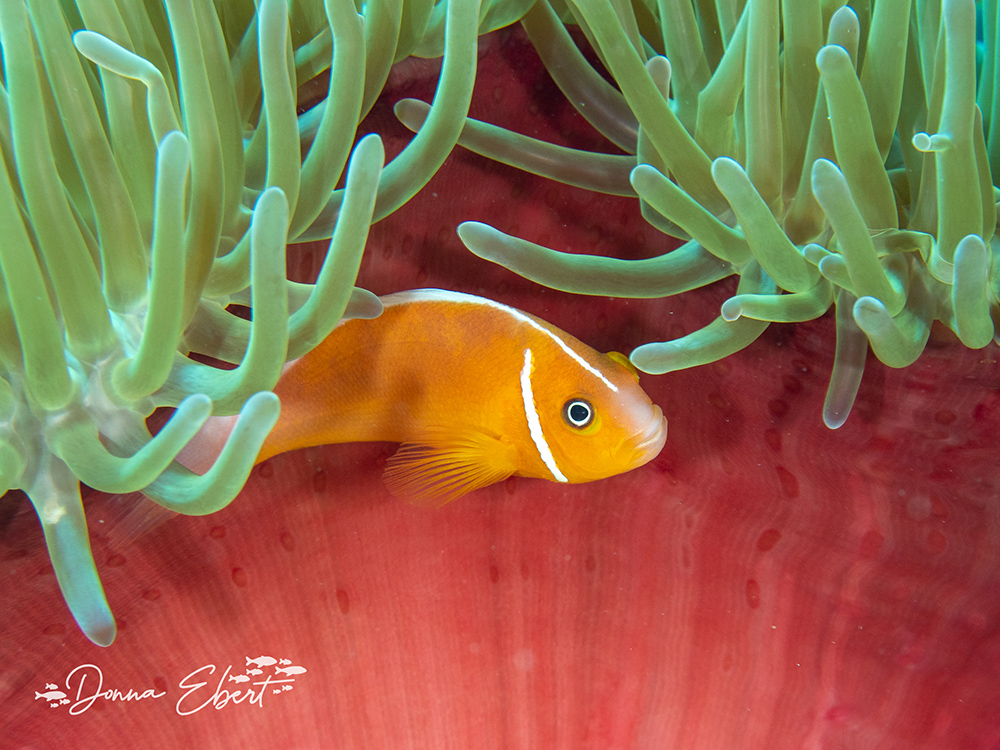 Photo by Donna Ebert: Anemone Fish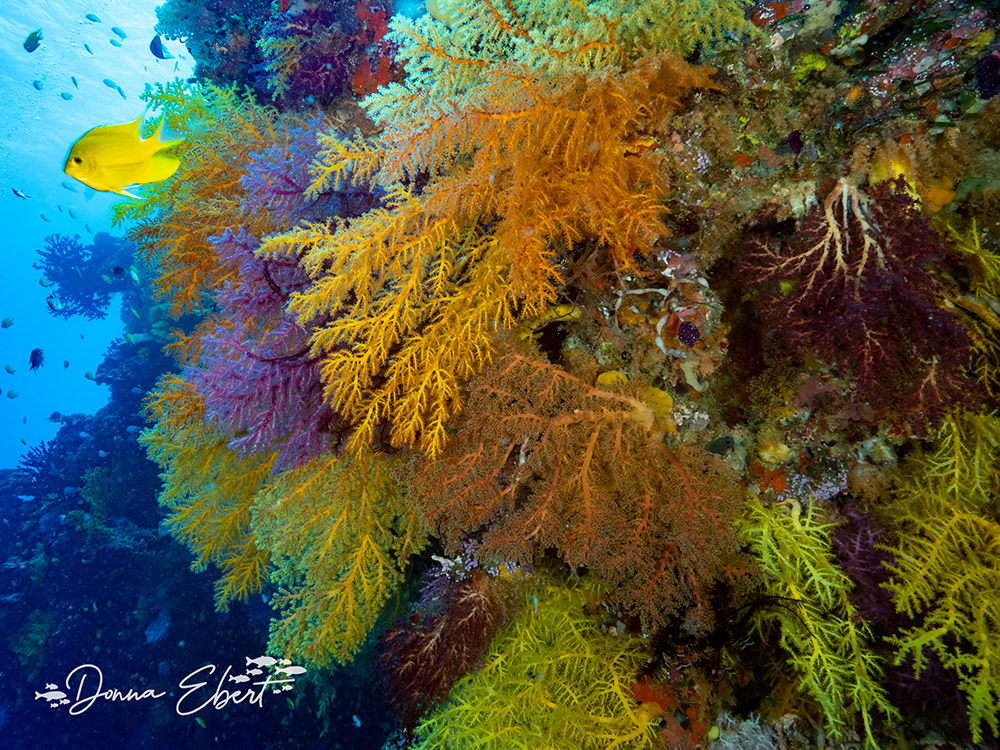 Photo by Donna Ebert: Chironephthya Soft Coral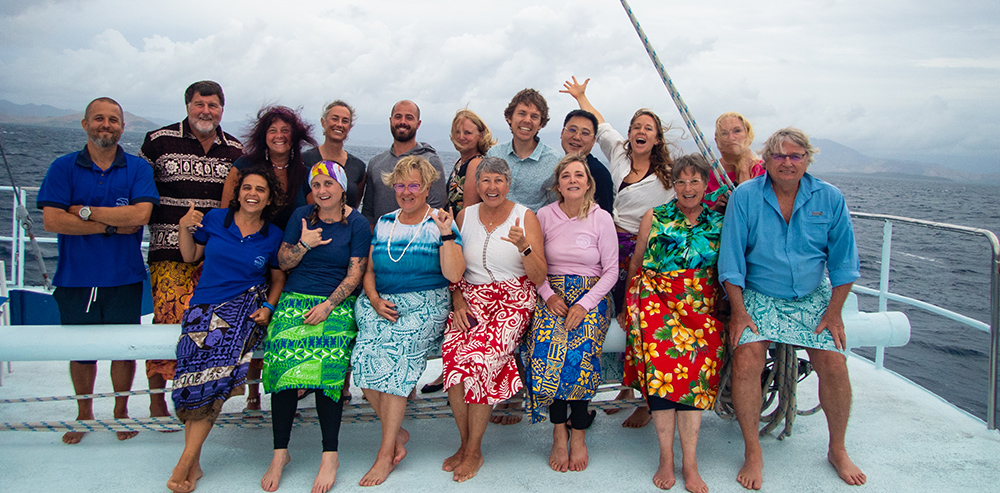 Group Photo
Comments
"Central Fiji has all the elements of the ultimate ocean wilderness: diverse creatures and habitat, nutrient-rich water, spectacular scenery and owners who respect it."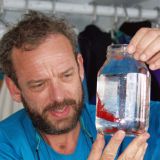 ~ Dr. Greg Stone, Executive Vice President of Conservation International