Seagrassing in Lau
Destination: Lau Group
Trip Date:
Jun 25th - Jul 7th, 2022 -
Comments
Author: Bel & Mike
Seagrass was the main theme for this journey, and it took us to one of the most beautiful places on the planet: the Lau Group. CSIRO took over our beloved NAI'A and turned her into a lab (of sorts) to process the samples they gathered as we hopped from one paradise island to another. We had drones, gliders, quadrats, transects and big spear-looking devices to collect core samples. On board, drying ovens brewed the delightful aroma of dead seagrass that permeated our 12 days at sea. Oh, the joys of being Cruise Directors! These guys made seagrass into a verb… and so they spent 12 days seagrassing.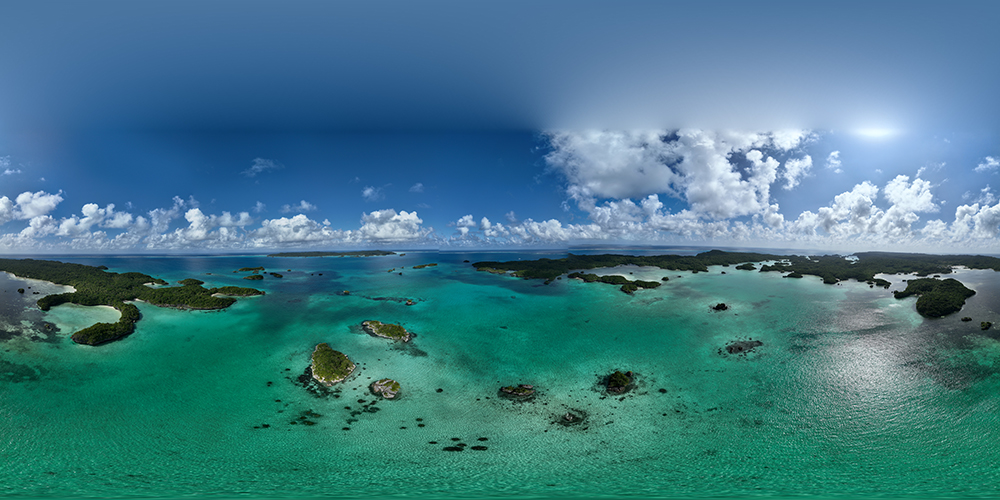 Ogea by CSIRO drone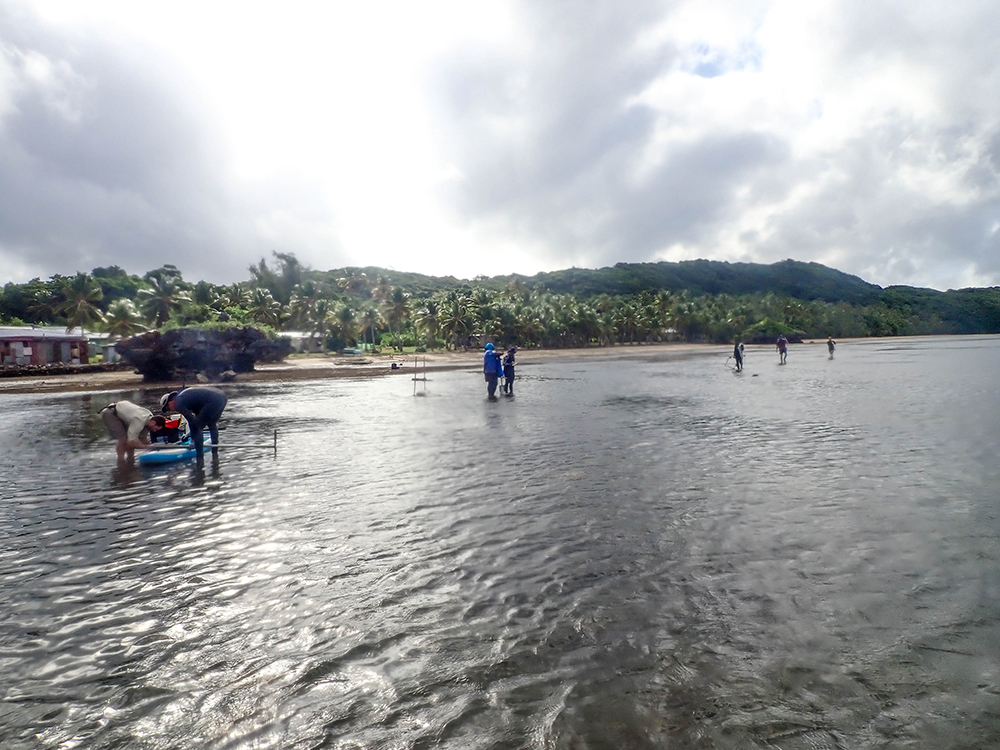 Seagrassing in Fulaga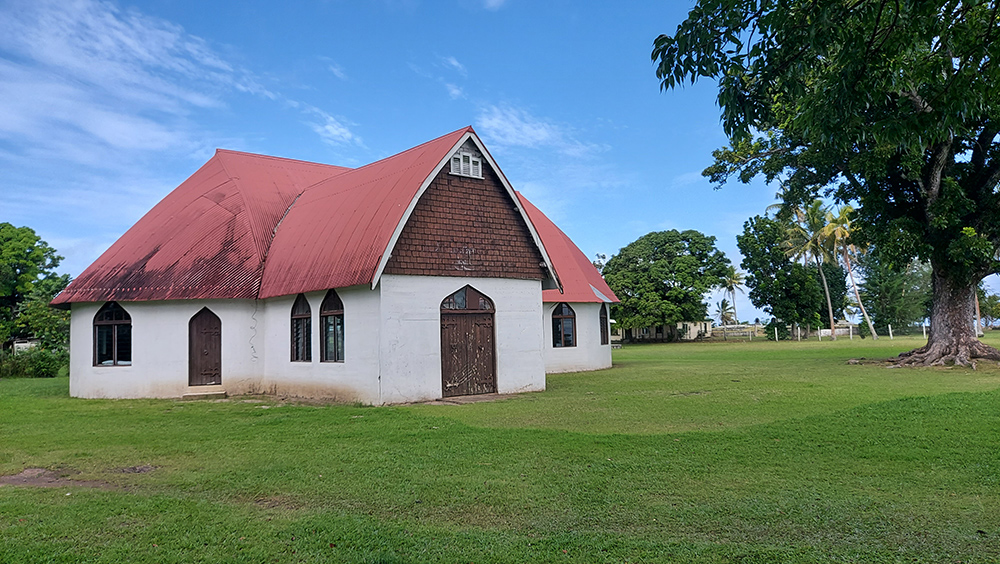 Church in Lomaloma
After loading their various science toys, securing them and making sure they would have enough outlets to be plugged into, we set sail at 9pm towards Namena. Our first stop provided us a sheltered area for a quiet lunch and a gorgeous place to drown a drone. Sorry, Salmen… too soon?? Fire hazard averted, we headed to Vanua Balavu and reached the area early morning Monday. We anchored in front of Somosomo/Sawana. The villages are separated by nothing more than a ditch and in Sawana most of the population is of Tongan origin. The area provided enough seagrass to keep the scientists busy for two days.
We departed towards Lakeba after dinner and arrived to a very windy day. Vili organized a truck to take the group around to the sites as they were too shallow for our skiffs. Torsten brought out Mighty Lucky (Mighty Righty and Lucky Lefty's love child) for a test run, had a romantic cruise on it with Dave and then retired her for the rest of the trip. Nobody told us scientists were so funny, or so hard to find when you need to feed them! Vili had a very special satellite call during the night, announcing the birth of his child. Congratulation, Vili!!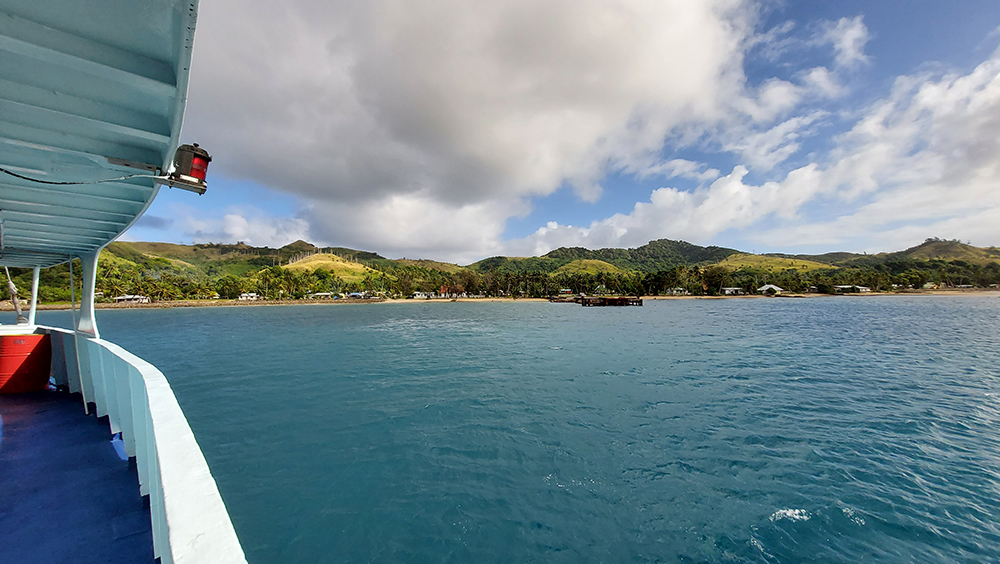 Sawana to the left and Lomaloma to the right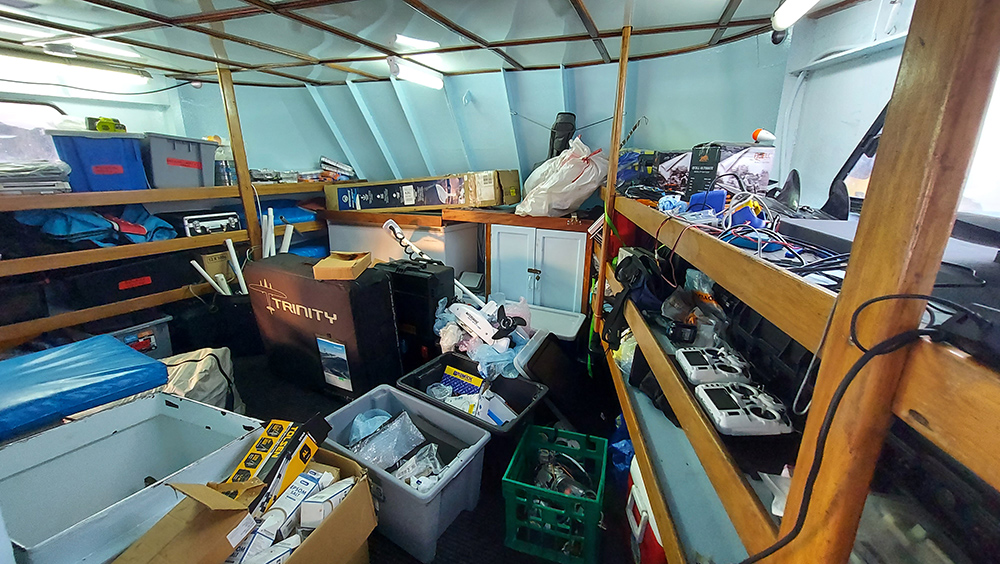 Science toys take over our Camera Room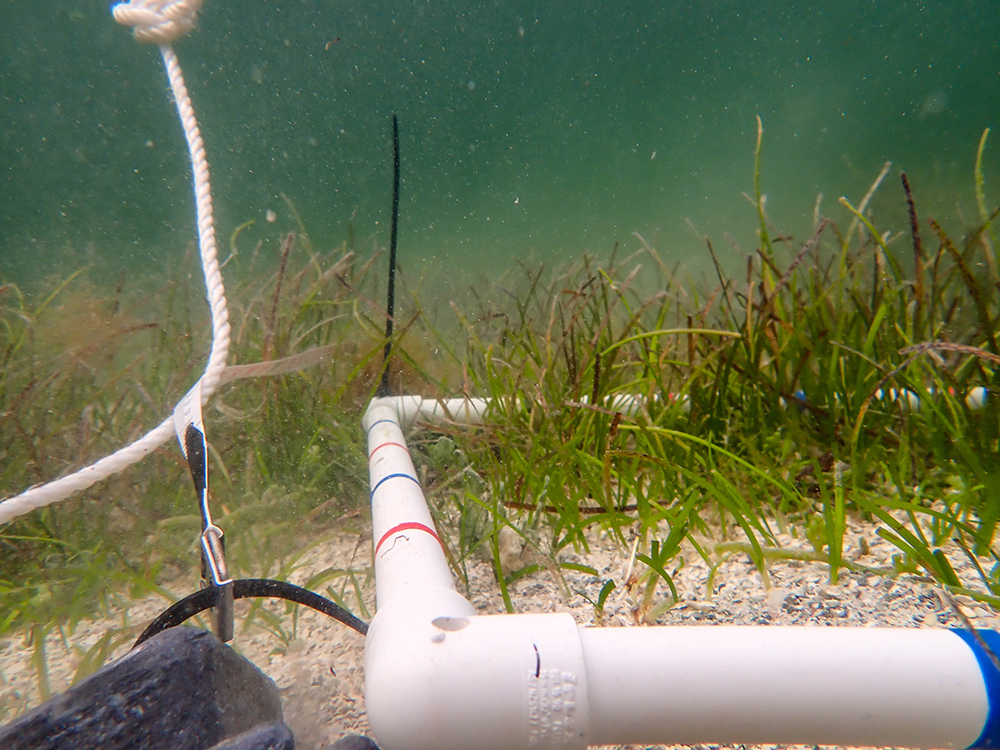 Quadrats and transects and seagrass.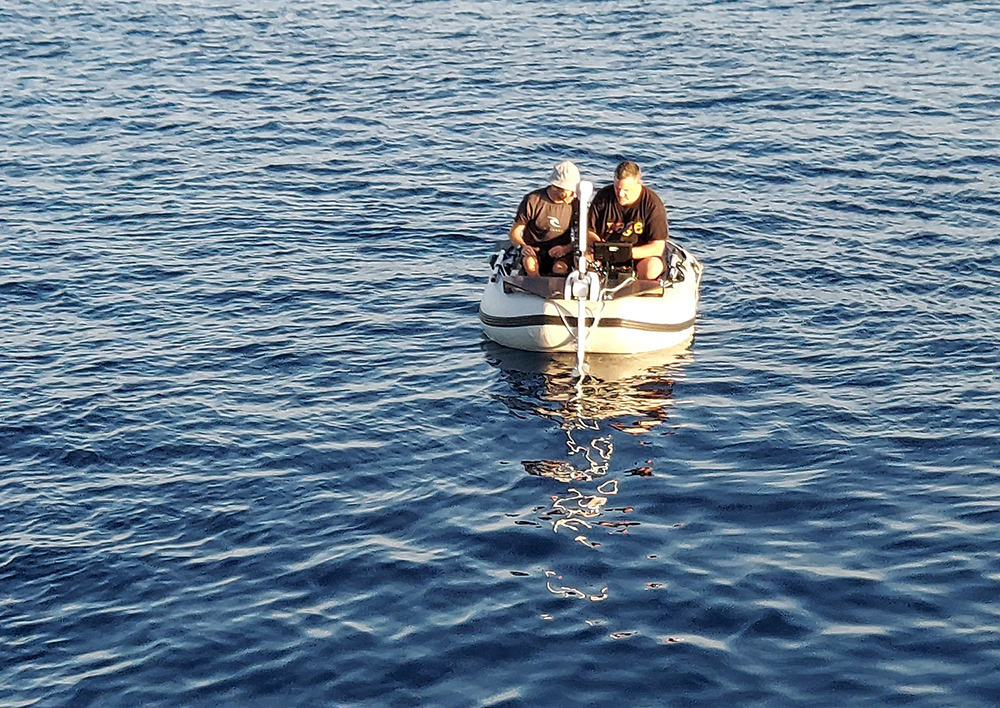 Torsten and Dave on Mighty Lucky
At 3am we headed to Oneata, a much smaller island with less places for the science team to hide. With NAI'A full of samples, Christina intensified the smells on the dive deck as she baked one sediment pie after another. Yang remained on his eternal flow between his working corner and his bed, Tama and Oni giggled all day and Torsten's eyebrows did that weird thing they do. All was right in our little universe. So we went to dive a little wreck at the request of the local authorities. A sailboat that sunk a number of years ago and the owner left without dealing with the aftermath. Our mission was to find out the name of the boat, but we ended up finding more marine life there than expected.
During the night we crossed to Fulaga, a place so beautiful it's hard to find words to describe it. Due to strong wind and wrong tide, we stayed outside the passage and sent the skiffs with the science team. A little after lunch, when we had everyone on board, we saw Pilot Whales taking a little peek at NAI'A (popping their heads out of the water vertically and looking towards us), followed by dolphins… Back at the seagrass site, gliders became draggers, a GoPro took a solo dive and the team got a little… edgy. Nothing that a cold sunset beer couldn't fix, though. We headed to Ogea that same evening and tucked away nicely for a calm, sheltered night.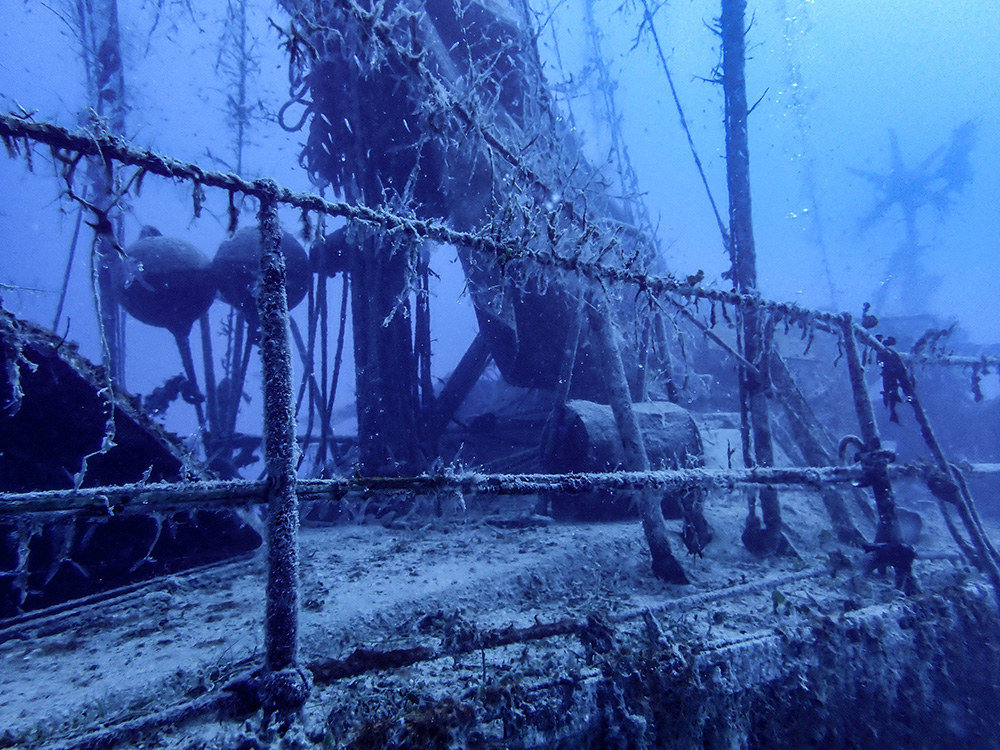 The mystery wreck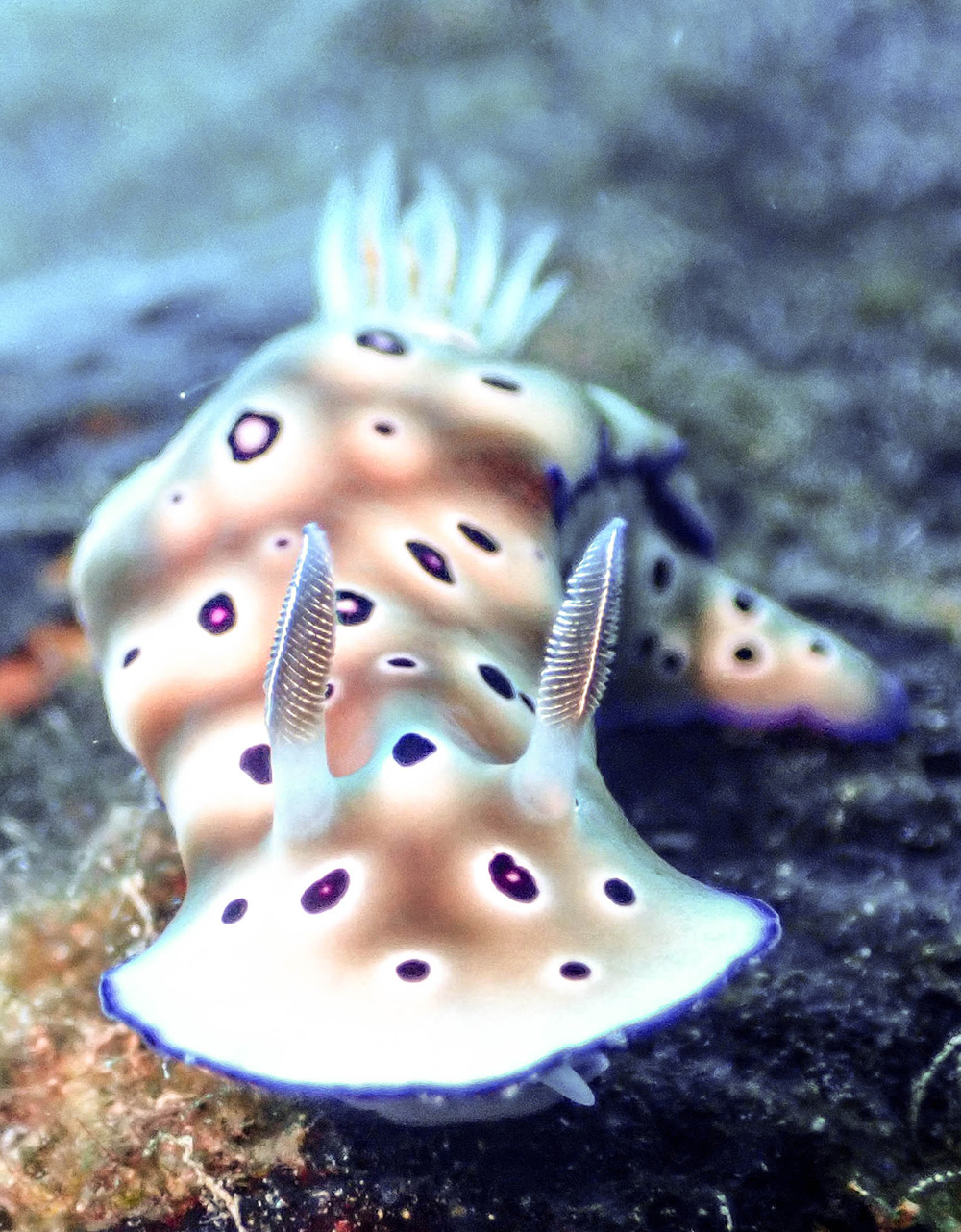 Chromodoris Kuniei, the Marilyn Monroe Nudi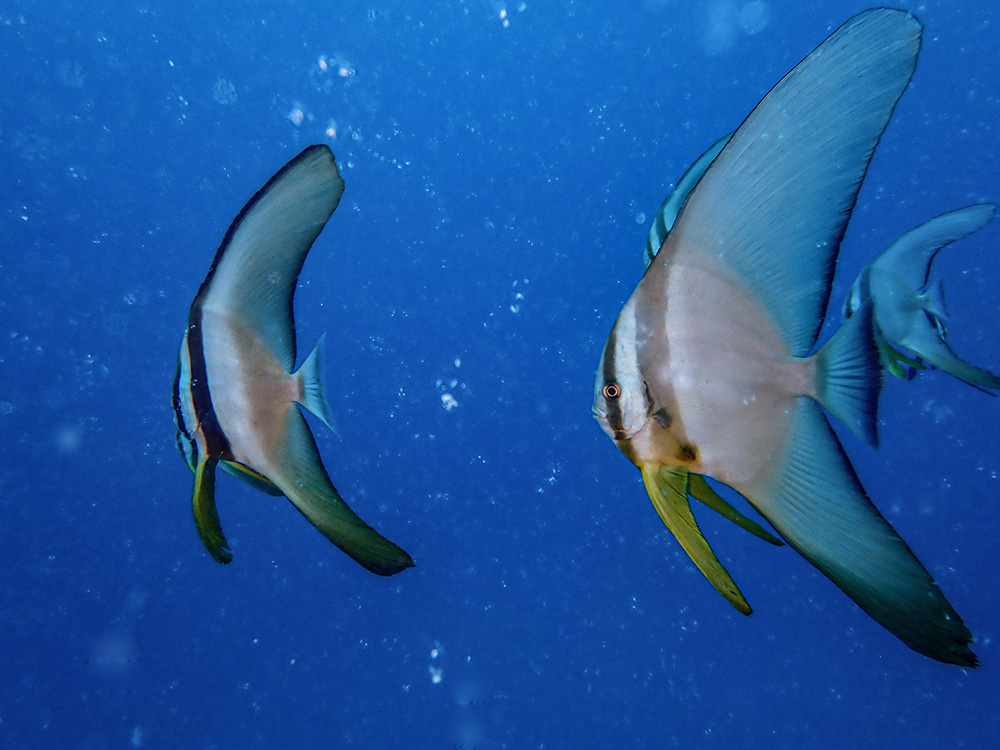 Juvenile Longfin Spadefish kept us company on the wreck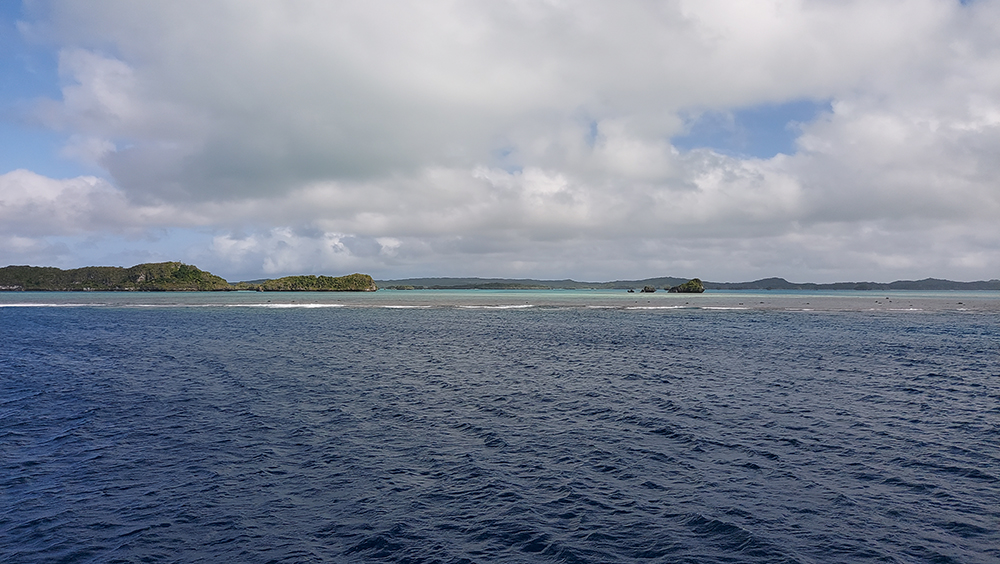 Fulaga from outside the passage
Having learned from the entanglements of the previous day, the group worked efficiently at Ogea and collected yet more pies for Christina. Yang tried field work but decided the Salon is a safer space. As late afternoon approached, most of the group boarded Mighty Righty with Koroi for a tour of Bay of Plenty and its lovely turquoise waters. Wishing we could spend Sunday here, we had to leave for Moala instead, as a 14-hour journey awaited us.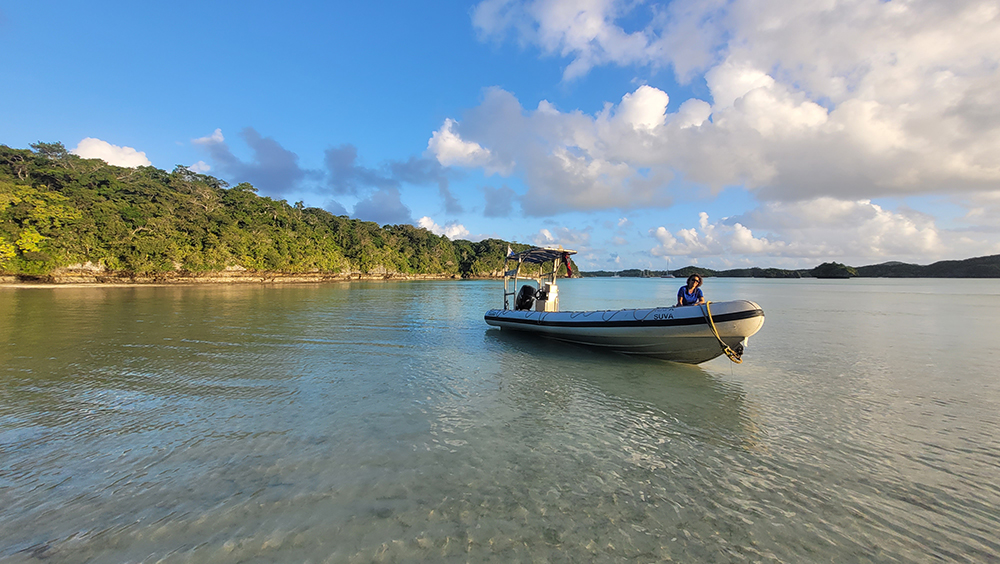 Ogea: Bay of Plenty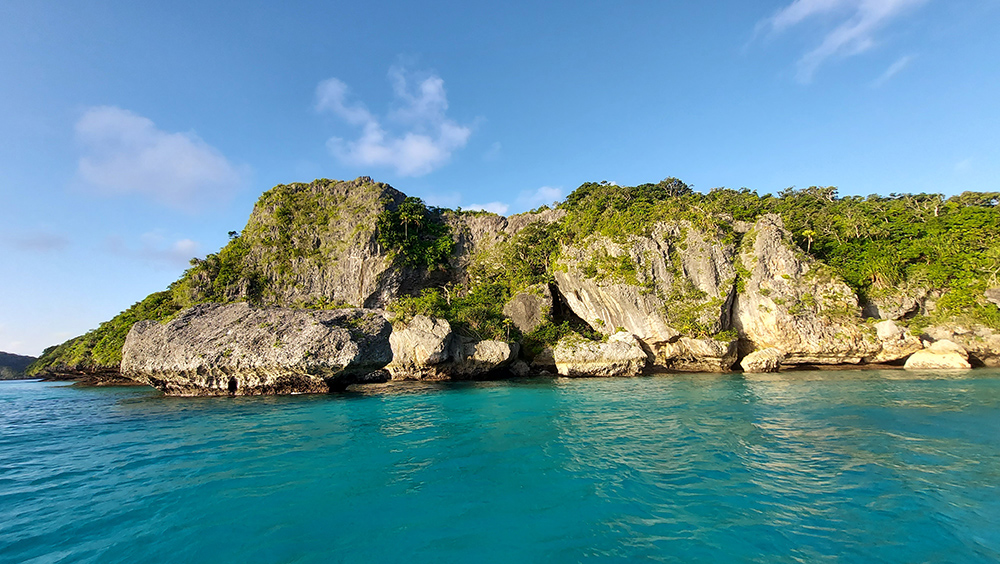 Ogea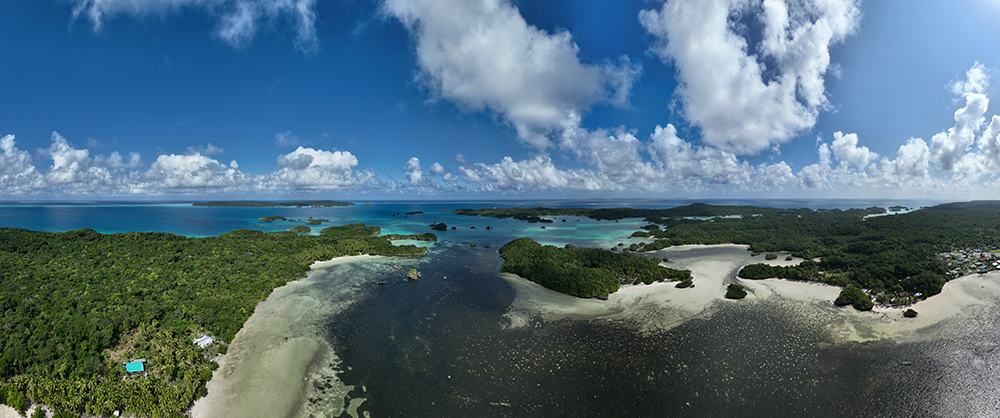 Ogea as seen by CSIRO's drone
Recovery Sunday went by without much to report but scientists spread around sun bathing, sleeping or making sure Yang wasn't trying to open his computer. On Monday everyone was back to work and we steamed from Moala at 5pm, going towards Gau for some shelter. Geoff joined the guys for Kava and improvised a fabulous song about digging for seagrass… unfortunately there's no footage of this. In Gau Andy lead the team there to process all the samples left on board for the drying ovens and we headed to Somosomo to deliver some pictures and see some piglets. As late afternoon approached, we gathered whoever wasn't washing sand to go look for Mantas. We found none, but it was nice to get them out to enjoy the water.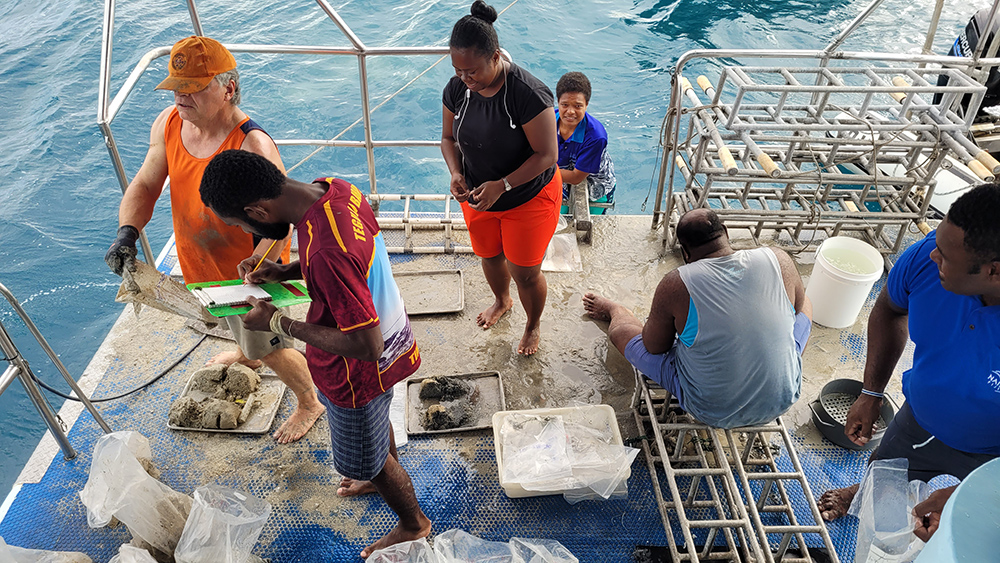 Andy leading the team to wash sand and turn the dive platform into a beach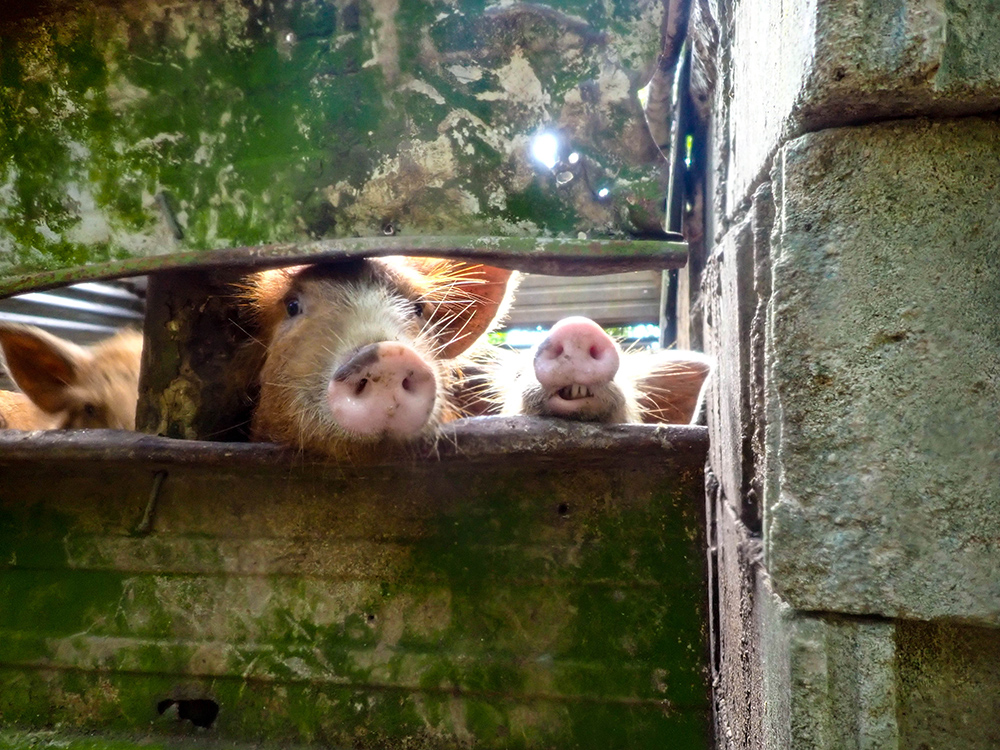 Piglets are the cutest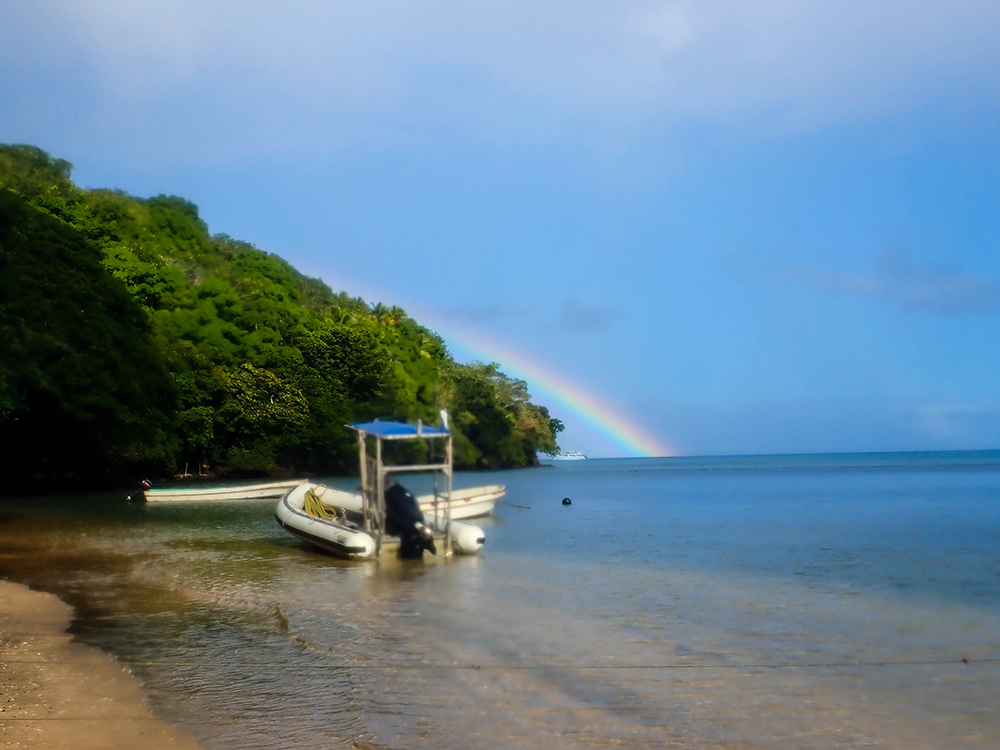 Gau, NAI'A and a rainbow
The crew suggested we have a Kava Party for the guests, even if it had to be shorter as we were travelling that night. So we all dressed up, drank Kava and enjoyed the singing. It's going to be nice having our Dive Deck back, but we'll miss this crazy bunch for sure. We spent the following day slowly getting back to Lautoka, and packing everything away. We will miss everyone, but we're kind of happy to have the boat smell normal again!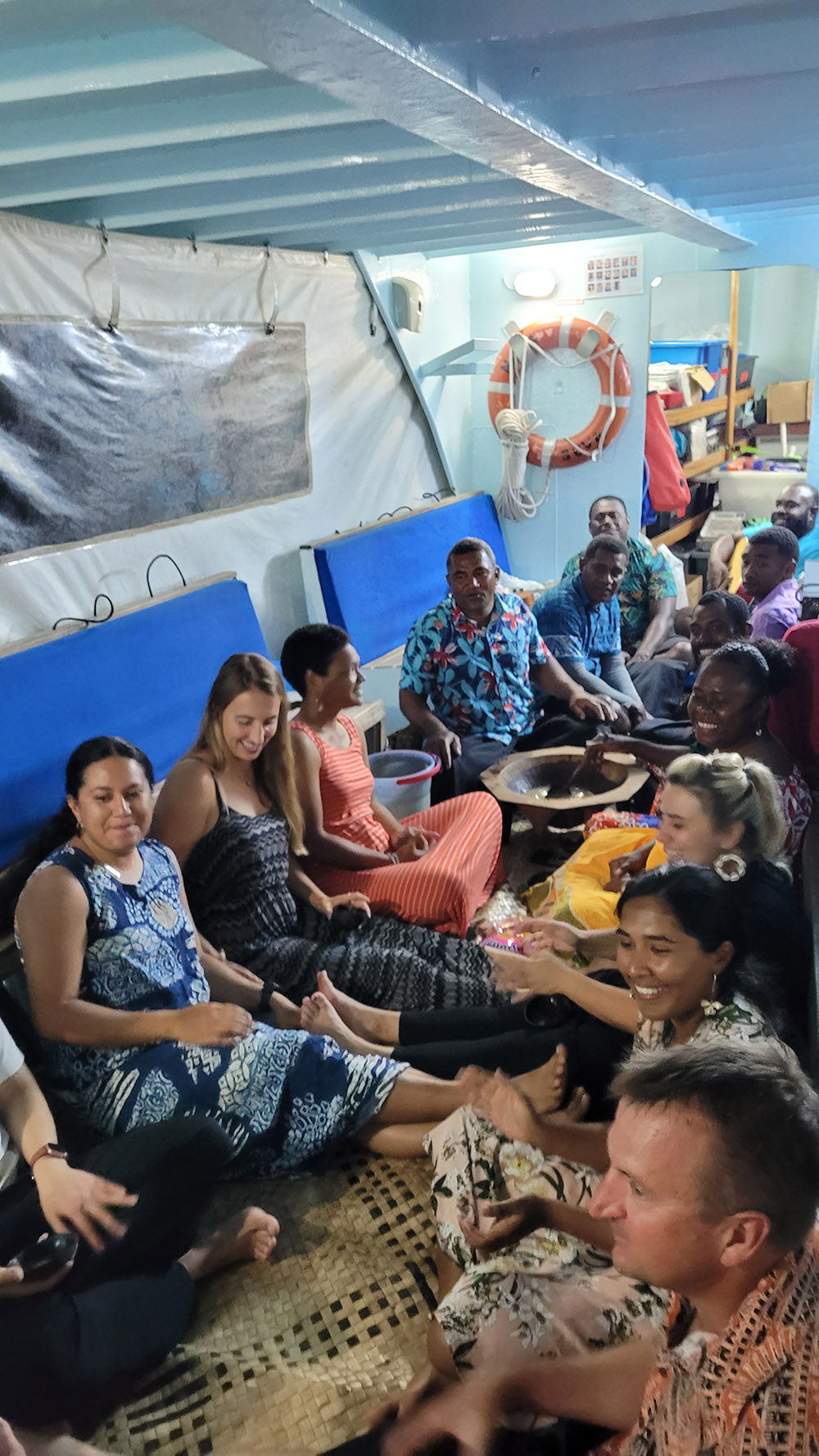 Kava Time!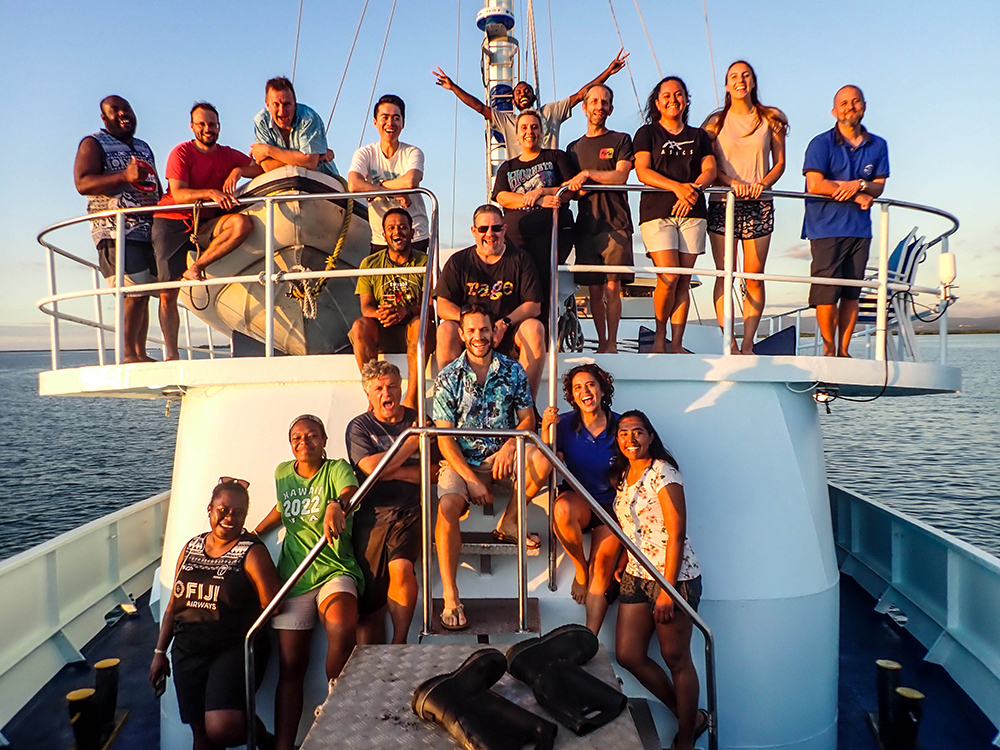 The team
Comments
"I have just had a marvellous 10 days aboard Nai'a. As usual, your Fijian crew are rather special, and all the other guests felt the same. It was so great to be aboard again."

~ Quentin, 6-time passenger, New Zealand