Sonia's Superstars
Destination: Fiji's Bligh Waters
Trip Date:
Jun 5th - Jun 15th, 2019 -
Comments
Author: Vanessa & Chad
Welcome Back: Tom, Chris, Heather, Alan and Sonia
A lazy leopard shark, an octopus fervently doing the housekeeping and a huge hammerhead checking us out…. What a wonderful trip to share with Sonia and her Superstar divers.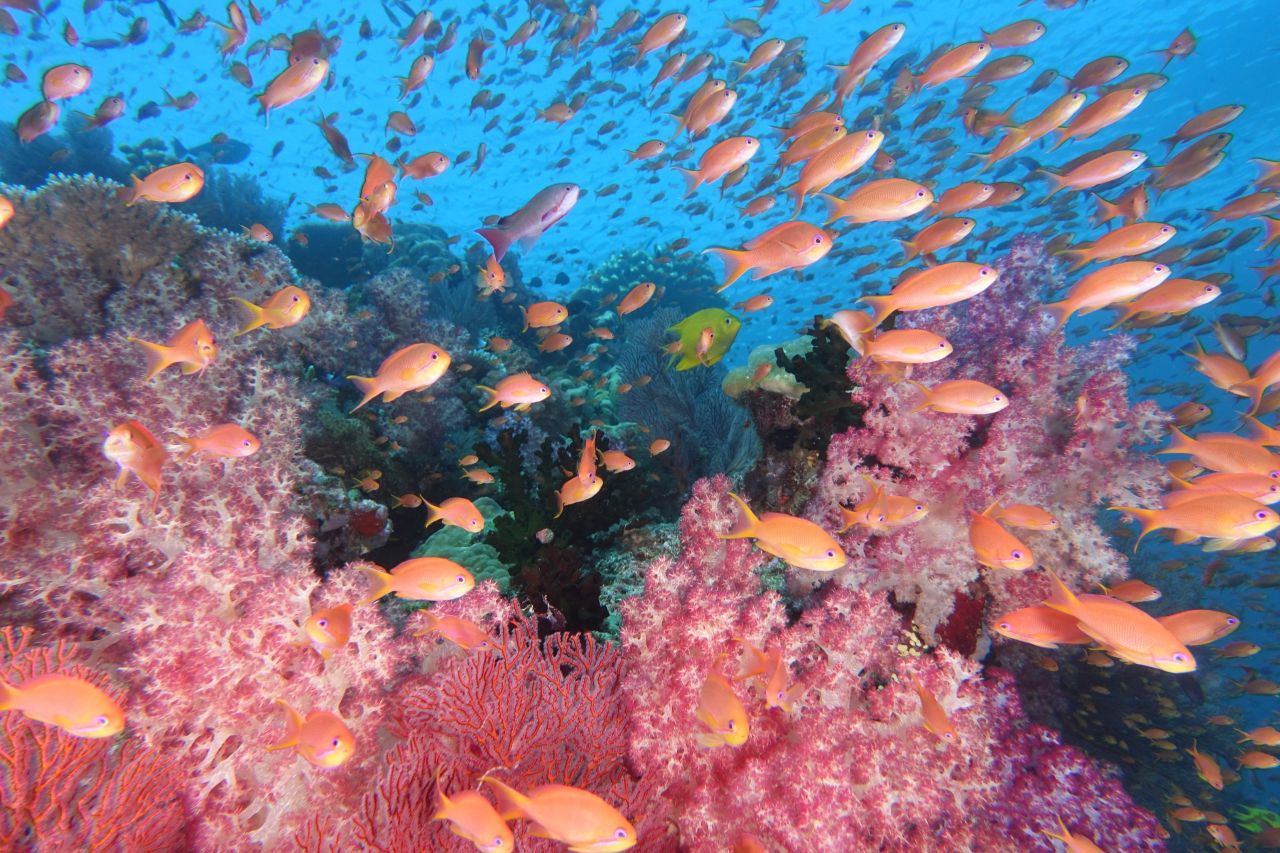 by Andy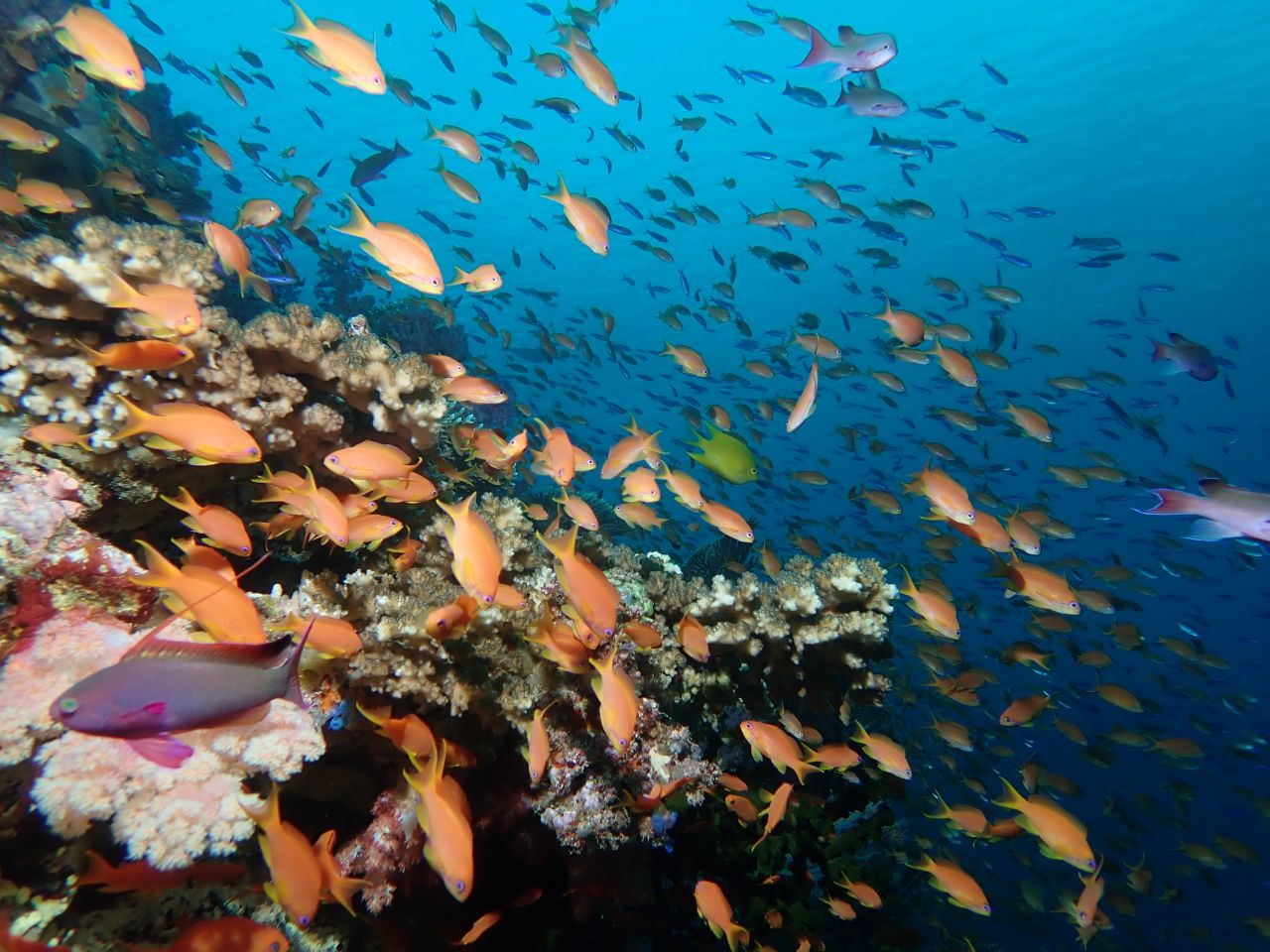 by Alan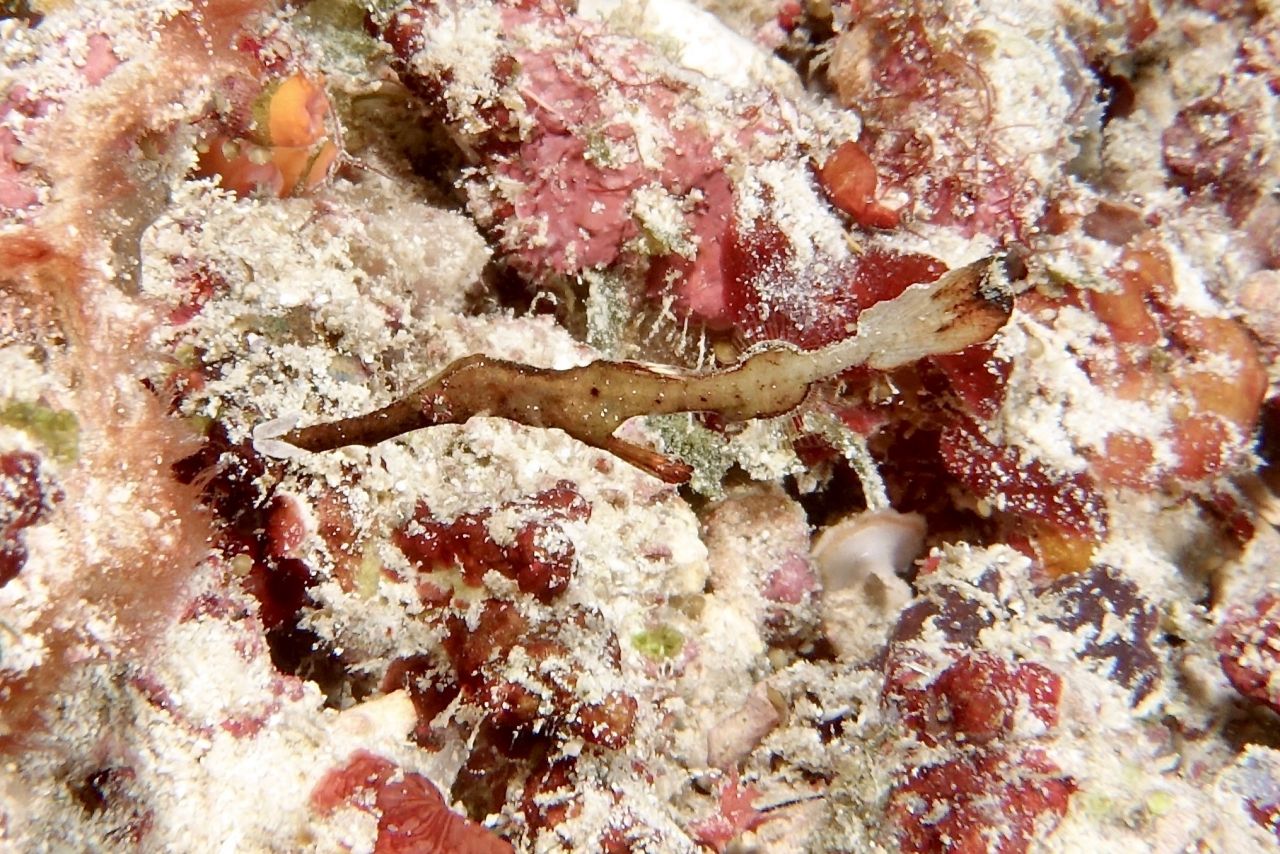 by Andy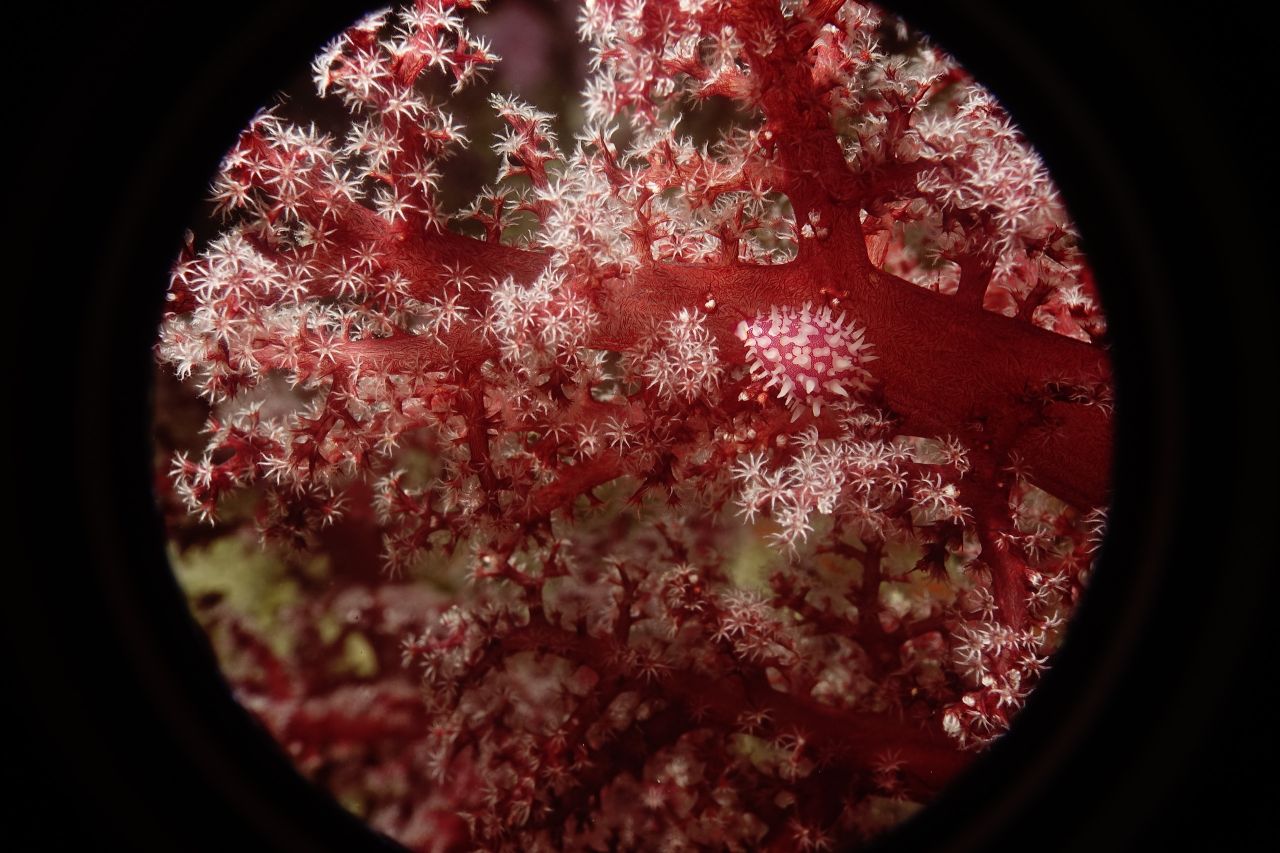 by Giuseppe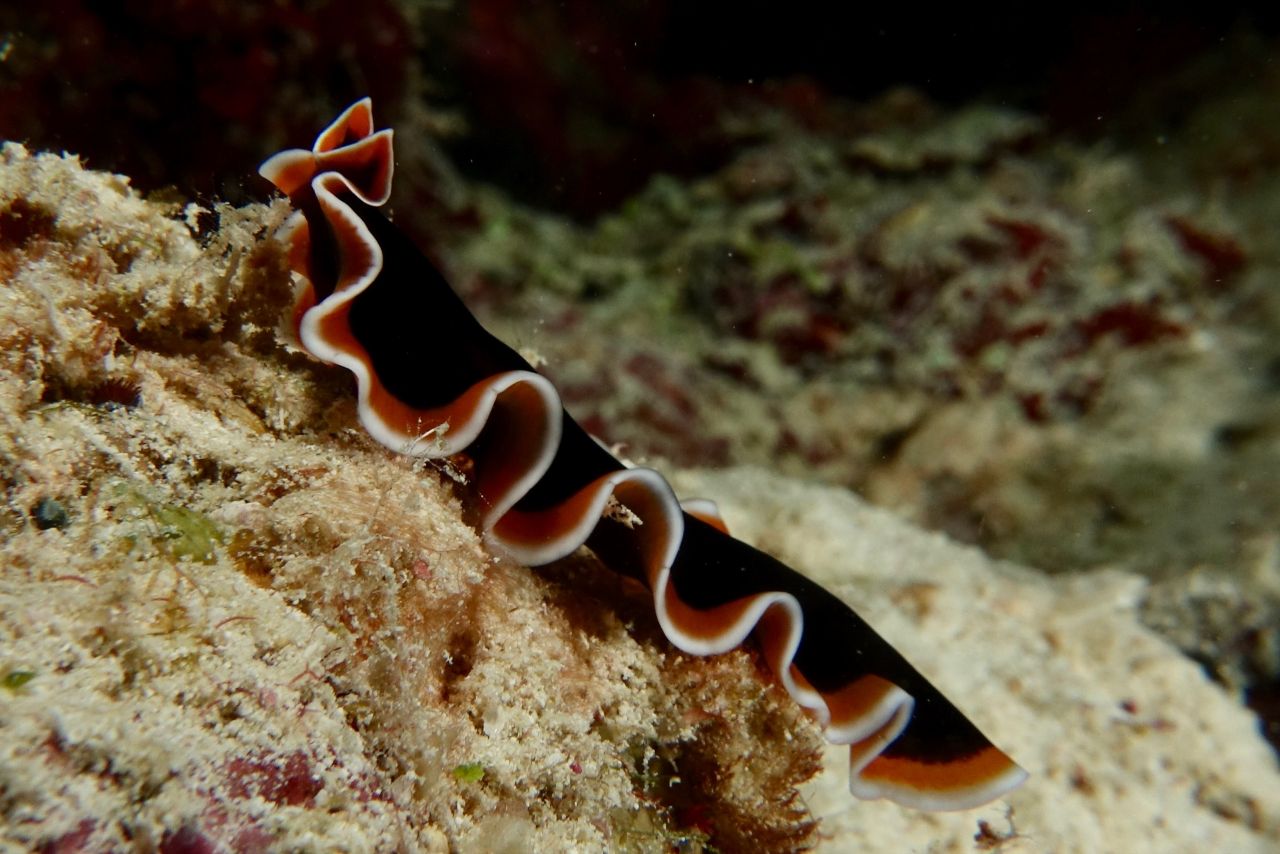 by Andy
We have been anticipating this charter for a long time. Ever since starting onboard NAI'A we have heard tale after tale of the lovely Sonia, former Cruise Director on NAI'A and passionate scuba diver extraordinaire. Well, having just spent ten days with her we can confidently confirm: all the rumours are true! Sonia and her entire group were a DELIGHT to have onboard. Happy, smiling, fun individuals with one thing in common: a true, deep love for the ocean.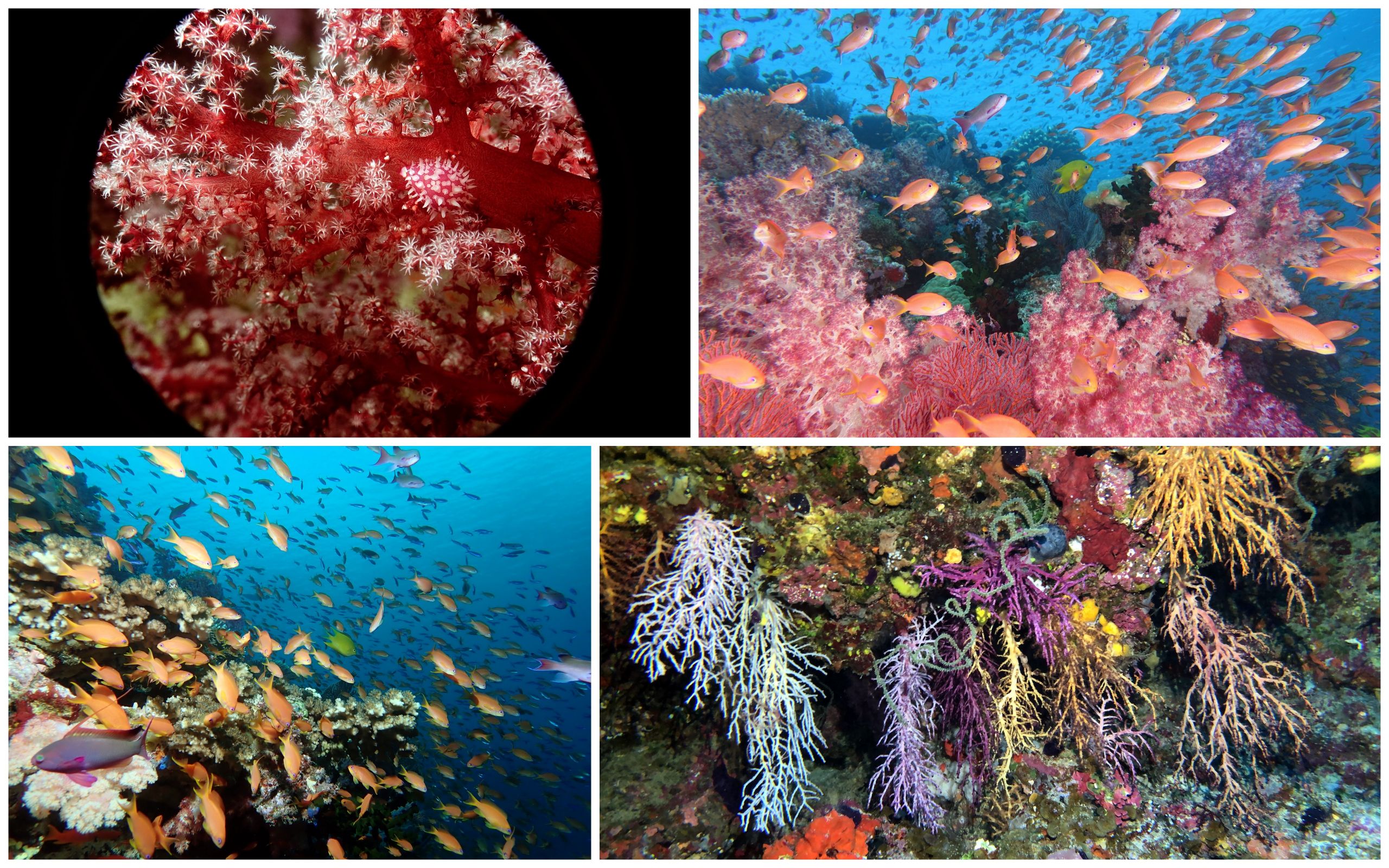 Photo credits (clockwise from top left): Giuseppe, Andy, Heidi, Alan 
We began our adventures off the north eastern coast of Viti Levu, in a dive area known as Vuya, where we had a macro-tastic day of diving! We heard many muffled shrieks of delight as we showed our divers our two resident pygmy seahorses at Cat's Meow, a huge variety of nudibranchs at Humann Nature and the cutest little juvenile scorpion fish we ever did see at UndeNAI'Able (we do love it when we can hear people so obviously excited underwater!). Our divers were also blown away by the incredible top reefs Fiji has to offer: the rainbow colors and sheer abundance of fish is breathtaking! We ended the day with a fabulous dusk dive: it's such an exciting transition period and so full of action as all the nocturnal predators come out to play. Oh, we also found an alien! The book says blunt end sea hare, WE say alien…..
Saying goodbye to Vuya, we motored all night to the lush, green island of Gau where we would spend the following two days. We kick-started the day with kick-ass dives on Jungle Jig and Nigali's Outside Slope. We were kept well-entertained by a cute little octopus, a turtle and a few cruising white tip reef sharks. But it was the big, lazy leopard shark that stole the show! This guy was NOT shy: our divers calmly swam right up to him and he couldn't have cared less. We were hoping to have a nice leisurely lunch, then jump in on Nigali Passage but Momma Ocean had other plans! The current turned much earlier than expected and we had a mad dash to get in and enjoy prime conditions. It worked out well in the end and we had an insane dive down the passage: two eagle rays the second we descended seemed like a good omen! Since we were only going to have time for a single dive in the passage that day, we decided to dedicate all our time in the bleachers and it was SO worth it: the action was incredible with sharks, jacks and a black wall of beautiful snappers. For our final dive of the day – and with the current now in a total lull – we had the rare treat of being able to really explore the shallow reef area, with the mesmerizing 'cabbage patch' and enormous porites hard coral. We had several (very well-traveled) divers comment that Nigali must be one of the best dive sites in the world.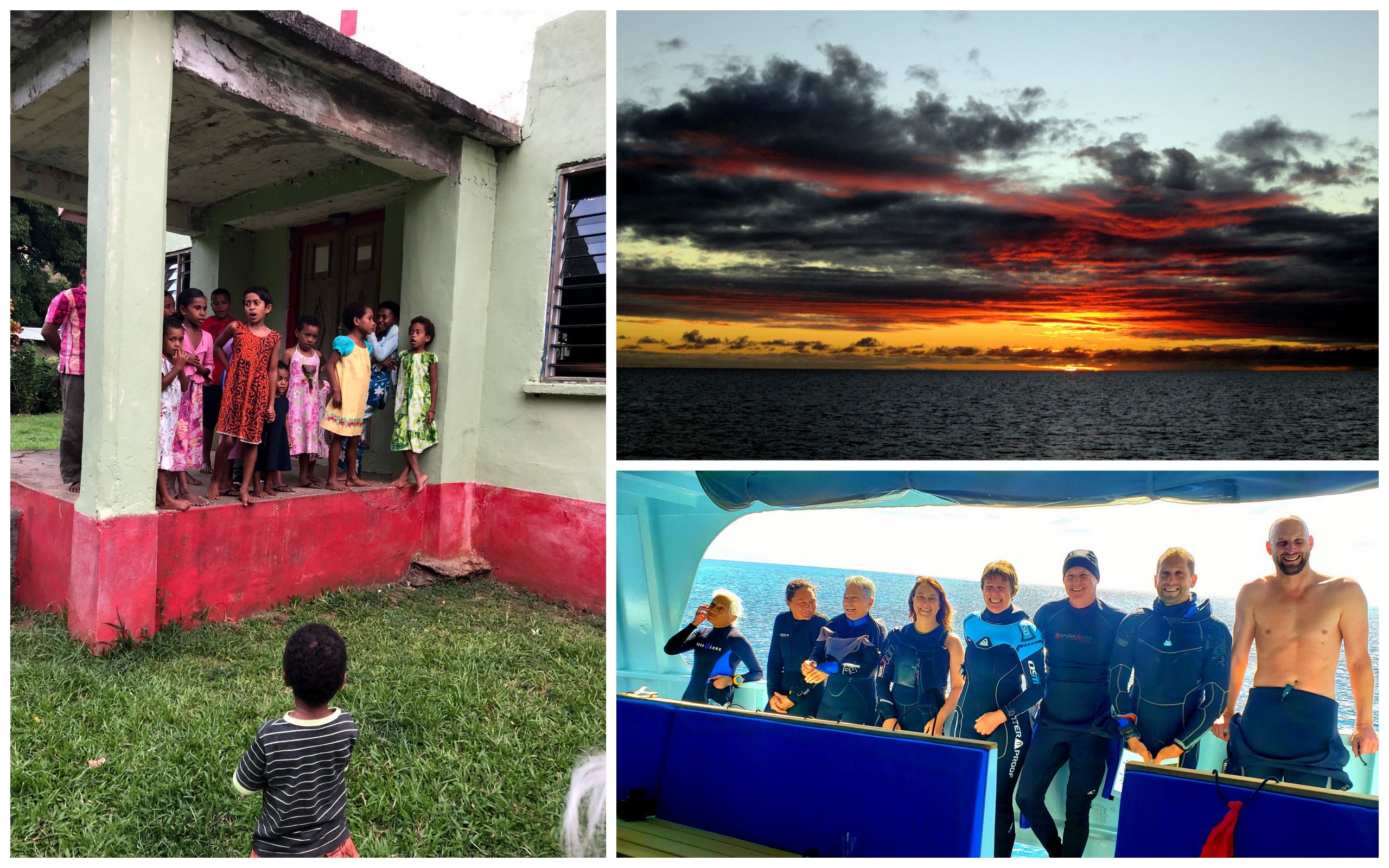 Photo credits (left, top right, bottom right): Sally, Bill, Heather 
The next day we began up in the north with dives on Jim's Alley and Anthias Avenue. The current was KICKING and we had to rapidly find shelter and hide out. There's no choice in situations like that but to really focus on the small patch of reef around you and pick out all the quirky macro life you often pass on by when you're absorbed in the bigger picture. We went on a 'blenny fest', just loving the cheeky fangblennies popping their heads in and out of out the reef! A few of the guests remembered to look up once in a while… And were rewarded with a passing manta ray! We do wonder how many we've missed over the years whilst busy staring at nudis……
After another dive at Nigali – perhaps even better than the first – we rounded up our day of diving and headed into land for a phenomenal village visit. After wandering around the village – checking out all the different fruit trees, playing the lali drum and cuddling all the cute puppies – we made our way to the village hall for a fun show of Fijian singing and dancing. And, of course, a lot of kava! Thanks to all our guests for getting so involved and bringing so much fun energy to the gathering.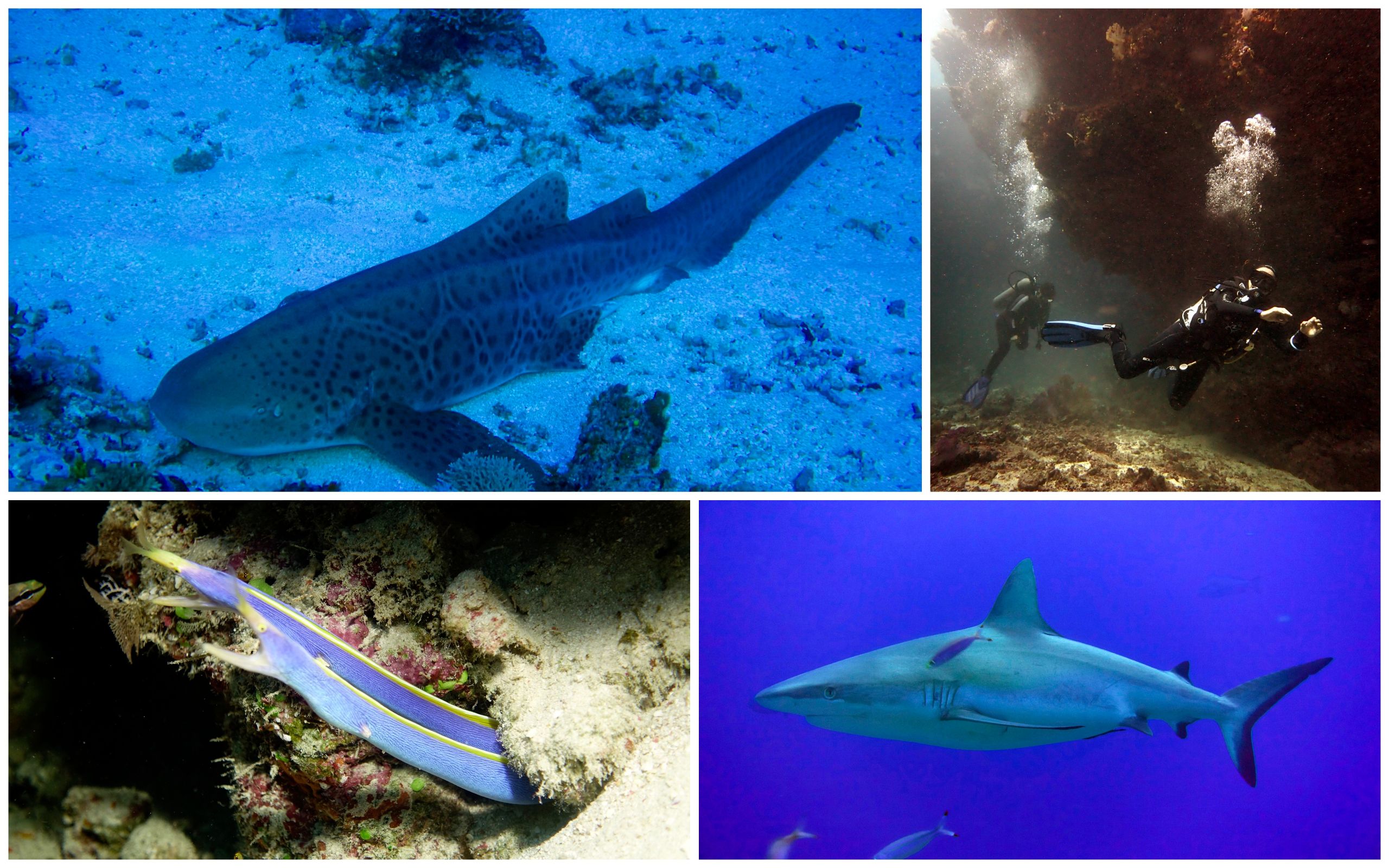 Photo credits (clockwise from top left): Giuseppe, Alan, Giuseppe, Giuseppe 
Next up: Wakaya! We enjoyed another sunshiny day here with three super peaceful, relaxing dives. It was a wonderfully serene day with much time spent on the sun deck between dives, already reminiscing about the all the cool things we'd been seeing. A few of our divers were lucky enough to be able to add a big hammerhead to the list: he came to check us out deep off the wall at Lion's Den before deciding we weren't of too much interest and moving on. Well, we sure though HE was interesting!
From Wakaya, we made the move to the Namena Marine Reserve for a further two days of great dives (and a peaceful night's sleep at anchor!). The diving here was incomparable: great visibility, mild currents, thriving fish life and technicolor soft corals. Tetons 3 was looking especially good: our two blue ribbon eels were returned from vacation and were back in their regular spot and, rather excitingly, the rare orangutan crab we found last week has made friends and we now found THREE in the one tiny patch of bubble coral! It was Grand Central Station that one won Day 1 First Prize, though: we had some of the best dives we've ever had there with the most incredible concentration of scad, barracuda, grey reef sharks, jacks and even a rogue hammerhead passing by. Our divers came back buzzing and asking if they could do it again…. And again, and again and again! We celebrated that evening with an energetic kava party: many a 'tsunami' went down the hatch!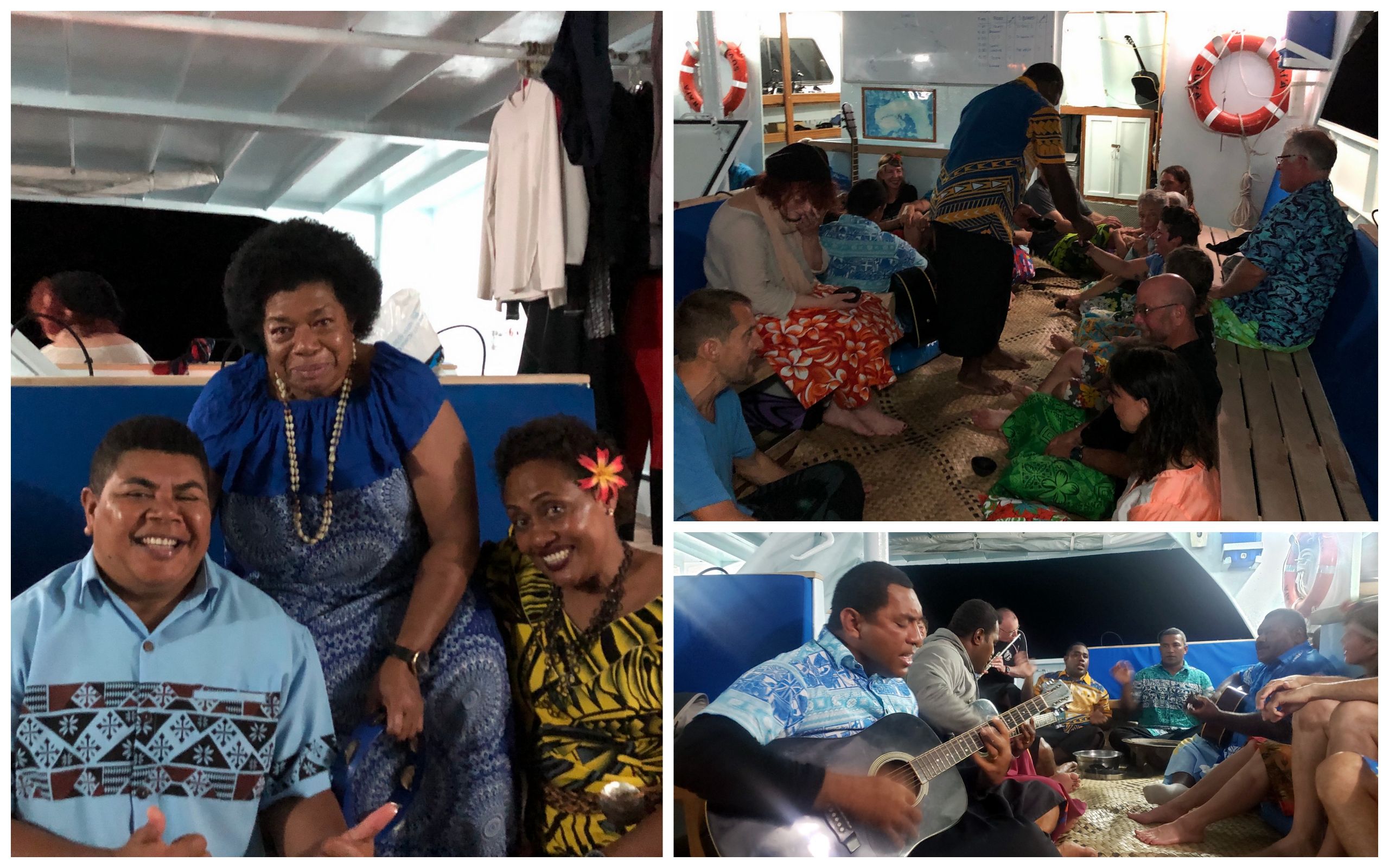 Photo credits (Left, top right, bottom right): Sally, Sally, Heather 
Our second day in Namena got off to a shaky start when we awoke to really heavy skies, rain and a strong wind. We managed to get out for our first dive but by the time our divers returned a full-blown storm had come in and we had to find shelter in the lee of the island. Diving was put on hold until the weather passed which we all assumed would take a good few hours and we maybe wouldn't be able to dive again until after lunch, if that. We couldn't believe it when an hour later the tempest was gone and left no hint it had ever happened! We ventured back out to find almost glass calm seas and bright blue skies! And so, we quickly and happily resumed diving. Schoolhouse was just incredible! We spent many long minutes, 'becoming one' with the schooling bannerfish who didn't seem to notice our presence at all. Then we were treated to a crazy show from an octopus doing his housekeeping! We watched him for a good 20 minutes as he cleared his hole – and then himself – of all debris. We ended the day with a great dusk dive on Tetons 1, where we found all sorts of cool macro critters: sea spiders, flabellina nudis and crinoid shrimp.
Departing Namena, we headed back to the Bligh Waters to spend two great days in the Vatu-i-ra area. First up, we tackled our incredible deep sea-mounts: Mount Mutiny and E6. The rainbow wall at Mount Mutiny is looking so healthy and fabulous these days: crazy long fingers of Chironephthya in every conceivable color dripping off the wall. And E6 was also stunning, despite a much stronger than anticipated current! We also had some pretty strong currents at Mellow Yellow and Coral Corner which was a little hard work BUT meant the soft corals were at their absolute finest. Our divers were blown away by these underwater wonderlands! We enjoyed one final dusk dive back at Mellow Yellow, after the current had abated. It was jam-packed full of cool critters: hydroid crabs, beautiful miniature cowries, scorpion fish, masses of basket stars and more.
Photo credits (top left, bottom left, center, right): Andy, Andy, Alan, Alan 
For our final day, we enjoyed three gorgeous dives at Nananu-i-ra. Pinnacles and Golden Sunset were both looking great with their yellow soft corals all puffed up but it seemed to be Labyrinth that won gold: our divers loved its otherworldliness and the sense of being happily lost in its twists and turns. With our gear hung up to dry and the sun setting before us, we enjoyed a few final hours up on the sun deck as we cruised back to Lautoka, already reminiscing about a perfect trip.
Vinaka vaka levu to all our guests: old and new, all a part of the NAI'A family!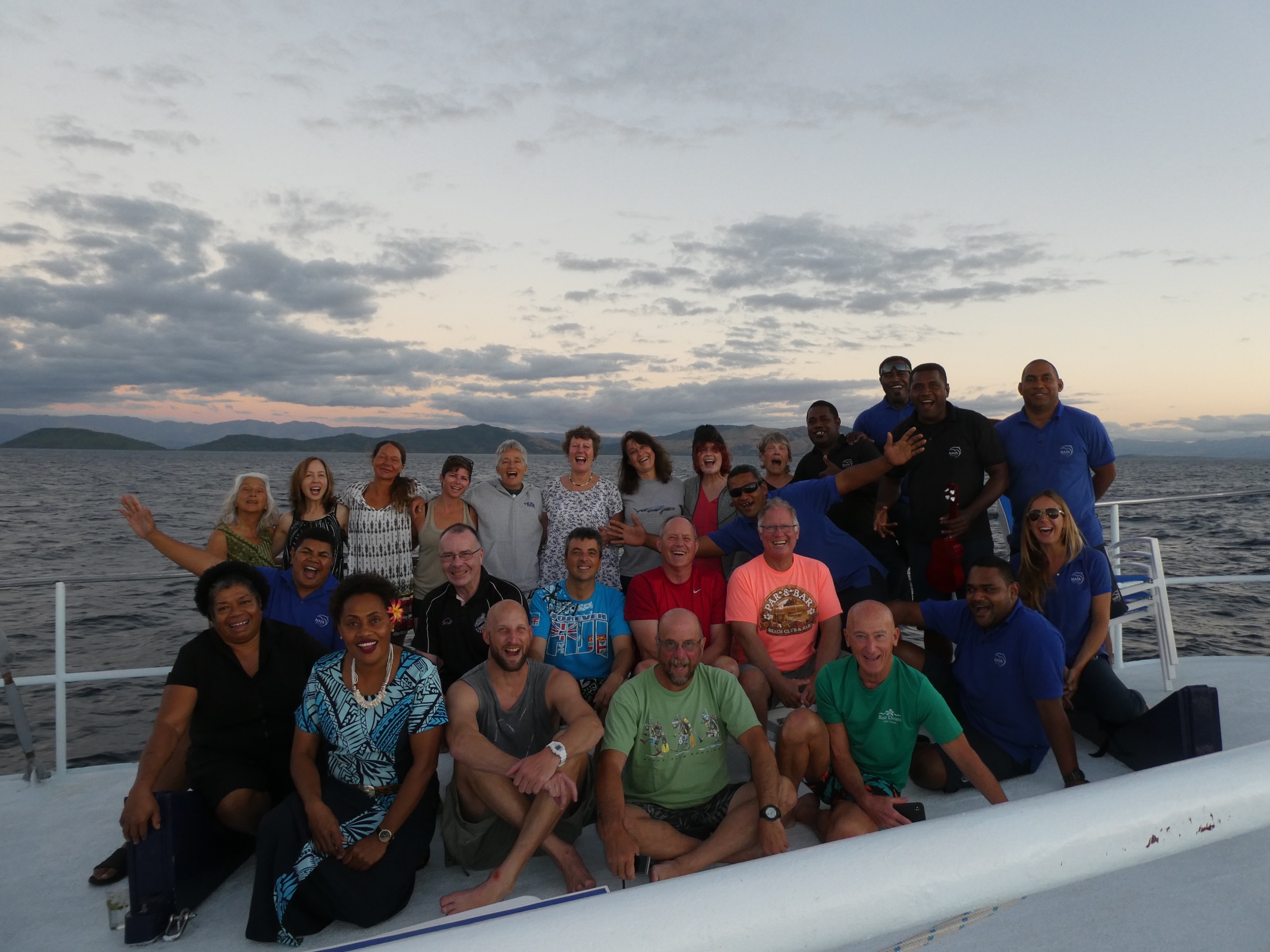 "This is INSANE!!" Giuseppe... after the very first dive of the trip at Cat's Meow and almost every other dive!
"Back home on NAI'A... no words can describe how breath-taking it was in every way possible!" Alan
"This is the best dive cruise ever!...Best boat, best crew, some of the best diving!" Sally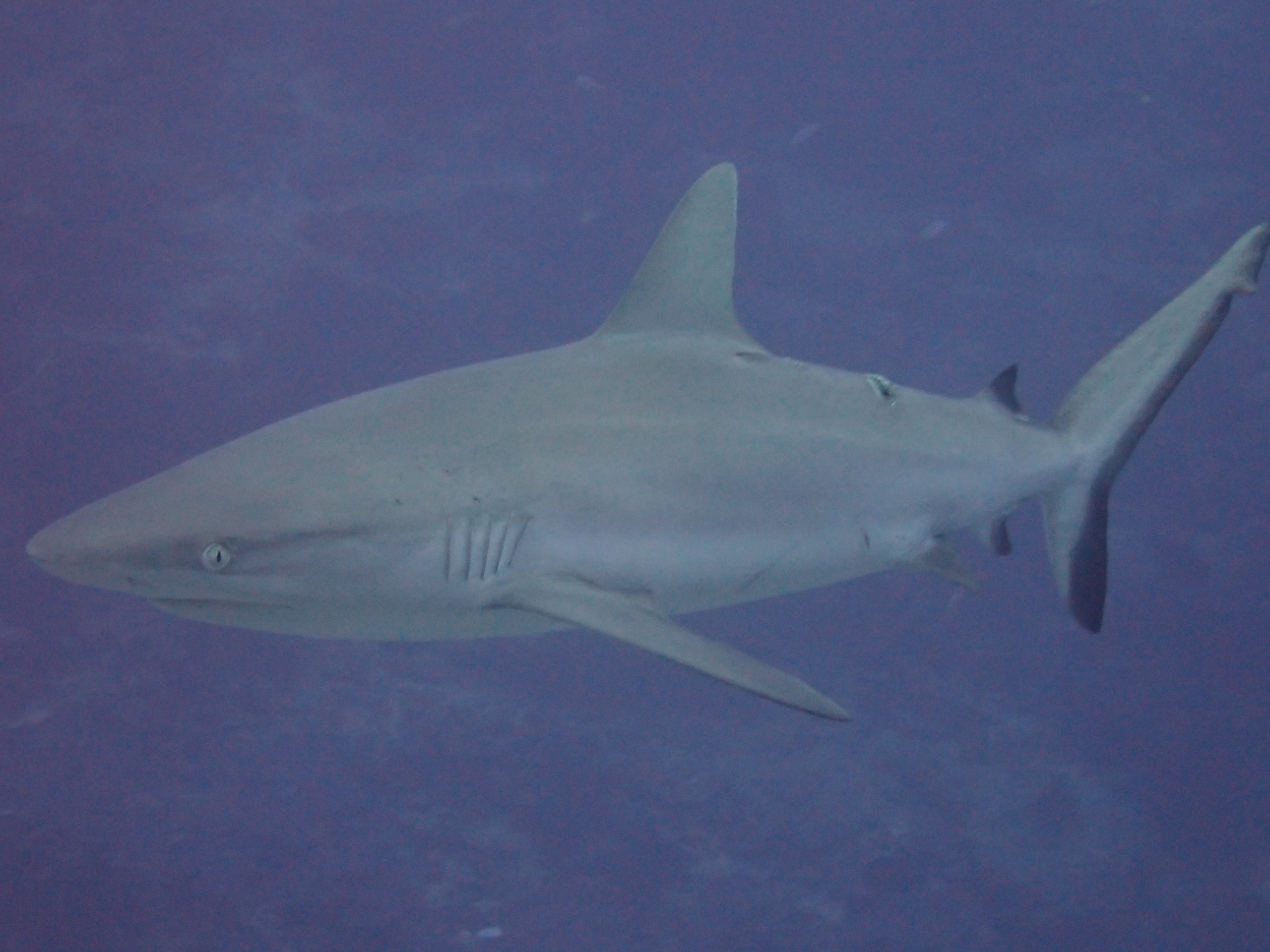 by Alan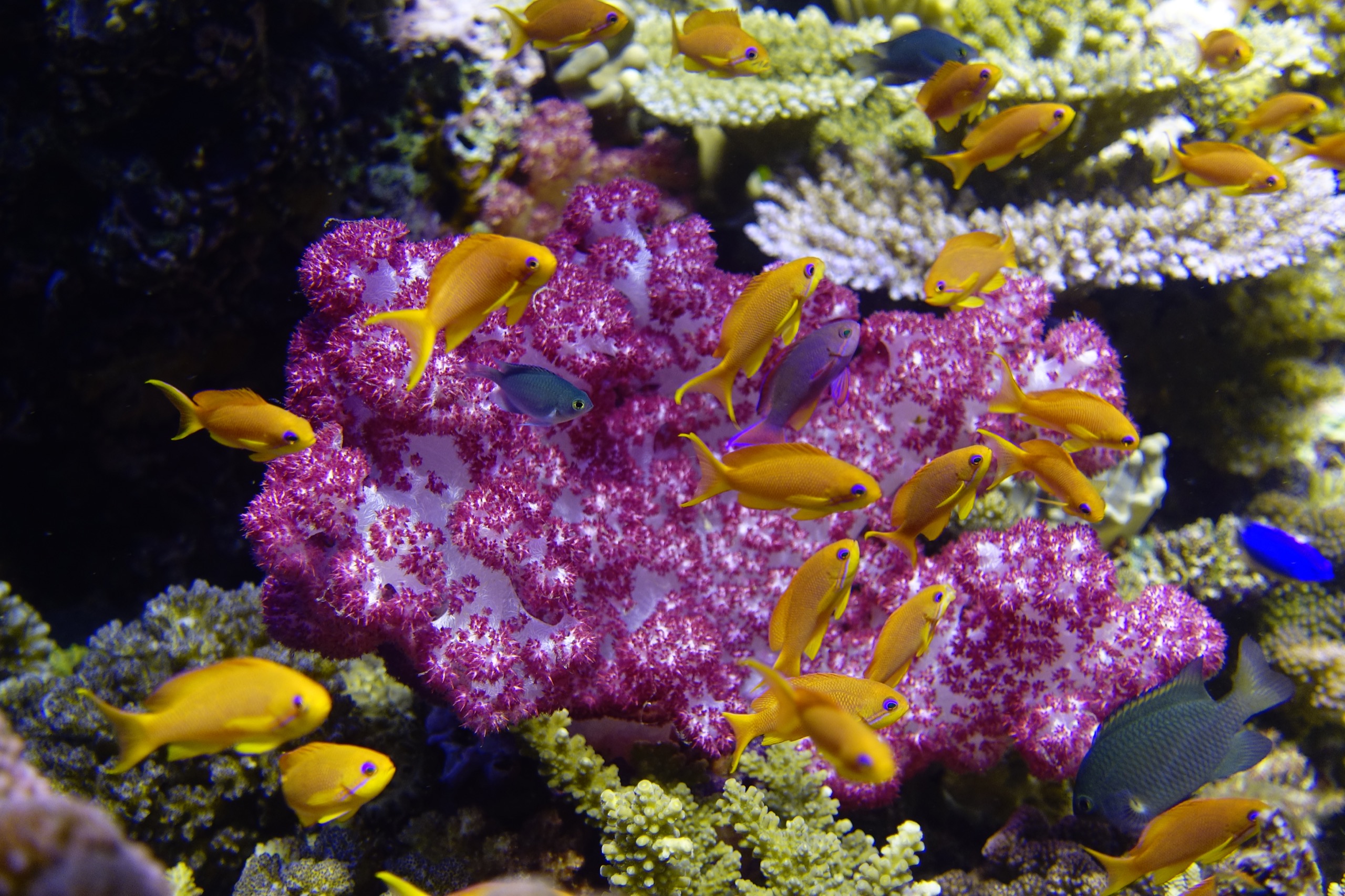 by Giuseppe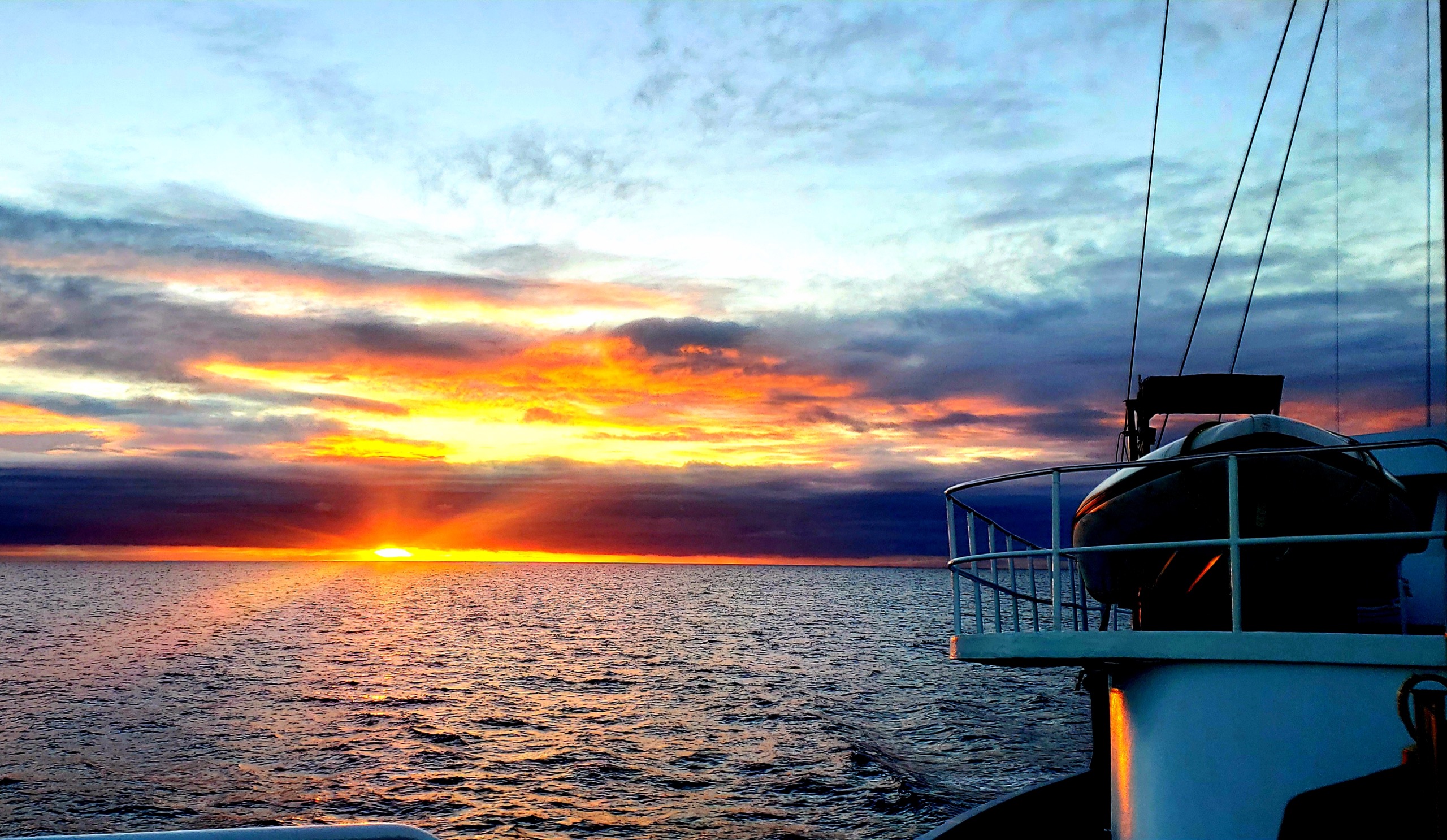 by Heather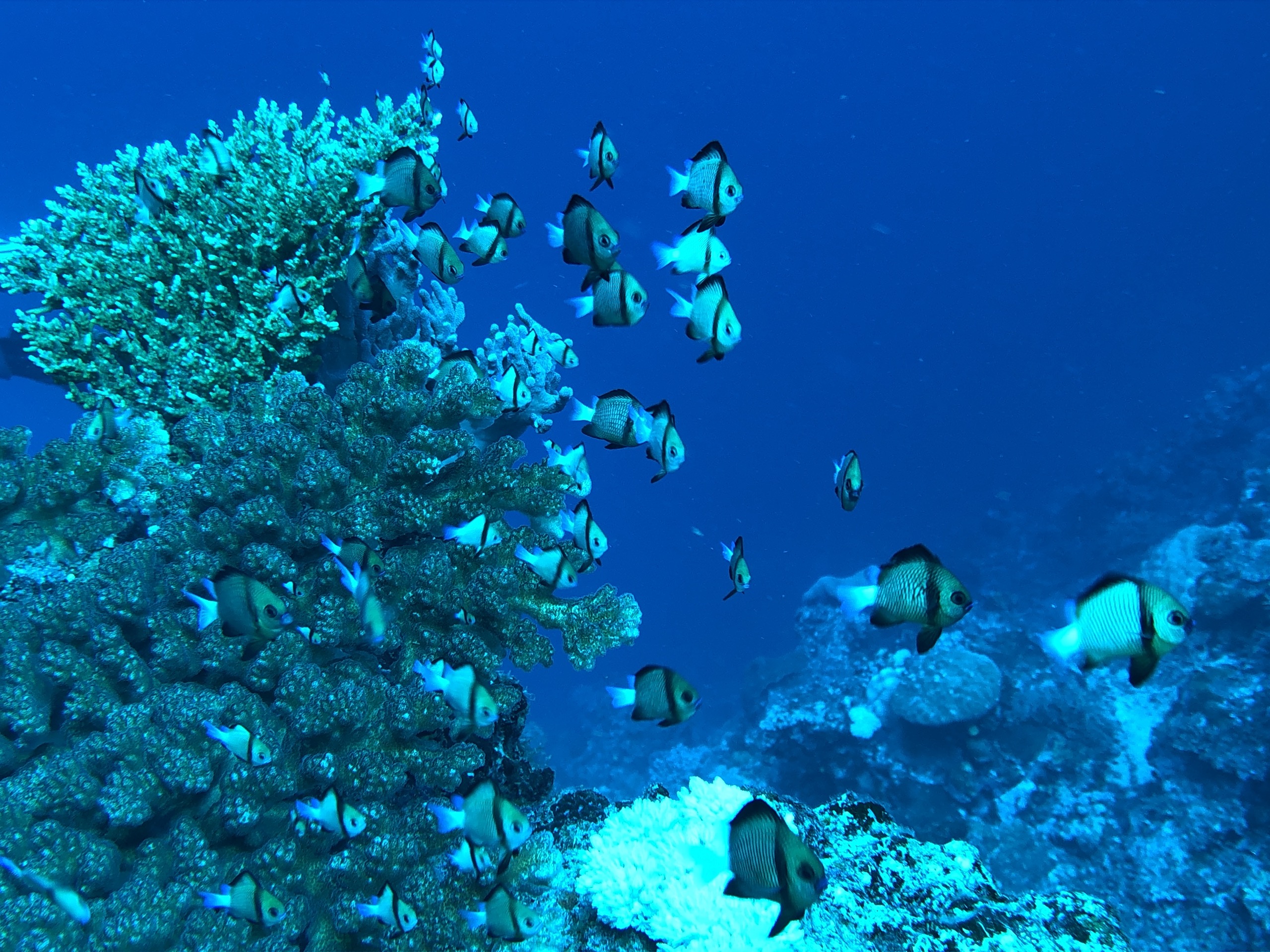 by Heidi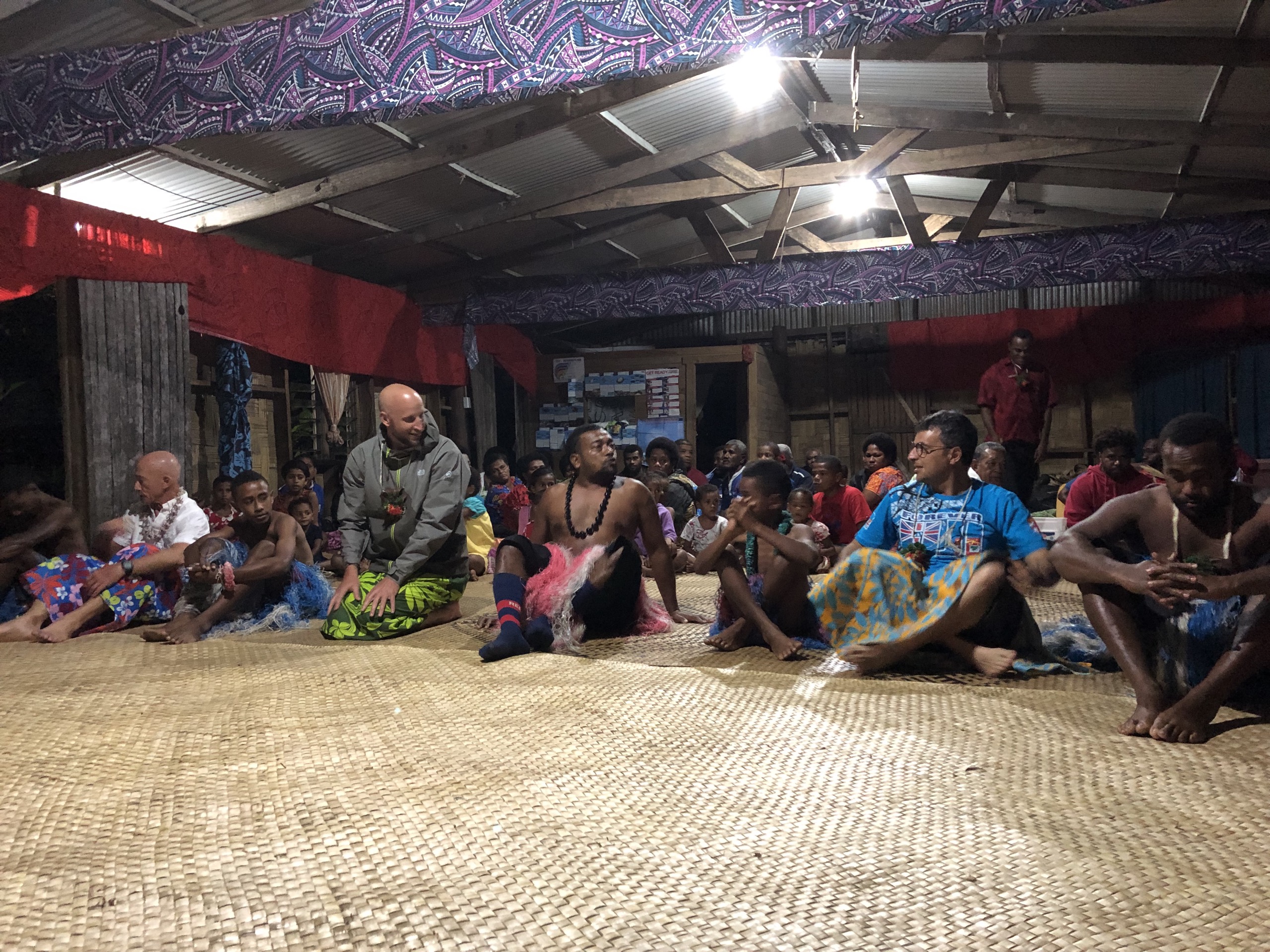 by Sally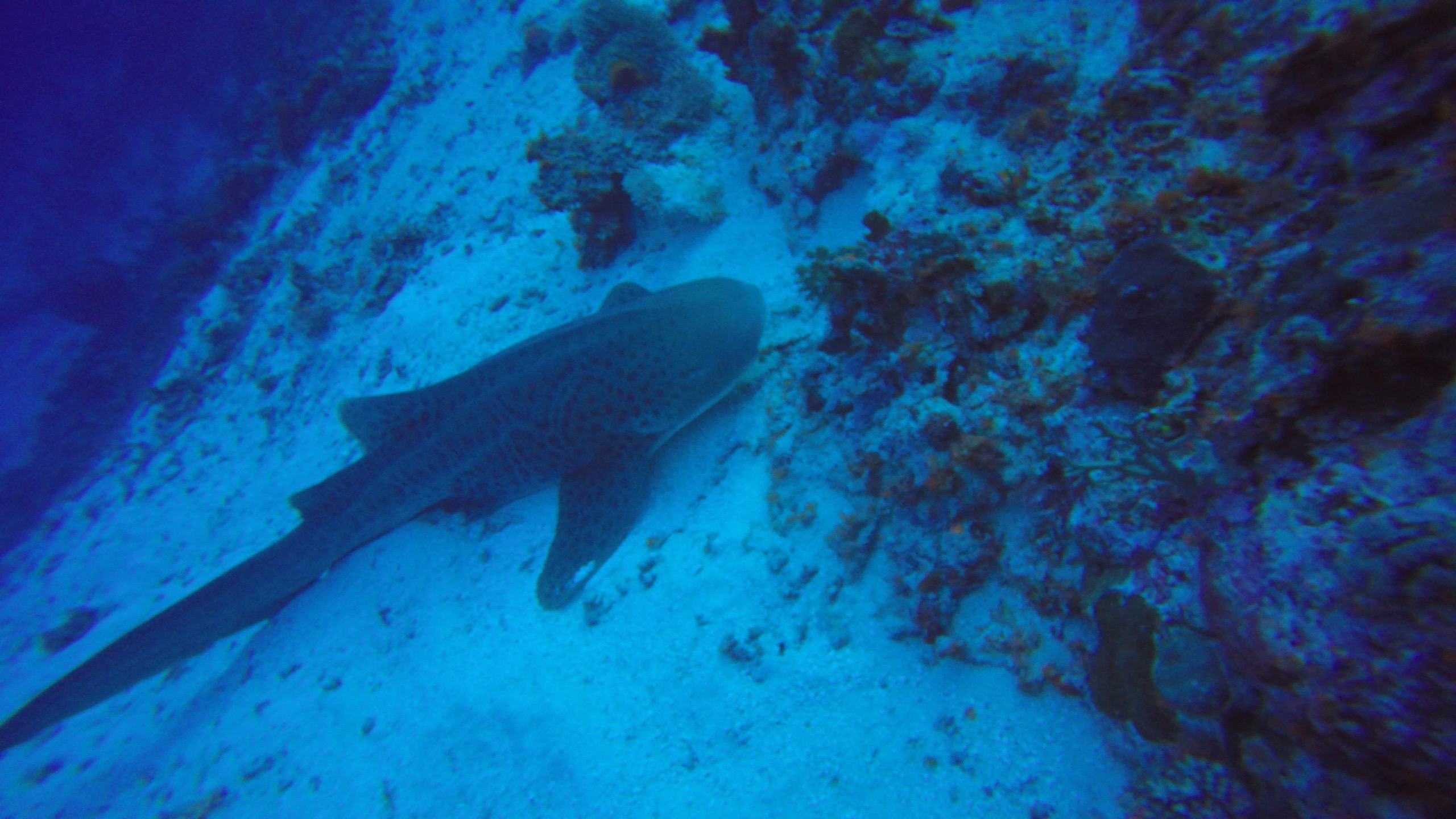 by Tim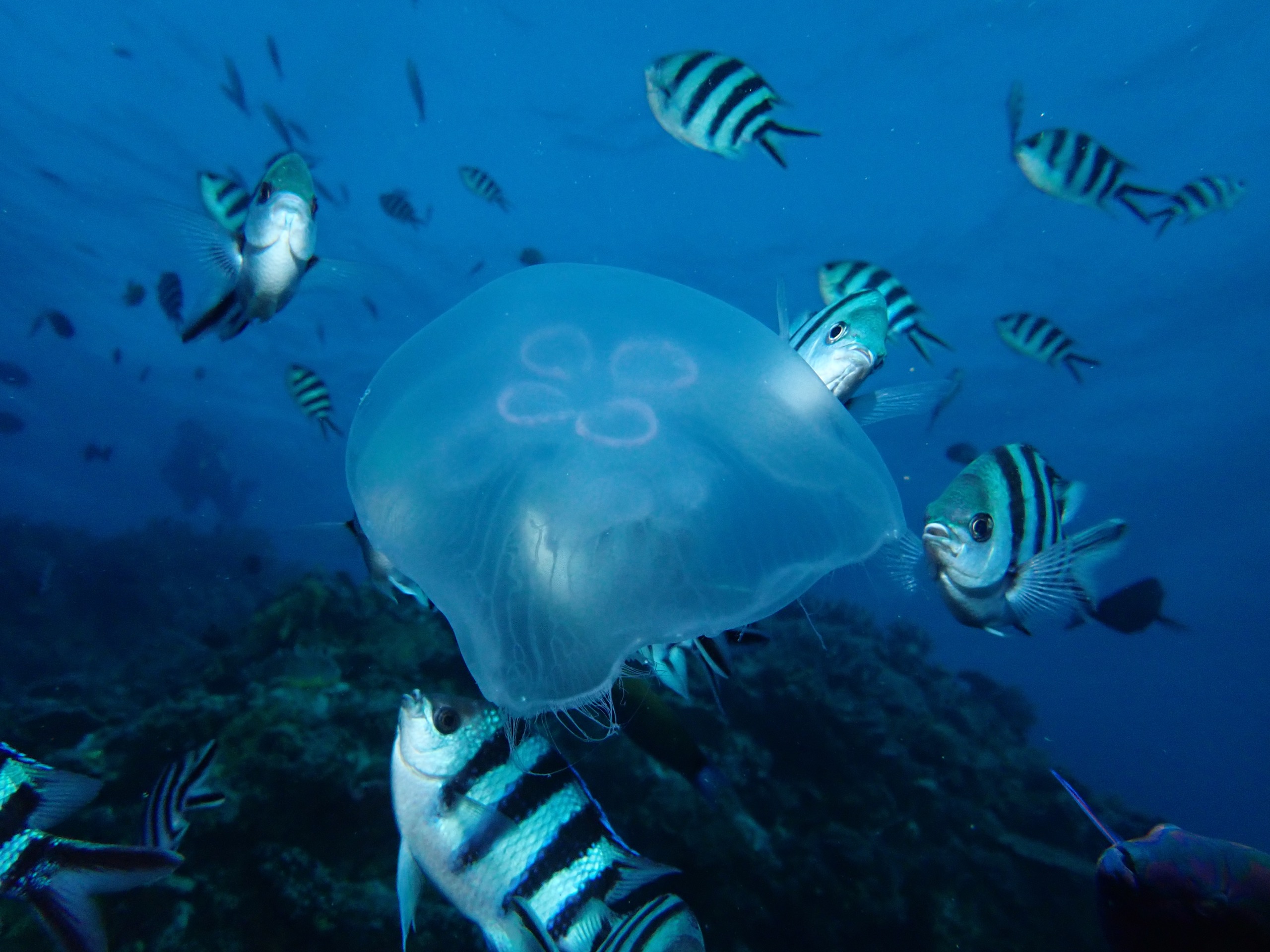 by Alan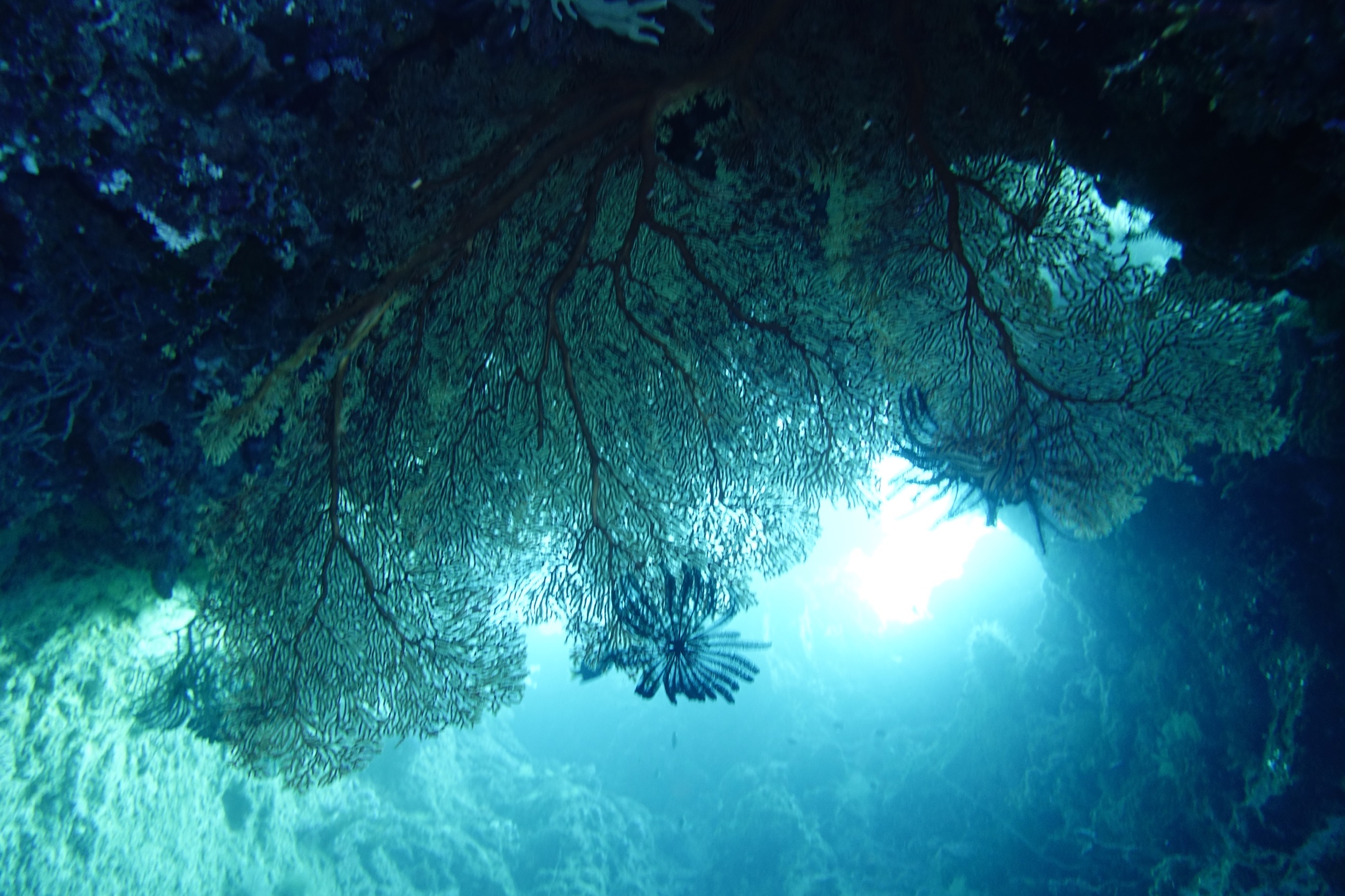 by Giuseppe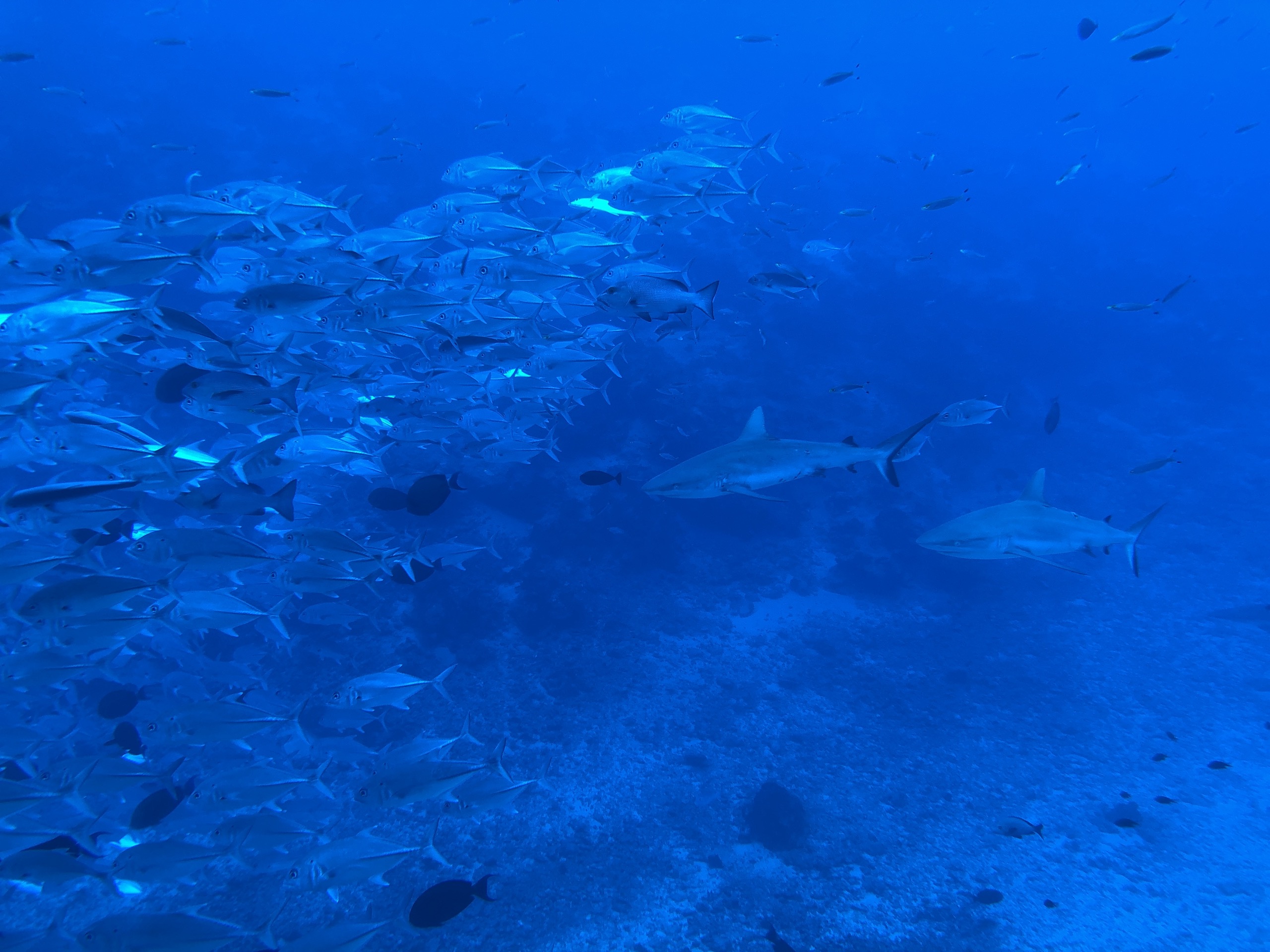 by Heidi
Comments
"Joann & I had a remarkable experience here in Tonga! Our diving trips mostly entail liveaboard boats and this one was the best yet – great crew & great food! You are fortunate to have the ownership in place to allow you to do it right! We won't easily forget our "Whale Week" on NAI'A – it's a once-in-a-lifetime gig!!"