The Egyptian Easter Fondue
Destination: Vuya, Namena, Makogai, Wakaya, Wainunu Bay and Nananu-i-ra
Trip Date:
Feb 25th - Mar 7th, 2023 -
Comments
Author: Bel & Mike
Welcome Back: Linda, Rosie, CJ and Jade
Congratulations: Nancy, for her 65th birthday!
Two hammerheads and a manta ray, pygmy seahorses and tiny nudibranchs, reef sharks and even a frogfish. We had to adjust our route due to two cyclones being west of us, but that did not stop us from making the most of this trip with four return guests and seven newcomers. We dived, drank kava, partied with the crew, snorkeled and talked about weird bunny fondues… Egyptian style.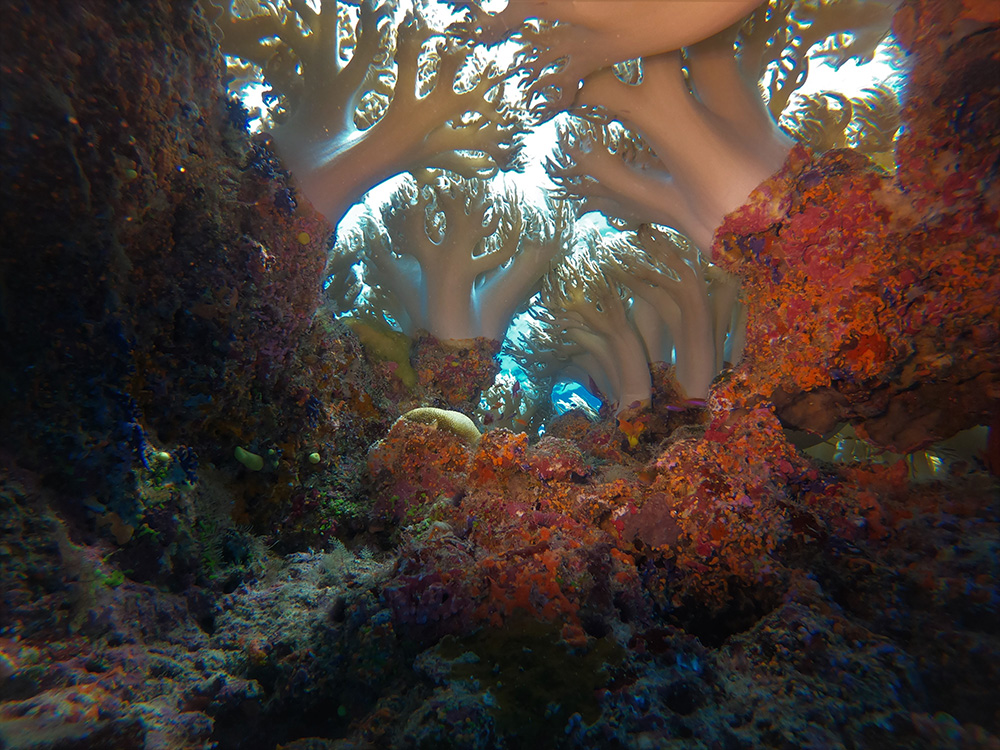 Photo by Renee/Farid: Sinularia soft coral from below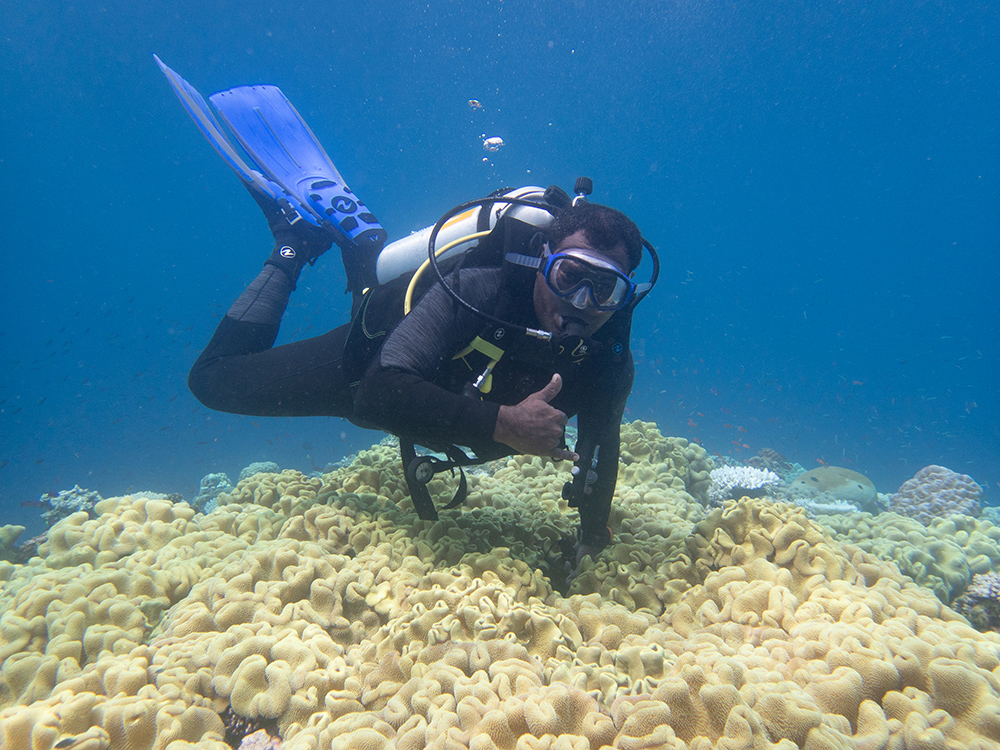 Photo by Lin: Koroi on top of Kansas
Our first day at Vuya had a persistent moderate current throughout the day. As we well know, this meant the soft corals at Cat's were as gorgeous as ever, even the ones down at 40ft. We saw nudibranchs, cowries, cleaner and cuapette shrimps, a turtle, a few white tip charks, humphead wrasses and Jade was intrigued by the juvenile clown coris. The last dive was mild at last, and the few brave divers who went got to enjoy UndeNAI'Able Pinnacle at its best.
We moved to Namena Marine Reserve for two days of phenomenal diving. Despite encountering mostly mild currents, especially at North Save-a-tack, we saw a lot of grey and white tip reef sharks, as well as a hammerhead at Schoolhouse. Trevallies, fusiliers and barracudas were extremely abundant, Bel found a spot with dozens of zebra and twotone dartfish and we saw the pygmy seahorse from last week, with a lady friend this time. We also saw humphead wrasses, spotted crouchers, pipefish (reeftop, brownbanded and orangespotted), decorated dartfish, blue ribbon eels (juveniles), flatworms, nudibranchs and a special pleurobranch on the night dive. Our first highlighted by the Kava Party and our second day was Nancy's birthday (thank you for the good birthday juju, Nancy!!).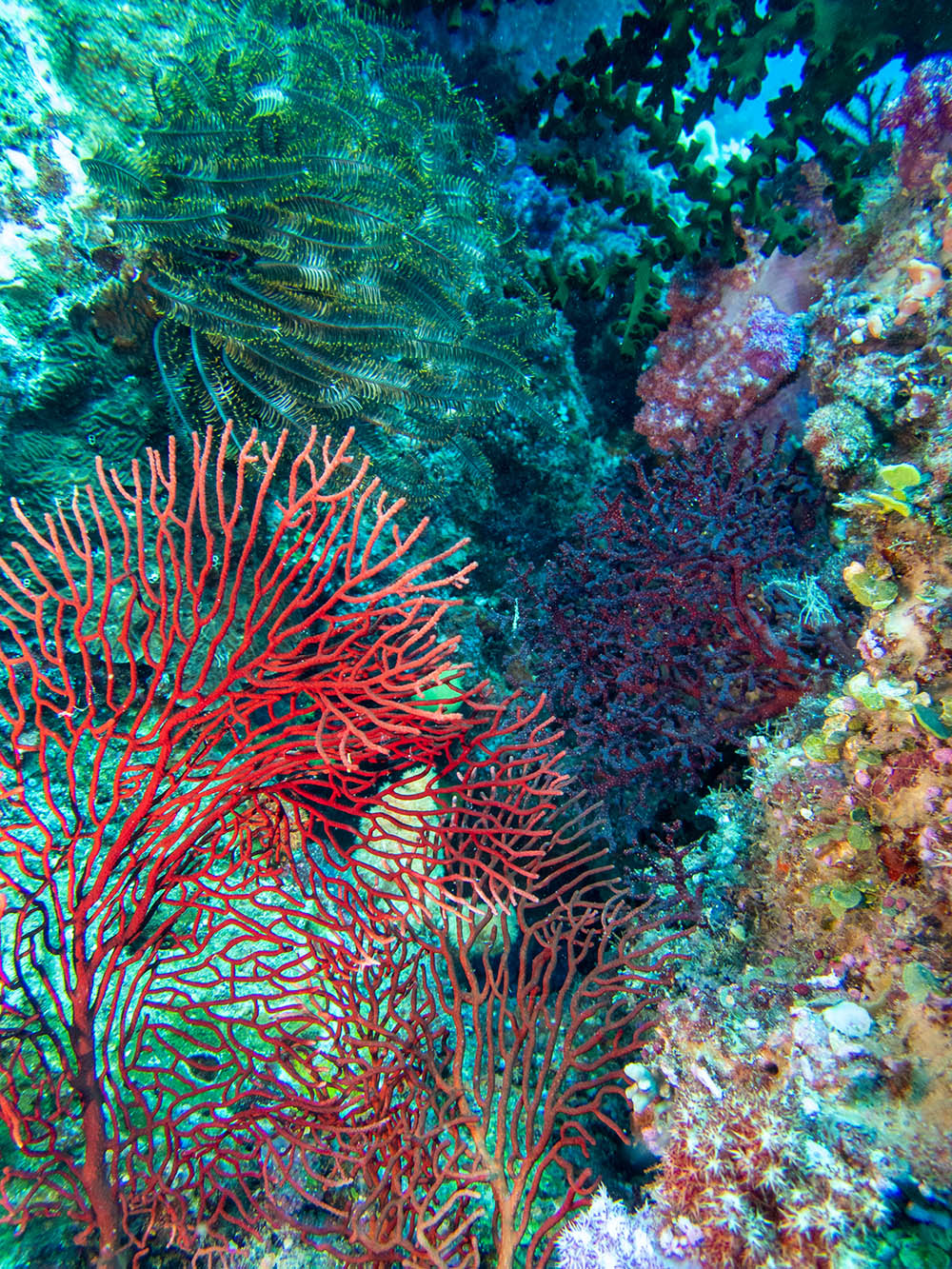 Photo by Linda: Colorful reef
Photo by Renee/Farid: Hammerhead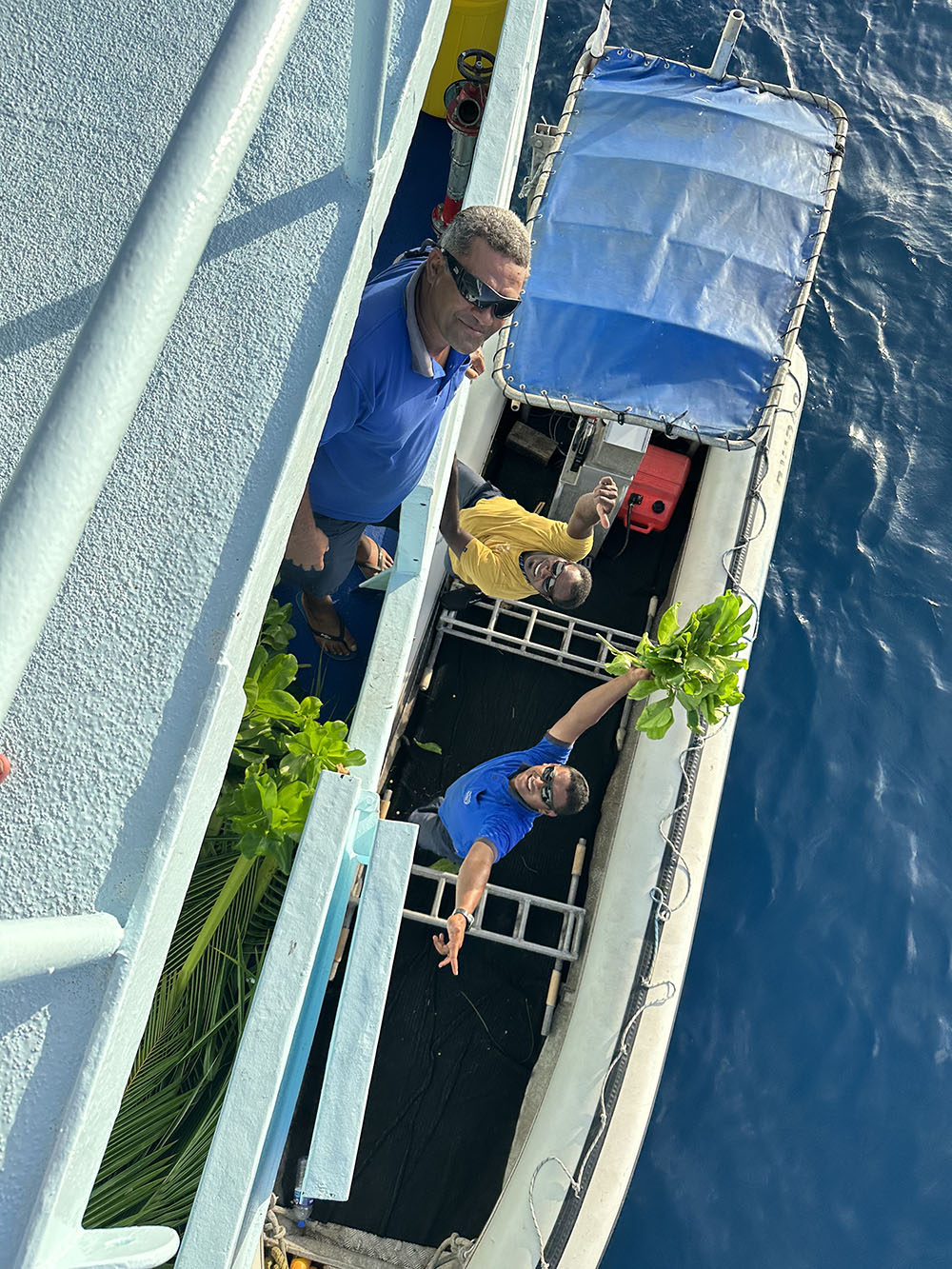 Photo by CJ: Crew getting ready for the Kava Party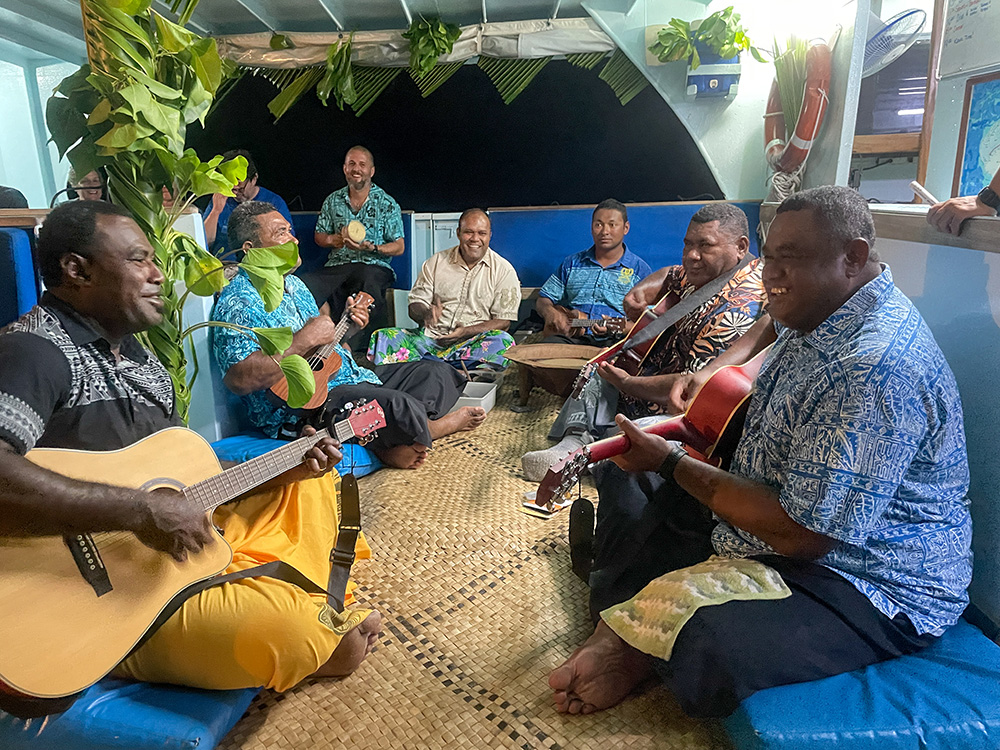 Photo by Linda: Kava party
We moved (despite Nancy's sad eyes) to Makogai, where we spent the day living the bommie life. Leaf scorpionfish, juvenile spotted parrotfish, nudibranchs, redfin anthias, bluespotted stingray, dragonets and flabelinas are only a few of the critters spotted there. The winds were calm and Elizabeth got to snorkel in aquarium-like conditions. The night dive was busy with five (or was it six?) scorpionfish, a flathead, a gigantic decorated crab and a juvenile(2-inch) twinspot lionfish.
The next day we were at Wakaya and the diving gods answered to the manta and hammerhead dances. Sure, we've had busier days at the cleaning station, but the swell meant the mantas were a little unstable in the shallow water, so only Shirley said a quick hello to the gang. The whole day had incredible visibility, and the reef edge was alive with magenta slender anthias and many other small reef fish. We also saw blackfin barracudas, adult yellowtail coris, an octopus, crinoid clingfish and a juvenile dotted sweetlips, spotted by CJ and identified due to our afternoon fish videos! As the water got choppier and the forecast foretold of strong winds in Fiji due to cyclones west of Fiji, we rerouted and departed back to Namena for more sheltered waters.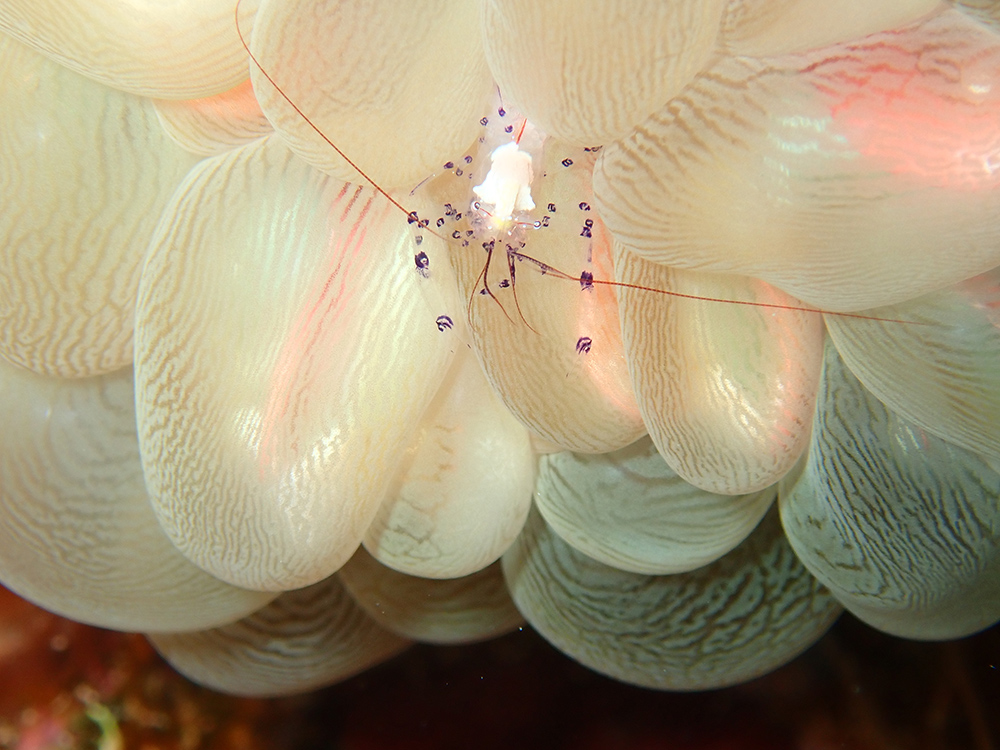 Photo by Jade: Bubble coral shrimp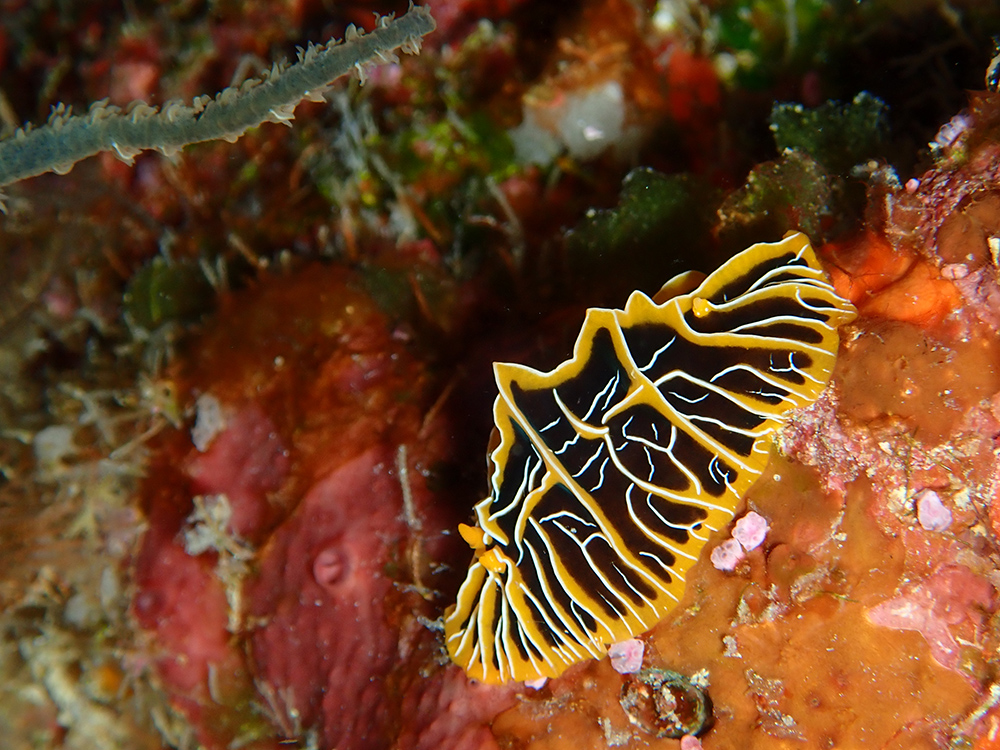 Photo by Jade: Nudibranch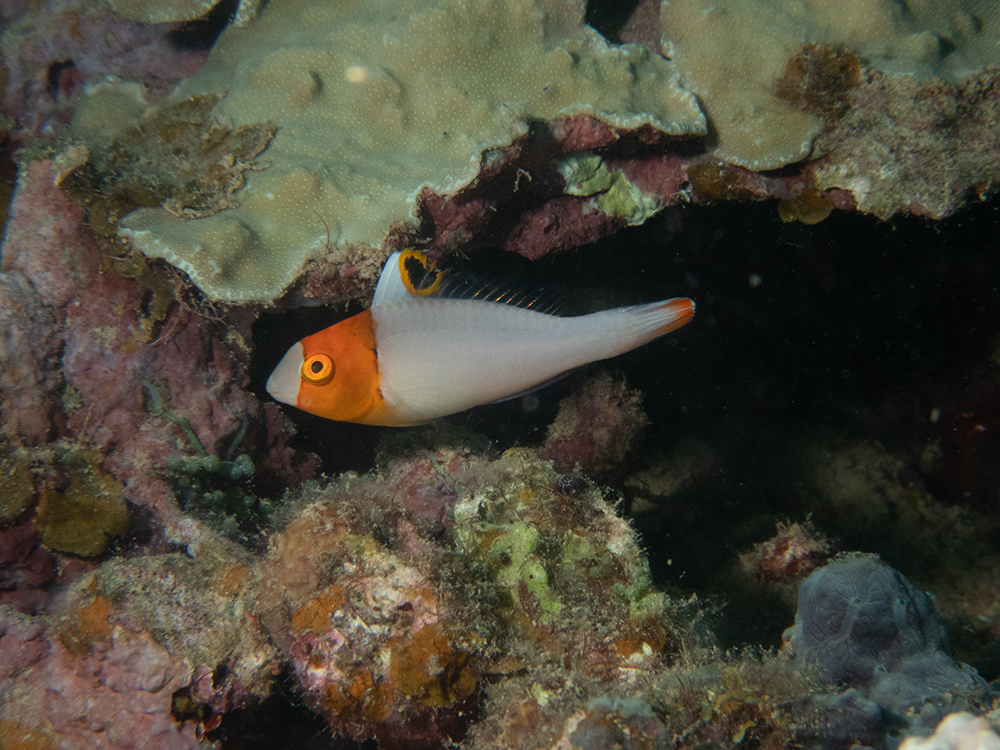 Photo by Lin: Juvenile spotted parrotfish
With two cyclones - one west and one south of us - we were lucky enough that our shelter strategy brought us to some bonus Namena days. We revisited some sites (everyone was actually thrilled to go back to Kansas!) and added to our special sightings some green jobfish, bigeye barracudas, midnight snappers, sponge crabs, more pipefish and even a black tip reef shark by our snorkeler pair! The crew improvised a second Kava Party on our first night, a rare treat our guests deeply appreciated. We also explored a bommie south of Namena island, 4 sisters and some of the outer wall. They won't make it to our A-team but we had some cool sightings of nudibranch egg ribbons, free-swimming flatworms, a hawksbill turtle and beautiful giant sea fans.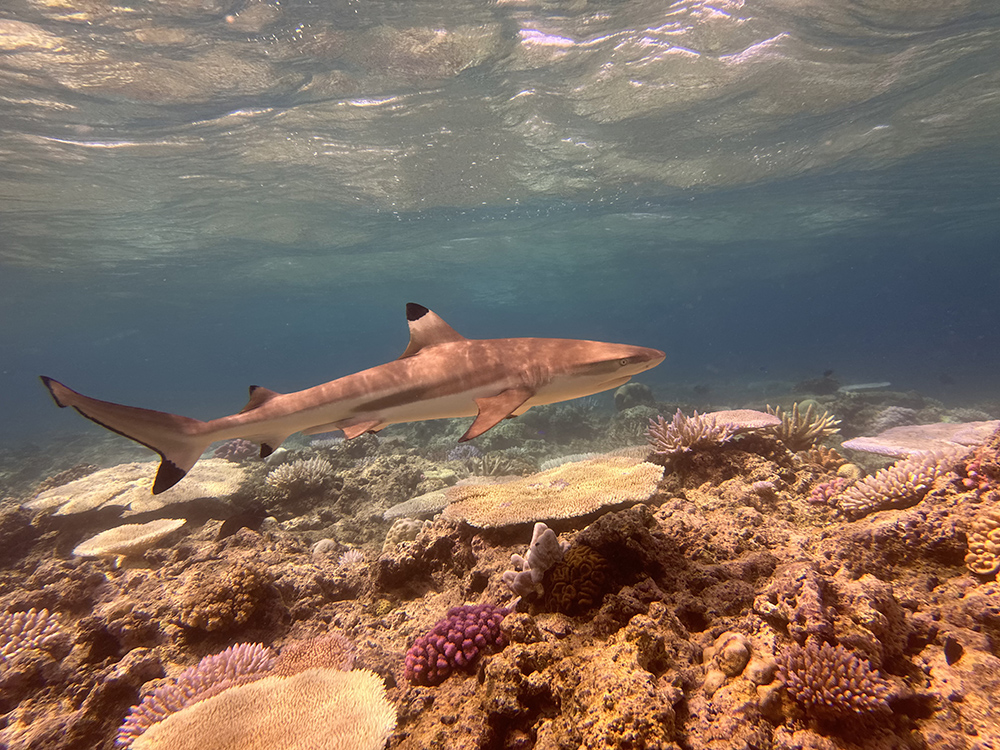 Photo by CJ: Snorkelers spot a black tip reef shark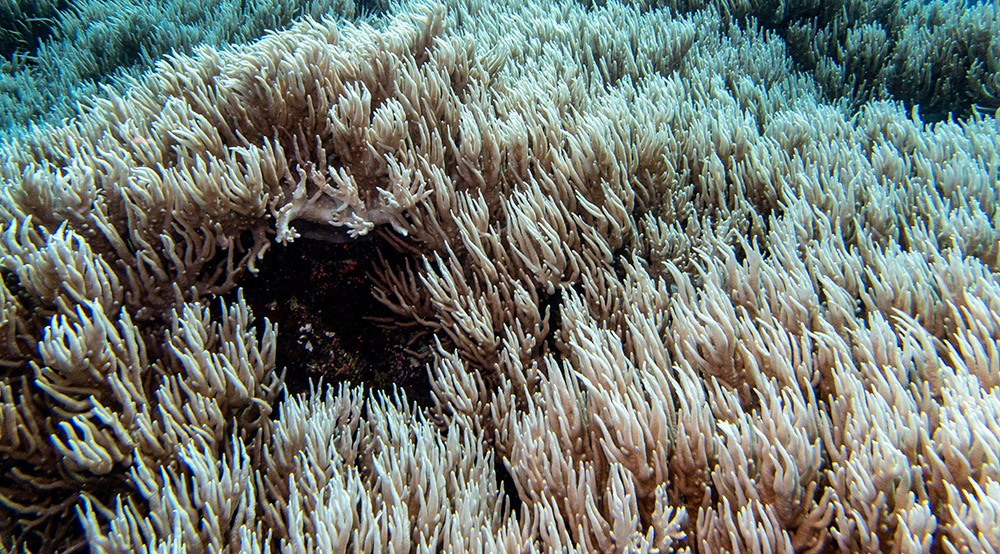 Photo by Lin: Back at Kansas, baby!
As the wind picked up we moved close to Vanua Levu and did a late afternoon and night muck dives (but not before Elizabeth showered Rosie with tons of popcorn). Marble complex shrimps were everywhere, plus flatworms, slugs, nudibranchs, scorpionfish, zebra moray eel, emperor shrimp, decorated crabs and, at the very last minute of the night dive, a (hispid, maybe) frogfish! Bel, Linda and Jade were in paradise!
We remained in the area sheltering from the winds and squalls for the following day. Our first morning dive at Wainunu Bay didn't yield as many critters as the previous day, so we moved a little away from shore to dive Caniqu Reef. We saw flatworms, wire coral shrimp, peacock shrimps, emperor shrimps and nudibranchs flapping their skirts. As the rain persisted, our divers dwindled and decided to take it easy after the 3rd dive, nap, catch up on photo editing and simply relax.
As we moved the next morning towards Nananu-i-ra, we soon realized we would not be diving anywhere remotely exposed. We sheltered so well during the worst of the cyclones effect on Fiji we did not grasp just how wild it was out there. After a rocky passage, dive junkies Lin and Nancy dived a protected reef at Nananu-i-ra that we named Night and Day because it was day… but it sure seemed like it was night. We did see pajama cardinals, nudibranchs, flatworms and a variety of hard and soft corals. The squall that carried us back to NAI'A decided that would be our last dive, and we got all gear rinsed and hung. Elizabeth, CJ and Rosie left us early and the rest of us took it easy for the rest of the day.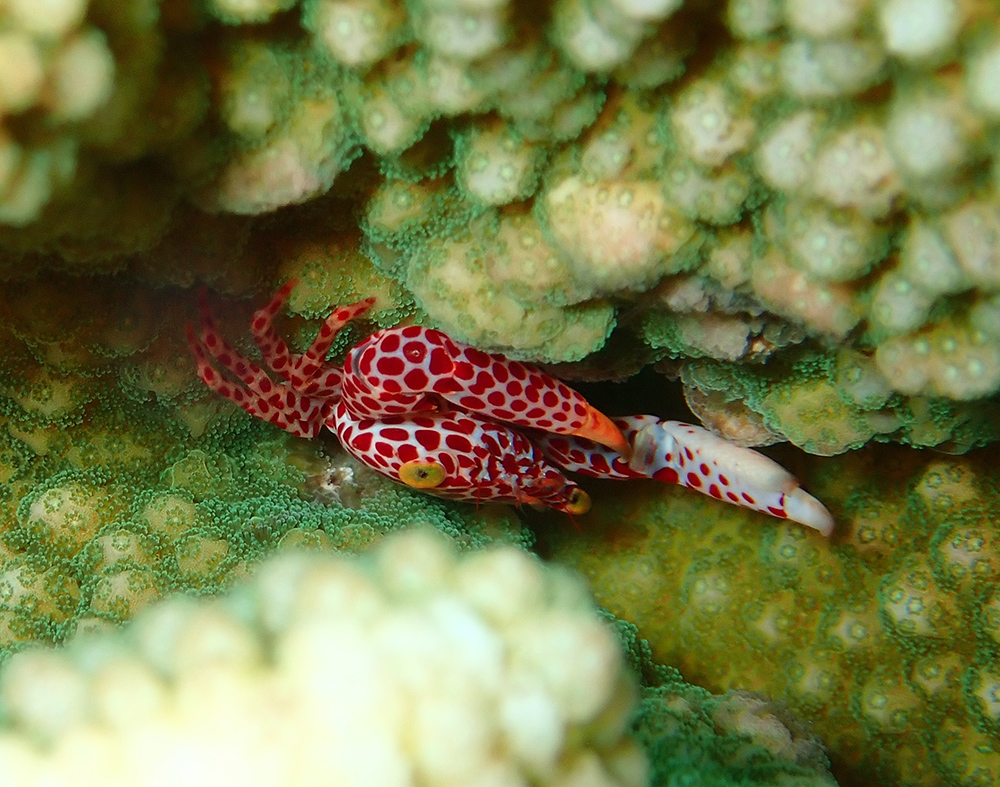 Photo by Jade: Crab in hiding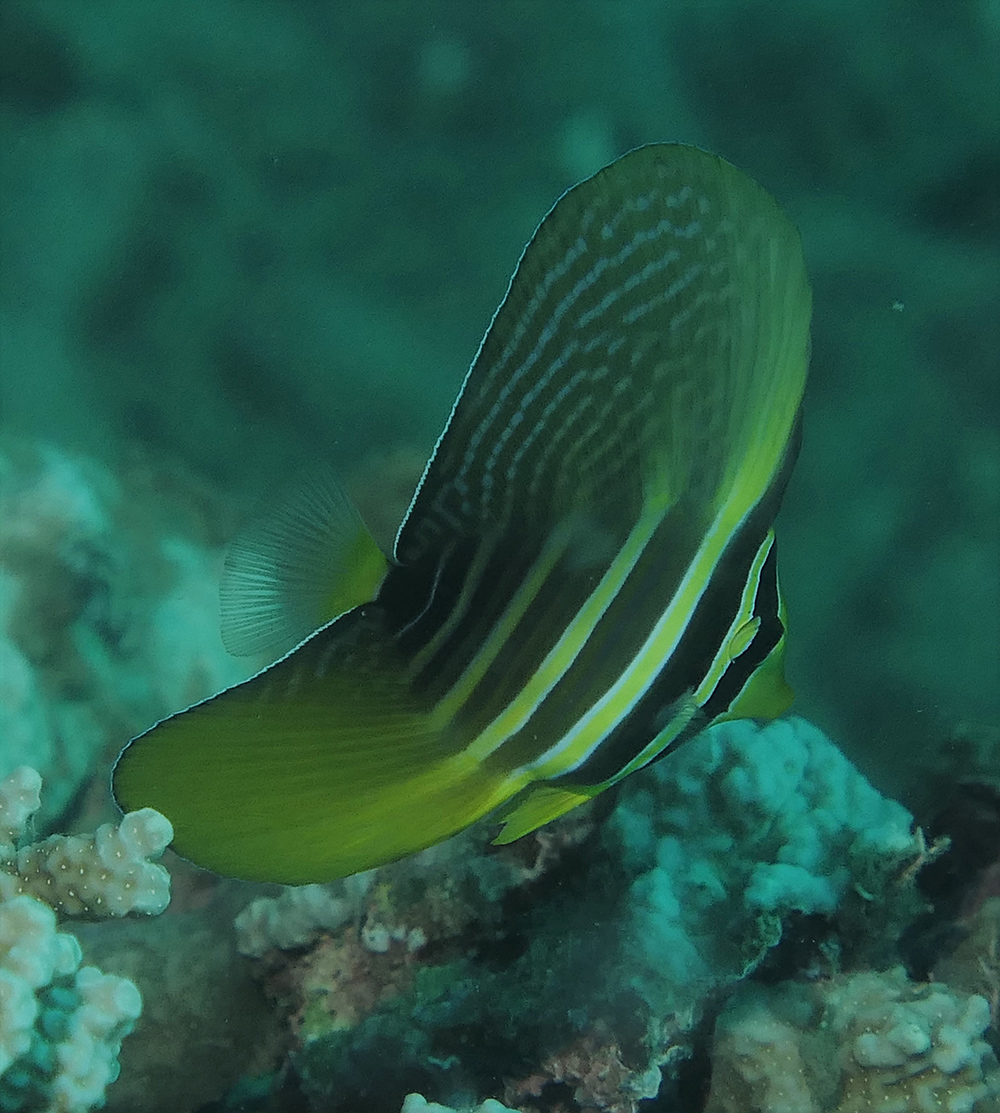 Photo by Renee/Farid: Juvenile tang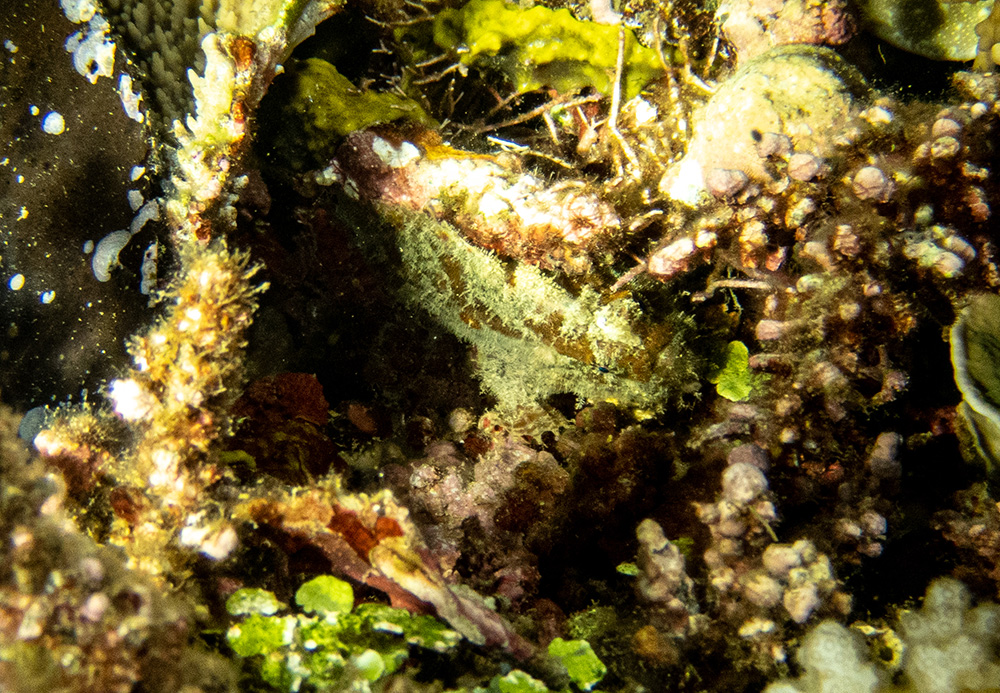 Photo by Lin: Can you see Mr. (Hispid) frogfish??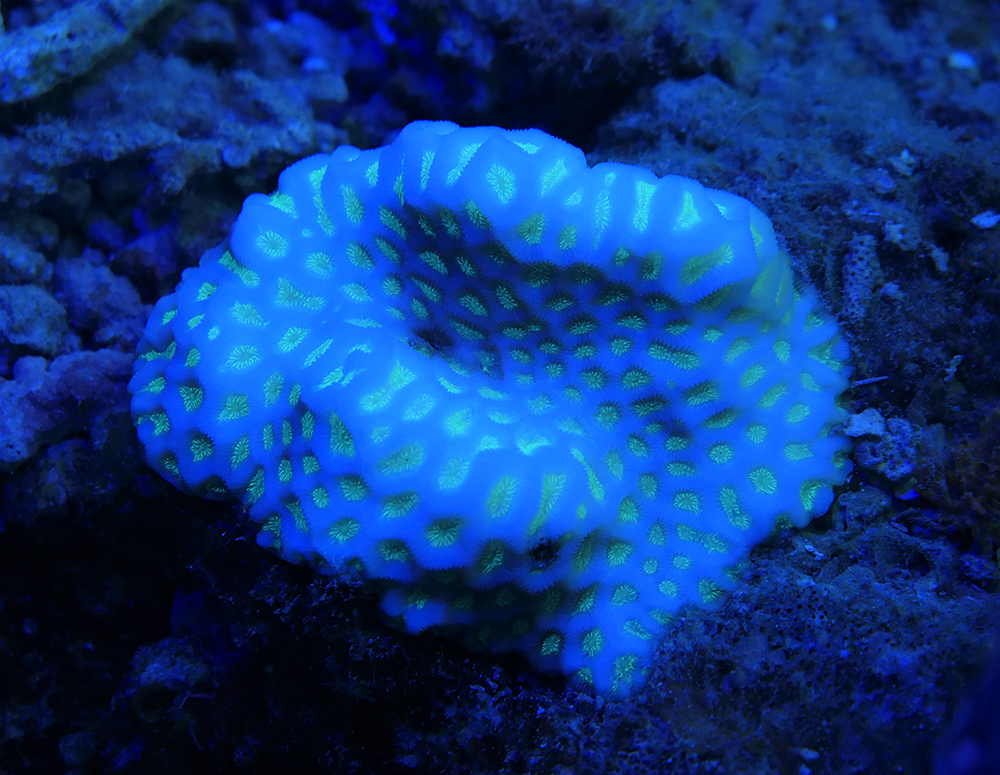 Photo by Renee/Farid: Fluorescent coral during the day
We were incredibly happy to have had such a great group of people on board. Everybody got along really well, many interesting dive and life stories were shared and we felt like a unit at the end. It was especially important to have such a great group when weather mandated us to change our itinerary. Morale remained high, we got extra dives at Namena and even saw a Froggie, a rare sighting for us. Our sentiments go to our brothers and sisters in Vanuatu who got the full hit of Kevin and Judy.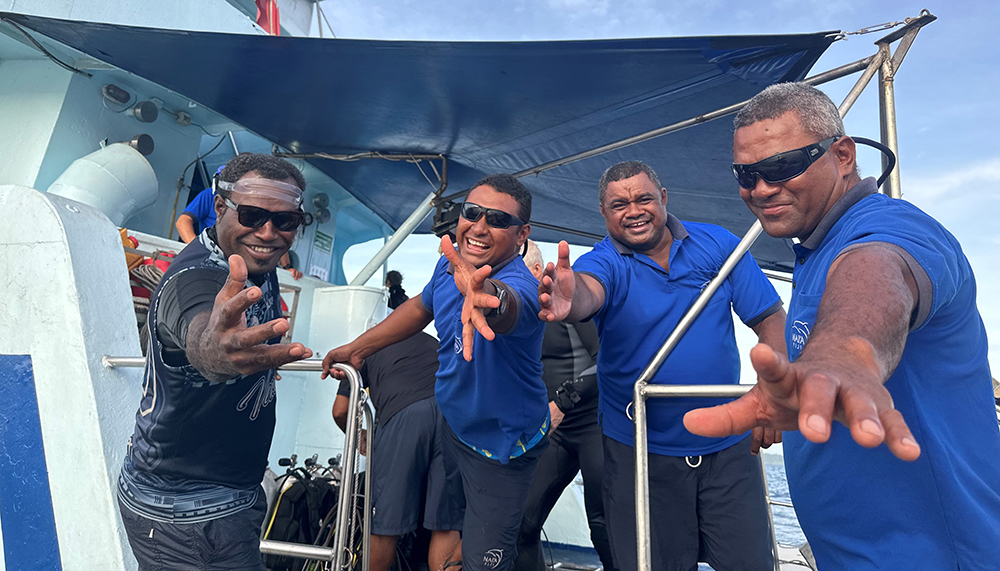 Photo by Rosie: NAI'A crew ready to safely welcome guests back on board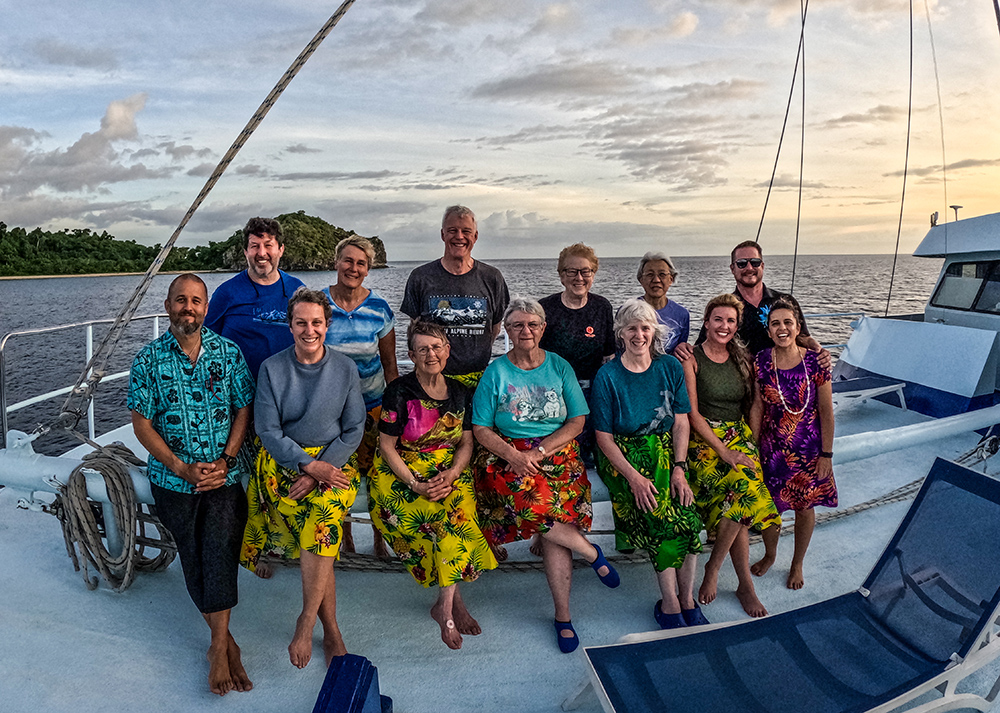 Group photo
Comments
"This trip was better than I expected. And I expected it to be pretty frickin' great. Thanks to all the crew who made our first liveaboard so memorable."