The Fish Parade of the Century
Destination: Vuya, Namena, Wakaya, Gau & Makogai
Trip Date:
Sep 23rd - Oct 3rd, 2023 -
Comments
Author: Bel&Mike
Welcome Back: Bridget&Alan, Sue and Teresa
Water Temperature: 25C/77F and holding. Come on October, bring us some warmer water!
We are saying goodbye to winter in style, and although our divers may be on the chilly side, the manta rays, grey reef sharks, trevallies, emperor, snappers and bannerfish are loving the cooler temperatures. We had some of our best days at Wakaya with reef mantas, definitely our best dives at Nigali Passage and one of the most mesmerizing dives at Schoolhouse. Bridget and her "Diving Docs" had to deal with some crummy weather above the water, but they were well compensated!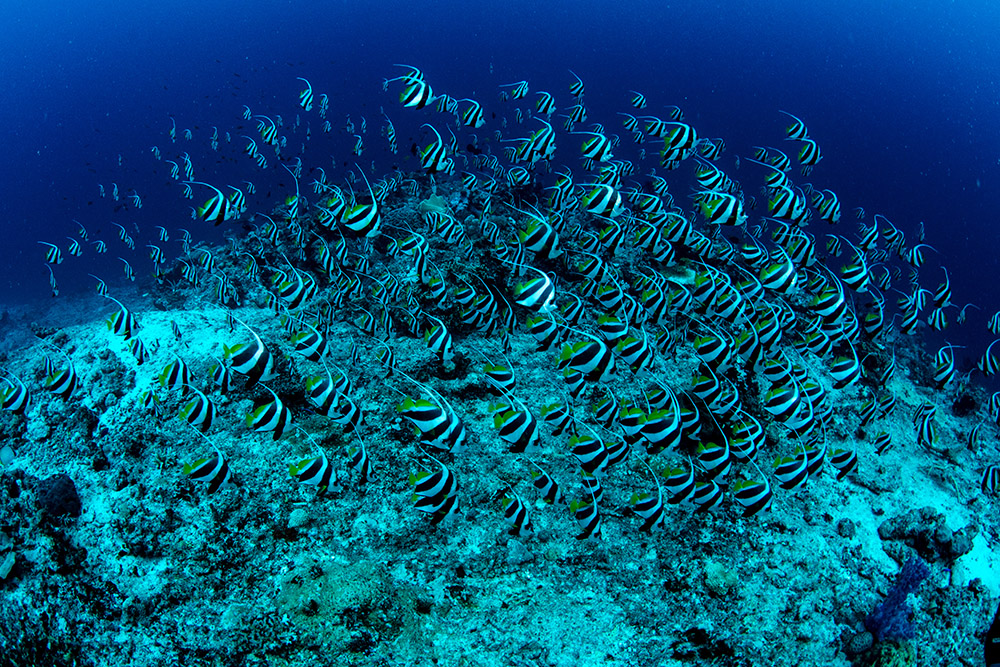 Photo by Sue Mobley: All the bannerfish!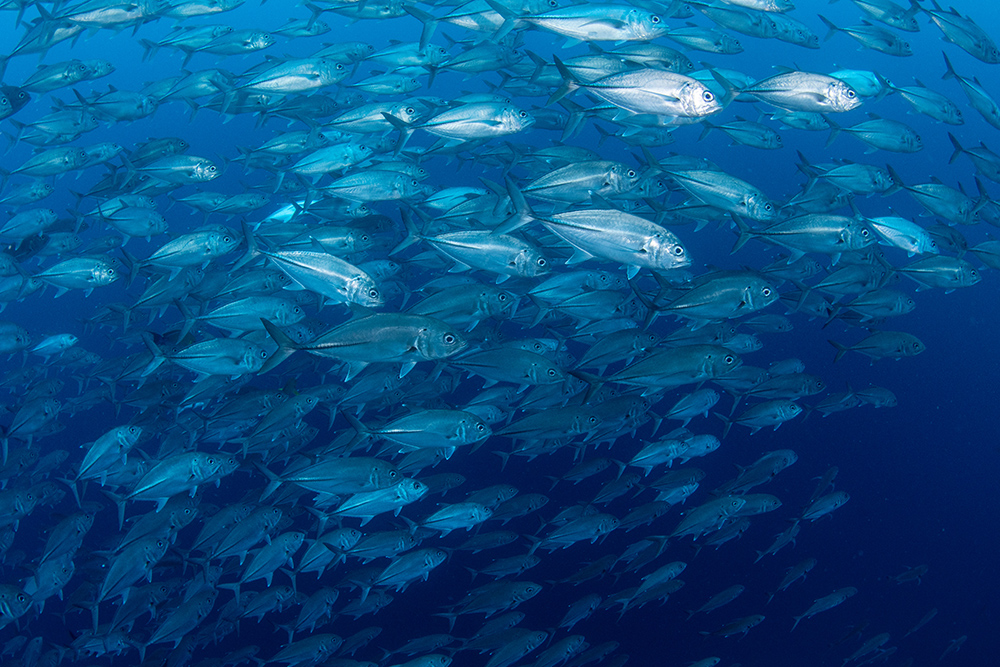 Photo by Sue Mobley: All the trevallies!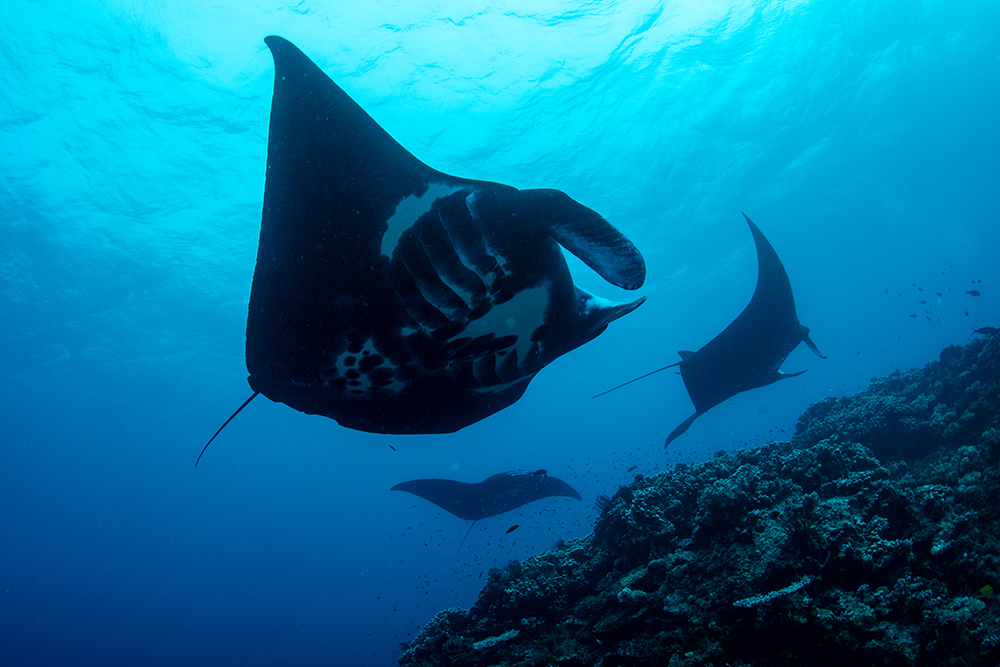 Photo by Sue Mobley: Manta Madness!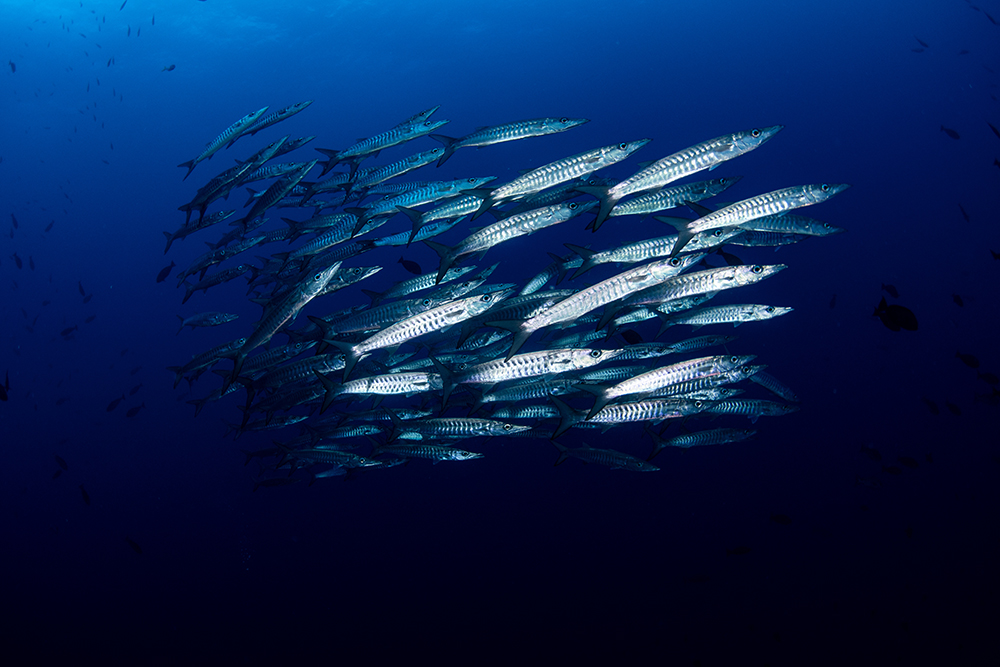 Photo by Sue Mobley: Barracudas
We started this trip a little differently as we had to shelter at Nananu-i-ra for our first day of diving and couldn't leave the passage to dive the regular sites of the area. So, we dived Plan B and Plan C for the whole day and made sure everyone had their weights checked and equipment adjusted. Despite Bel's promise of poor conditions, we still saw a lot of critters! Lobsters big and small, geometric chromodoris, upside-down jellies, saravasti  and anemone shrimps, soft corals, schooling ruddy fusiliers and a very special persian carpet flatworm.
The wind died down and we moved overnight to Vuya, where the current was ready to greet everyone and say: the full moon is just around the corner! We had encounters with huge tunas throughout the day, as well as big Spanish mackerels and enormous schools of surgeonfish and barracudas. Smaller critter such as blue dragon nudibranchs, flabelinas and sponge crabs were also spotted as the day went by.
We moved to Namena overnight for two days of colors, critters, sharks and fish…. So many fish. On the critter side we saw the usual suspects: orangutan crabs, ribbon eels, decorated dartfish, golden mantis shrimps, cleaner shrimps and several species of nudibranchs. The sharks kept a safe distance from us, but they were there, as was a very shy hammerhead. Grand Central offered the most sharks and Schoolhouse was the favorite with an unbelievable amount of oceanic triggers, surgeons, slender pinjalos, emperors, barracudas, trevallies and schooling bannerfish. Some guests were literally engulfed by fish, Janet called it the fish parade of the century! Tunas and giant morays popped around the shallows and the palette surgeons gave some sparkle to the end of the dives. On our very last dive, Mike and some others saw a ginormous pacific giant grouper, as big as they get.
Michelle and Garrick were the only ones brave enough to face the cold night dive and saw pleurobranchs, cowries and a conger eel! Our kava party took place there on the first night, and the group danced as much as they could before falling into their kava comas, especially Tsunami Joe and High Tide Sue.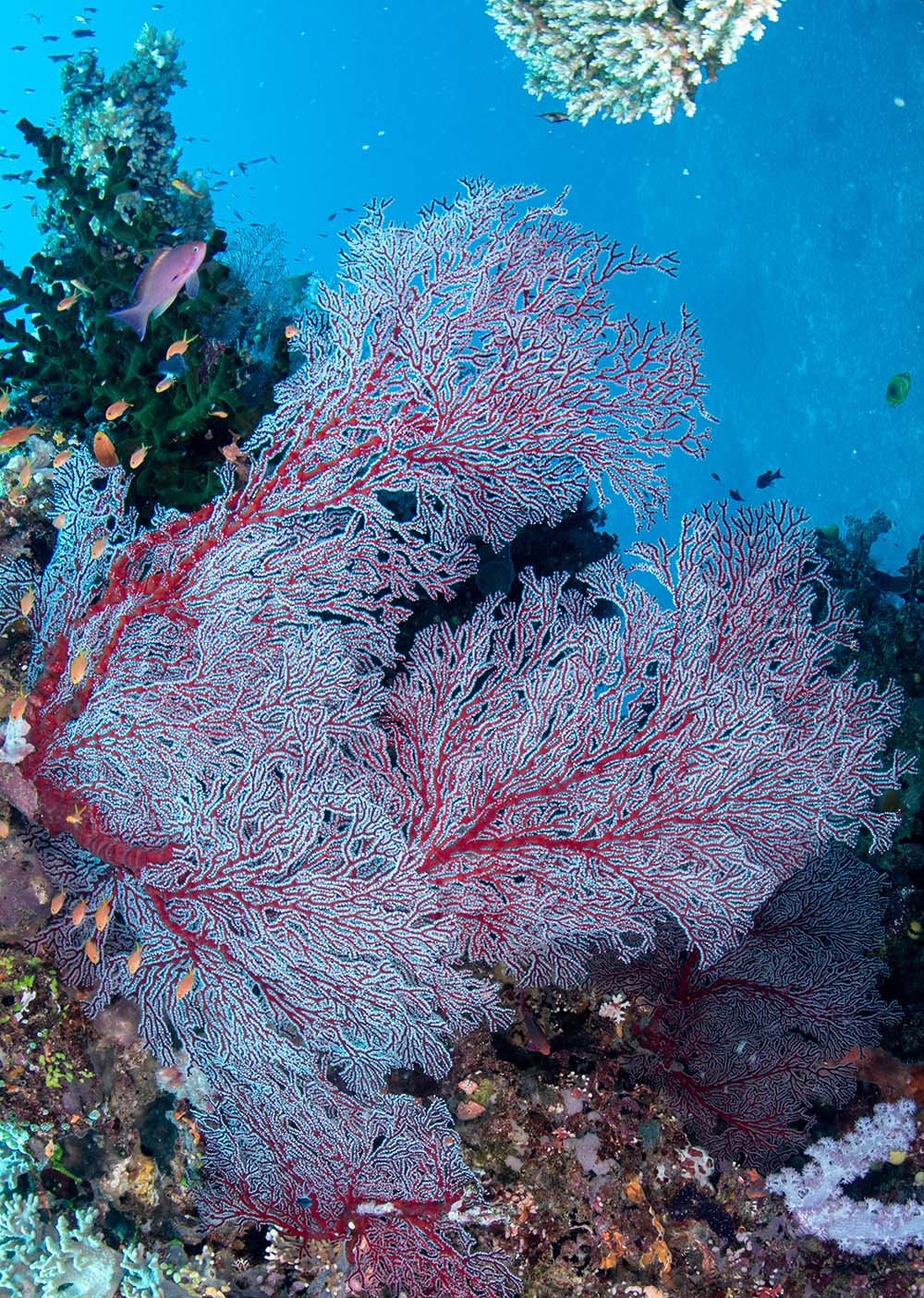 Photo by Sue Mobley: Sea fan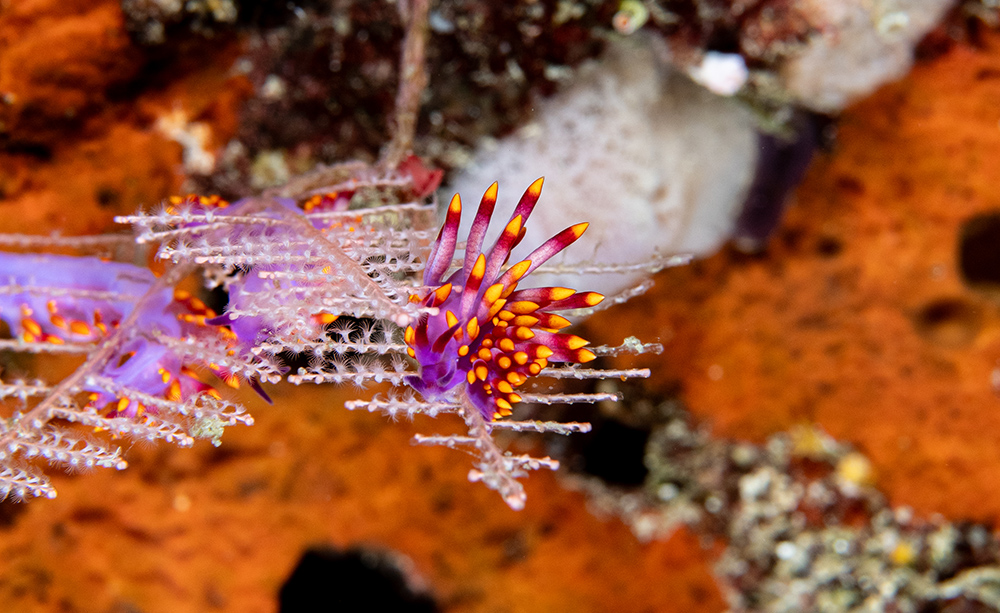 Photo by Sue Mobley: Cuthona sibogae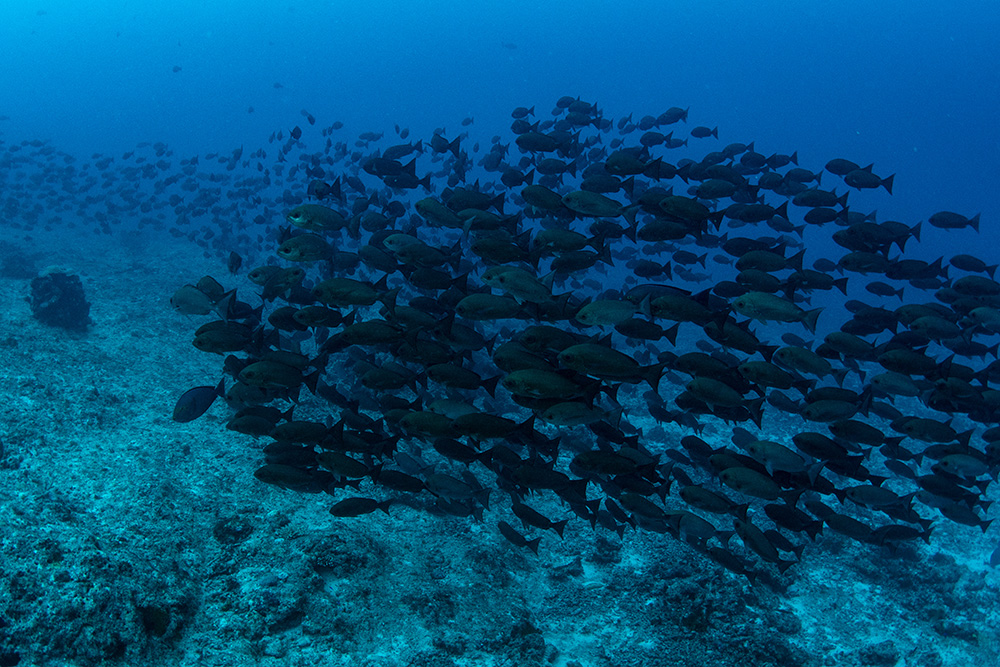 Photo by Sue Mobley: Slender pinjalos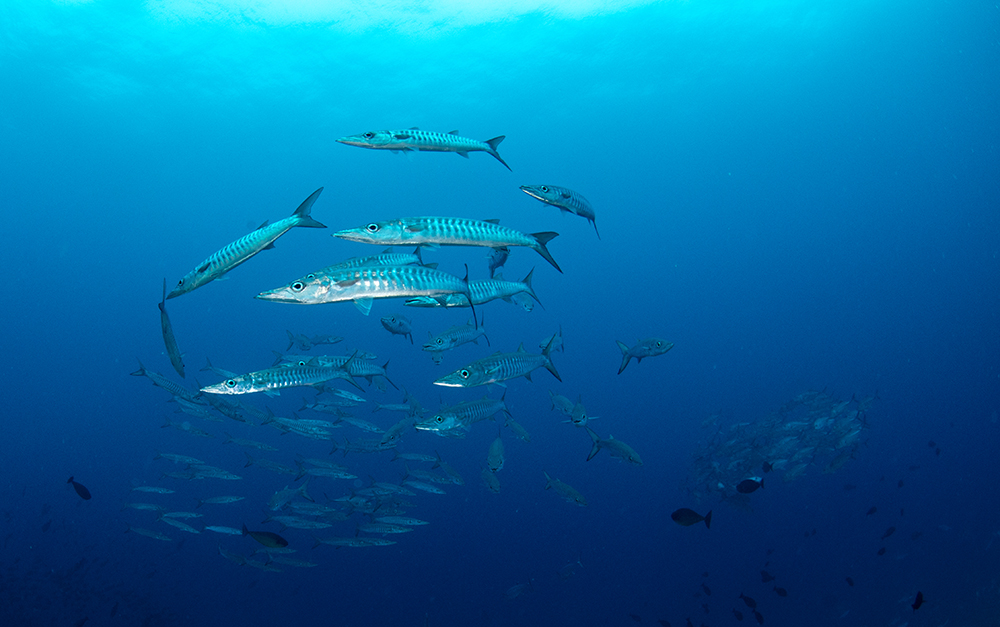 Photo by Sue Mobley: Barracudas and trevallies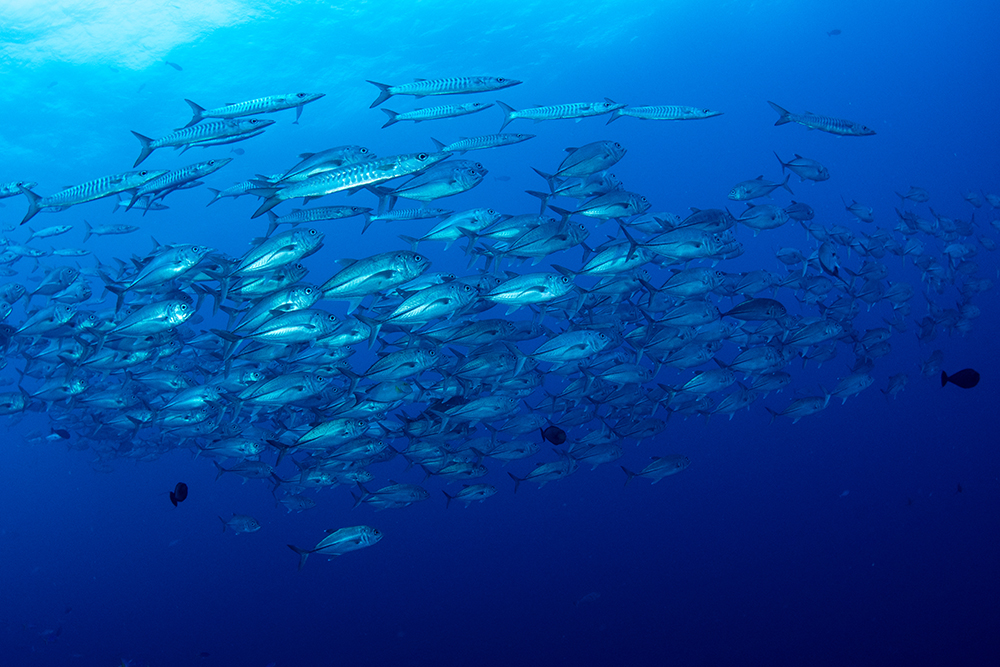 Photo by Sue Mobley: And more barracudas and more trevallies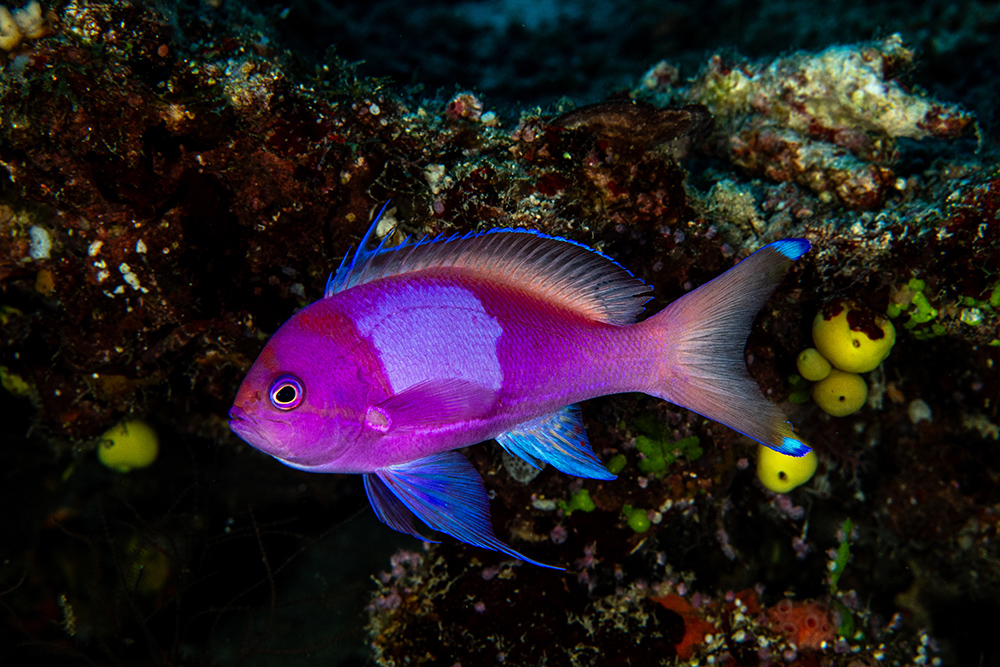 Photo by Sue Mobley: Male square-spotted anthias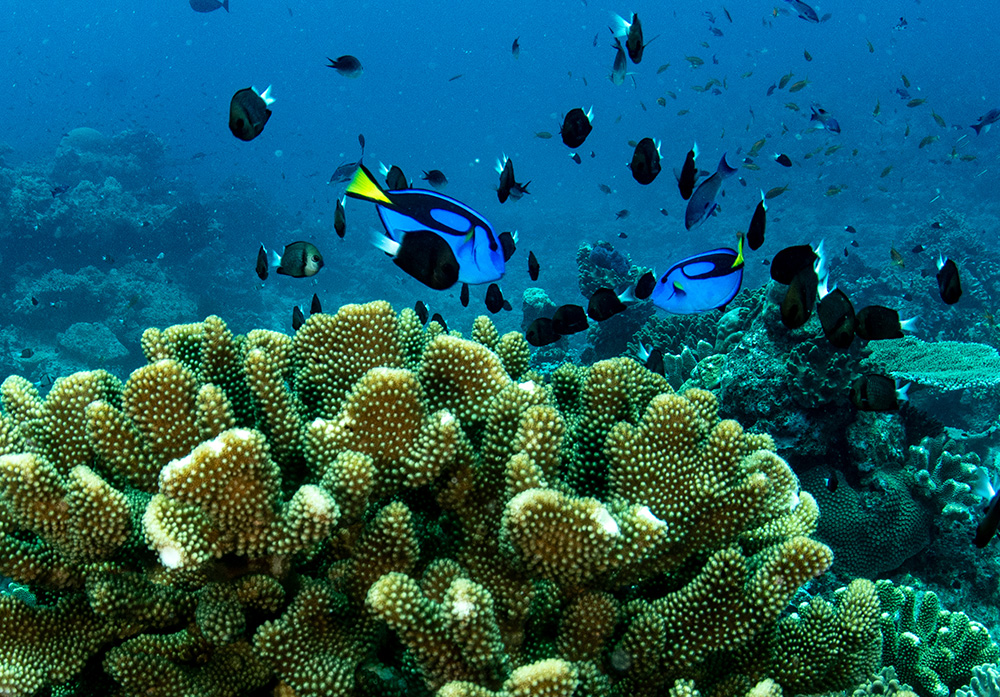 Photo by Sue Mobley: Palette surgeonfish (Dory!)
The move to Wakaya was a little bumpy and our first day there brought with it a lot of current. We had wonderful encounters with four mantas (Billy Jean, Riley, Gaeta and a new manta!), saw a few tunas, a turtle, moray eels and a few nudibranchs. The wind intensified and we decided to stay there for a second day… and as soon as we dropped for our first dive, we were all very glad we stayed! Throughout the day we had truly magical manta dives that Wakaya offers every so often, with full dives filled with several mantas. We identified 2 new individuals and watched as they played at the cleaning station, and even left there to come to check us out. Dorothy and Marley (a visitor from the Yasawas) took massive poops in front of us, Shirley showed up to show us she's had her pup, and our guests delighted in watching their dance. If that wasn't enough, we also saw 3 hammerheads and a leopard shark. Our leaf scorpionfish stepped up their game and posed together for the photographers. What a day!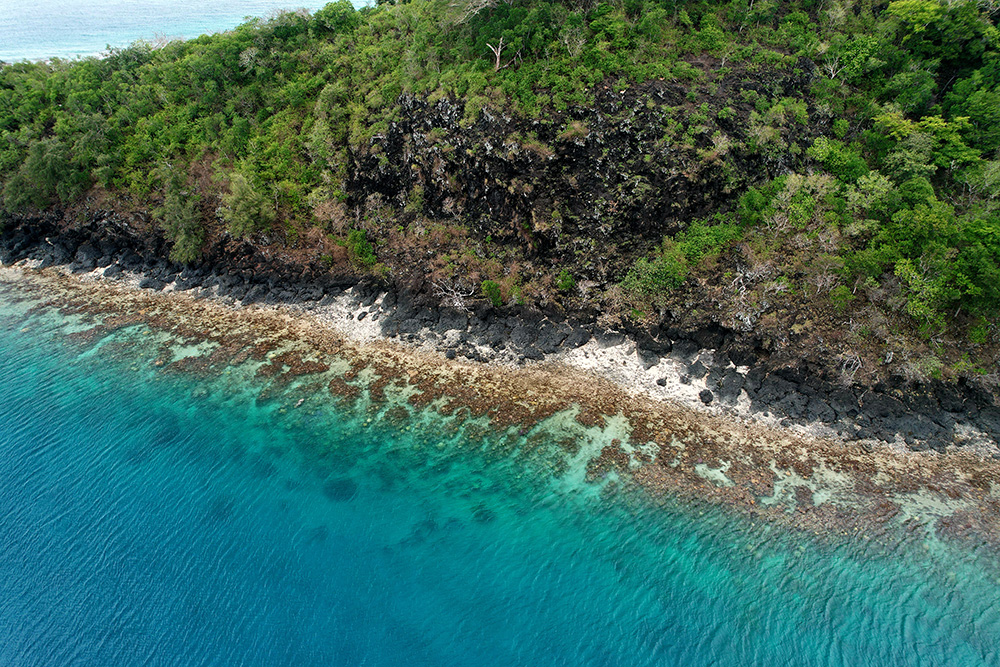 Photo by Mike: Wakaya island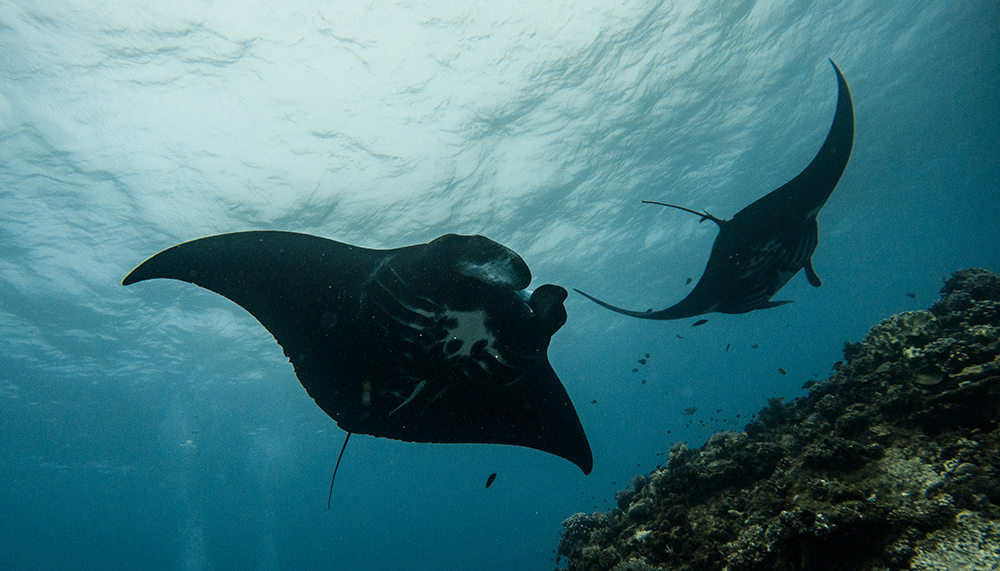 Photo by Bel: Manta dances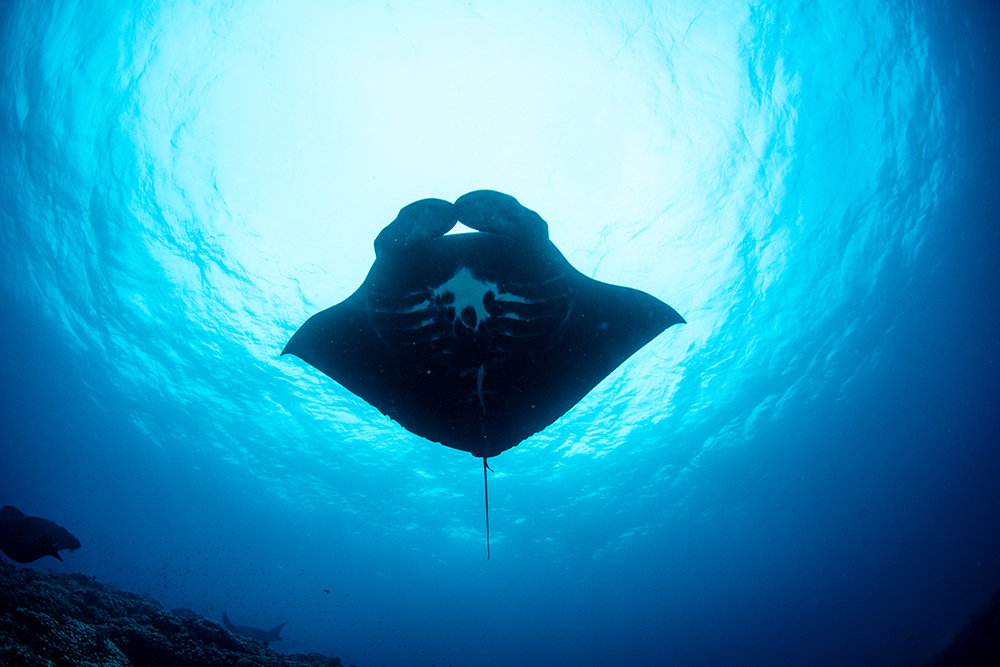 Photo by Sue Mobley: Riley the manta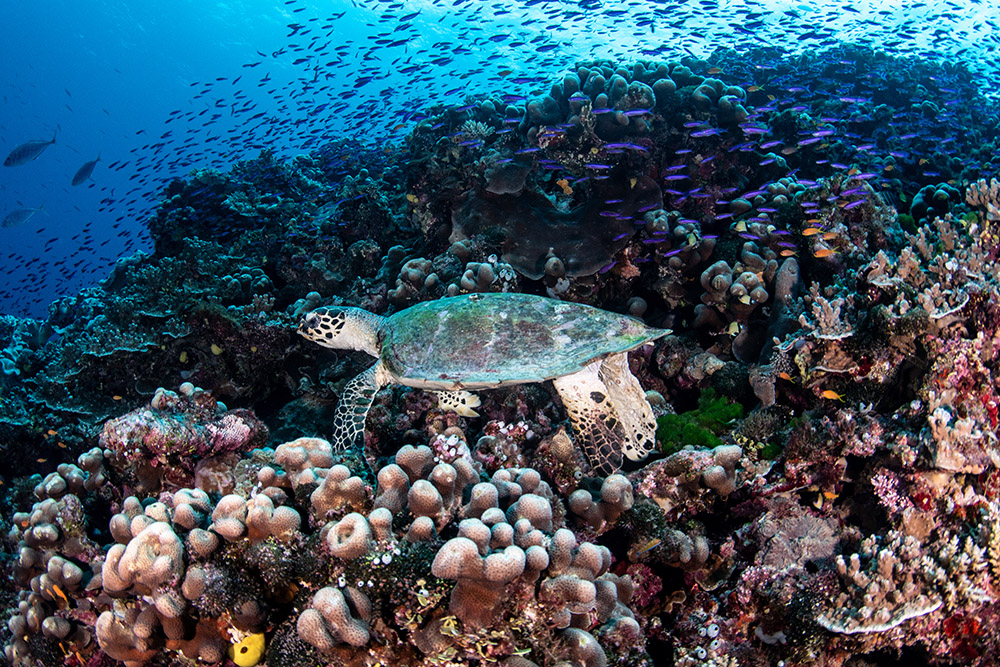 Photo by Sue Mobley: A turtle struggles with the current at the manta cleaning station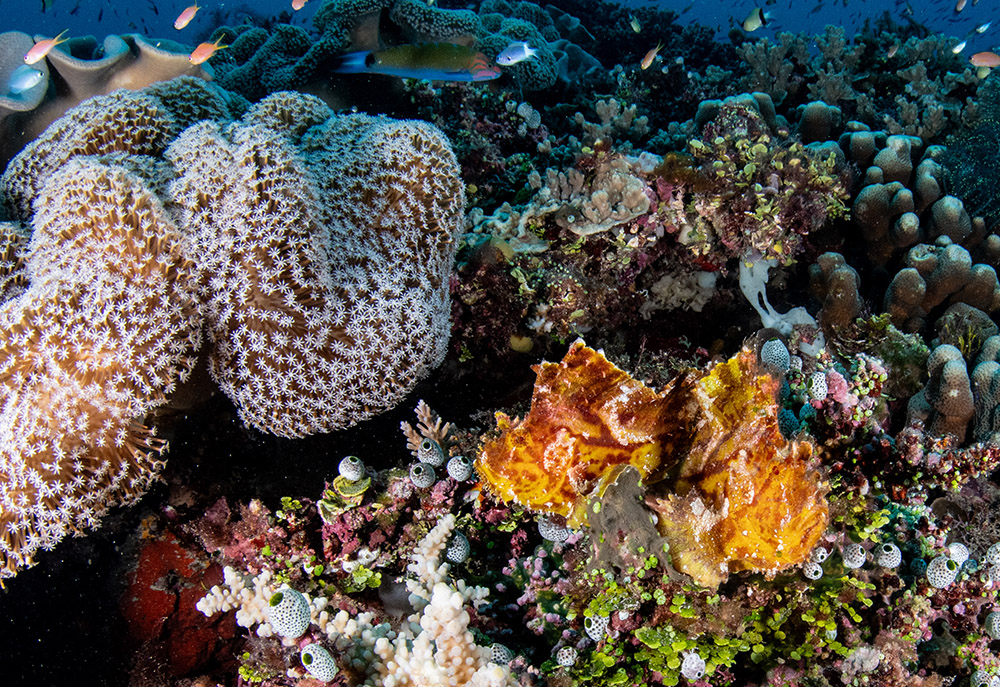 Photo by Sue Mobley: A pair of leaf scorpionfish
We crossed over to Gau thinking it would be hard to top the day we had at Wakaya. The pressure was on, and Gau delivered. Jim's and Anthia's were covered in fusiliers, we saw pleurobranchs (during the day!) and hairy shrimp. The current was mild and the water was clear. We moved to Nigali and could not believe our eyes when we saw so many sharks! Dozens of babies were all over the passage right before the bleachers, and the adults were very curious, coming really close to the divers. Snappers surrounded us, a banded sea krait showed up, a friendly titan trigger got too close for comfort, and a golden damsel took a liking to Garrick's ankles. It was pure magic. Our guests rested after all the action, then joined us on the village visit, where Dave showed us just how seriously he takes his dancing.
We headed north to Makogai for the last two days of the trip. The wind intensified, but the island offered us plenty of protection, and the strange orange ball in the sky came out to greet us and warm us up. The calm dives on the bommies were appreciated after all the "workout dives" and we saw scorpionfish, more nudibranchs, lionfish, moray eels, funky shrimps, redfin anthias, big crown-of-thorns and an octopus. It was the perfect way to end the trip with the group. Now we hope the clouds stay gone, and the water starts getting warmer!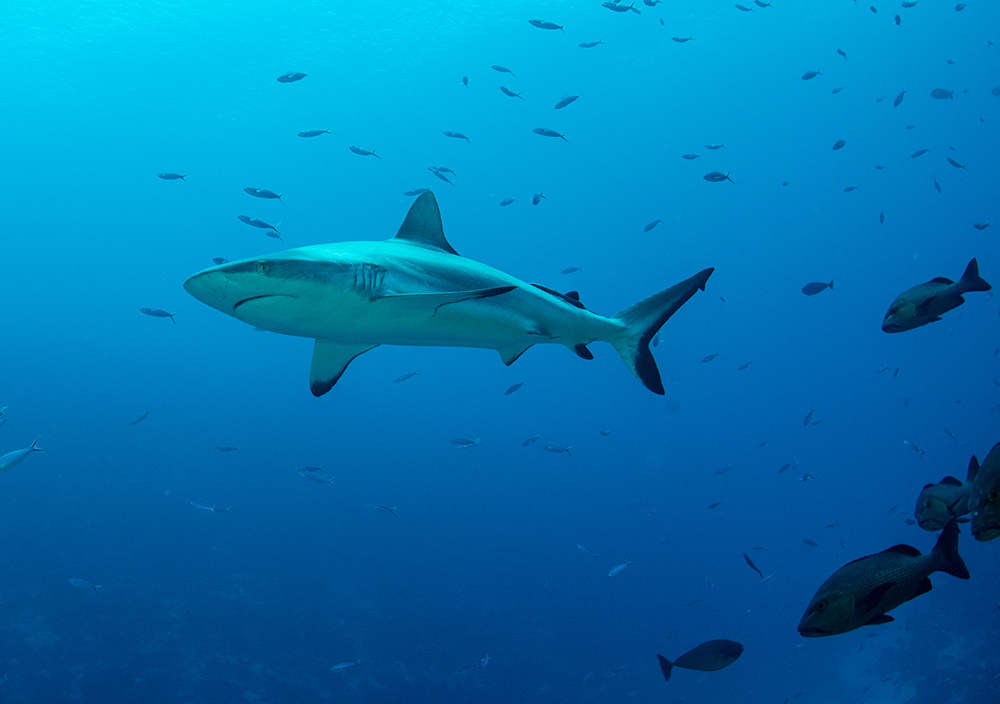 Photo by Sue Mobley: Grey reef shark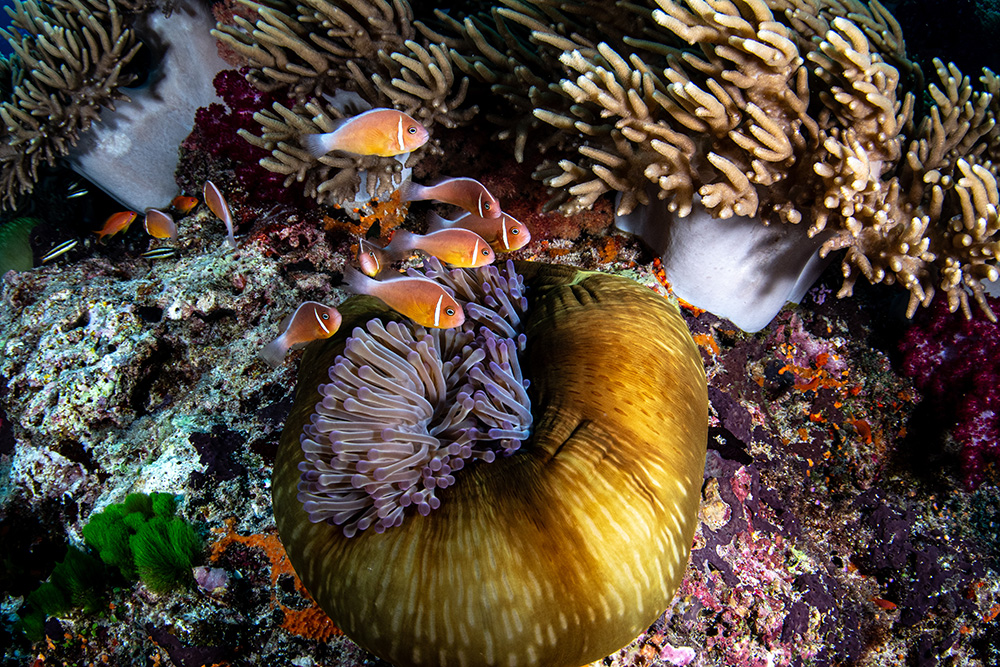 Photo by Sue Mobley: Anemonefish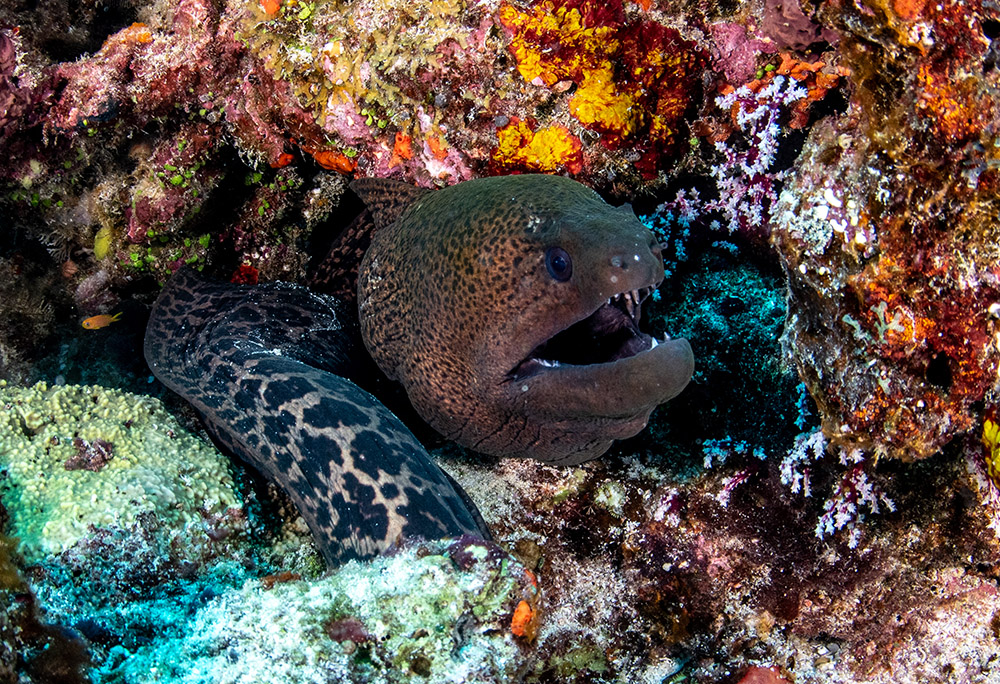 Photo by Sue Mobley: Giant moray eel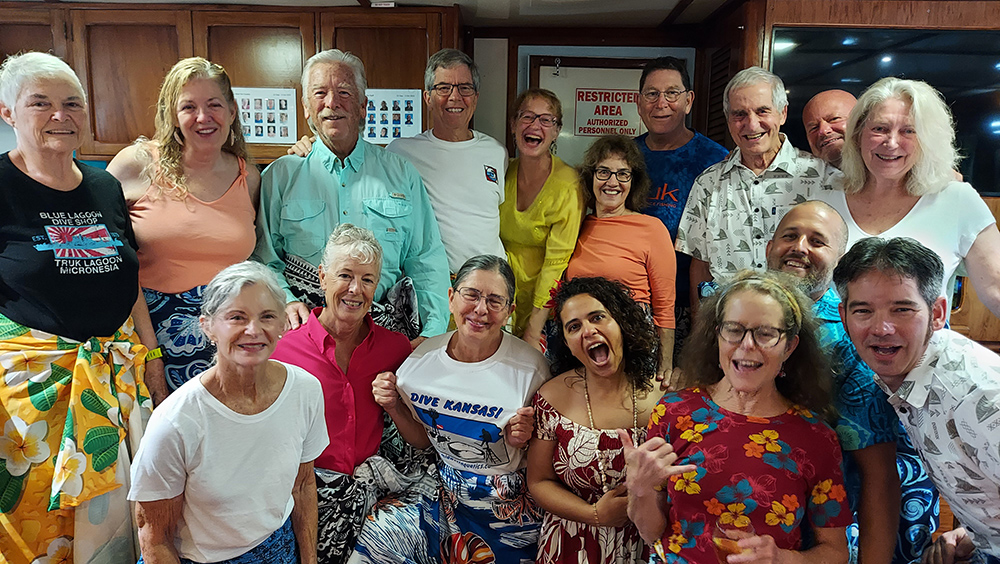 Say Bula!
Comments
"This was my first visit to Fiji and my first time on a liveaboard. I must say it exceeded all expectations….Food, diving and hospitality was 5*"