Total Eclipse
Destination: Bligh Water, Wakaya, Makogai, Gau
Trip Date:
Nov 5th - Nov 12th, 2022 -
Comments
Author: Bel & Mike
Seven days, eighteen guests, two village visits and a crazy group leader. We cruised Fiji's best dive sites around a full moon eclipse, we snorkelled with 15-20 Manta Rays, we dived with dozens of Grey Reef Sharks and we did it all in great company. When we think we've seen the best of Fiji, we are shown it gets better!
The group leader for this trip, Gabe Lu, is preceded by his reputation. We heard about this fabulous instructor with a loyal following, a big heart and a crazy mind. He most definitely lived up to all of those, especially his kindness towards everyone around him.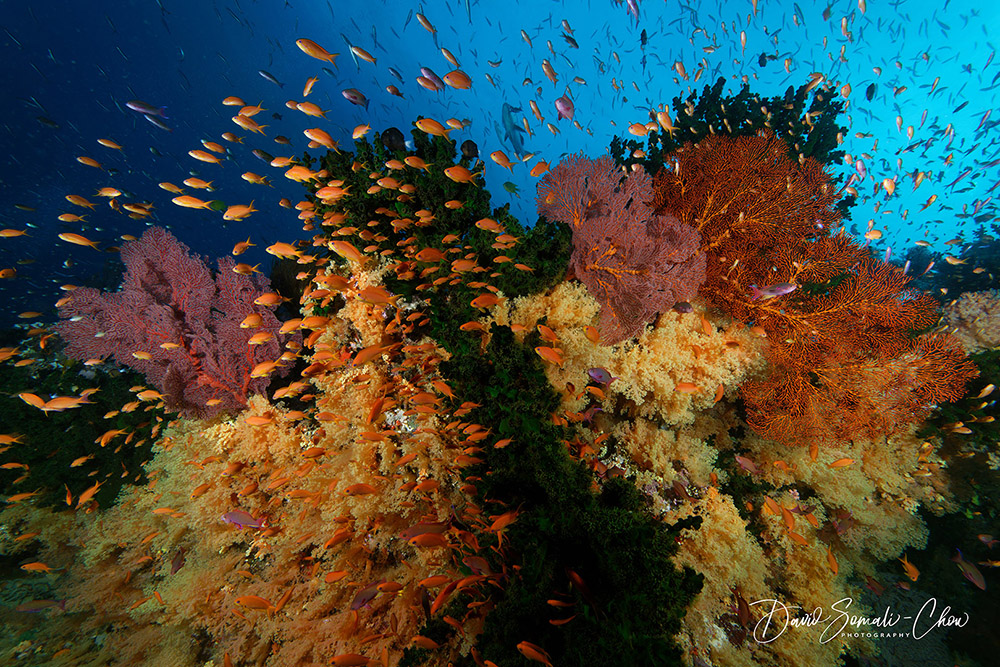 Photo by David: Mellow Yellow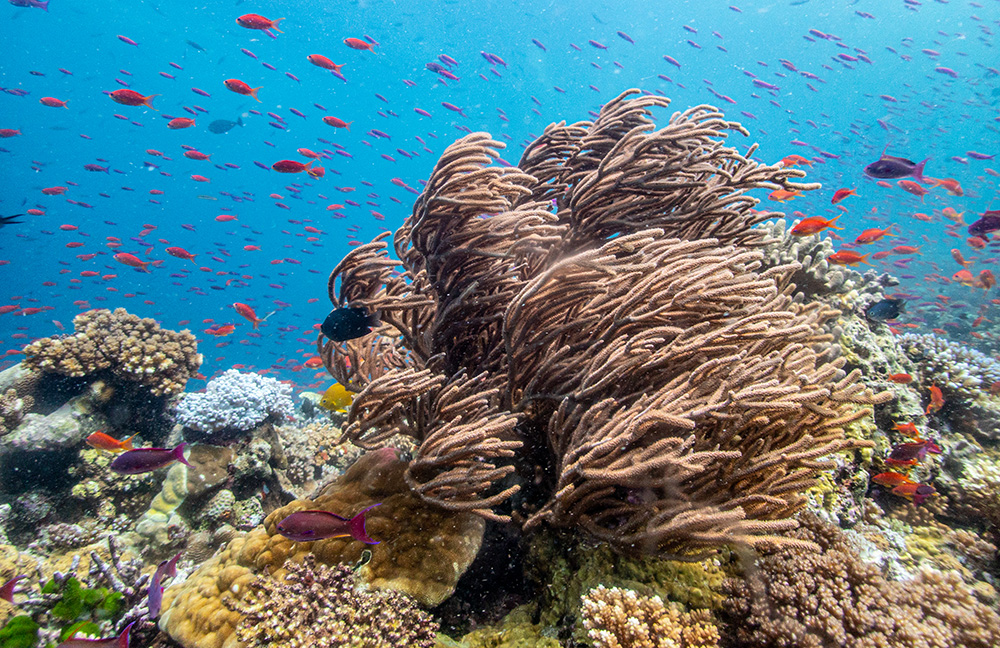 Photo by Bel: Fiji's beautiful shallow waters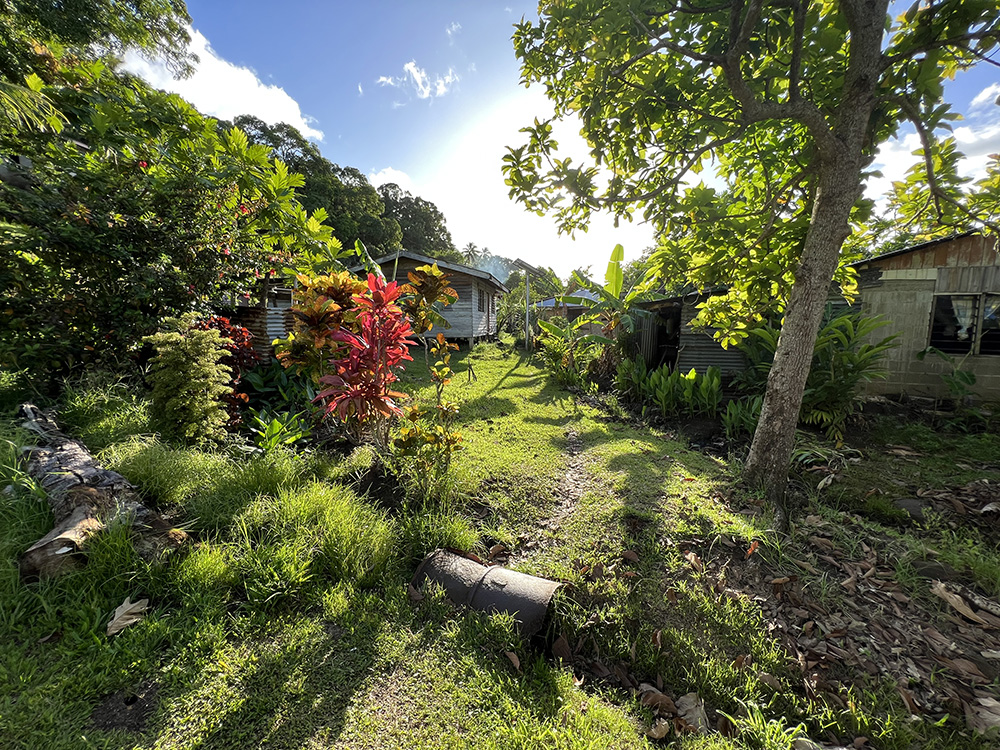 Photo by Anna: Somosomo Village
Our checkout dive this trip had to be cut short as a ton of dead Balolo worms were making their way to the dive site, ready to turn it into a bad Kava bowl. Balolo worms spawn twice a year in a very unusual manner: they live in very deep waters, but they send their genitals to the surface when it's time to mate. If you manage to catch these guys before the sunrise, we're told they make good eats. We have not tried it!
We cruised to Vuya where we spent a fabulous day of diving. Bel, Vinceena and Lei saw a massive school of Blackfin Barracudas (100 strong) and the groups both had sightings of many different nudibranchs species, Pygmy Seahorses, Scorpionfish and big Spanish Mackerels. Bel spotted her first Frogfish underwater in Fiji (the other one was a Sargassum, on the surface) and Ricky got a photo of it with his flashlight (it's an inside joke).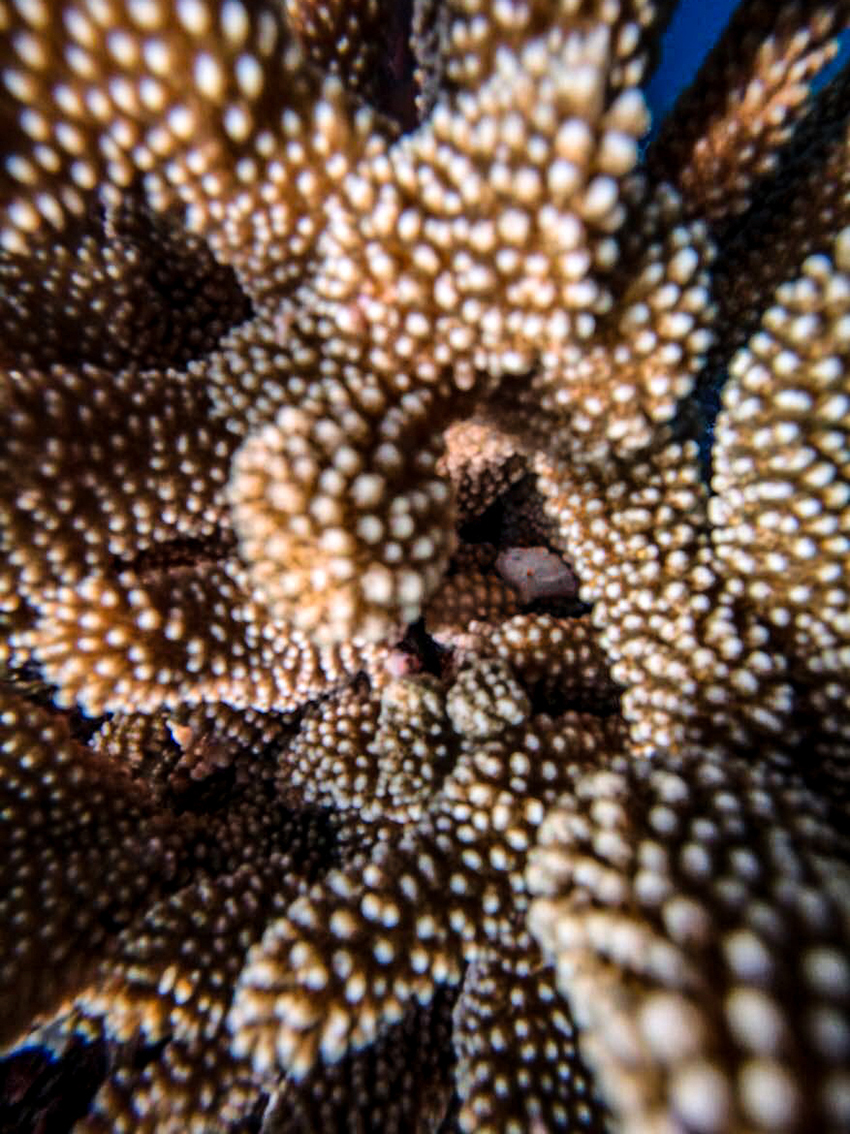 Photo by Ricky's flashlight: A tiny white Frogfish... can you see him??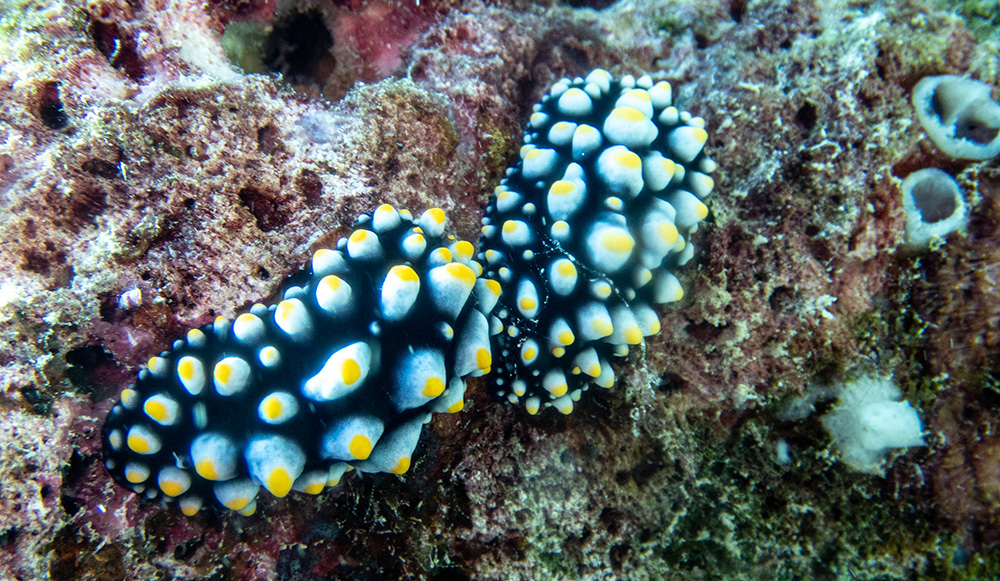 Photo by Bel: Phyllidia Nudis
We rerouted our initial itinerary and moved to Wakaya, where se spent the day with a Manta Ray, 2 Hammerheads, a few White Tips and Grey Reefs, a couple of big Green Turtles, a huge Nurseshark and a Humphead Wrasse. The wall dives involved some current but that also meant everything was very vibrant. We did one of the dives at Wakaya Bay to shelter from the strongest outgoing current and Mary dived with Gabe. He's a rockstar! After dinner, the crew got some Kava going for Jeff's sake, and we all learned how Gabe used 7 year-old kava to teach his 17 year-old son a lesson… that's that crazy part of Gabe coming out! Donna joined us and discovered the Flower Girl for her wedding is Clayton's niece, and now had two kids of her own. What a small world! Ana was the only night diver and saw some Halimeda Ghost Pipefish with Koroi.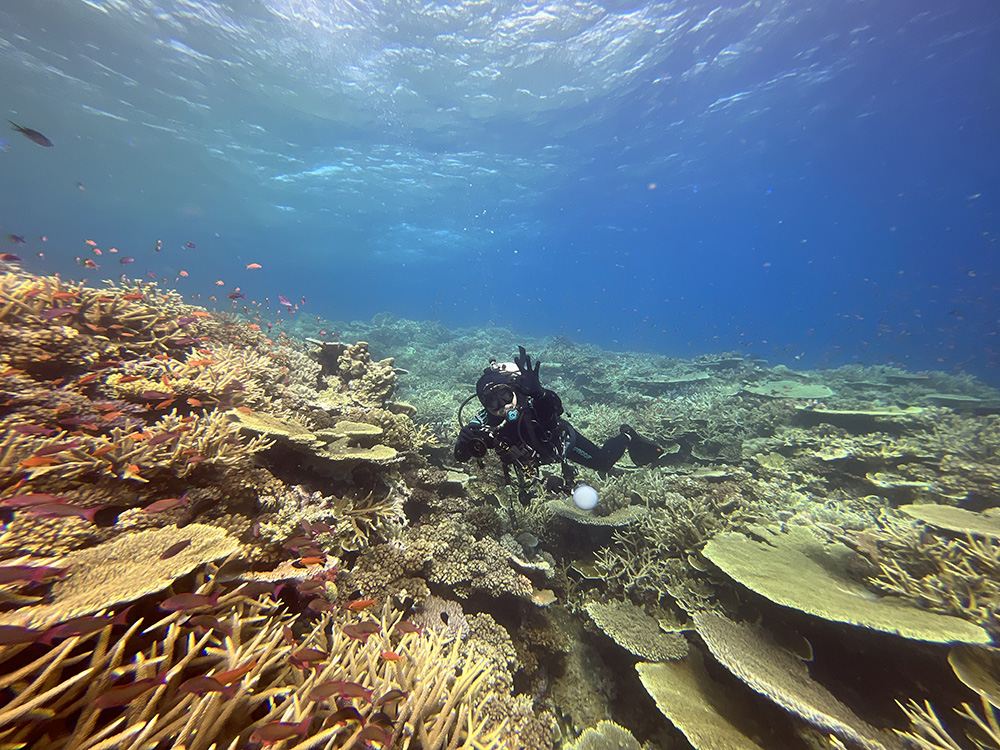 Photo by Anna: Gabe on top of Humann Nature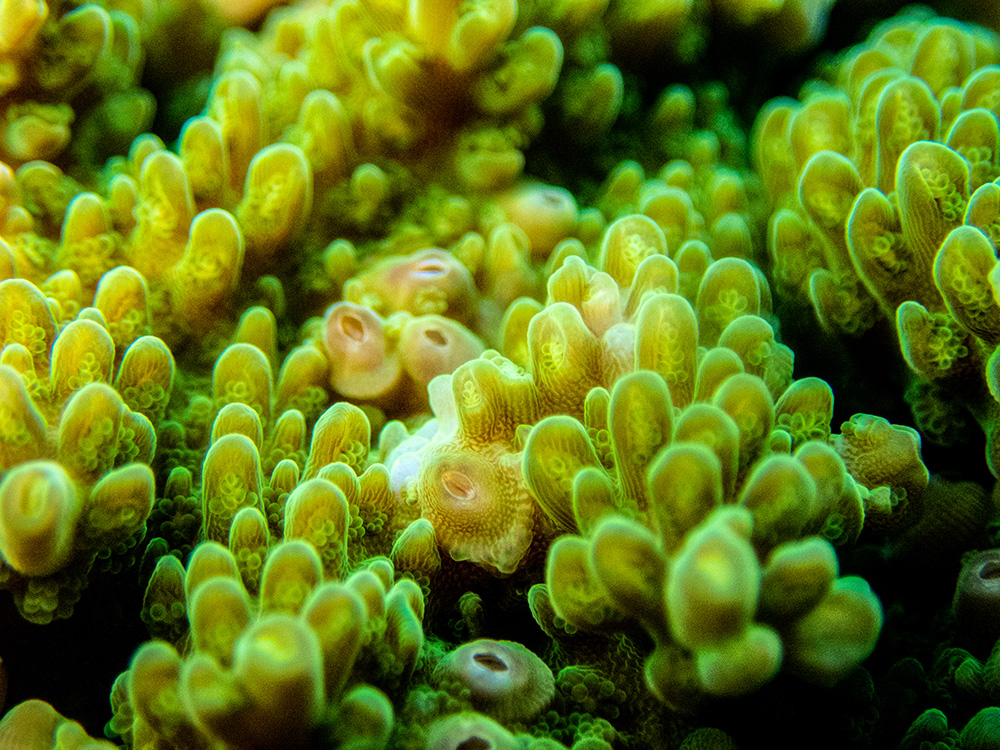 Photo by Bel: Acropora Coral detail
Then we moved to Gau, the reason we rerouted our itinerary. Gabe asked to visit not just one, but two villages during this trip, as they wanted to spread their donations. What a fabulous thought! The diving Gods rewarded us with thousands and thousands of Barracudas, hundreds of Midnight and Red Snappers, big Mackerels, and dozens of Grey Reef Sharks… including many babies once again! Finishing the day on a big high, the divers got to snorkel with 15-20 mantas after surfacing from the 3rd dive. Anna's bad Manta Juju was declared officially gone! We followed that with our Village Visit where Mike was given another piglet (Chis P Bacon), Bel met Ice Cream the puppy and Paul crushed all the dance moves! We had a Full Moon and a total Eclipse before pulling anchor and moving to Makogai.
Photo by Bel: A few Snappers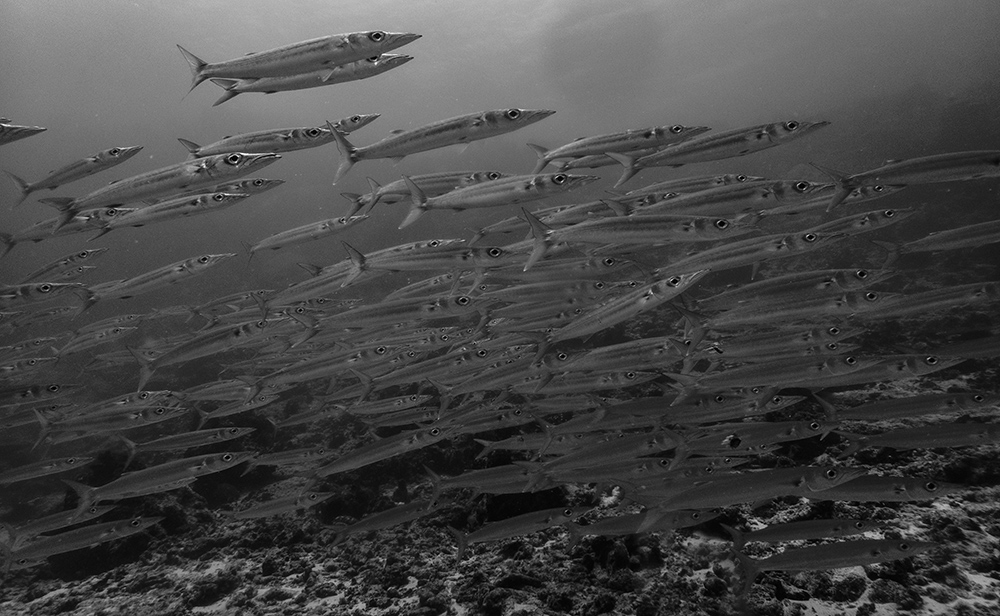 Photo by Bel: Bigeye Barracudas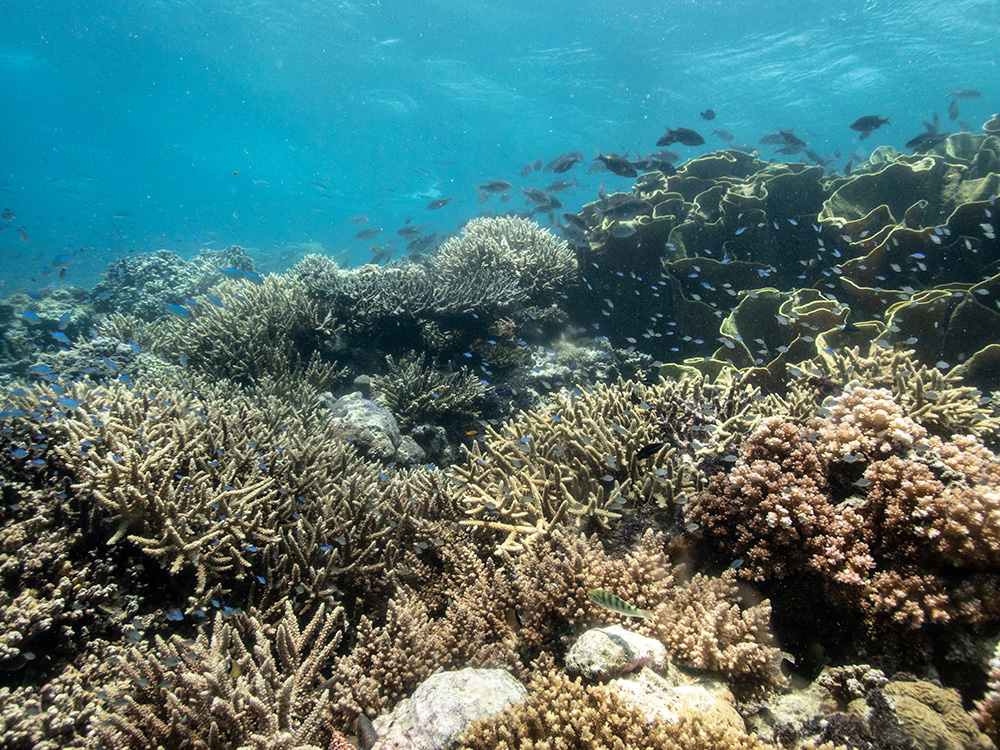 Photo by Bel: Around the Cabbage Patch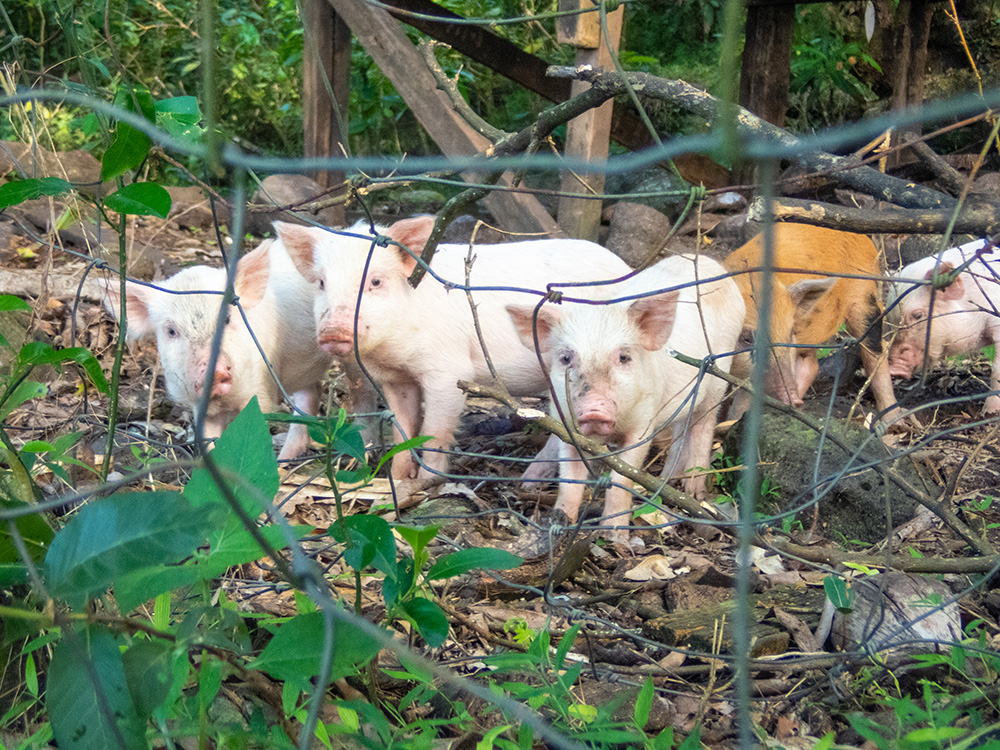 Photo by Bel: Hammond and his white piglet siblings
We had a lovely and relaxing day of diving Makogai's bommies. David and Ana were enamoured with all the coral colors and sightings included Nudibranchs, Redfin Anthias, Reeftop, Brownbanded and Nai'a Pipefish, as well as a few moray eels and a turtle. David lost his fin and Mo found it 6 hours later floating on the surface right by another dive site. What are the odds?? And what will David lose next? Our second Village Visit was extra special as the men did a meke presentation after the children. They're getting cuter by the day.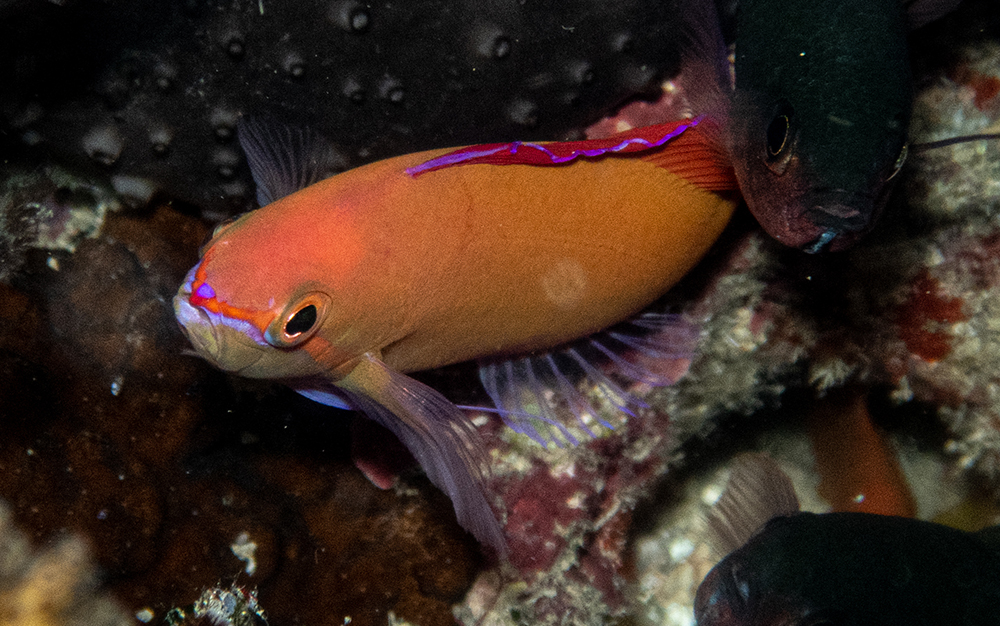 Photo by Bel: Redfin Anthia
Photo by Bel: Coral details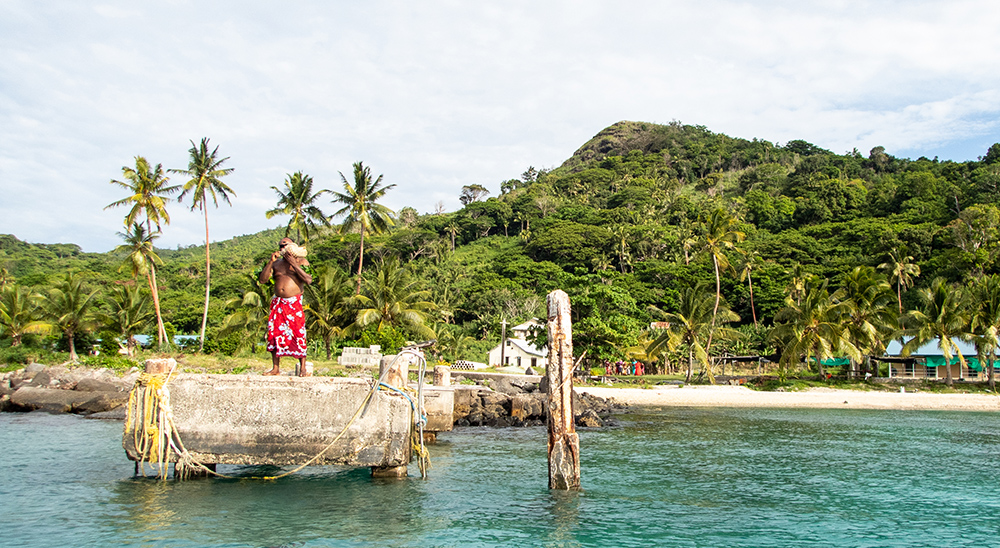 Photo by Bel: Makogai Reception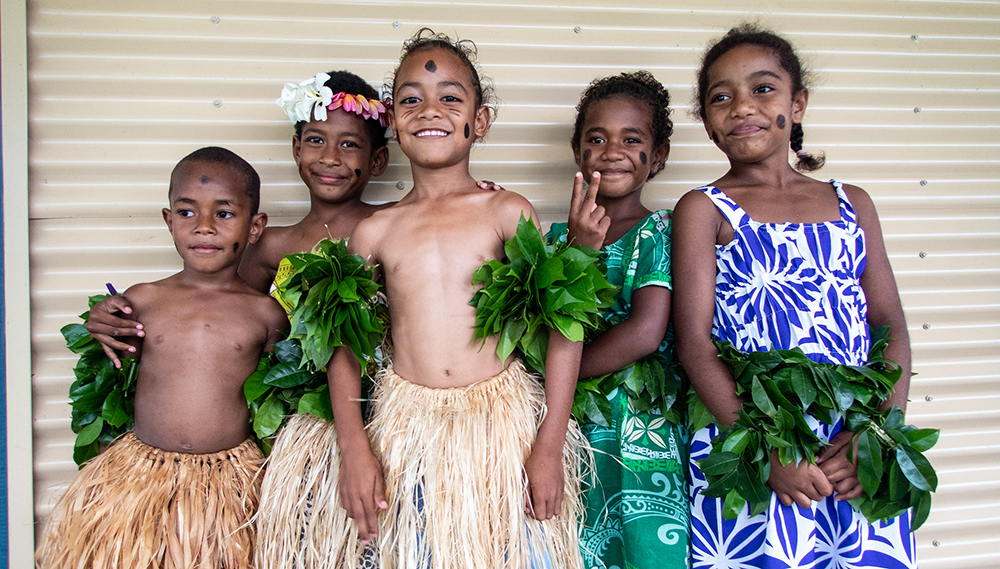 Photo by Bel: Kids in Makogai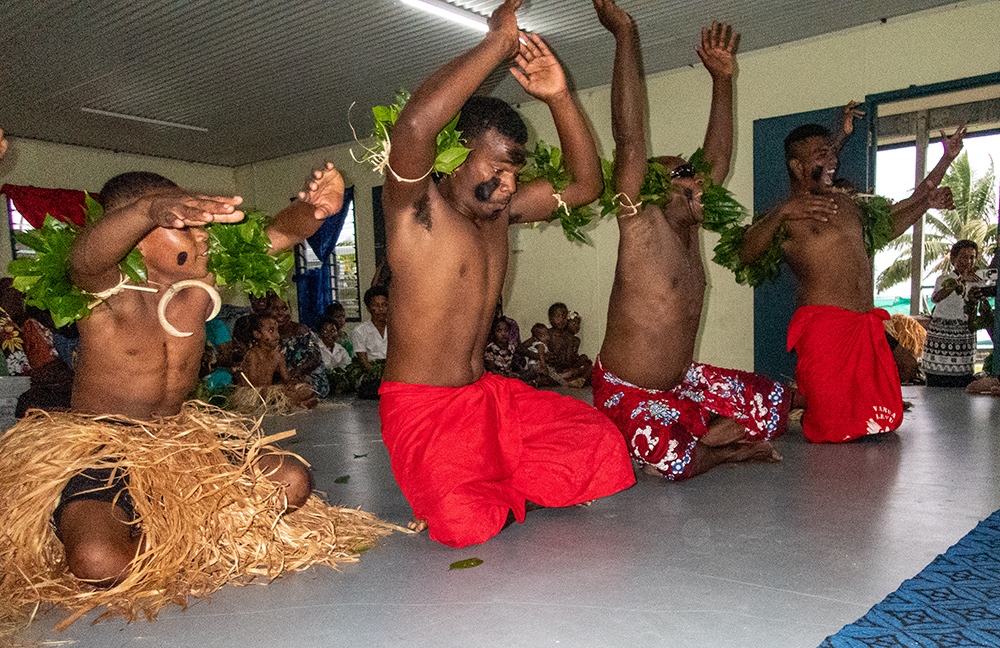 Photo by Bel: The adults perform for us
Then it was Sea Mounts day, and we got treated to copious amounts of Fusiliers, compliment of another fresh batch of Phytoplankton. There were many Titan and Oceanic Triggerfish nesting on the sandy/ruckly area and Koroi got to see a Hammerhead, but David was too busy with his coral photos to look away. We also saw a few chilled turtles and Pilot Whales went past NAI'A at lunch, the again when we were out doing dive 4. The Kava party was specially lit by the full moon, and that's a treat we don't get every day.
Our last day was at Vatu-i-ra diving Mellow Yellow and Coral Corner, and the bravest even did our 3rd and last dive at Whole Shebang. With the full moon so recent, the current made us work for our dives, but we were fully compensated by copious amounts of fish of all colors and shape (2 million fish, to be exact, by Wing's account). We headed back to Lautoka thankful for another fantastic week and looking forward to our next adventure!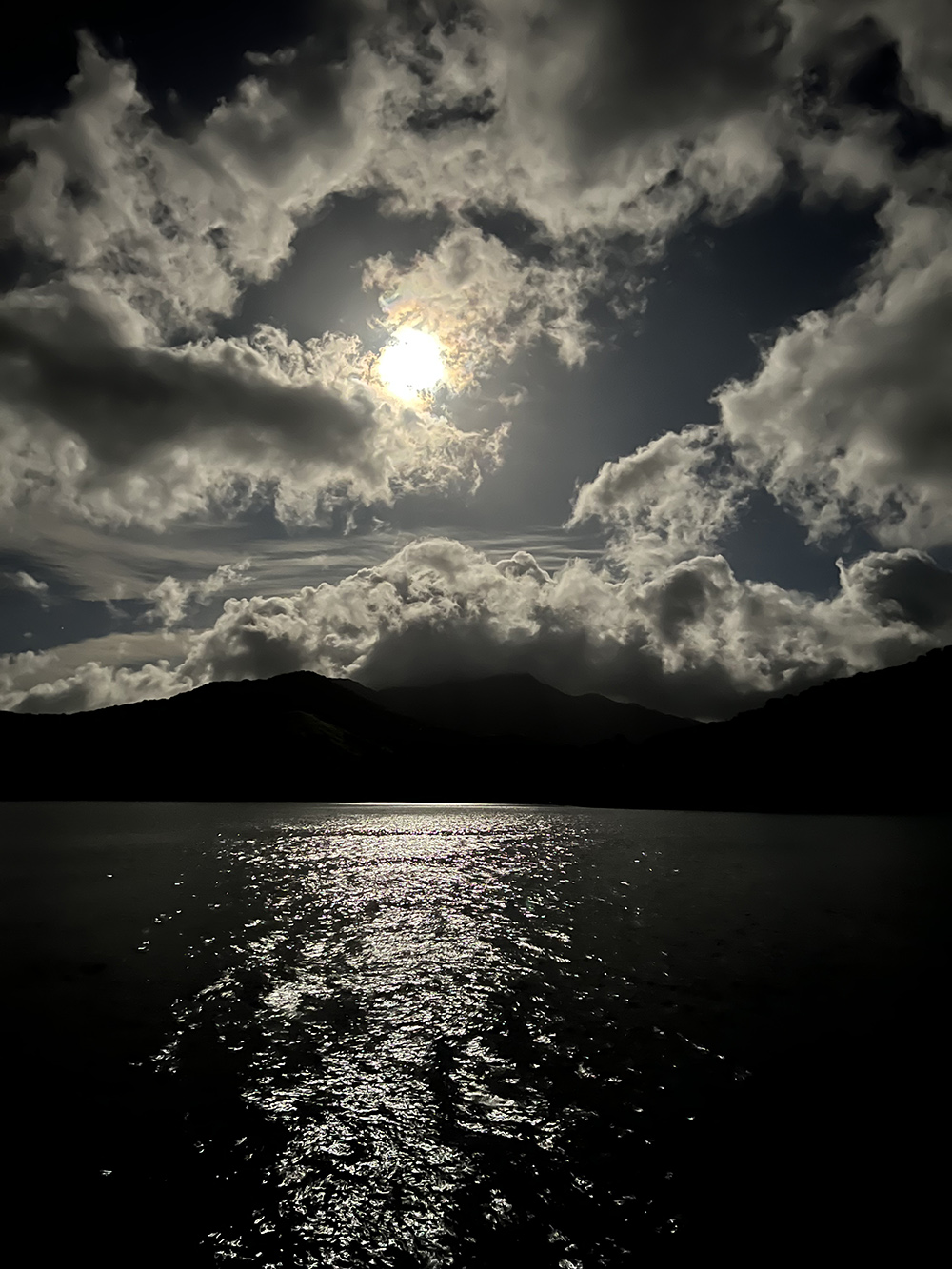 Photo by Anna: Full moon lighting our Kava Party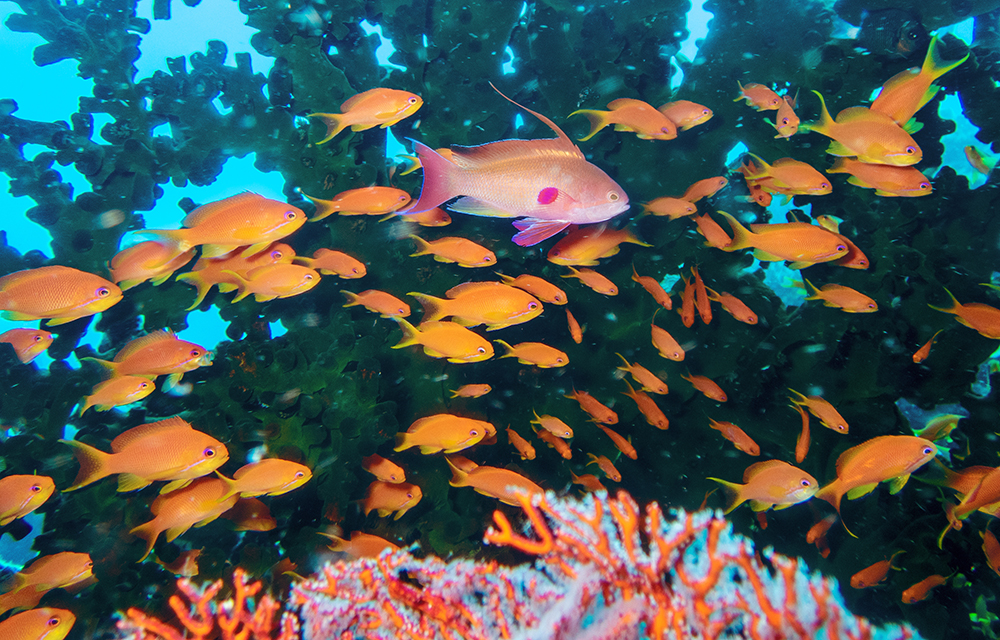 Photo by Bel: Scalefin Anthias harem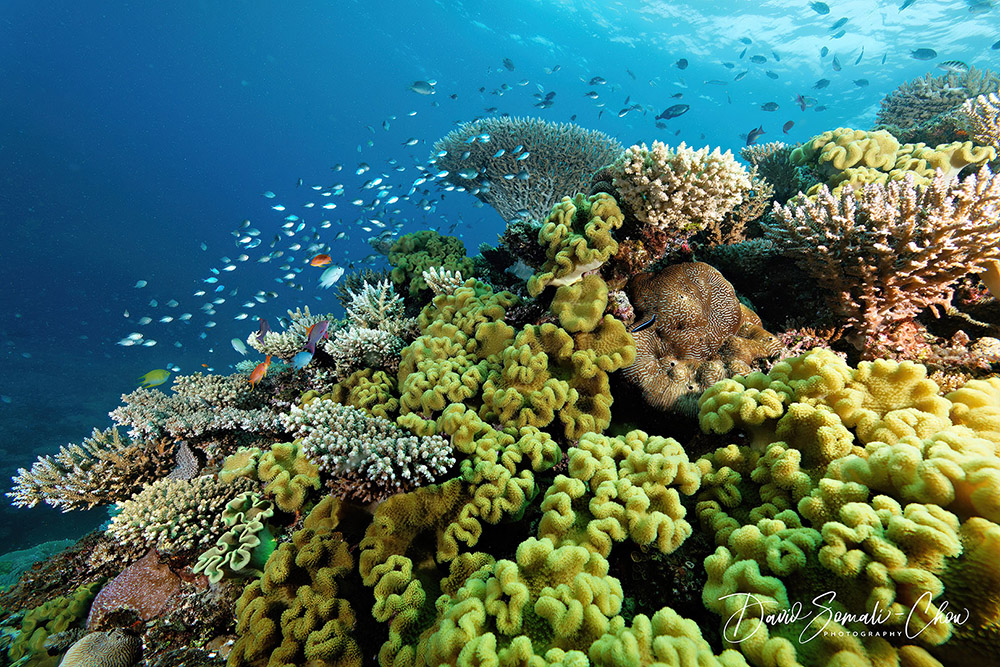 Photo by David: Fiji colors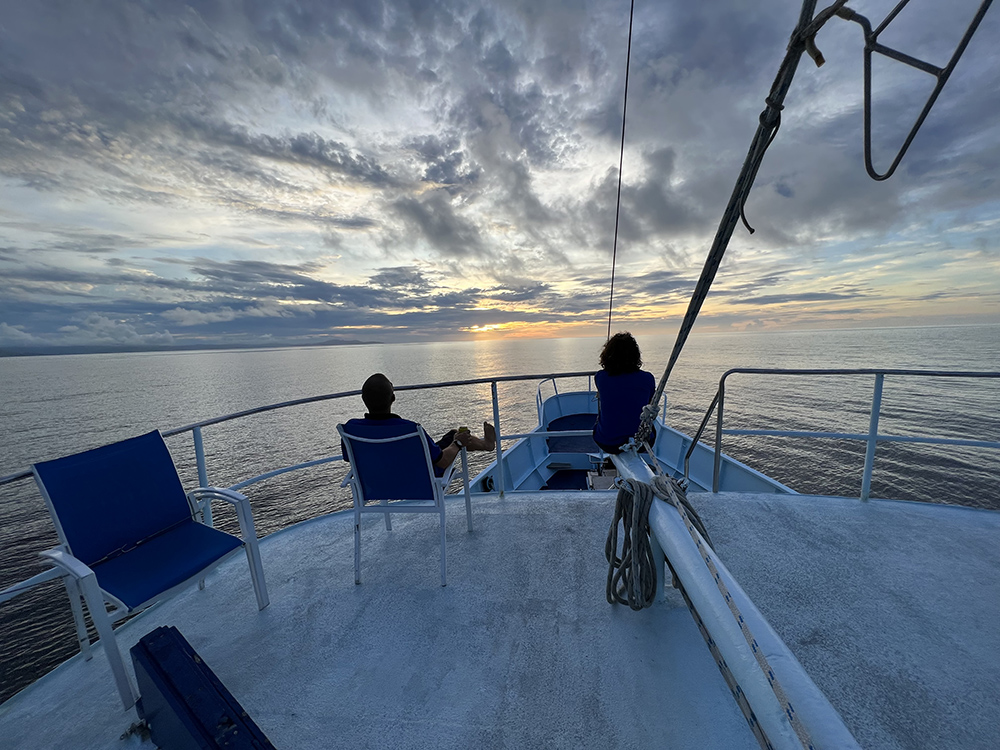 Photo by Anna: The calmest of waters as we headed back to Lautoka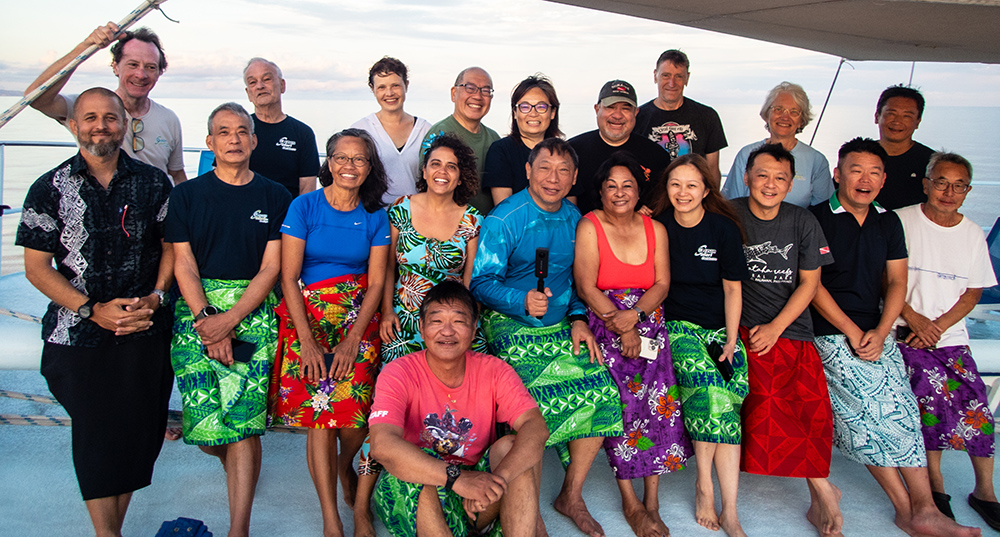 Gabe and his followers!
Comments
"After 60 years of diving all over the world, Fiji still surprises and intrigues me. Fiji is a destination uniquely safe and easy to reach yet it is the colour of our dreams."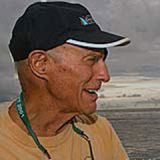 ~ Stan Waterman, pioneering diver and filmmaker