When Dreams Come True
Destination: Bligh Water, Gau, Wakaya, Makogai, Namena
Trip Date:
Jul 1st - Jul 11th, 2023 -
Comments
Author: Bel & Mike
Welcome Back: Sherri and Karen
You'd think our 8 hammerhead encounters were the highlight of this trip, but our 3 snorkel sessions with mantas at Wakaya confirmed a minimum of 25 different individuals, 3 of them new to the database and now named by our guests. As if all that wasn't enough, we also got to swim with a pod of pilot whales sprinkled with one false killer whale and we sighted humpbacks spouting at a distance after one of our dives. Bel dreamed about pilot whales and mantas the day before we sighted them, and also of "a whale's tail, briefly" the day before we saw the spouts… We are very ready for more dreams like that to come true!!!
Our group this trip was small, only 8 guests, but personalities abounded and we did not lack for enthusiasm! Hearing experienced guests who have been to so many of the top diving destinations in the world say they cannot remember being so awed underwater anywhere else. Fiji's abundance and reef health are something we are grateful for every day. We are truly spoiled.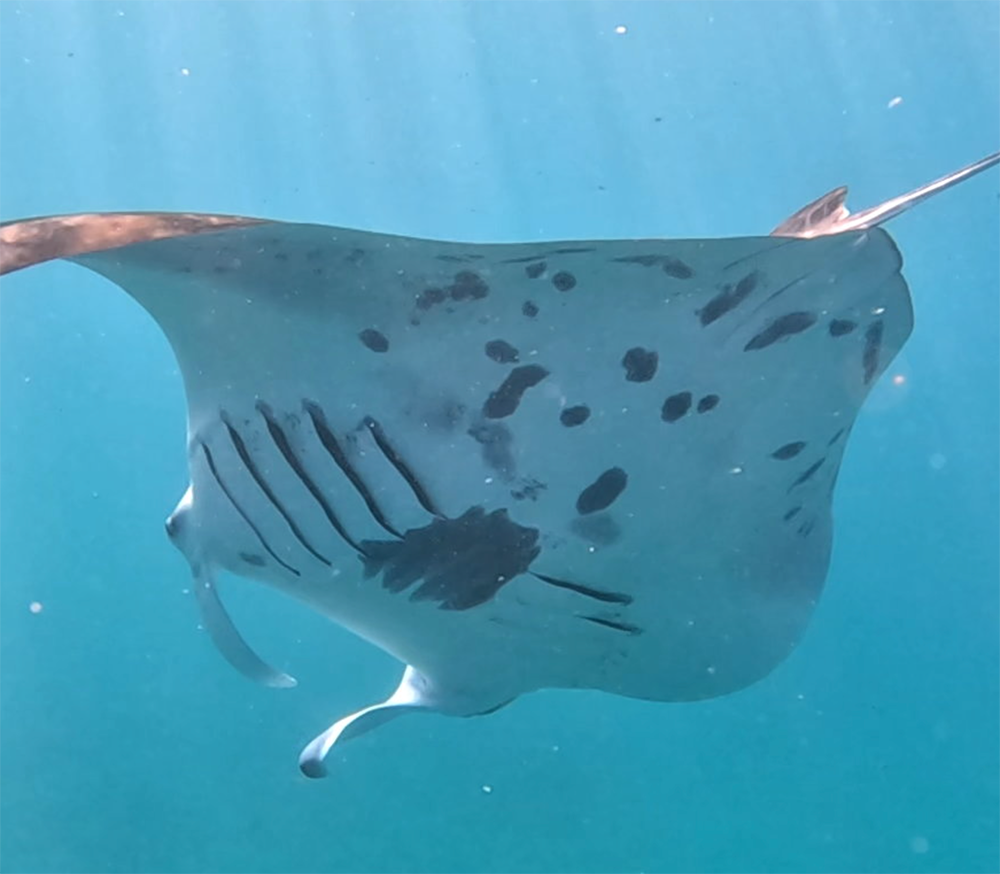 Photo by Bel: A new manta named by our guests, Kindred
Photo by Karen Tan: Grey reef shark at Nigali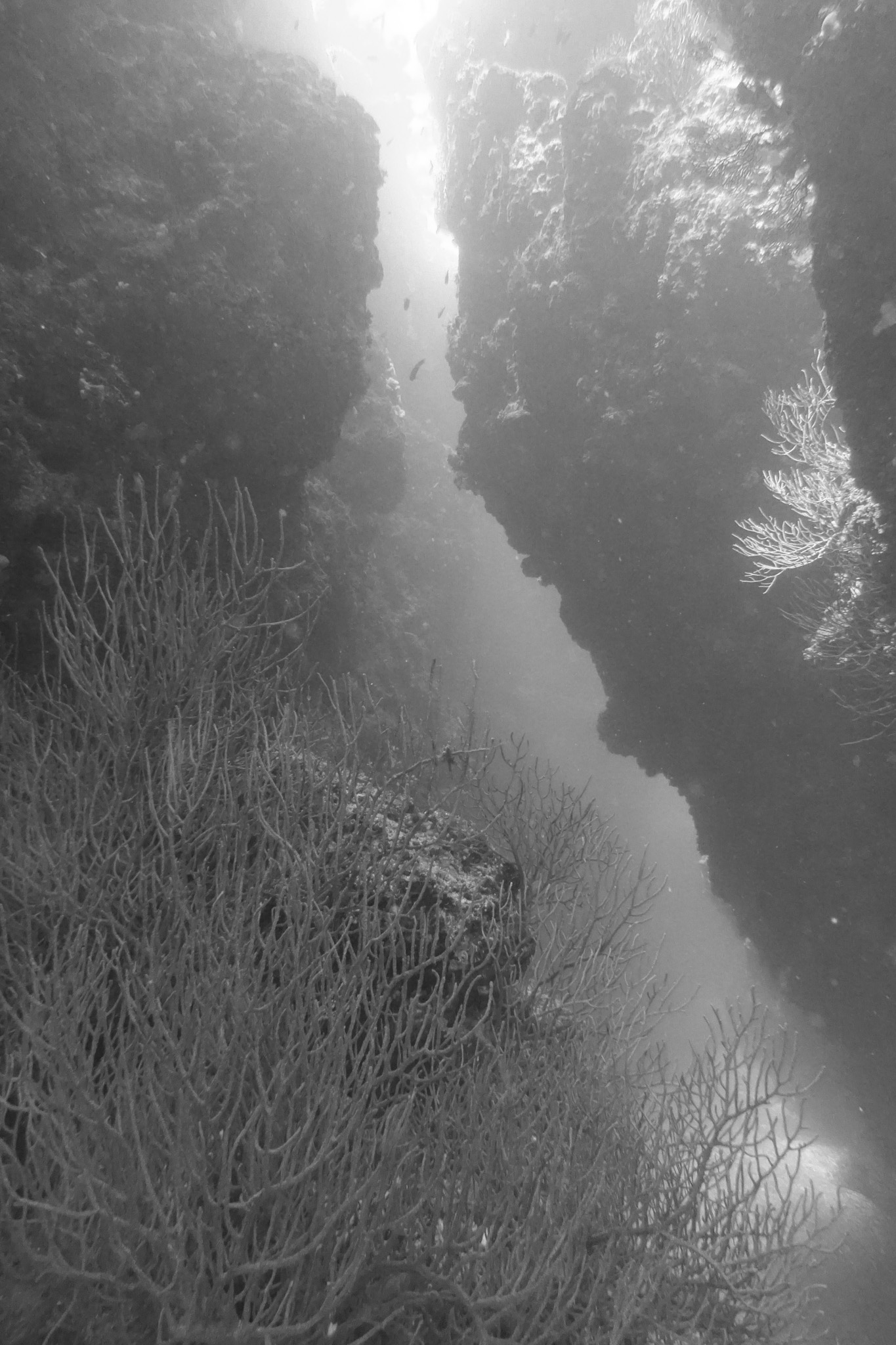 Photo by Karen Tan: Gorgonians
The trip kicked off with the sea mounts and both E6 and Mount Mutiny delivered colorful corals, easy diving, plentiful small reef fish and a few pelagics. Three hammerheads seen between dives 1 and 4, a turtle that was very high on soft corals, a big school of barracudas, grey reef sharks, an eagle ray, a huge tawny nurse shark, some massive tunas, a few white tip sharks, mackerels and some cute nudibranchs. A strong start for our trip!
Next we moved to Vatu-i-ra Marine Reserve for 3 moderate current dives and one sheltered site when things got a little too "full moony". Raquel remarked on the fish being color-coordinated with the corals, we saw sharks, barracudas, turtles, scorpionfish and endless fusiliers. The top of Mellow Yellow hypnotized with so much life on it and around it. Andrew found his happy place surrounded by fusiliers and longjaw mackerels, all swimming in synchrony very comfortably around the divers.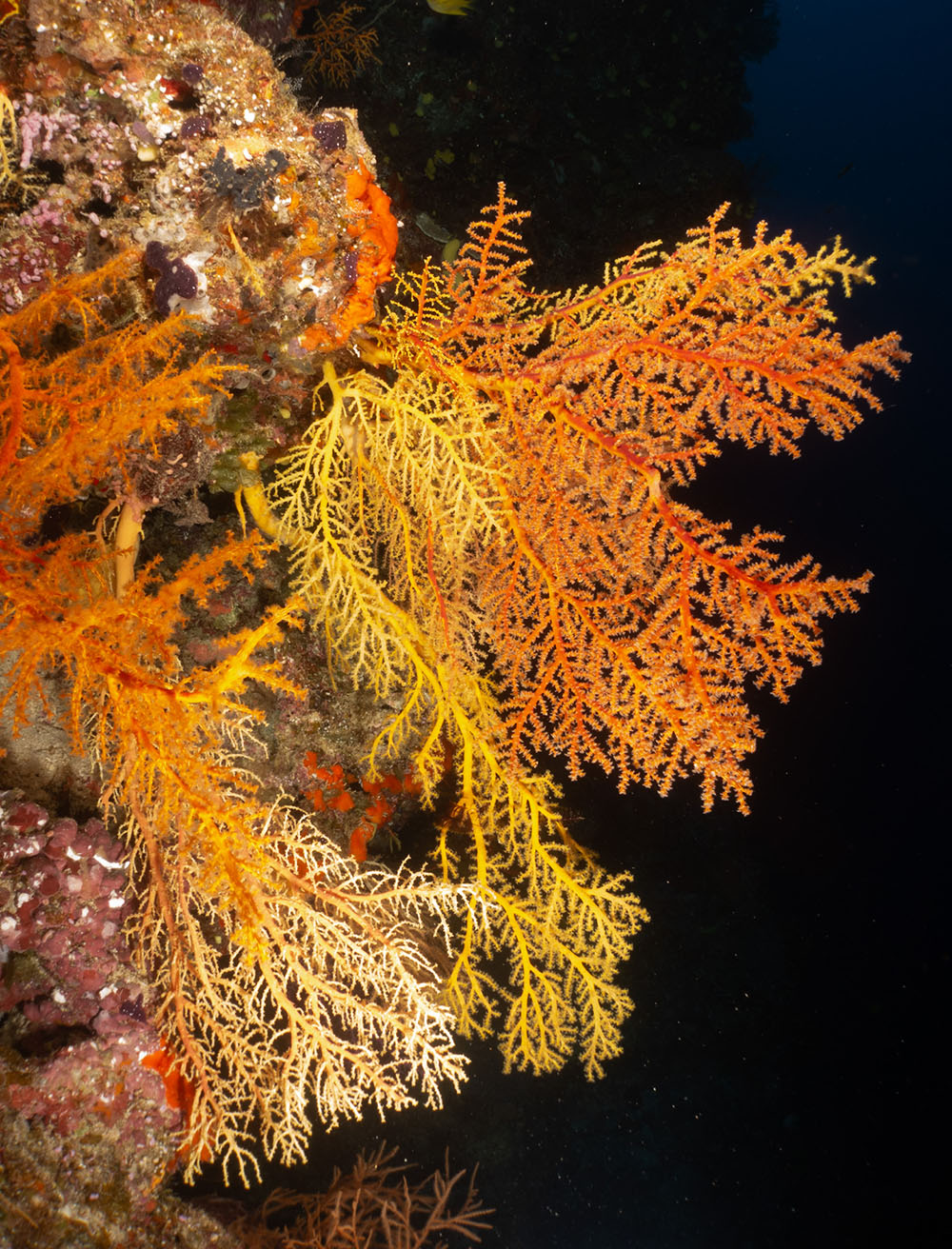 Photo by Karen Tan: Soft corals on Mount Mutiny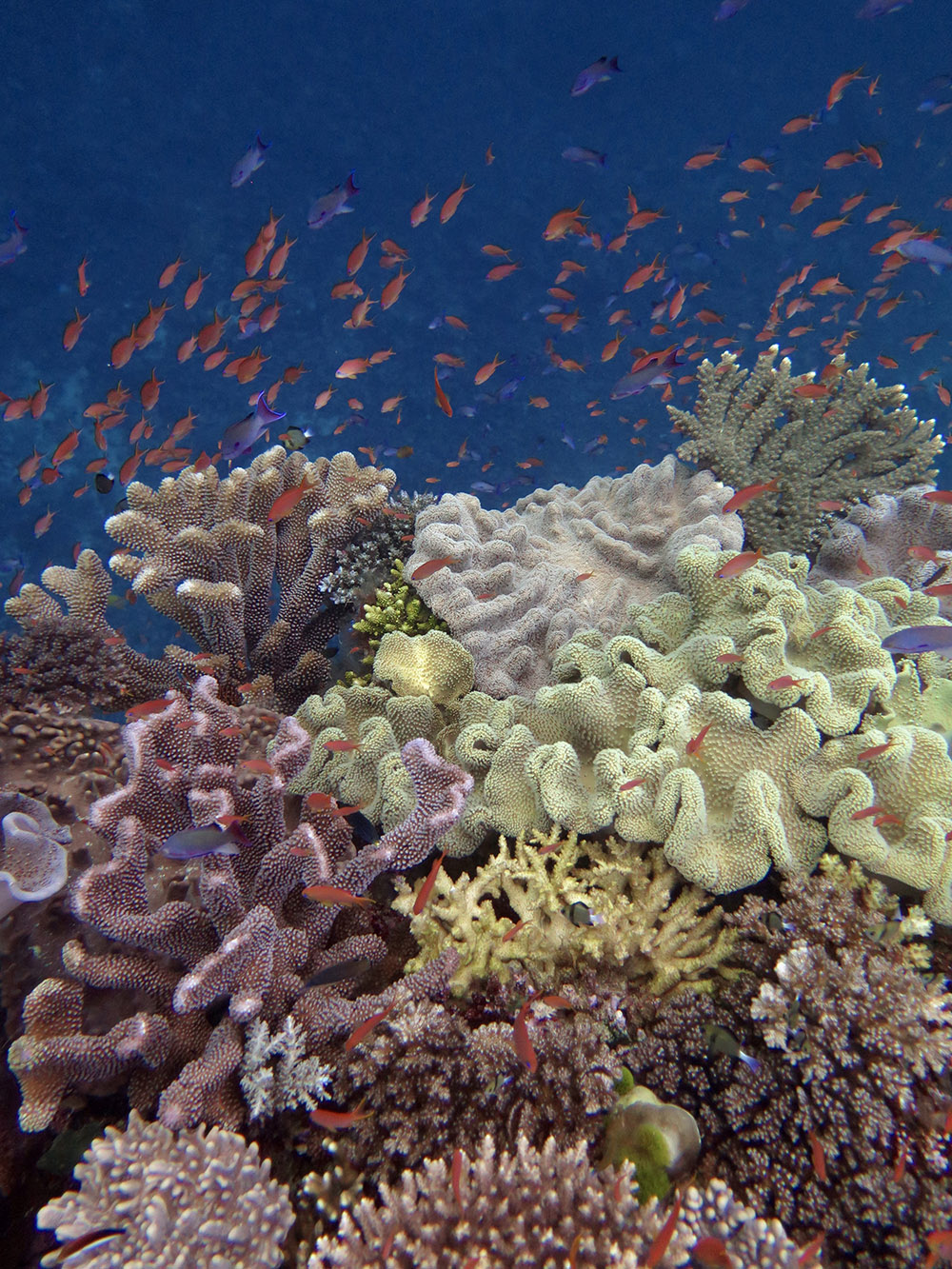 Photo by Sarah: Vibrant Coral Corner
As the wind picked up, we moved to Gau for 2 days of shark action at Nigali Passage. A few white tips rested on the bottom as we drifted gently along, and a school of barracudas announced the grey reefs as we approached the bleachers (or barracks, as Sarah called them). Adults, babies, pregnant females… we had a mix of everything, and they seemed to get more comfortable with each dive we did there. Andrew spotted a sea krait, a big school of trevallies left the bleachers as we approached, the red snappers sneaked close and a few big tunas swam by. Inside the passage, we had small treats like juvenile rockmover wrasses and colorful flatworms, as well as the impressive cabbage patch and enormous porites coral (Desi could not get over just how big it is).
Our Jim's and Anthia's dives were limited by the never-incoming current and impaired visibility, but we can say it was fishy. We saw a few nudis, giant trevallies on the hunt, a free swimming moray eel and recovered Mike's dive computer. Our village visit was once again a great highlight and all the guests joined to dance the mekes with the villagers.We even had a last minute dance party.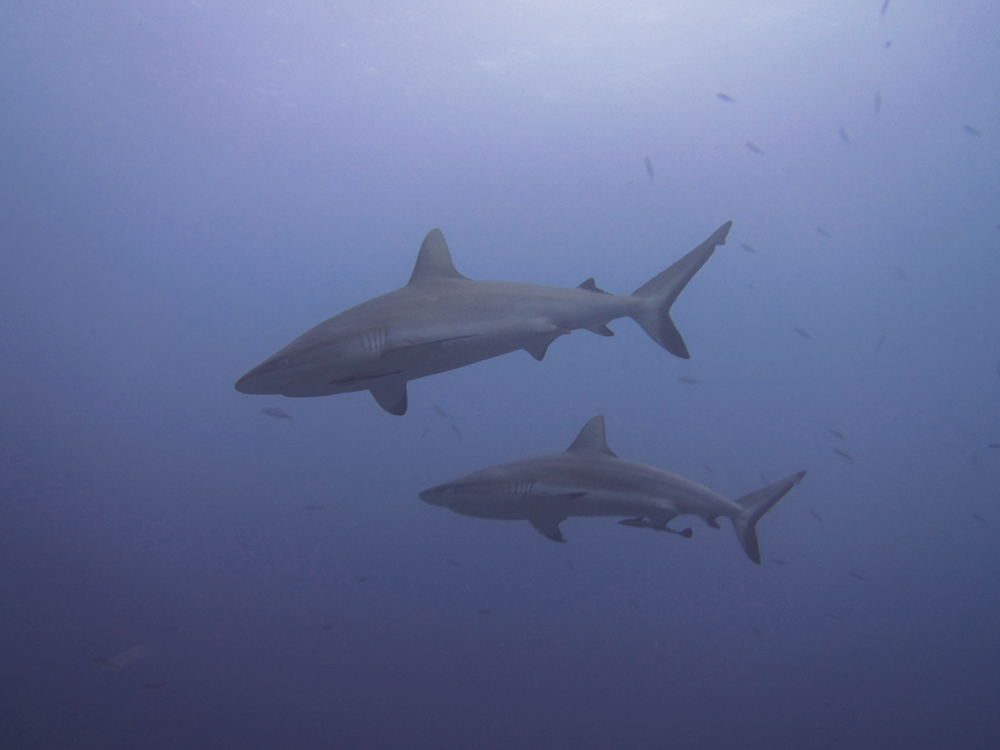 Photo by Sarah: Sharks from the barracks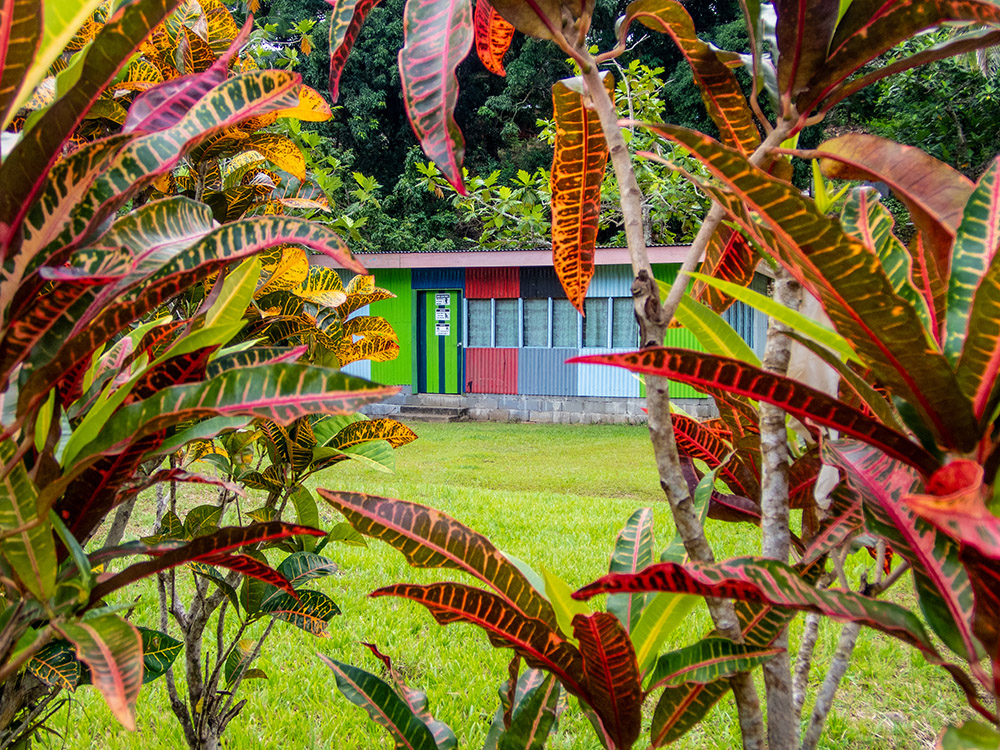 Photo by Bel: Somosomo's kindergarten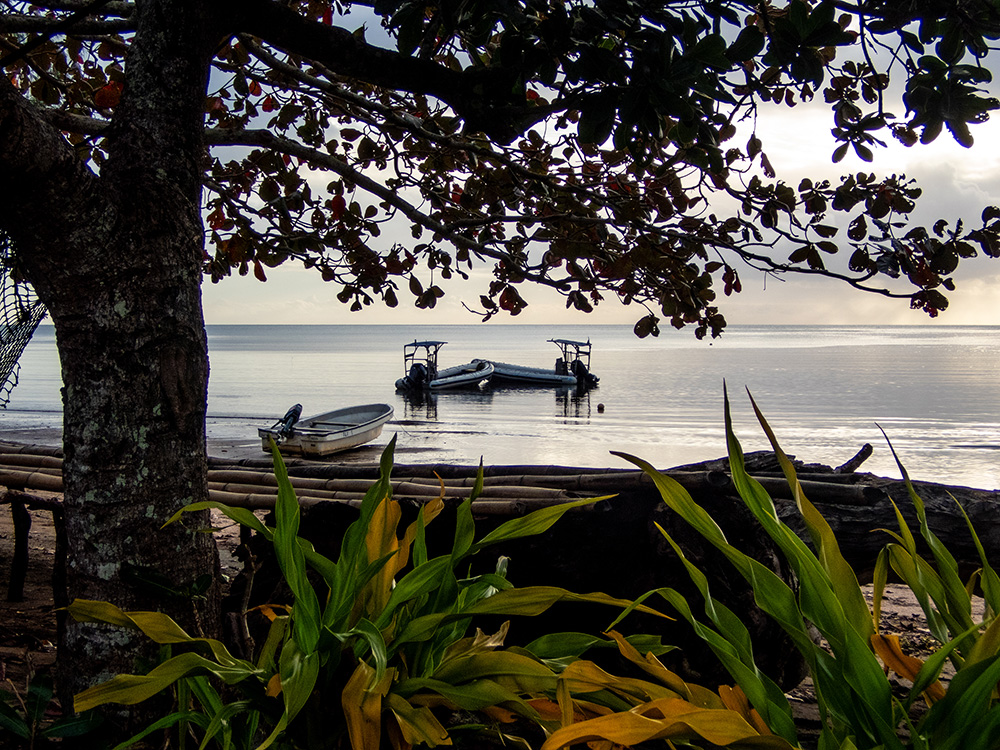 Photo by Bel: Peaceful Somosomo
We moved to Wakaya and Bel announced before our first dive she had dreamed about mantas and pilot whales. Karen said she had never seen mantas in Fiji, and this being her 6th time on NAI'A meant we had to find her some. We took off for our dive and Kim stayed on stand-by as she was still getting over a head cold. She was woken by Mike to snorkel with mantas that Mo, our skiff driver, had found feeding on the surface. The divers joined the snorkel party after the first dive, and got back to them before the second dive. What a treat! 5 to 6 of them would swim right by us, and Kim and Desi gave up dive 2 to stay longer with them and were surrounded by at least 12 at one time. Unreal.
We readjusted our schedule to allow for maximum manta time, and on our way to our re-scheduled 3rd dive we swam with pilot whales, although there was also a false killer whale, who left Simon with a big fat poop! Mike had a silvertip shark right by his fins. Sherri was sleeping but joined and got a private session as the rest of us went diving. Oh, yes… the dives. We saw turtles, a few mantas underwater, a leaf scorpionfish, a golden mantis shrimp and Bel spotted a huge hammerhead across the channel. Karen and Mike, by themselves at Vatu Vai, saw a big marlin! Raquel (the only night diver) loved all the shrimps (especially the complicated one) and the "big black mambas" that turned out to be feathermouth sea cucumbers. The day was so incredible we could not bring ourselves to leave that night as planned. We adjusted the plan to go diving then snorkeling with mantas, then moving on to Makogai for more shelter from the increasing winds.
And so the divers got to dive across the channel the following morning, saw the big hammerhead, beautiful soft corals, snappers and… well, it kind of fades out, as there were even more mantas out this second time around. We snorkeled with them for an hour before getting back to NAI'A and moving on to Makogai. Between the 2 days we identified 25 mantas and named 3 (Kindred, Dillon Spirit and Molita). Makogai offered shelter against the wind but the dives were surgy. The dives were very fishy, full of fusiliers, surgeons, flasher wrasses, turtles, a few barracudas, white tips and a few morays.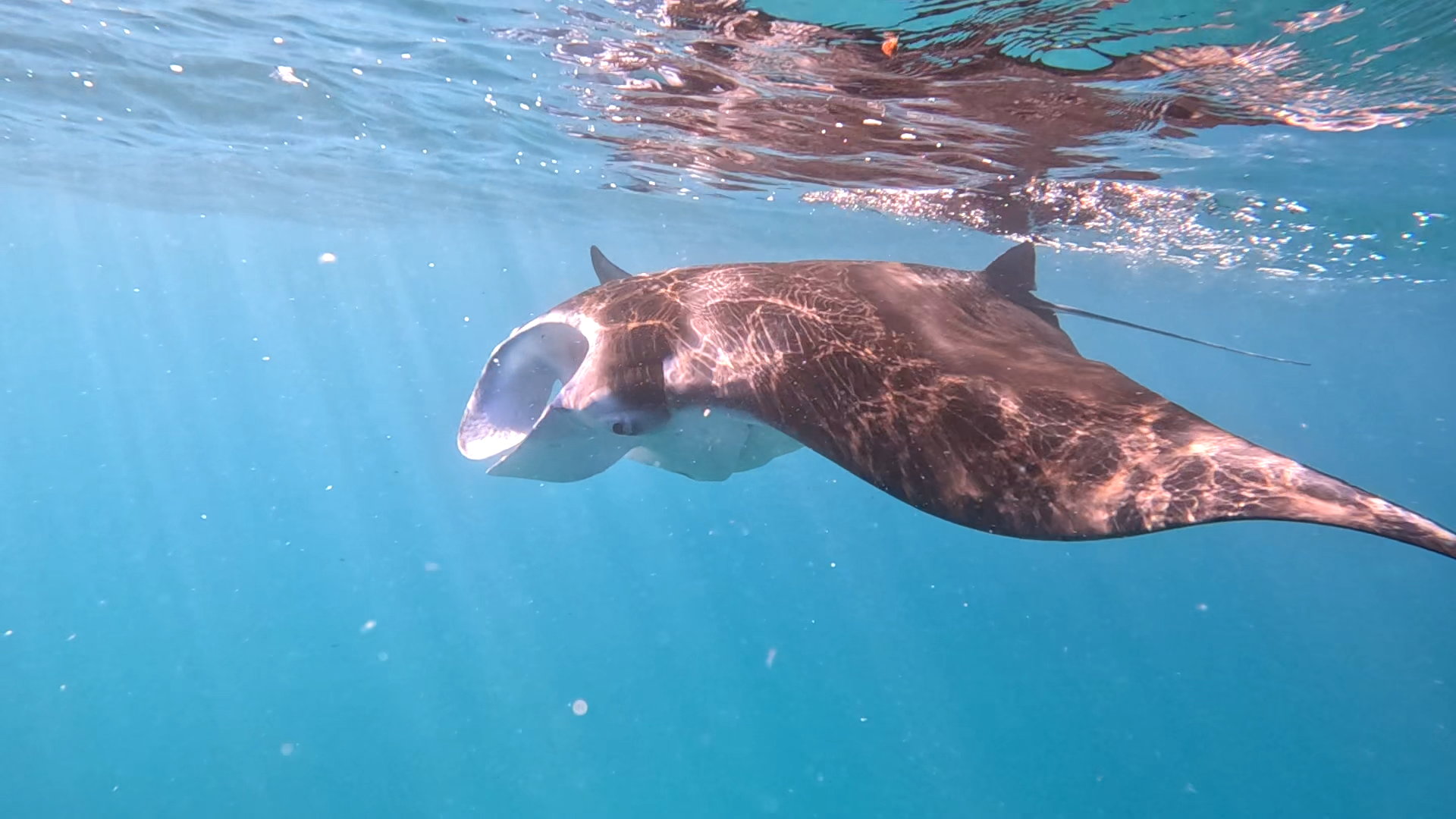 Photo by Bel: Wakaya manta fun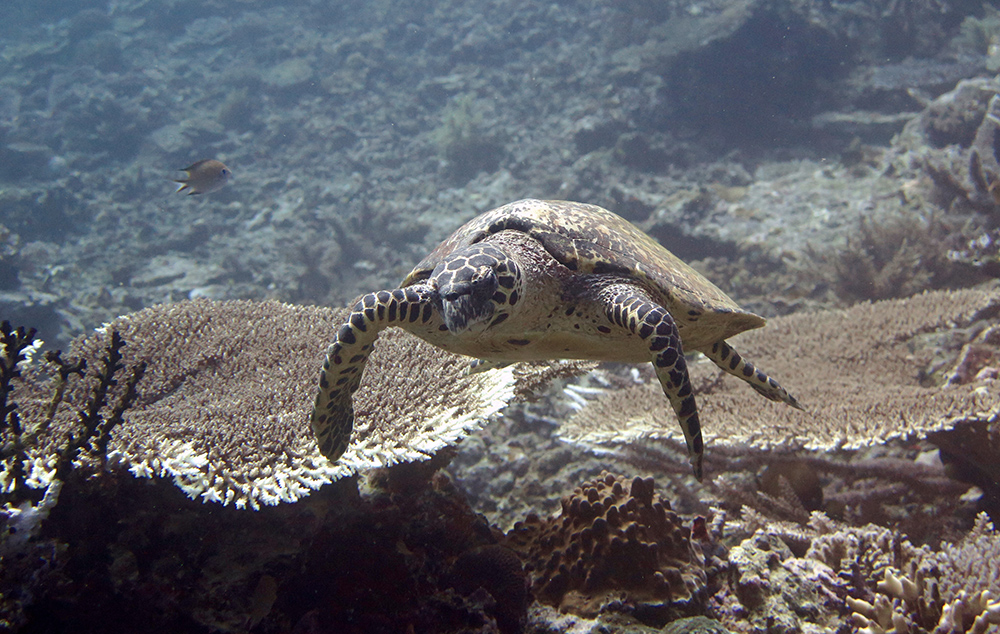 Photo by Sarah: Hawksbill turtle
We had a rocky passage to Namena but oh, was it worth it! Namena's abundance never ceases to impress. We had three more hammerhead sightings, an endless school of bigeye trevallies at schoolhouse, thousands of barracudas and scads surrounding us, big mackerels, several grey reefs and some enormous tunas. Oh, the action! As for the smaller critters, we saw two orangutan crabs, flatworms, two octopuses, lionfish, flabelinas, pipefish, palette surgeons (Dory), ribbon eels and golden mantis shrimps. On the second morning there, Bel announced she had dreamed about a whale, but she wasn't sure which whale, as she only saw part of it. And after the first dive that day we saw whales spouting 2 or 3 miles away, humpbacks according to Big Mo. What a treat it was, even if from a distance!
The night dive was covered in skeleton shrimps, a funky sponge crab, pre-spawning sea cucumbers and pearlfish. Our Kava Party (the first official after 2 or 3 practice rounds) was fabulous as always. Kim called Kava Time under Big Mo's guidance, Desi played with the guys and the rest of us made weird animal sounds.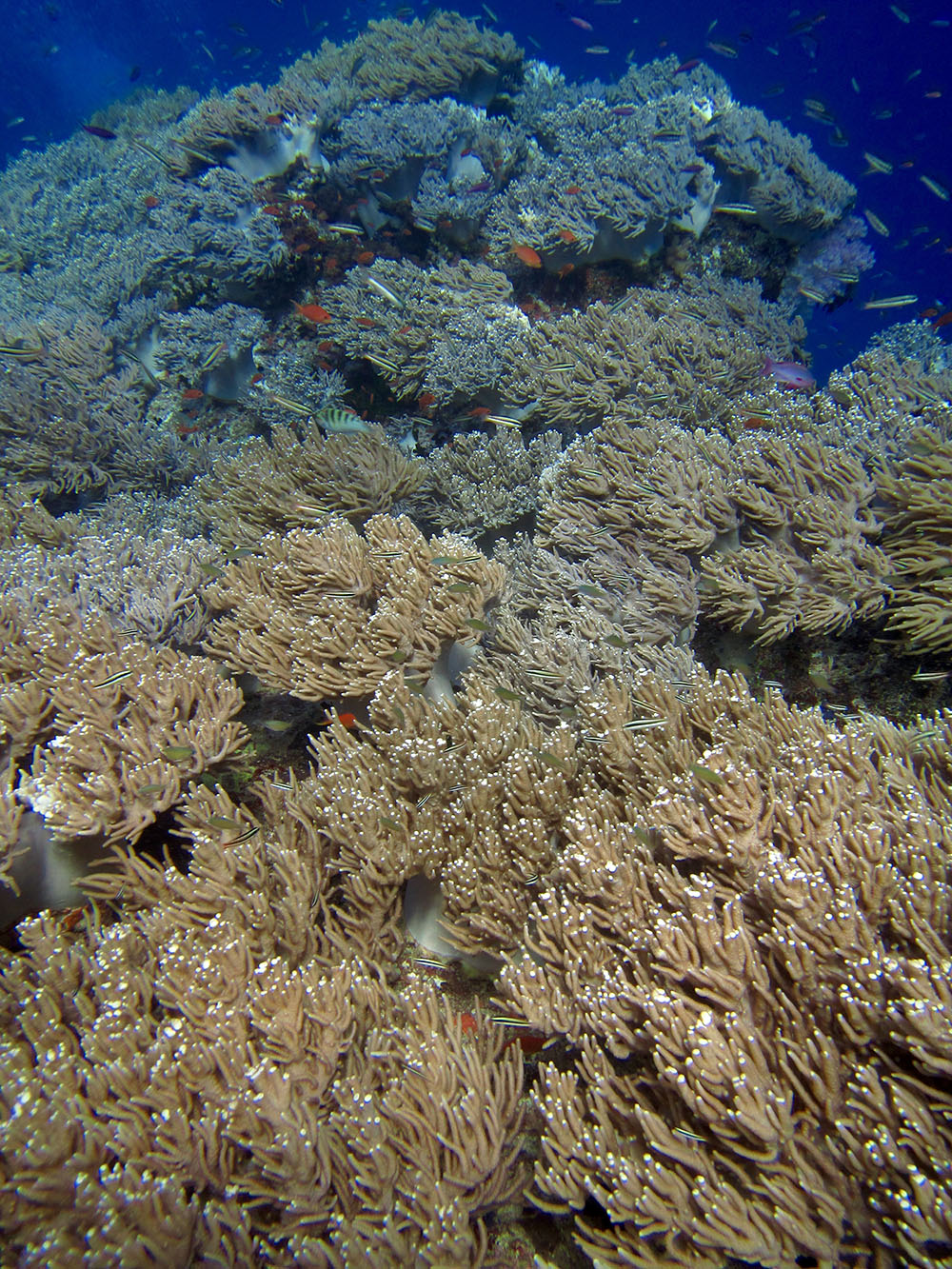 Photo by Sarah: Kansas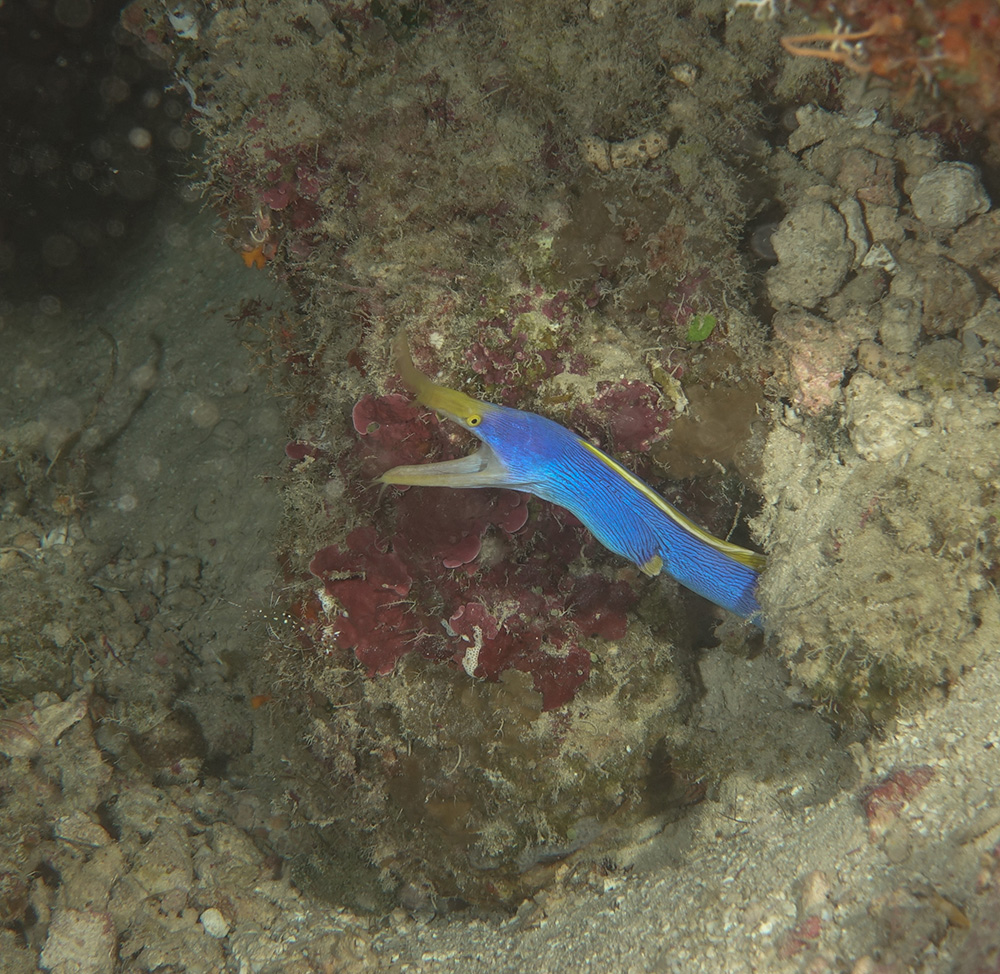 Photo by Karen Tan: Ribbon eel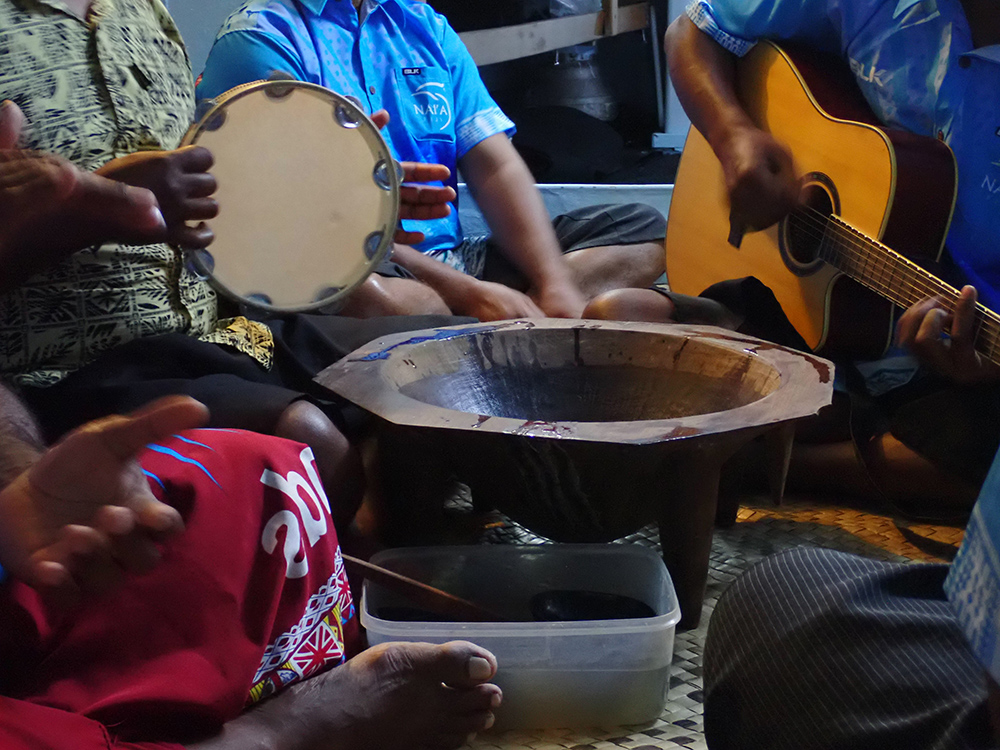 Photo by Raquel: Kava Time!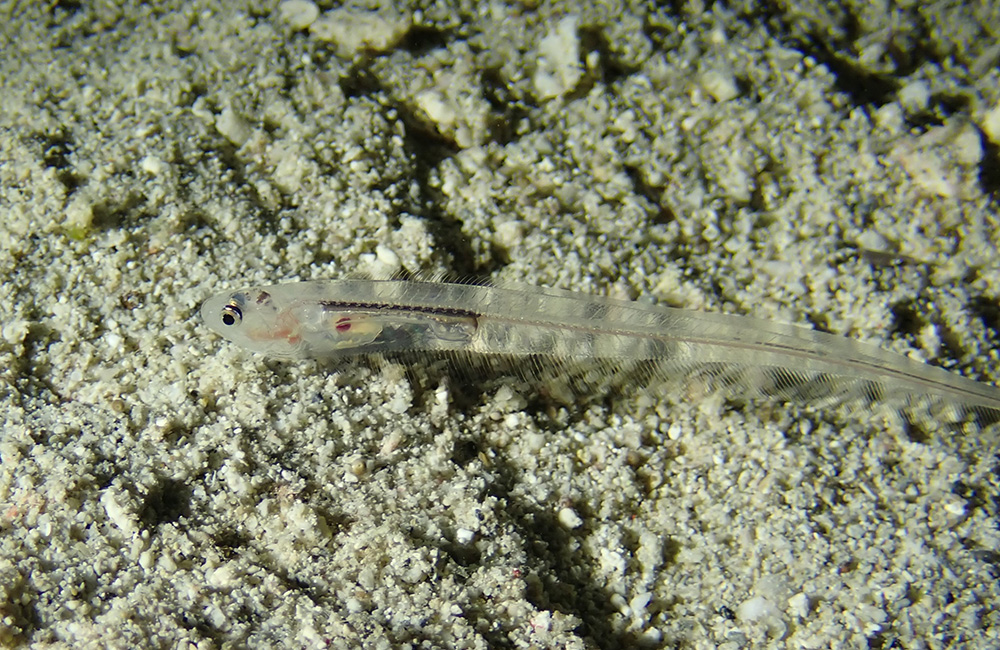 Photo by Raquel: Pearlfish
A calm crossing brought us to Vuya and three dives filled with nudibranchs (including the birthday one), leopard blennies, scorpionfish, scalefin anthias, ribbon eel, sea spider, blue-green chromis and fusiliers… all the fusiliers. But the awe-strucking quality of these dives came from the scenery in general, the activity and the colors… the hard and soft corals, so healthy, paired with the gentle current and sunshine… it was heavenly. Sherri, who was on NAI'A back in 1999, says the diving has gotten even better than she saw before. So we finished strong, and after our last dive every guest had the same remark: Wow.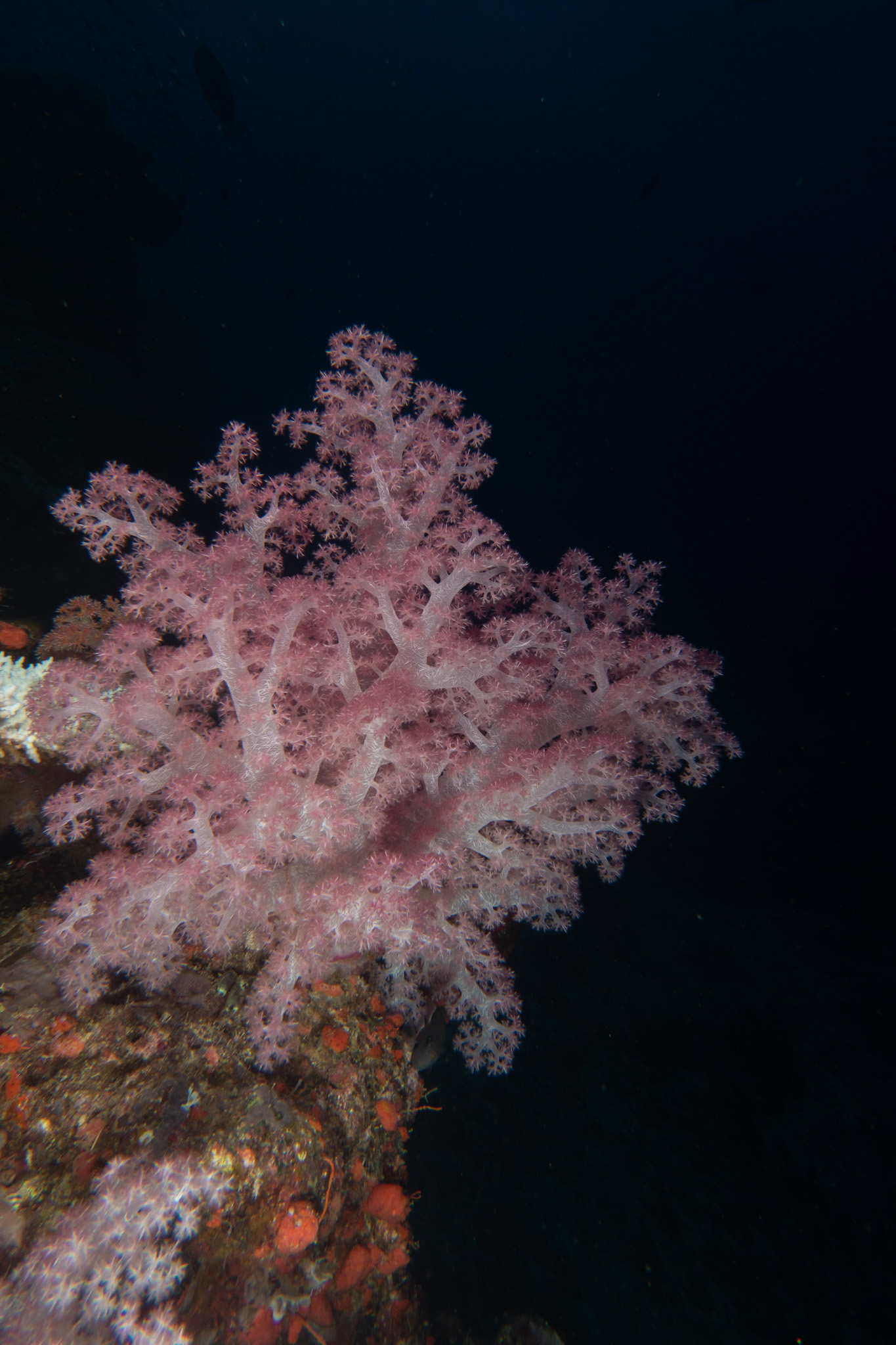 Photo by Karen Tan: Soft coral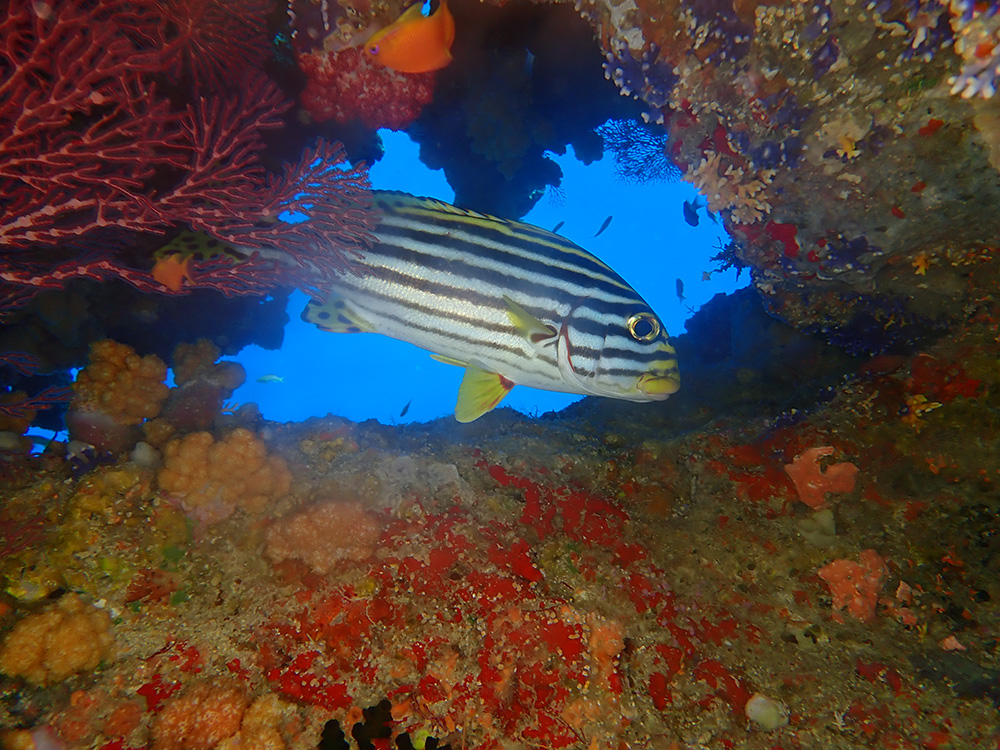 Photo by Raquel: Sweetlips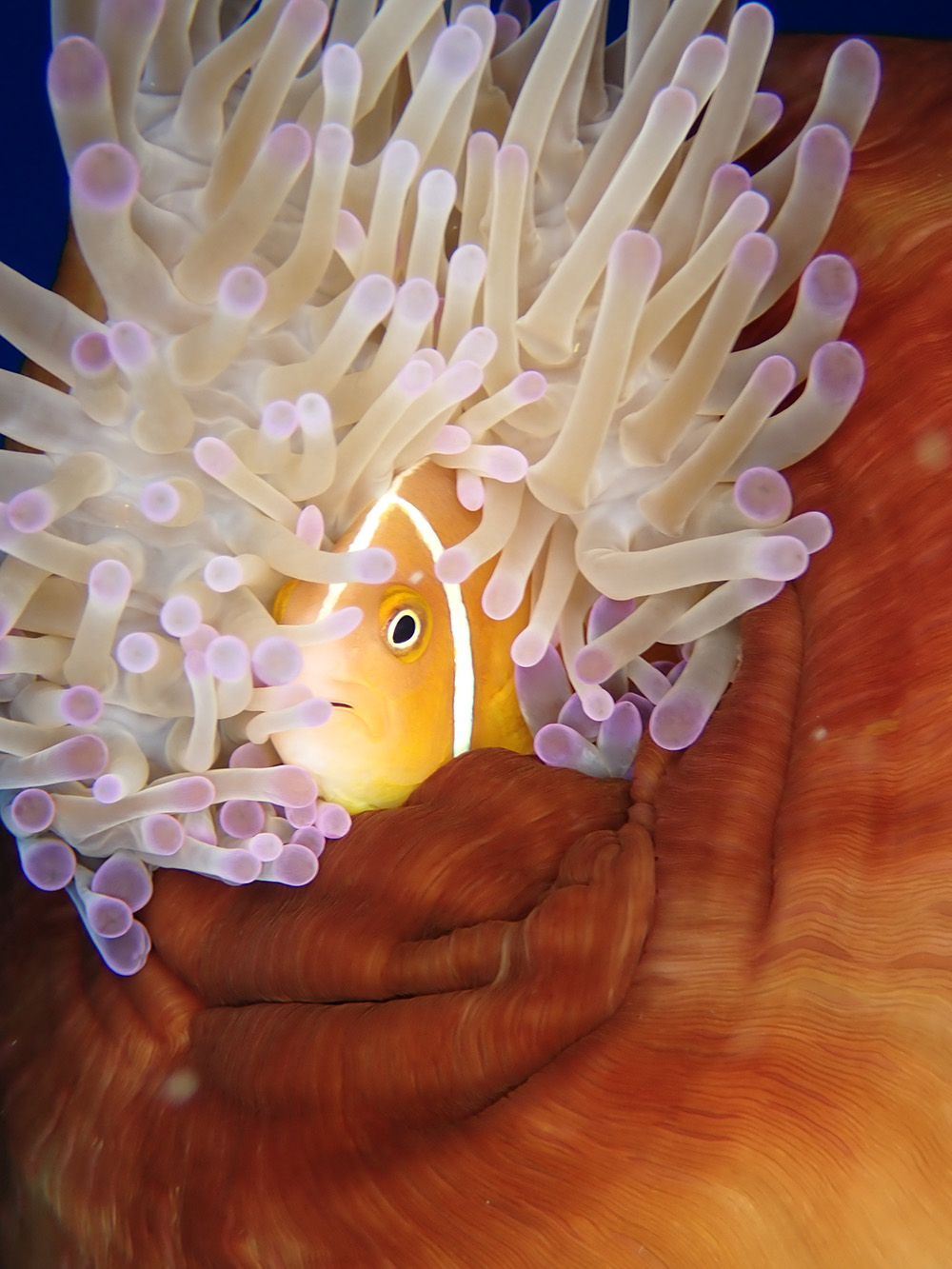 Photo by Raquel: Her anemonefish friend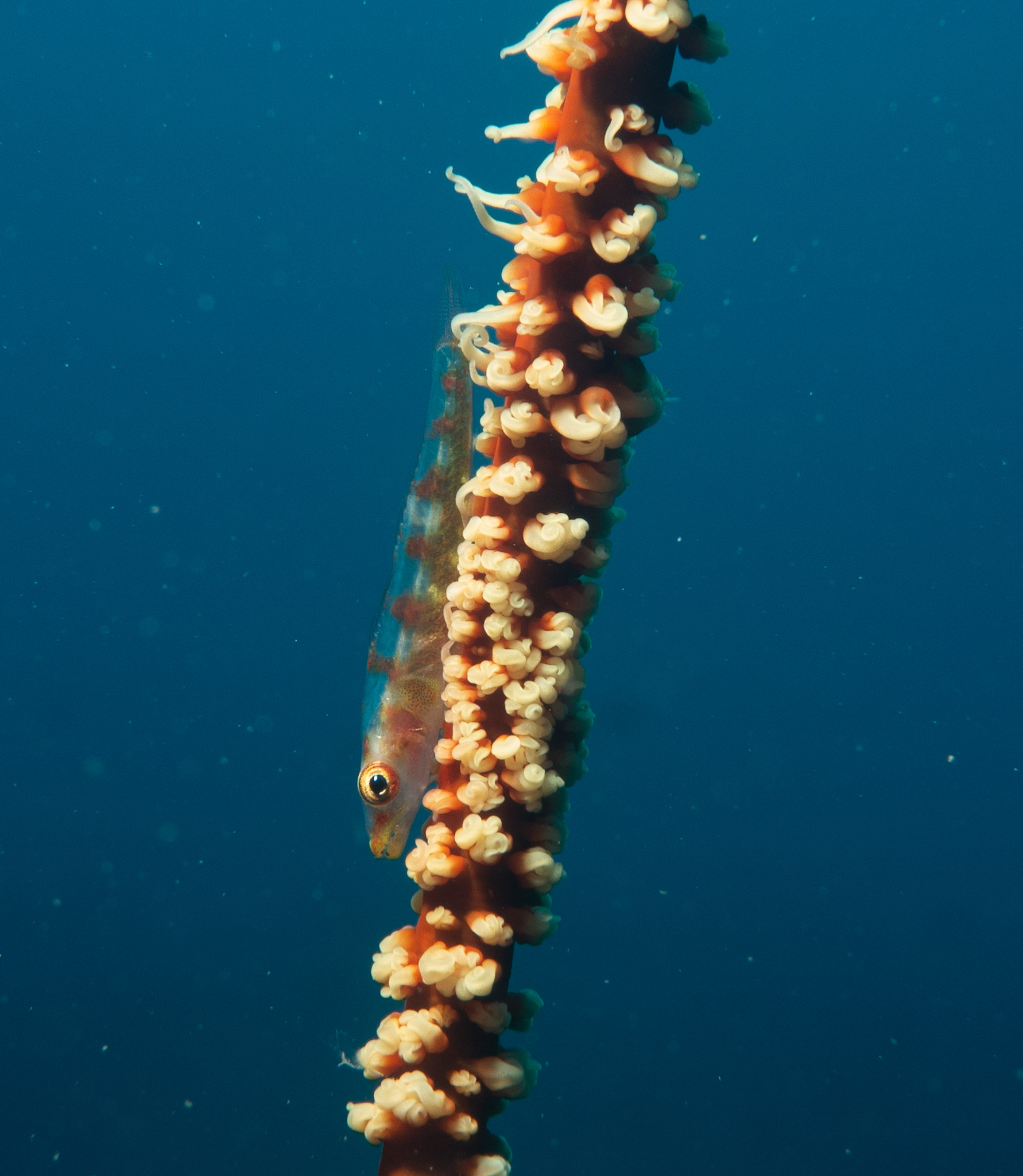 Photo by Karen Tan: Goby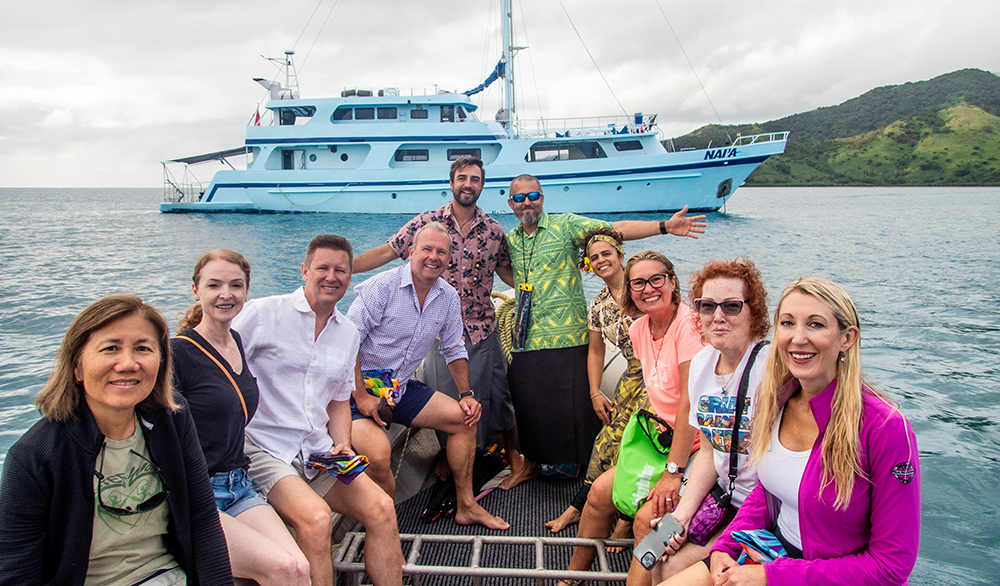 Our lucky group
Comments
"We loved every minute of our time with you in Tonga! It could not have been any better. Each and every member of the NAI'A team was outstanding and each of you made our whale expedition unforgettable. The whales, the hospitality, the guides, the skiff driving, the dinners and the singing and kava… Everything was wonderful. It was the best honeymoon ever!"