When You Least Expect It
Destination: Bligh Water, Gau, Wakaya, Makogai
Trip Date:
Sep 2nd - Sep 9th, 2023 -
Comments
Author: Bel&Mike
Welcome Back: Cheryl
Congratulations: Zeev and Hendrik, on doing all the dives!
And just like that, it was our 50th trip on NAI'A! On our last charter we were graced with the presence of a few hammerhead sharks, grey reefs, manta rays, many barracudas, enough fusiliers to fill the entire ocean and a few more surface sightings of humpback whales, as well as an intimate encounter during a dive!! Our waters are reaching their coldest temperature for the year (24C/75F), but the wind is slowly warming up. We had a few windy days, but the sun shined through the trip making our dives ever more colorful.
With two last minute cancellations, we had a small group of 11 guests and the Americans for once were not the majority on board. We had Israelis, English, Australian, Vietnamese, American, German and Swiss guests, a nice mix of backgrounds, ages and dive experiences. After our checkout dive, we headed to our Sea Mounts for our first proper day of diving (sorry, Samu).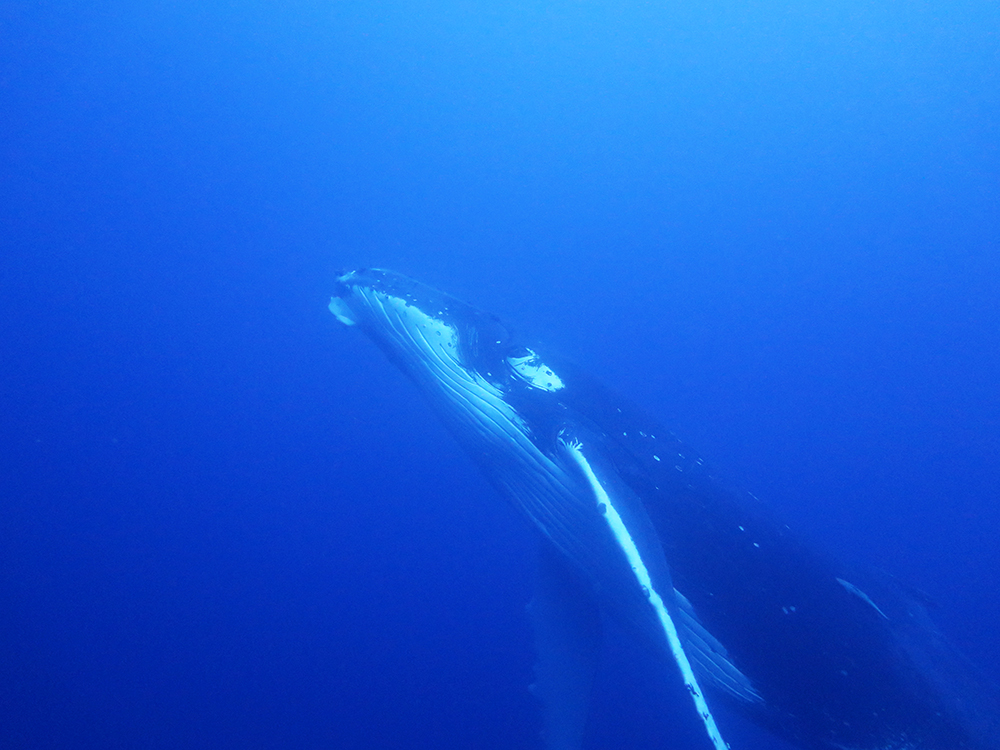 Photo by Andrea Bläsi: An intimate encounter with a humpback whale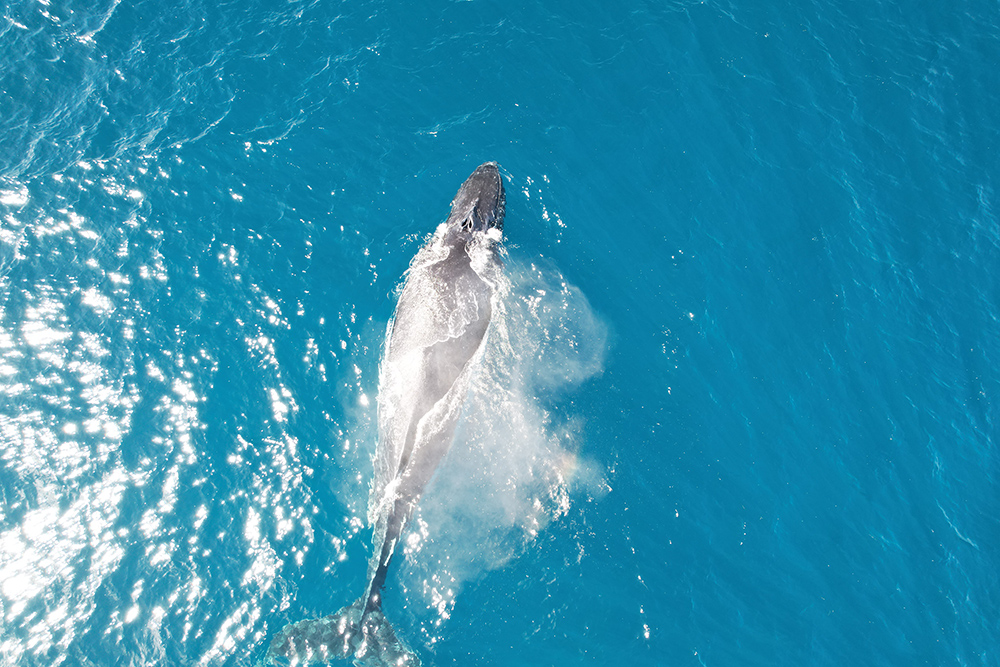 Photo by Mike: Whale close to Nigali Passage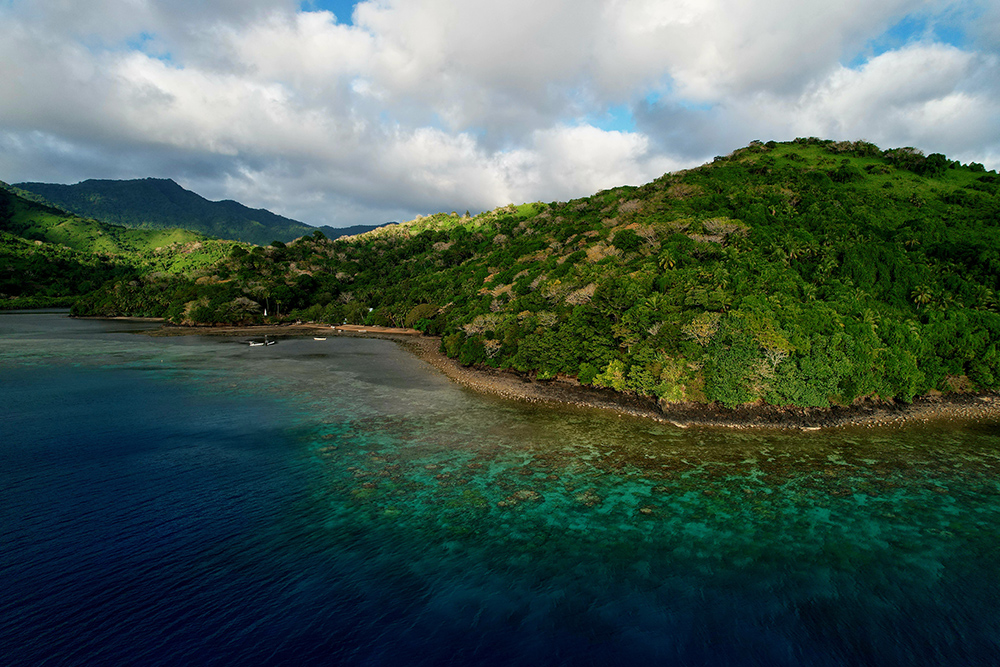 Photo by Mike: Somosomo village
As usual, our day at E6 and Mount Mutiny enchanted the divers with all the healthy healthy corals. Visibility degraded throughout the day, but so did the action around the wall. Fusiliers, surgeonfish and unicornfish were hunted by the trevallies (including a couple of giants). The small communities of chromis, damsels and anthias peppered the small bommies. A few special appearances by a small school of small tuna, a big school of blackfin barracudas, a hawksbill turtle and a curious hammerhead were a few of the highlights. Bel, Tung and Vanessa heard humpbacks during a dive. On the night dive, we saw many decorator crabs, a few white tip sharks and a free-swimming moray eel.
We moved right after the night dive to Vuya reef and spent the night anchored for a good night sleep. The current was persistent and moderate-to-high the whole day, which meant a workout for the guests with a big payoff: fish, fish, fish and soft corals. Cat's was phenomenal with the dendronephthyas, at Humann Nature it was hard to see the reef past the clouds of anthias and chromis. Barracudas, scorpionfish, all the fusiliers.
We moved right after dinner towards Gau for a fabulous day with the sun shining gloriously and the island providing us shelter from the increasing wind. At Jim's and Anthia's we had incredible visibility, a leaf scorpionfish, some huge Spanish mackerels, a few sharks and a lot of action around the top of the bommies. Then we moved close to Nigali and saw a whale right by the passage. Lefty got in the water with him/her and watched it splash its fin on the surface. Righty went to the Outer Slope for a crystal clear dive listening to the whale, and right at the end, when we least expected… we saw three mantas. One of them was a juvenile from Kadavu… the first record in Fiji of a juvenile migration as well as a Kadavu-Gau migration!. Nigali passage was covered in black, midnight and red snappers, as well as bigeye barracudas. A dozen or so young grey reef sharks led the way to the lagoon with the ever spectacular cabbage patch. We did out village visit, danced our butts off and had some extra kava and music back on NAI'A. Humpbacks, mantas, party. Not bad for a Tuesday!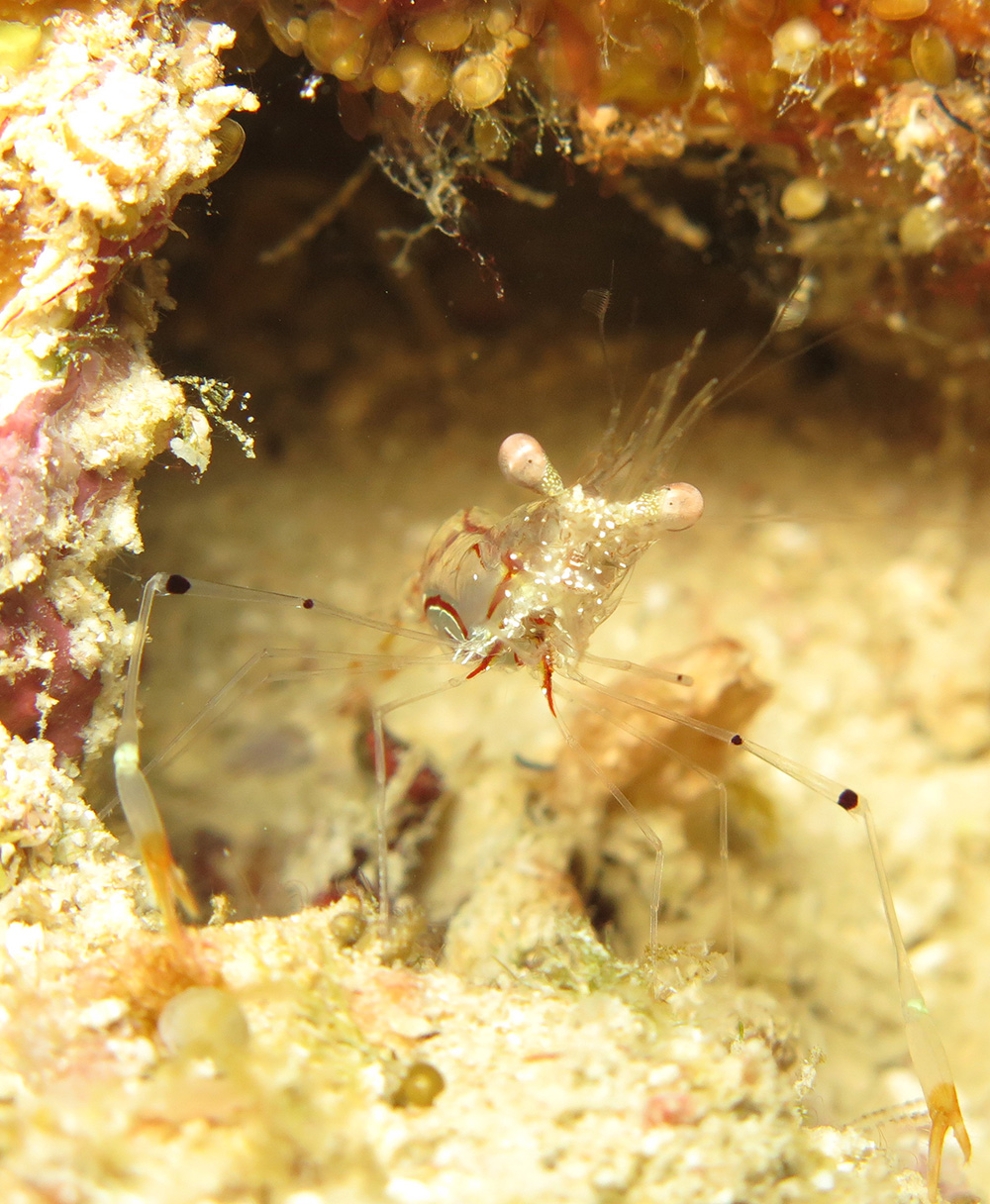 Photo by Andrea Bläsi: Cuapette glass shrimp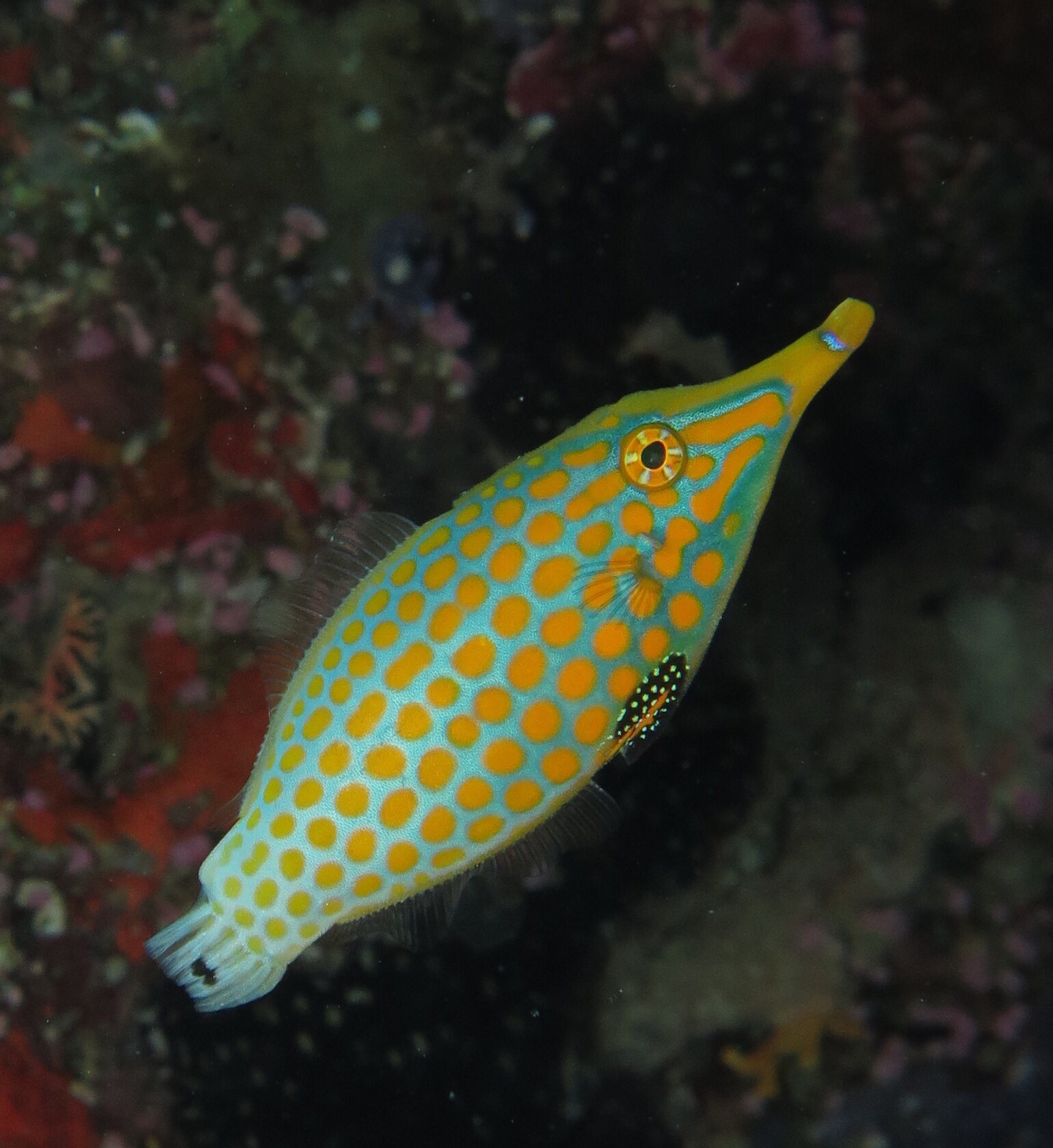 Photo by Andrea Bläsi: Longnose filefish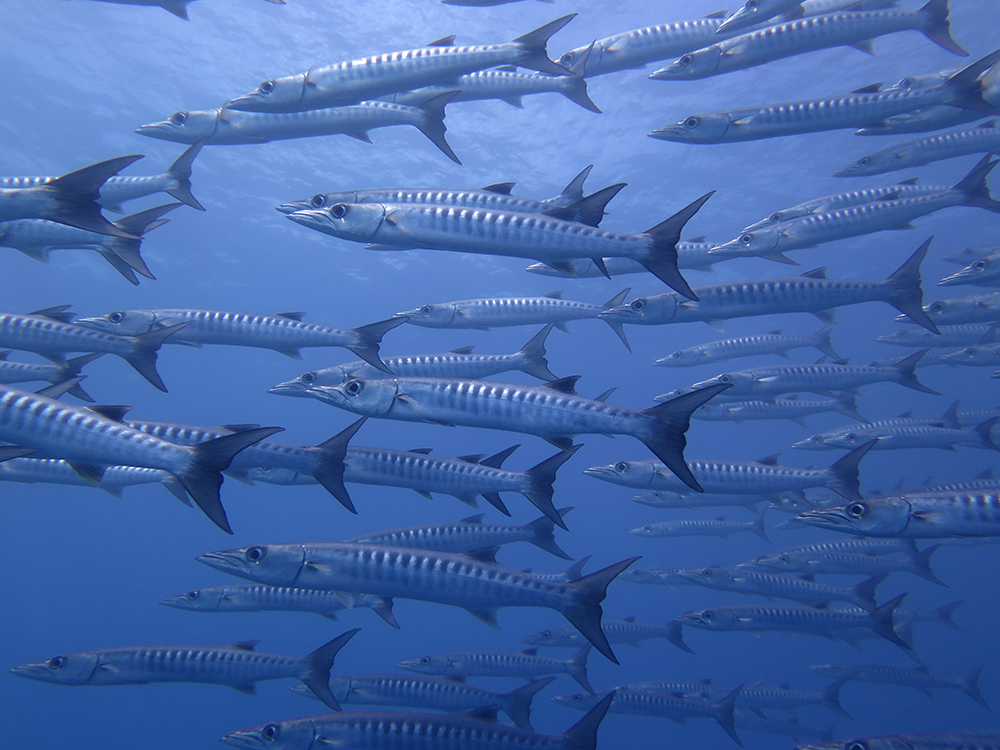 Photo by Andrea Bläsi: Barracudas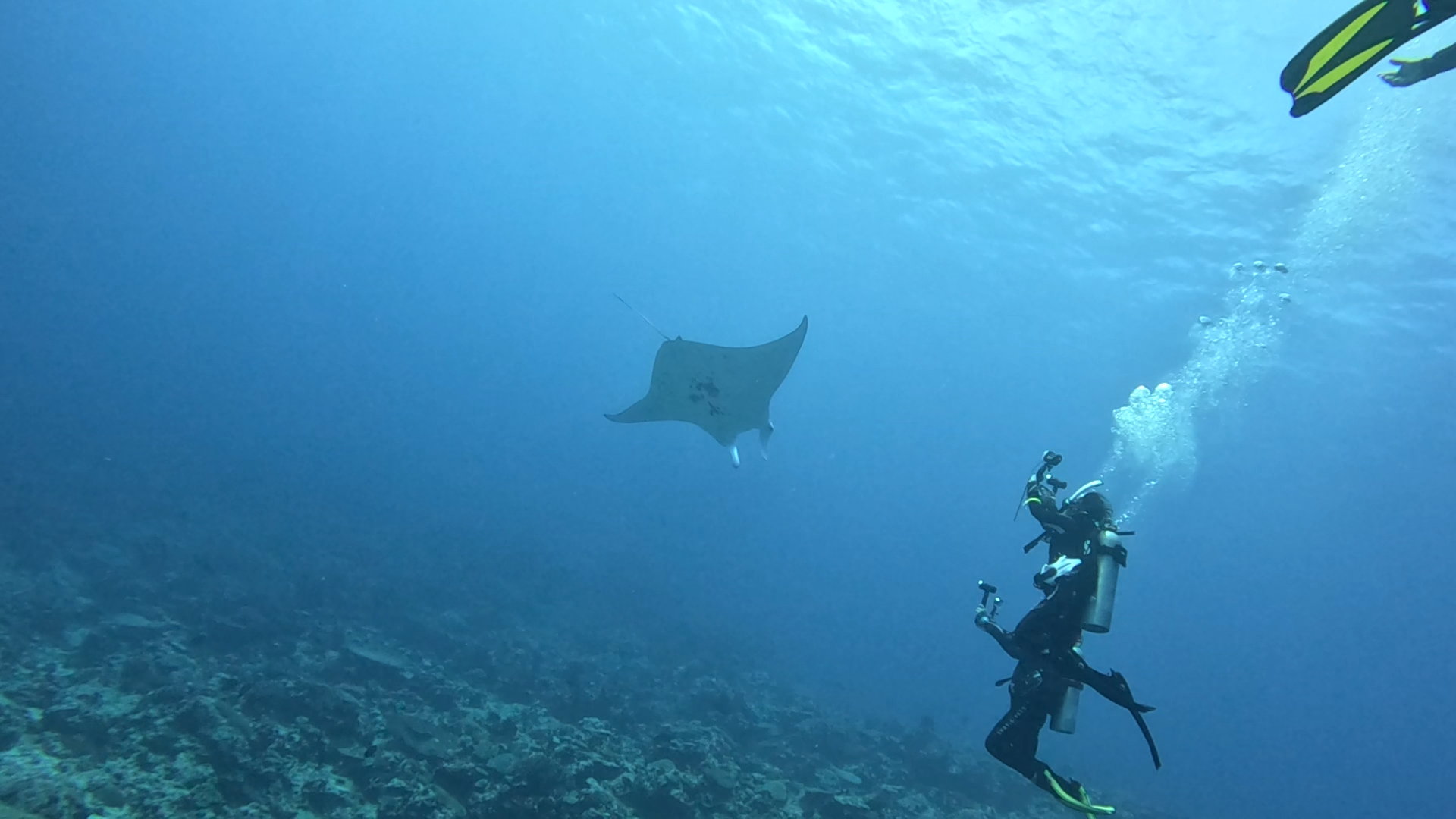 Photo by Bel: M233 from Kadavu saying hello to us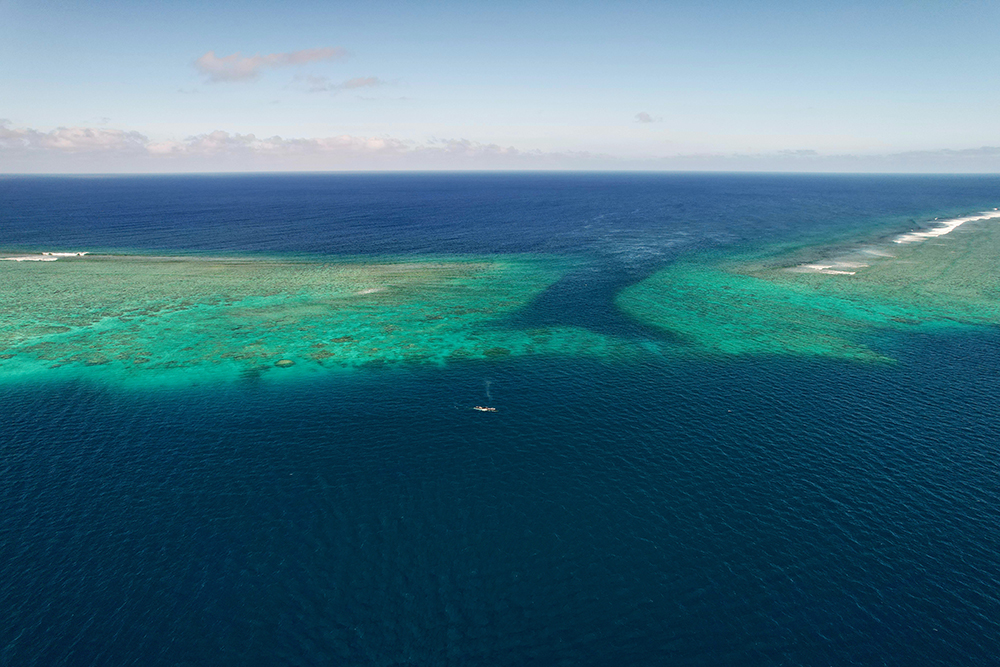 Photo by Mike: Nigali Passage from above
Photo by Mike: Somosomo sunset
Our crossing to Wakaya was smooth and our day was peppered by manta encounters. They were not our frequent mantas and so they were a little shy, but at least 5 to 6 individuals approached us throughout the day, one of them a new manta that Sachi got to name after his daughter Hlla. We also saw Drake, a manta whose sex wasn't clear until the present sighting of her carrying a very big baby bump. We also saw 4 leaf scorpionfish, a few white tip sharks and a hammerhead, who said hello to both Righty and Lefty! During dive 3, 2 humpbacks followed right along the wall, and the divers got to see them breaching on the surface after coming back from the dive. After dive 4, a baby boobie adopted Lucky Lefty as its resting refuge. We moved over to Makogai and anchored there for a memorable Kava Party. Our goats were loud, but aside from Andrea and Zeev, they all crashed immediately after Isa Lei. We're working them too hard!
We woke up at Makogai and dived our beautiful bommies, very relaxed. We saw many nudibranchs, sea spiders, longnose filefish, wire coral shrimp, anemonefish, humphead wrasses, redfin anthias, scorpionfish, lionfish, emperor shrimp and a beautiful but deadly crown-of-thorn sea star. The currents were mild, just enough to gather the anthias, majors, unicornfish, surgeons, chromis and fusiliers to one side of the bommies. The swim-throughs at Becky's we spectacular with the good visibility. On the night dive, Mike, Hendrik and Zeev saw a big marble stingray, a massive pleurobranch and an octopus.
We finished strong at Vatu-i-ra Marine reserve. We saw various nudibranchs, a few sharks, moray eels, two octopuses, and more fish than anyone could ever ask for. But it kind of all paled for Lucky Lefty, as 10 minutes into their first dive of the day they had 2 up close and personal encounters with a humpback whale. It is safe to say nobody was expecting that… In Andrea's words: it was like time stopped. While we were having lunch, the whale came back breaching alongside the reef and dived right on top of Mellow Yellow again. We may need to rename the site!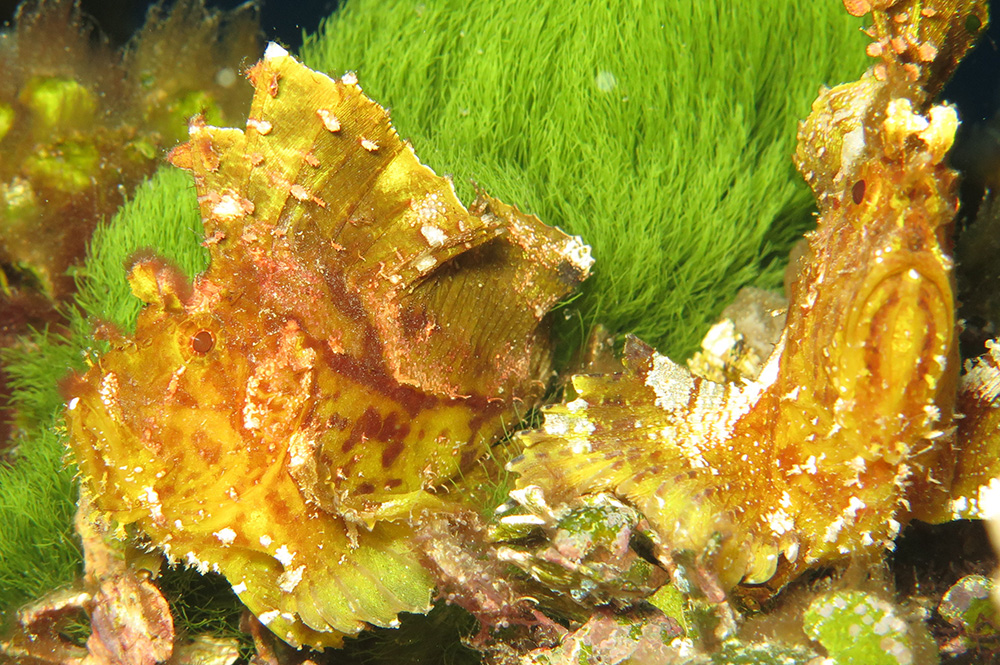 Photo by Andrea Bläsi: Two leaf scorpionfish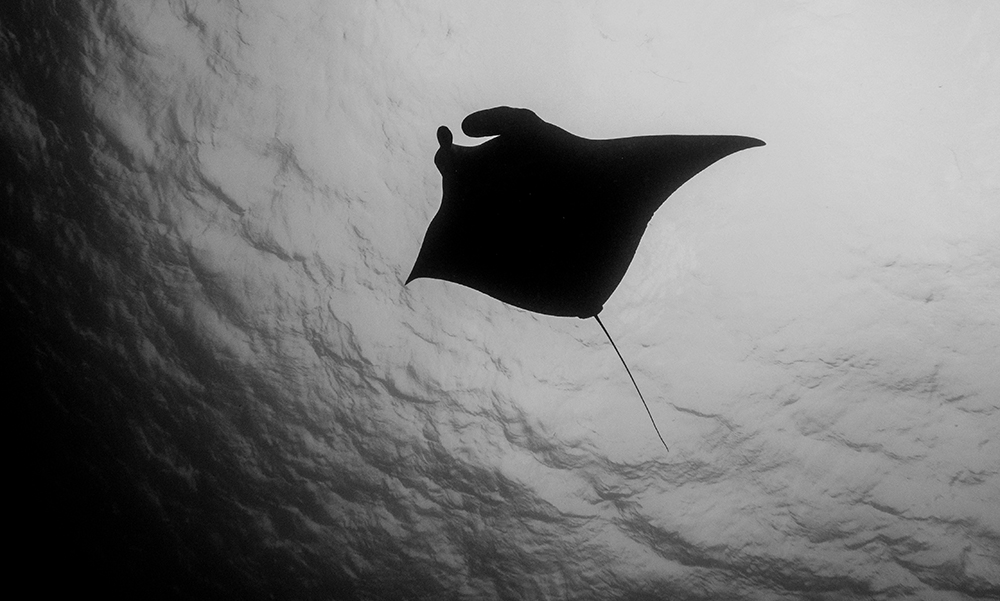 Photo by Bel: Hlla, our new manta for the trip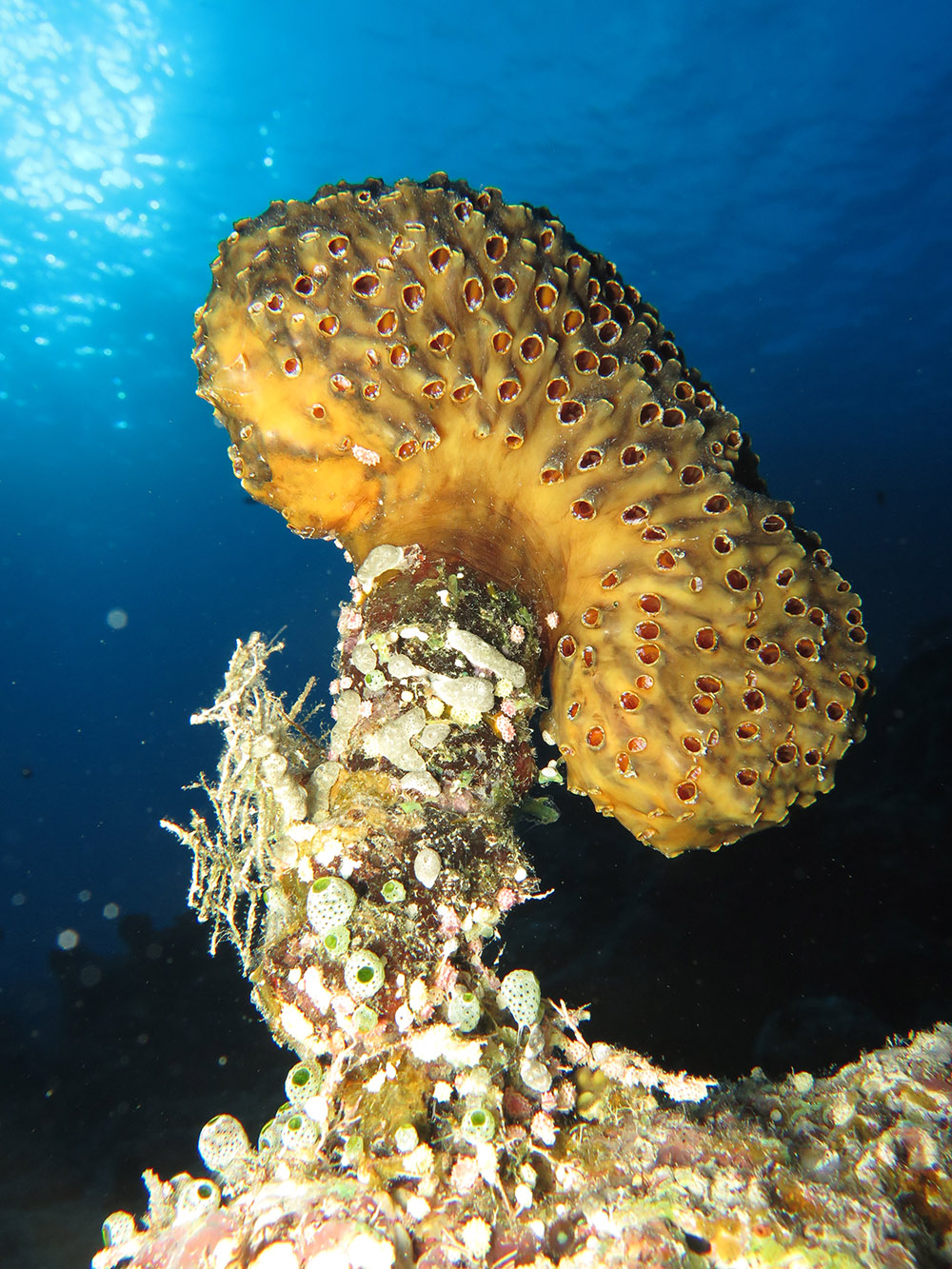 Photo by Andrea Bläsi: Tunicate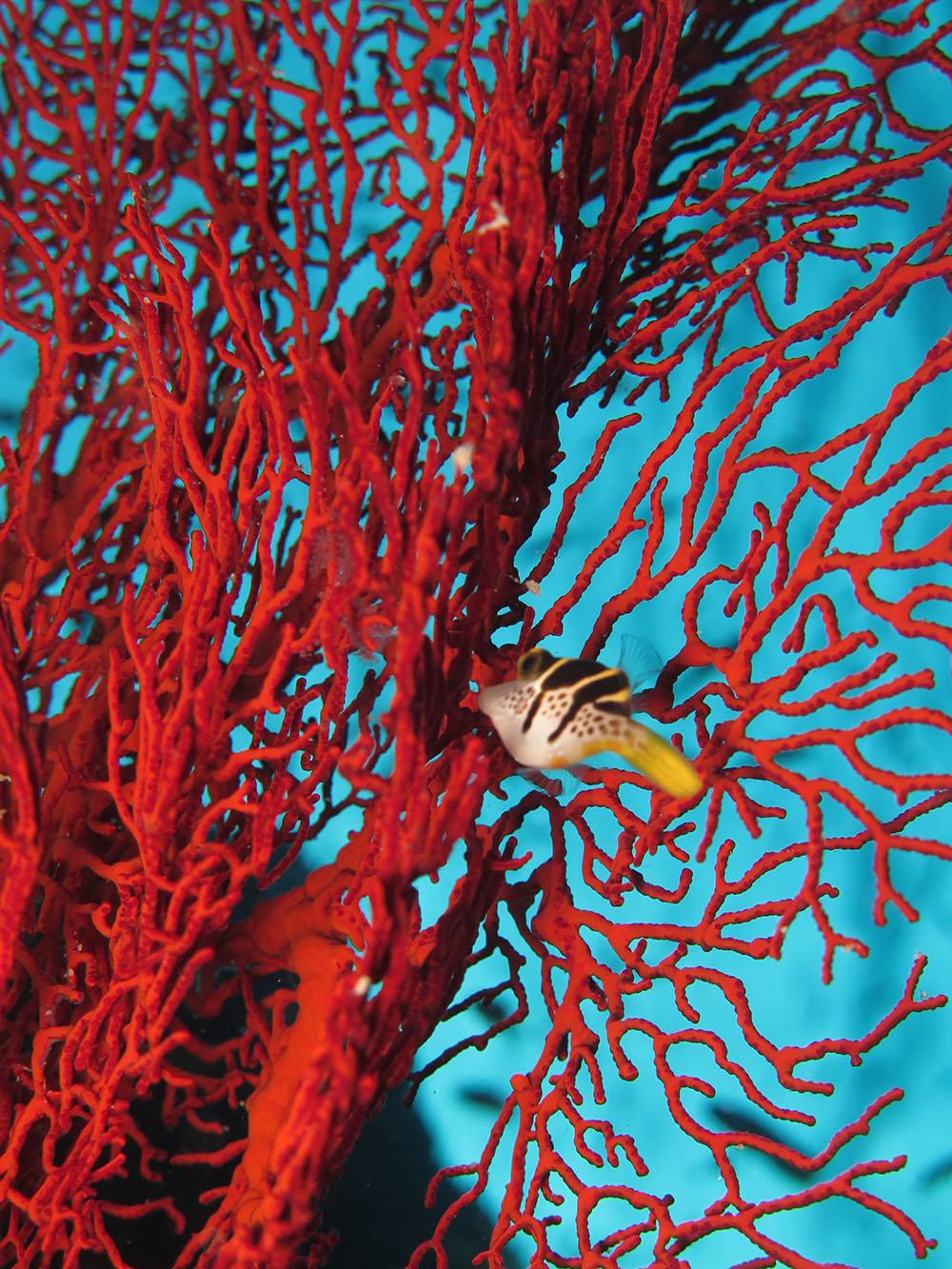 Photo by Andrea Bläsi: Fan and toby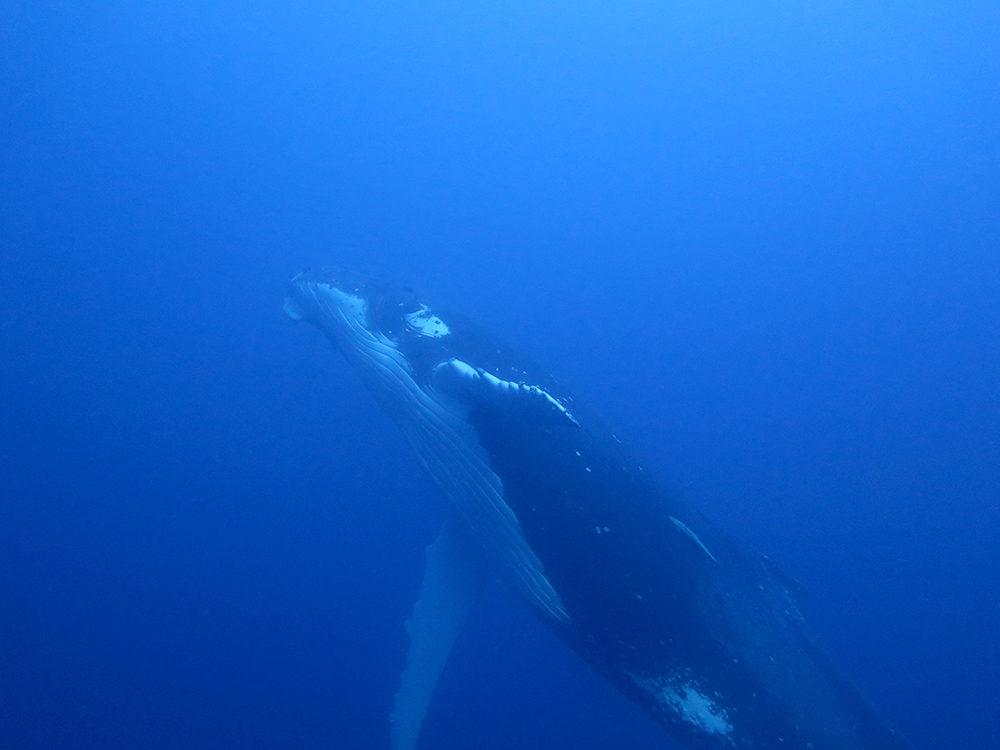 Photo by Andrea Bläsi: When you least expect it... The humpback that stopped time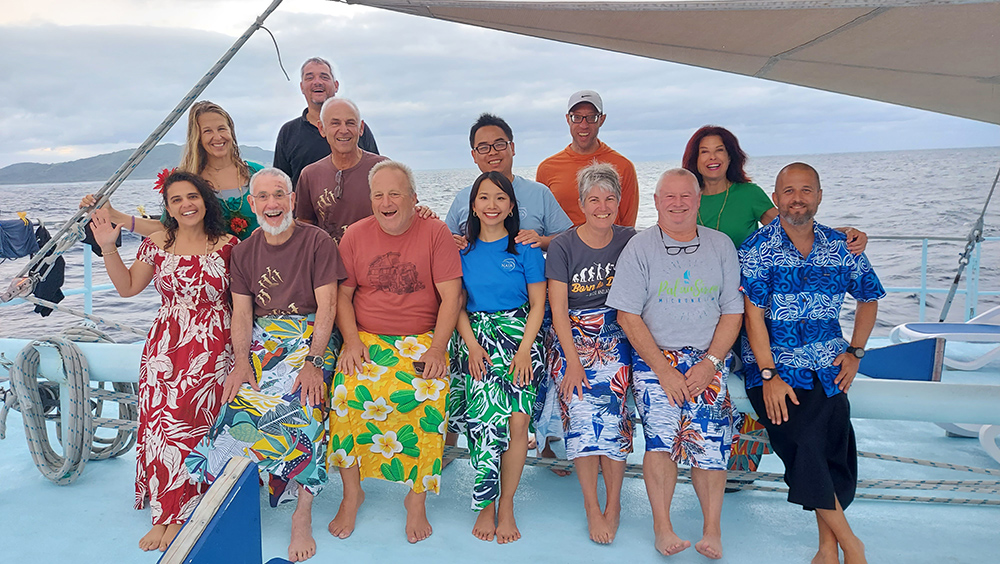 Group photo
Comments
"This was my first visit to Fiji and my first time on a liveaboard. I must say it exceeded all expectations….Food, diving and hospitality was 5*"