A Nautical New Year
Destination: Fiji's Bligh Waters
Trip Date:
Dec 29th - Jan 8th, 2018 -
Comments
Author: Vanessa & Chad
Welcome Back: Bruce & Buz
Congratulations: Levin on 100 dives and Daniel on 1100!
Wow, well this trip was the stuff dreams are made of! We truly feel like we've just been on holiday with a great bunch of friends for the last ten days. It really is one of the most beautiful things when you see a boat load of strangers getting on like a house on fire within minutes of meeting each other! This particular charter, we were joined by a group of 6 friends and family from Colorado, then 5 other couples from the US, UK, Belgium, Germany and Austria: quite a varied mix, really, but it was hard to believe the whole 16 weren't a bunch of old-time friends who've been diving together for years! With endless laughter and great conversation, combined with glorious weather and kick-ass diving, we were well set up for a perfect Nautical NAI'A New Year.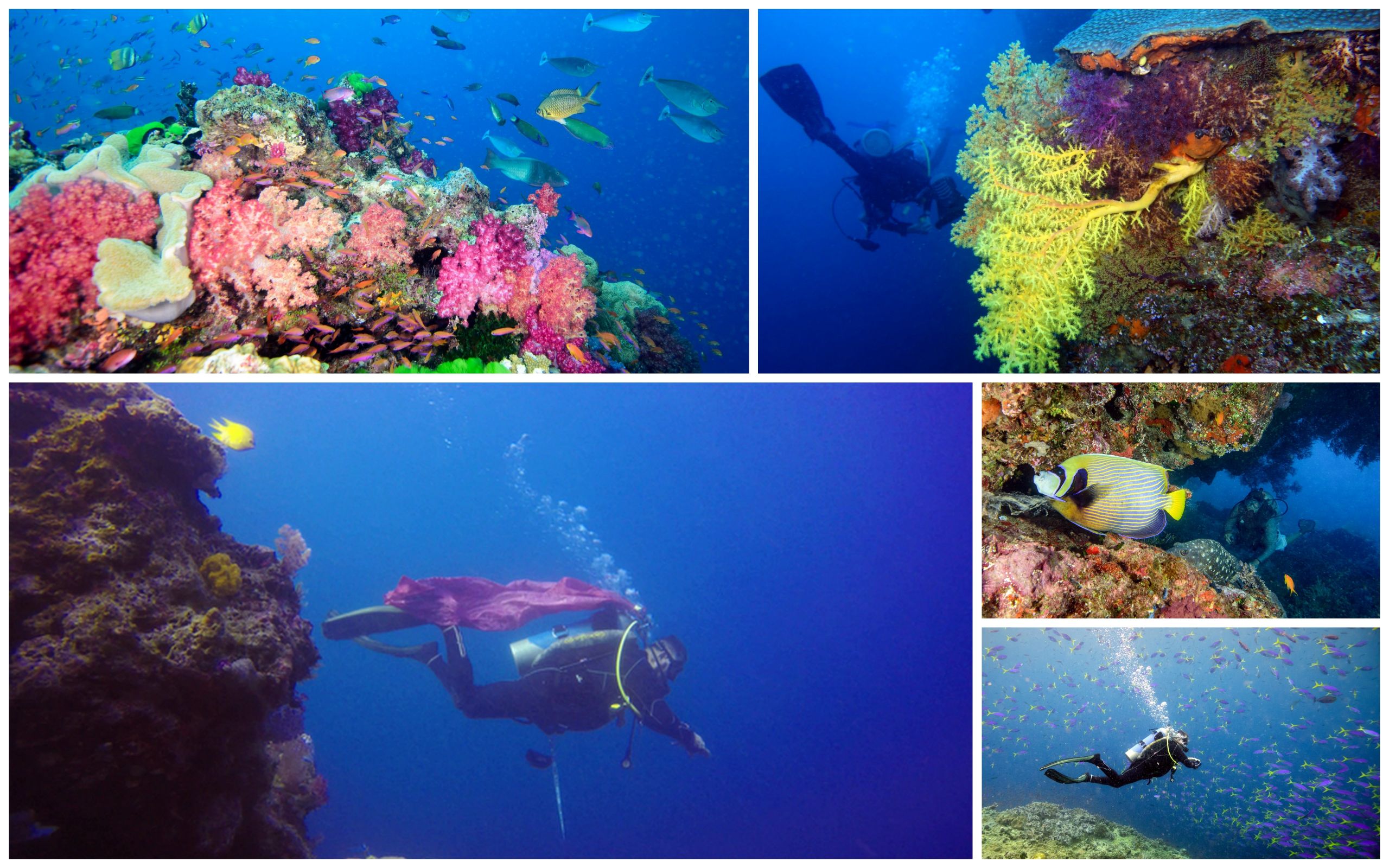 Photo Credit (Clockwise from top left): Bruce, Nassim, Bruce, Bruce, Bruce
We spent our first day in the beautiful region of Vatu I Ra where we couldn't believe our luck with the surface conditions: this is an area that can often see high waves and some bouncy-bouncy skiff journeys so the glassy seas and smooth rides were a most welcome surprise. And it only got better below the surface! Good viz, lovely warm waters (we're at our peak of 82 degrees at the moment and it's just lovely!) plus an ideal amount of current = some very enjoyable diving! Mellow Yellow, Coral Corner and Maytag all impressed with their sheer 'fishiness' and gorgeous plumped up soft corals. And Alacrity wasn't its usual calm and easy 'lazy dive' of the day but it sure was beautiful and our guests loved 'doing a superman', flying over the top reef!!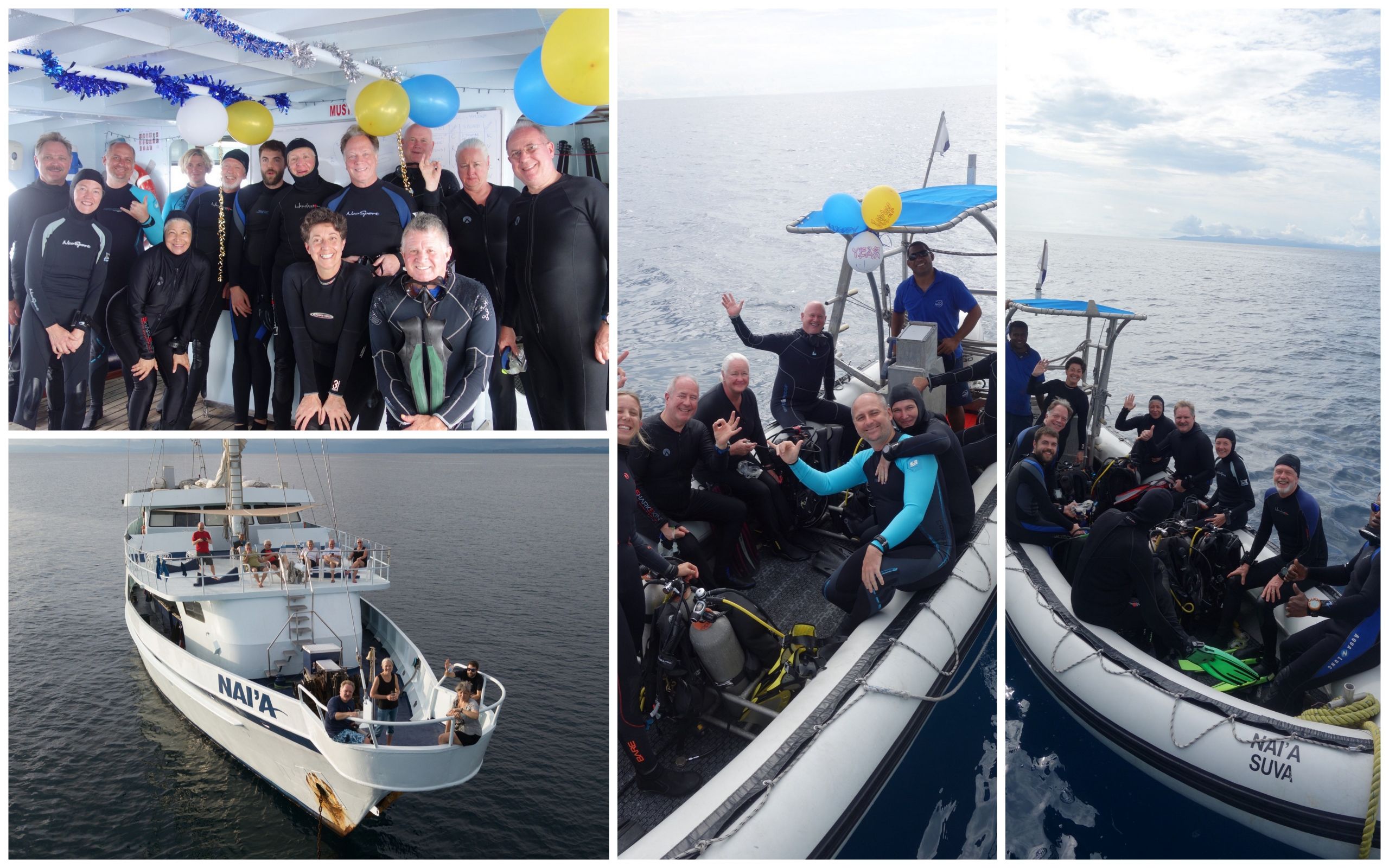 Photo Credit (Top Left, Bottom Left, Center, Right): Nassim, Bruce, Nassim, Nassim
From Vatu I Ra we headed east to the Namena Marine Reserve where we enjoyed two days of spectacular diving AND celebrated New Year in style. Pretty much all of our guests managed to stay up waaaaay past midnight…..well, according to the official salon clock they did!! The champagne flowed, the kava flowed….and yet we all made it up for the 7.30 dive: gotta love NAI'A Time. As always, the deep walls of Schoolhouse and Grand Central Station wowed our guests with their impressive array of 'big stuff'. But these guys, gotta love 'em, enjoy a bit of EVERYTHING and found huge pleasure in all the macro life of our pinnacle dives.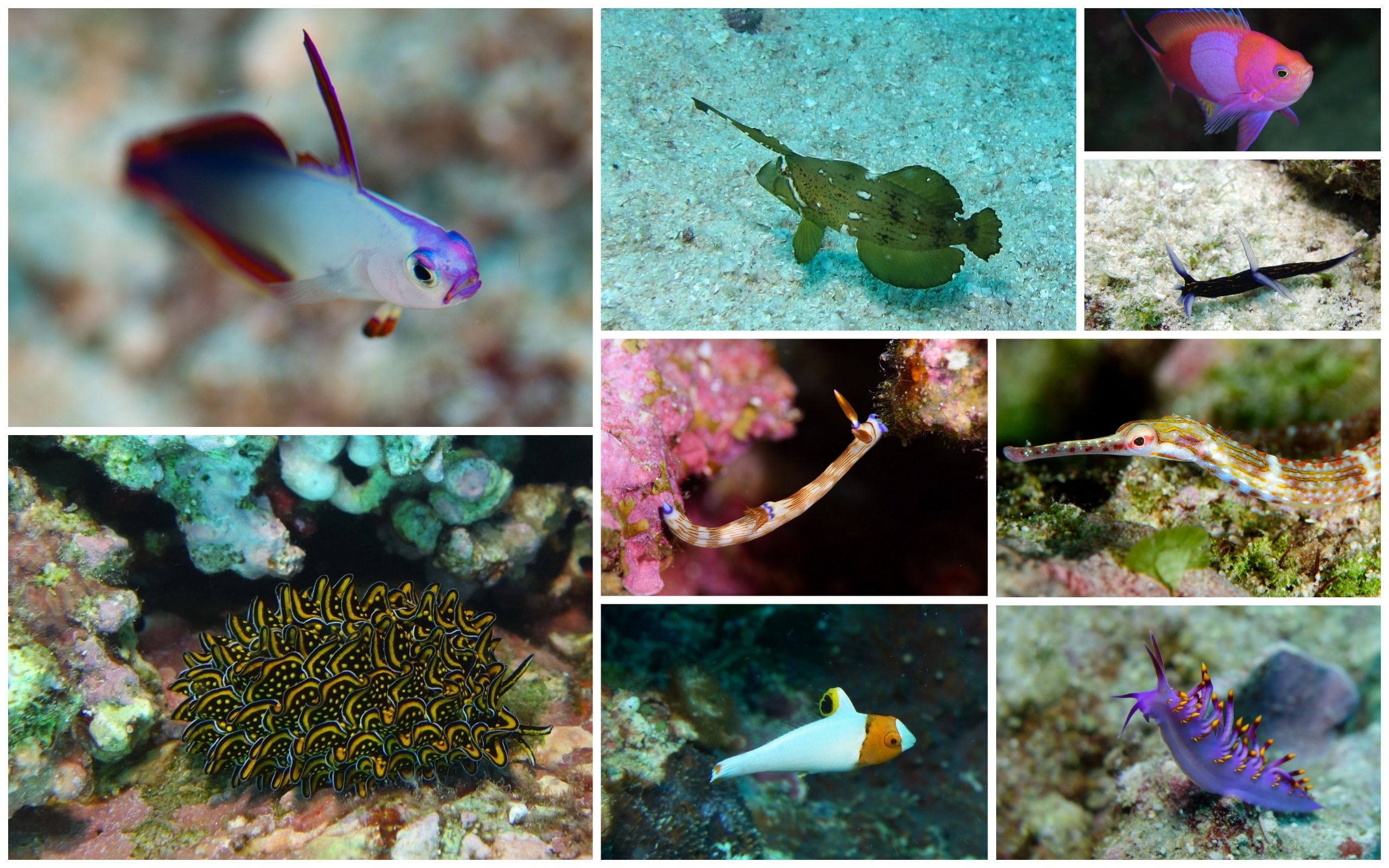 Photo Credit: (Left Top, Bottom) Bruce, Nassim (Center Top, Center Bottom) Nassim, Bruce, Nassim (Right Top to Bottom) Bruce, Nassim, Bruce, Nassim
Moving on after a lovely two days, we headed south to the island of Gau. Jungle Jig treated a few of our divers to a devil ray, cruising on by and then actually circling back around, seemingly to check them out too! And Vanessa found her first ever Fijian frog fish: it was about the size of her little finger nail and she was doubting her own eyes but at least two other divers confirmed it! Ohhh, and then came Nigali Passage…..it was PERFECT! We did it multiple times over the two days as it was so insanely good: seemingly endless barracuda, BFG back to his usual behavior escorting divers down the channel, a cheeky manta ray or two passing through….and that's without even mentioning the sharks! We were all delighted to see not only an extremely healthy number of adult sharks but a whole nursery of teeny babies, at least 7 or 8 congregating in the neck of the passage. Great news for the area! During our time at Gau, we also took a bit of time out to visit our friends at the village of Somosomo. As always, it was an absolute pleasure. It was particularly fun to see so many kids: they're normally off at boarding school but they were all home enjoying the Christmas holidays this time around.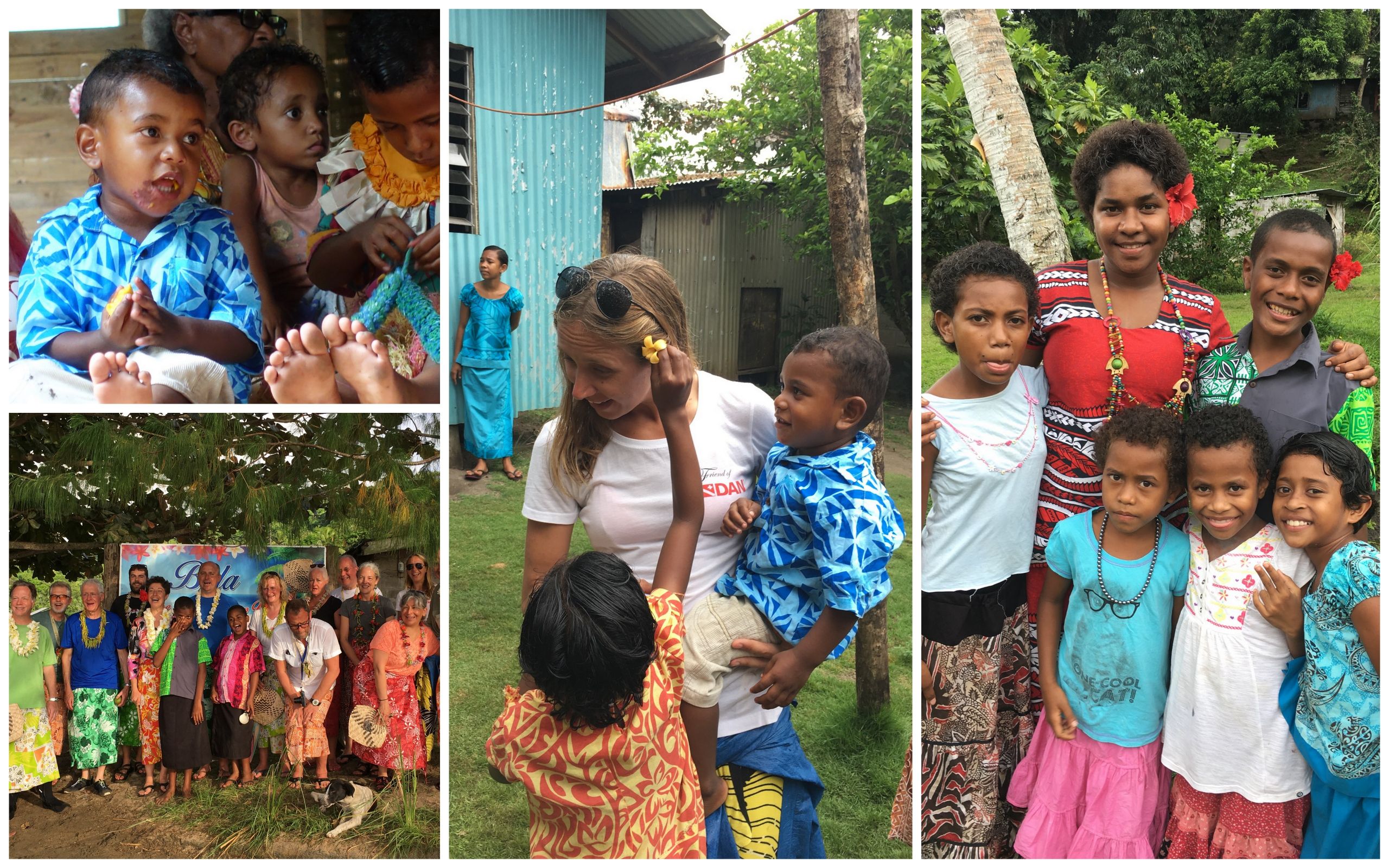 Photo Credit (Top Left, Bottom Left, Center, Right): Dave, Nassim, Nassim, Nassim
Leaving Gau, we began our journey back north, stopping at Wakaya for a gorgeous day of wall-diving mixed with lounging on the sun deck, enjoying the endless sunshine. Did we mention how perfect this trip was?! Well, if that wasn't perfect enough…..then go ahead and add a nurse shark and multiple mantas into the mix. What a day!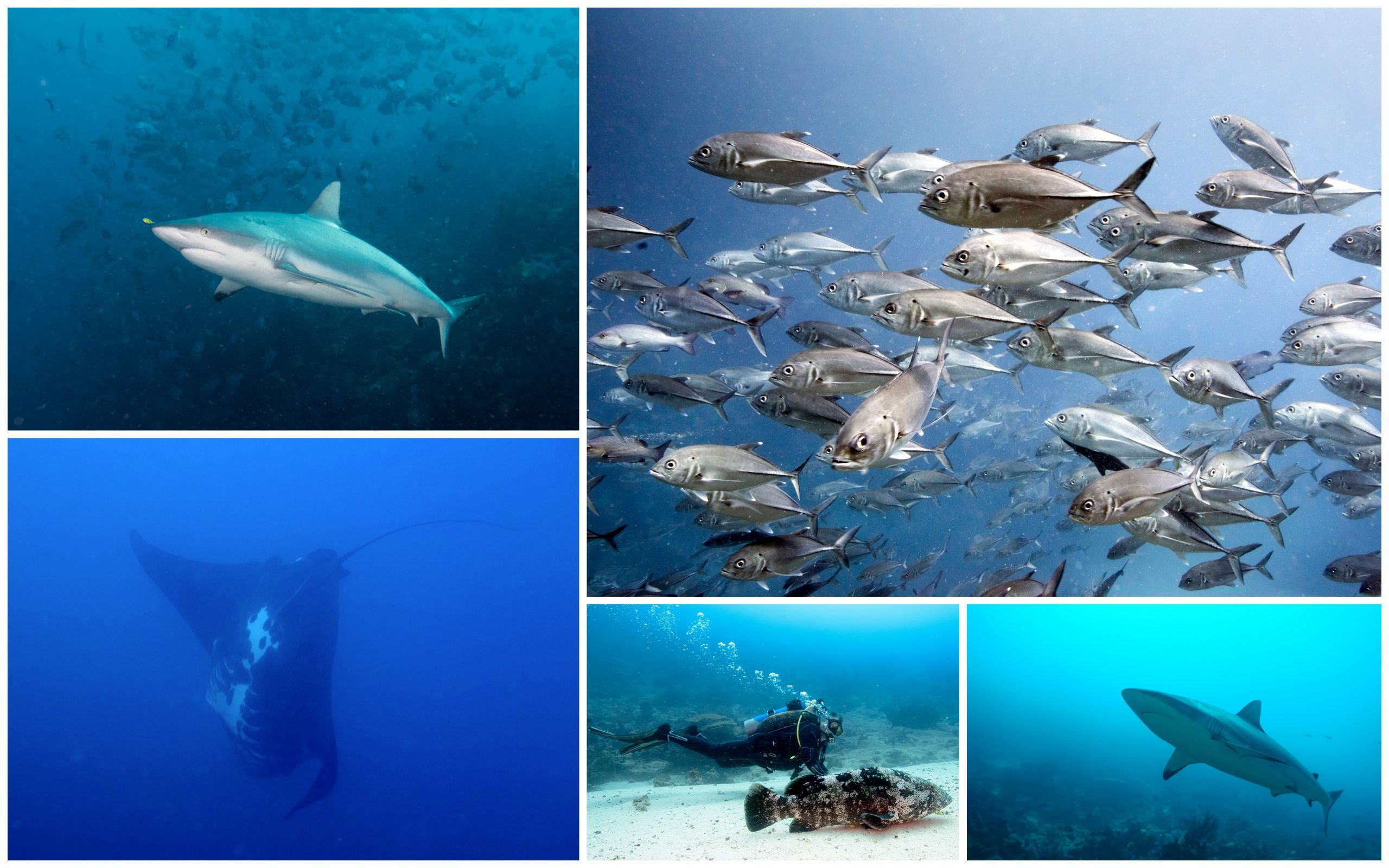 Photo Credit (Clockwise from Top Left): Bruce, Bruce, Dave, Bruce, Nassim
From Wakaya, we headed north right into the heart of the Bligh Waters to enjoy our spectacular sea mounts: Mount Mutiny and E6. The swim throughs at E6 were looking particularly gorgeous, with the light just pouring through all the cracks and crevices: almost a little 'other worldly'. After such a great morning, we decided to take a little gamble and do a little exploratory diving at Rob's Knobs, having not been there for many, many years. The divers came back with mixed reviews but were very happy to have seen a huge moray, many sharks and a sting ray: not too bad we reckon! To finish the day on a definite high, we headed back to Vatu I Ra and re-dived Mellow Yellow and Coral Corner which were both as satisfying as ever. We also took that evening as a little chance to relax with the crew out on deck, enjoying our traditional Kava Party. Our guests were wowed by our crew's musicality and we were wowed by Uschi's chicken impression, the best we've ever heard!
For our second last day of diving, we moved to the Vuya area and enjoyed four great day-dives: Cat's Meow, Humann Nature, UndeNAIAble and Blueberry Hill. These dives provided an amazing mix of 'big stuff', macro life, hard coral gardens and blooming soft corals. Whether it was getting lost in a school of barracuda or being mesmerized by Chad and Vanessa's favorite black and gold Nudibranch, a great day was had by all! And there was no stopping this lot after dinner: a record-breaking 10 divers headed out on the night dive….impressive show!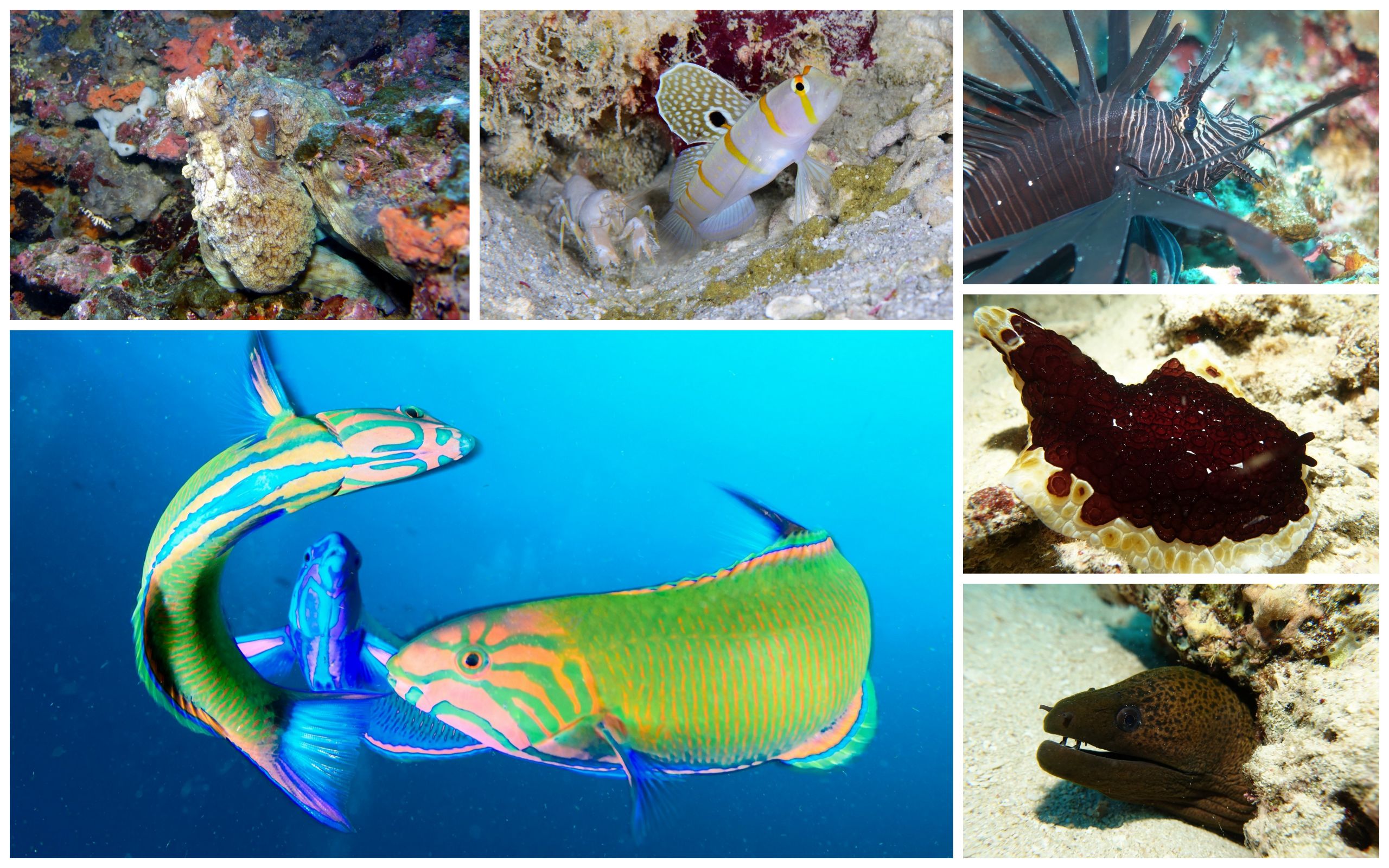 Photo Credit (Clockwise from Top Left): Nassim, Dave, Dave, Dave, Bruce
And so we came to our last day of the trip! We ended on a massive high after three awesome dives in the Nananu I Ra area, on the northern coast of Viti Levu. We were graced with the perfect current to plump up all the yellow soft corals as well as to concentrate all the fusiliers into a feeding frenzy on the top reefs. But the highlight of the day had to be our huge, show off octopus! For two dives he was dancing over the reef, displaying all his wacky colors and textures. What a way to finish the trip!!
We want to say a heartfelt VINAKA VAKA LEVU to you all for sharing your New Year with us: what a way to welcome in 2018! We wish you all health, happiness, and endless adventures. Until we meet again!
"Best crew on the seas! Had such a great time, learned so much, so much to see - Plan to see you again in Tonga" Dave & Elena
" ... We are very thankful for the great time, the friendliness and the good accommodation (and the good food as well!)... See you in Tonga" Karl & Anita
"We had a great time. You run a seamless operation and make the diving just to easy" Neal & Jane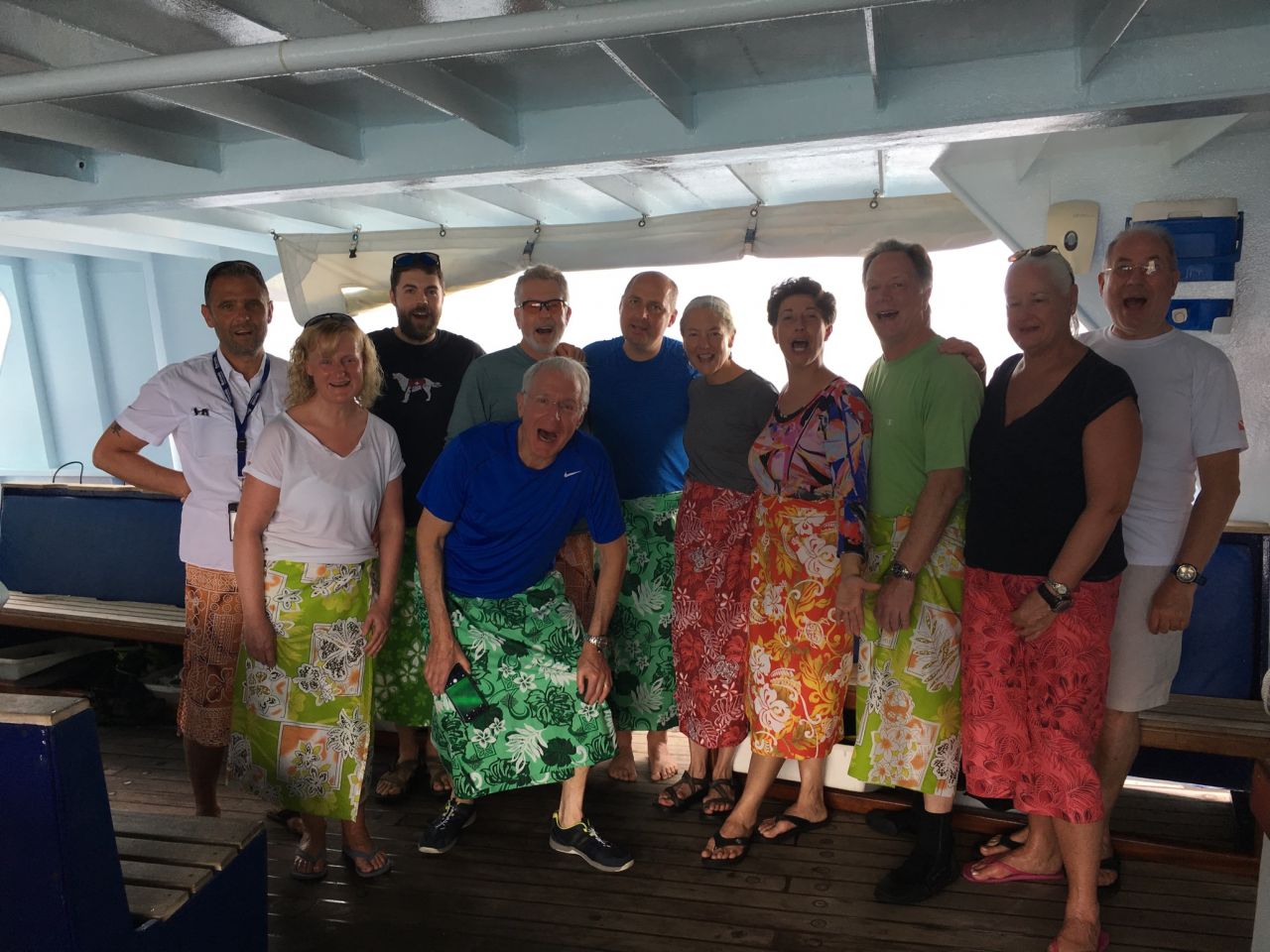 Bula! by Nassim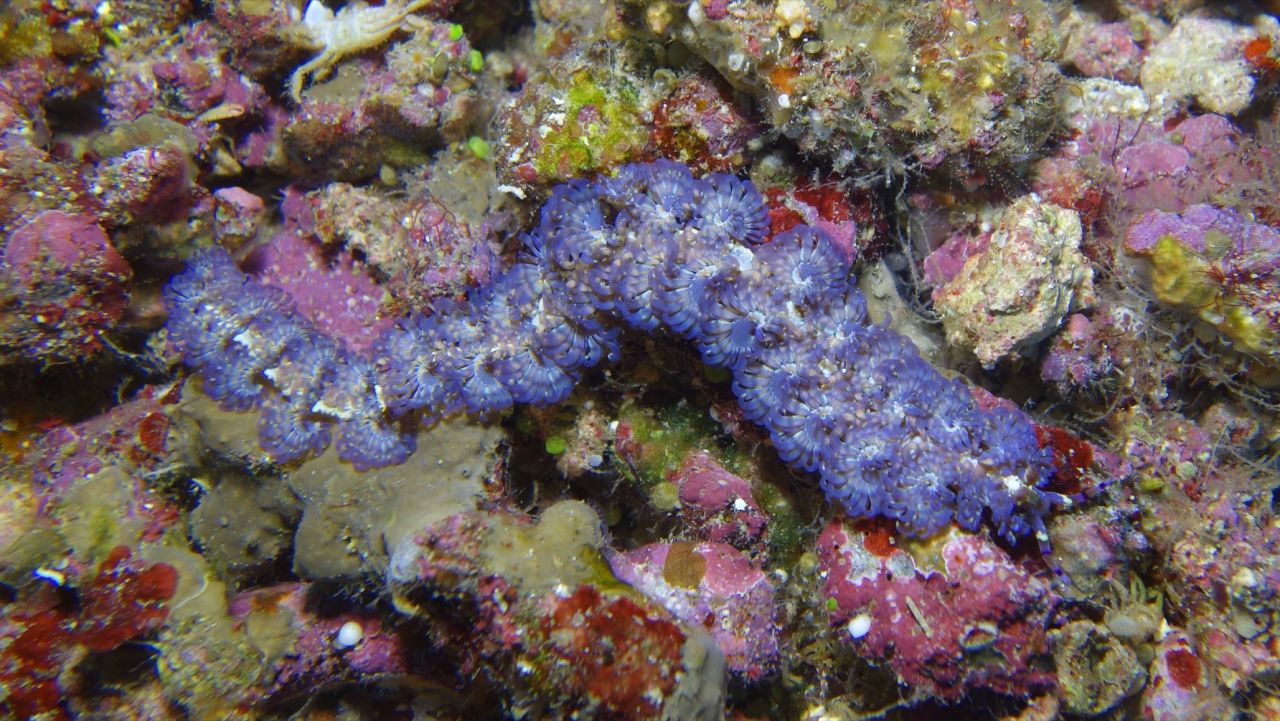 Dragons for Days by Nassim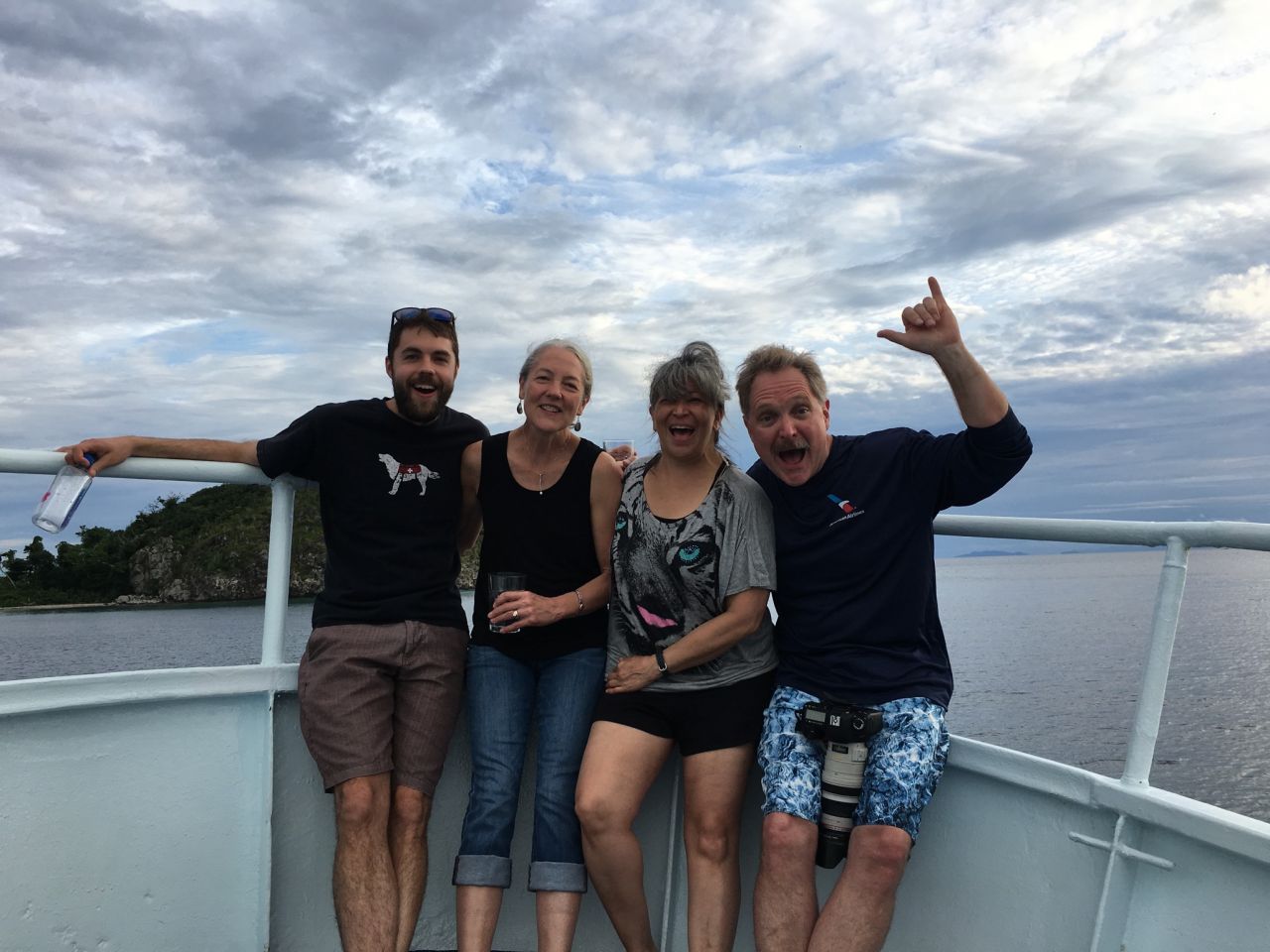 Dream Team by Nassim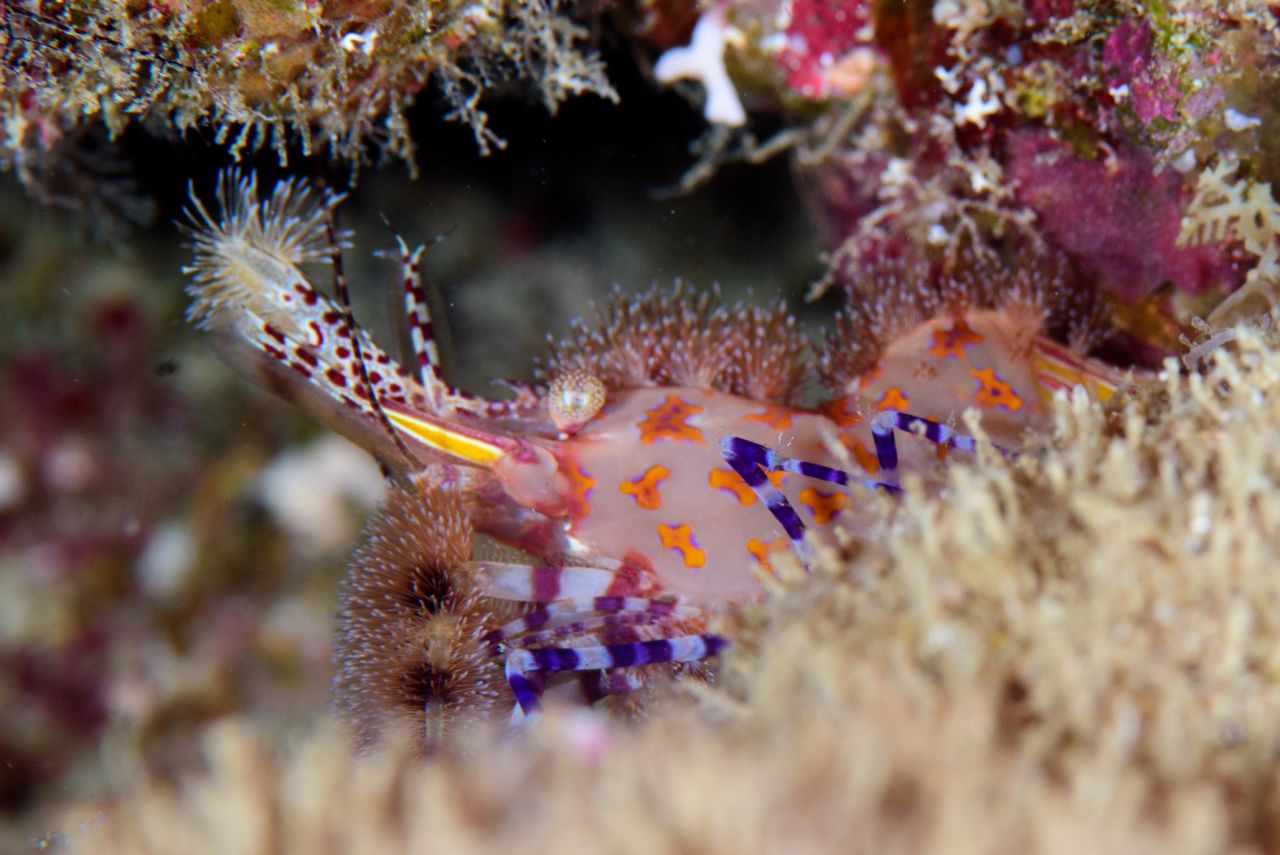 Fuzzy Friend by Bruce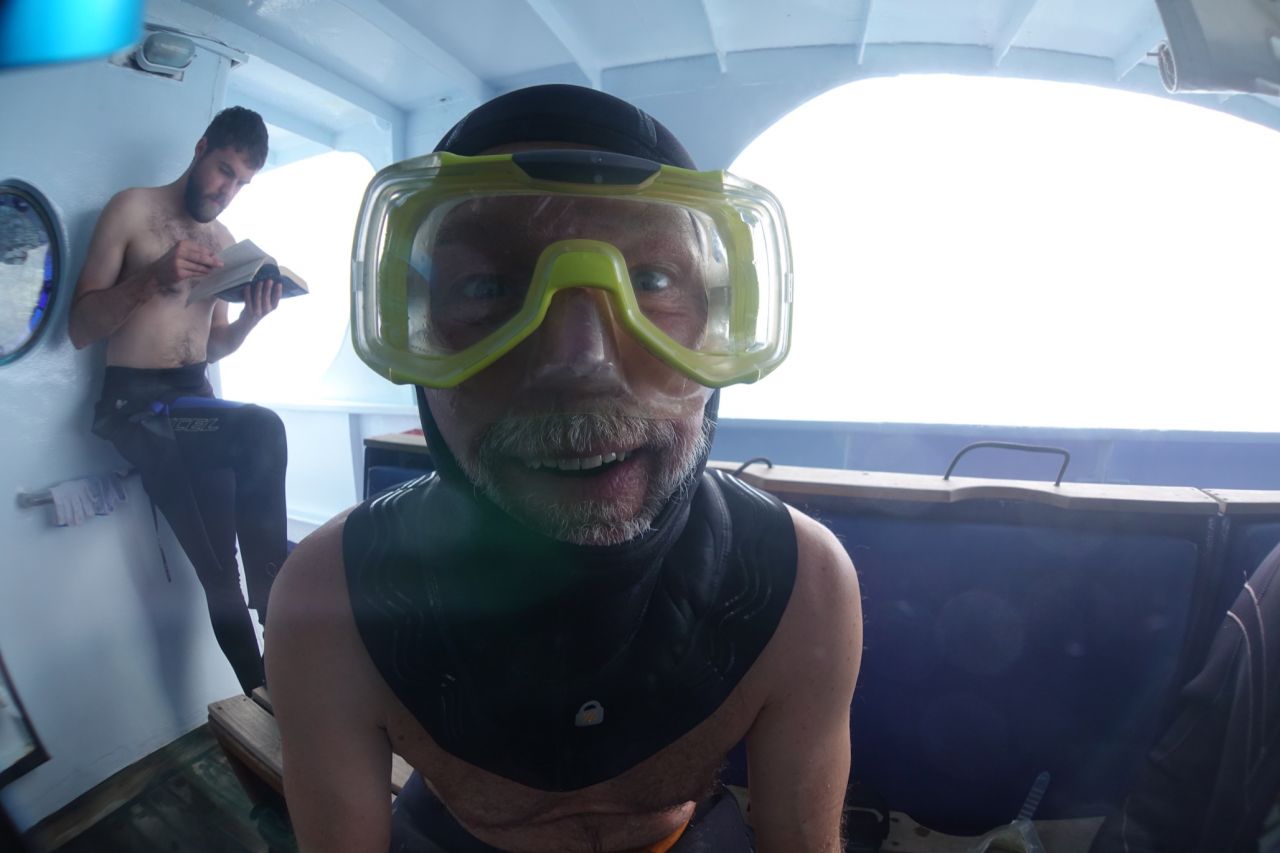 Hey Good Lookin' by Dave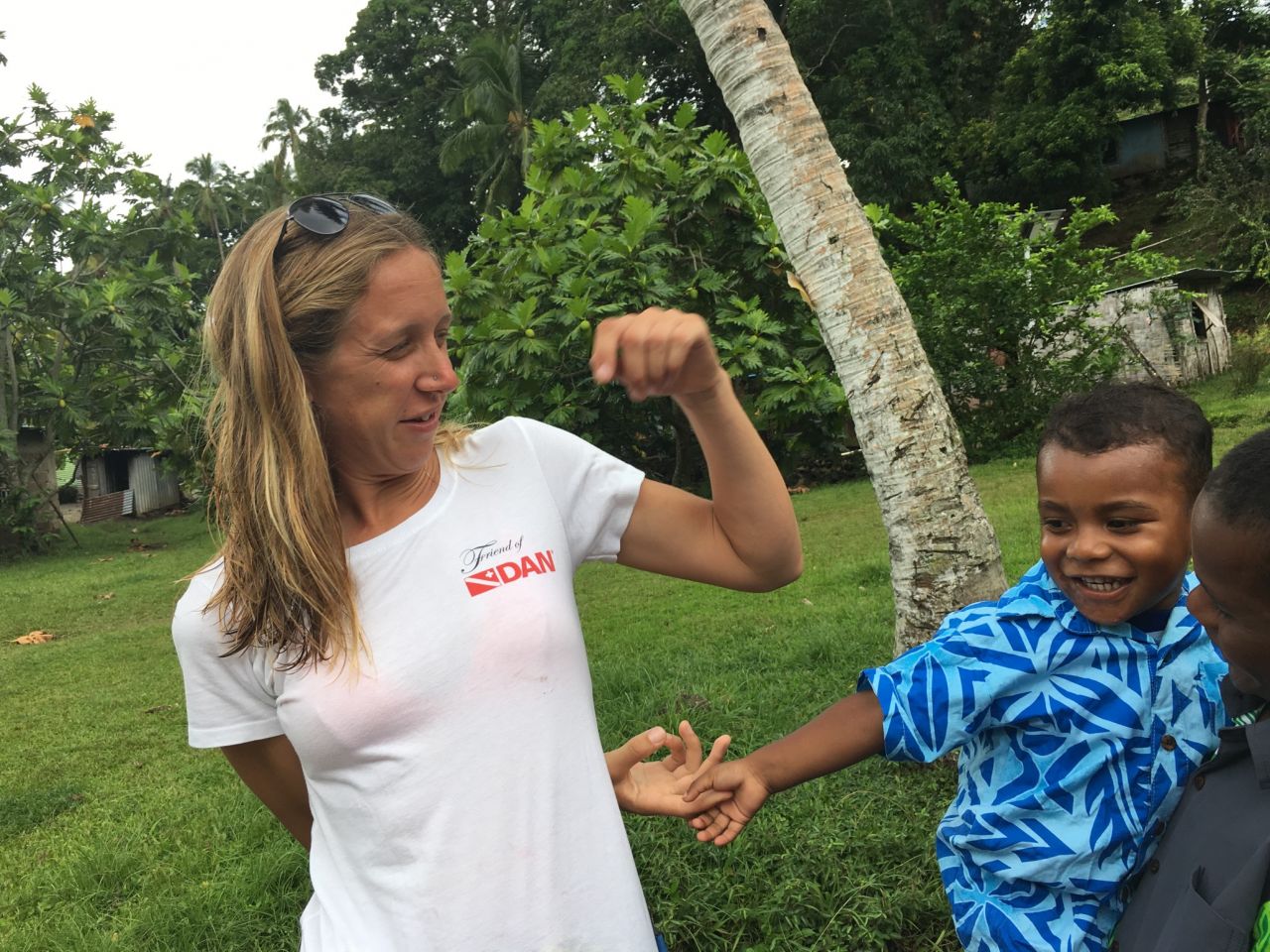 Look At That Little Face by Nassim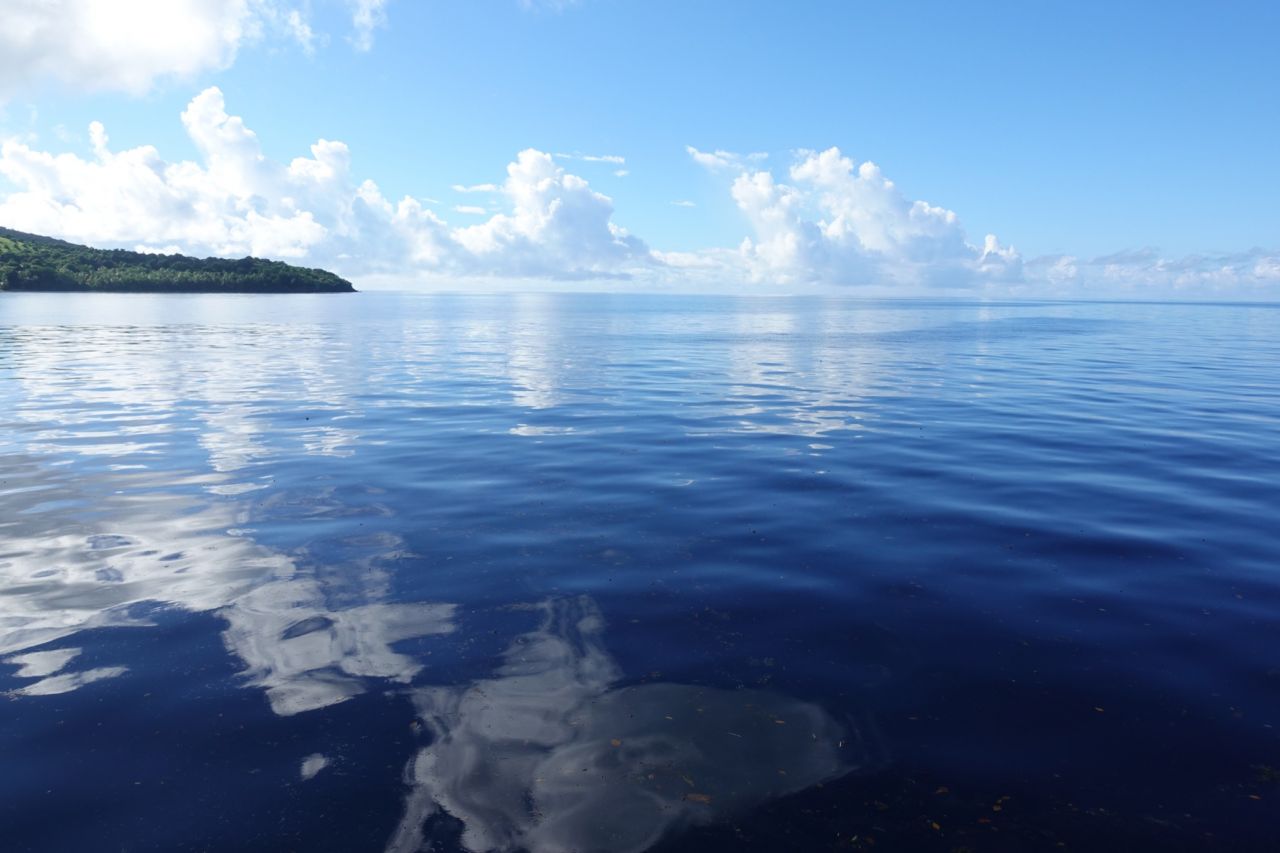 Mirror by Dave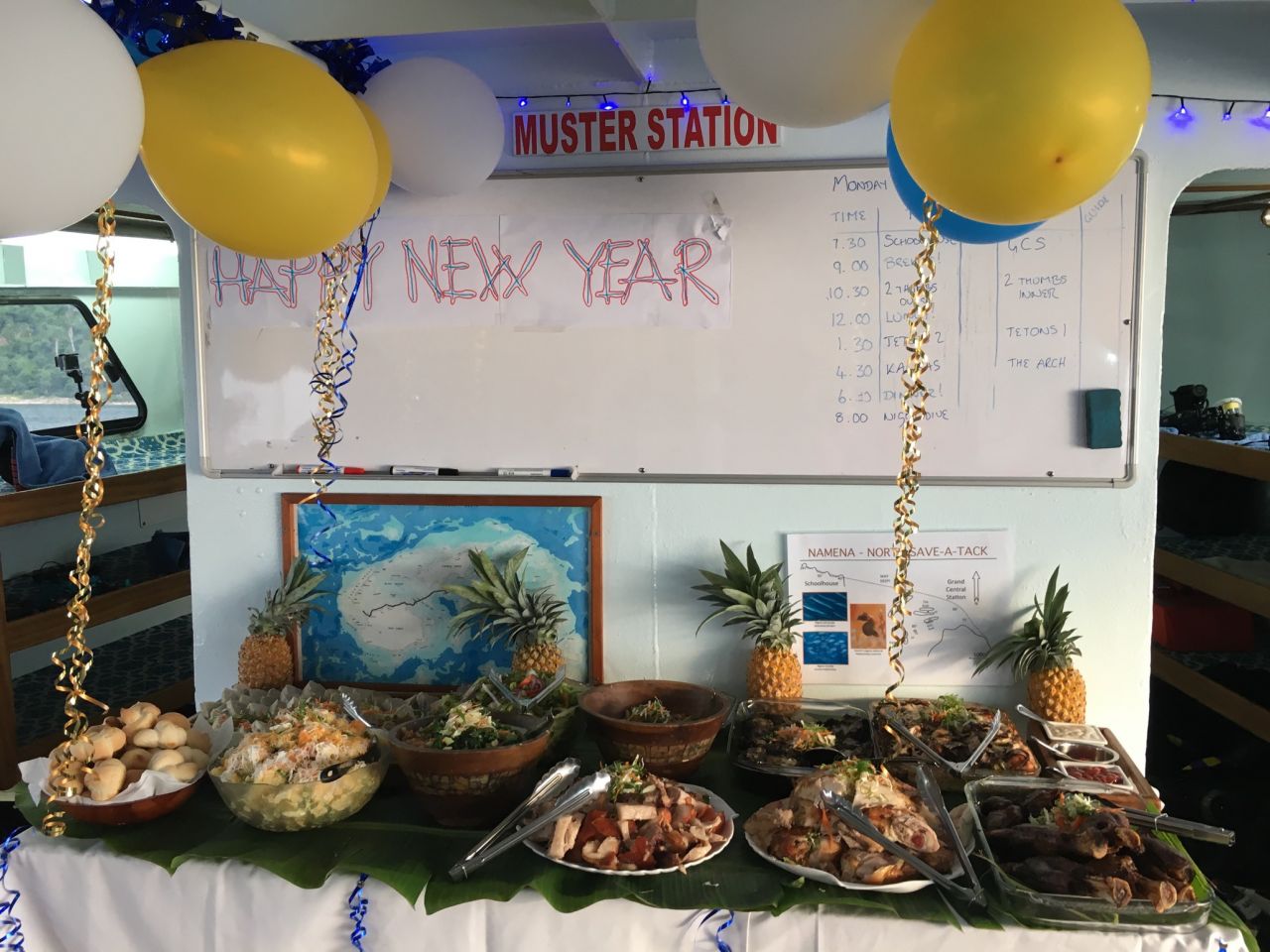 NAI'A New Year by Nassim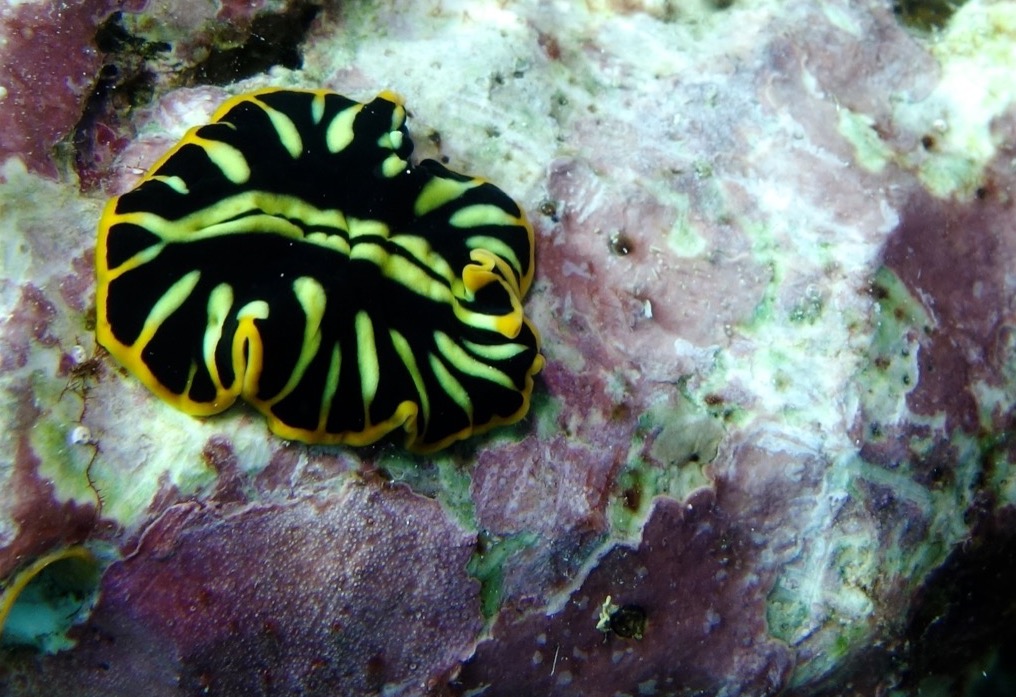 Nudi Or Not Nudi by Nassim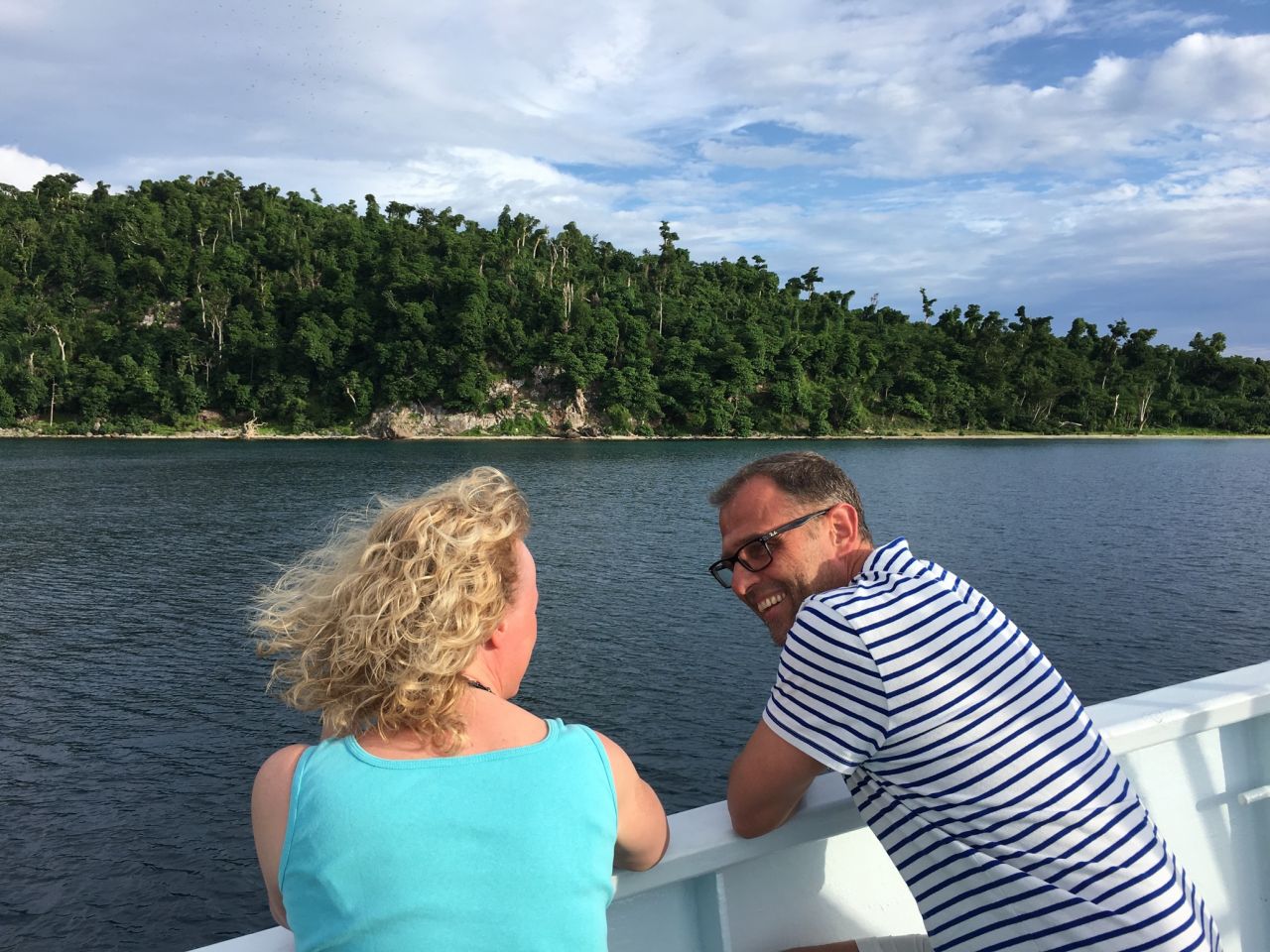 Paradise Found by Nassim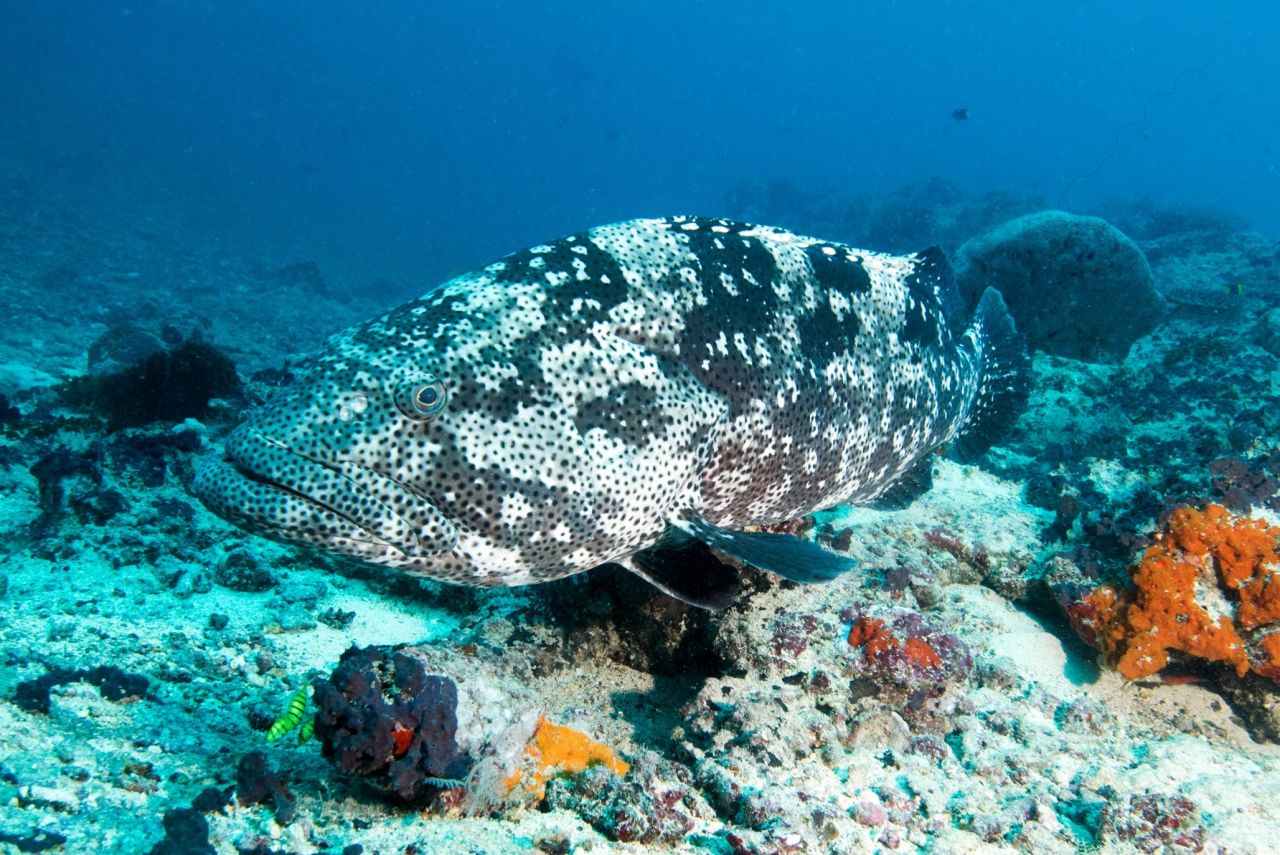 Return Of The BFG by Bruce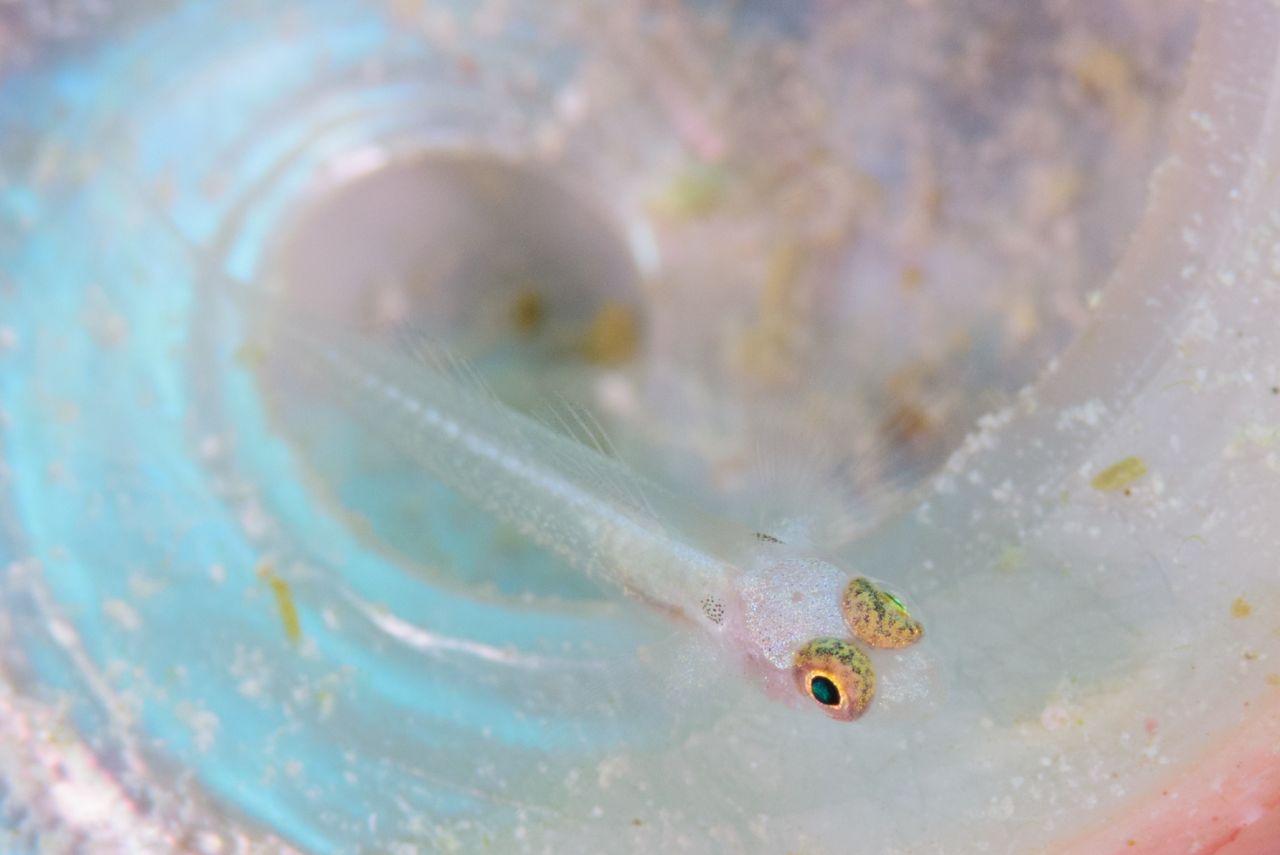 Translucent by Bruce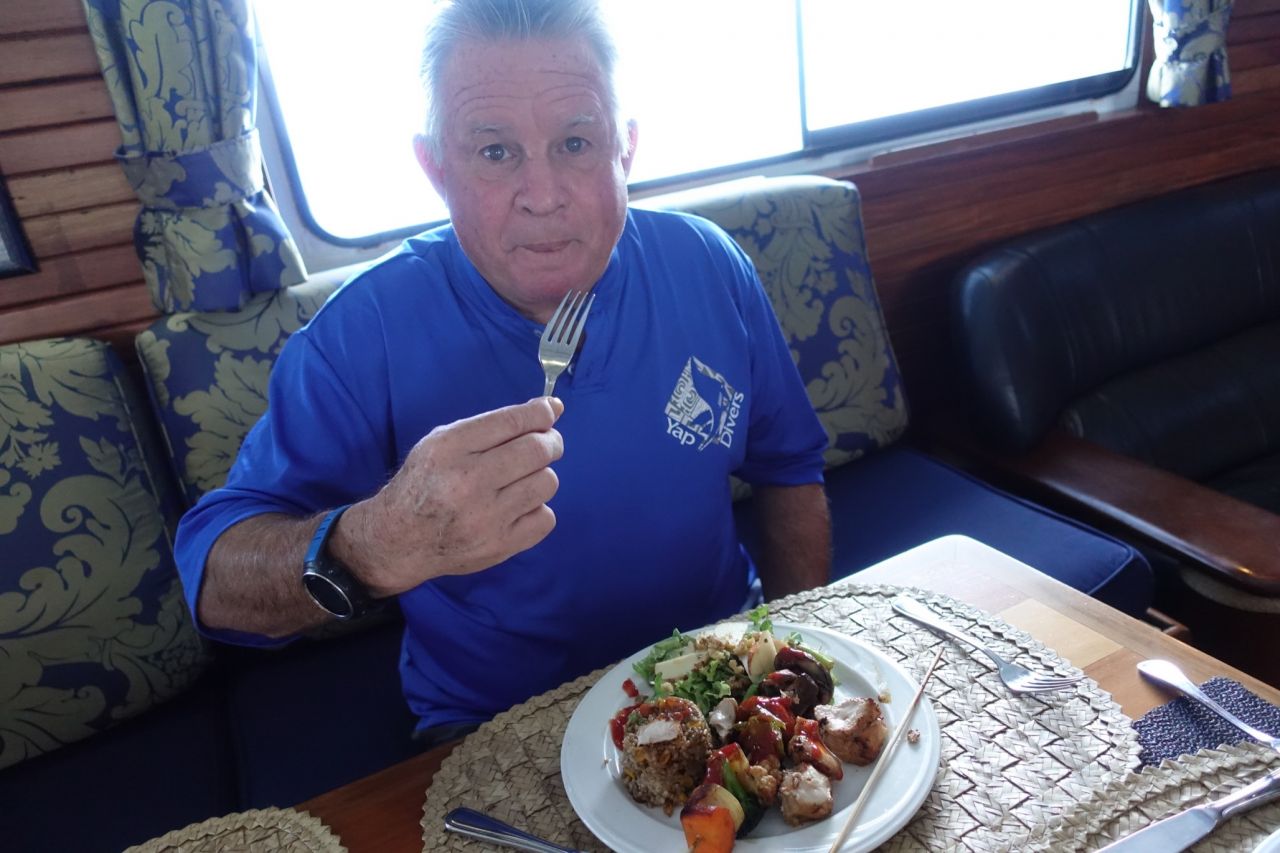 Who? What Me? by Dave
Comments
"I'm sure that it's very difficult for the Nai'a establishment to solve this thorny situation. But, be assured that we, your Nai'a family in a small way, are sympathetic. We realize that the reason we love your trips is that you spend what it takes for a quality voyage. That's why we come back. And that's why we plonk down $10K to sail with you. We know it's worth it."