A Windy Wonderland
Destination: Fiji's Bligh Waters
Trip Date:
Oct 20th - Oct 27th, 2018 -
Comments
Author: Vanessa & Chad
Welcome Back: Dee, Terri & Dave, Bonnie
Congratulations: Congratulations Janet celebrating a birthday with us!
Mother Ocean sent us a last blast of wintery weather this week but, despite challenging conditions at the surface, Fiji's underwater wonderland continued to amaze us. The diving during this transition season is just spectacular: beautiful clear water to show off the colourful coral and all the reef critters. Plus a 30-minute manta encounter and the cutest juvenile winged pipefish!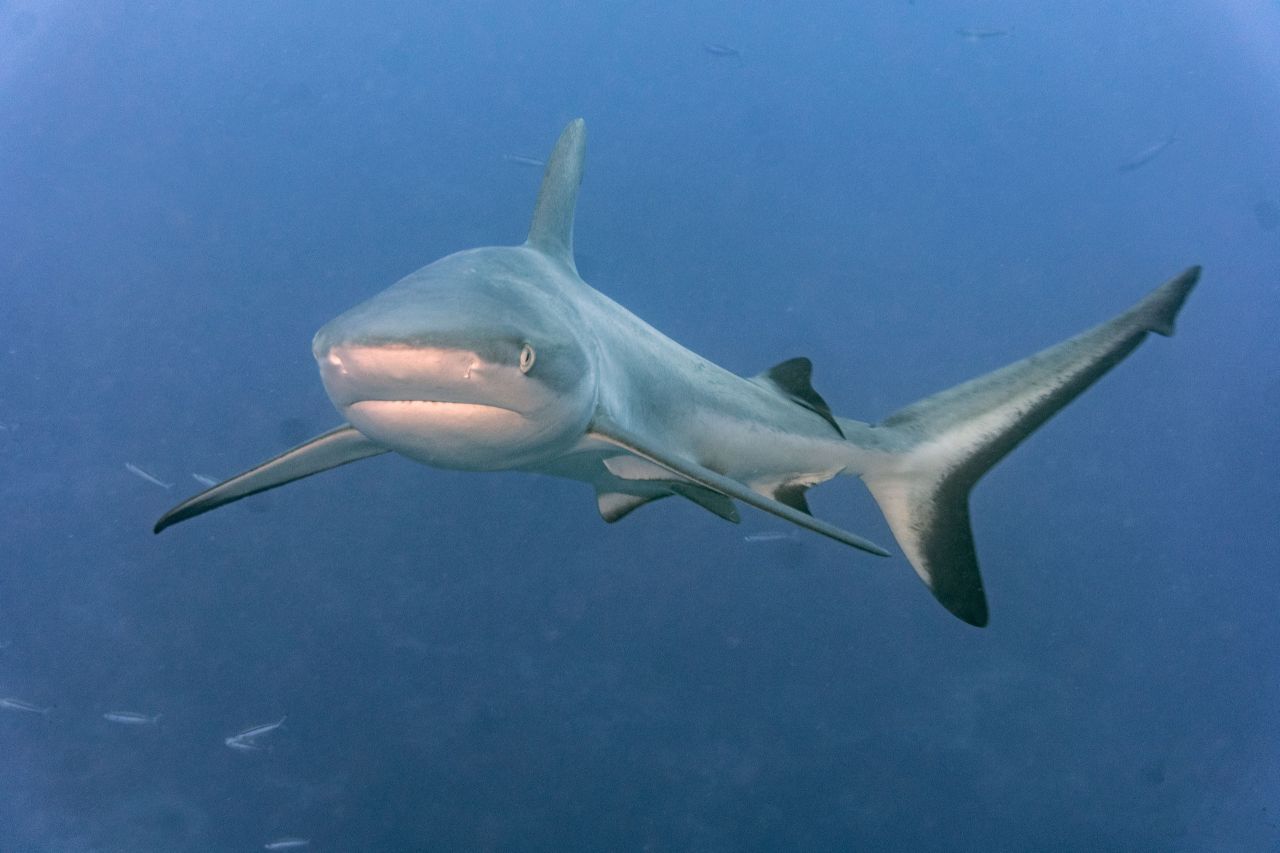 by Dee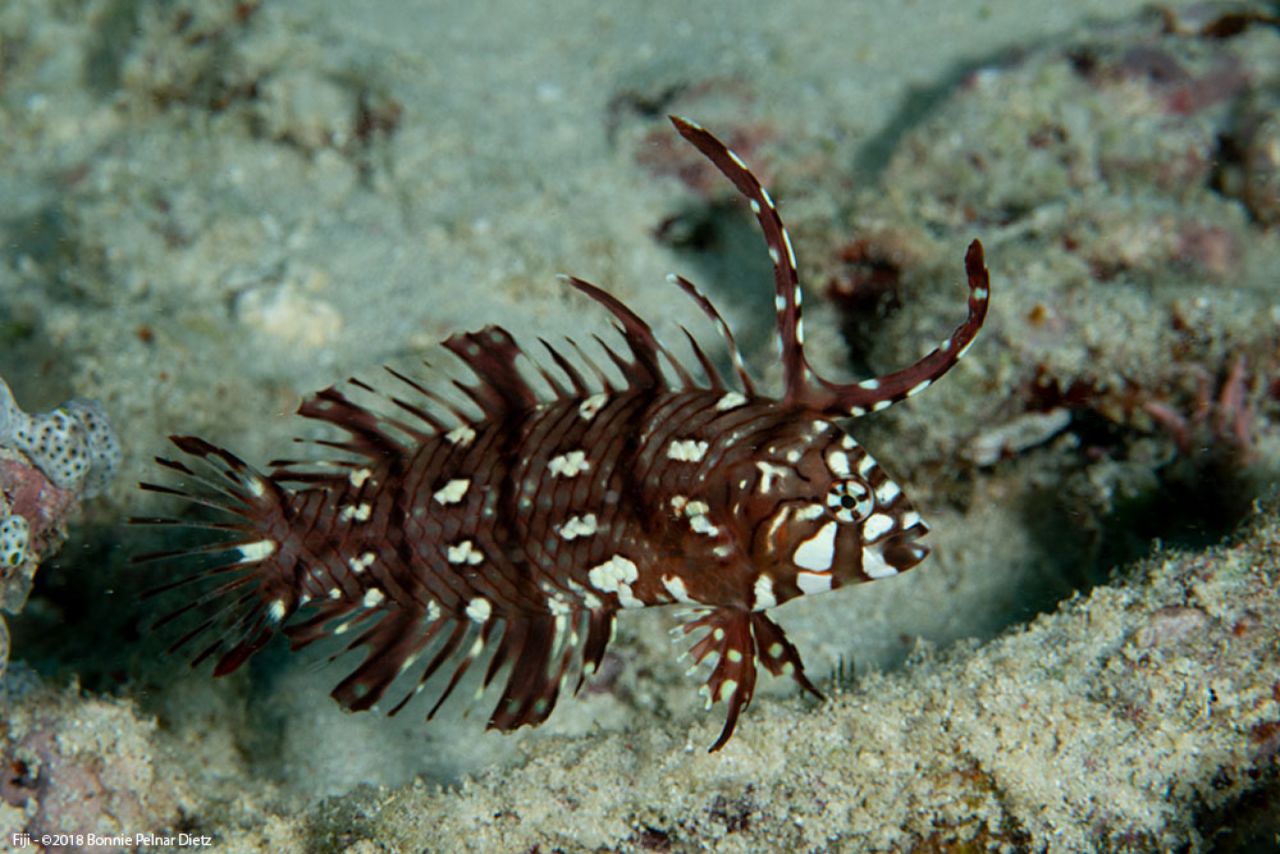 by Bonnie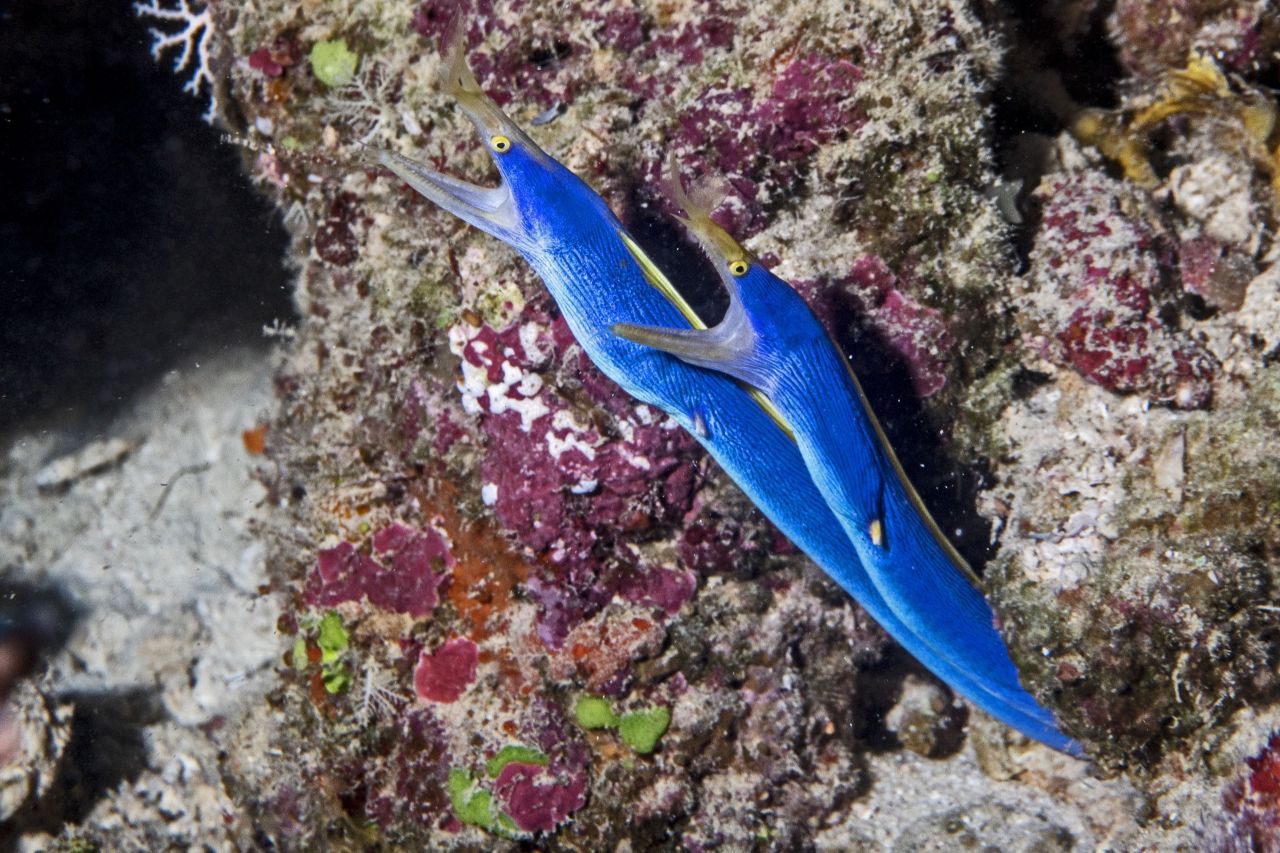 by Dee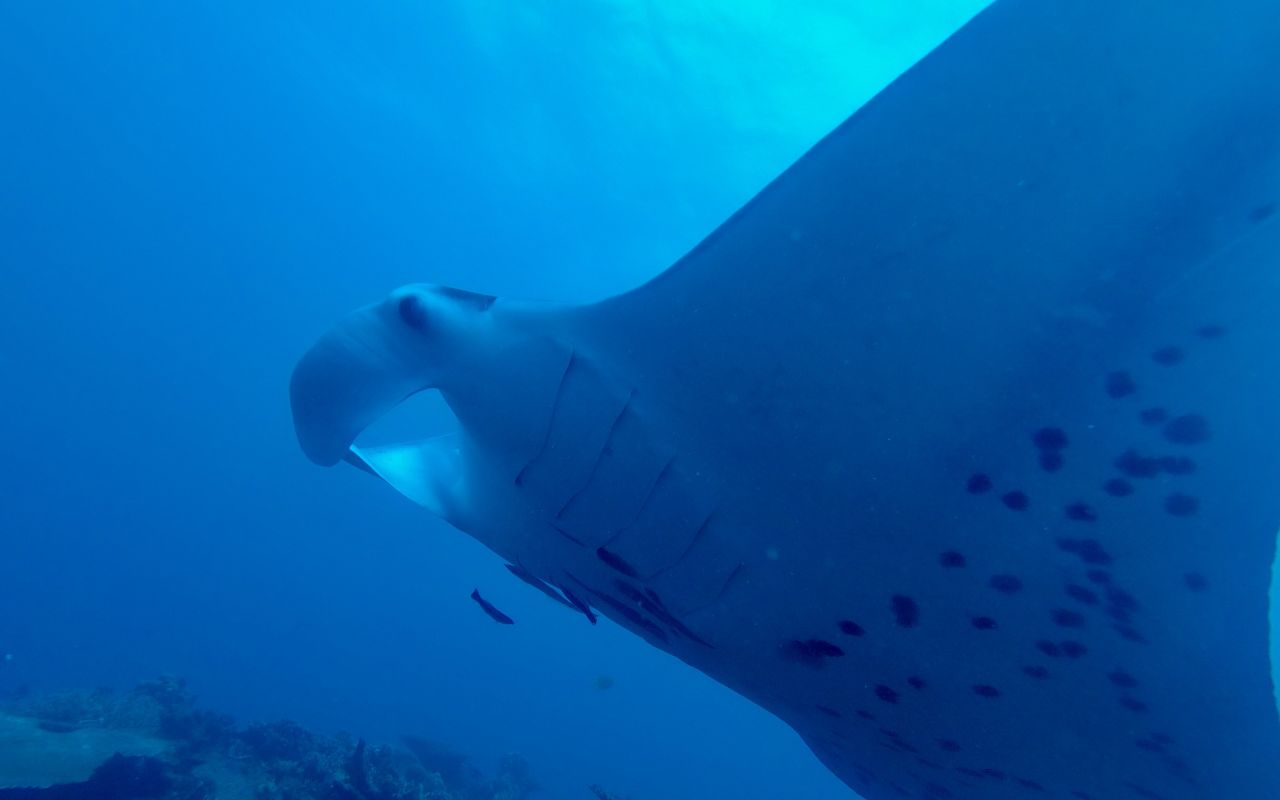 by Pete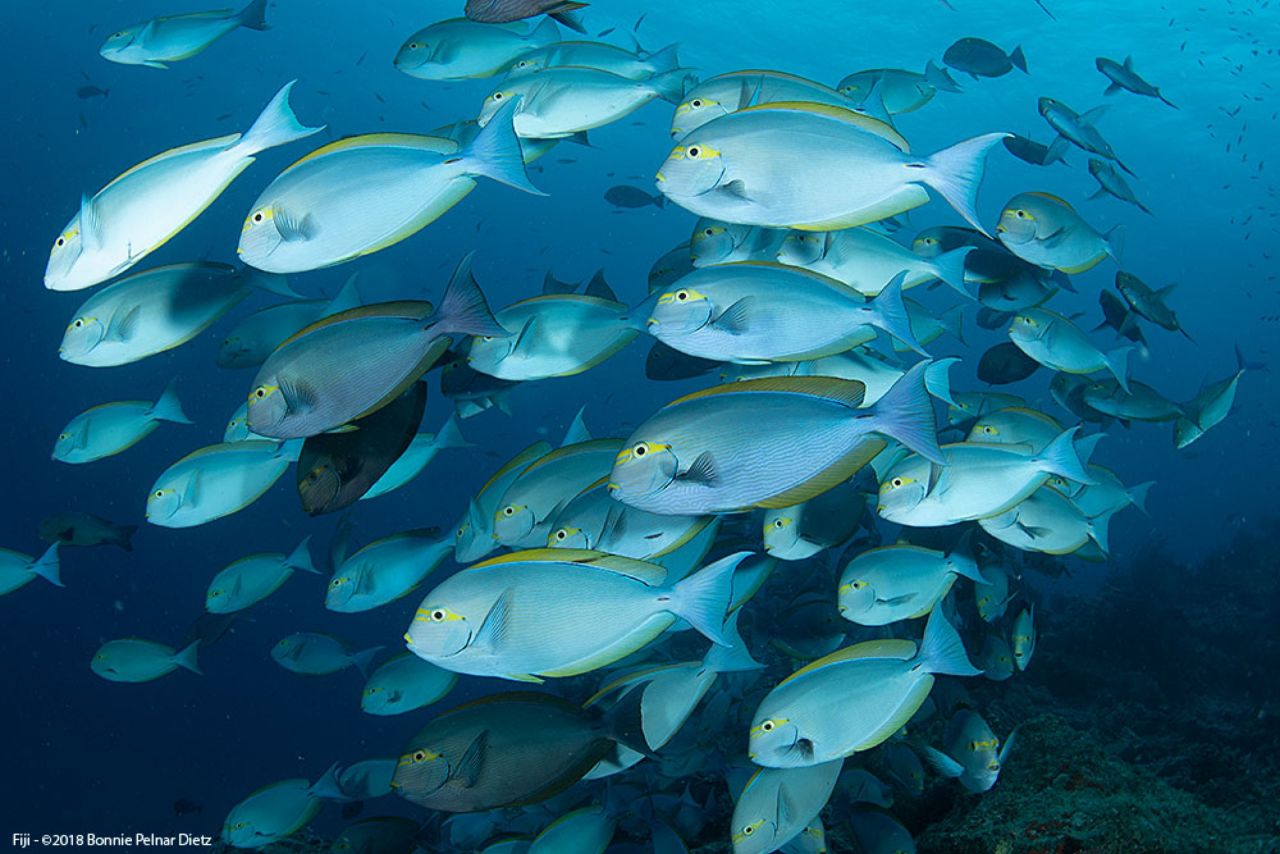 by Bonnie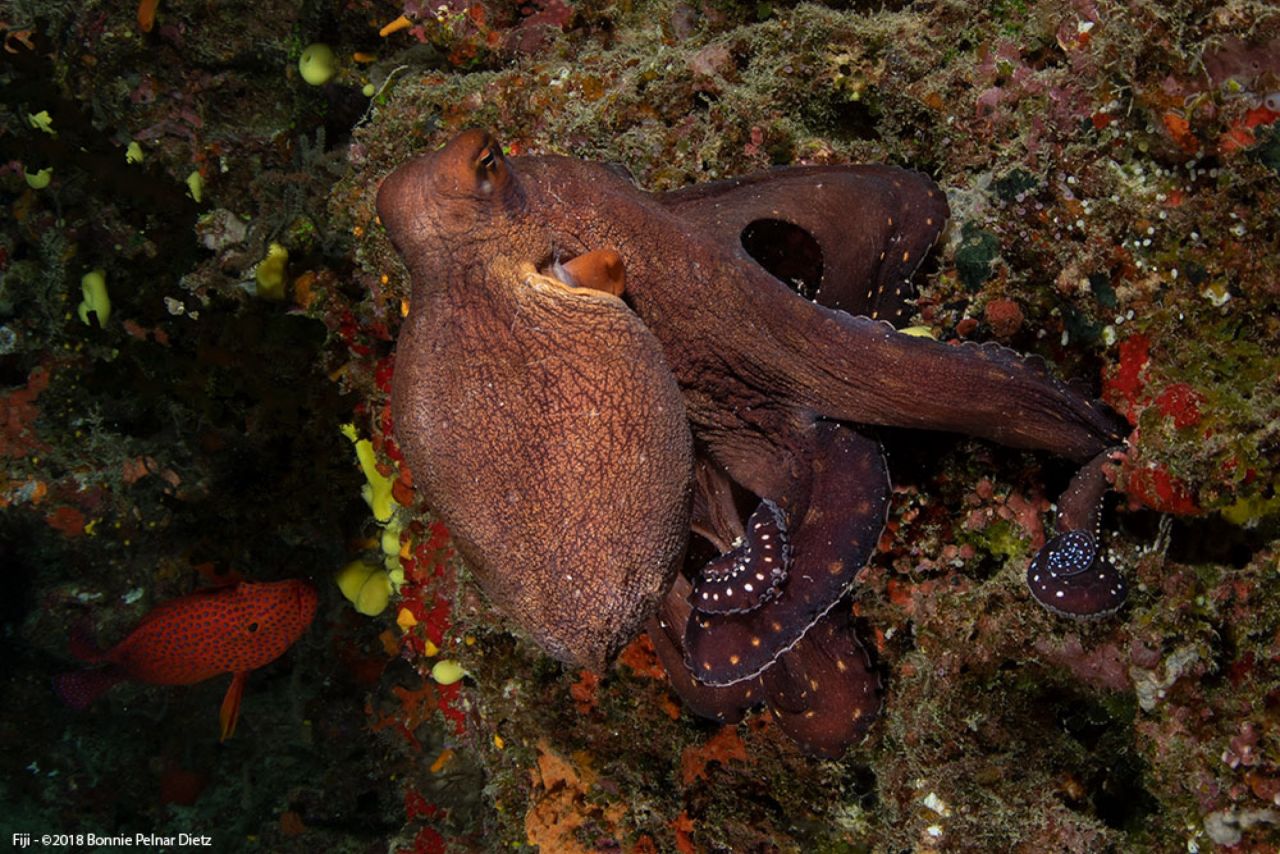 by Bonnie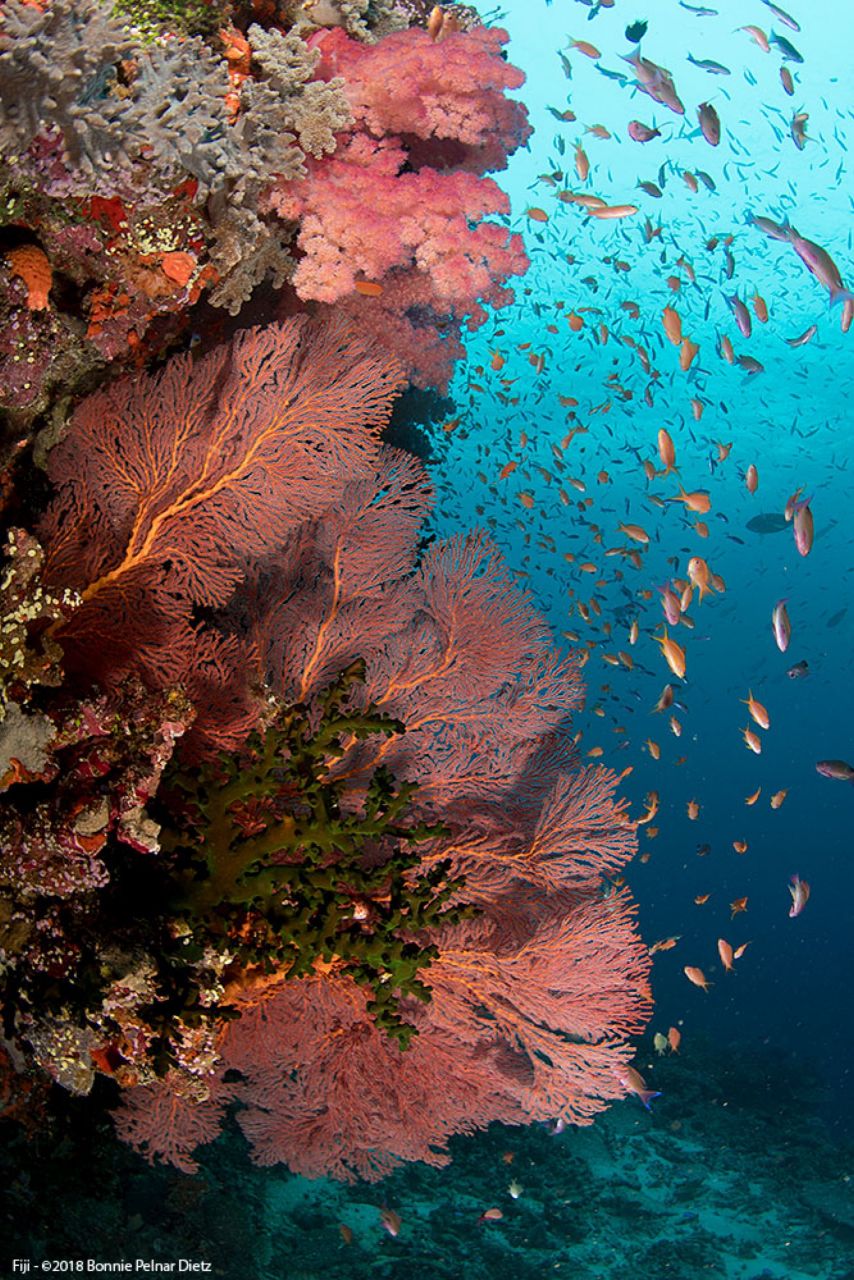 by Bonnie
We welcomed onboard a fabulous bunch of guests for our seven days together on the high (high!) seas: a mix of couples, friends and solo travelers who all bonded very quickly and were soon having many a laugh together (dinners were often a raucous affair and more than once did we struggle to get through our post-dinner briefings without breaking down in giggles!). We were happy to meet several new guests but also to welcome back many familiar faces who had been onboard NAI'A before.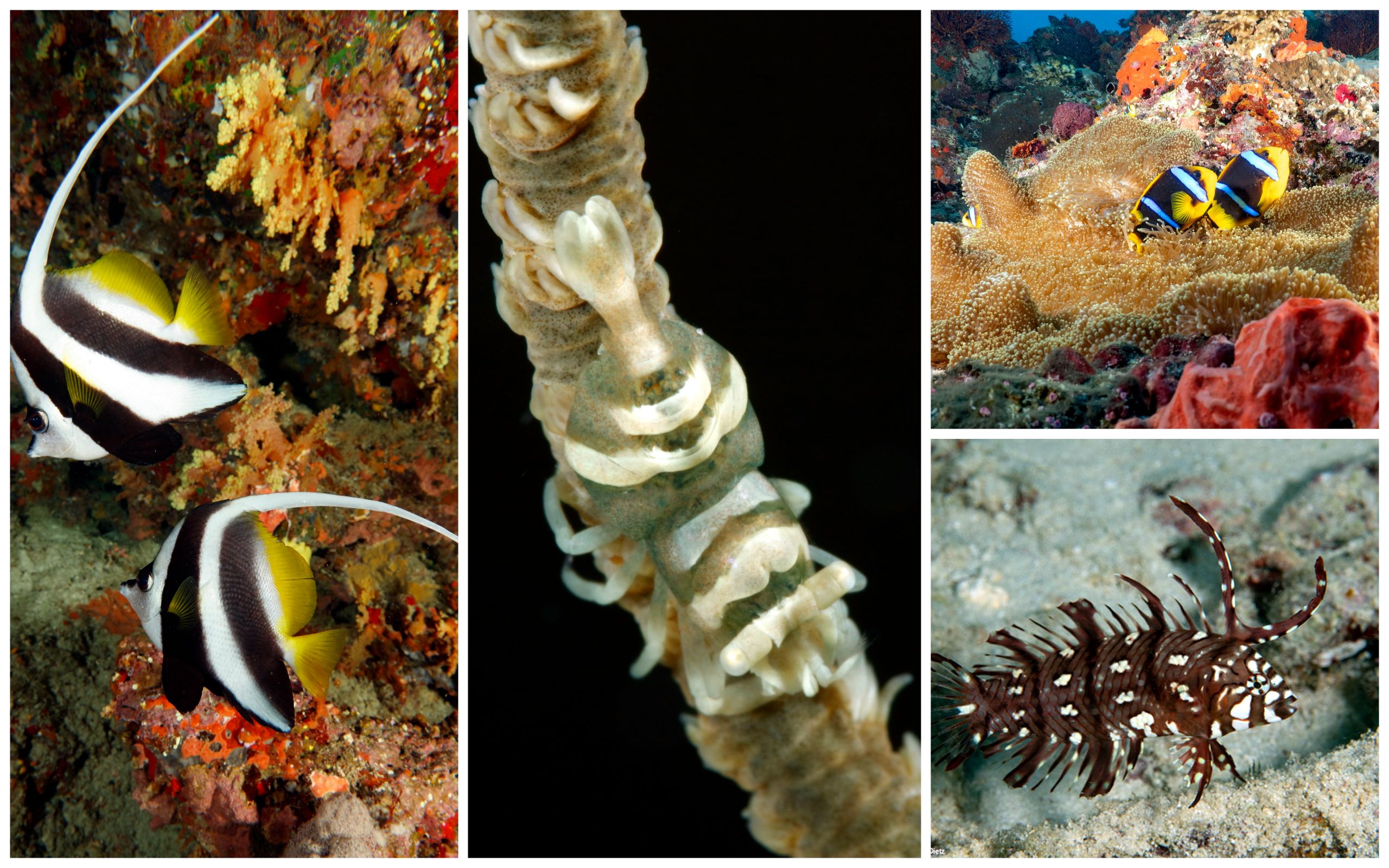 Photo credits (Left, center, top right, bottom right): Jim, Jim, Dee, Bonnie
After a quick checkout dive to figure out weights and new equipment, we enjoyed our first feast together then hauled anchor and began the all-night journey round to the north east of Viti Levu. We awoke right in the heart of the Bligh Waters, to enjoy some of our favorite dive sites at Vatu I Ra. We love doing these sites – Mellow Yellow, Maytag, Coral Corner, Go Mo etc. – on the very first day as it immediately shows our guests what Fiji diving is all about: color, color and more color! The surface conditions were challenging, we're not gonna lie, but as soon as we got our heads below the surface we were in seventh heaven. The soft corals were blooming and looking just incredible and our guests couldn't believe the sheer quantity of fish they were seeing, the diversity and abundance in such a small space is incomparable. We were even lucky enough to see a couple of curious turtles which are a fairly rare sighting around here!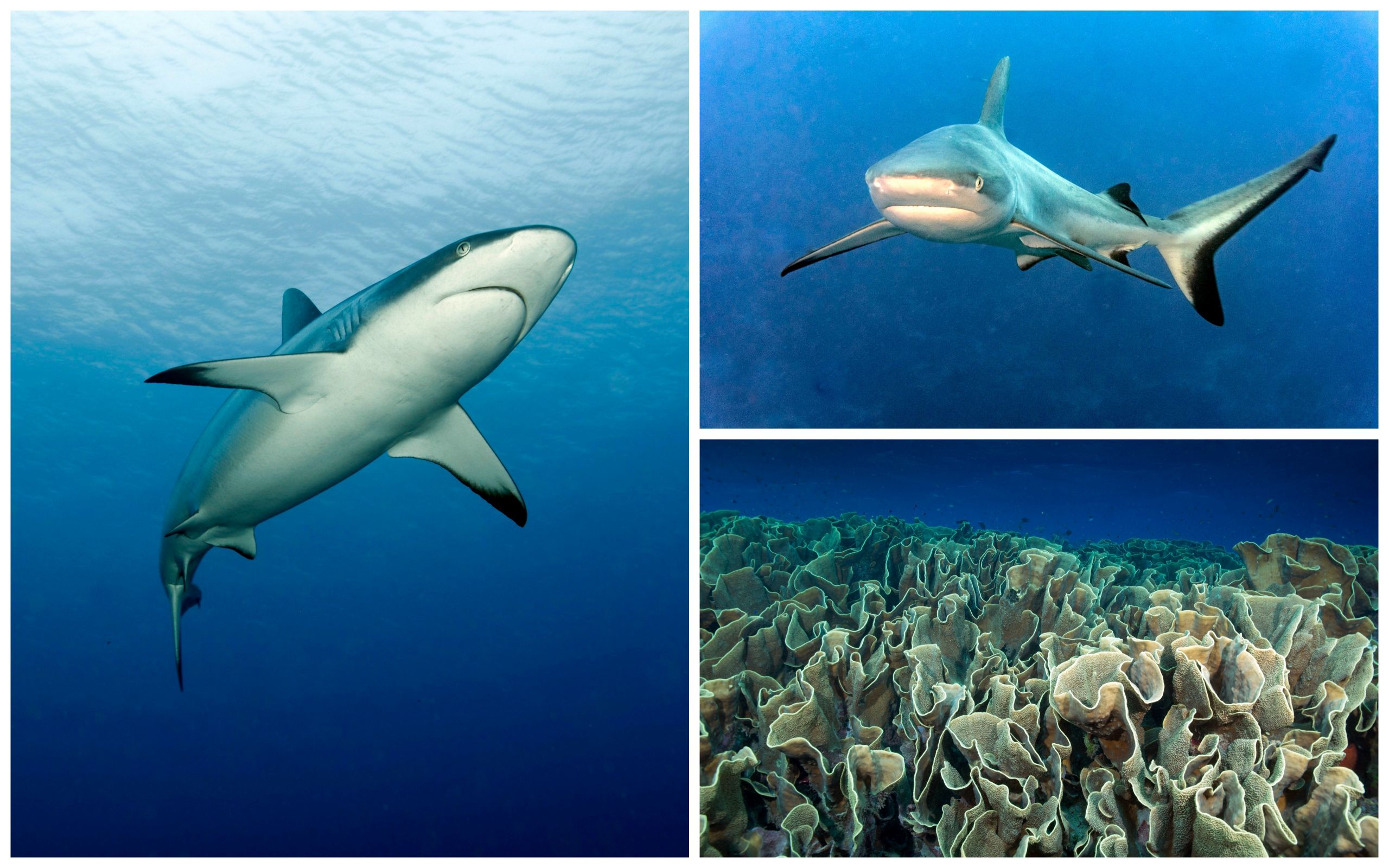 Photo credits (Left, top right, bottom right): Jim, Dee, Dave 
That night, we made the crossing all the way south to the island of Gau. It was hard going with strong winds defying a peaceful sleep. However, we all agreed it was absolutely worth it as it brought us to one of the highlight dives of our trip: Nigali Passage. NIgali is ALWAYS good but that day it was particularly spectacular: we're pretty sure it was the 'sharkiest' we've ever seen it! Our guests came back just overawed to have witnessed such a show. That afternoon, as the currents changed direction, we begrudgingly had to depart Nigali but we soon managed to move on as Anthias Avenue and Jim's Alley stole our attention! They were looking just lovely, super colorful and with a nice calm current allowing us to relax and enjoy. We ended the dive day with one of our guests declaring it one of the best days of diving in his entire life: that's what we aim for! After drying off and warming up, we jumped on the skiffs and headed in to land to visit our friends at the village of Somosomo. What a fun afternoon we had! It's always fascinating to listen to Tom's stories, his history of the village and to learn more about their way of life. But the absolute highlight of this particular visit had to be when our male guests got well and truly stuck in to the (not so traditional) 'mekes'/dances! A few of the lads went rogue and the results were hysterical… Good on you all for being so game, we love that attitude! Truly, a day to remember…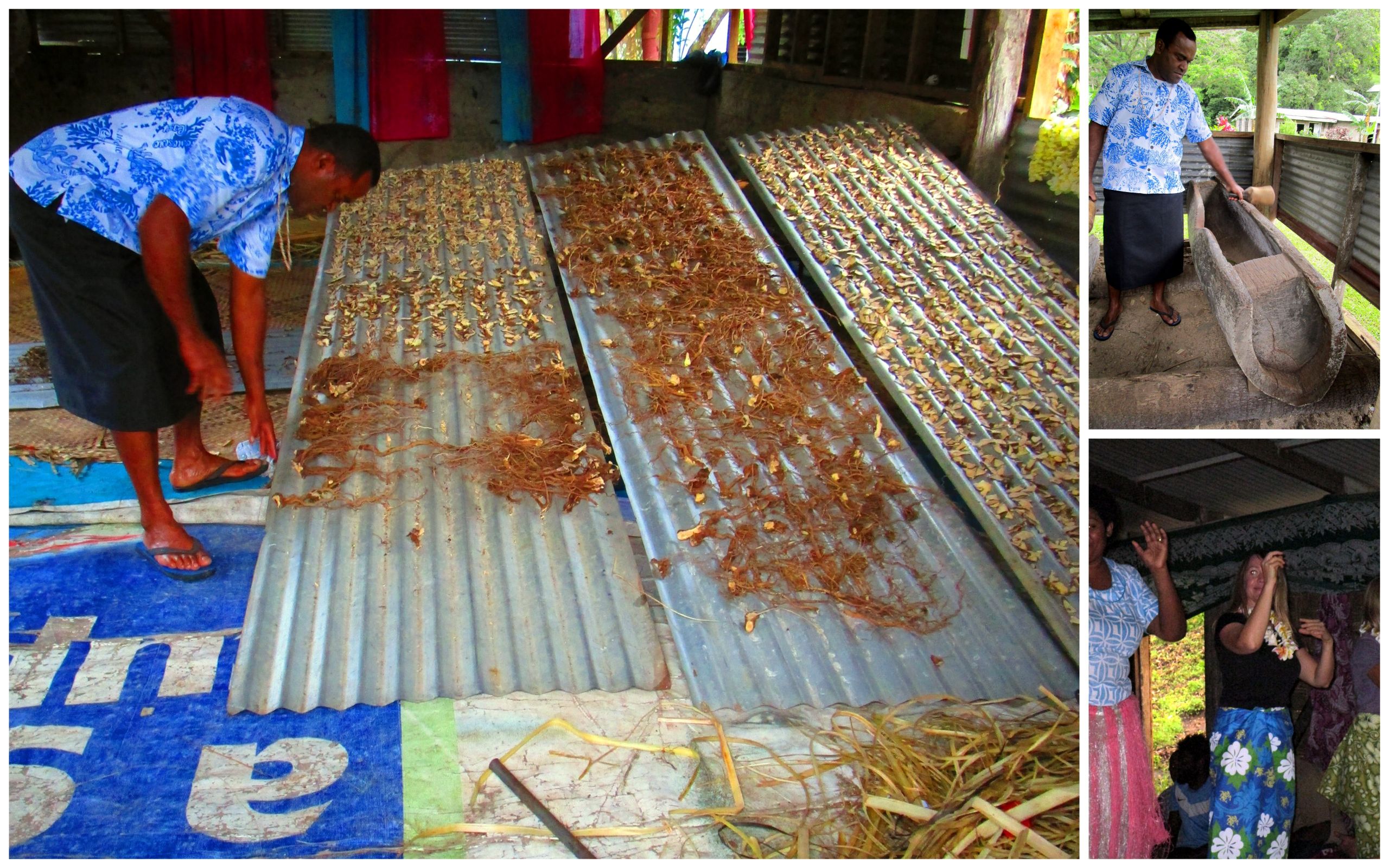 Photo credits (All photos):   Duane
Leaving Gau that evening, we headed north to the island of Wakaya. It was another rough crossing and our poor sleep-deprived guests did well to get up and crack on bright and early. There's nothing like a good dive to wake you up though! We enjoyed three great dives along the deep wall at Wakaya, enjoying a variety of macro life and the 'big stuff'. Vanessa was super excited to find her first ever juvenile winged pipefish. However, that was waaaaaaaaay overshadowed by the playful manta ray that came along and decided to hang out with our guests for a good 30 minutes, just circling around and around begging to be admired! We decided that evening to get our crossing over and done with early so we could all get a good night's sleep. Good choice! It was quite the rollercoaster and we were all relieved when we reached Namena and dropped anchor for the night.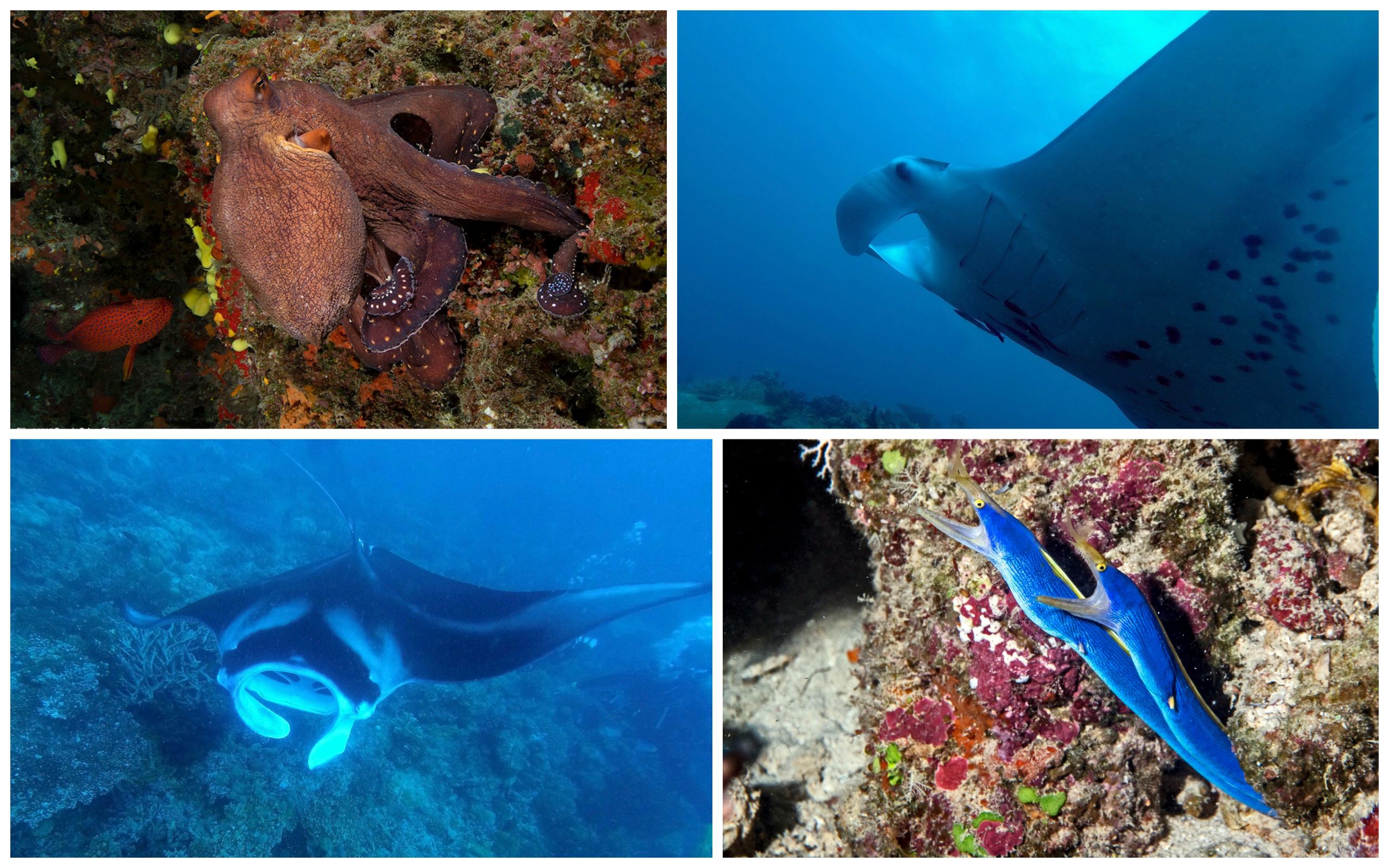 Photo credits (Clockwise from top left): Bonnie, Pete, Dee, Pete
But, ohhh boy, was it worth the crossing to get there! The Namena Marine Reserve is unsurpassable in its beauty and we enjoyed two full days of wonderful diving there. We were treated to plenty of the bigger creatures: schooling jacks and barracuda along with plenty of sharks at Schoolhouse and Grand Central Station. We also satisfied our macro fans: a great duo of blue ribbon eels at Tetons 2. Yet it was our astounding soft corals at Two Thumbs Up that really amazed each and every one of our divers! The color is just heavenly and it really is a magical wonderland down there. Oh, and a few of our divers saw their first ever octopus which was super cool! The impressive creature was hunting: flashing brown to white and changing texture in milliseconds… So, awesome to see. What was even more awesome was the patch of blue sky we saw… For about ten minutes!! We celebrated a great couple of days with a Kava Party out on the deck with our amazing Fijian crew. Everyone got very involved and it's still hard to say who was the loudest goat!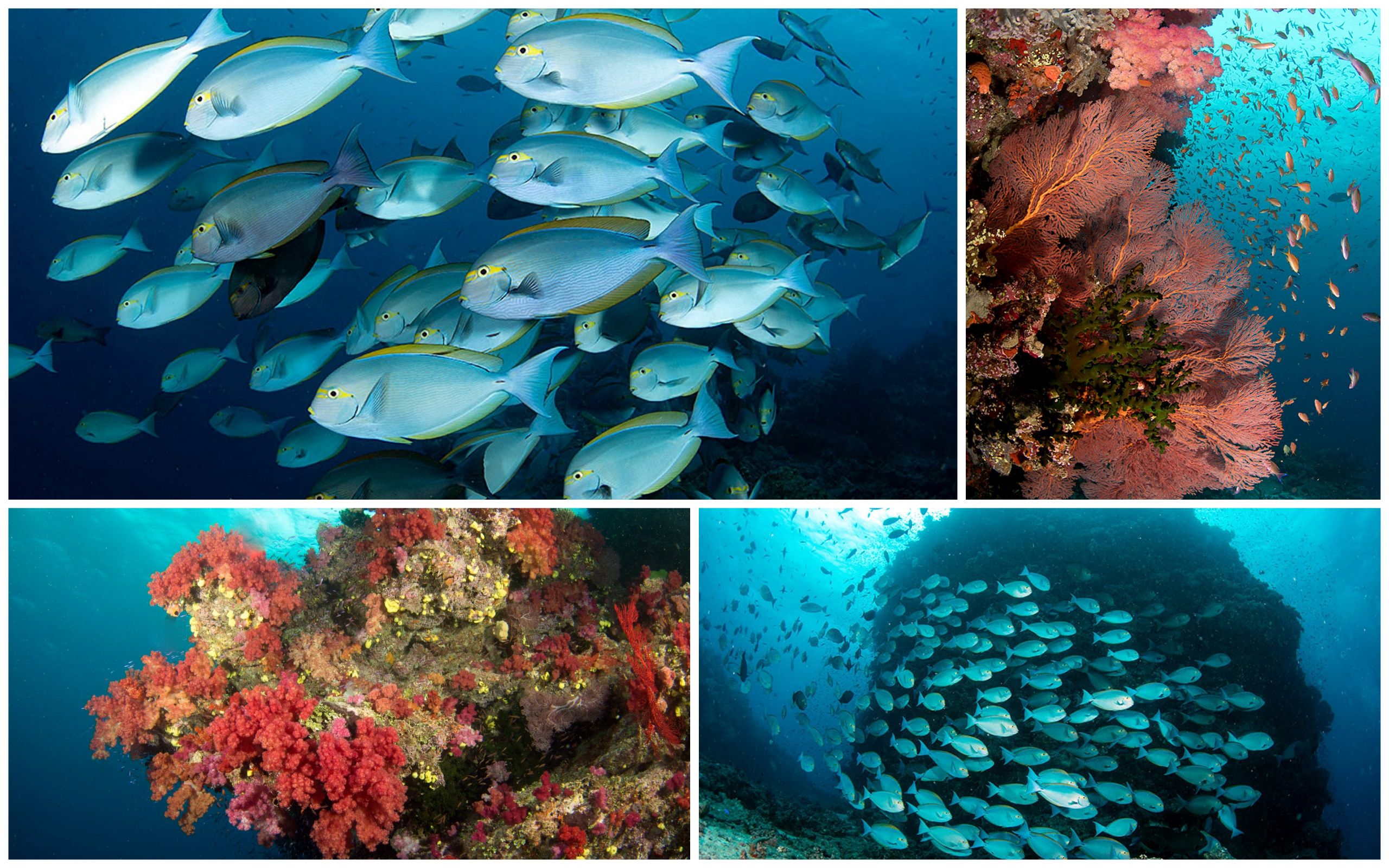 Photo credits (Clockwise from top left): Bonnie, Bonnie, Bonnie, Dave  
From Namena, we headed west for our final day of diving at Vuya. The day began with an incredible double rainbow, with NAI'A the pot of gold at the end! And from there the weather got better and better and we finally enjoyed a glorious day of sunshine. To top it off, the diving was phenomenal! Cat's Meow was at its finest, with even a cute little pygmy seahorse waiting to say hi to everyone. And the top reef at Humann Nature was looking incredible, especially with the lovely ambient light at last. After a very satisfying day, our guests enjoyed their final afternoon up on the sun deck as we cruised along the north coast of Viti Levu on our way back to Lautoka.
The next day, the weather was up to its old tricks again and the rain was lashing down as our guests said goodbye to each other and to NAI'A: we think it was just the sky crying, sad to see you go!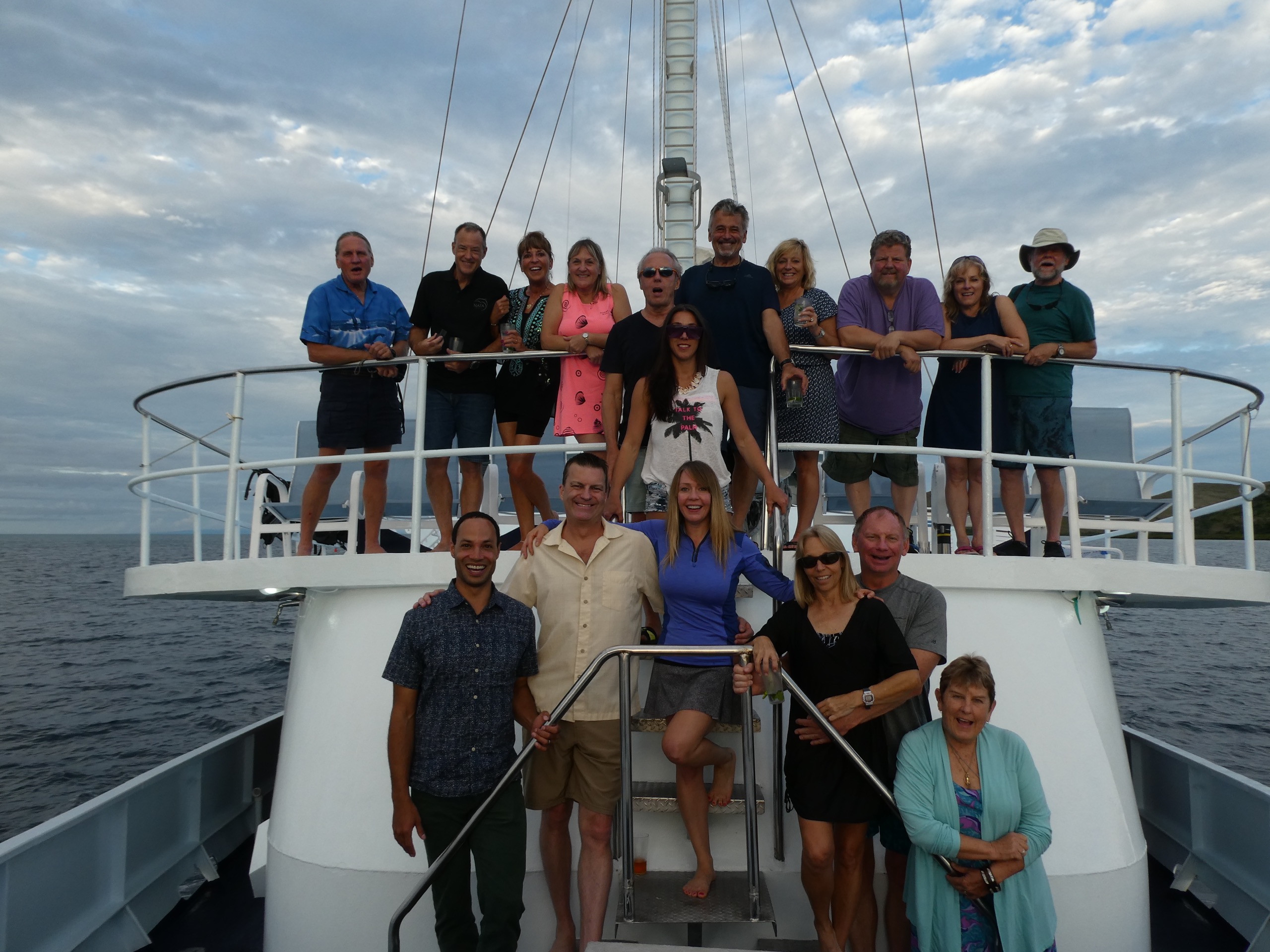 "Amazing how over the years NAI'A only gets better" Bonnie Pelnar Dietz
"Thank you for an amazing trip, both boat & crew." Frank & Janet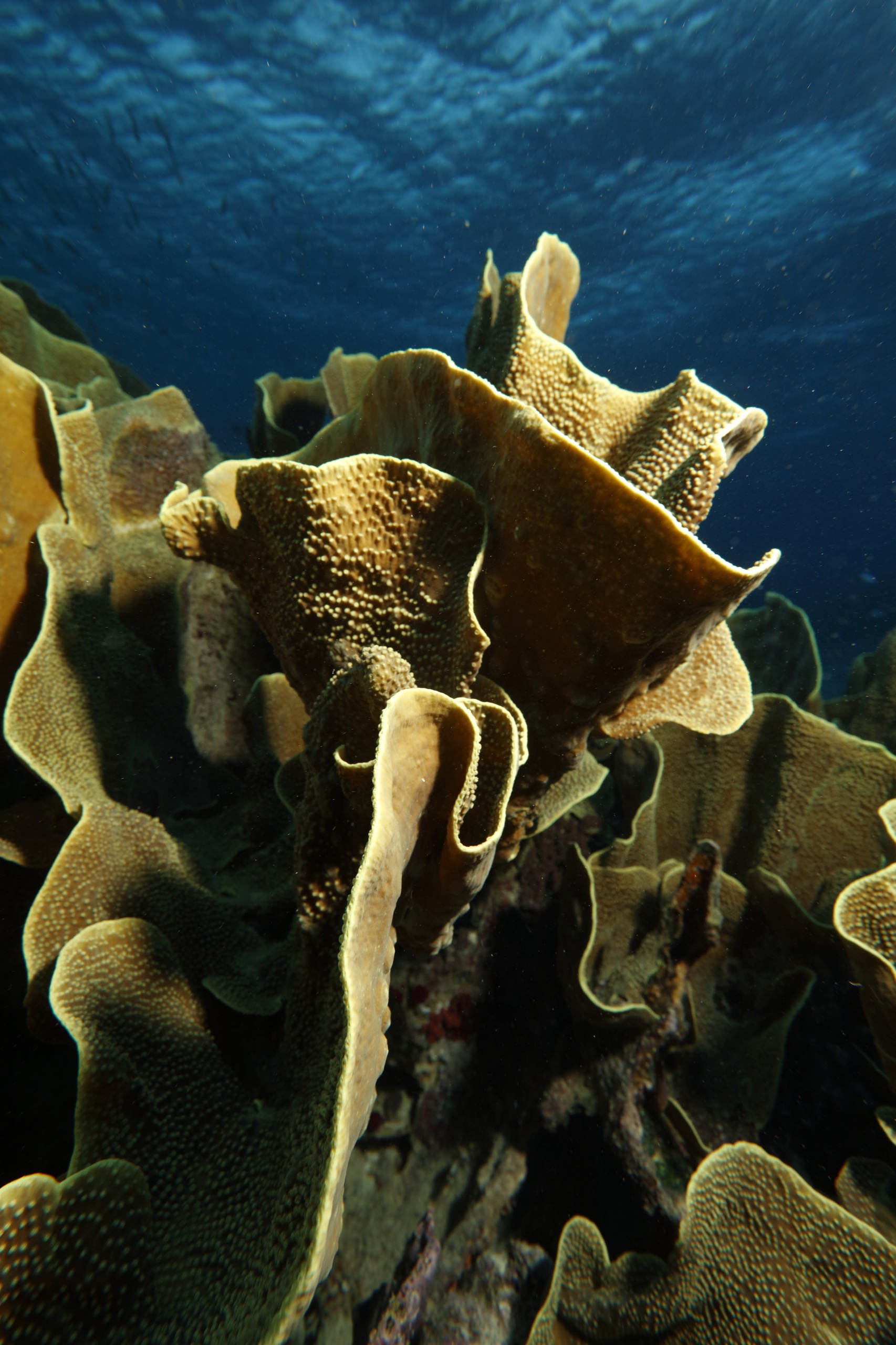 by Jim Sparkman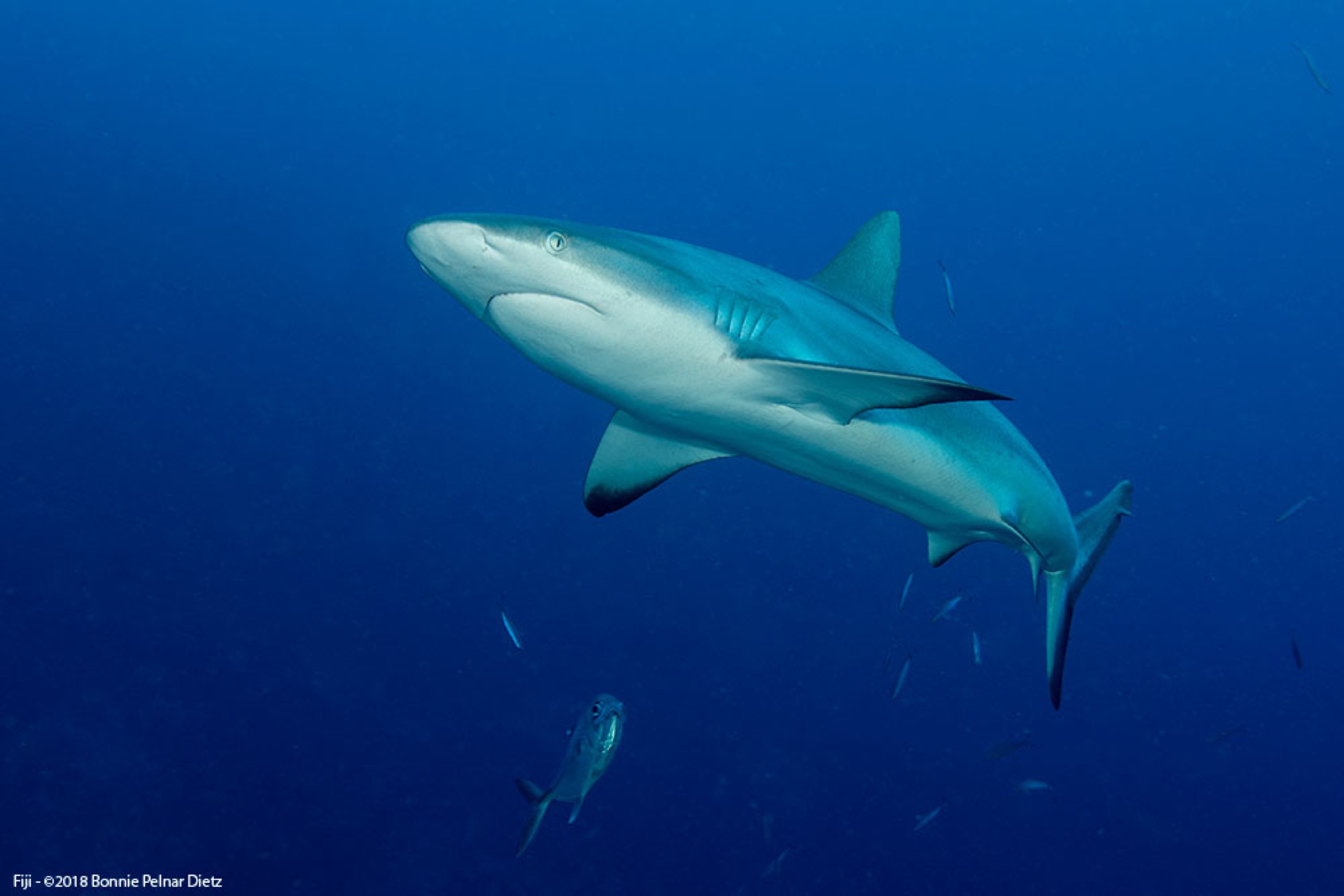 by Bonnie Pelnar Dietz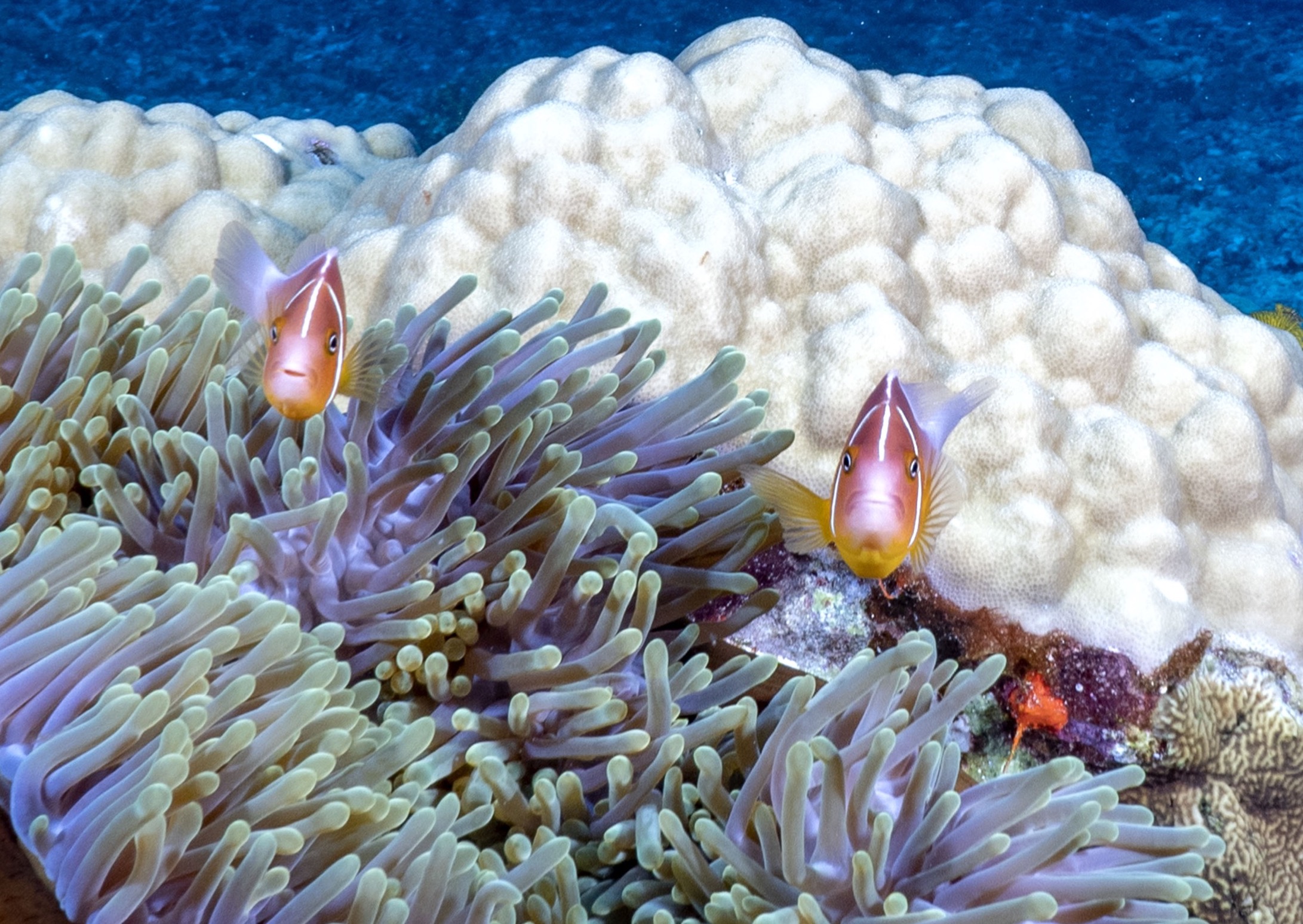 by Dee Wescott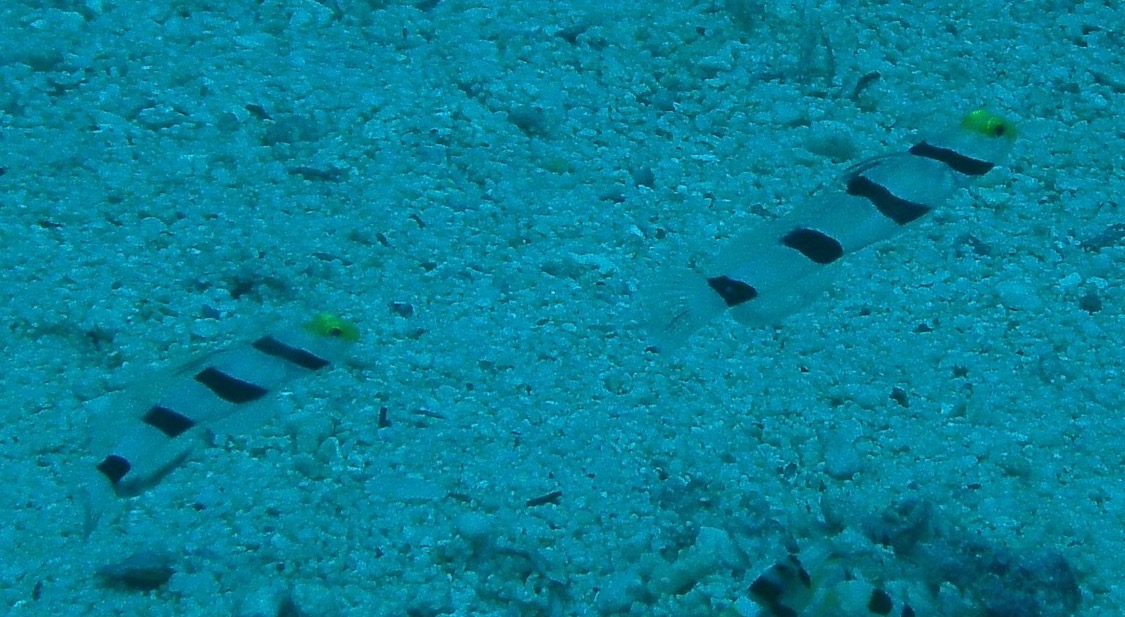 by Jayson Morgan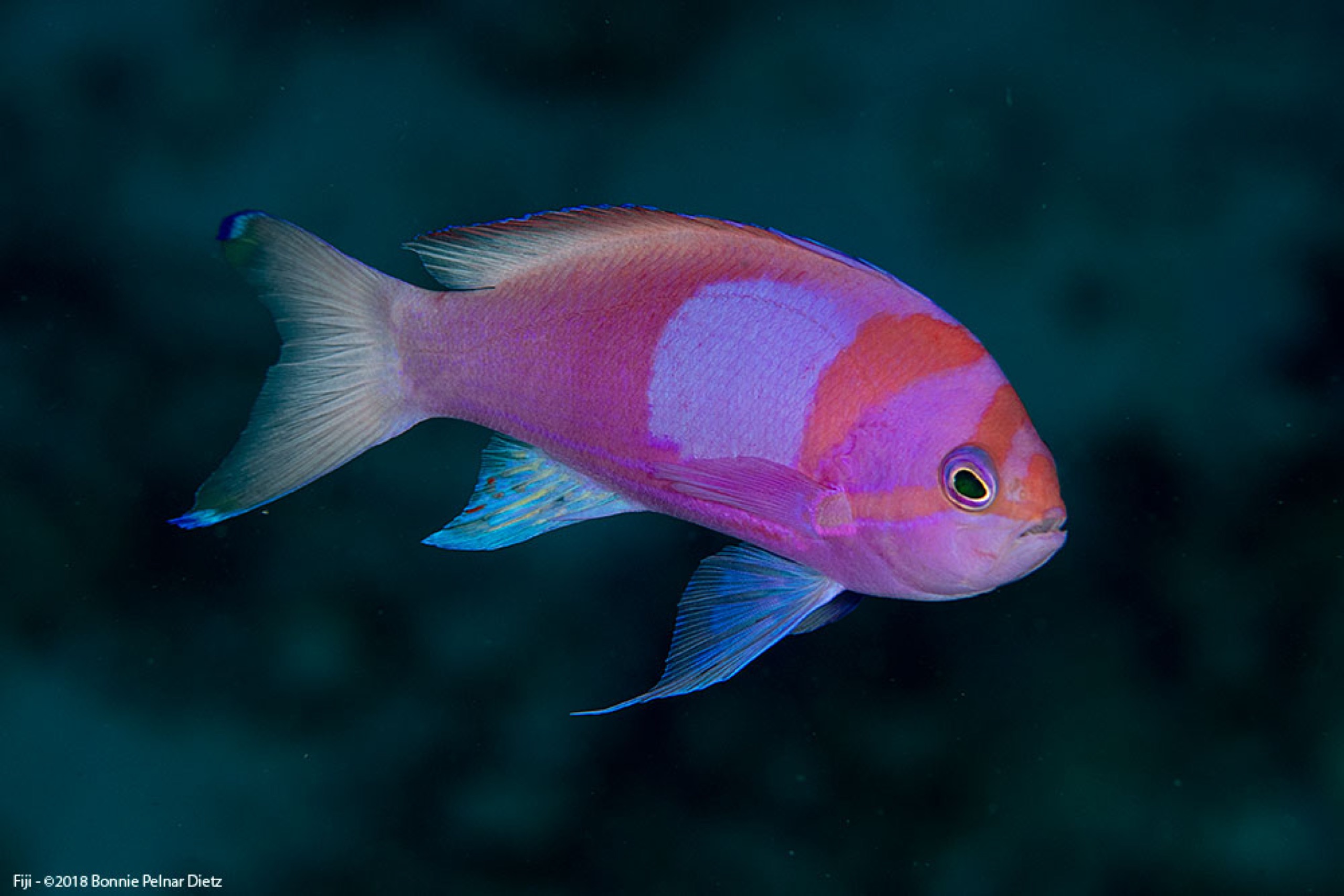 by Bonnie Plenar Dietz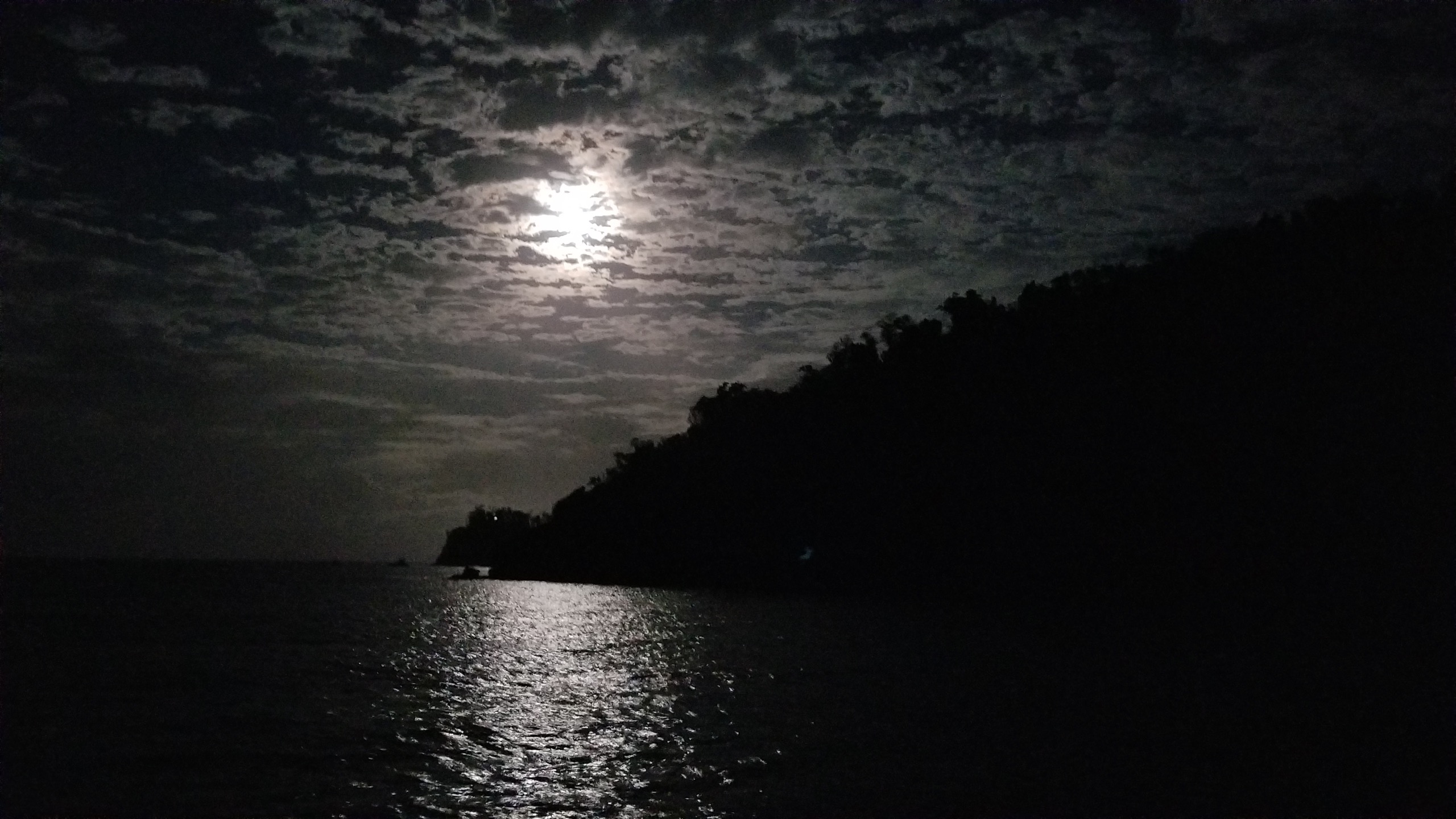 by Duane Gee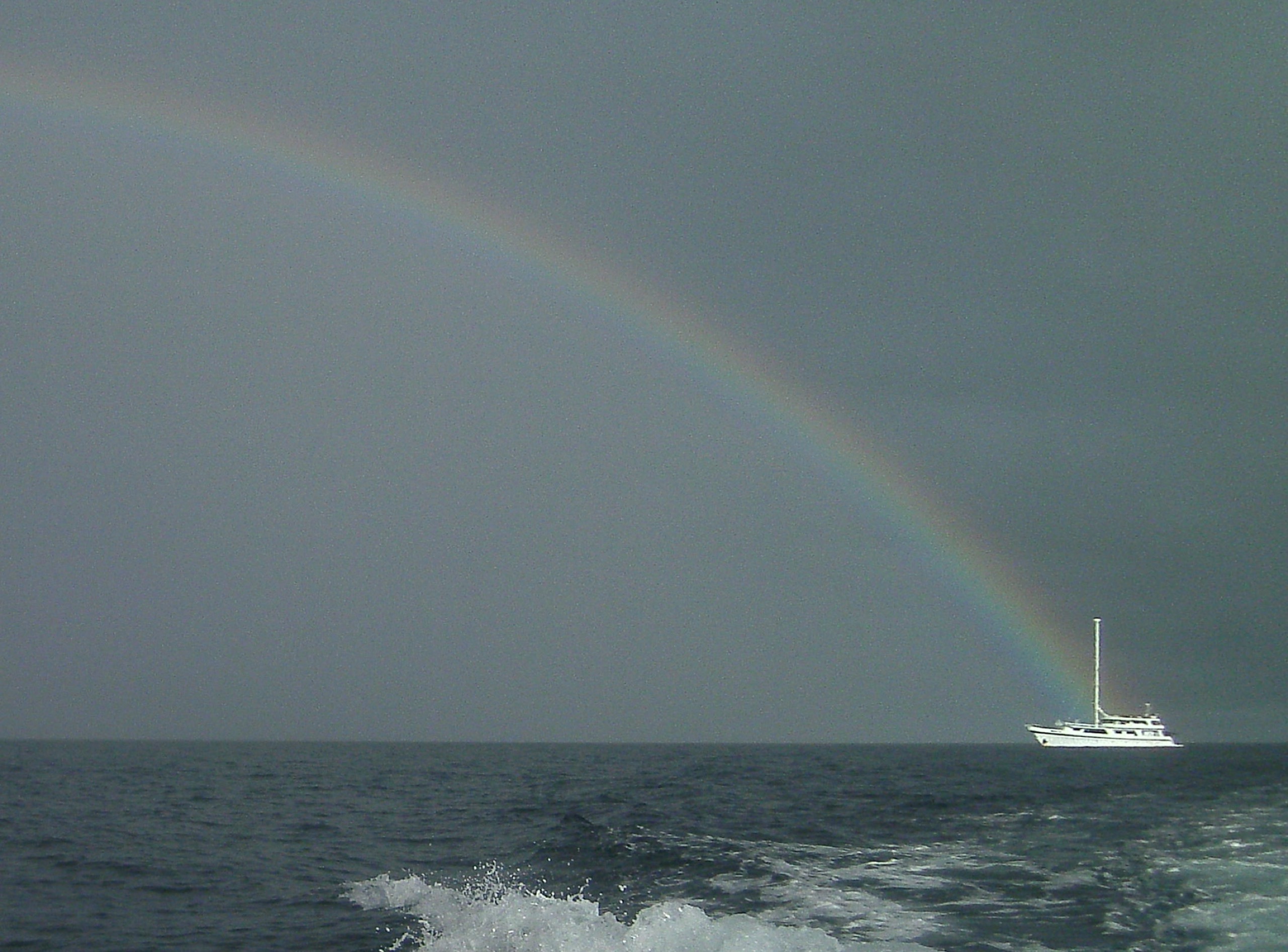 by Jayson Morgan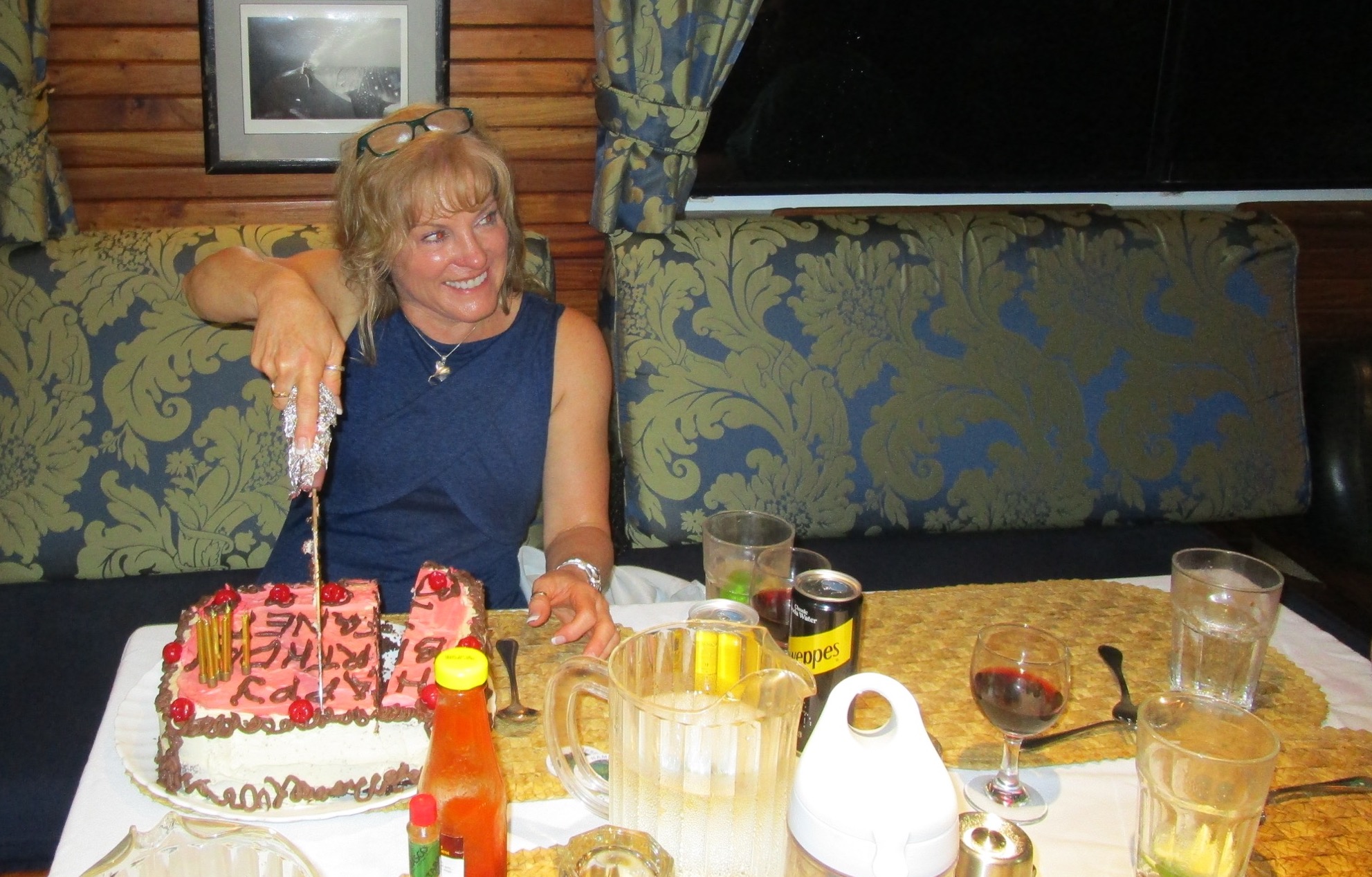 by Duane Gee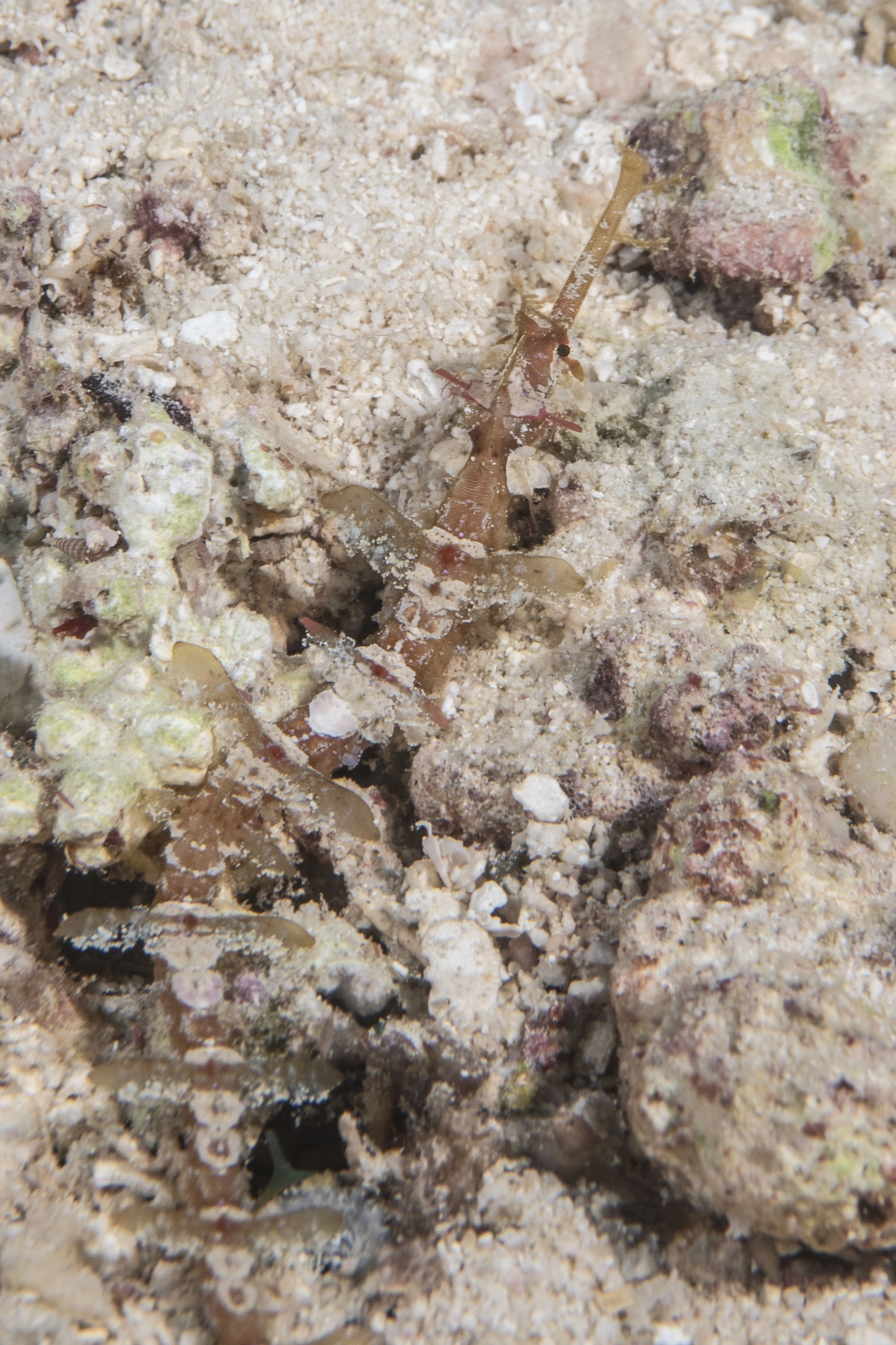 by Dee Wescott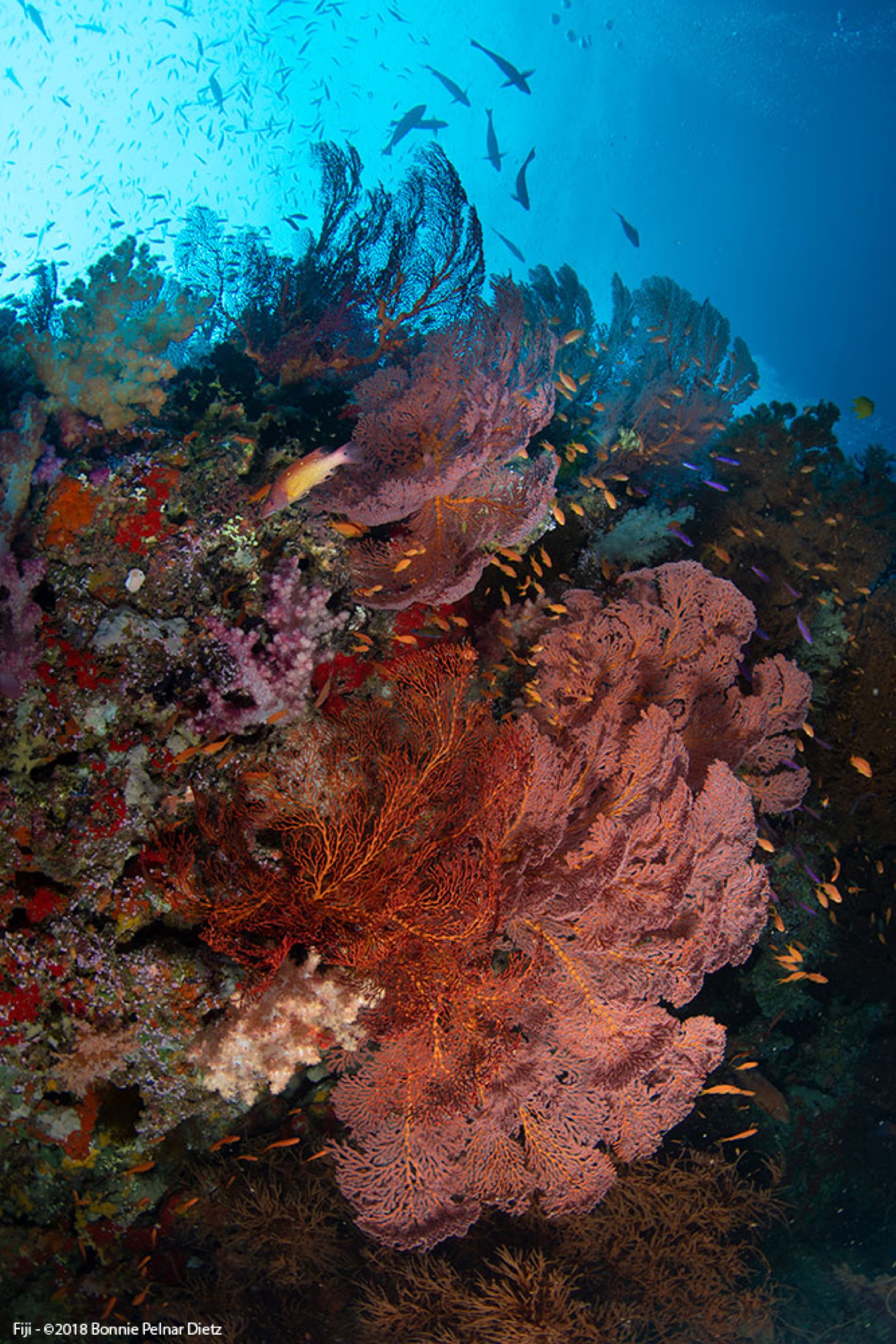 by Bonnie Pelnar Dietz
Comments
"NAI'A made a believer out of me! Fiji has been grossly underrated by both divers and scientists. Incredible fishes here and definitely worthy of protection."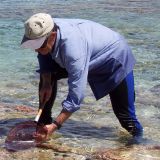 ~ Dr. Gerry Allen, Ichthyologist & Author, Conservation International