Bartholomew's Buddies
Destination: Fiji's Bligh Waters
Trip Date:
Dec 3rd - Dec 10th, 2016 -
Comments
Author: Vanessa & Chadd
Welcome Back: Bill & Lori, Dallas & Ann, and Jamelle & Ernie
Congratulations: Michel & Celine on your recent marriage!! Congrats to Deb on your first night dive!!
This week we welcomed aboard a wonderful group of divers, including several NAI'A returnees. Bill P & Lori, Ann & Dallas and Jamelle & Ernie had all been with us in the past, some multiple times: welcome home guys! They joined NAI'A newbies Bill S & Debra traveling with Robin and Larry (friends from the US), along with Karine from France and Michel & Celine from Switzerland (celebrating their marriage with 6 months of traveling: happy honeymoon!). We also had the pleasure of welcoming our honorary guest Cat Holloway, part of the NAI'A family and the original Cruise Director back in the good old days!
We had the most perfect conditions for our checkout dive at Samu Reef: no current, good viz and computers reading a whopping 86 degrees!! We felt a bit silly having recommended 3-5mm wetsuits, though the temperature did return to a more normal 81-82 through the week. Big Mo and Vanessa lead the group and found a great mix of the big – octopus, moray eel, sting ray – and the small – transparent bubble coral shrimp, sexy shrimp (you shake that butt little guy!) and even a blue stripe pipefish. A wonderful start to the trip!
The next day, we had a great full day of diving at Vatu I Ra, with clear skies and calm conditions, just a little bit of wind picking up towards the end of the day. We even had a quick glimpse of dolphins jumping off to our port side! Chad and Vanessa both lead groups at Coral Corner where the big stuff was really showing off: impressive schools of jacks and barracuda, a lovely hawksbill turtle and several white tip reef sharks (2 were chasing each other around the reef for minutes on end; fighting or flirting, it's hard to tell!). Karine and Michel were even lucky enough to look up at just the right moment to see a spectacular devil ray passing overhead. Maytag was a trickier dive with its notoriously challenging currents but, boy, did that current bring in the fish! As advised, our divers turned to face into the current, held their position and just enjoyed the show kicking off in front of them: we can only describe it as raining, no POURING, fish! Mellow Yellow gave everyone a chance to catch their breath again, slowing down and enjoying the smaller stuff: Big Mo and Vanessa both managed to hunt down the superbly camouflaged white pygmy seahorse hiding on a sandy ledge and Robin and Larry managed to make out the confusing tangle of two long blue dragon nudibranchs having a 'cuddle'. At the end of the day we decided to return to Coral Corner as it had been so good earlier but we decided to slow it right down this time and look out for the macro, approaching the dive in a totally different way. Most of the gang were '3 dives a day' kinda folks so we only got 4 takers but those 4 sure had a great time. Vanessa, Big Mo and Cat were all having great fun guiding and found a ton of macro treats: several different shrimp species, nudis, flatworms, dragonets etc etc. But the absolute highlight for Bill P was the privilege of watching two octopus courting and mating for a good 15 minutes. Such an incredible thing to witness, though we did feel a little voyeuristic! His octopus-loving wife, Lori, was more than a little jealous when we returned.... After dinner, we set off on the first night dive of the trip, to Howard's Diner, led by Chad. The group found a scorpion fish, some sexy shrimp (still wiggling!) and maaaaaaybe some flashlight fish (or was that just someone else's light?!). And it was Debra's very first night dive: well done girl!
The second full day of the trip saw us revisit some of the 'old favorite' dive sites, Mount Mutiny and E6. We hadn't really been for a while as we knew the February cyclone had done some pretty serious damage BUT recovery and growth can be quick and it's super important for us to keep checking developments. In addition, we had a mission to complete: we'd been asked by a group of research scientists to lay a temperature logger on E6 to allow them to continue 20yrs of temperature monitoring in the area. Sounds simple? We thought so too. Until we tried to lift the block!! 80kg of compact cement. Even our strong Fijian crew struggled to shift this bad boy! And as for gently lowering it into the water and down to 40'... Well, anyway, after much deliberation and trial-and-error, we did succeed and our logger will now be collecting hourly data until we check on it in one year's time! It was great to be back in the area and we had some really positive dives: Mount Mutiny's Rainbow Wall was looking really healthy and there were many juveniles in the area which is a really good sign of recovery. And the back side of E6 seems to be thriving: Cat loved guiding there again and found tons of lobsters and different nudis as well as several large predators. We hauled anchor over lunch and moved on to Vuya for the afternoon dives. Several of our returnees were excited to dive Cat's Meow again. Given that we had its namesake on board, we did ask Cat to tell us all the story of how it came to be named after her but she thought it was way more fun to hear OUR version, passed down from one generation of Cruise Directors to the next! Turns out Chinese Whispers hadn't distorted it too much, though perhaps little embellishments here and there. Both Vanessa and Big Mo's groups had exceptional dives, really getting into the teeny weeny stuff: thanks for lending us all the magnifying glass Lori! At one stage we didn't know where to look: a robust ghost pipefish right in front, a coral whip shrimp to the left and pair of pygmies to the right!! Those at Humann Nature with Chad were also impressed: a huge Napoleon Wrasse came cruising right by, schools of barracuda and snappers were skulking around the edge of the site and those who got their heads in the reef were rewarded with a long blue dragon and a super pretty scarred flatworm.
We motored to Namena overnight for two days of top notch diving. What better way to kick start than a morning dive at Schoolhouse?! It's always an impressive dive but even more so when some of the gang see.....HAMMERHEADS!! Apparently Captain Keni who was fun diving went nuts screaming at the top of his lungs and waving like a mad thing to get attention as they passed by, he was so keen for no one to miss out! Hammerheads or no, everyone had a truly beautiful dive. Particularly special were the mesmerizing schooling bannerfish at the end point of the reef, a hundred or more swirling just off the reef crest with a perfect blue background. Hope you got some great footage Ann! The group split between Kansas and The Arch for the next dive. Lori came back from Kansas beaming, having seen an octopus at last; and not just any old octopus, a pygmy one at that! She and her gang also spotted a reef top pipefish and a redspotted blenny hiding on the top reef. Big Mo's group at The Arch were very excited to see a Golden Mantis shrimp. In the afternoon, we moved to South Save A Tack and had a great two dives at Two Thumbs Up. The first time around, Vanessa thought she was doing a pretty OK job guiding, having found an unusual pipefish, a 'Marilyn Munroe' nudi (or Chromodoris if you prefer) and a scarred flatworm to name but a few in the first thirty minutes and yet she found herself all alone but for loyal Karine for the last half of the dive!! Appaaaaaarently the others got lost and ended up on the wrong 'thumb' having spotted Chad's group in the distance and thinking it was theirs. Mmmm hmmmm, Vanessa's not too sure whether to take it personally. Though the other group DID see a manta so she can't exactly blame them for defecting! The end of the day was spent relaxing in the Salon, with a lot of the divers doing some pretty good fish and critter ID-ing using a combination of their own photos and the reference books: great to see guys! After dinner we had the 'official' Kava Party (the unofficial one having already got underway the night before!). Everyone enthusiastically got stuck in to the singing AND the kava (more than the odd 'tsunami' serving!), setting themselves up for a very deep and peaceful sleep at anchor.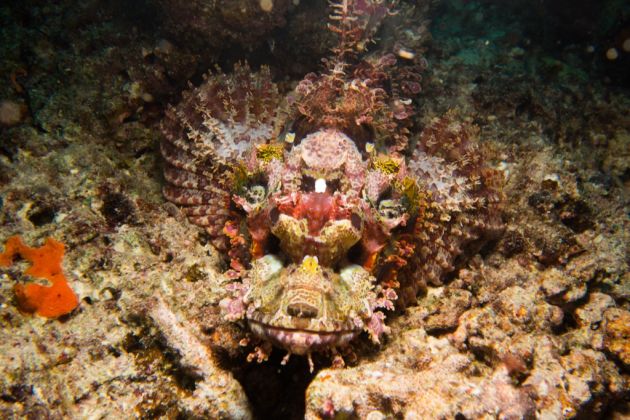 Cugly (cute + ugly) - by Ann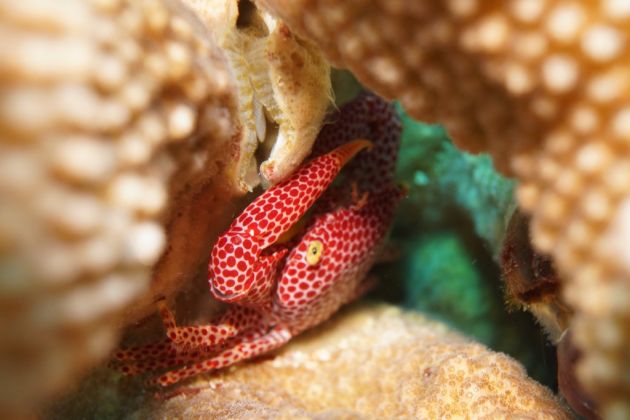 Don't Get Snippy With Me! - by Bill P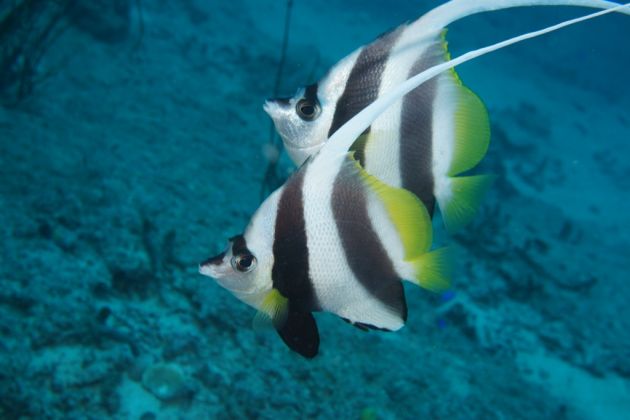 Twice As Pretty - by Bill P
I AM Smiling - by Bill P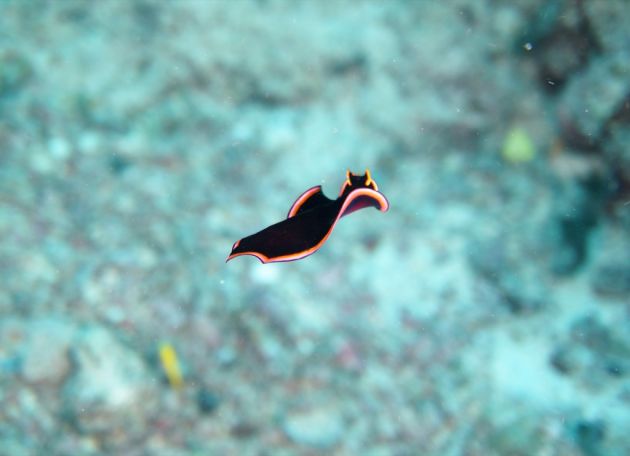 Magic Carpet Ride - by Bill P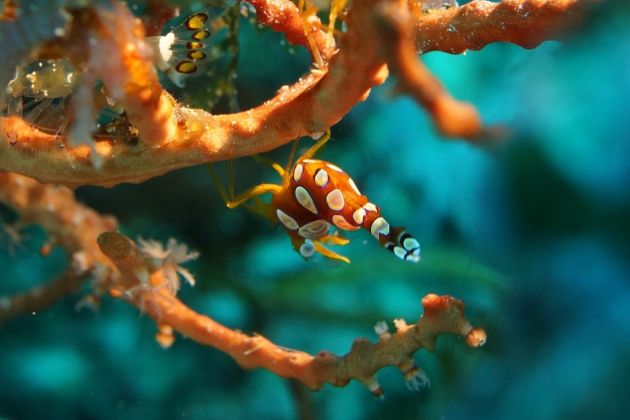 Shake That Butt - by Bill P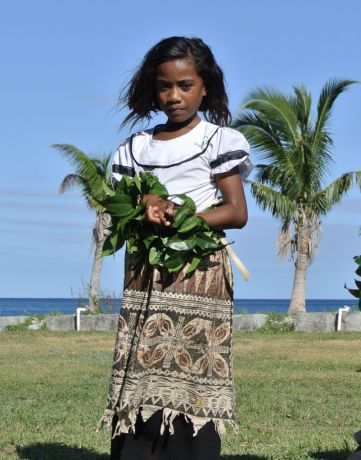 Heartbreaker - by Deb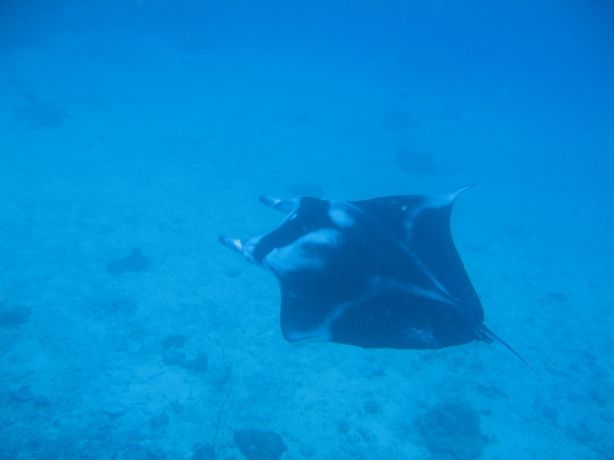 Manta Madness - by Deb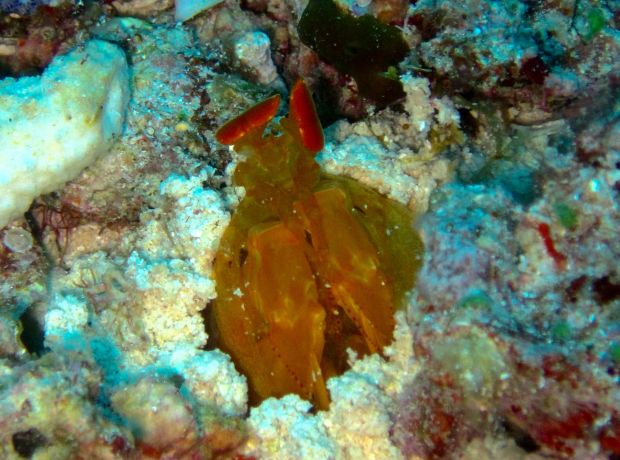 Golden Oldie - by Larry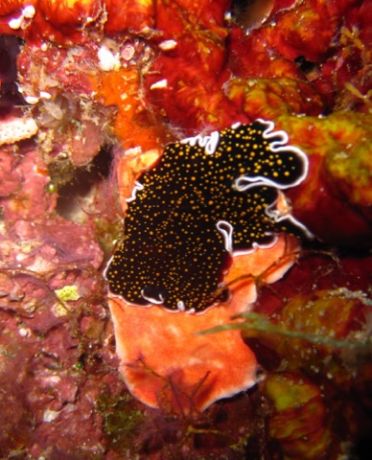 Starry Night - by Larry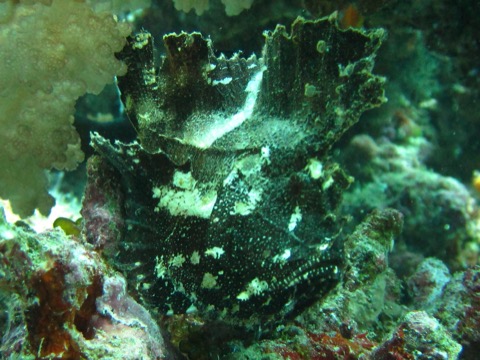 Leaf Me Alone - by Larry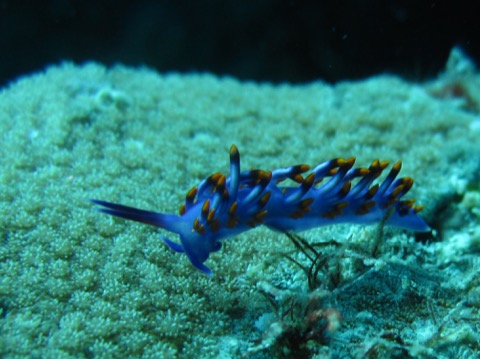 Levitating Nudi - by Larry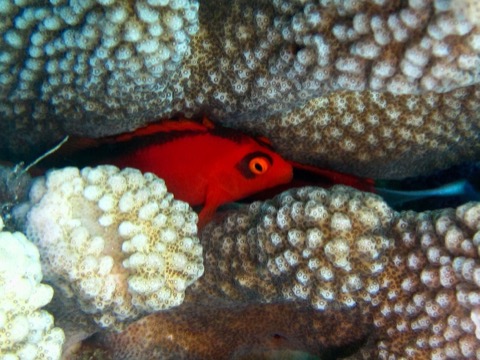 Fish On Fire - by Larry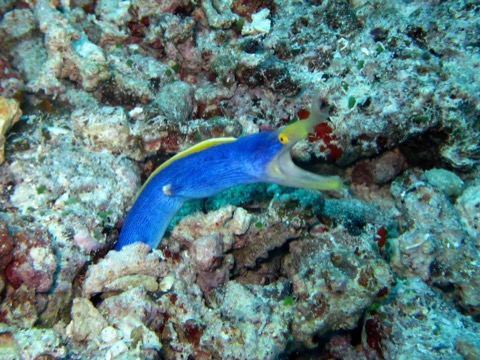 I'm FIERCE - by Larry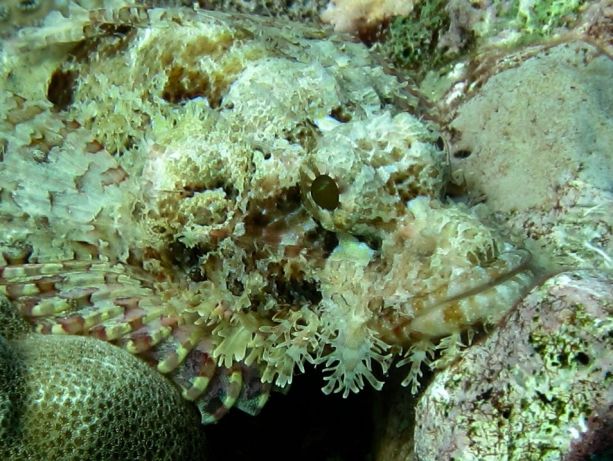 Cugly2 - by Larry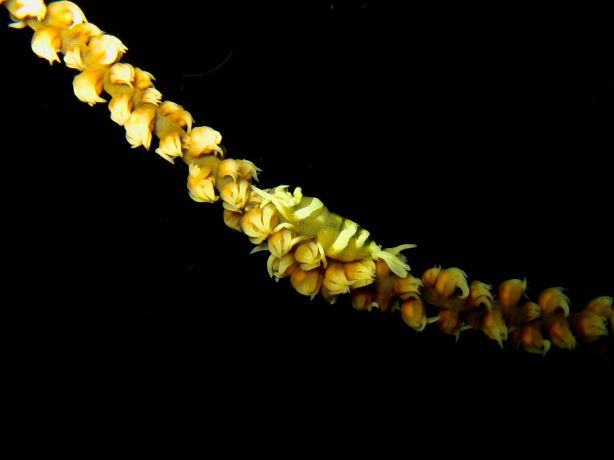 Shadow Shrimp - by Larry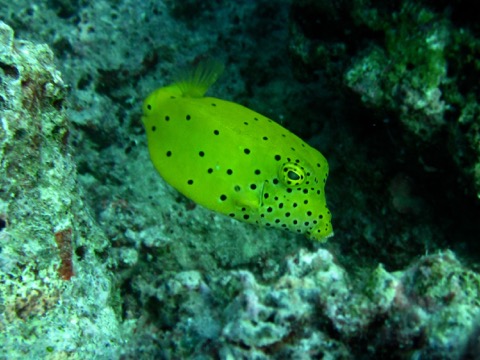 Little Yellow Box Of Perfection - by Larry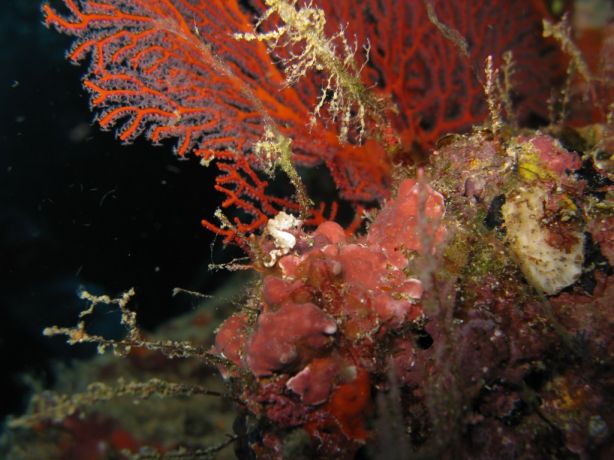 Eye Spy A Pygmy - by Michel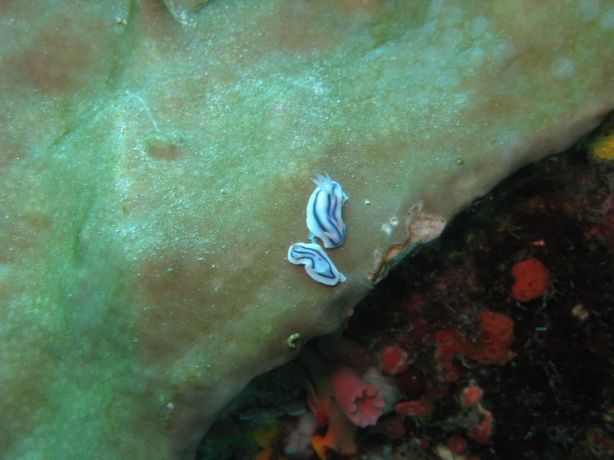 Shoulder To Shoulder - by Michel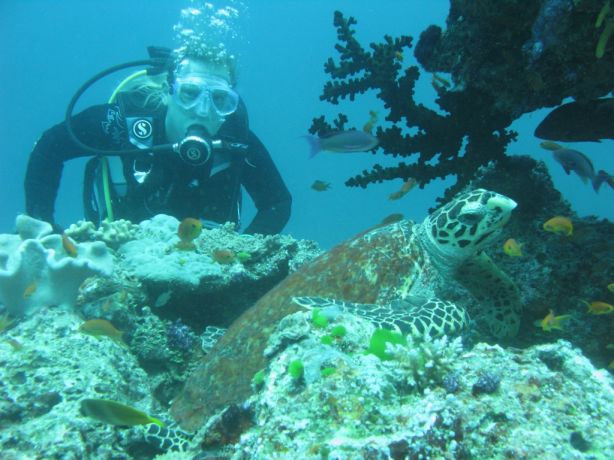 Dream Buddy - by Michel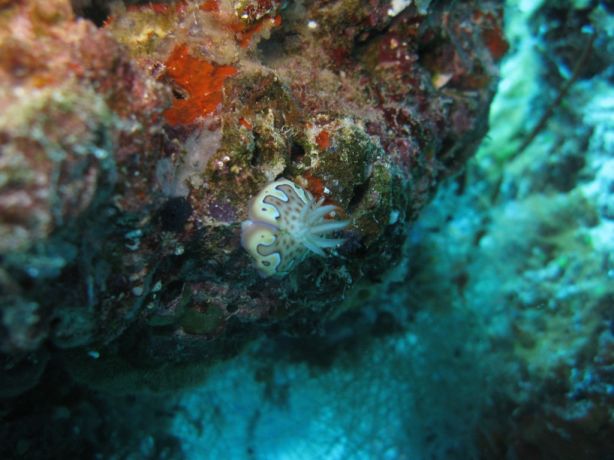 Marilyn Munroe Nudi - by Michel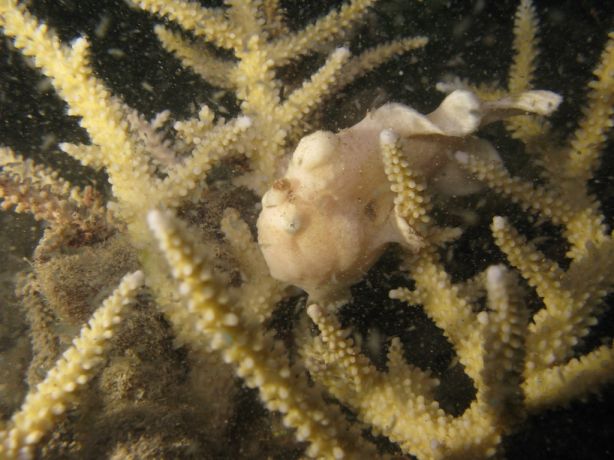 Frog Fish DO Exist In Fiji - by Michel
We awoke fresh the next morning ready for another exciting day of diving in the marine reserve. The day started with beautiful dives at Tetons 2 with Big Mo and Magic Mushrooms with Chad. Mo's group were lucky enough to see another Golden Mantis shrimp (two days in a row!) and a Blue Ribbon Eel, and Lori came back over the moon from Chad's dive having found another teeny little octopus! Next up, Vanessa led a group back on Schoolhouse with the hopes of maybe possibly seeing the elusive Hammerheads. Whilst unsuccessful in that particular mission her group did have an exceptionally beautiful dive with a crazy intensity of fish life: schooling barracuda, jacks and blue and yellow fusiliers, multiple inquisitive sharks, a massive Napoleon wrasse swimming right alongside the divers and a couple of enormous tuna up close and personal. Not to be outdone, Chad's group came back from their next dive on Grand Central Station also raving about the big stuff: Michel, Celine, Ann and Bill were all graced with a spectacular manta swimming/flying directly overhead! Later that day the divers returned to Tetons 2 and Mushrooms. Big Mo found a little juvenile white scorpionfish. Vanessa's group were watching two Morrison's Dragonets go through their delicate mating ritual when a HUGE school of barracuda came within feet of the divers: oooh, where to look, where to look?? After dinner, Vanessa took out Michel and Celine for a night dive at Mushrooms. They saw all sorts of cool nighttime creepy crawlies – both particularly loved the furry footed Marbled shrimp – but the highlight came right at the final hour. They had said beforehand they'd love to see an octopus on a night dive and Vanessa had been keeping her eyes peeled minute after minute, until minute fifty-seven, just as she was starting the safety stop, Momma Ocean delivered with a splendid octopus perched atop the reef crest in full view and happy to show off and be admired. An amazing end to a great day of diving!
At 3.30 in the dark of night, Vanessa and Chad were very gently awoken by the captain (it may have taken 3 or 4 times knocking to actually rouse them!): they found out that the villagers of Makogai, where they were planning a cultural visit the next afternoon after finishing diving in Wakaya, had not answered their mobile phone for the previous three days so the boat was taking a detour to drop in and check that we could actually go (yes, the captain then knocked on the villagers' doors at 4am!). Things are for sure done differently in Fiji!! Well, seeing as we were already there, we figured we may as well switch our diving to the afternoon instead and go right on ahead with a morning village visit instead. So at 8am, we gathered the troops and elected ourselves a chief: Vanessa nominated Dallas and was seconded by the entire group. Dallas had been on NAI'A three times previously and apparently it's a recurring theme: guess he's just got that chiefly way about him! We loaded onto the skiffs and headed on over to the stunning island of Makogai and were welcomed by Philly and the beautiful villagers. As always they gave us a great display of Fijian singing and dancing: the only difference compared to our usual visits, we didn't partake in Kava like we would have done post-diving! However, we were in for an unusual and totally unexpected treat this week: the turtle project on the island had a release planned that morning and we were allowed to name and help tag the little guy!! Chief Dallas pondered wisely for a second before declaring Bartholomew would be the name of choice (or simply Bart on more casual occasions). We all watched with great excitement as Chad lifted the (very splashy) Bartholomew out of his tank and carried him down to the beach where he was quickly tagged. It was a truly beautiful moment to watch him crawl along the beach back towards his ocean home and swim free! In great spirits, we headed back to NAI'A and set off for Wakaya and an afternoon of diving. Vanessa's group had a great dive at Lion's Den, getting their heads in the reef and really hunting down the macro: one dark little overhang was particularly magical with two pipefish side by side and a whole bunch of 'levitating' transparent shrimp seemingly dancing the day away. Vanessa was also very happy to find a Robust Ghost Pipefish: at least she was, until Big Mo found the same one an hour later AND a juvenile Winged Pipefish apparently right next to it! How do you do it Mo, you're our hero!!! Only a few people mustered the energy for the third dive but, boy, did those who stayed behind live to regret it!! Those who made the effort were rewarded with MANTA MADNESS! On the way back from the dive the skiff drivers spotted several enormous mantas: the divers grabbed mask and fins, jumped in and spent twenty minutes with them within touching distance. Later that night, Michel and Celine psyched themselves up for another night dive. And they came back beaming!! Big Mo, once again, achieved the seemingly impossible and showed them a frog fish. We didn't think frog fish even existed in Fiji!! We've decided that the ocean must secretly show things to Mo that she doesn't show to anyone else as a long term service award.
And so we left Wakaya late that night and arrived for our last day of diving in Chad and Vanessa's favorite spot: the island of Gau! There surely can't be a better end to an amazing trip than a morning dive at Nigali Passage with its incredible natural shark population. All divers were buzzing with adrenaline after the first dive, so much so that when an alternative site was offered for the second dive only two took us up on it: everyone else returned to the Passage! Big Mo and Cat took them back for more sharktastic action, while Vanessa and Chad took Karine and Lori for a stunning dive at the deep pinnacle of Jungle Jig, where they found several Orange Breasted Pipefish, a juvenile Leopard Wrasse, a mellow Hawksbill turtle and a yet-to-be-identified odd looking scorpionfish. For the afternoon, most of the group retreated to their cabins as we made the bumpy crossing from Gau to Suva and then we reconvened for a yummy last dinner together. After dinner, we all enjoyed a great slideshow of the guests' photos from the week: we loved Ann's clip of the shrimp determinedly digging his hole and fighting a losing battle with a relatively massive piece of rock! We also had beautiful shots from Larry, Debra, Bill P and Michel: thank you guys!
We've all had a really wonderful time aboard NAI'A this charter: thank you so much for joining us. Lori and a few others suggested a reunion in one year's time: we say let's make that official! So.....see you in Dec 2017 everyone!
Our Guests...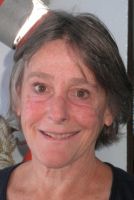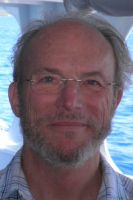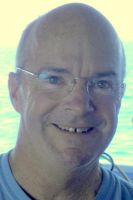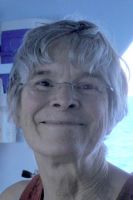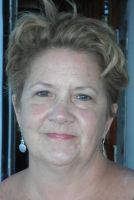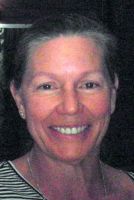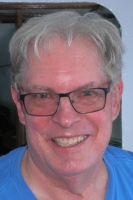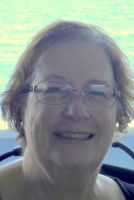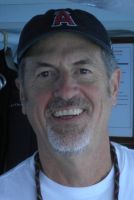 Comments
"Thank you to everyone on NAI'A who makes NAI'A what it is – an exceptional operation and a gateway to underwater wonders. What a fantastic crew! Thanks for an incredible life experience!"