Close encounters of the Humpback kind
Destination: Ha'apai, Tonga
Trip Date:
Aug 27th - Sep 6th, 2012 -
Comments
Author: Erwin
Welcome Back: Bob Green & Jacque Archer, Igor Sugarlskiy & Elena Sugaskaya, Todd, Alexx & Brigg Edwards and Rob, Cat, Malia & Parri Barrel.
Congratulations: to the kids for being so brave and giving it a go!
Wow.  Amazing.  Incredible.

Hang on a minute.  Thats how I started the last divemaster diary.  Well, this trip was no less ridiculously, mind blowingly awesome than the last one!

On the last cruise, we headed out to the channel just north of Tongatapu and found whales within one hour of boarding, this time we had a mother and calf in the harbour!  We were still at anchor when we had our first encounter!   Couldn't ask for a better start to the trip.

The crossing to Ha'apai was a piece of cake but when we woke it was to quite a windy scene.  We were not the most hopeful of a great in water encounter there as the lee side of the island we were behind was a quite small and limited area.

Then it happened.  We spied a mother, calf and escort and thought we would give it a go.  You never know right?  Well, it turned into one of those very rare moments in your life that although your eyes are open you can't believe what you are seeing.  Three huge animals, not only willing to just let us approach them but really interacting with us too.  Spy hopping, swimming by us for closer looks and stopping just mere meters away from us and hanging out.  There was no chance of spooking these whales.  They were so sure and comfortable with us that we were like long lost friends, interacting with us more like a domesticated pet than wild animals.  Rob, one of the owners of Nai'a, who was on board and in the water at the time said that it was his best encounter in 16 years!

So, how did we top that?  Perhaps it's a combination of luck and hard work in finding the right whales but the encounters just kept coming!

We had a mother and calf pair resting in the lagoon of one of our mooring spots for three days!  We swam with them, went and swam with other whales, went for a dive, came back and swam with them again!  The mother was as mellow as mellow can be but the baby just wanted to play.  At night we could hear their blows from the sun deck of the ship!  I am still so grateful in my mind to those two whales for giving me so many amazing experiences and for sharing their time with us.  

Then we had the flat day.  A day so flat that it was hard to tell where the water stopped and the sky started, and loads of whales to boot!  We had in water encounters with two large, shy juveniles and then a group of five whales, a mother, calf and seemingly three escorts all trying to impress (and perhaps re-impregnate) mum.  Sound like a good time?  You bet!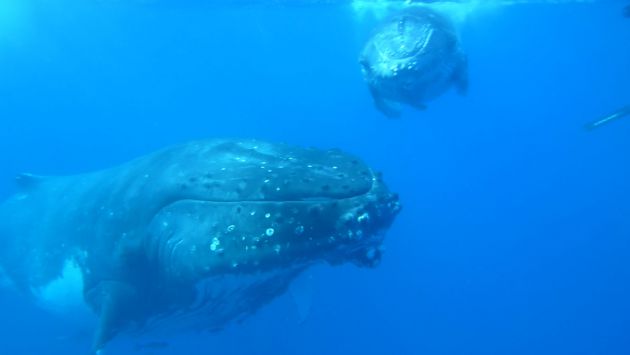 Mother & Calf by Hermann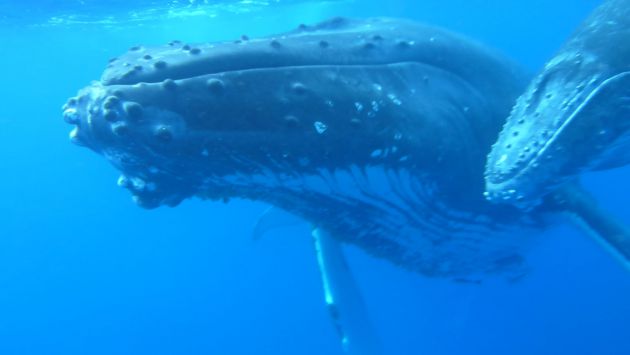 Photo by Hermann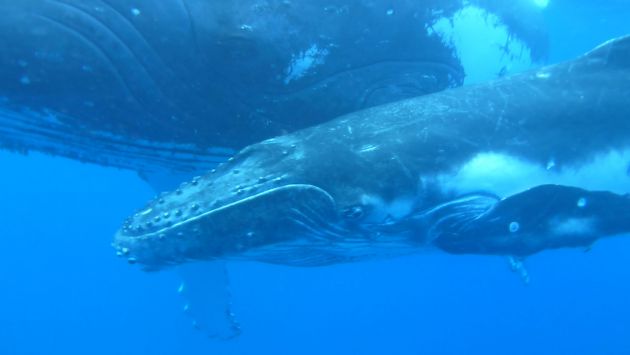 Calf Close-up by Hermann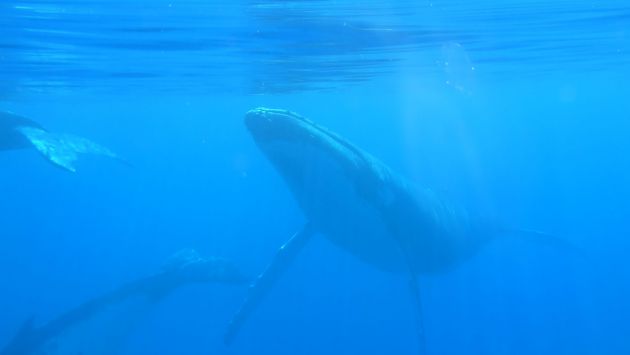 Whales! By Hermann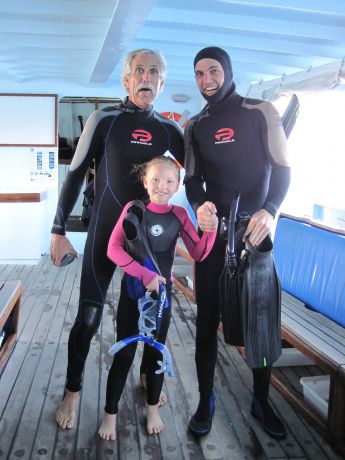 Look out! Here we come! By Cat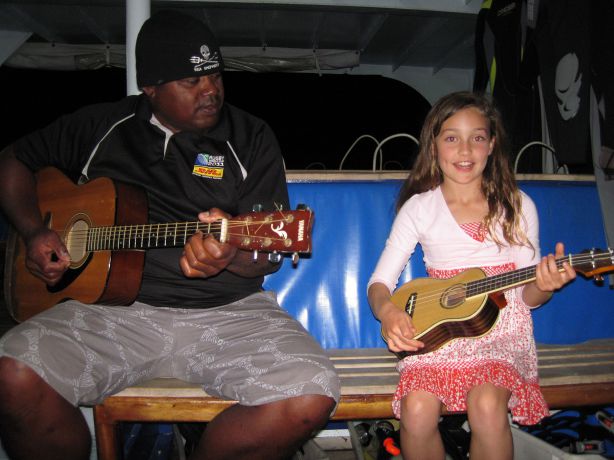 Big Mo and not so big Malia by Cat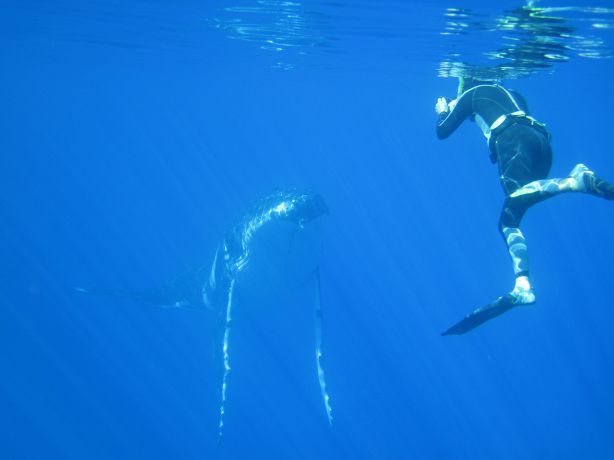 Erwin & the Whale by Cat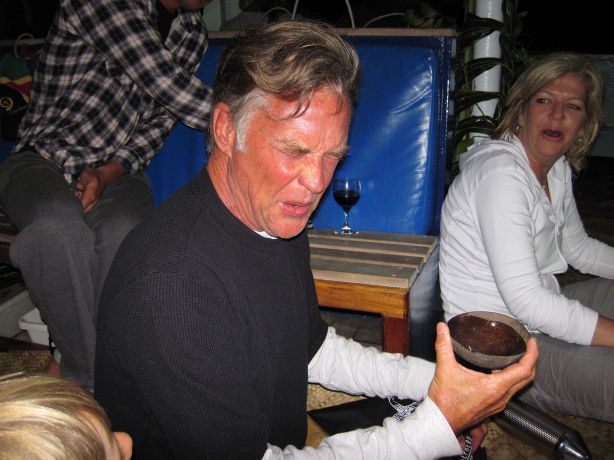 How's the kava Rob? By Cat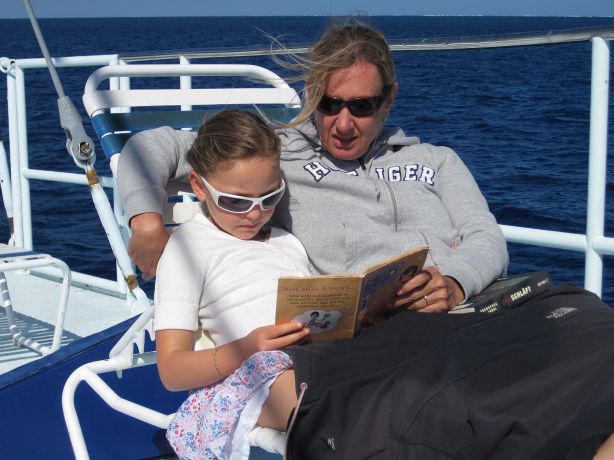 Book corner by Cat
Girls on the skiff by Cat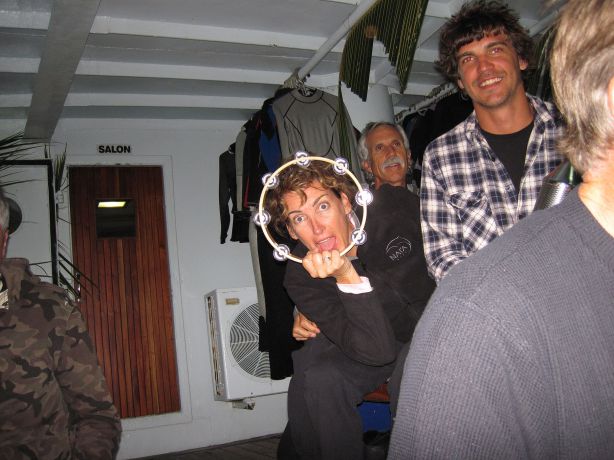 Stop. Kava time! By Cat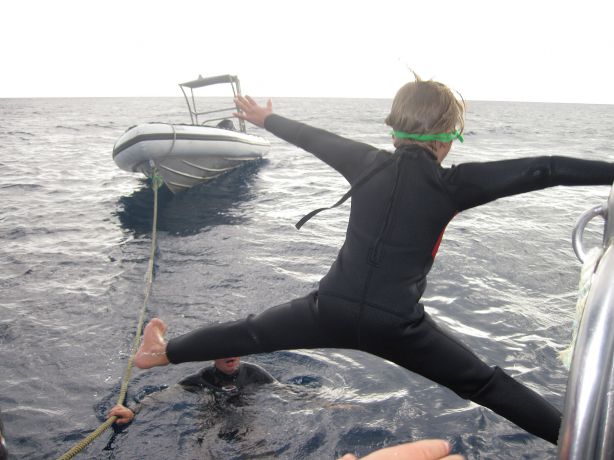 Bonzai! By Cat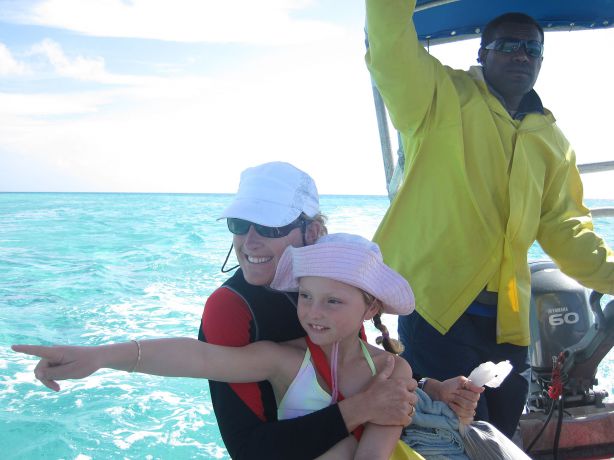 Thar she blows? By Cat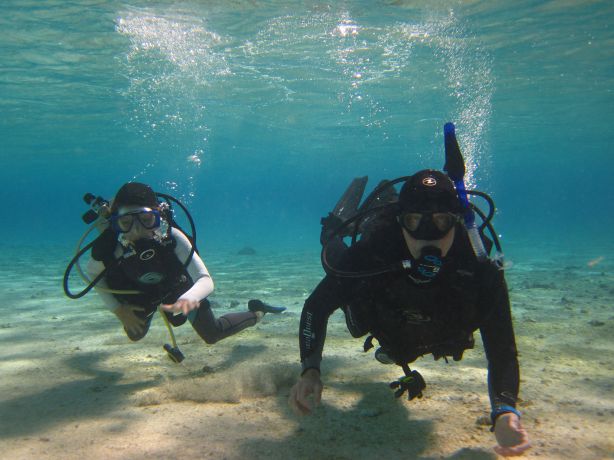 Father & Daughter diving by Cat

For those that have not swam with whales it is a hard thing to explain.  No amount of words can convey the extreme excellence of the feeling of interacting with these animals.  They are not like sharks, turtles or even mantas or seals.  All of these can provide wonderful and awe inspiring encounters but the whales seem to understand a little more.  Lets not forget that they are huge!  They can weigh up to 40 tons..  As they are there to mate and give birth and no feeding is done by the adults (the calves breast feed) the rest of their time is just spent resting, playing and swimming around, killing time.  It feels to me like often we are a welcome distraction.  If the whale is comfortable with our presence, it seems that they enjoy the encounters just as much as we do.

We had breaching, peduncle (tail) slapping, pec slapping, heat runs, whales visiting the ship, fantastic in water encounters, you name the behaviour and encounter, it seemed we had it.

One trip to go.  I'm thinking that 40 days in Tonga might just not be enough..
Our Guests...





















Comments
"Thanks for team of NAI'A ship!!! For the best time what I spent in Tonga whale watching trip. "

~ Damir, Kazakhstan. 12 years old