Close Encounters
Destination: Ha'apai Island Group, Tonga
Trip Date:
Aug 24th - Sep 3rd, 2015 -
Comments
Author: Joshua & Amanda
Welcome Back: Gayle, David, Dennis & Noam
Congratulations: Sergey & Vadim on their Nitrox certification
Just before our guests arrived for our third Tonga whale trip of the season, the skies opened up with a torrential downpour. A bunch of Israelis, a handful of Americans and one cheerful Brit arrived onboard in various states of being soaked. The forecast for that evening called for calm, which actually meant a very rough night as we travelled from Tongatapu to the Ha'apai Island Group. Attempting to sleep on the upper level, we literally had to hang onto our mattress, but somehow, several of our guests managed to catch some sleep.
By stark contrast, Day 2 was sunny and calm. From the safety of the bow, we observed a heat run involving four juveniles in pursuit of mother with her calf. What were these youngsters doing chasing an older lady? Was this just practice for adulthood? While 12 guests and eight crewmembers were already eagerly watching the show from the bow and sundeck, Phil emerged from salon and, spotting the whales for the first time, pointed and shouted, "There's whales there!" This was only the first of many laughs Phil gave us during the charter, mostly due to his endless, infectious smile and lilting Lancashire accent that most of the crew had never heard before. Every morning he'd join the crew on the bow and they'd all be seen leaning in to catch every word of whatever story Phil was telling. Well, they must have been listening, because Koroi could be heard, even days after he left imitating this new sound "Ah can see the whales joompin!" Later, we jumped in the water and, while we only caught a few fly-bys, we did see six whales at once. Our checkout dive took place at The Patch near Uonukuhahaki.
The wind picked up the following day as we departed from Ha'afeva, accompanied by an inquisitive group of spinner dolphins. While one skiff struck out in the morning, the other witnessed some great surface activity, including a full breach, followed by an exciting in-water encounter with six curious whales who came back around for a second look at these interesting humans. We were back in time for a slightly late lunch before watching a dramatic heat run in a vast area of open water we've dubbed the Playground from NAI'A. Skiffs deployed to pursue mother and baby. After one skiff came back to go for a dive, the other had wonderful up close encounters with mother, calf and escort.
Our cetacean friends made a late start on Day 4, but made up for it with some exciting surface activity from many different whales all around NAI'A. We observed one tremendous full breach, followed by five breaches involving two whales leaping simultaneously that dragged us into the skiffs. Again, one skiff was unlucky, but the other one happened to have amazing close encounters with five whales pirouetting in unison. Ben managed to capture a spy hop below and above and surface and skilled professional photographer David admitted he got more fantastic pictures from that one encounter than he had anticipated for the entire trip. Most of our guests visited Uoleva Island while Angiolo was the only taker for a dive at Uoleva Point with Joshua. There, we found the Tonga variation of bicolor fangblenny, emperor shrimp and a huge hermit crab. Angiolo also found a 4-pound weight (worth the same in gold on a dive boat), which he handed over to Joshua. 30 minutes later, Angiolo realized it was his and he would really like it back! Amanda led a night muck dive with the young Russo-Isaelis, Vadim and Pavel, and pointed out a cool octopus, crocodile flathead, anemone hermit crab and Kuhl's stingray.
Day 5 was partly cloudy and the chilly southeast wind picked up to 25 knots. The morning was spent near Luangahu Island pursuing a mother and calf who were in turn pursued by two escorts. We got in the water for several close fly bys, but the vis was not so good due to windblown particles. Finally, one escort left and the mother settled down, allowing us two good encounters.
After lunch, two skiffs set off for Uoleva and Lifuka Islands. After having an initial bit of luck with a couple of close fly-bys close to Lifuka, Amanda's skiff had a frustrating hour or so jumping in with nothing to see. The vis was particularly milky this close to the mainland and we were starting to lose hope as the afternoon went on. Suddenly though, skiff-driver Moji caught sight of some action in the distance. We carefully approached the pair, a mother and calf, who were breaching and pec slapping to their hearts' content. We were then treated to an amazingly close inverted tail slapping display before they finally calmed down, allowing us to jump in with them. We found the mother resting just below the surface, with her baby nuzzled under her pectoral fin.
After a while, her baby would come up to the surface to breathe and swim curiously around the four of us as we hung motionless on the surface. Then in turn, mother would heave her great bulk up and make a slow pass in front of us, leaving no doubt of the sheer size and majesty of this 45-ton creature. Wonderful though it was, after a number of similar experiences with this pair, we saw that the sun was getting low in the sky and we decided to head for NAI'A and some dinner. Dragging our heels a little, we slowly made our move, just as mother came to say goodbye. About 6m/20' away from the skiff, she vaulted her entire body out of the water in the most tremendous breach, the closest Amanda had ever been to an airborne adult whale. Wow! Mother then breached a few more times with baby joining in. As we slowly followed them we realized that they were leading us home! It took 15 minutes to get back to NAI'A and this pair was (much to the envy of everyone watching from the salon) breaching and lunging next to us the WHOLE way back, giving Dennis, Inna, Adi and David the most unique escort of their lives.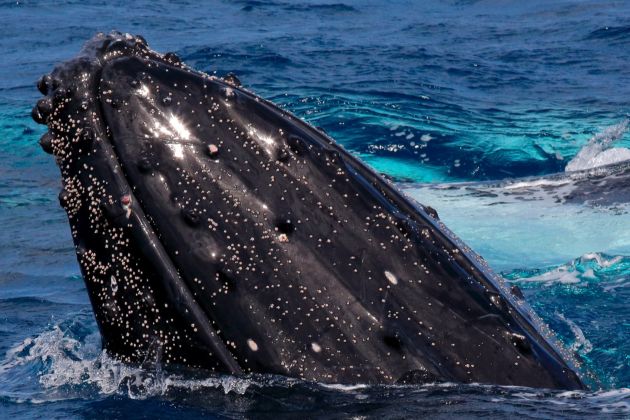 Nosy - by Angiolo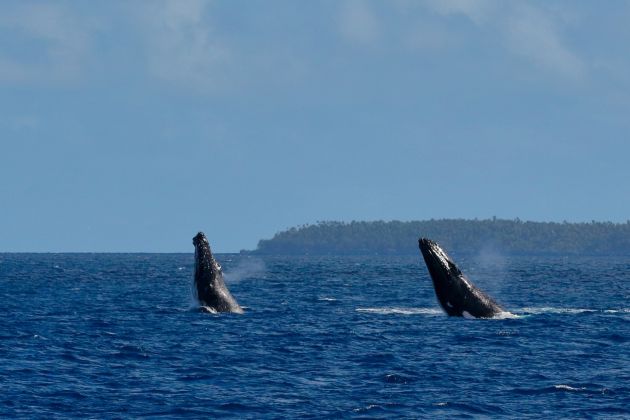 Synchronized swimming - by Angiolo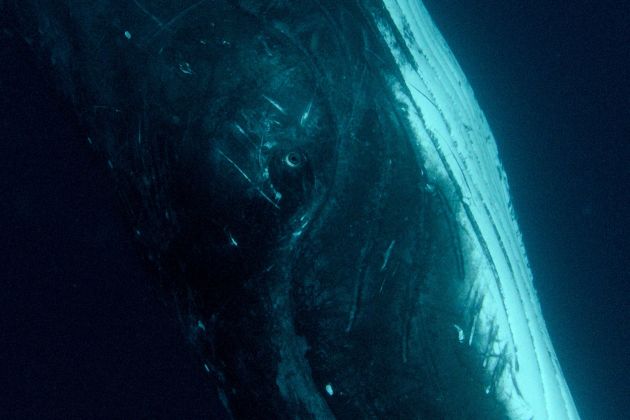 Eyeing us - by Angiolo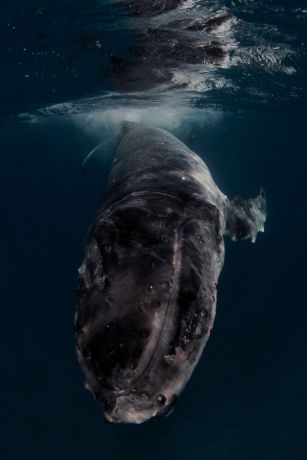 Looking down the barrel - by Angiolo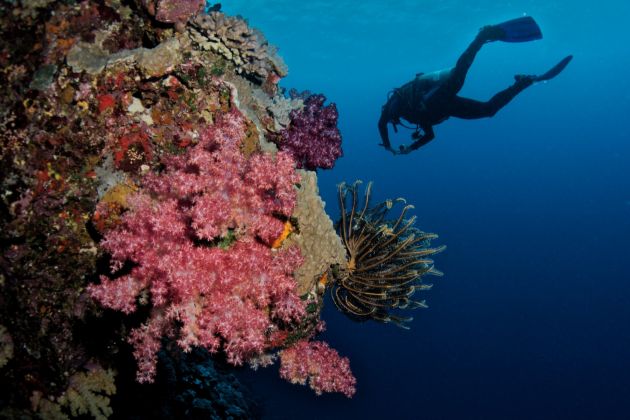 Off the wall - by Angiolo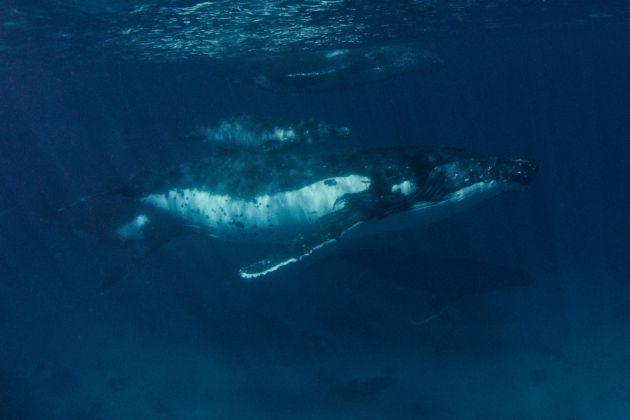 Mob rule - by Angiolo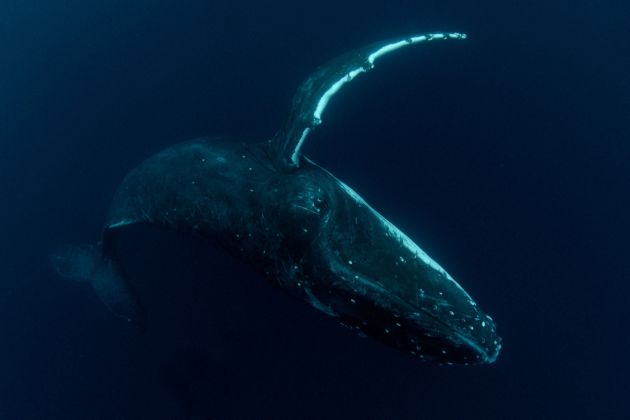 Pirouhette - by Angiolo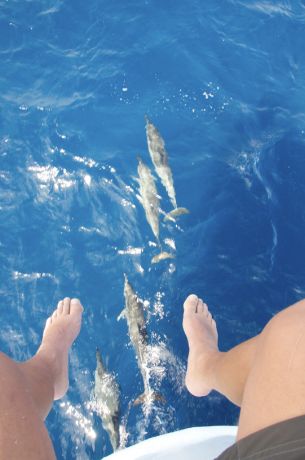 Feet first - by Chris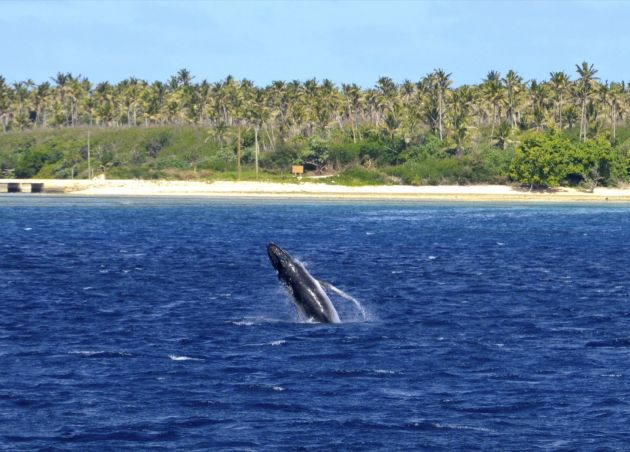 Airborne - by Chris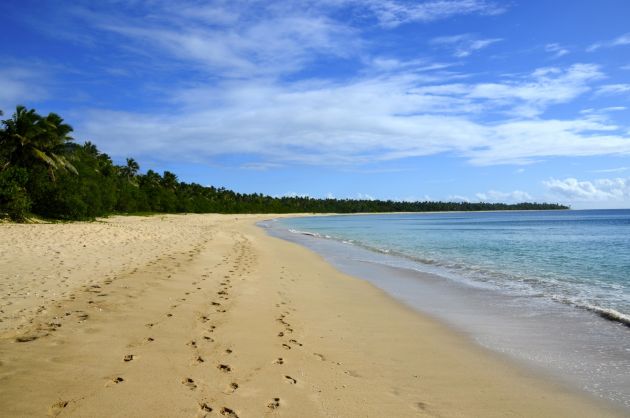 Lazy days - by Chris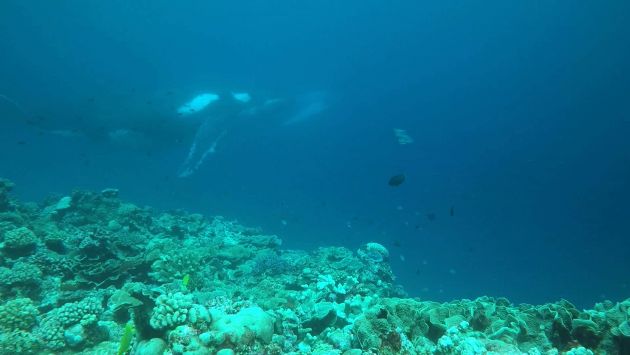 Still from video of whales during scuba dive - by Chris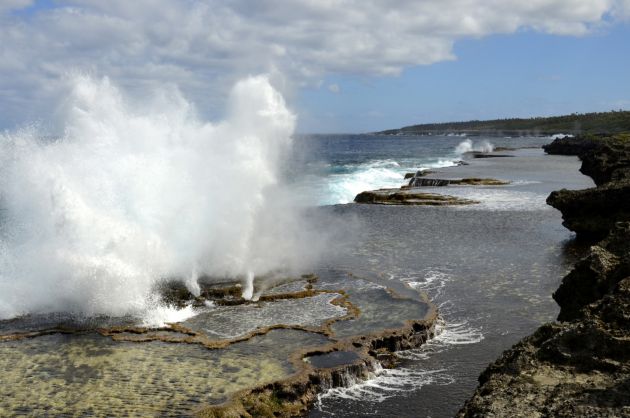 Blowholes - by Chris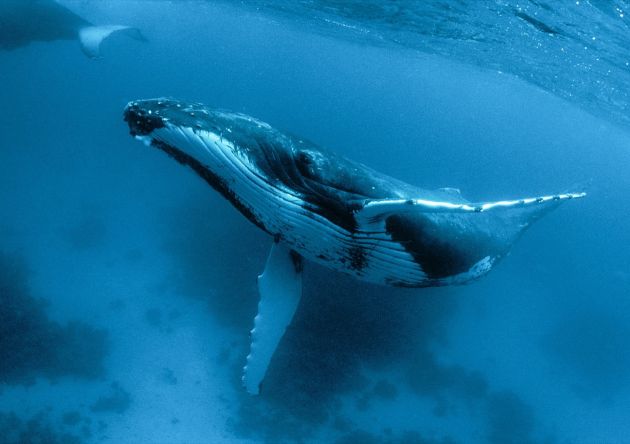 Superman - by David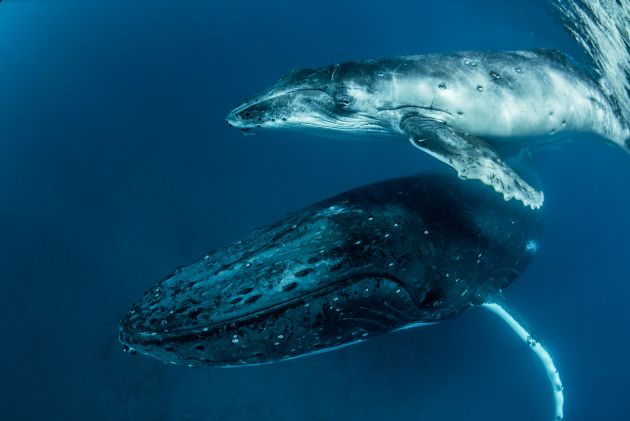 Baby on board - by David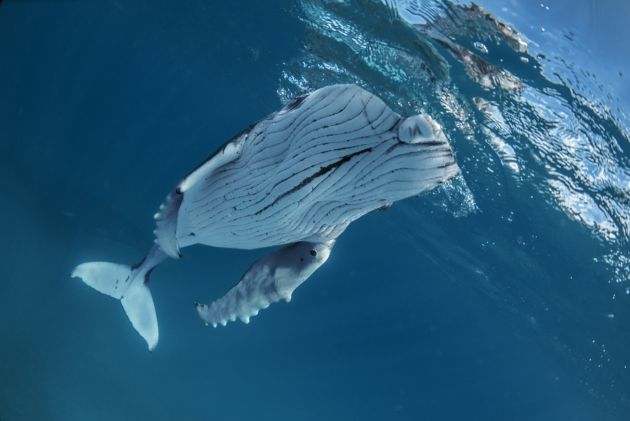 Playtime - by David
Like mother, like son - by David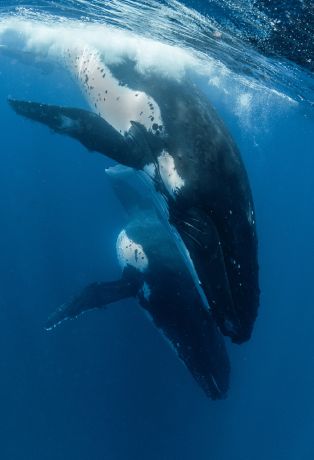 Submarine - by David
The 3 tenors - by David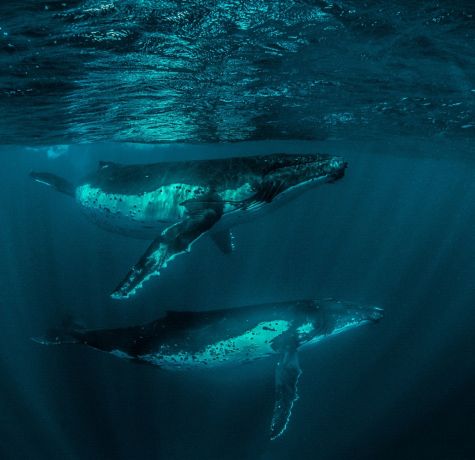 Tandem - by David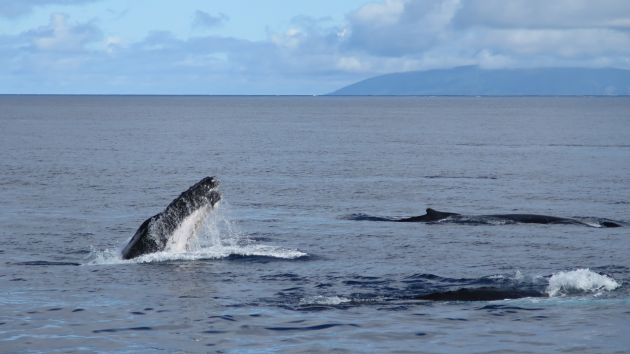 Heat run - by Pavel & Vadim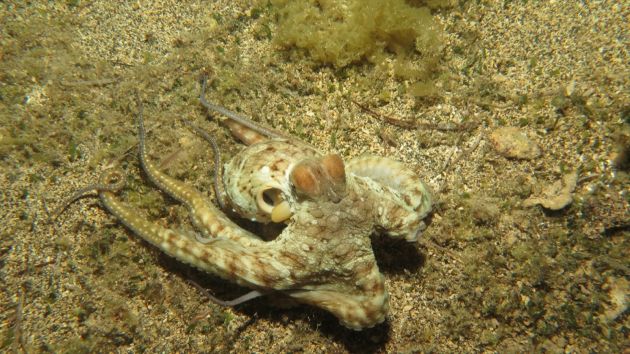 On the slide - by Pavel & Vadim
Wreck dive - by Pavel & Vadim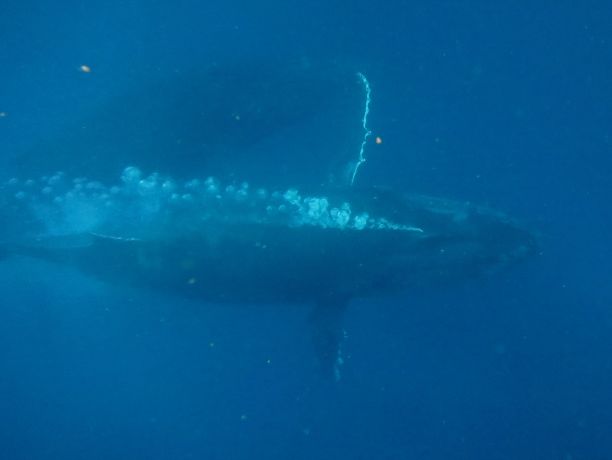 Bubble trouble - by Phil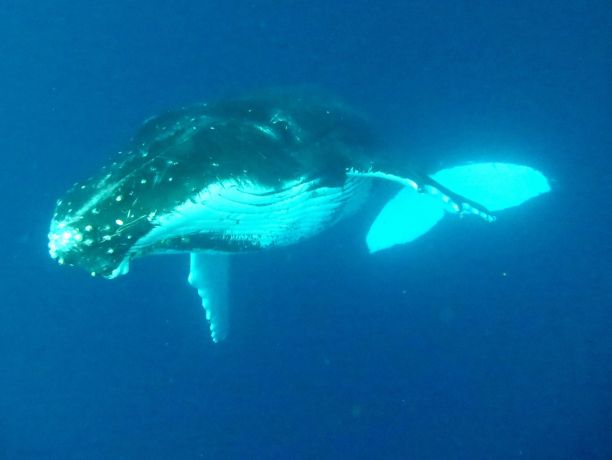 Inquisitive - by Phil
Almost every day for 40 days we swim with these gentle giants, and every day is a chance for them to take our breath away again.
That evening, we celebrated Thomas's birthday party. Considering it was two months early, our song and cake was truly a surprise. Joshua led a night dive at Luanafi Castle, showing Chris, Ben and Angiolo a black velutnid and three octopus. The first two were actively courting and the last was busy turning a crab inside out.
The following day brought continued strong winds and little action in the morning. Eventually, we found a mother humpback and her baby near Loa Island that chilled for hours while everyone got very close encounters. The obviously experienced mother floated serenely above the shallow sandy bottom while her baby imitated her floating just a meter or two above. Every now and again the baby took interest in us and swam towards us, flopping playfully around on the surface and giving everyone breathtaking views of this giant sized baby.
On Day 7, we headed west and came across little activity until very late morning when we found a mother and calf near Meama Island. Mother looked healthy but the calf had several large wounds on its body including a moon-shaped chunk missing from its back. Both groups took turns spending ten minutes very close to the dozing mother hovering above shallow reef while her wounded baby cuddled, nursed and surfaced to breathe. Although the wounds looked pretty gruesome, the baby appeared active and healthy and its mother behaved as if she didn't even notice we were there! We alternated encounters for 90 minutes before returning to NAI'A to have lunch and allowing baby to have lunch (even though it didn't stop it before). After lunch, we watched the clock and waited the mandatory 90 minutes, at which point it was allowed for us to go back in with them. As if to call us in, mother and baby breached several times close enough to NAI'A to hear! One skiff returned to them while six divers explored the reef fringing Meama Island, led by Koroi. 
The next day, our guests were awoken by whale singing heard through the hull of NAI'A! With three groups of whales around, we decided to get in the skiffs, but the whales largely didn't want to play. While neither skiff had good underwater encounters, Big Mo's skiff observed a baby breaching display that again led them back to NAI'A. Encouraged by a tip from our friends at Serenity Resort on Uoleva Island, we hurried to Maungoune Island for an exploratory dive. We were told that there we could find a tunnel and an arch at 80' near the island. For nearly an hour we swam along a dramatic wall cloaked in healthy hard coral and even a smattering of soft corals and orange sea fans. There were also many fish of a variety of species, making this the best dive site we have yet discovered in Tonga. Despite being given GPS coordinates, very few of us managed to find the arch and only at the very end of the dive. Angiolo, Ben, Chris, Tamar and Joshua all reached the arch, which we have named Cupid's Bow because it has the shape of an upper lip. Immediately upon surfacing, we swam with a complacent mother whale and her fat calf.
That night we threw a kava party. Sergey stood out wearing a bright orange-yellow flowery shirt, clashing starkly with his sulu and neon yellow jacket. Is this how all brain surgeons dress on their day off?
On Day 9, we had extremely long and close encounters with another mother and calf near Haukauata Island. The wounds on the baby made it very easy to identify as the same whales we had seen two days prior, but this time mama's got a new boyfriend! The escort hovered vertically, spun, eyed everyone and slowly swung its mighty pectoral fin close enough to give a high-five! During the afternoon dive at Palako's Patch, we found bigfin reef squid, dogtooth tuna, rainbow runners and a black giant trevally in hunt mode. Before the dive, we had asked the guests if they would like diving or whale swimming. For Chris, Angiolo and Inna, the answer should have been "yes". Skimming the top of the reef ridge, Joshua turned to find three big whales right behind us. He screamed to get everyone's attention and we watched as they circled close, checked us out, sped away and then returned. We all returned to NAI'A sporting big grins, having experienced a simply unforgettable dive. You just don't expect to see something that huge while scuba diving! Big Mo took dive junkies Vadim and Pavel on night dive at Ha'afeva where they found yet another curious octopus.
On our last day we found two pairs of whales in the shallows near Nukulei Island. In one last whale swimming attempt, we experienced several close fly-bys, which turned into an entertaining heat run. Later, near Numuku, we saw a pod of nearly a hundred spinner dolphins who leapt and sped alongside NAI'A and another heat run involving three escorts chasing a mother and her calf. What a send off to a week of amazing encounters with our friends, Tonga's humpback whales.
Our Guests...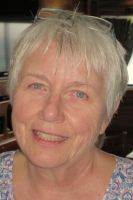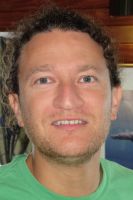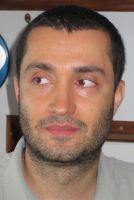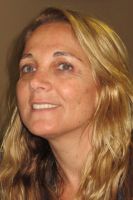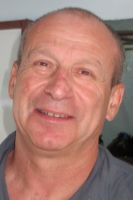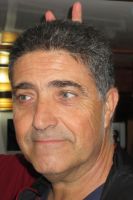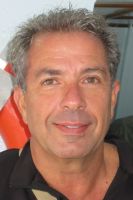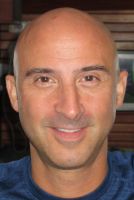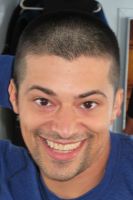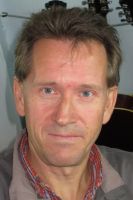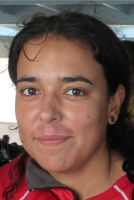 Comments
"I have just had a marvellous 10 days aboard Nai'a. As usual, your Fijian crew are rather special, and all the other guests felt the same. It was so great to be aboard again."

~ Quentin, 6-time passenger, New Zealand