Cool Wind & Warm Smiles
Destination: Fiji's Bligh Waters
Trip Date:
Oct 9th - Oct 10th, 2015 -
Comments
Author: Amanda & Joshua
Congratulations: Bart on his 100th dive!
After our boisterous group of eighteen Thai people left us, a select group of 12 joined us for a windy seven days in Bligh Water. This was an international group of Belgians, Australians, a Russian and American living in Beijing, plus six more Americans, including our good friend Zack, who was visiting from Alaska.
We started out strong with a day in the depths of Vatu-i-Ra. The sun was shining, the sky blue and the reefs generous. Koroi found two leaf scorpionfish on stunning Mellow Yellow, so named for the wall of sunset yellow soft coral that was blooming in the slight current. By the time they got to Coral Corner, Maytag and Gomo, the current had picked up, giving us a host of reef sharks, and schools of big eyed trevallies and barracuda.
Day 3 took us back to one of Fiji's crown jewels, Namena Marine Reserve. For our second dive, Grand Central Station in North Save-a-Tack really lived up to its name. The wall was alive and teeming with schools of red-toothed triggers, big eyed trevallies and big eyed barracuda. Slightly deeper, several grey reef sharks enjoyed the incoming current and the bounty that it delivered as much as we did. The vis was so clear we could see the thundering dogtooth tuna approaching from very deep. Not that we need to have bothered, he boldly swam right through the middle of us, unperturbed by our presence.
Letting the current carry us, we continued through the arch and on to Kansas where we found two little yellow nosed gobies, so busy fighting the current they didn't see us approaching from behind, allowing us all to get in for a close viewing.
The afternoon was spent cruising around the soft coral havens of South Save-a-Tack where, as usual, Joshua was on nudibranch fire, finding several different species of his most favourite slug, plus many pipefishes and lobster.
That night we headed to the calm in the lee of Namena Island and hosted our charterly kava party, during which, thanks to Mark, a bona fide Australian, we finally found out what sound a kangaroo makes!
Namena is so nice we like to do it twice, so we spent another stunning day exploring these protected reefs. Protected, that is, from fishing, not the wind, which had picked up to a whopping 30 knots making skiff entries challenging. Our hardy guests persevered however and were richly rewarded. Eagle eyed Craig spotted an octopus at Two Thumbs Up, boldly out on the reef changing colour and texture and putting on quite the display for us, we thought, until we spied the real object of his desires. A lady octopus was reciprocating his advances just a few feet away; this kept Mark and Di entranced until air supply and nitrogen time dictated we leave them to it. Meanwhile Big Mo found one of our favourite nudis, the gloomy tambja at Tetons 1.
That evening we headed back to the calm of Namena Lala for the night dive, where Koroi found a sleeping turtle, before lashing everything down tight for a bumpy ride all the way down to Wakaya.
Tending the garden - by Cheryl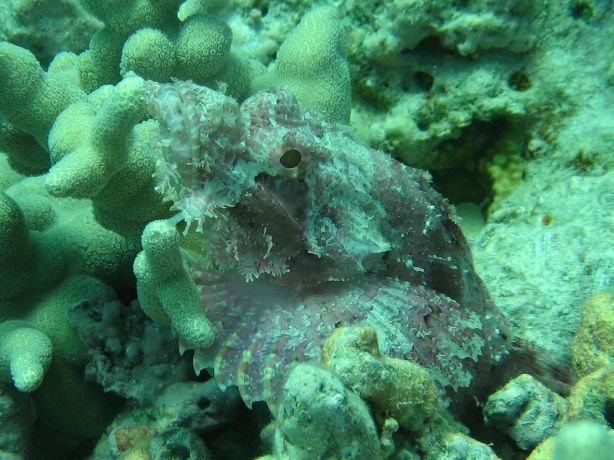 Shhh, we're playing hide and seek - by Cheryl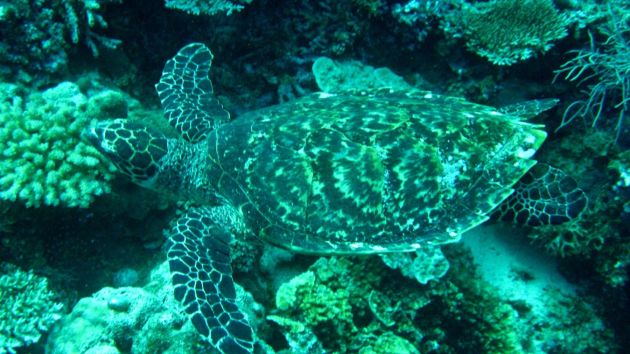 Follow the current, dude - by Cheryl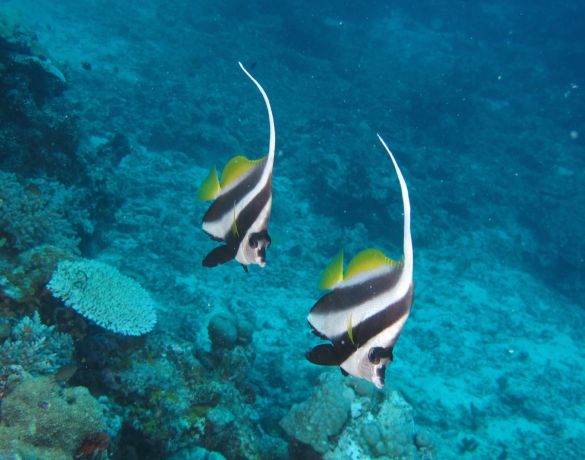 The bannerfish go marching - by David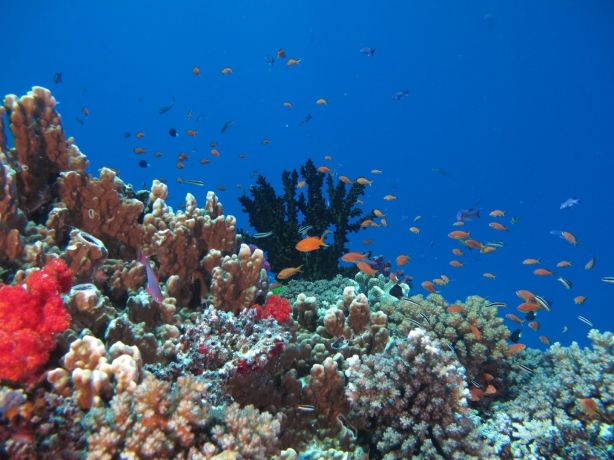 Splendor - by David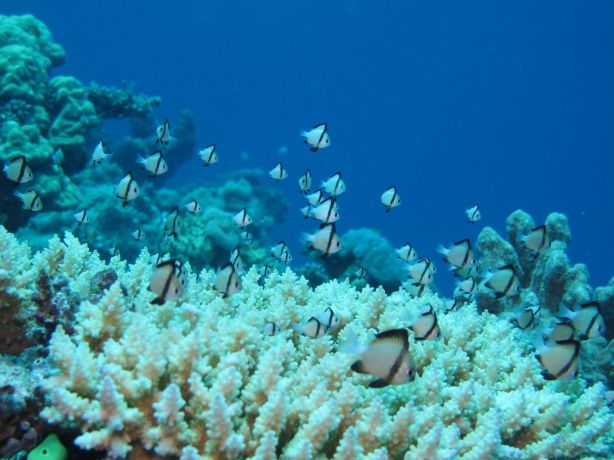 Oh, we're swimming this way now? - by David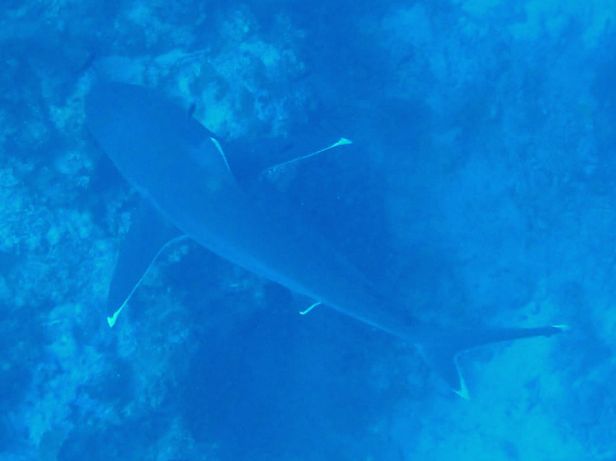 Silvertip - by David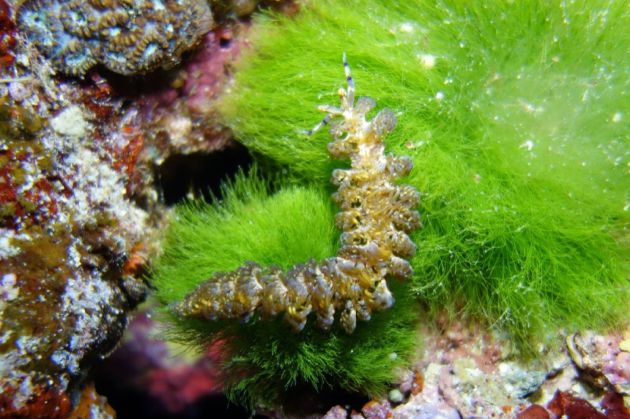 Home turf - by Di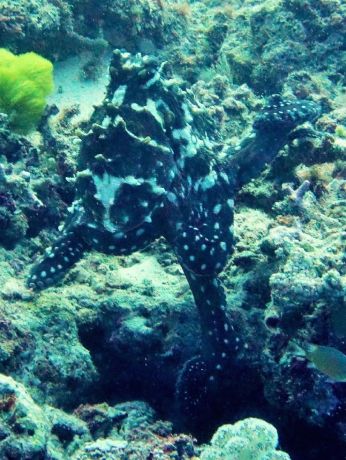 Probing - by Di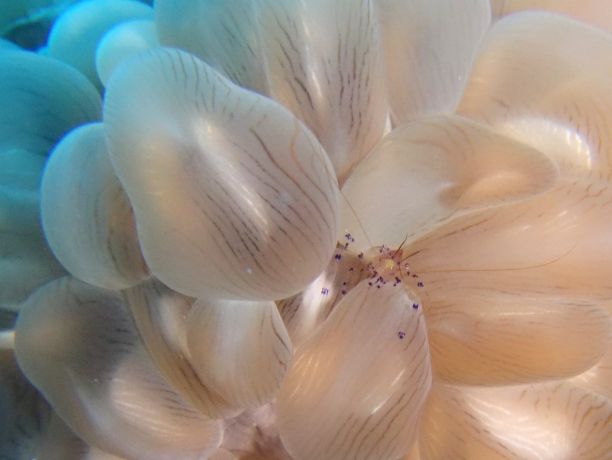 On the bubble - by Di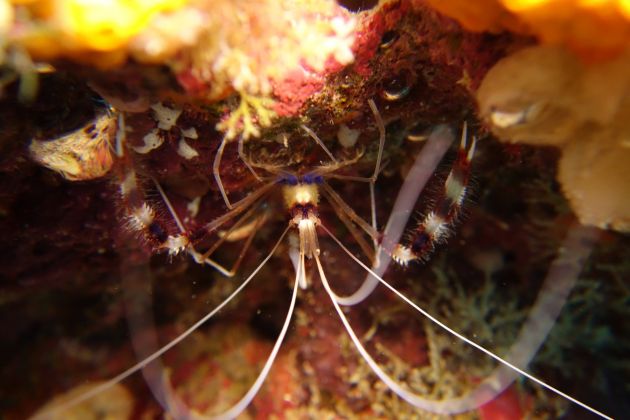 Open for business - by Di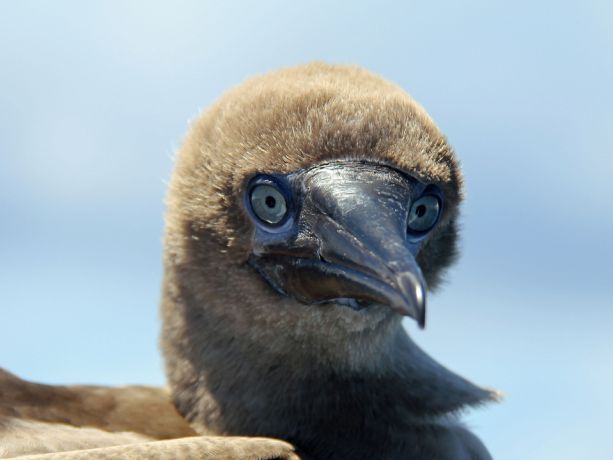 Fuzzy booby - by Di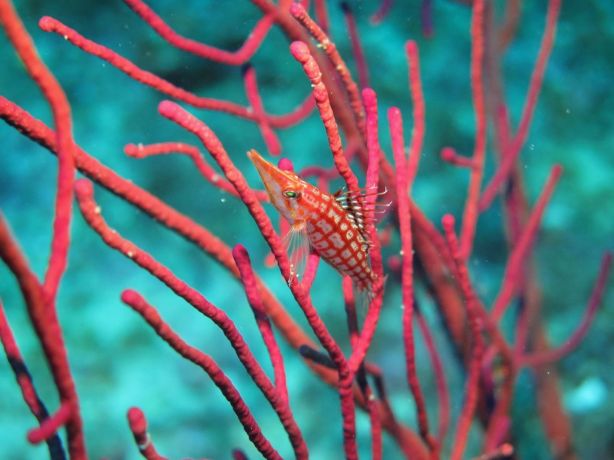 Nose up - by Mark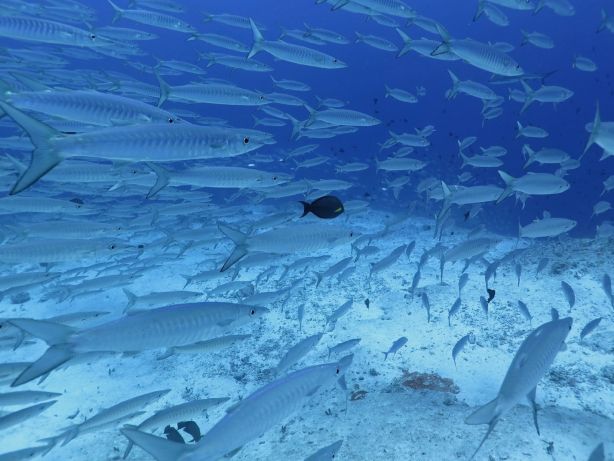 Crystal clear - by Mark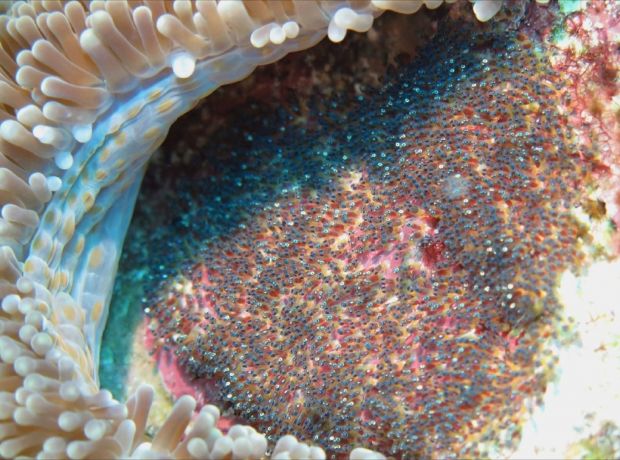 Future angry anemonefish of Fiji - by Mark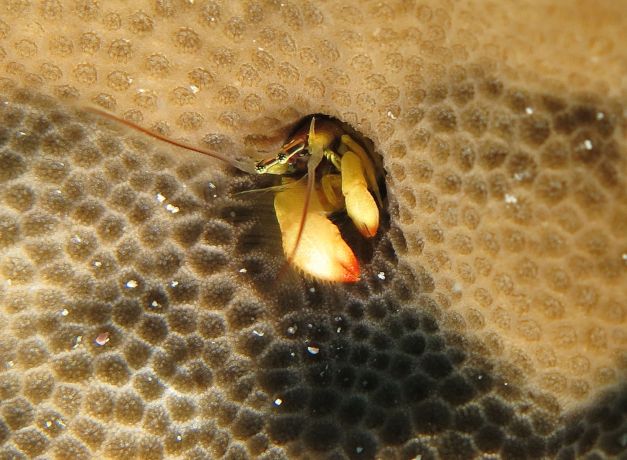 Hole in one - by Mark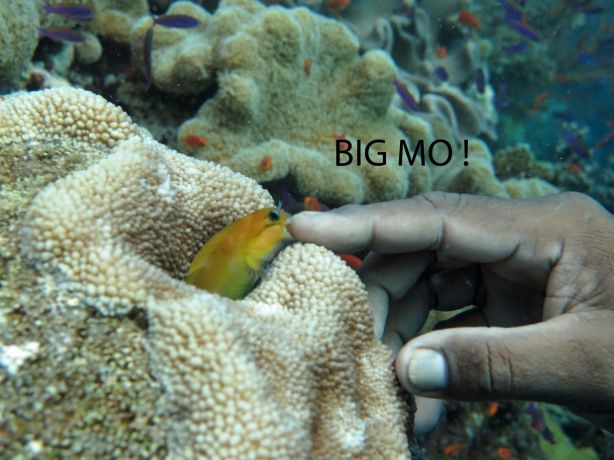 Got a nibble - by Mark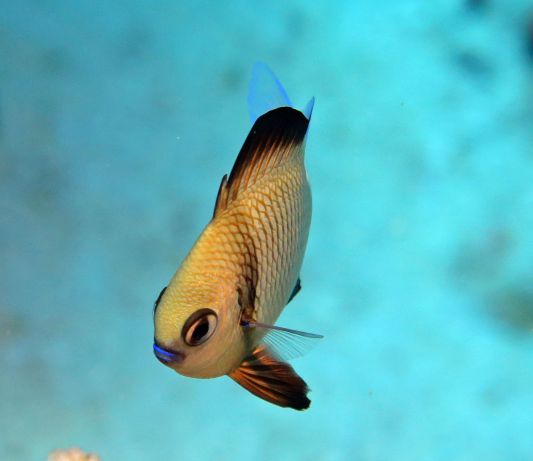 Nice lips - by Mark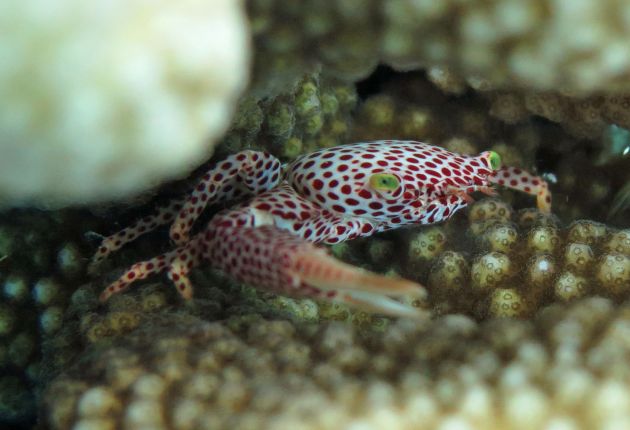 Snip - by Mark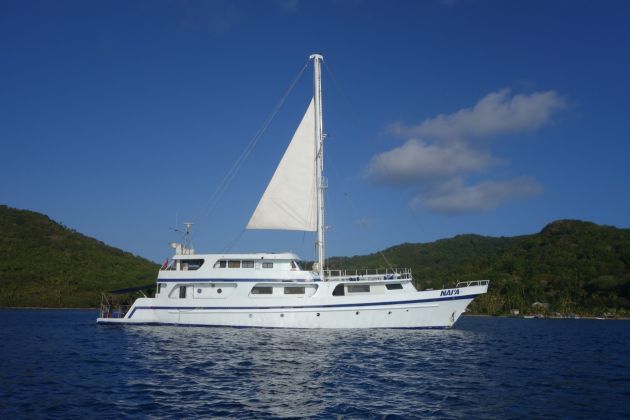 Home for a week - by Natalia
The wind and waves kept most of us awake until we reached the normally sheltered bay of Wakaya Island. Not to be perturbed, everyone was up early and looking forward to their chance of seeing manta rays and hammerheads. Unfortunately however, possibly because of the strong southerly winds, the visibility was terrible. In a place where we normally boast some of the most beautiful hard coral reefs and an astounding variety of fish, we could hardly even see the reef thirty feet below us, let alone anything down deeper. So, for the first time ever, we left Wakaya early and headed to Makogai, which as it turns out was a great move. Calm seas and clear vis awaited us, allowing Big Mo to find a white mantis shrimp accompanied by a hilariously confident bi-colour blenny at Rick's Rocks. Zack showed off the divemaster skills his instructor, Joshua, taught him by locating a Poss's scorpionfish well hidden on Becky's Reef. Not to be outdone, Cheryl found octopi on dives almost every day.
We spent a gloriously calm night on anchor that night, tucked cozily in Makogai Bay, allowing us all to catch up on a sleep lost from the night before. The following day, Amanda led the other skiff back to Rick's Rocks to visit Big Mo's new friend. The courageous little blenny was still there, not only unafraid but actually baring his teeth at anything that came close, human sized fingers included! We also re-visited our old friend the paper coloured leaf fish who's been here as long as we have, and a disco clam, tirelessly staying alive.
After three dives in Makogai it was time for our village visit, so with David as our chief, we headed over to the island for our only two hours on land this week. As usual everybody was utterly charmed by the gorgeous children and when the conga line dance came up, Annabel really got into the groove leading the entire group with some crazy moves that were really a gem. So that's how they do it in Belgium, hey!
Having thought previously that we'd have to tuck in behind Viti Levu and hide from the winds for our last day of diving, we were pleased to see the weather forecast change in our favour, allowing us to head instead to the phenomenal sea mounts of E-6 and Mount Mutiny. And they did not disappoint. E-6 had a swift current sweeping us through the Cathedral and along the wall meaning there was no kicking required - a definite plus for a before breakfast dive - and a multitude of fish. We drifted though school after school of plankton feeders, punctuated with the occasional predator such as a shiny school of oriental bonito on the prowl. Topped with early morning sunshine, this made for a beautiful start to our day.
Poor Lisa thought she'd scored big when she came back looking very pleased with herself having just found a fairly new Hero 4 GoPro on the reef… that was, until we looked at the footage to discover that it belonged to someone from the very sweet Thai group from last week. Bad luck this time Lisa, but we're sure that Karma will serve you well. We'll make sure it goes back to the right person and we're sure they'll be stoked!
We finished strong with a couple of dives on Mount Mutiny. As soon as they dropped down, Joshua's group was treated to a show. One of our favourite big fish was there to greet them, a good-sized female silvertip shark, swerving back and forth in the current. It was a nice long encounter giving everyone a great view and David a great photo opportunity.
So after battling with high winds all week, we had a reasonably calm journey home and sent everyone off with smiles and promises to return. So safe journey and see you next time.
The whole experience was amazing! Josh & Amanda as the face of NAI'A, the amazing food that was omnipresent, the interesting environmental presentations (anuses! everywhere!). Things I will never forget, thanks to Josh! Thanks for edumacating us!
-Annabel & Bart
Our Guests...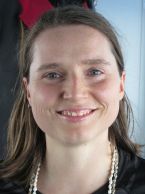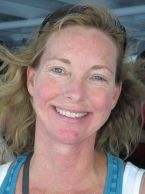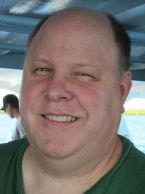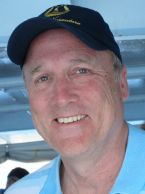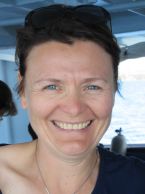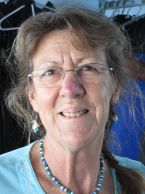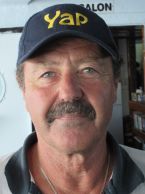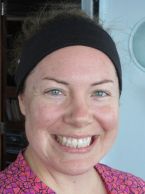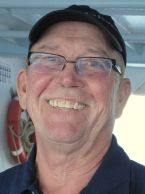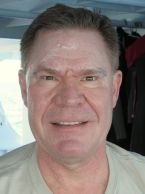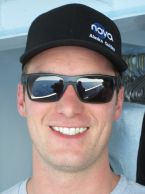 Comments
"I'm sure that it's very difficult for the Nai'a establishment to solve this thorny situation. But, be assured that we, your Nai'a family in a small way, are sympathetic. We realize that the reason we love your trips is that you spend what it takes for a quality voyage. That's why we come back. And that's why we plonk down $10K to sail with you. We know it's worth it."