Did someone see a Turtle?
Destination: Fiji Bligh Waters
Trip Date:
Feb 29th - Mar 9th, 2020 -
Comments
Author: Jemma & Scott
Welcome Back: Janet C, Doug, Lillian (all from the previous trip), Kathleen, Mary, Michael, Janet M, Leslie & Steve
Congratulations: Leslie on reaching 300 dives, Mary 1100 dives and Lillian 5000 plus dives !
From the start we knew this would be a fun charter as we welcomed a group of long time friends, plus some new, to enjoy the next ten days island hopping around Fiji and diving the best of the best on the NAI'A.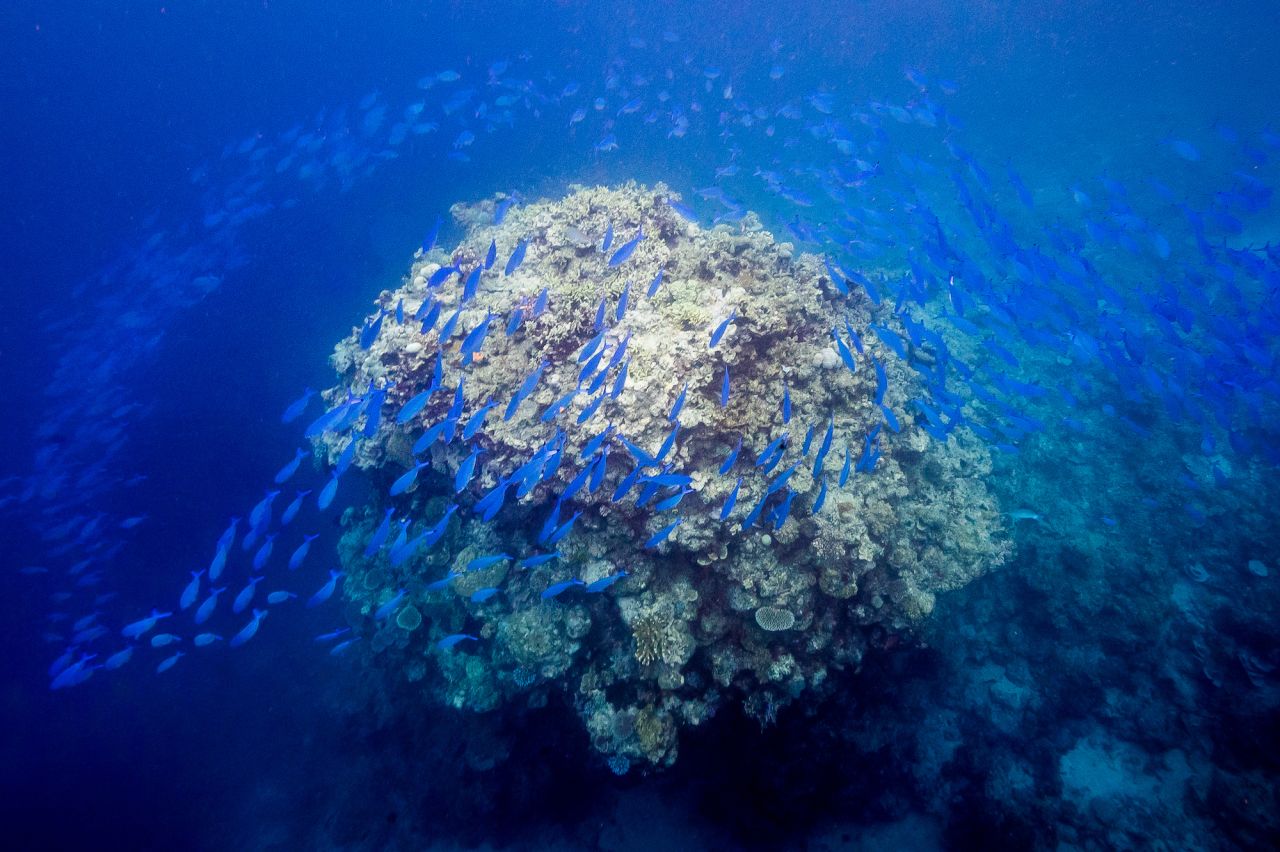 Photo By: Jen Zintel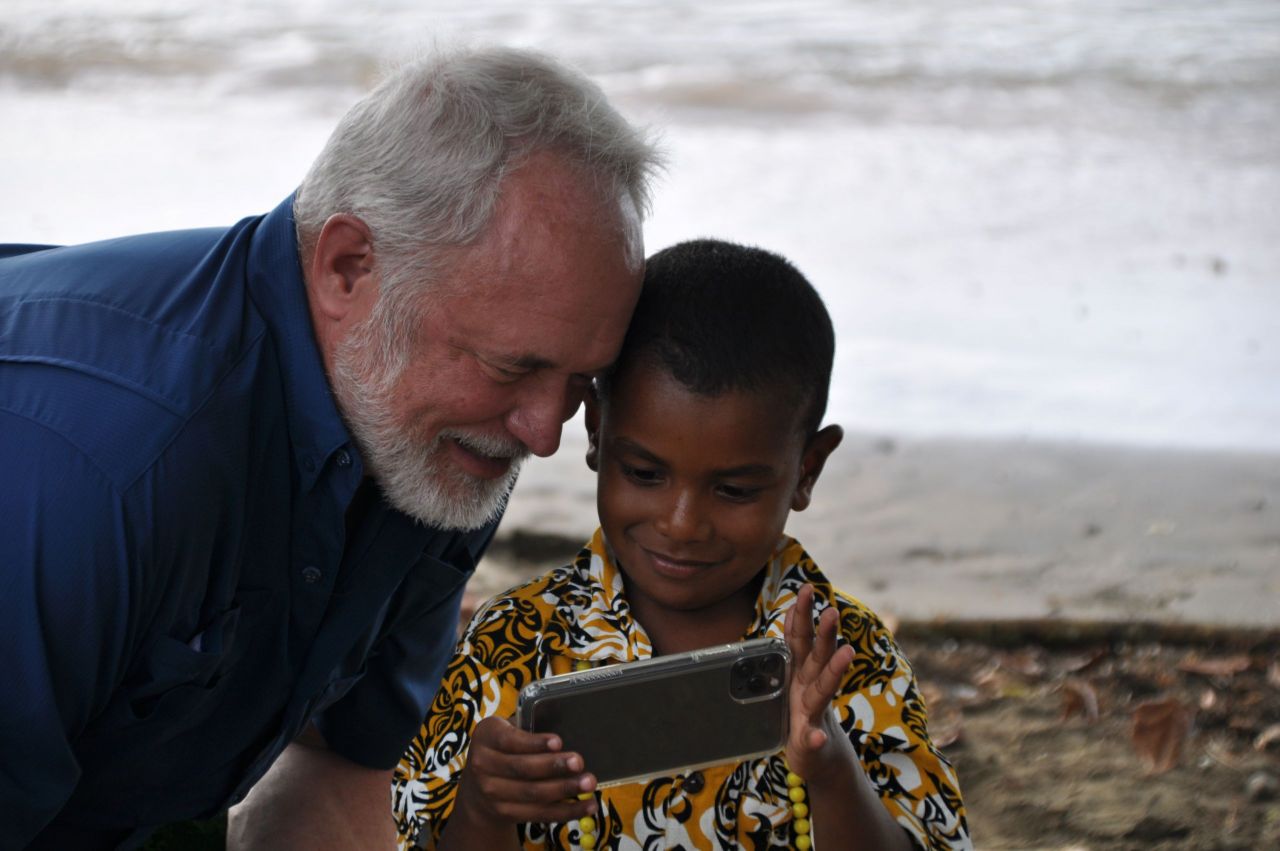 Photo By: Deb Gammon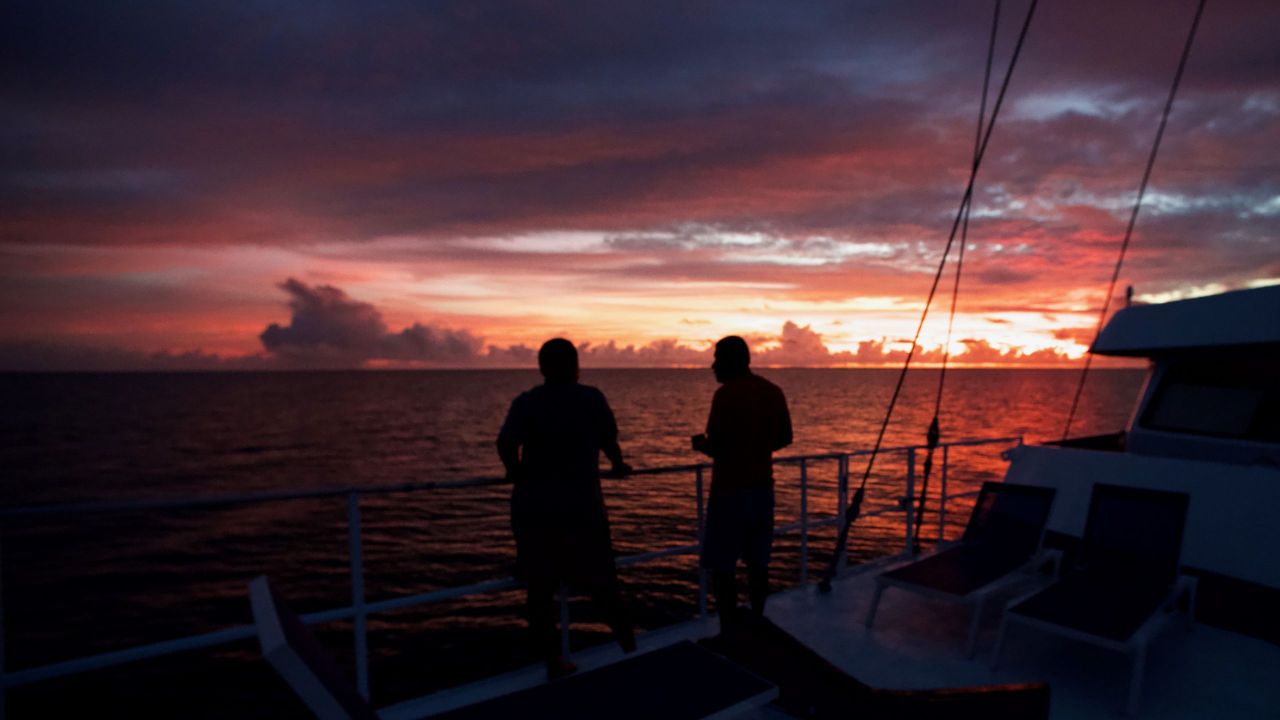 Photo By: Mike Zinel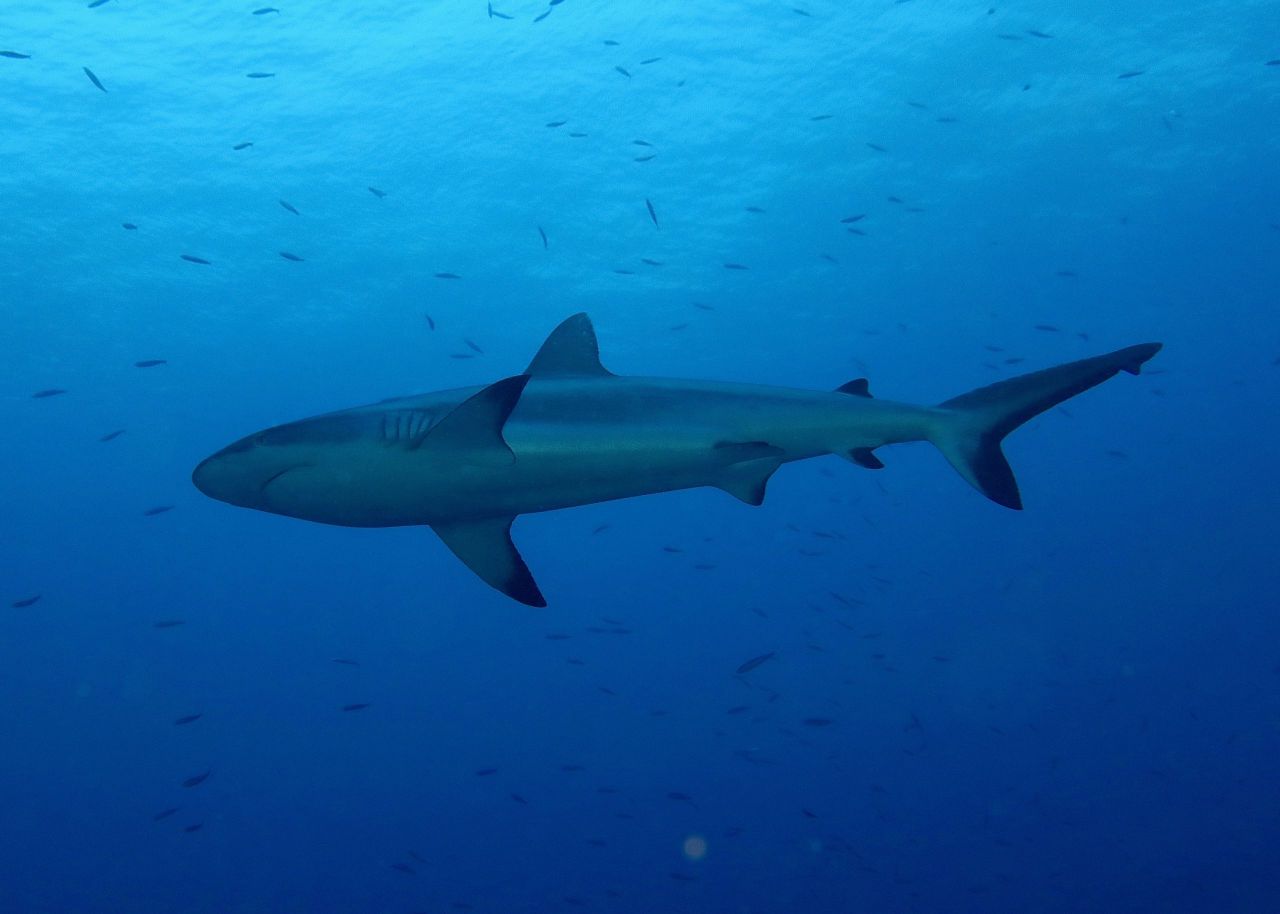 Photo By: Doug Camp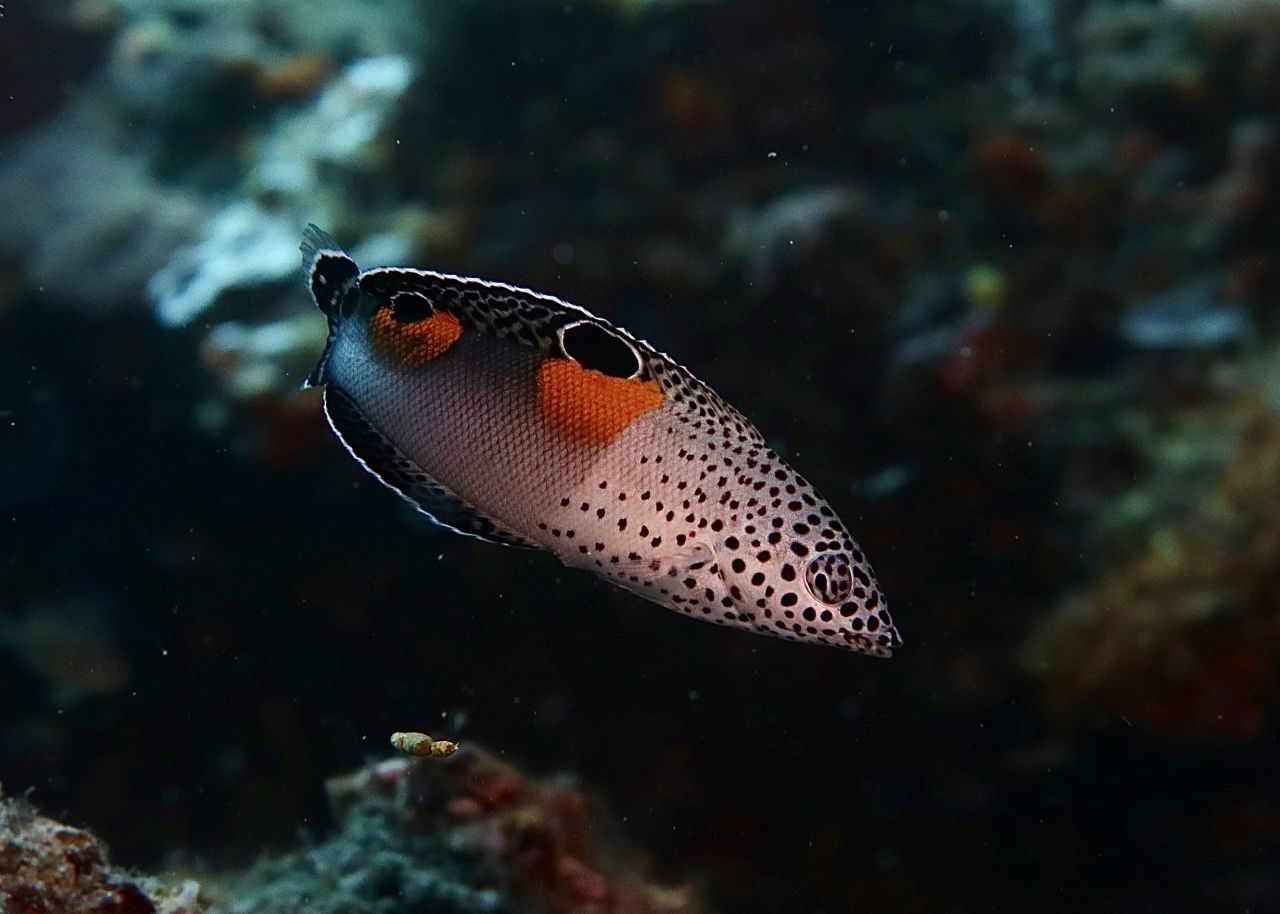 Photo by: Doug Camp
After our check out dive at Samu Reef to get everyone comfortable with their weighting and skiff diving procedures we headed out to the area of Vuya for our first full day of diving.
First up Humann Nature and Cat's Meow. At Cat's Meow we found our pair of pontoh's pygmy seahorses and a relatively cooperative NAI'A pipefish! At Humann Nature we found a cluster of white spotted groupers, moray eel and varying sizes of blue dragon nudibranchs (or Chinese dragons according to Leslie)! The top reef was as stunning as ever with clouds of anthias aggregating in anticipation of the current to start running!
It is fantastic to have return guests on-board as you find out all kinds of history. Thank you Kathleen for sharing your dive log from 1999 where you were on the dive at the pinnacle with Paul Humann and described his reaction to the site which led to renaming it Humann Nature! Also the old photos of the NAI'A with Cat and Rob in action!
That afternoon we moved across to the UndeNAI'Able region and dived the Pinnacle and the Main Reef. Sooooo many nudis at the Pinnacle…flabellinas, lined nembrothas, chormodoris lochi, phyllidia, gloomy tambja and blue dragons, and beautiful swim throughs with coralgobies and blennies in the pocillopora corals on the top!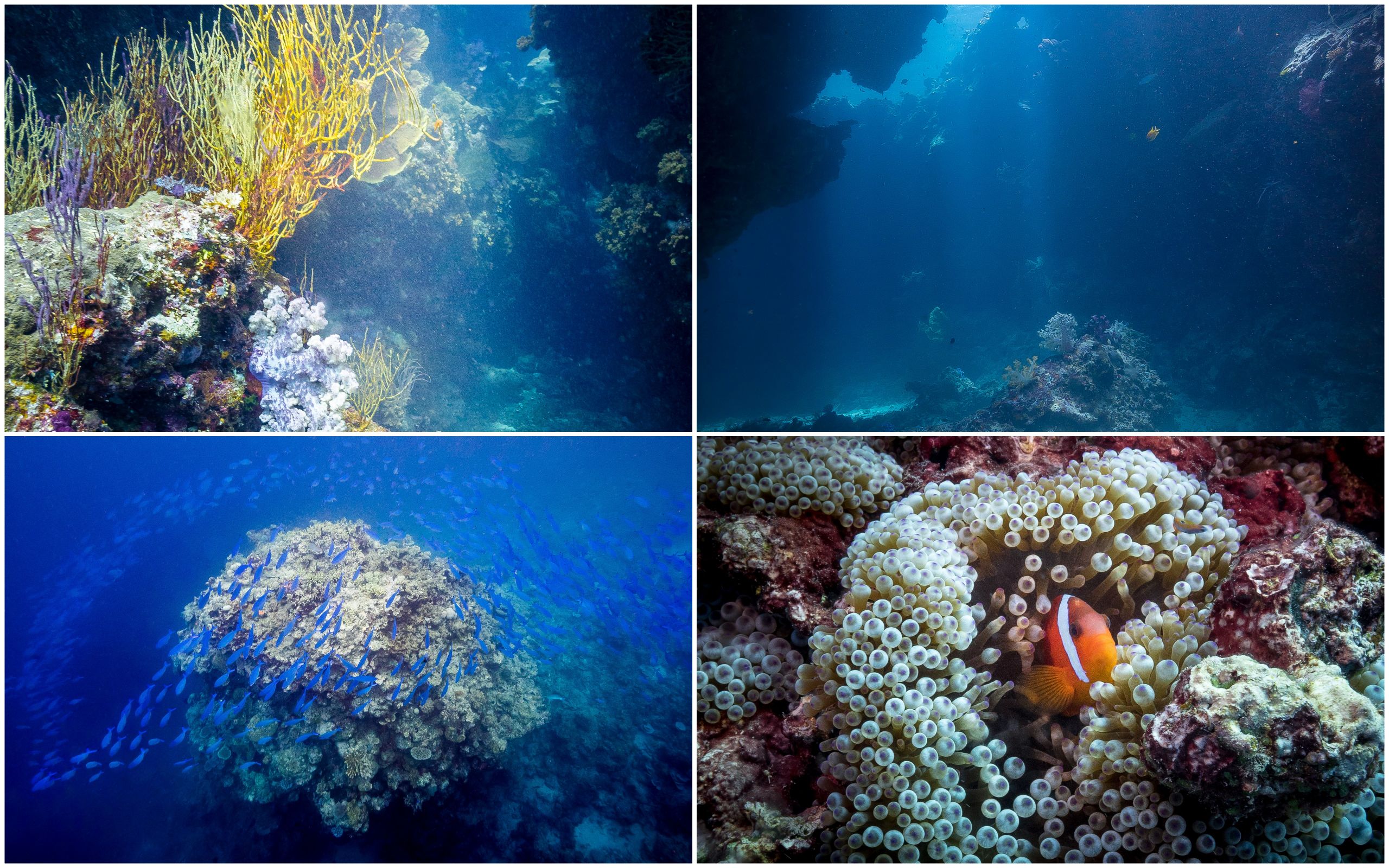 Photos By : Jen Zintel
Great conditions over on the Main Reef meant we were able to really explore the sea fan and soft coral fringed cut throughs and reef with Big Mo finding all kinds of critters. That evening Scott took a group for the night dive at the Main Reef and they actually saw an alien! Ok so a HUGE blunt end sea hare moving along the sand like jelly!
After a restful night at anchor we moved across to Vatu-i-ra to spend the next day diving in this beautiful marine protected area.
At Coral Corner the soft coral covering the wall was pumped up and Big Mo spied a hairy ghost pipefish moving along the sand. Out in the blue there were big spanish mackerel, sharks and barracuda. 
Mellow yellow was true to its name blooming with the beautiful yellow dendronepthya soft corals and golden damsels everywhere, with thousands of anthias, fusiliers and damsels.
That afternoon one skiff headed to Whole Shebang and swam in and out and around the hard coral garden swim throughs, and the other skiff went to Howards Diner for a nice sheltered dive. Those that wanted to join for a fourth dive went back to hang out at Mellow Yellow…this is where Kathleen perfected her upside down videography and sideways bubble effect…quite a skill to master!
The next day we hit the seamounts, diving along the deep rainbow reef wall at Mt Mutiny, shallowing up to the beautiful hard coral garden on the top of the seamound. We had sharks, turtle flybys and blue dragons!
At E6 the Lucky Lefty skiff were treated to an unimaginable amazing dive at the cathedral!!! In Mike H's words it was UNBELIEVABLE. Whilst Mighty Righty skiff, enjoyed the formations and swim throughs of the cave even spotting a ghost pipefish at one of the entrances. At the end Jennifer and Mike Z were completely surrounded by what seemed to be a thousand barracudas during their safety stop…sweet photo Jen!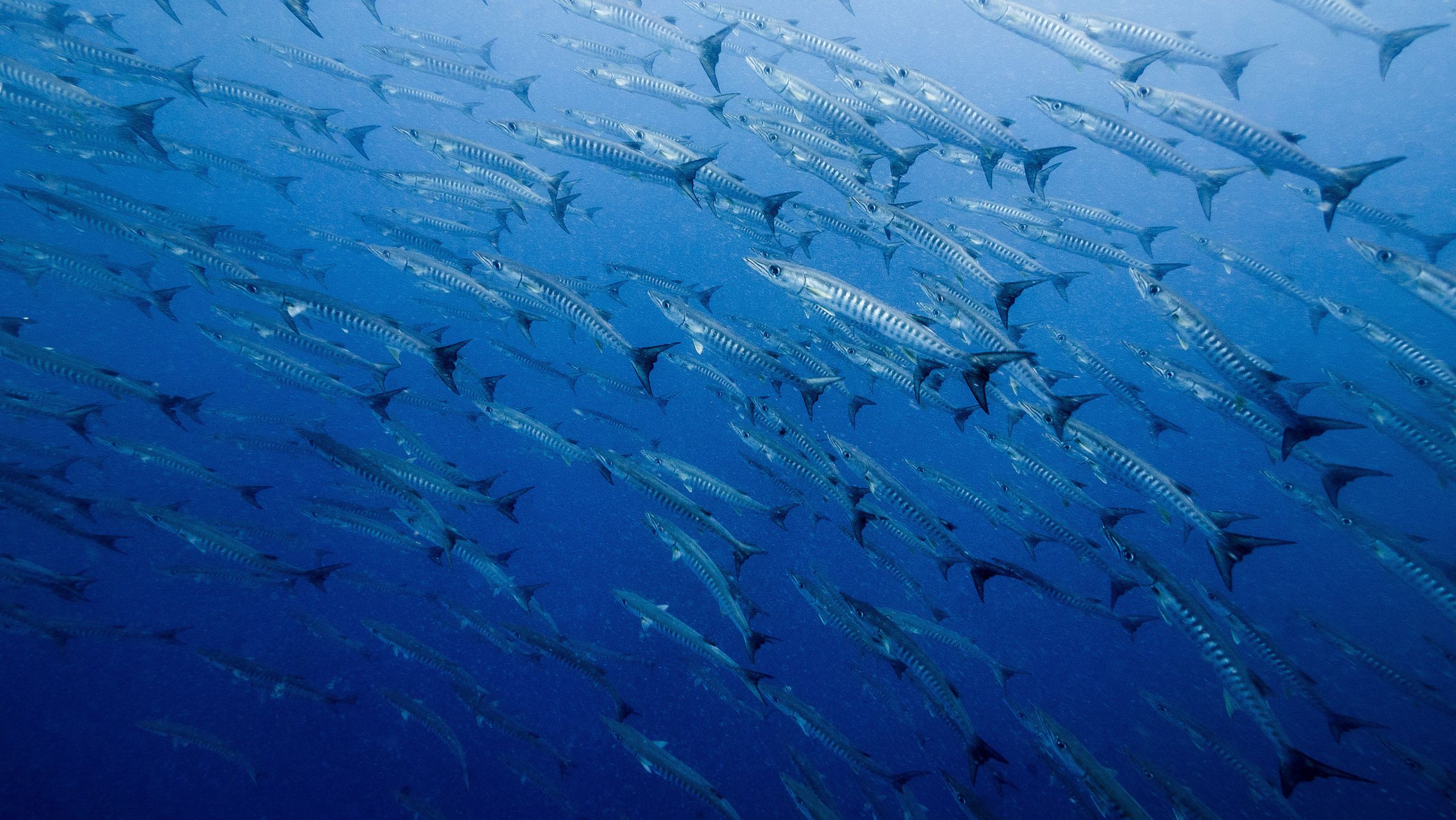 Photo By: Jen Zintel 
We headed back to Vatu for the afternoon and back to Coral Corner (where Karen and Ken found the most beautiful black and gold sapsuckling slug) and Howards Diner and a night dive at Alacrity which turned out to be ghost pipefish central with all sorts of different species from hairy, to robust to ornate! There was also an afternoon of some serious UNO with Jennifer, Debs, Jay and myself!
After a nice smooth crossing we awoke the next day in Namena and this beautiful marine protected area did not disappoint with fantastic conditions and great visibility.
At Tetons 1 we found the super shy NAI'A pipefish (thank god Leslie and Mary saw it too so they know I'm not making it up!) and had our routine manicure from the cleaner shrimps! The pinnacle was raining anthias, fusiliers, unicornfish and surgeons and our flame hawkfish buddy was at home in his pocillopora home. Tetons 3 was just as lively with the pair of ribbon eels at the bottom and a huge diversity of marine life on the top of the pinnacle.
Next up we moved to the North of Namena to dive Grand Central Station where we found dory, another flame hawkfish, grey reef sharks and schools of jacks and snappers. Over at Kansas we were able to get out to Oz and really explore the site finishing up on the top of the pinnacle in the wheat fields of sinularia soft corals. Back to the South to Tetons 1 and 3 after lunch, and then those wanting to join the fourth dive headed out to the remaining Teton, Tetons 2! Many claimed favourite dives of the trip so far after only our first Namena day!
That night we had fun as always at the Kava party with the entire crew…some super interesting animal noises this trip and a whole song dedicated to goats…thanks for the conducting Vernon!
Our second day in Namena started at the South at 2 Thumbs Up where we slowly circled the pinnacle looking in all the nooks and crannies for pipefish and shrimps, and all the feather stars for chubby little crinoid clingfishes. The soft coral was as stunning as ever and we said hi to our favourite leaf scorpion!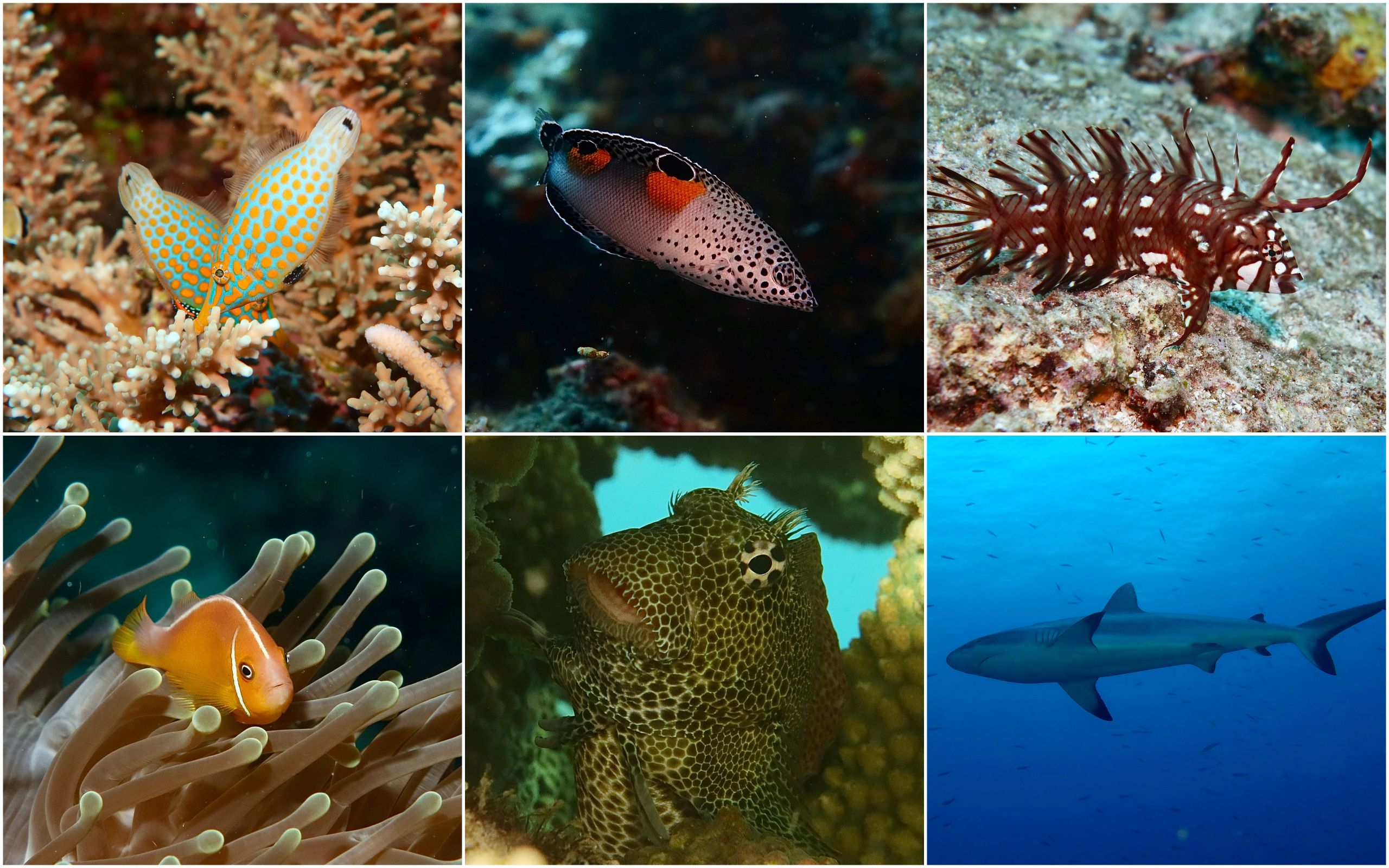 Photos By: Doug Camp 
At Tetons 2 we searched in the sand and found yellow head shrimpgobies and their shrimp buddies, plenty of pipefish on the reef and Doug was just amazed by the number of cleaning stations he observed.
Back to Grand Central Station and Kansas for the next dives. At Grand Central we got Big Mo calling over the jacks on camera…yes Big Mo can talk to the fish! Over at Kansas I had a blast searching the sinularia wheat field for all sorts of critters!
Those joining the fourth dive headed over to Mushrooms 1, a site we have not dived in a while…success…beautiful soft corals and life on the mushroom shaped pinnacle! We will be back!
After our night dive in Namena Bay we picked up anchor and steamed overnight to the island of Gau where we would spend the next two days.
Our first dive was at Nigali Passage where we cruised past schools of barracuda, grey reef sharks, jacks and midnight snappers, and made friends with the blue striped snappers and long nose butterflyfish who joined us in the bleechers. Meanwhile Janet M and Jennifer snorkelled the passage…twice!
We had amazing visibility at our second dive site Jungle Jig and spent some time on the top of the deep pinnacle looking for pipefish before moving across to the reef to shallow up in the hard coral garden.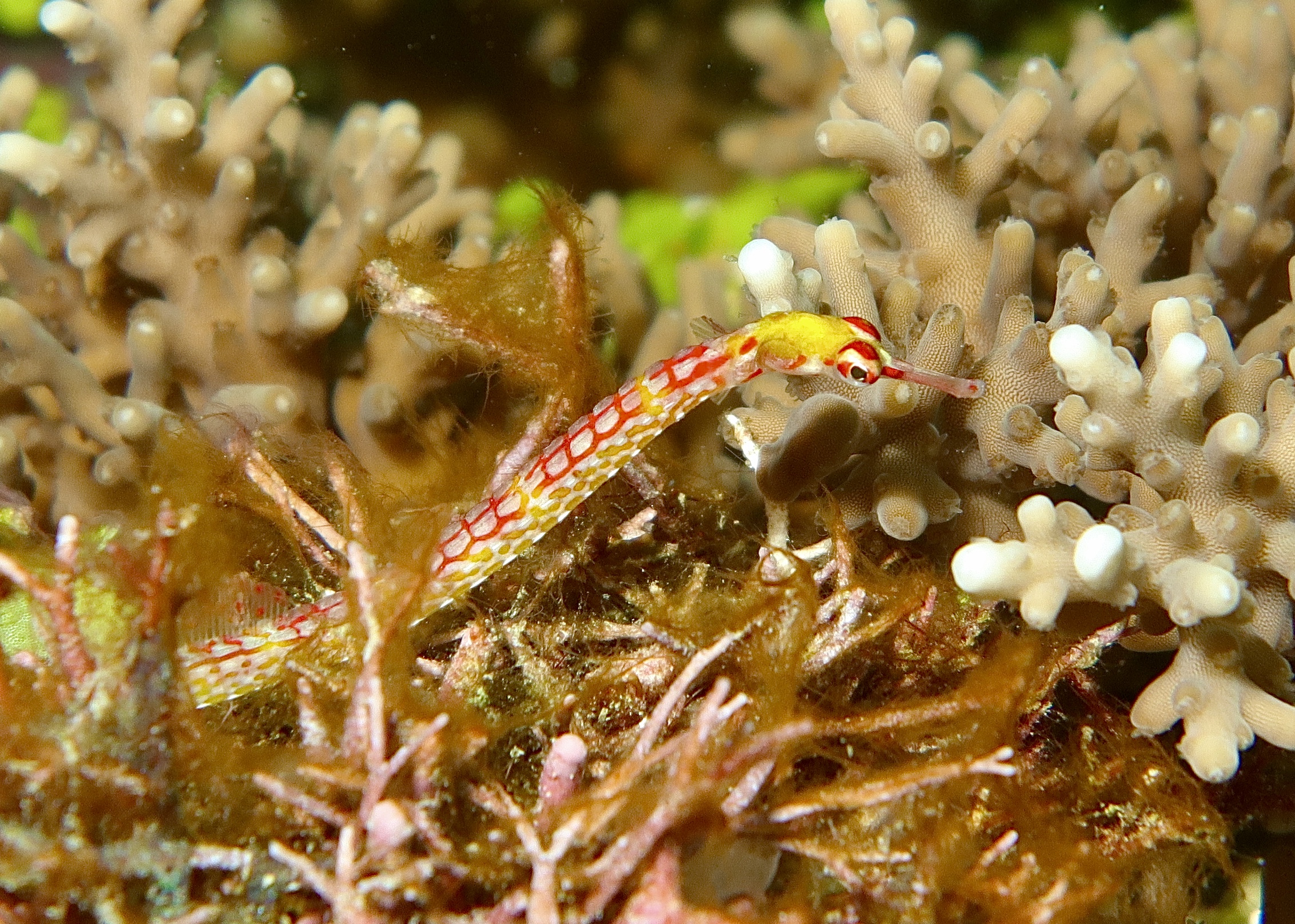 Photo By: Doug Camp 
That afternoon Lucky Lefty went to Jim's Alley and Kathleen and Mary went "bar hopping" with Scott along the line of pinnacles finding nudis everywhere. Similarly at Anthia's Avenue we stopped counting the number of chromodoris lochi a few minutes into the dive! Jay and I were treated to a flyby manta ray and the top of the pinnacle was teeming with magenta slender anthia's living up to its dive site name.
After our third dive we headed around the coast of Gau for our village visit. We just love to go over to see our friends at Somosomo who have become like family to the NAI'A after so many years. We were greeted at the beach with big Bulas and had a wonderful tour around the village…we even found a new puppy and kitten to make a fuss of! The tiny kids were as adorable as ever, plus as we visited on a Friday we got to see the older kids arrive home after their week of boarding at school. The community hall was full of laughter during our attempts at joining the mekes and beautiful singing. It's always such a treat to be welcomed into Somosomo and always sad to leave on our skiffs, watching the kids jumping and shouting moce (goodbye) as we headed back to the NAI'A as the sun was setting.
Another day in Gau and another couple of dives at the Nigali Passage. A pretty chilled first dive as the current had just turned meant we could really explore the site. Lots of schools of barracuda, some grey reefs and white tips starting to get a little lively, a sea krait (or snake…why aren't those damn books consistent) and a super relaxed green turtle just perched on the top of the cabbage patch waiting patiently for Kathleen and Leslie to actually notice her!!! WHHHAATTT was there a turtle on our dive!!!!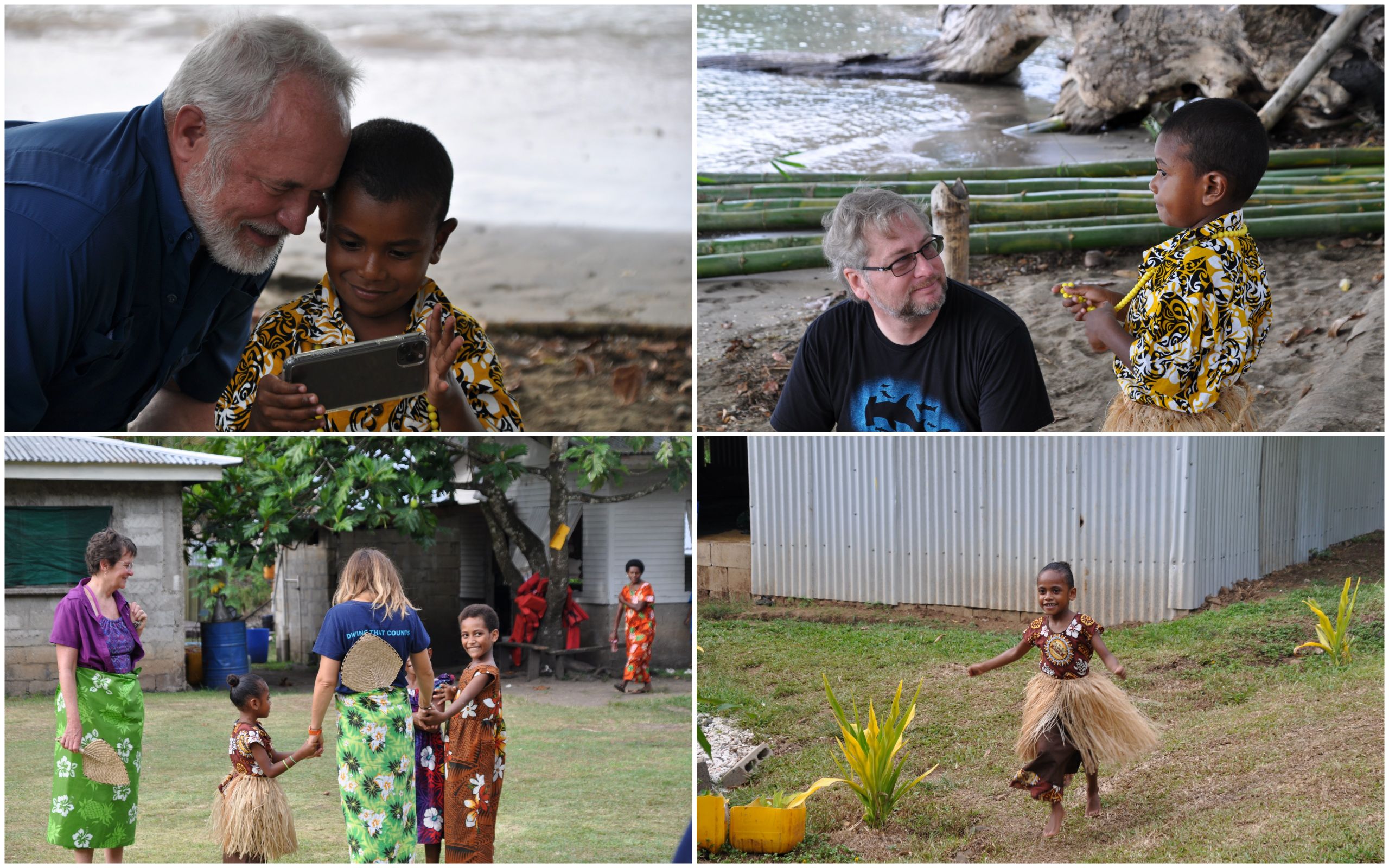 Photos By: Deb Gammon
After breakfast we went back for a second dive to the passage and we managed to hit it just perfectly for an AMAZING dive! Best dive of the trip for some with the visibility clearing up and some shark action in the passage! This dive was one of the reasons Mary came back to Fiji so we are so happy it lived up to past memories! Meanwhile Janet C, Doug, Lillian and Steve all returned from their dive at Jungle Jig with Janet C claiming it her favourite! Happy divers all round! 
That afternoon we went back to Anthia's Avenue and Jim's Alley, then an additional fourth dive at Jim's where Mary, Jay, Mike and Sly (aka the shadow) and myself had so much fun finding nudis, pipefish, working along the chain of pinnacles and then flying back along the top in the current surrounded by unicornfish!
Our next stop was Wakaya where we spent the day diving the reef at Lion's Den, Blue Ridge and Vatu Vai. We explored the deep drop off, reef edge and shallow top reefs finding decorator dartfish, leaf scorpionfish, leopard blennies, lemon coral gobies, huge napoleon wrasse, grey reef sharks, and what we like to call the Marilyn Monroe nudibranch puffing up its mantle! But the dusk dive topped off the day as Big Mo was pointing out the hairy ghost pipefish he noticed a harlequin shrimp eating a sea star! Only the second time he has ever seen one!!!
Our last morning of diving was spent at Nananu-i-ra where we alternated between the sites Pinnacles, Labyrinth and Golden Sunset. Some stronger currents made our guests work, but this drew in the schools of fish! At Pinnacles looking out at the blue from under a ledge it truly looked as if it was raining with schools of silver fusiliers pouring down in front. We were also treated to a HUGE grouper watching from his den, and the sinularia coral wafting on the top. At Golden Sunset and Labyrinth we wound in and out of the soft coral and sea fan lined channels and then shallowed up onto amazing hard coral gardens. At Labyrinth we even found the snorkel Queen Janet M bobbing about above us!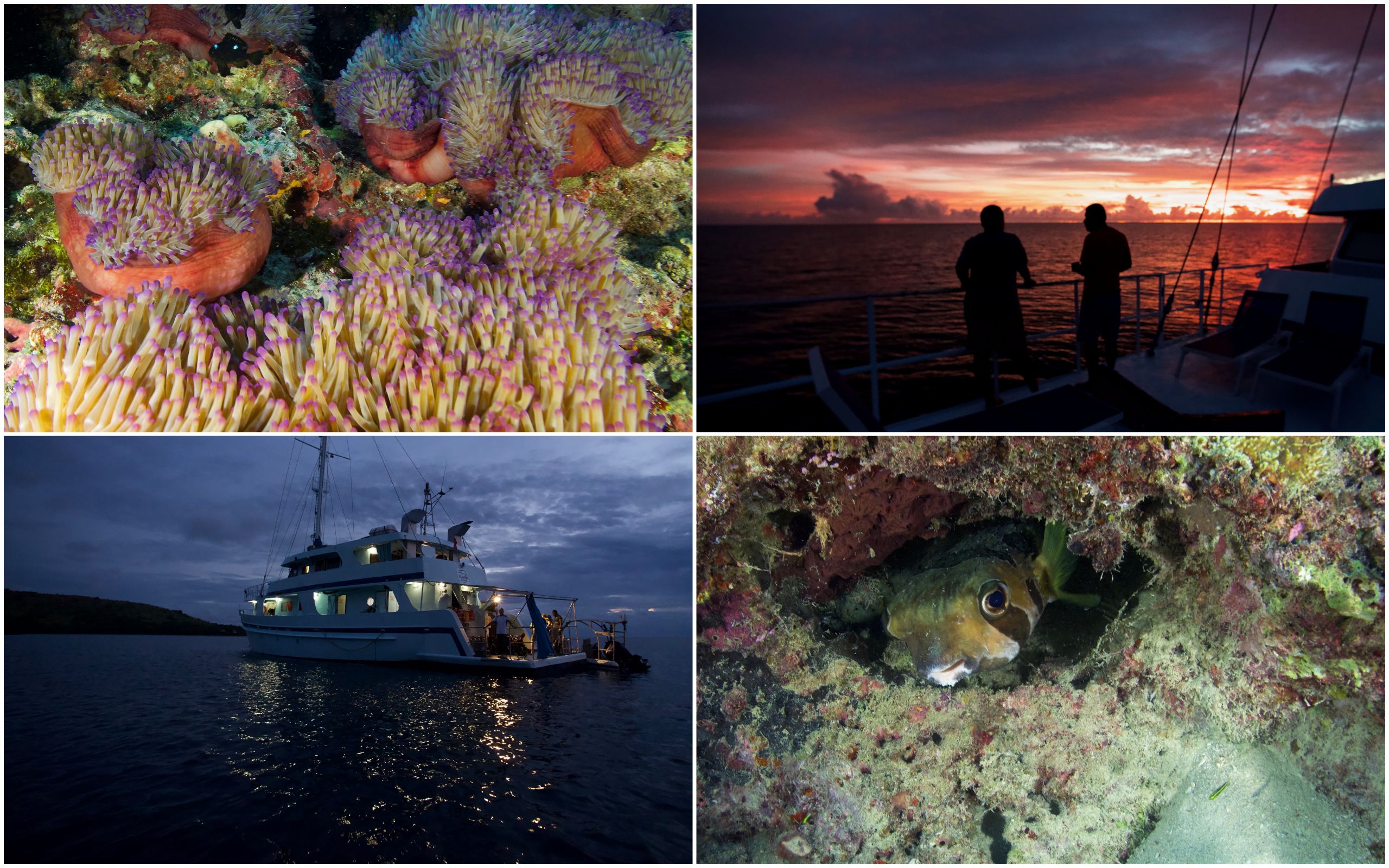 Photos By: Mike Zintel 
What a fun trip with evenings full of laughter and stories (remember never let facts get in the way of a good story Steve), Leslie's wetsuit toilet seat, Mike Z's amazing videos, gin and tonics on the top deck, WAY too many oreos, Kathleens GoPro skills, some James Bond education, Jay and Mike Z's diving competition (it was a draw guys), and a possible sighting of the elusive yellow spotted bobba fish!
Thank you all for a wonderful trip, it was so much fun to spend ten days sharing our beloved Fiji with you!
"What a wonderful experience! Thanks to the entire crew for taking such good care of us….Mo, our duet on the dive deck one evening is my favourite memory of the trip" – Karen and Ken
"We could not have asked for a better crew! Everyone was so friendly and welcoming....Vinaka!" – Deb and Jay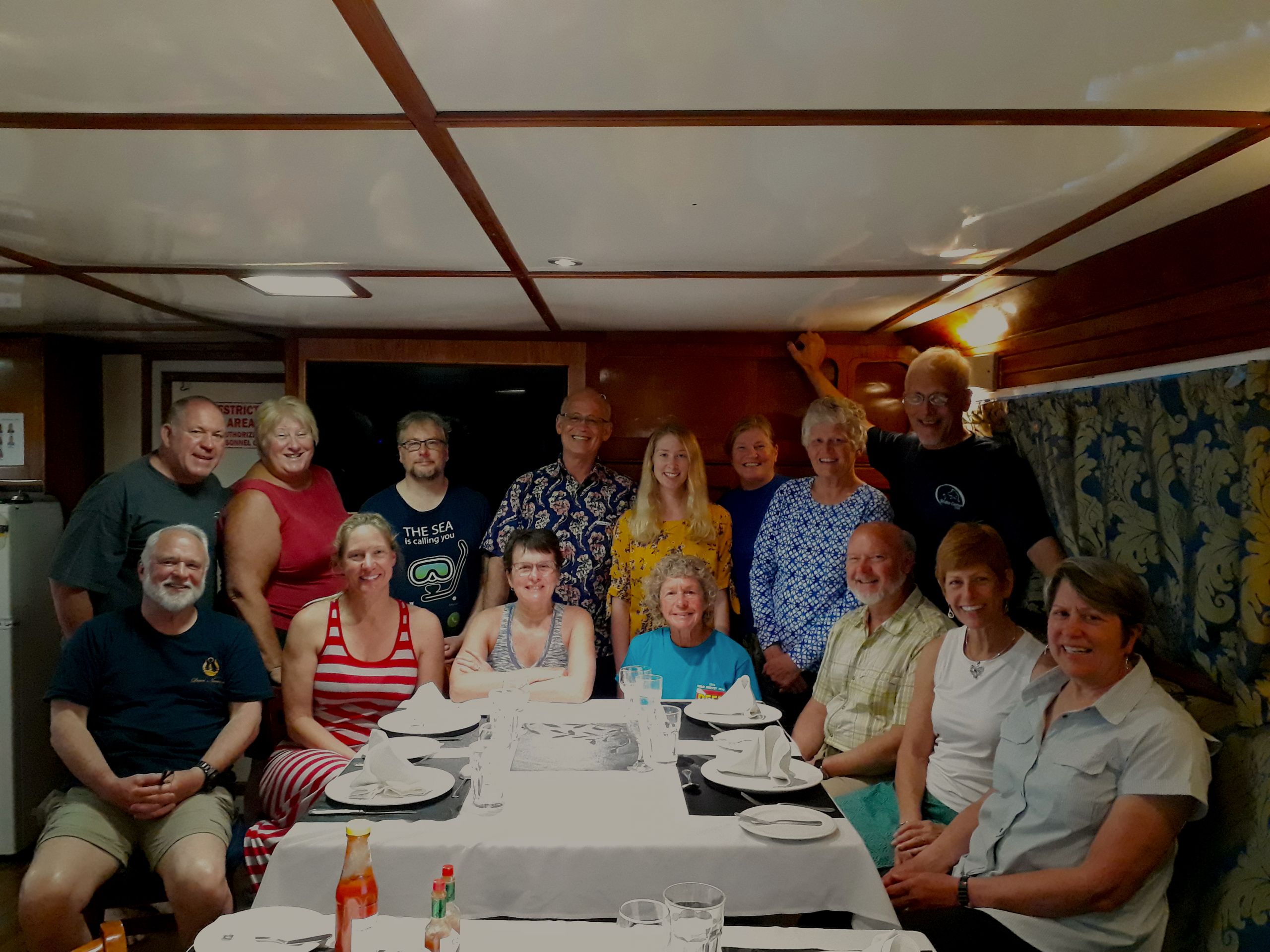 Comments
"Lomaiviti reefs are in extremely good condition compared to Indonesia and PNG. Immediate action must be taken to conserve this unique region."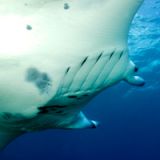 ~ Dr. Michael Marnane, Marine Biologist, Wildlife Conservation Society