East/West Meets the South Pacific
Destination: Fiji's Bligh Waters
Trip Date:
Jul 12th - Jul 19th, 2014 -
Comments
Author: Amanda & Joshua
Congratulations: Amanda on her birthday
This week we were joined by a close knit dive group first formed in 2000 when their faithful leaders, Cindy and Scott, first met each other. It was then that they discovered their mutual enjoyment of and maybe even found their match in… practical joking. Many side stories to be told there I'm sure! So here they are, 14 years later, married (he proposed to her underwater, she nodded and blew bubbles in consent), and with a fun group of divers from both the East and West sides of the States.
They were lucky (or unlucky) enough to arrive on a full moon. The first day they got a proper Fijian welcome of some ripping currents around the beautiful sea mounts of E-6 and Mount Mutiny, strong enough to put even the most hardcore to the test. All came out unscathed, yet with a slightly different idea of how they might initially have imagined this holiday might pan out!
Scott started the trip off on the first day by dishing out the team shirts. This is obviously something he's got down to a fine art through the years… It involved him standing in the middle of the salon after lunch and with a considerable amount of showmanship, flinging the embroidered shirts around the room like Frisbees to land neatly in the lap of each diver!
Now, the South Pacific can be a fickle mistress. Earlier in the day, she may have tried to rip their masks off with a raging current caused by the full moon. Upon surfacing from the dusk dive that evening, she treated to them to the vision of that same full moon, rising over her horizon, creating a beautiful, deep red reflection as far as the eye could see. A little bit of magic makes up for many sins.
On our second day of diving, we headed for another current-tastic location - Nigali Passage on the island of Gau. Our first dive on the outside reef was beautiful as ever with two new buddy teams being formed. Vikki was mistaken for a big fish and had a remora getting frisky with her for quite some time. Meanwhile, Dr Bob was adopted by a large Malabar grouper who accompanied him and Joshua for almost the entire dive. Perhaps it should be called a Labrador grouper.
And then it was time for the shark dive. The action started from the moment we dropped with a manta ray doing backflips, feeding on the plankton at the mouth of the passage. We then had grey reef sharks swimming through enormous schools of big eye and blackfin barracuda that stretched across the width of the channel, along with numerous sleeping white tips along the passage. Reaching the Bleachers, we stayed as long as we could admiring scores of grey reef sharks and a huge sparkling school of horse-eyed jacks swimming into the current. Nigali at it's best!
Eventually turning in to the lagoon and admiring the lettuce coral, Amanda noticed Bev struggling as she became suddenly buoyant. Upon surfacing they realized that in fact one of her weight pockets had dropped out, so the search was on to find them on the next dive. Dropping in first, Joshua actually found the pocket before Amanda arrived, and to let her know, fashioned the word "F-O-U-N-D" out of pieces of dead coral in the sand. Ahhhh J
That afternoon, we visited the village of Somosomo on the island of Gau, where some got a little more than they bargained for. During the village tour, some were lagging behind and eventually Sonja turned up, beaming like a cat that's got the cream, cradling a tiny, but beautifully formed 5 week old baby girl in her arms!
"All I said was, 'Can I hold her?' and the parents just gave her to me and said 'Sure, we'll see you at the village hall, you can give her back then'…. So I've got her all to myself!" she said wide-eyed.
This is a stark reminder of how our cultures on either side of the Pacific are so very different. If you lived in a village of 114 people surrounded by forest and ocean, where you knew everyone's name, and you all lived as one big family, maybe you wouldn't think twice about handing your newborn over to a complete stranger either. In Fresno, the story may have had a different ending.
The visit overall was a roaring success. The generosity of this group is possibly unsurpassed during our time onboard. We arrived with the biggest ever donation of sevusevu (offering) including medical supplies, books, toys, toothbrushes, solar-powered torches, etc. We finished with ALL the women, including Scott, getting up and joining in the dance performance, much to the delight of all the villagers.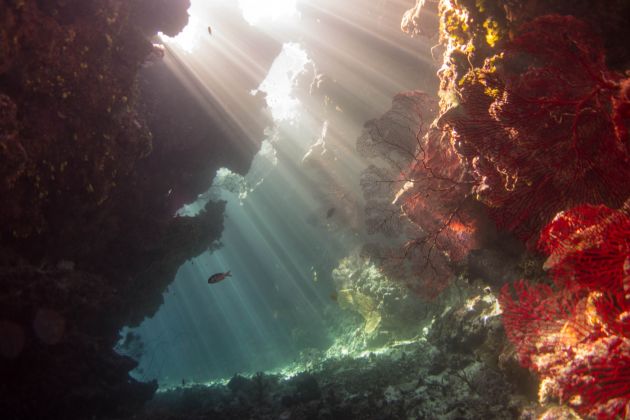 Beam me up - by Blake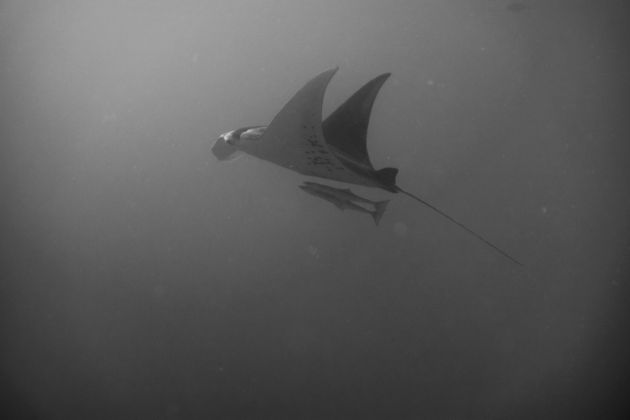 Taking flight - by Blake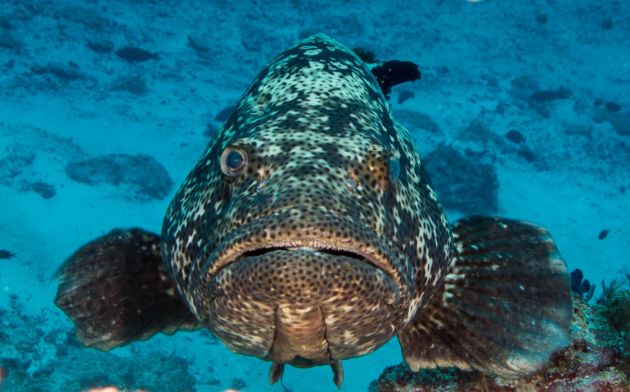 What you lookin at? - by Blake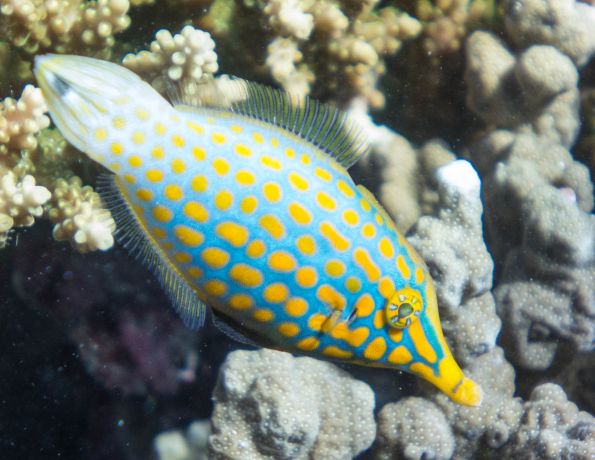 Filed away - by Blake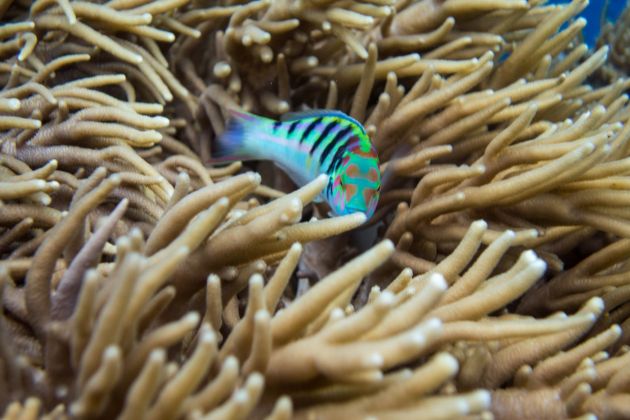 Staredown - by Blake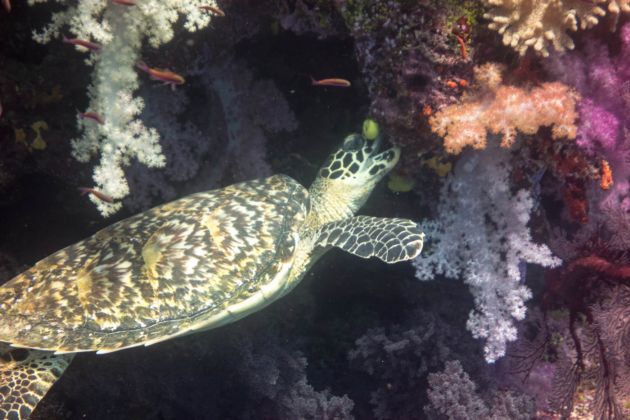 So much for coral conservation - by Blake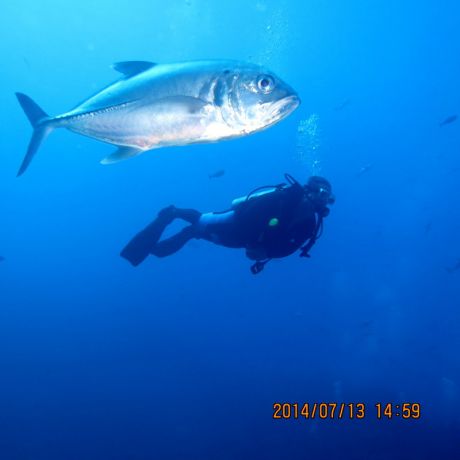 Perspective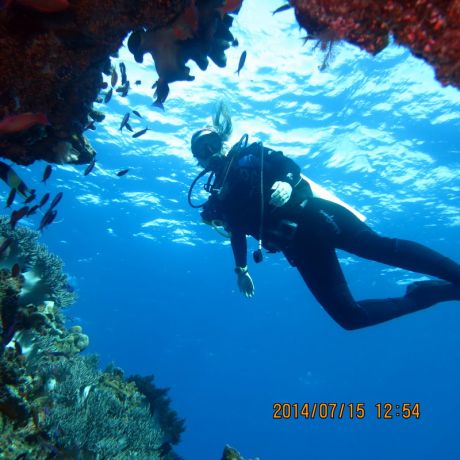 Cavern vixen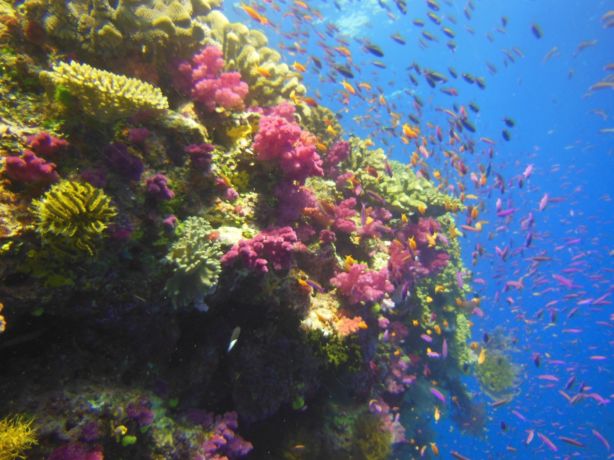 Reef Escape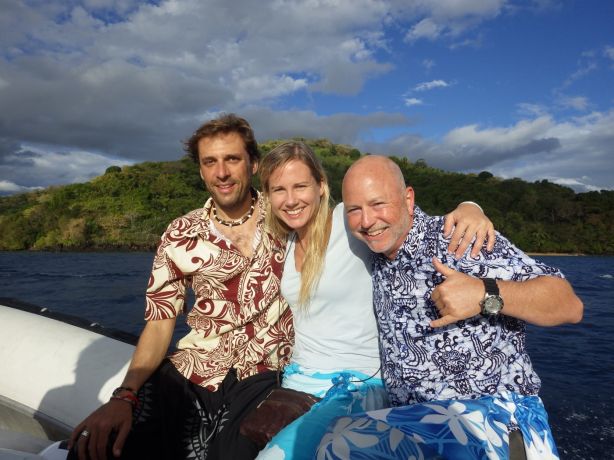 Scott with CDs Joshua & Amanda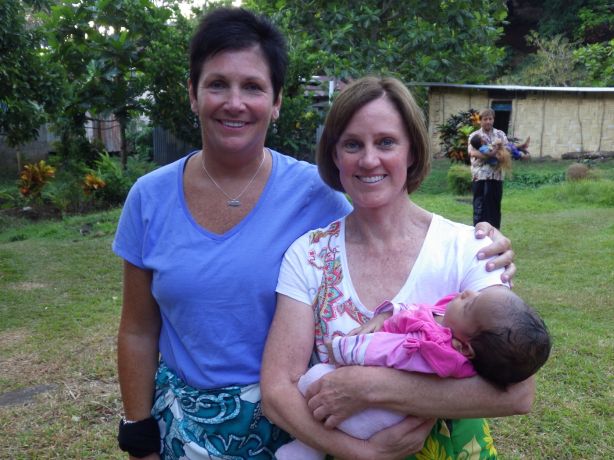 Sonja and Kathy with their new baby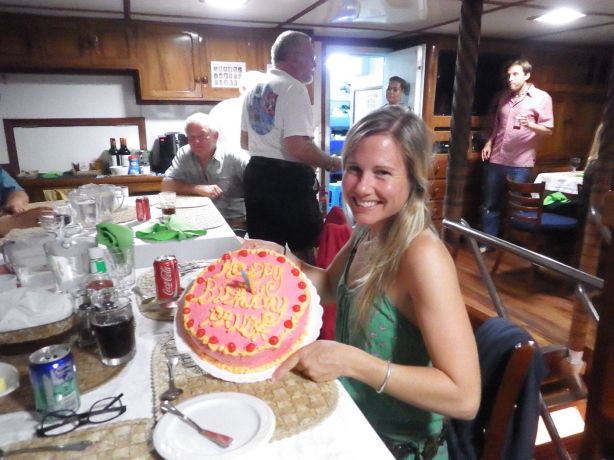 Amanda on her birthday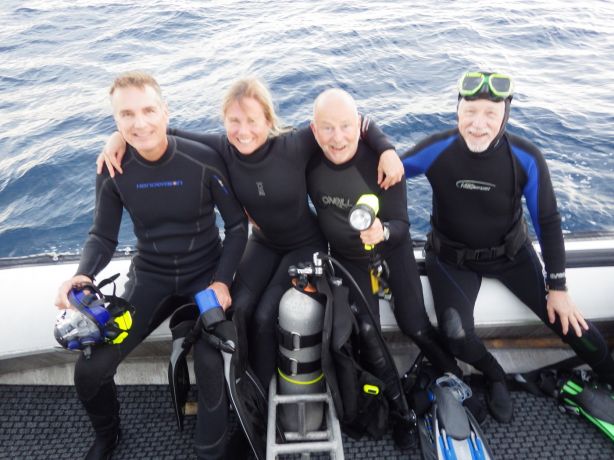 Amanda with divers Blake, Scott & Dr. Bob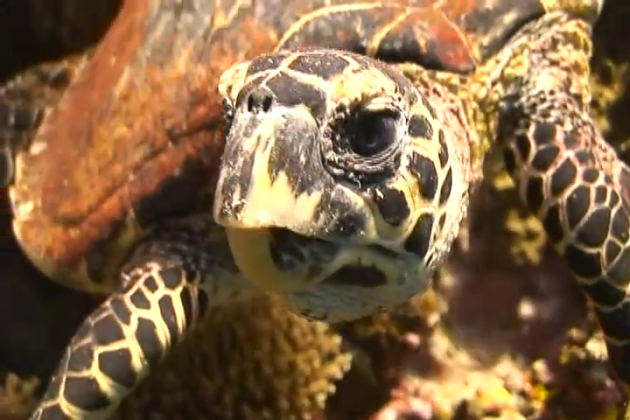 I'm coming to getcha - by Kate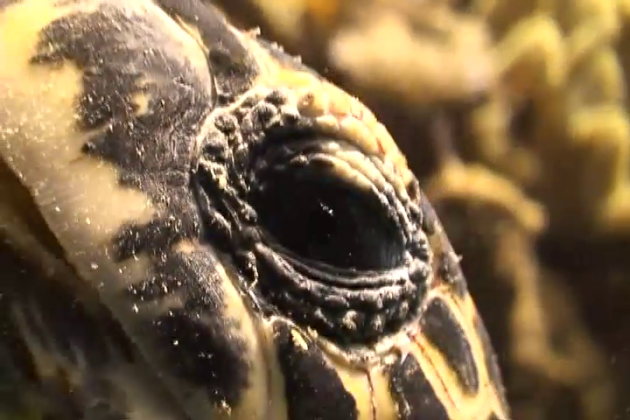 Who's that handsome devil? - by Kate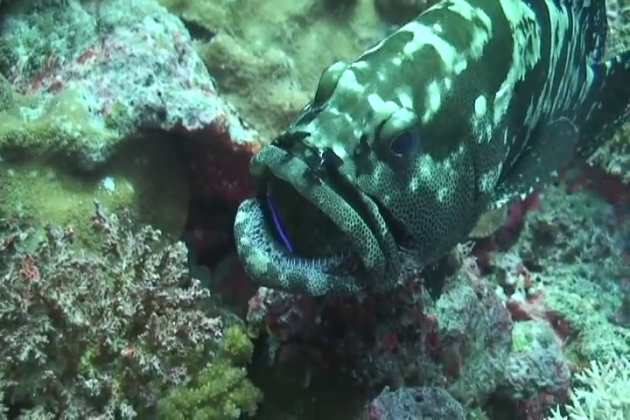 Make sure you get behind the molars - by Kate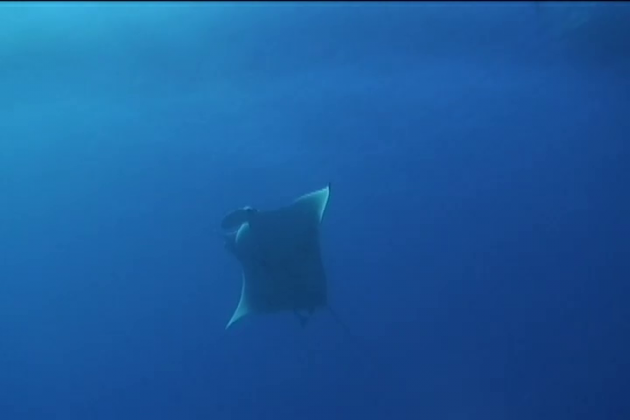 Rising high - by Kate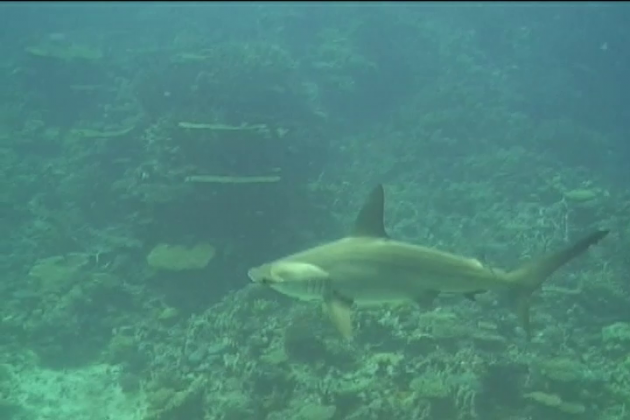 Hammer down - by Kate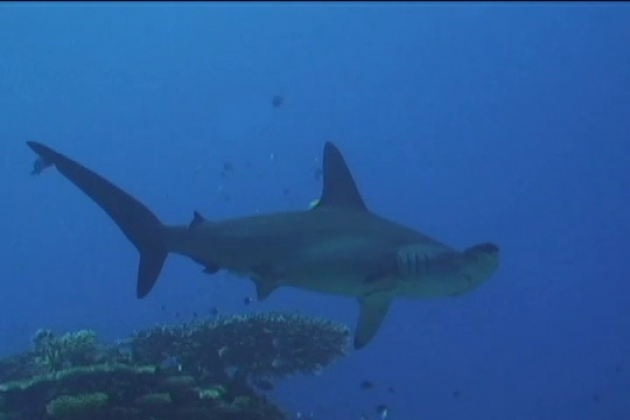 HEY! TURN THE --BLEEP-- AROUND! - by Kate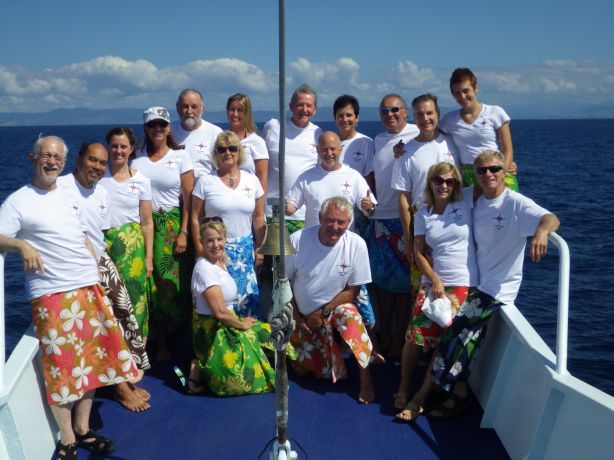 The Gang
The visit to Wakaya this week did not disappoint. A scalloped hammerhead brushed past Kate's shoulder, close enough that she was able to get some amazing footage. Luckily her dad, Blake, was also able to catch the action after being alerted by her through their full-face masks fitted with radios (picture underwater Storm Troopers). In her video, she can be clearly heard screaming, "HAMMERHEAD! HEY! TURN THE --BLEEP-- AROUND!" Some were also lucky enough to get some face time with a manta at Vatu Vai, and not to be outdone on the macro front we also saw a pair of the rare and difficult to spot winged pipefish, twisted around each other, that appeared to be mating.
Onwards to Namena we sailed, hoping that the currents would wane with the moon for our two days there. Our luck was in, a little too much, in fact. Our first attempt at Grand Central Station ended up being a dive just on Kansas since the current was completely slack. But that gave us plenty of time to spend with the host of macro critters there.
We finally found the current… on the night dive, which is of course exactly when you want it! Night dive enthusiasts Dr Bob, Scott and Blake valiantly struggled around Tetons II and were handsomely rewarded with a blue ribbon eel, a grand pleurobranch, a gloomy tambja and several crazy looking crabs.
That night we had our kava party, which for this rowdy group, was right up their street. Scott strutted around in his sulu filming everyone, from every angle (including extreme close-ups), and many people stayed up late into the evening singing and downing kava, some even raging until past 10pm... High tide!
Our chief officer, Bucksy, decided to join us on the next morning's dive at Schoolhouse in North-Save-a-Tack. Swimming down below Amanda, she watched as a curious but fairly large hammerhead shark swam up right behind him to investigate. As soon as she banged on her tank to alert the other divers, though, he flinched and swam away giving some a nice view of a beautiful large creature, rather than a Bucksy-flavoured breakfast! Of course, these intriguing creatures do not pose a real threat to us; they're just very inquisitive. Very inquisitive apex predators…
Our last day was spent in the exciting and unpredictable Vatu-i-Ra area. Although the dive at Maytag was a little too hairy, due to strong current, we witnessed plenty of grey reef sharks and the rare and exquisite Cyerce nigricans nudibranch. In an attempt to dodge the current, we dived the more steady sites of Coral Corner and Charlie's Garden where we were pleased to find plenty of colorful soft coral, hungry grey reef sharks and schools of barracuda. Because this group was so kind to us, we let ourselves be talked into granting them a fourth dive on our last day (something we had never done before). The most gung-ho among them, Scott, Dr Bob, Vikki, Kate and Ted, decided to take the plunge into the Whole Shebang.
With this voyage, the East/West Dive Club adds a new t-shirt to their collection. Their latest shirt features NAI'A on the back. Our lawyers will be in contact with their lawyers regarding copyright infringement, but until then, we have formed a great relationship with yet another group of enthusiastic and cheerful divers.
Our Guests...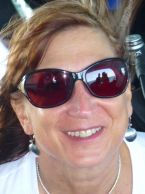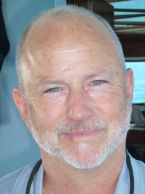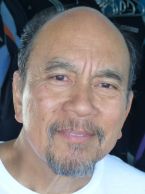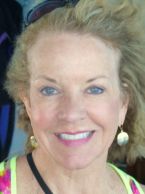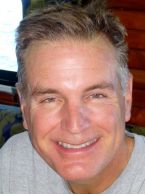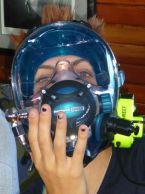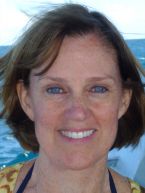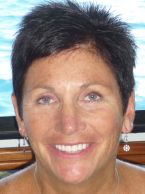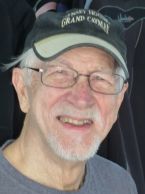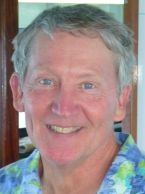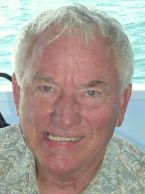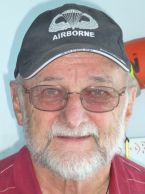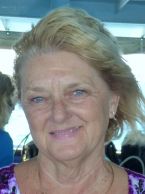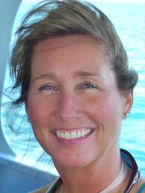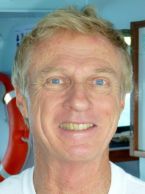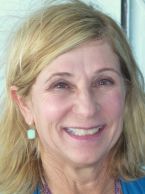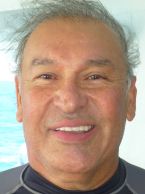 Comments
"I have just had a marvellous 10 days aboard Nai'a. As usual, your Fijian crew are rather special, and all the other guests felt the same. It was so great to be aboard again."

~ Quentin, 6-time passenger, New Zealand