Easy P(L)easy!
Destination: Fiji's Bligh Waters
Trip Date:
Nov 18th - Nov 25th, 2017 -
Comments
Author: Vanessa & Chad
Welcome Back: Charley, Jason, Preston & Katie, Barb & Sophie
Congratulations: Mike & Anita celebrating a 20th anniversary and Preston celebrating a birthday!
Wow, just wow. We meet a LOT of good people onboard NAI'A but this charter was probably the easiest we've ever had! And that was largely because our guests were phenomenally chilled, good-natured and downright lovely. Half the boat was made up of our favorites: the self-confessed 'fish geeks'. Reeeeeally into their fishies, you could put these guys on a fairly barren 30' square reef and as long as there were a few unusual fish there, they'd come up beaming! Trust us, tried and tested: on the checkout dive at Samu Reef they literally didn't leave the one small coral head we happened to descend on! We also had 6 returnees whose trip two years prior had sadly been cut short due to inclement weather so the trip was bound to be better than their last from the get go! For these guys just having the time (and good weather!) to get out to some of Fiji's best reefs was a Godsend. This awesome bunch was completed by the addition of two great Canadian couples, Mark and Bev and Mike and Anita (celebrating their 20th anniversary, congrats guys!).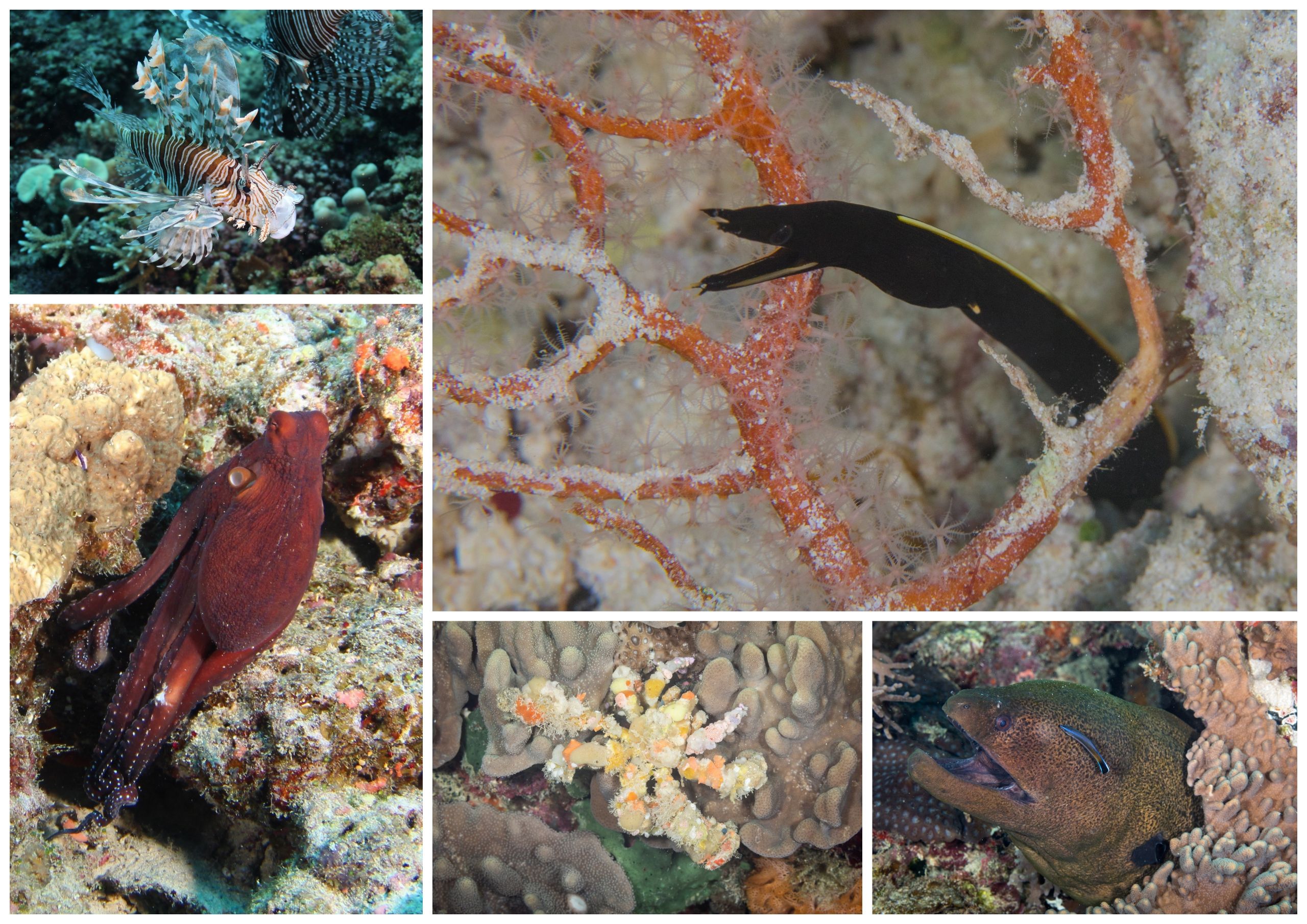 Photo credit (Clockwise from top left): Charley, Mark, Mark, Mark, Barb
Our trip got off to a slightly late start as our salon air con unit started playing up directly after the checkout dive and we thought it better not to depart Lautoka until it was fixed. Some of the guests suggested the crew might have rigged it so they could watch the Fiji team play New Zealand before setting off and, knowing our boys' obsessive love of rugby, we can't guarantee it wasn't the case! But set off we did, albeit a few hours later than planned, reaching the gorgeous area of Nananu I Ra the following morning. We went hard on day 1, blasting out 4 awesome day dives and a night dive. Nananu offers some really beautiful soft corals, especially with some current pumping through, as well as some pretty unique topography: the sites Labyrinth and The Maze sure live up to their names with seemingly endless cut-outs and swim throughs. Then imagine the Labyrinth at night! It made for a pretty cool night dive, with masses of shrimps, a cute little squid and one of the best decorator crabs we've ever seen.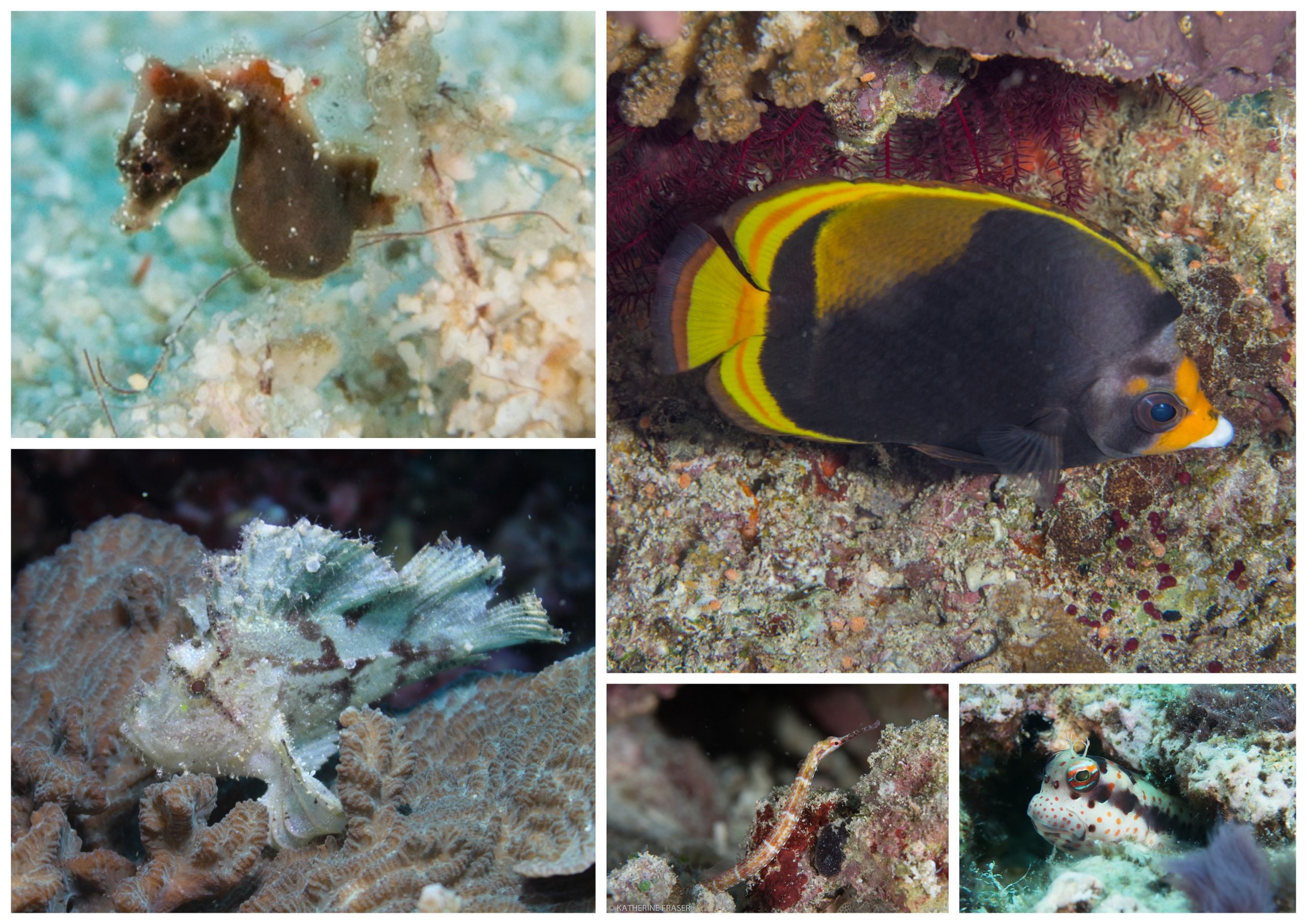 Photo credit (Clockwise from top left): Katie, Mark, Katie, Katie, Charley
From Nananu we headed straight over to the Namena Marine Park, for two epic days diving its amazing sheer walls and towering pinnacles. Like we said, our guests were so easy to please, they really liked anything and everything….but they reeeeeeeeally liked Namena! Schoolhouse and Grand Central Station were crowd favorites with so many sharks (including Hammerheads!) and schooling jacks, barracuda and scad. There was so much diversity to keep our 'fish geeks' amused: they were counting an easy 100 species on a single dive. Now THAT'S impressive! We also enjoyed another night dive, in the bay area of Namena: talking honestly, it's not usually the most exciting of night dives but when Charley found a teeny handsome frog fish it very quickly became a game changer! We took a little time out from our hectic dive schedule (these guys have got some serious stamina, Lillian you're our hero!) to relax and enjoy a traditional kava party with our crew one evening.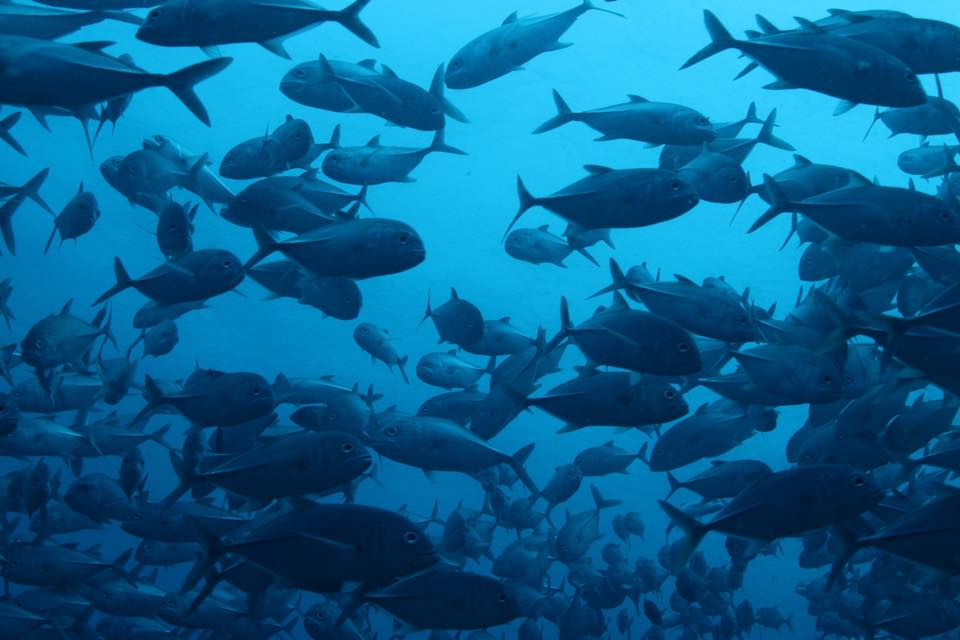 Photo credit: Charley
Leaving Namena after two jam-packed days of great diving, we headed south to the island of Gau. And it only got better! After two warm-up dives at Anthias Avenue and Jim's Alley, by afternoon conditions were perfect for Nigali Passage: a good strong (but not too strong!) current and stunning visibility, allowing us to see easily from one side of the passage straight across to the other. We enjoyed two exciting dives with action-a-plenty: sharks (another hammerhead!), huge tuna, densely schooling barracuda and a massive grouper! Our fish enthusiasts opted to stick to the shallow reef for their second dive and were over the moon with what they found: Big Mo even saw a fish he'd never seen before in 15 years of diving here!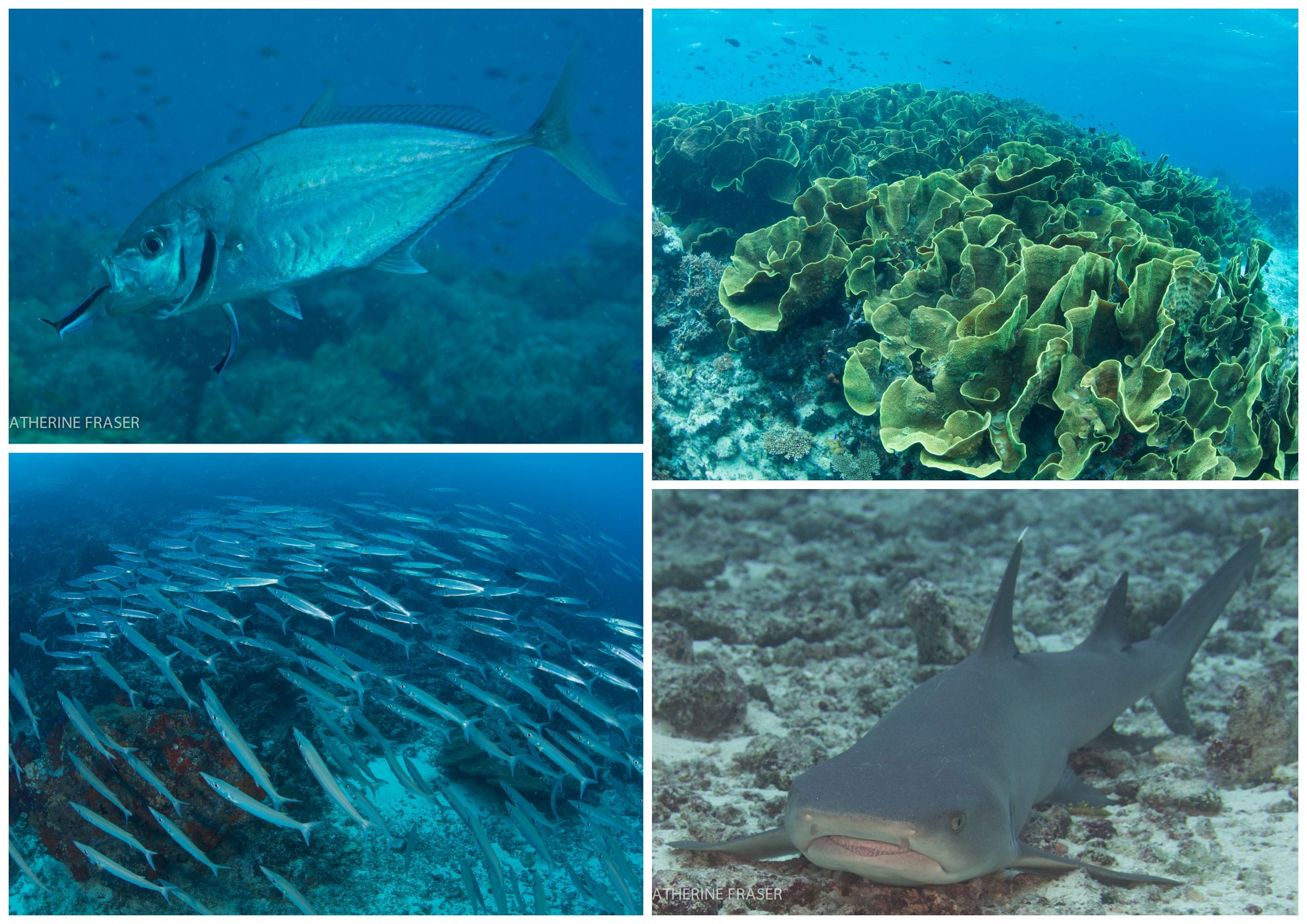 Photo credit (Clockwise from top left): Katie, Mark, Katie, Mark
For (what turned out to be!) our last day of diving we steamed north to the island of Wakaya with its impressive sheer wall and the dive sites of Lion's Den, Vatu Vai and Blue Ridge. What a day!!! Manta madness/mayhem/magic/marvelousness!! 3 dives, 3 sets of mantas: anywhere from 2 to 3, 4, 5, 6 and maybe 7….and up to 45 minutes of barrel rolling. Happy Birthday Preston! It was definitely the crown that did it. Whilst we're super sorry the trip came to a slightly abrupt end (that's a whole story we won't tell here!), we couldn't ask for a better way to finish, with some guests saying it had been the best few days of diving in their lives. Thank you all for your infinite patience and understanding, good karma is coming your way!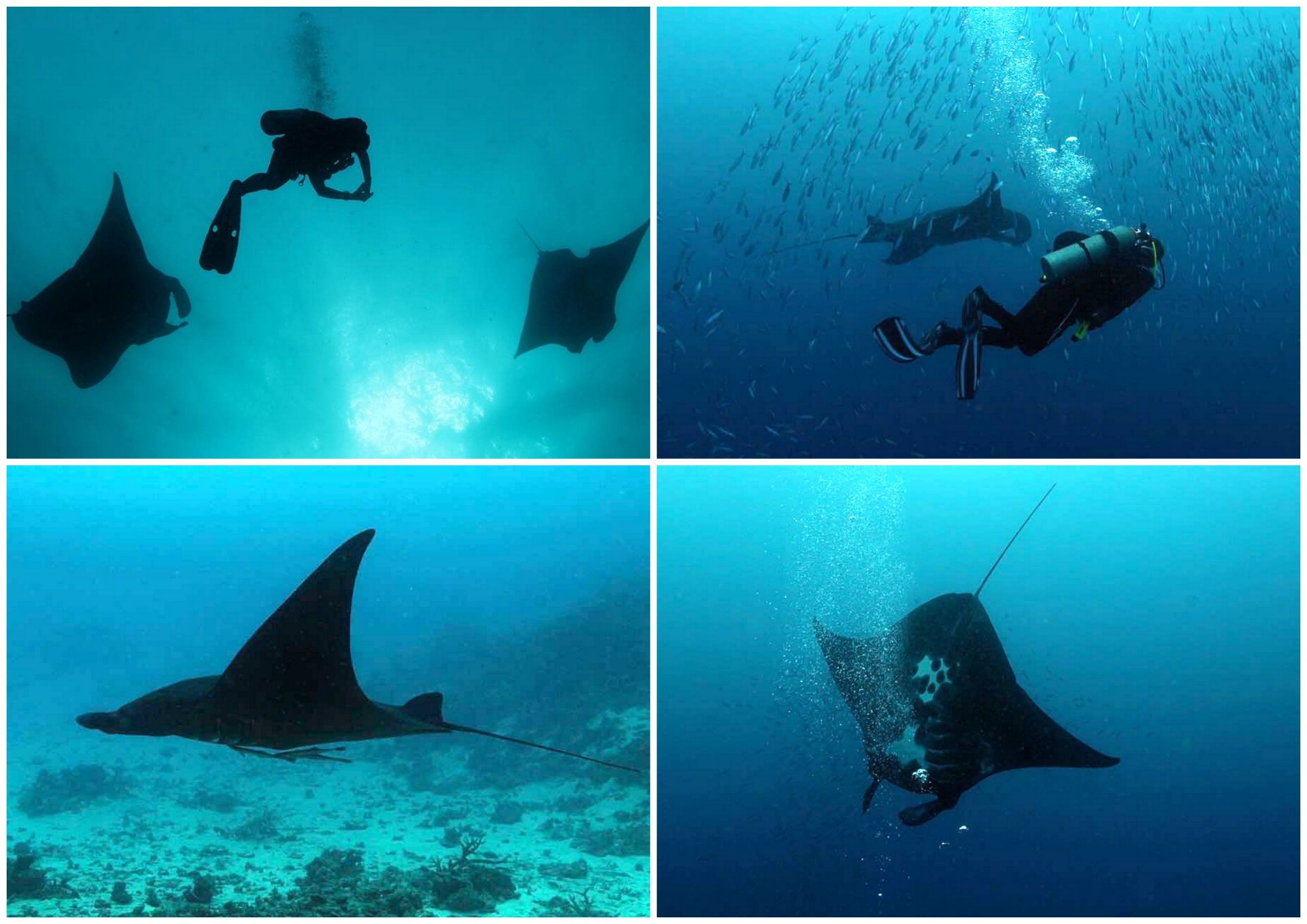 Photo credit (Clockwise from top left): Charley
From the bottom of our hearts, THANK YOU all for a wonderful week! We truly hope you'll come and see us again soon. Until then, fish geeks rock on!!!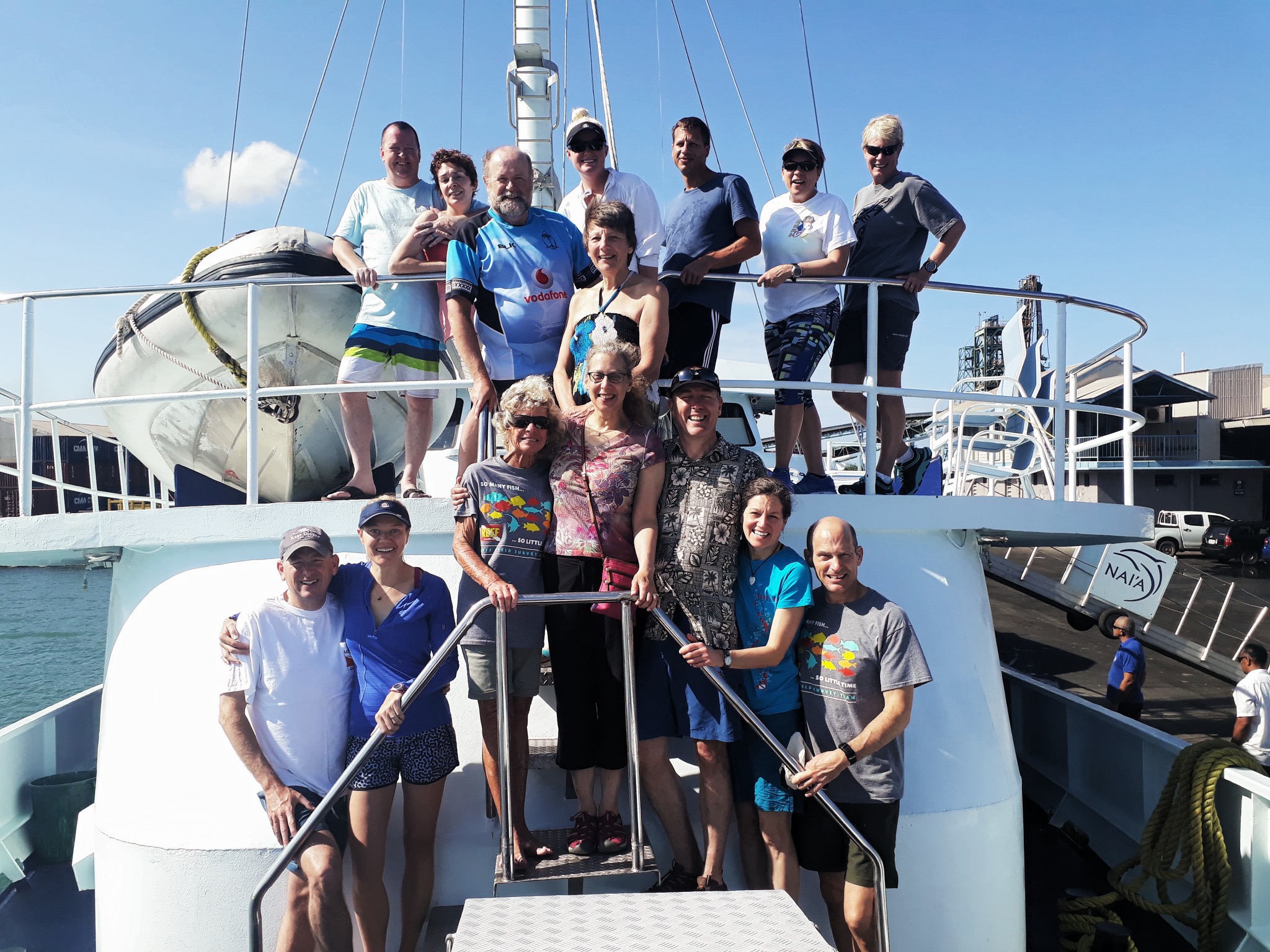 "Wonderful to be celebrating our 20th wedding anniversary with an amazing group & crew..."  Anita & Mike
"Great week of diving, friends, family & adventures! See you again soon..." Charley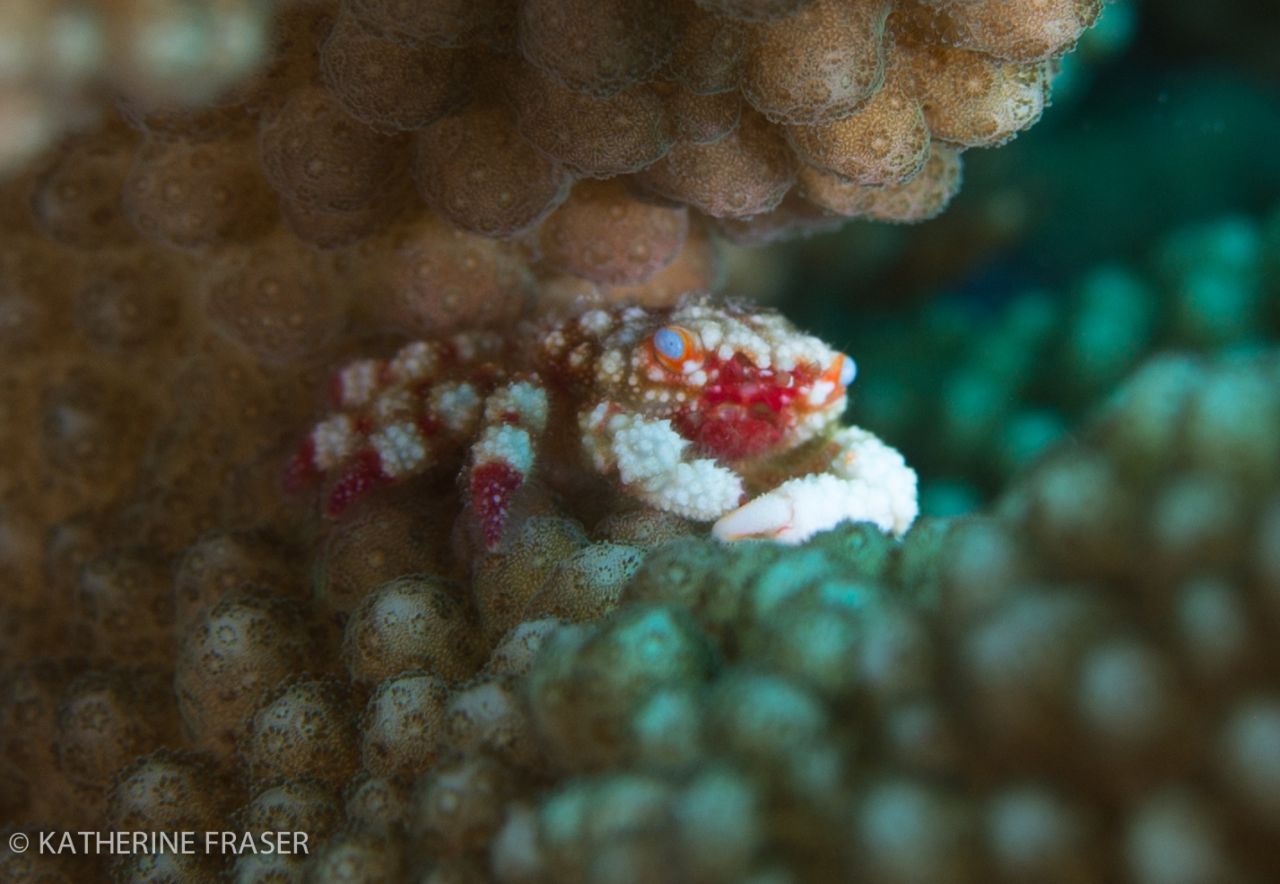 Blue Eyed Boy by Katie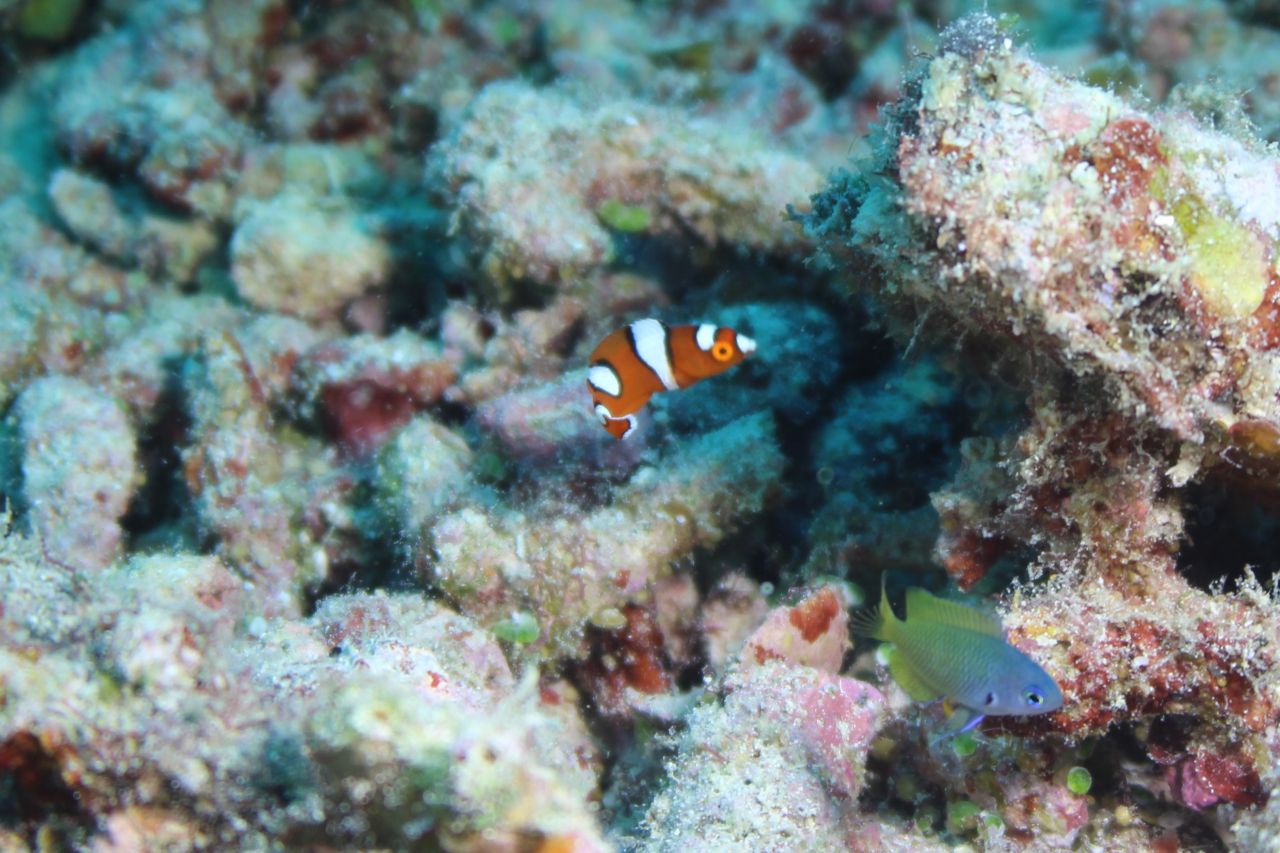 Bubba by Charley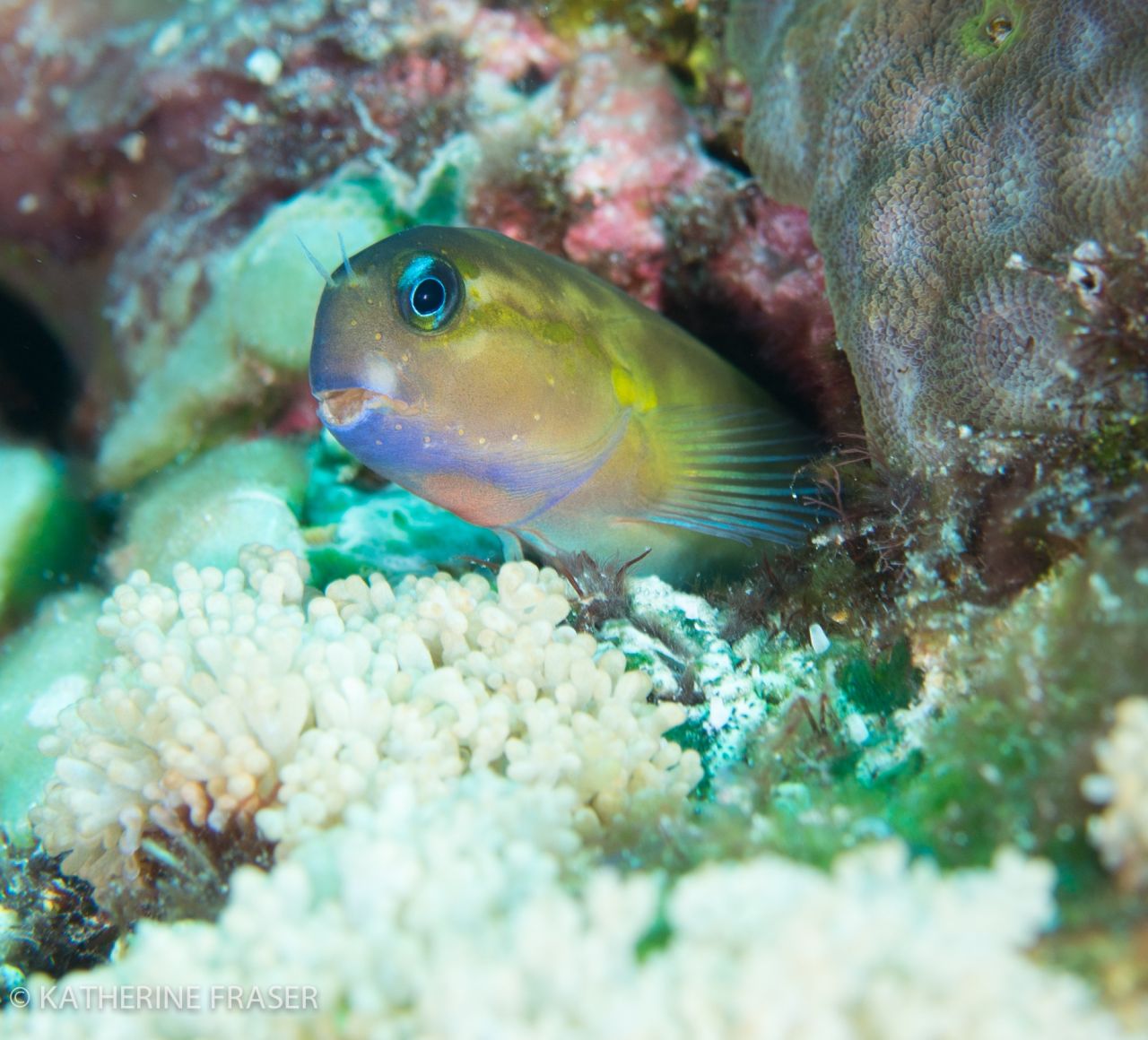 Cutie by Katie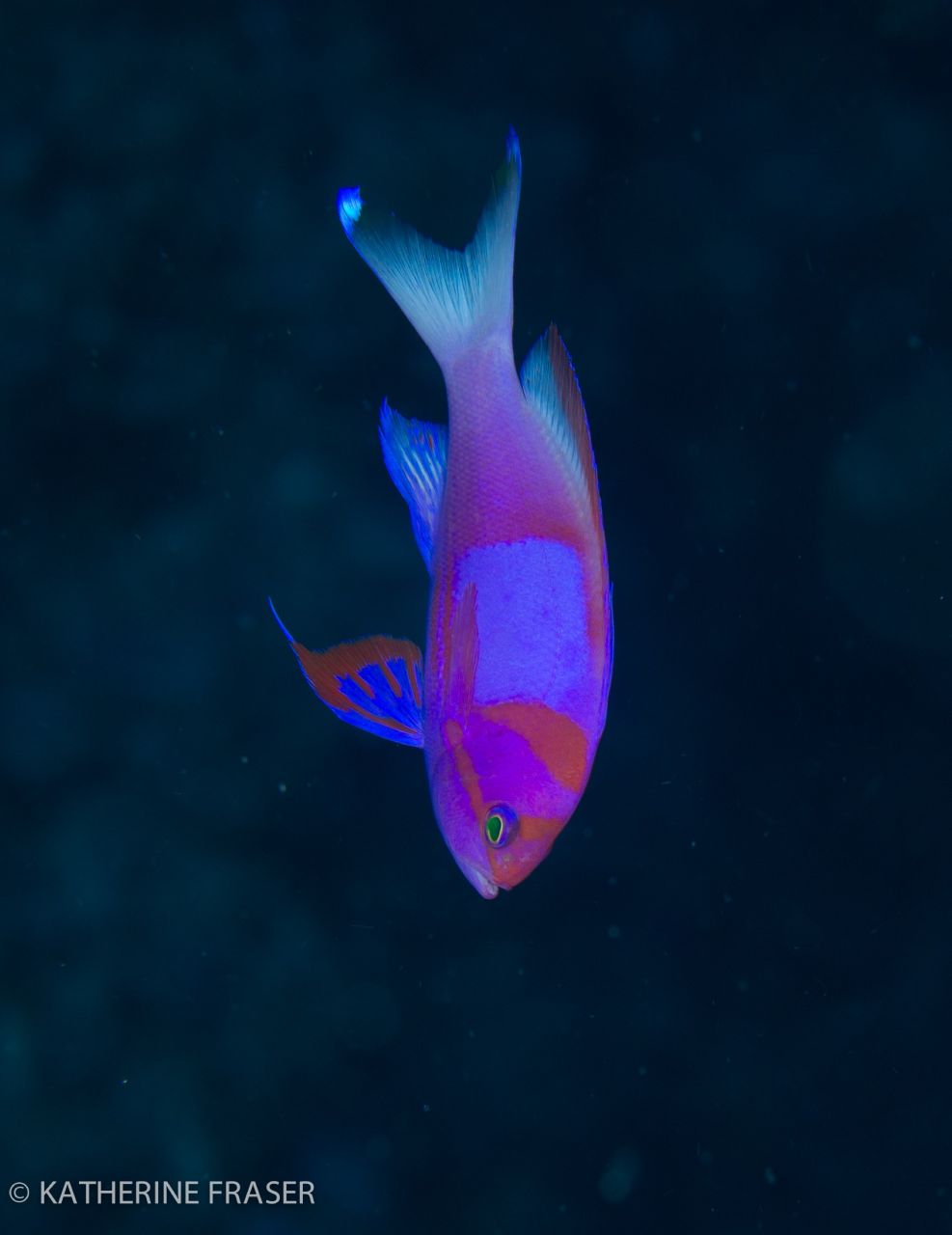 Dive Bomb by Katie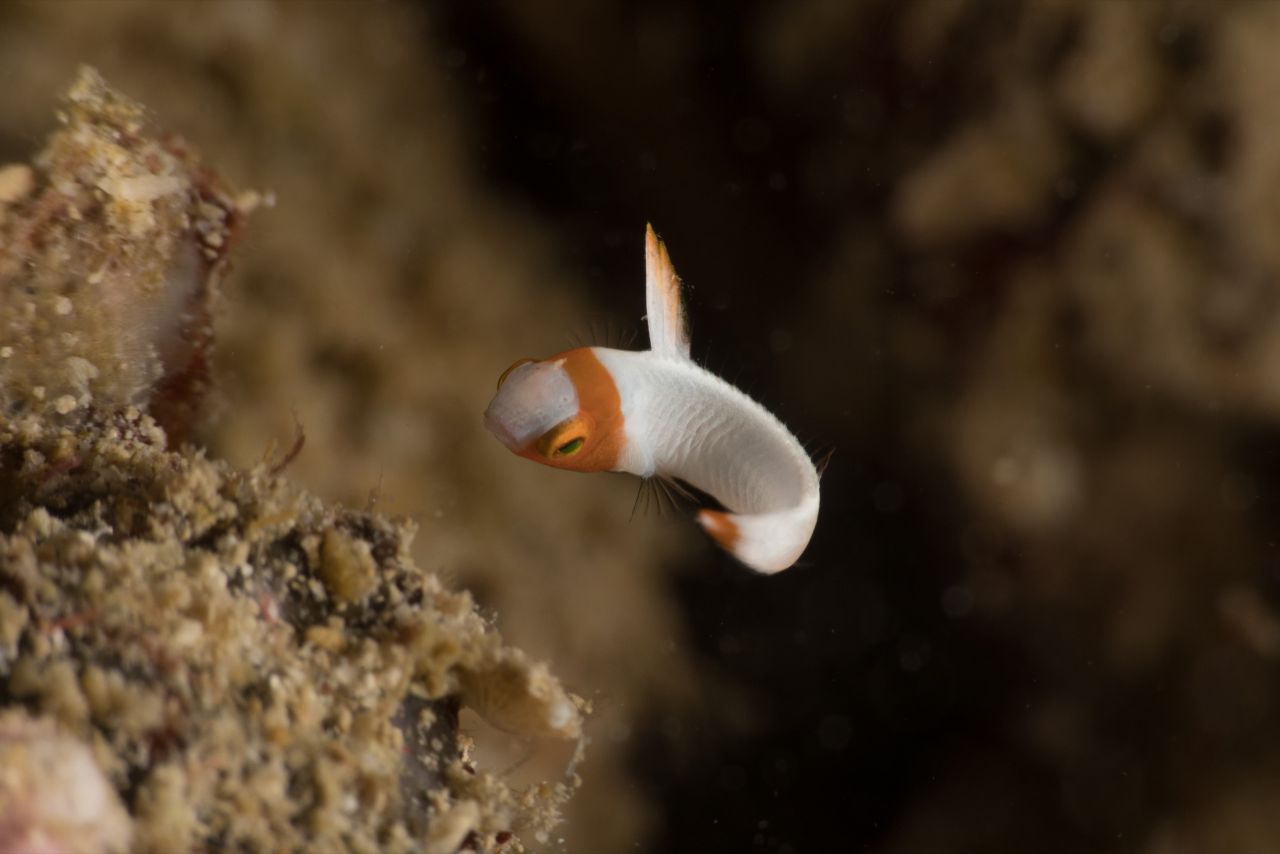 Itsy Bitsy by Mark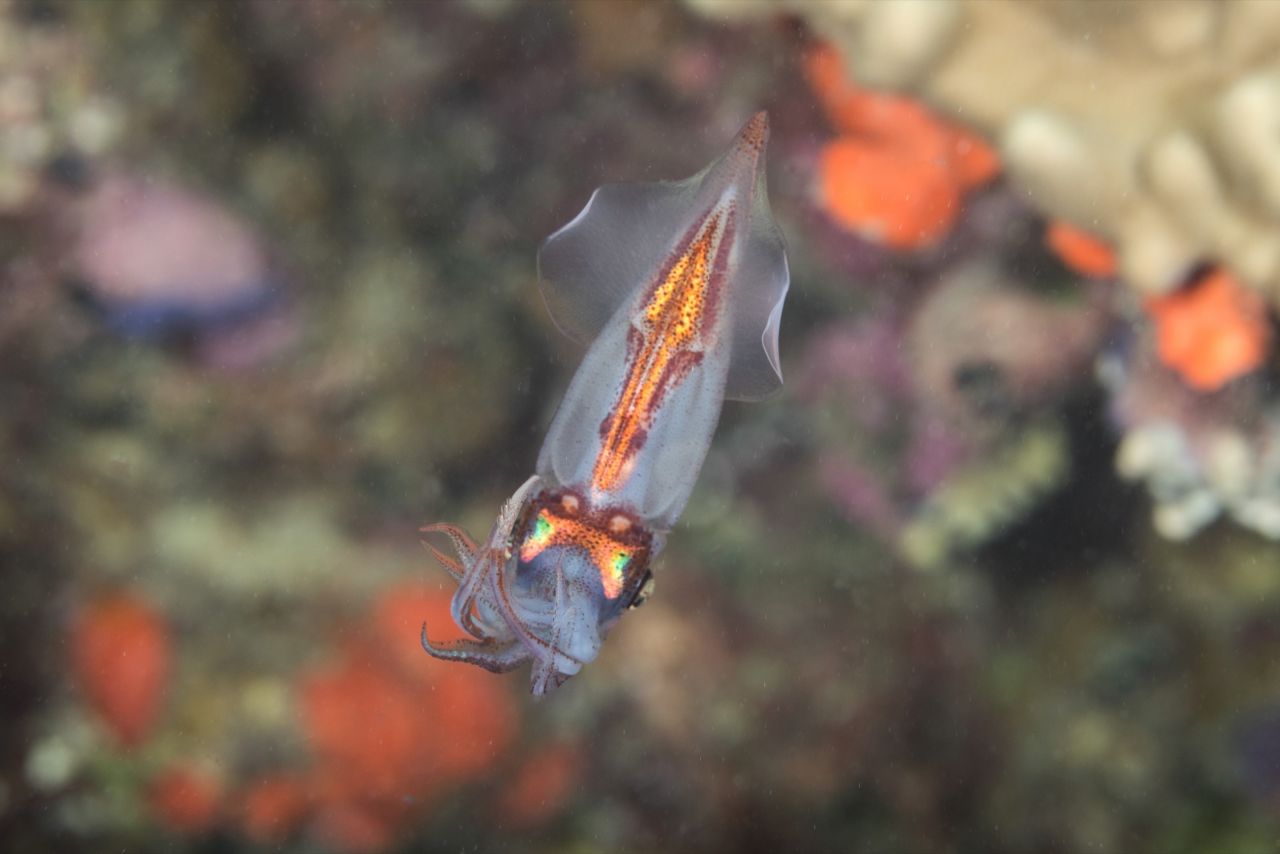 Squiddlywink by Mark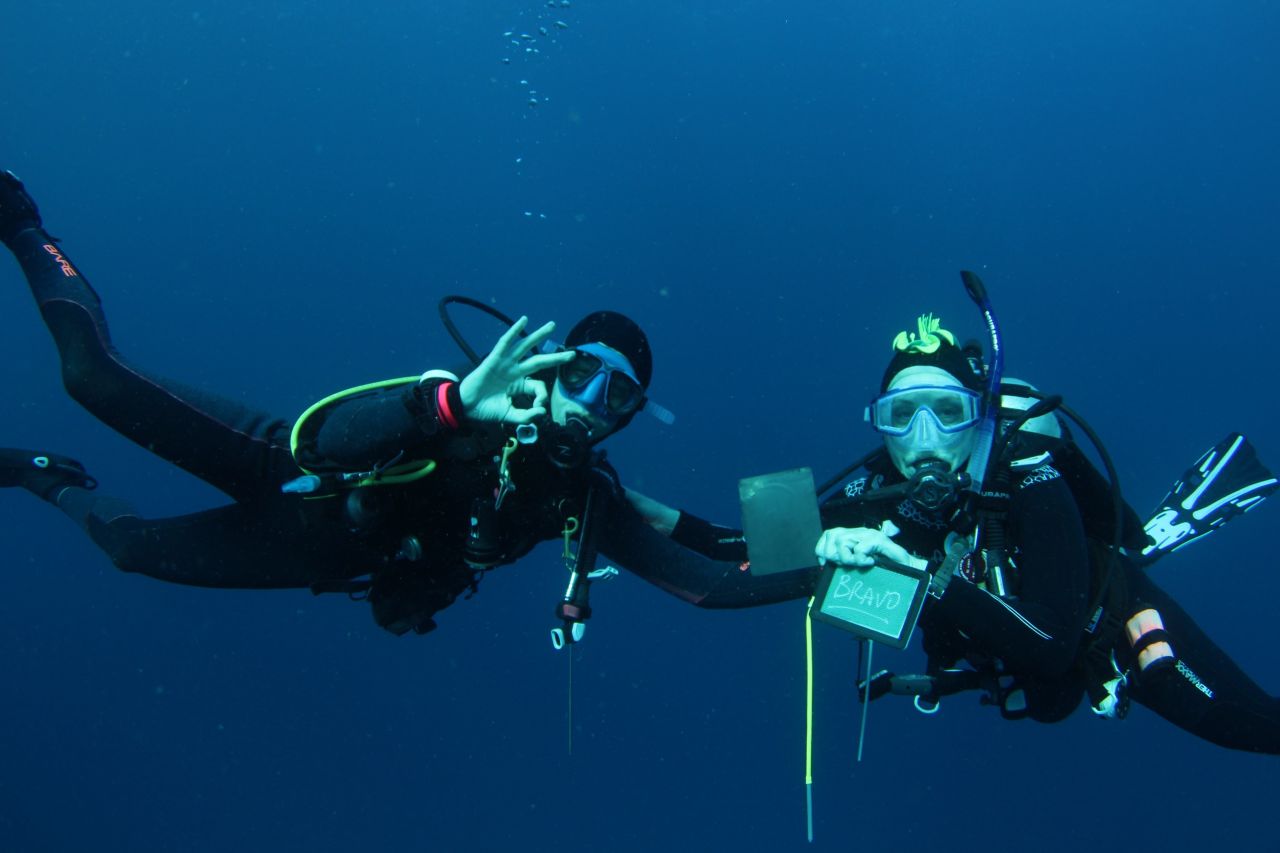 Winning Dive by Barb
Comments
"We loved NAI'A and it superlative crew 12 years ago. We adore you truly. Thanks for a sublime experience – an unparalleled opportunity to marvel, laugh and sojourn with the best of nature and humanity."